John and Mary Kormendy: Birding Trip to Eastern India and Ranthambore National Park Tiger Reserve (March 2018)
These are the pictures from a 2018 March trip first to Ranthambore National Park mostly to see tiger and then to Eastern India (Assam and Arunachal Pradesh provinces). The pictures are posted here chronologically as a travelogue, mixing birds and mammals and scenery. Ranthambore naturalist Pankaj Joshi was our guide for our first week, in Ranthambore. The rest of the trip was mainly birding. Our principal guide for this was our worldwide guide Jack Poll. Local guides were Tarun Gogoi in Nameri National Park, Phurpa Tsering at Eagle Nest and the road to Sela Pass and Tawang, and Palash Hukan for Mismi Hills. All were excellent, with a thorough knowledge of bird calls and keen eyes for skulking birds. All were exceptionally helpful for bird photography. Also extremely helpful was Kiki, our driver. Travel Wizard Vinod Goswamy of Babita Tours accompanied us on the birding part of the trip and decisively solved the many logistic and other glitches that can happen during an India trip. As in previous years, we owe much of the success of our trip to Vinod and to Jack.
The Eastern India part of the trip was difficult for photography, so many pictures are not very good. Even very bad bird pictures are included, because we want to remember the species that we saw. The Ranthambore National Park part was more photography-friendly, but there, we concentrated on seeing tigers in the wild and not so much on birds.
This web site is a record of the species that we saw during the whole trip, including 60 life birds for John and 45 life birds for Mary. These numbers are not huge, because this was our third trip to far-eastern India. John got his 3400th bird species and Mary got her 3200th bird species shortly before the end of the trip.
In this web site, scenery and other pictures are largely interspersed chronologically. For us who were on the trip, a complete travelogue is the best way to remember it. Eventually, I will make a public web site of the best bird pictures. This web site is not public. It will be under construction for the next few months, as I gradually process pictures and add them. Come back often if you want to keep up with progress.
The pictures are copyrighted and should not be used without permission.
---
Ranthambore National Park
We managed to see 11 different tigers in Ranthambore for a lifetime total of 15 effective 2018 April 1. Some tigers, we saw for only a minute or two. At least 5 were observed for about one hour each and in settings where they acted naturally and were not disturbed by the many vehicles that constitute a tiger watching feeding frenzy in all the tiger parks -- including Ranthambore -- where we have been. For us, tigers symbolize unspoiled wildness. It was a priviledge to see them in such detail.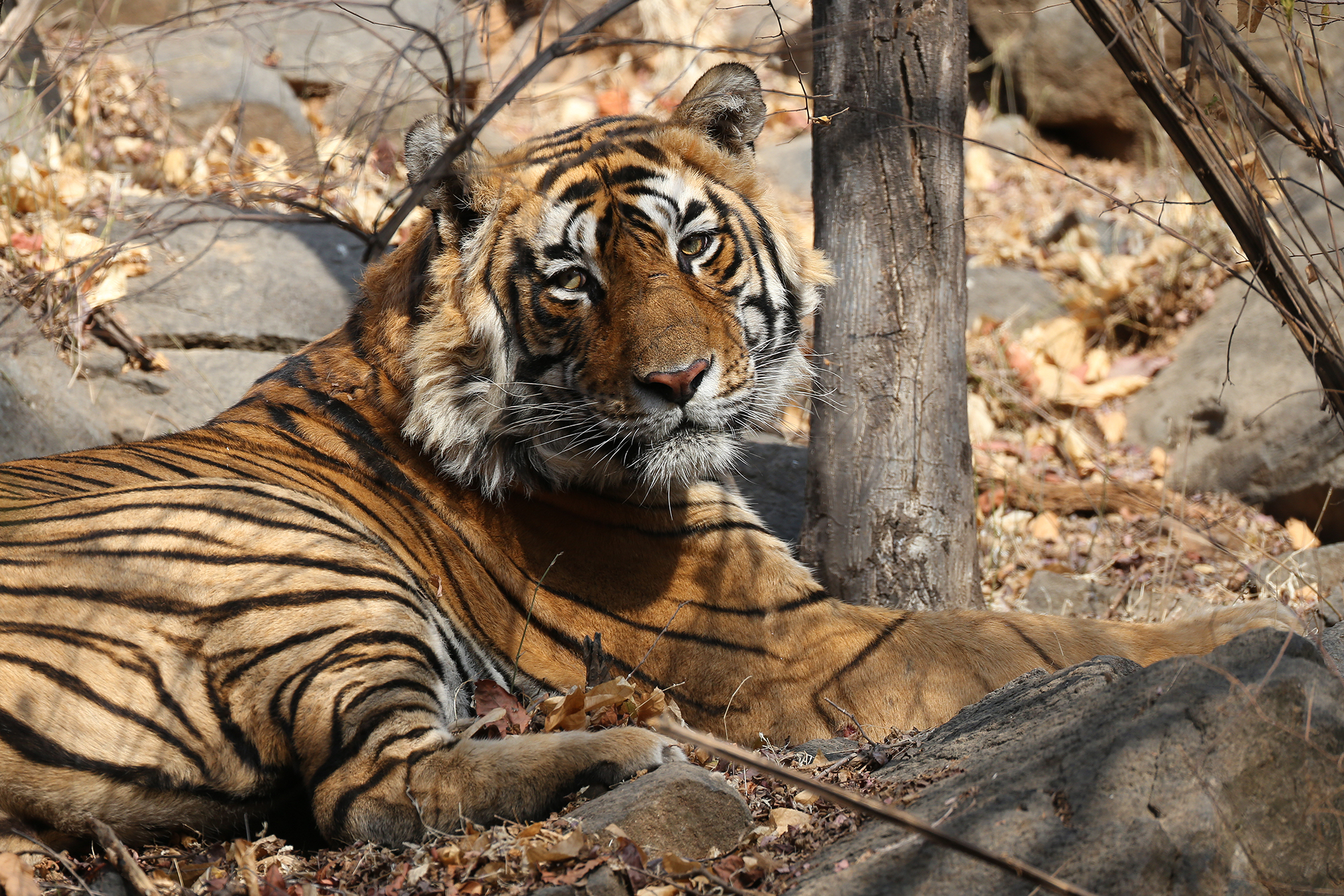 Tiger T86, "Chirico", a 4-year-old male, was the first tiger that we saw in Ranthambore, in the middle of our first safari drive, on 2018 March 4. We got a good long look, as he lounged near the road.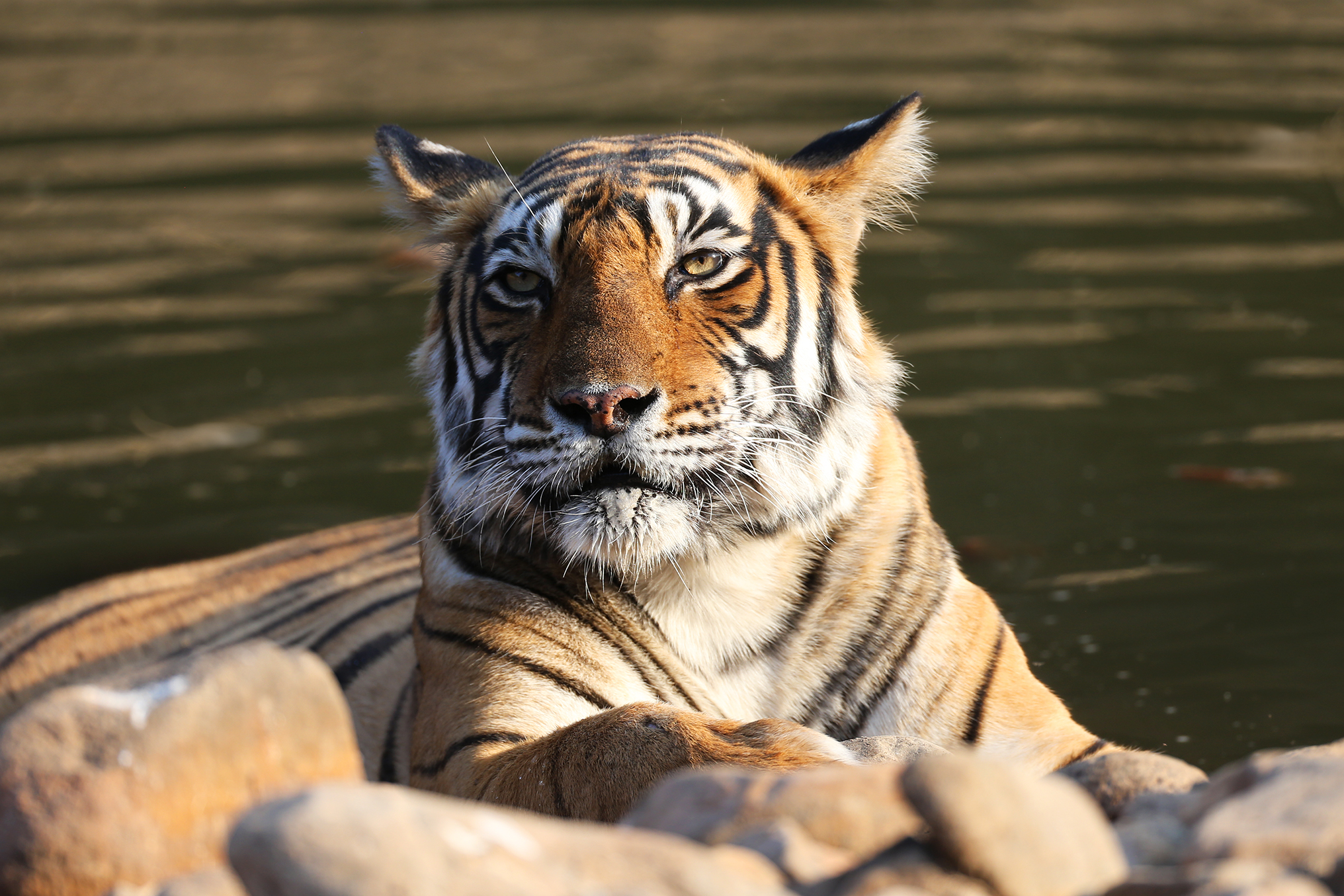 This is Noor ("glow" in Urdu), a 10 1/2 year old female tiger who we watched for more than 1/2 hour as she first came down to a pond to sit in the water and cool off and then -- below -- to relax on the shore.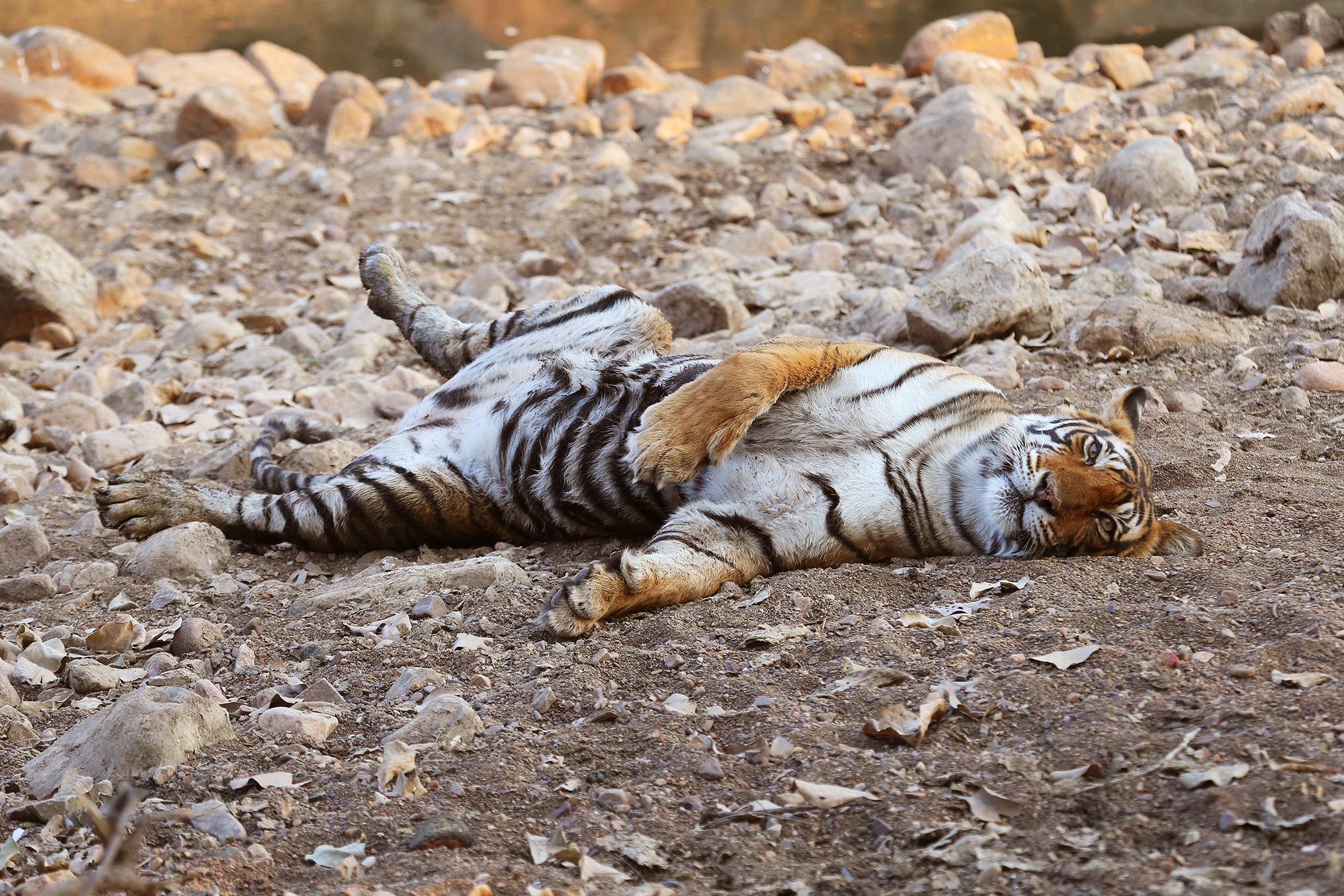 Noor, relaxing spectacularly. If she was bothered by the people who were watching, it did not show!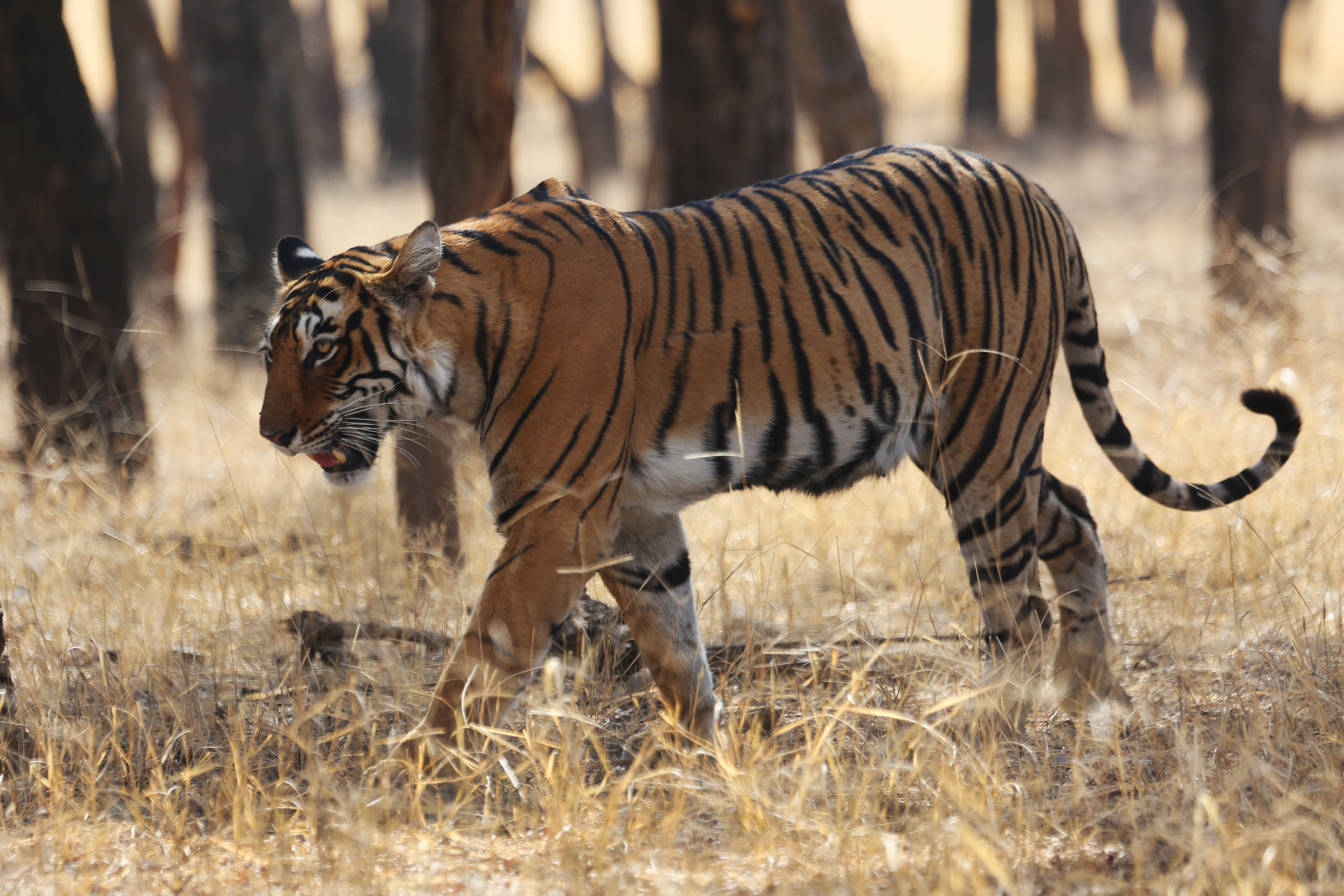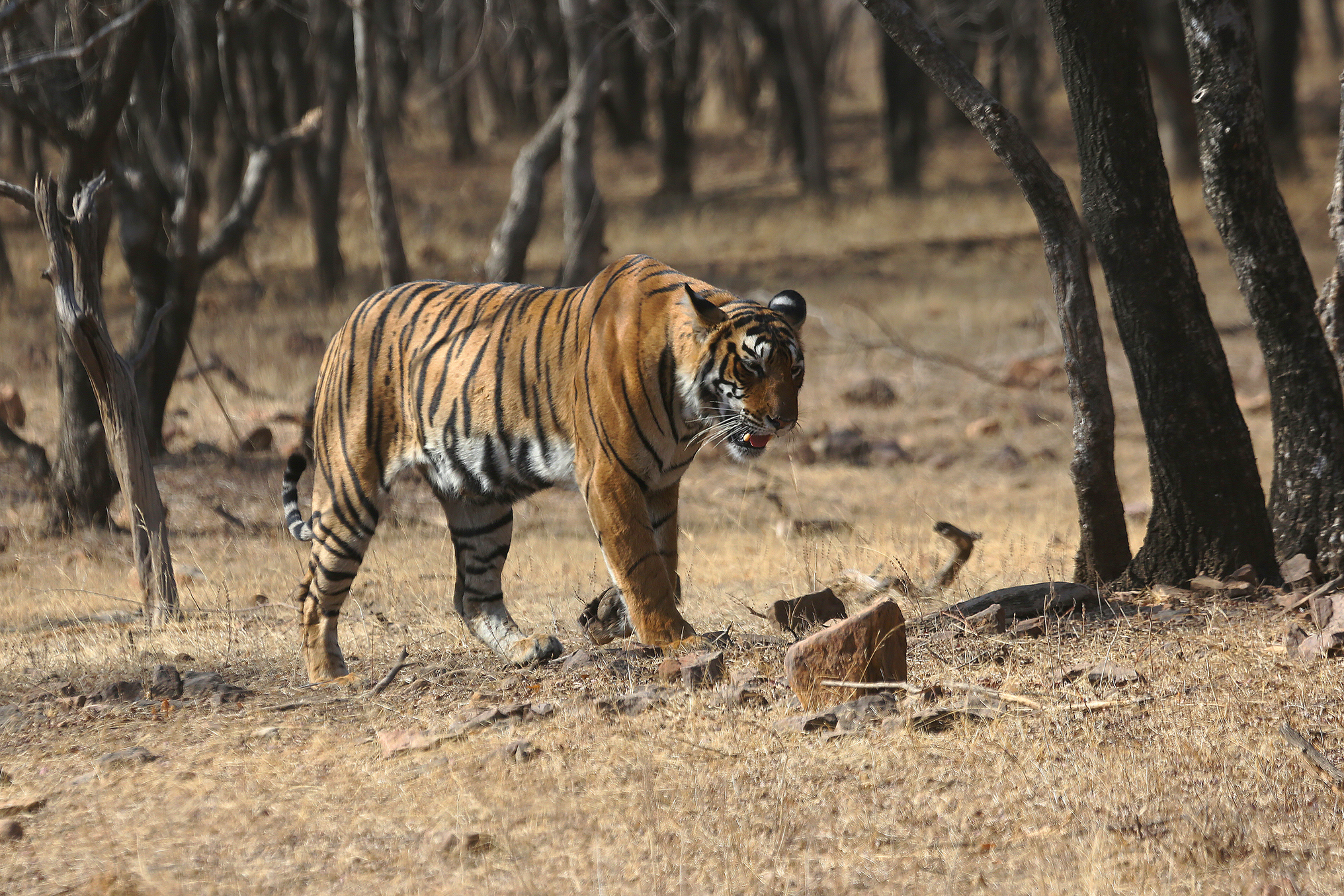 Tiger T84 is called "Arrowhead" because of the arrowhead-like mark on her left cheek. She was about 4.5 years old when we saw her. She currently rules the large lake region of Ranthambore National Park. Arrowhead walked ahead of us on the road for about five minutes, stopping occasionally to mark her teritory.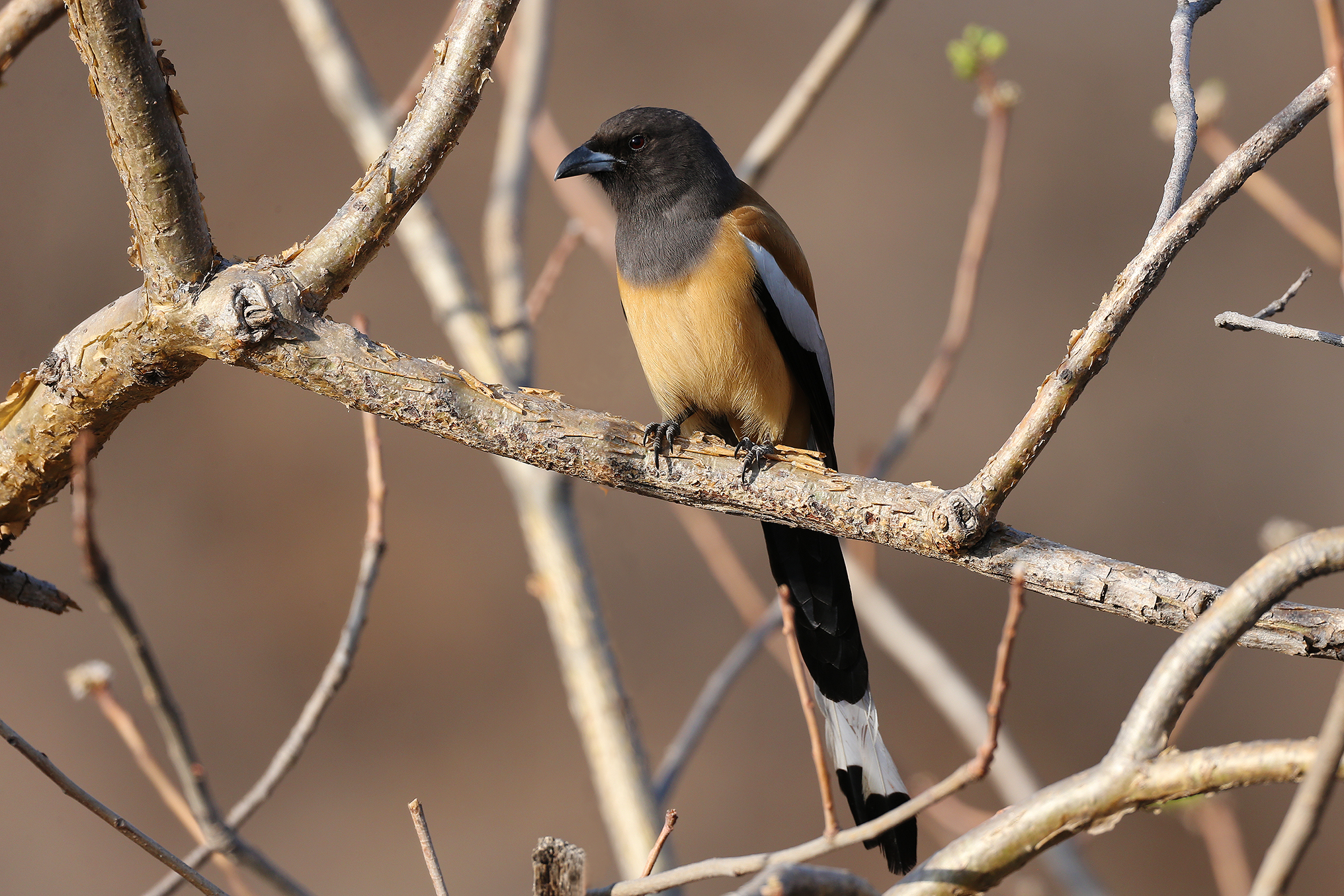 Rufous treepie were ubiquitous at Ranthambore.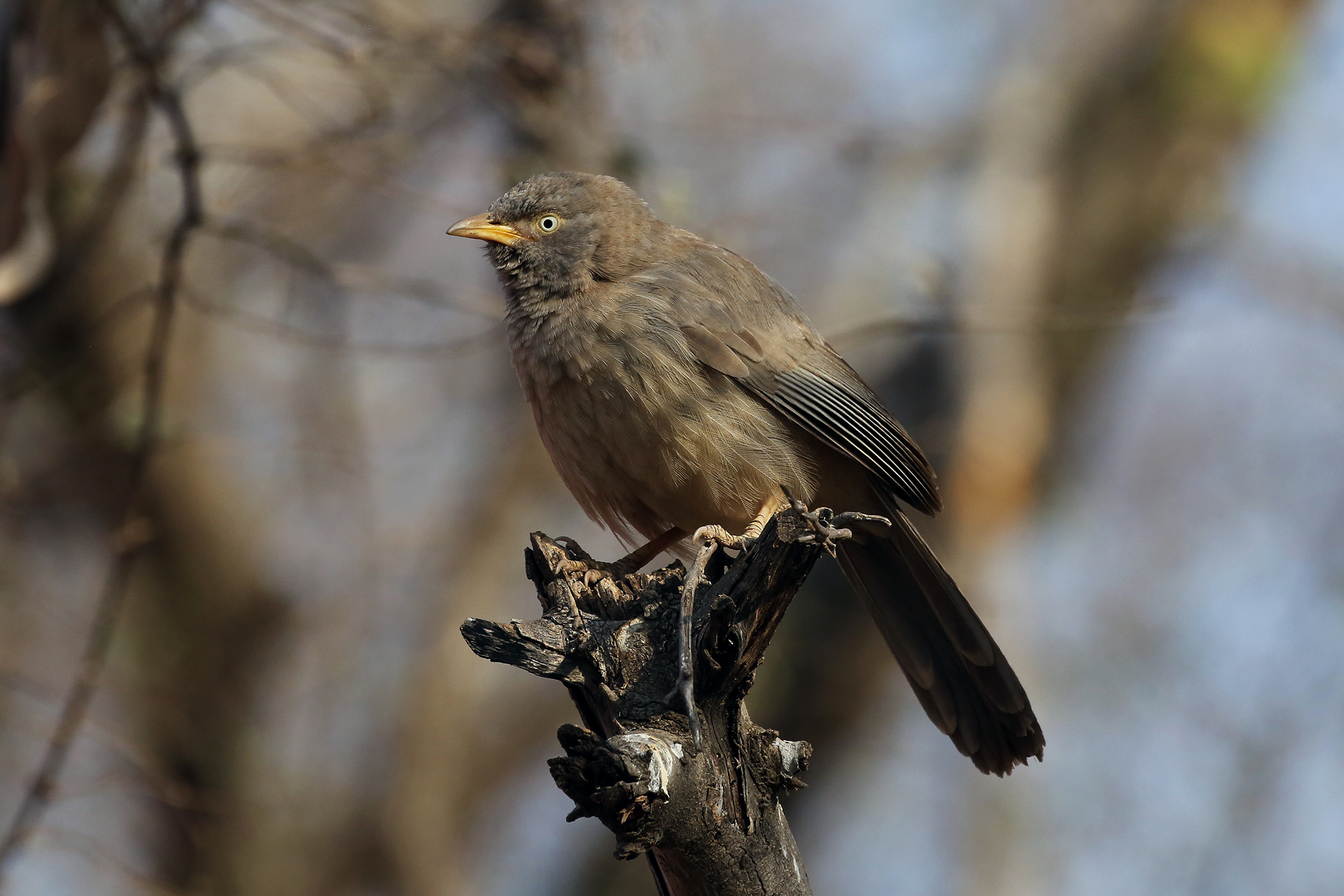 Jungle babbler is perhaps the most common bird at Ranthambore.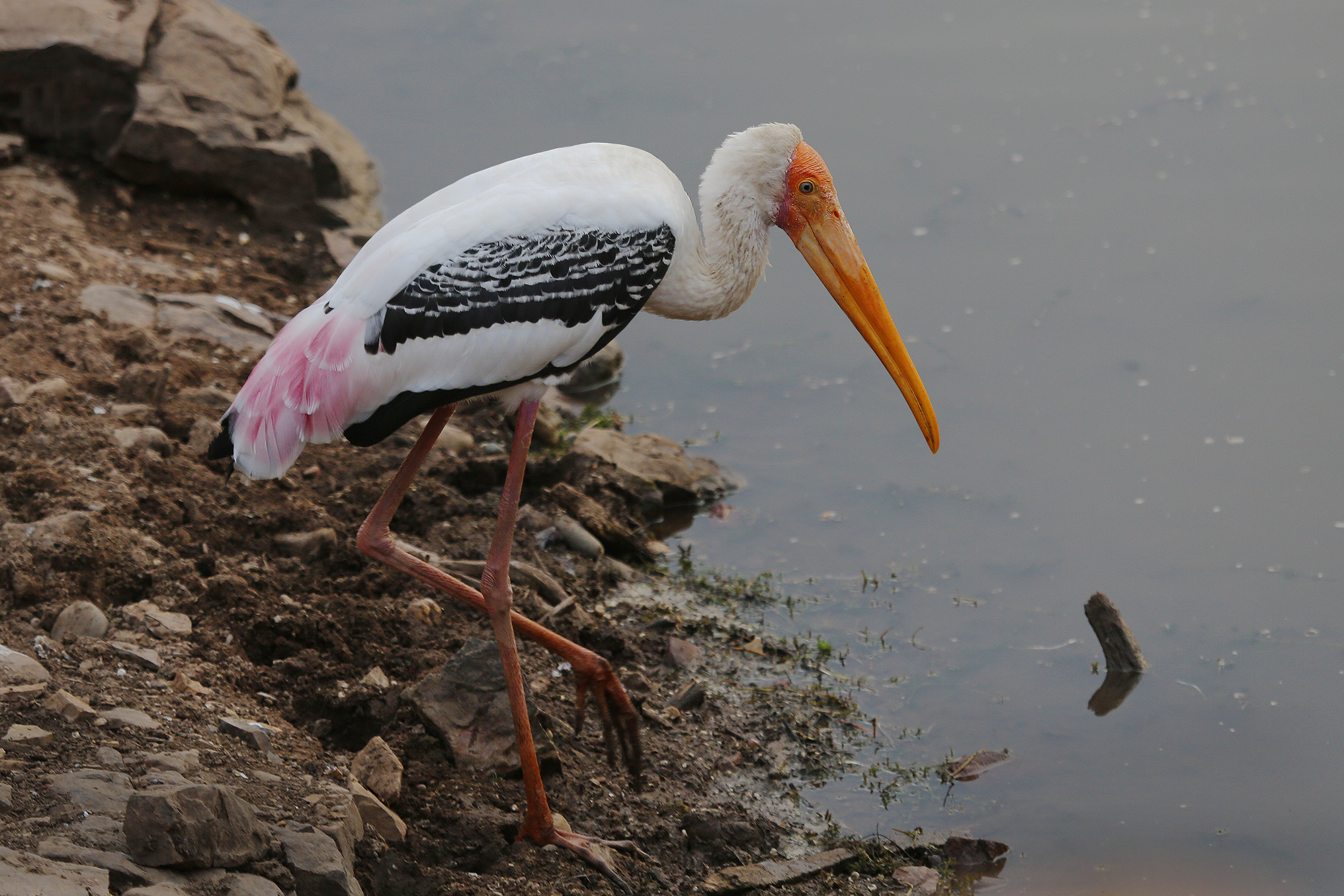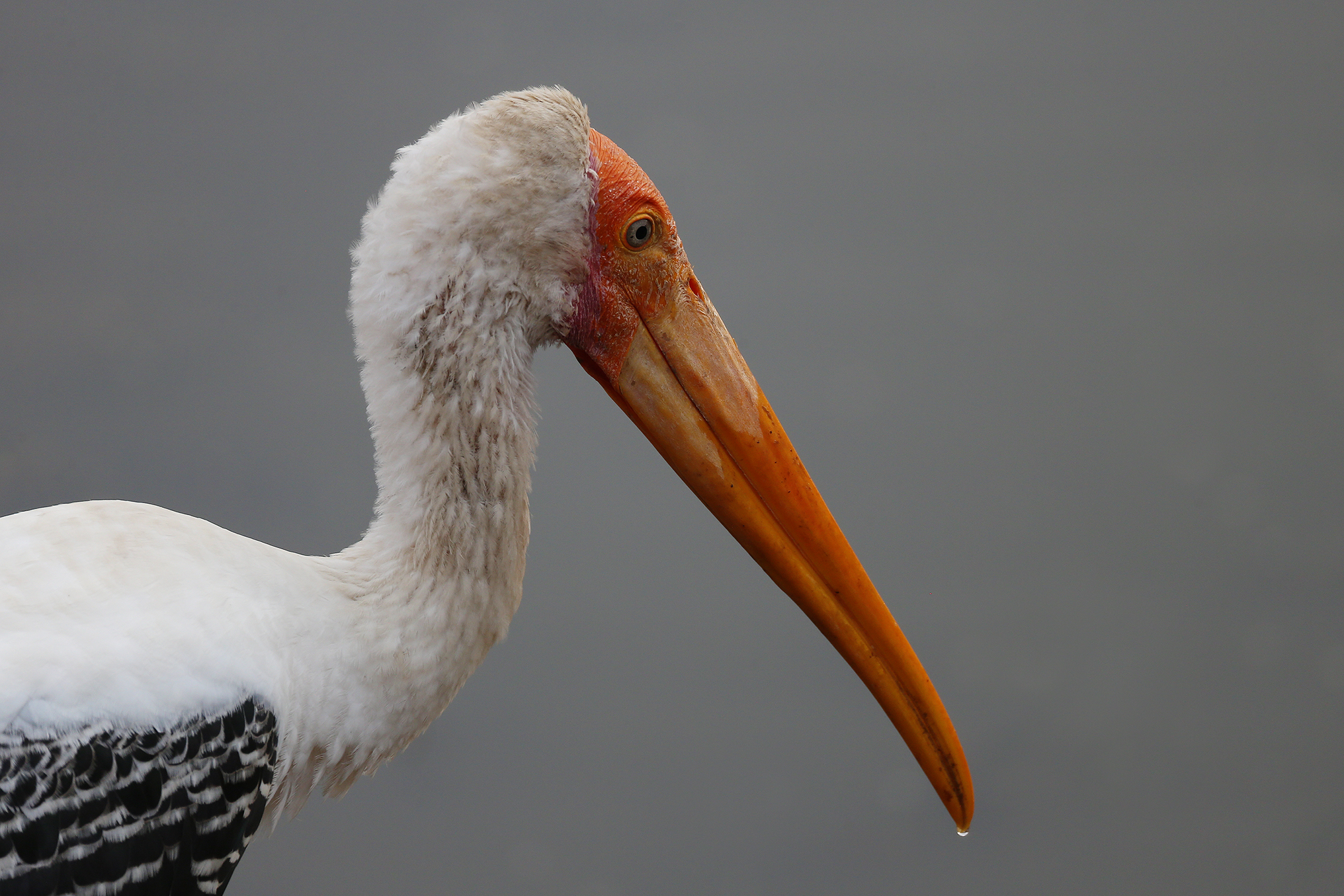 Painted stork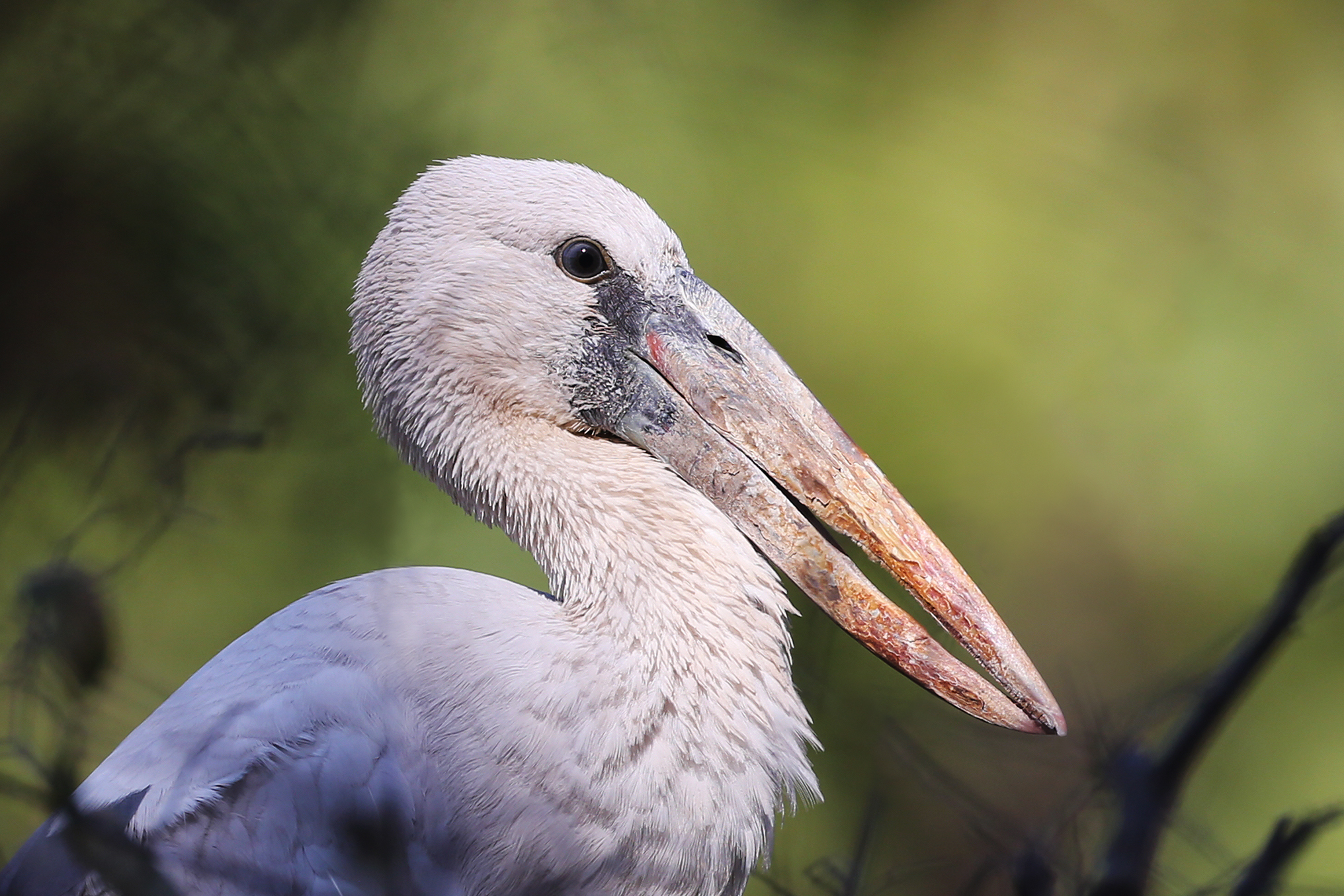 Asian openbill (stork)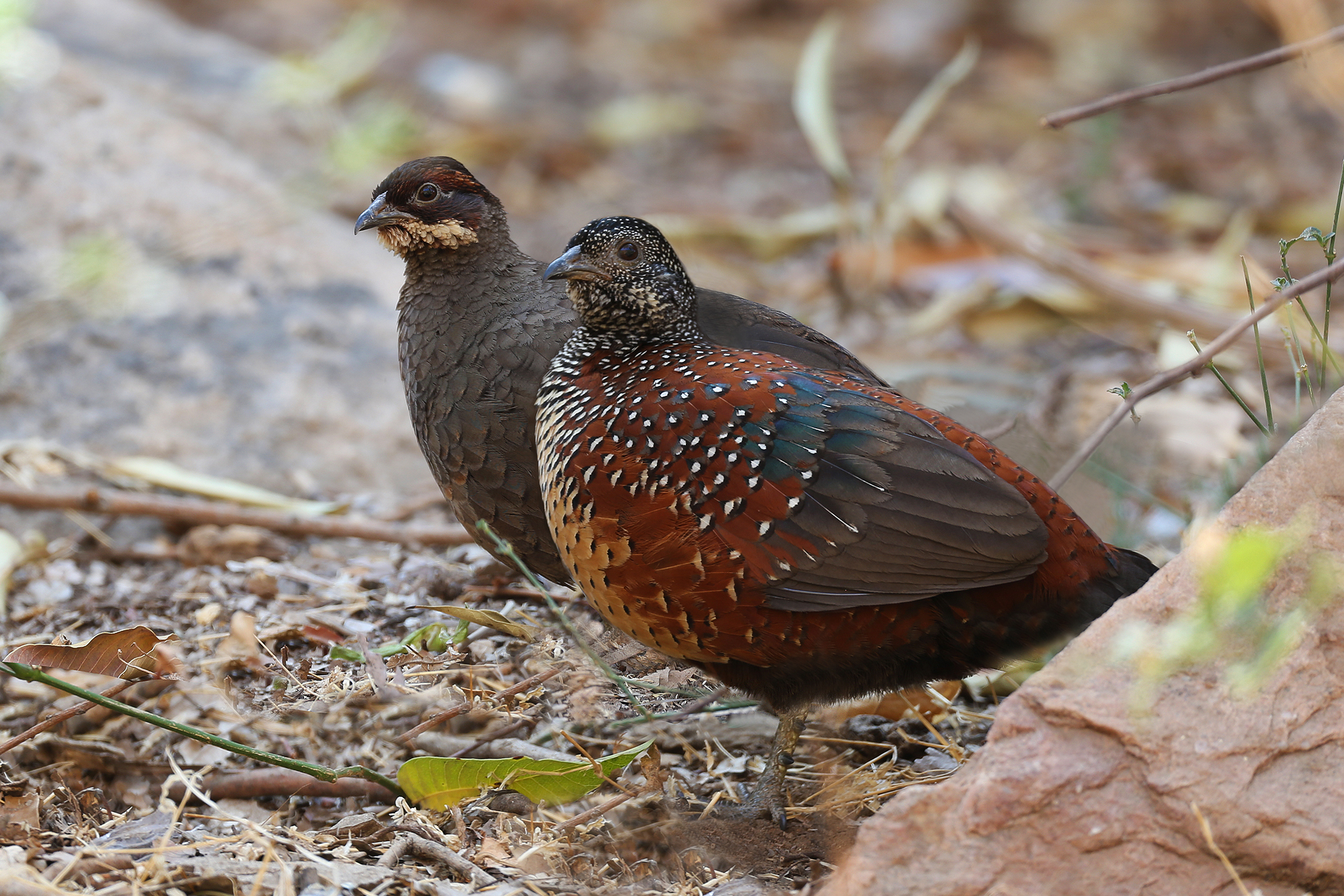 Painted spurfowl (These are our life birds. I confess that I cheated with this picture: I used Photoshop to combine two pictures in which the male (foreground) and female (background) are separately in focus. Their distances from the camera were too big to allow me to have both birds in focus at the same time.)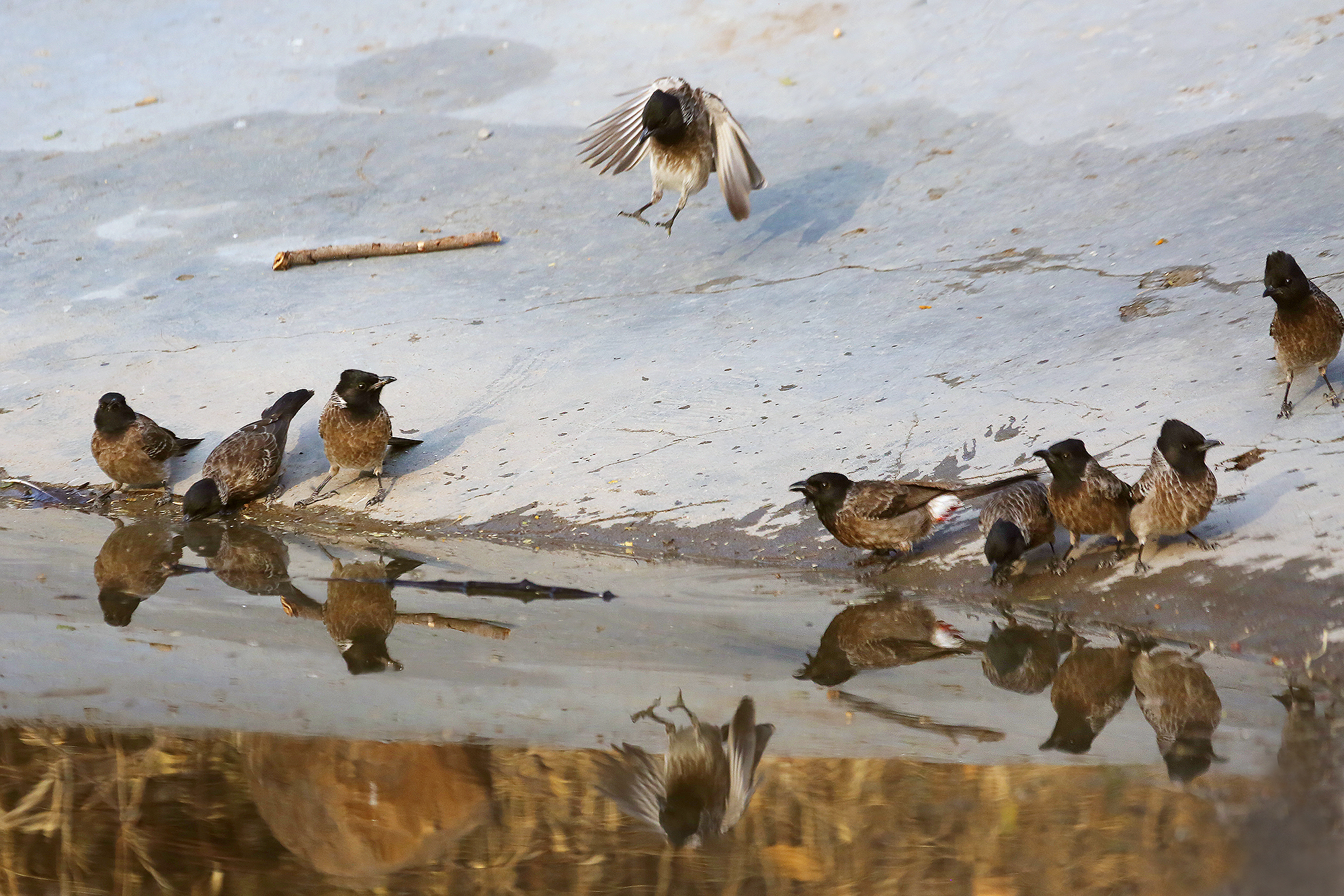 Red-vented bulbuls -- like just about everybody -- come to drink at the few ponds that remain in Ranthambore in the dry season. More examples follow.
Chestnut-breasted bunting (This is our life bird.)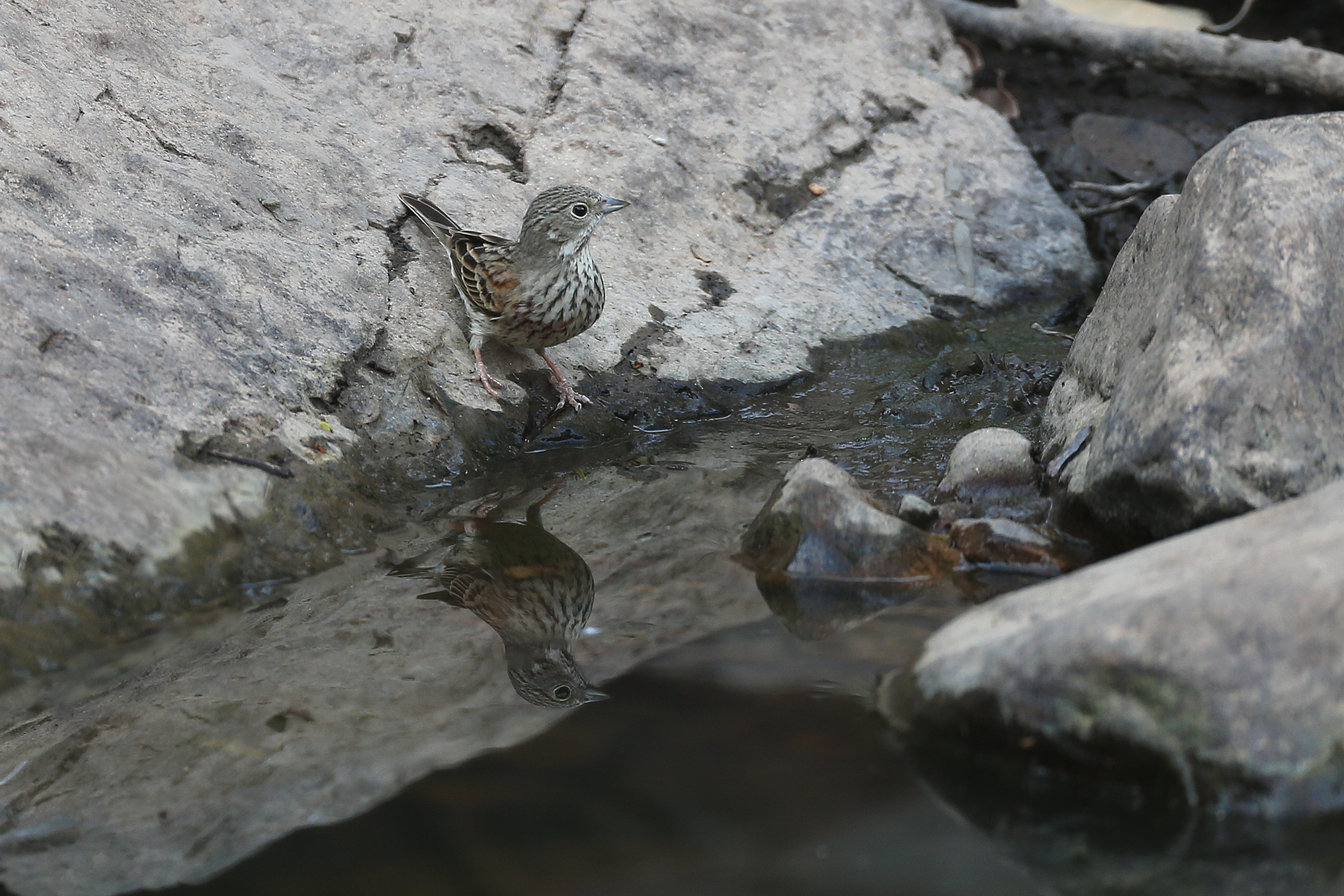 Chestnut-breasted bunting (female)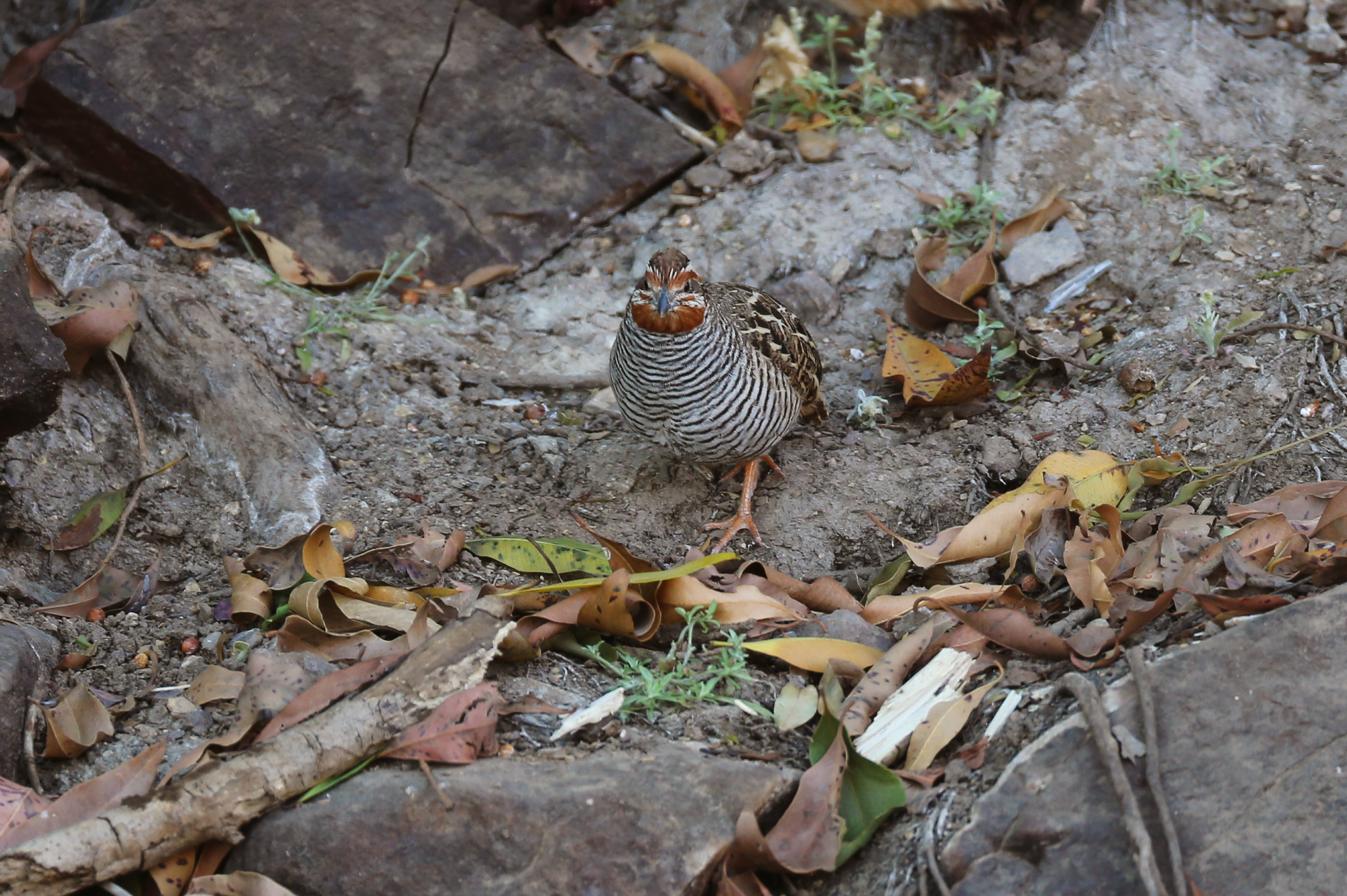 Jungle bush quail (Male: Part of the small flock that were our life birds)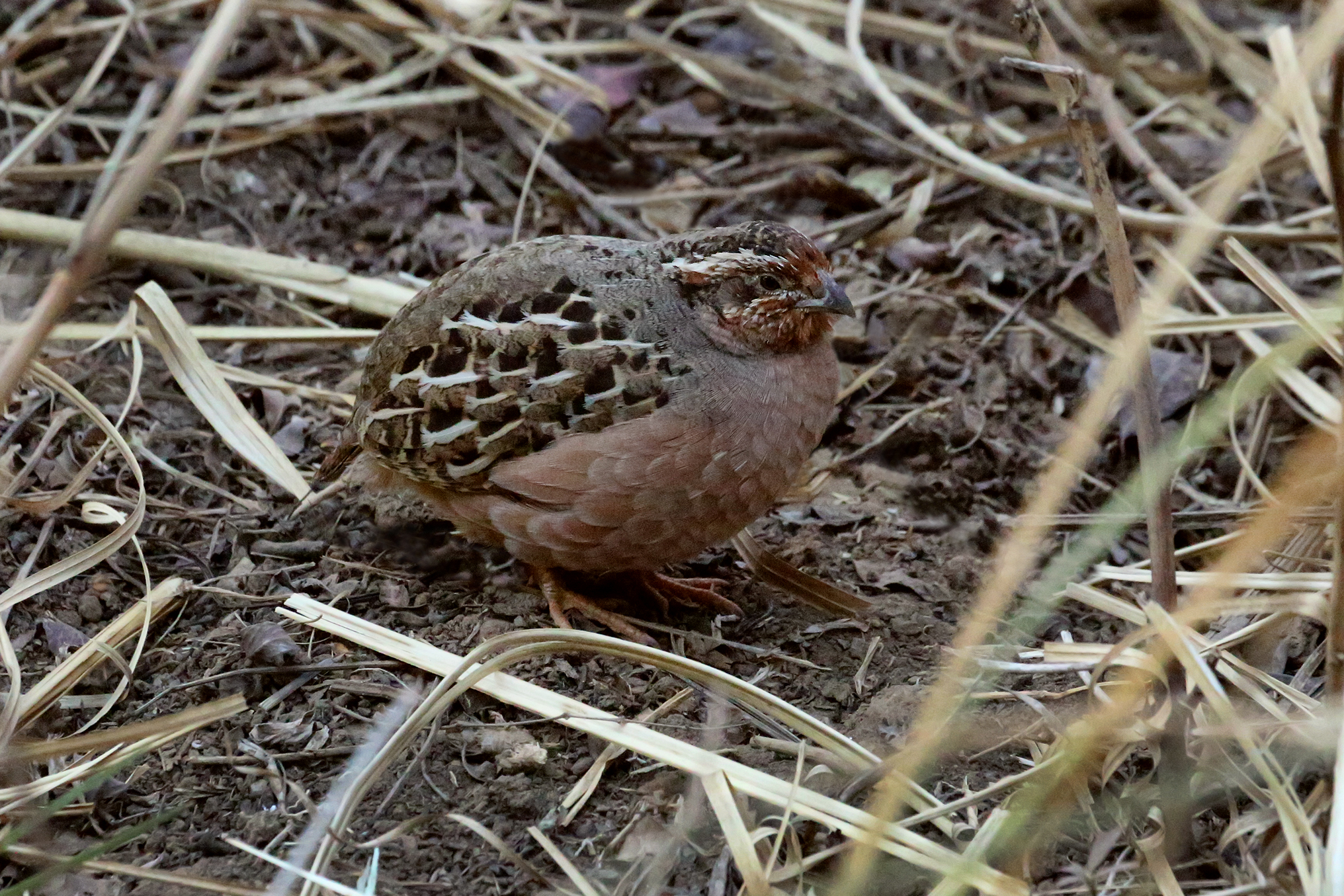 Jungle bush quail (Female)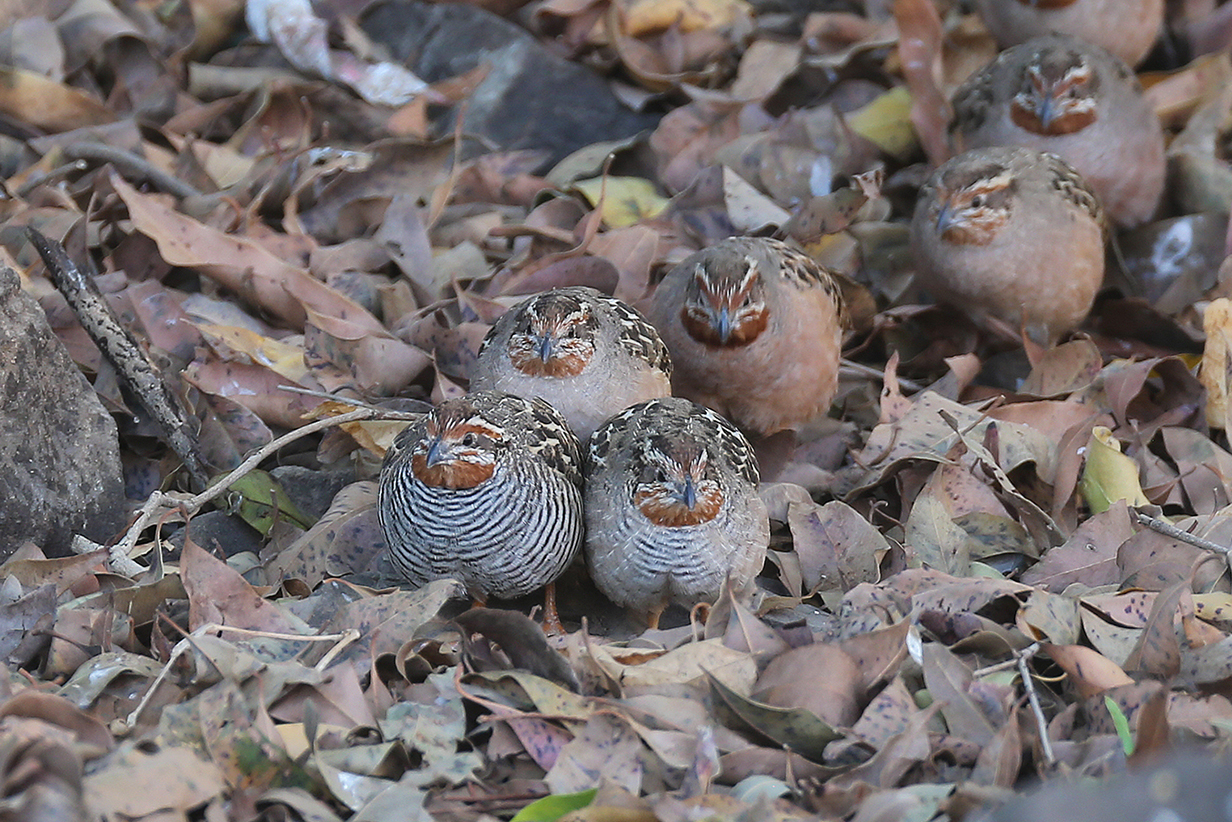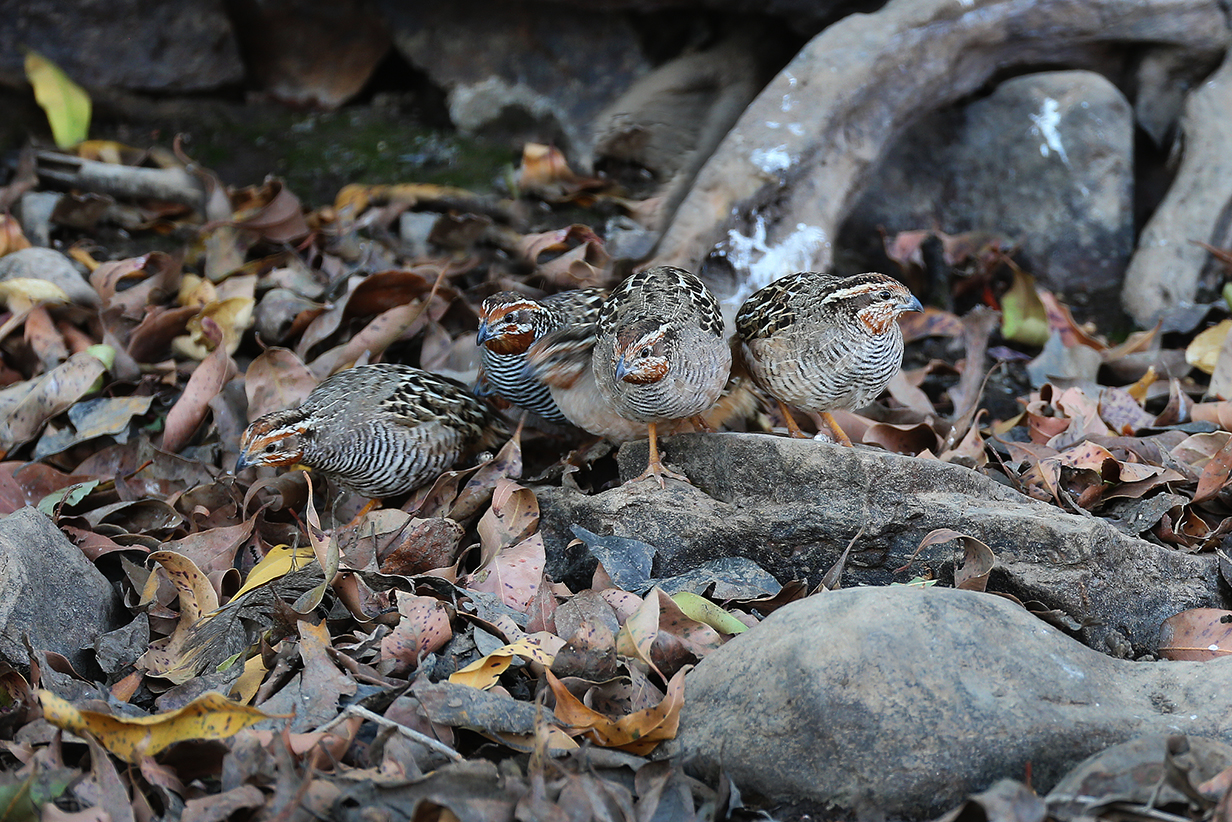 Jungle bush quail (This again is the flock of our life birds. Note how close they stay together to feel ... well: not "safe" but at least "safer".)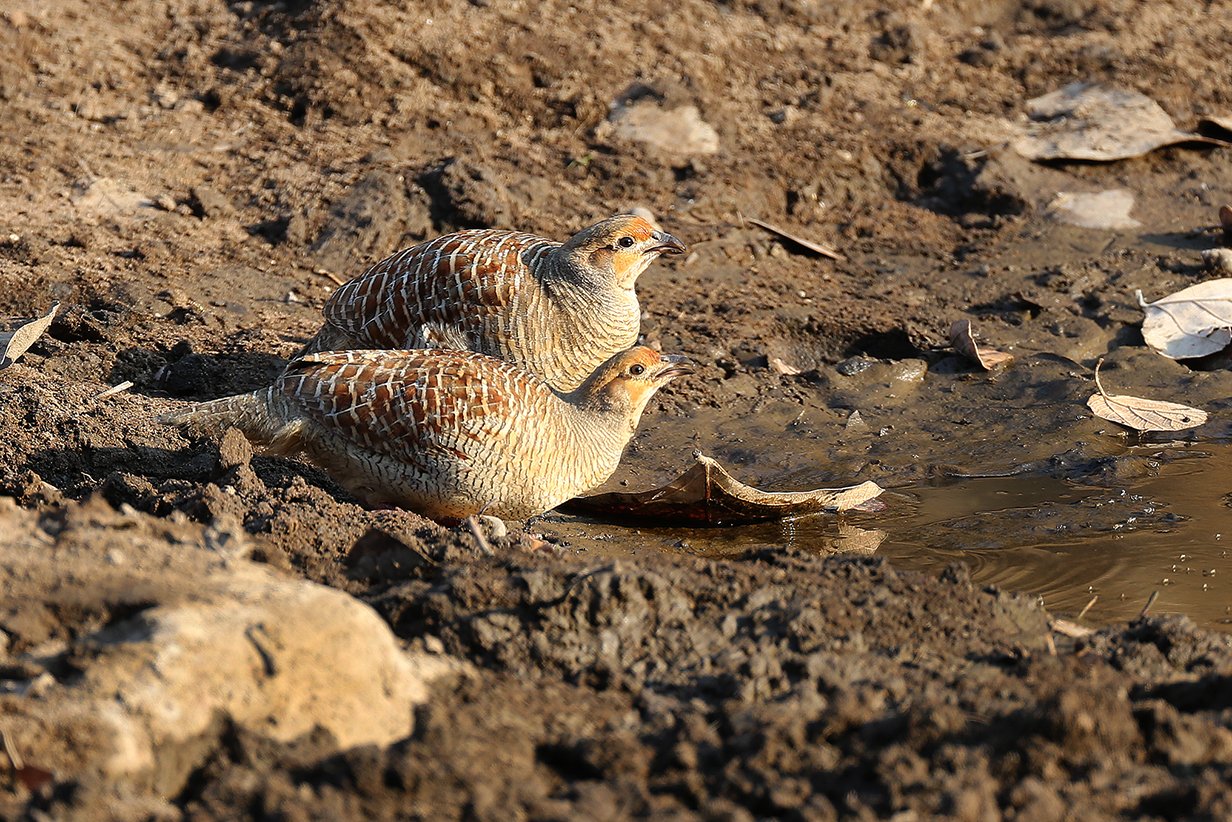 Gray francolin in early morning sunlight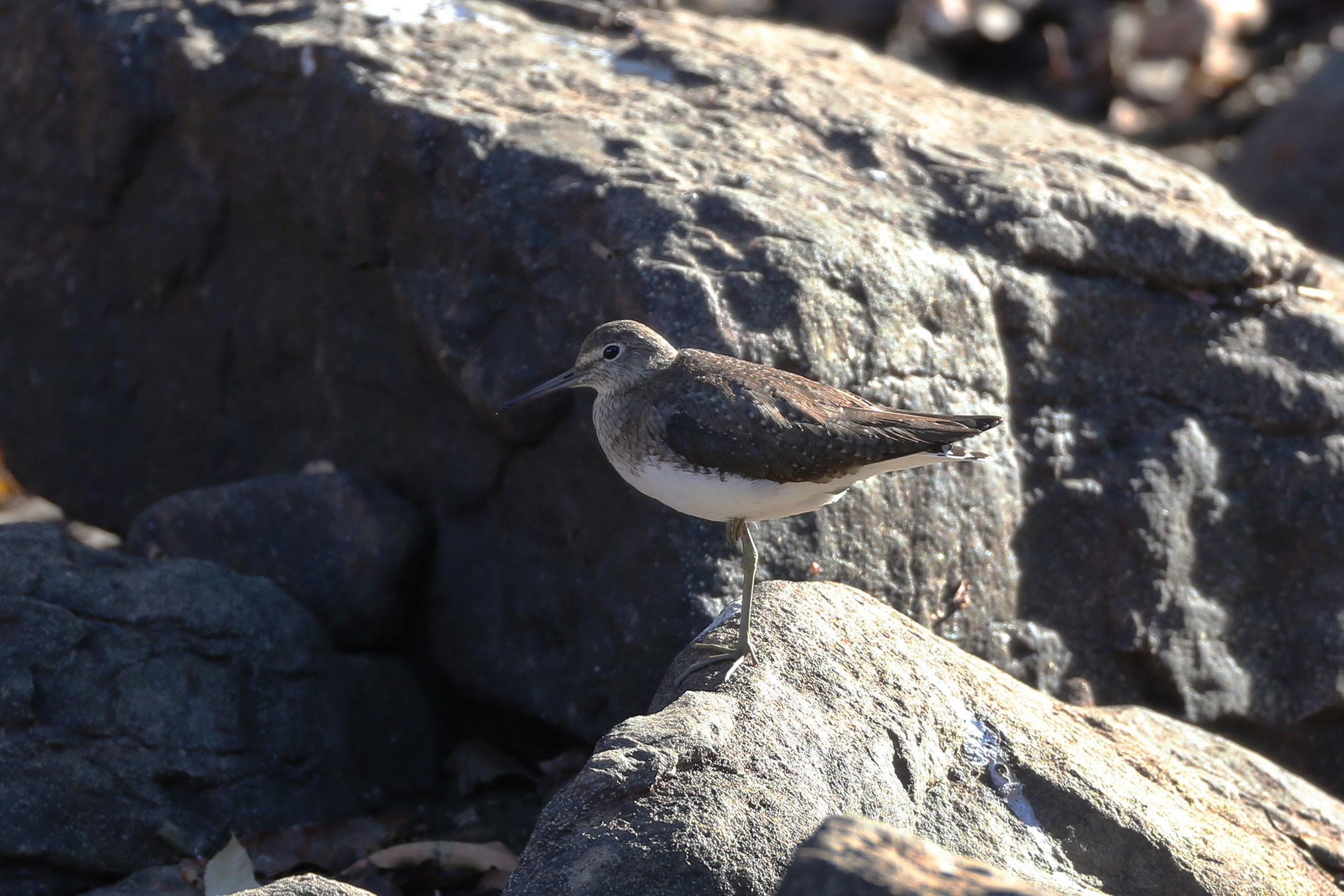 Green sandpiper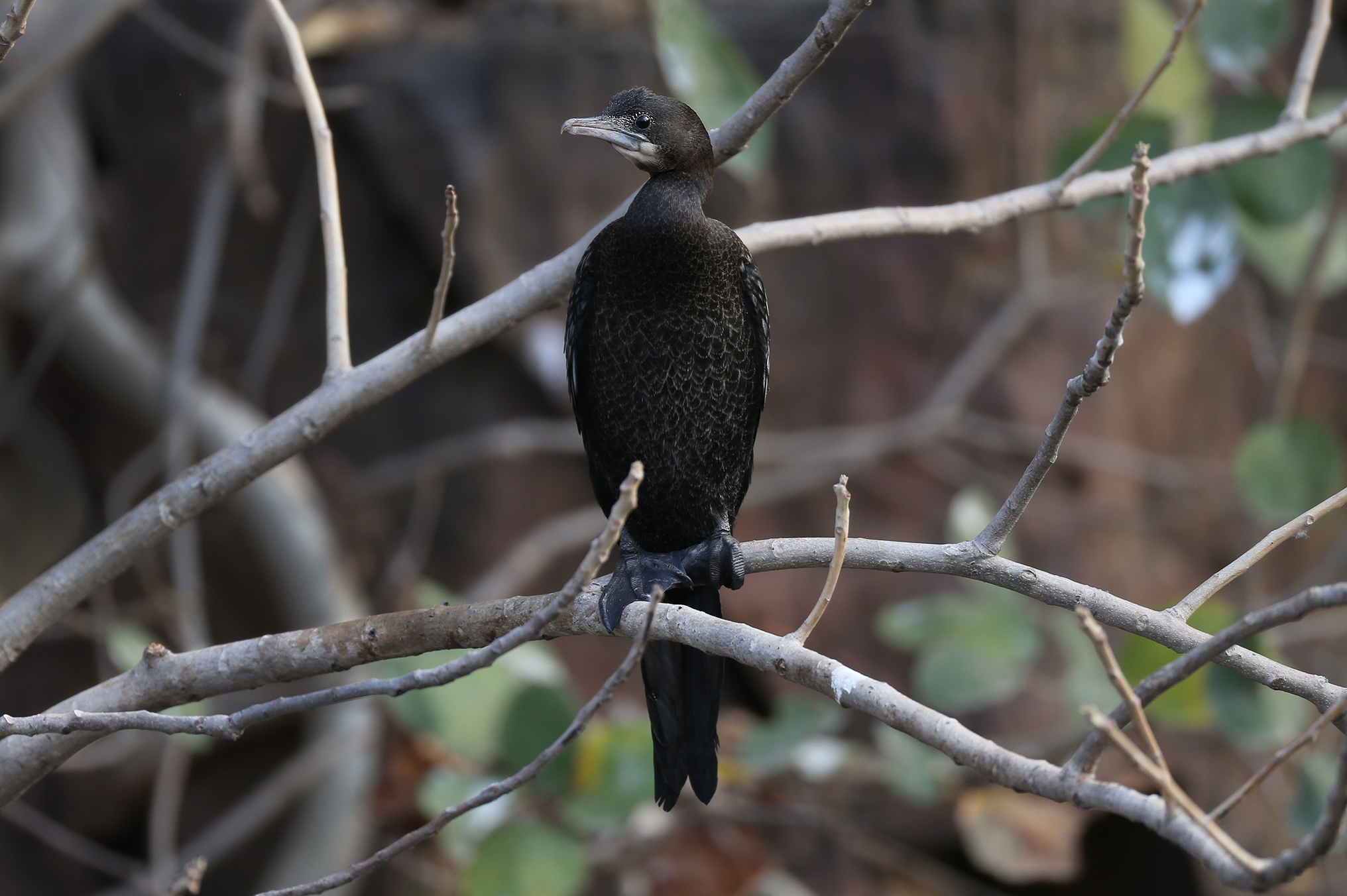 Little cormorant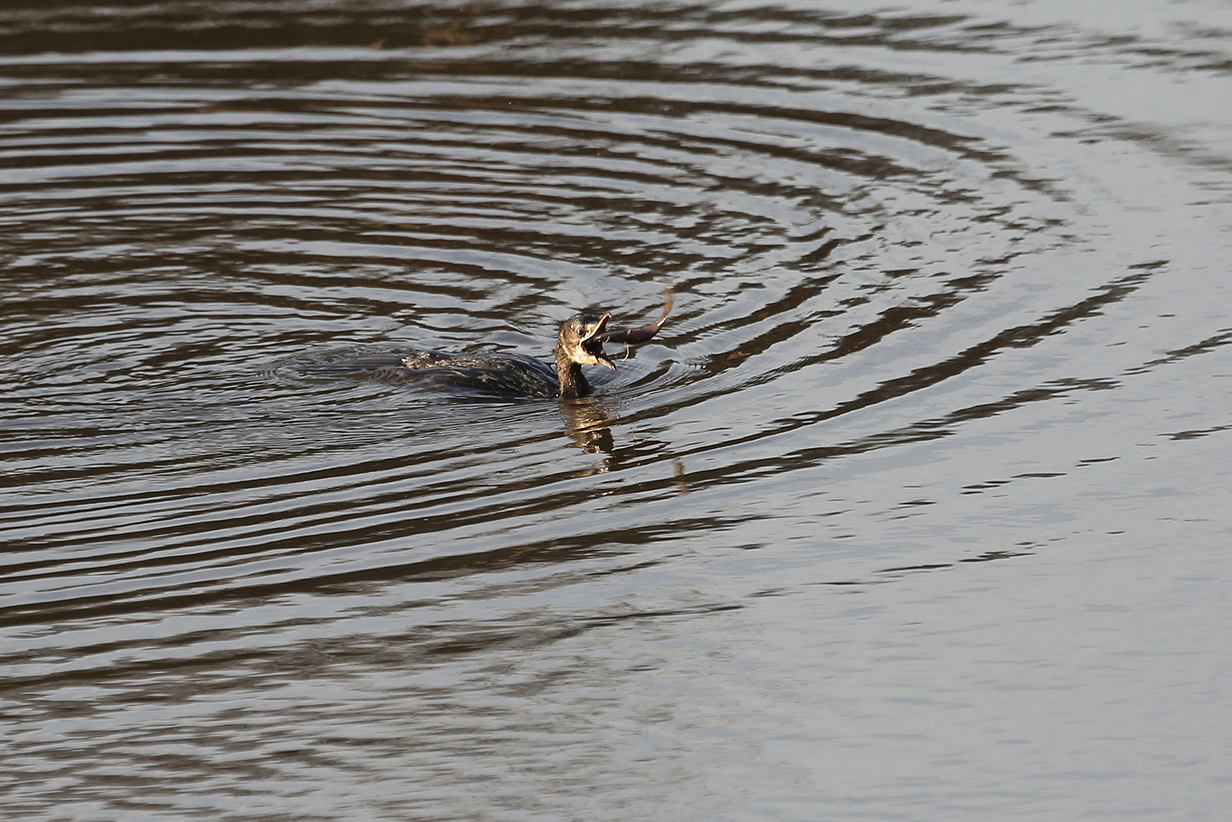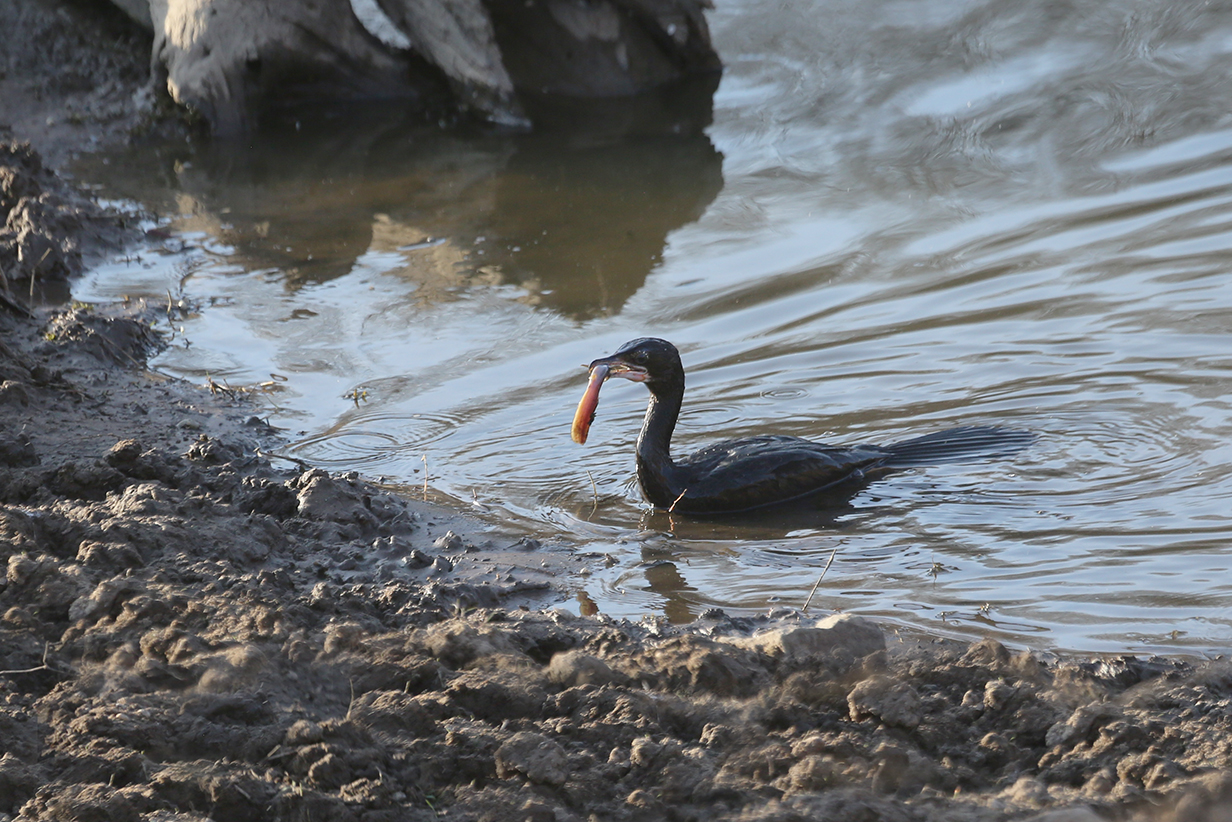 Little cormorant ... on the job!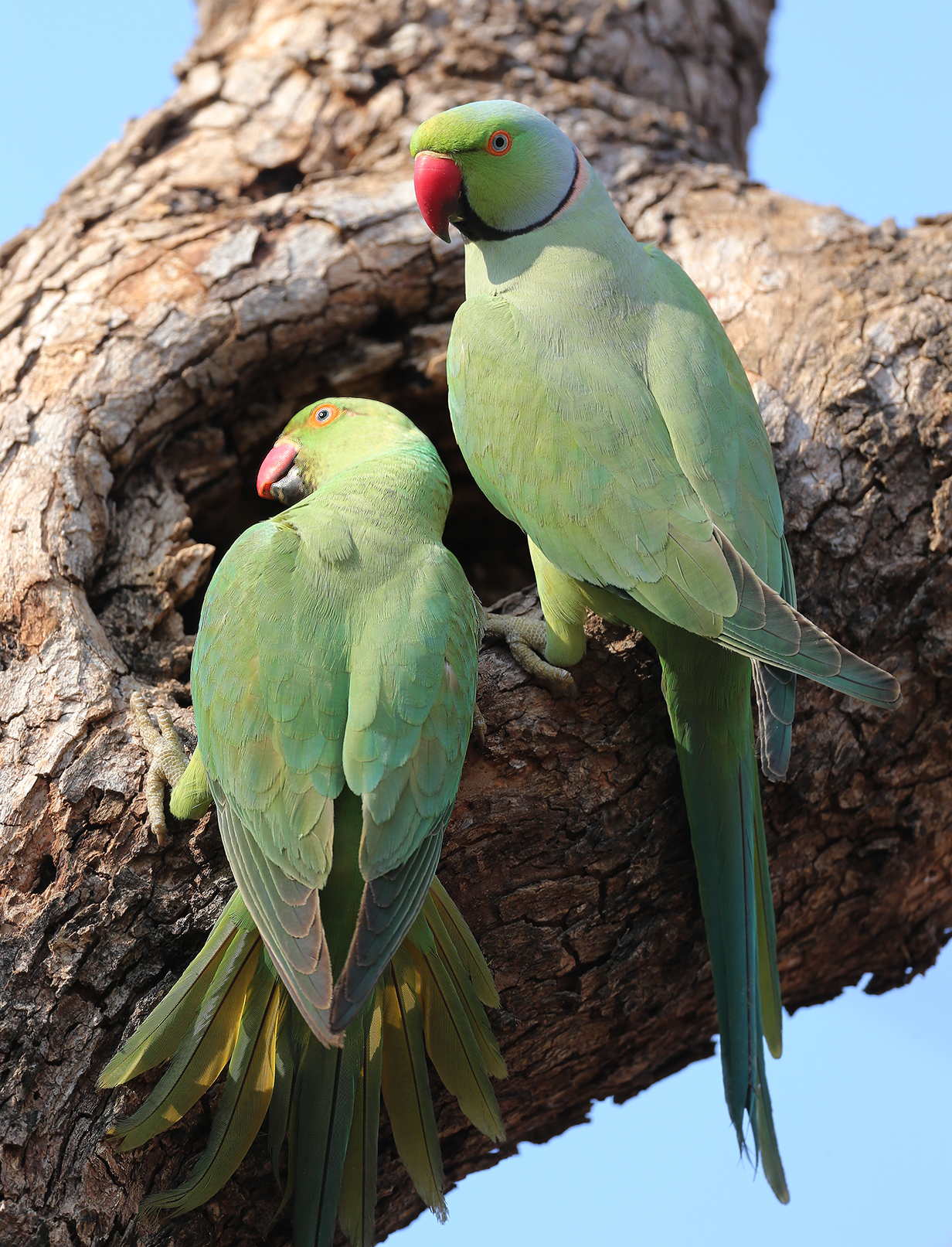 Rose-ringed parakeet (female and male)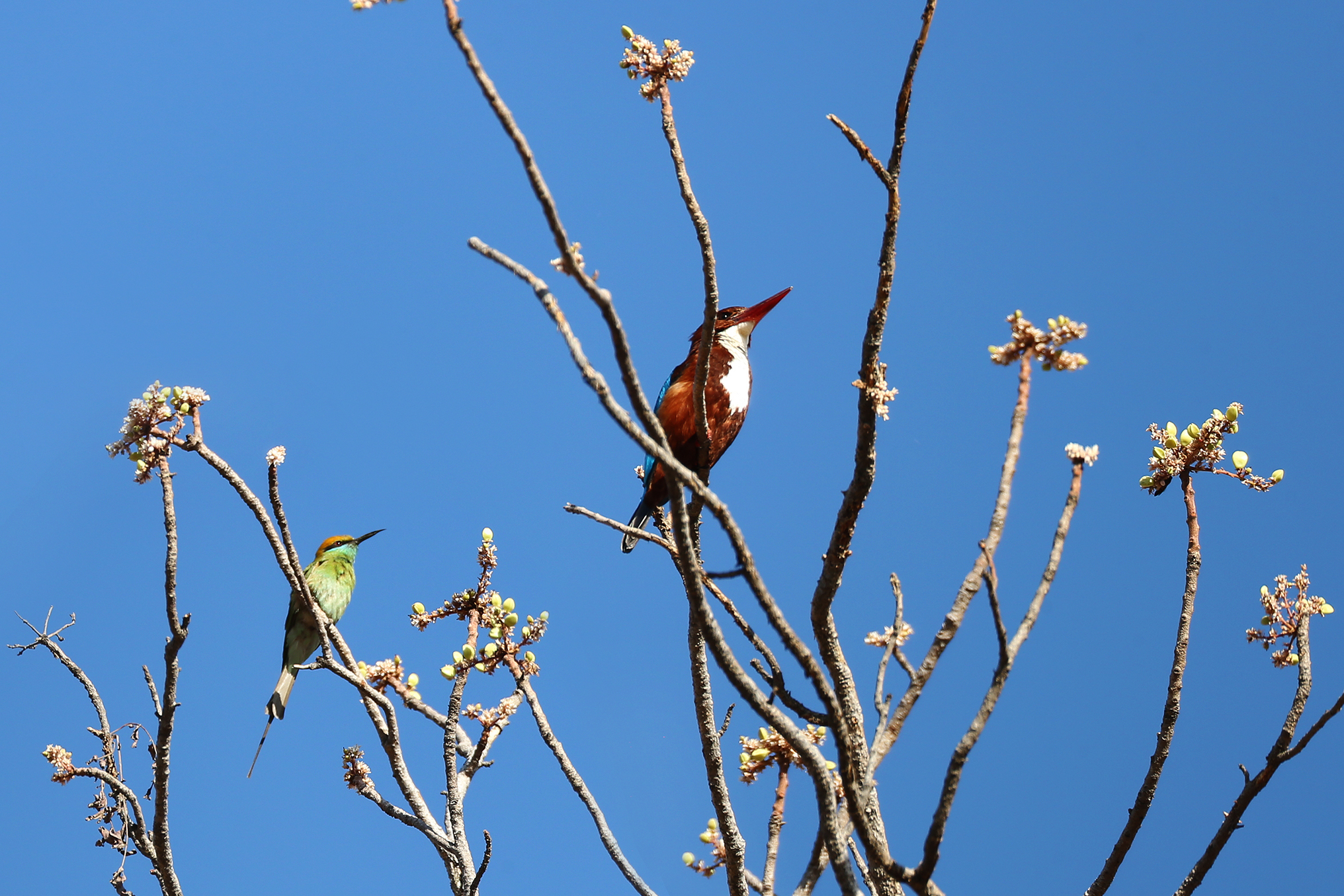 White-throated kingfisher and Green bee-eater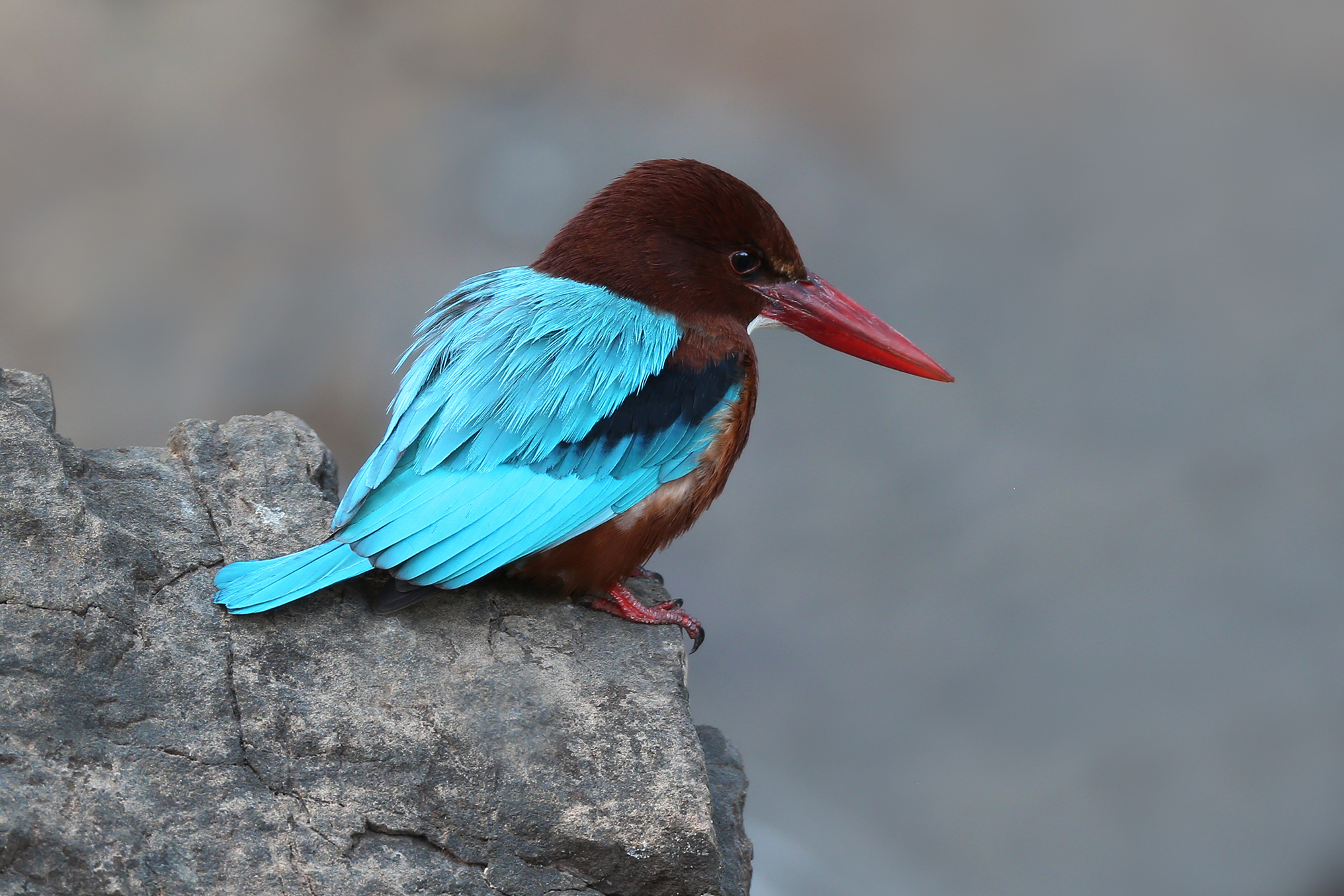 White-throated kingfisher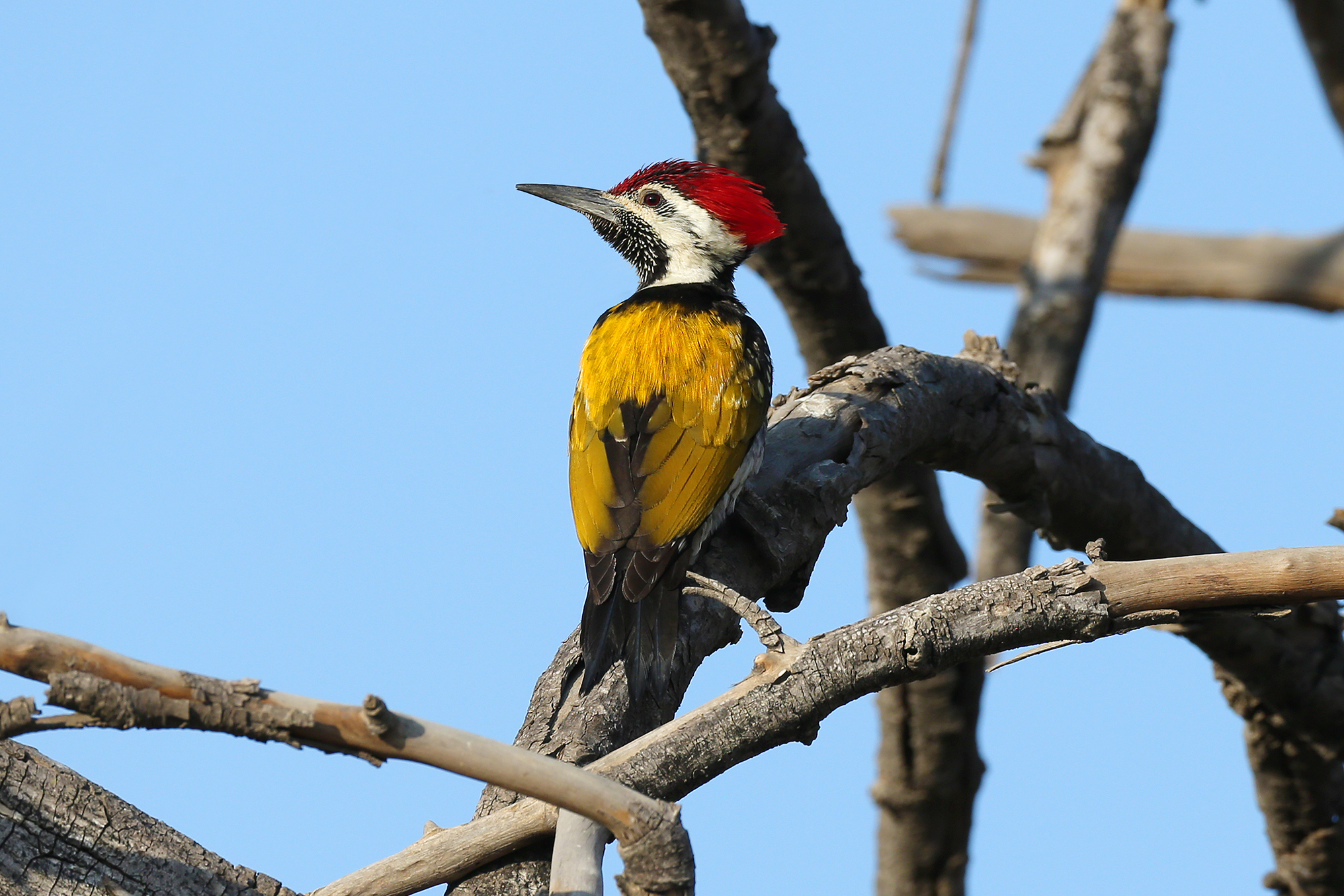 Black-rumped flameback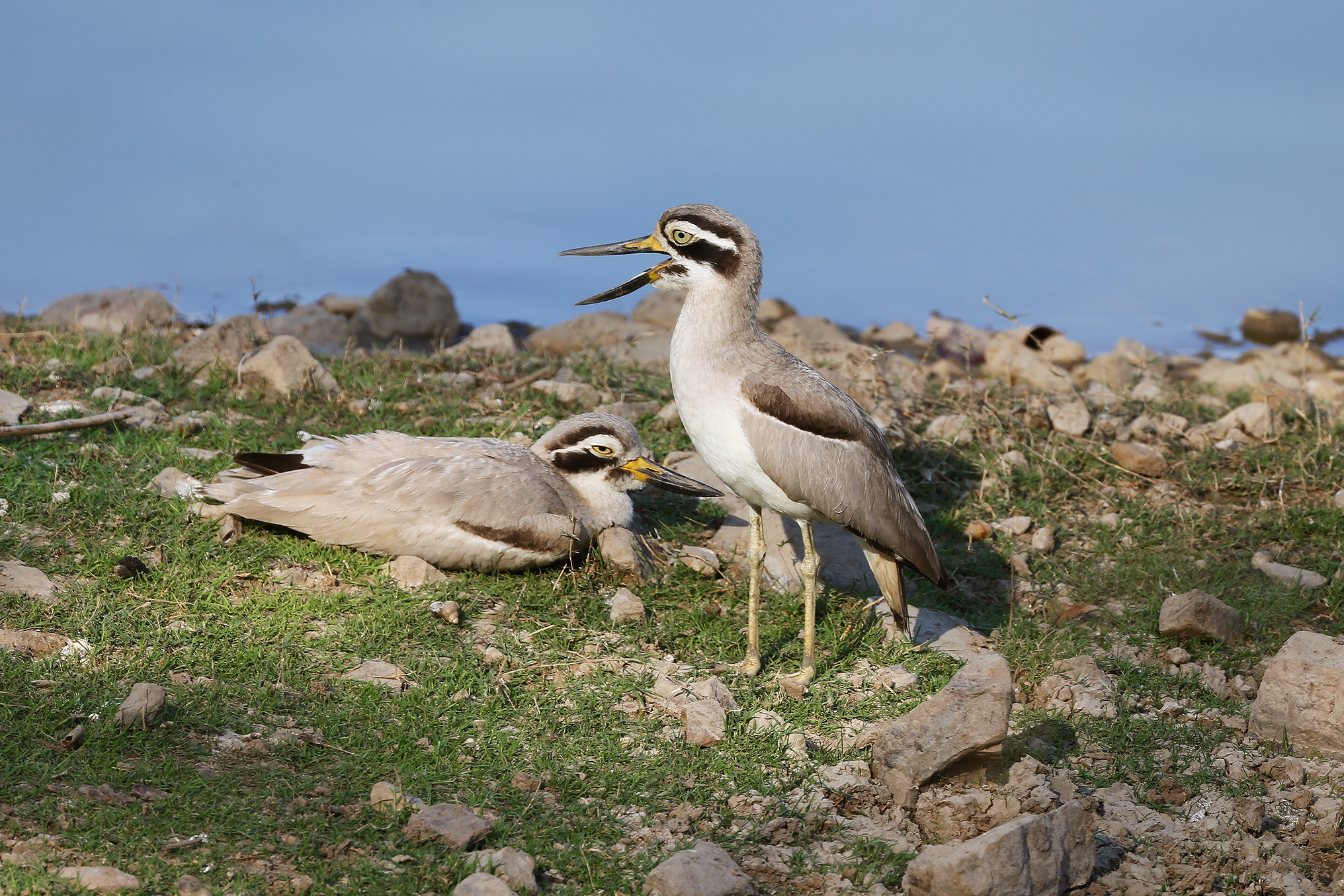 Great thick-knee (near the big lake at Ranthambore)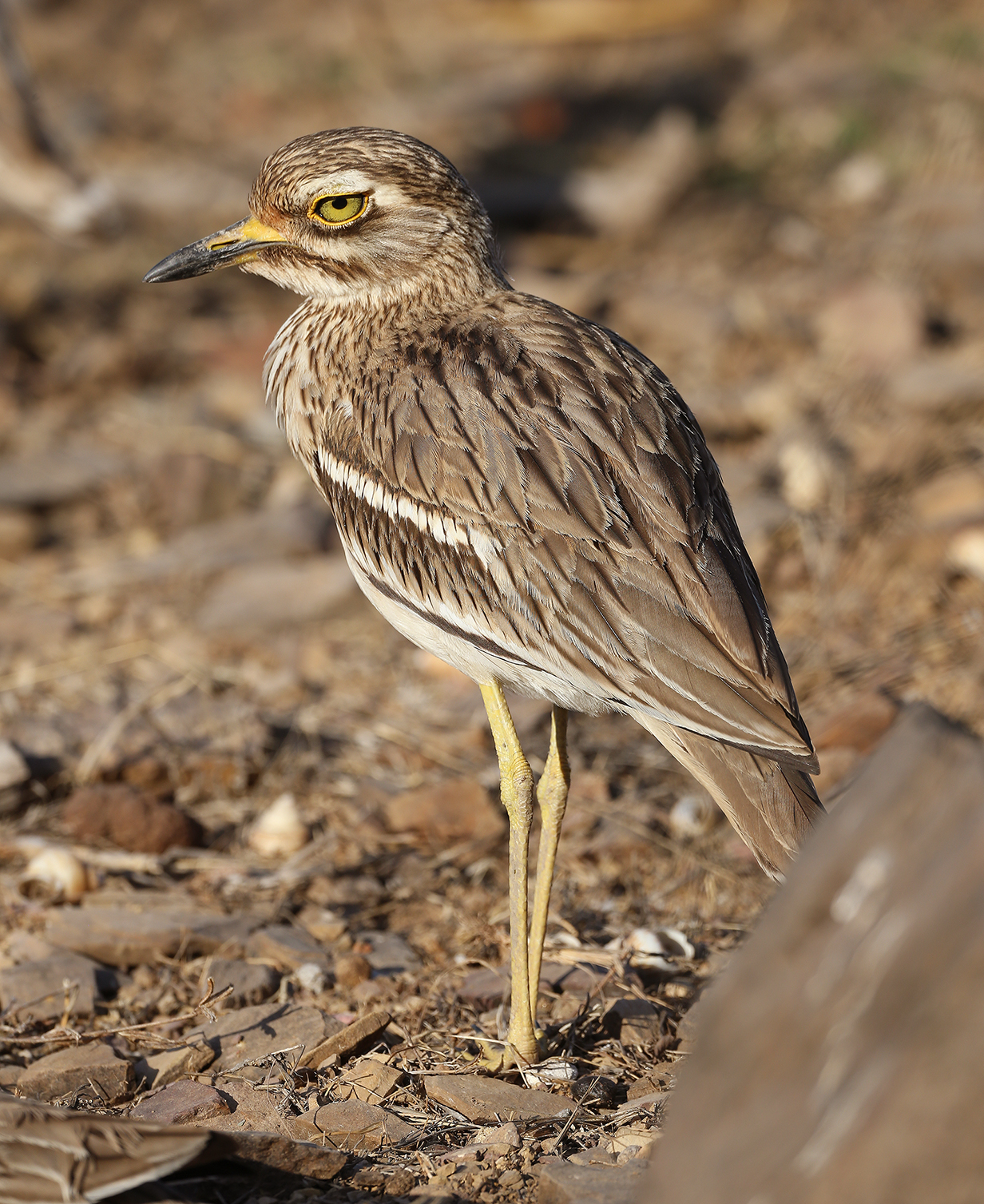 Eurasian thick-knee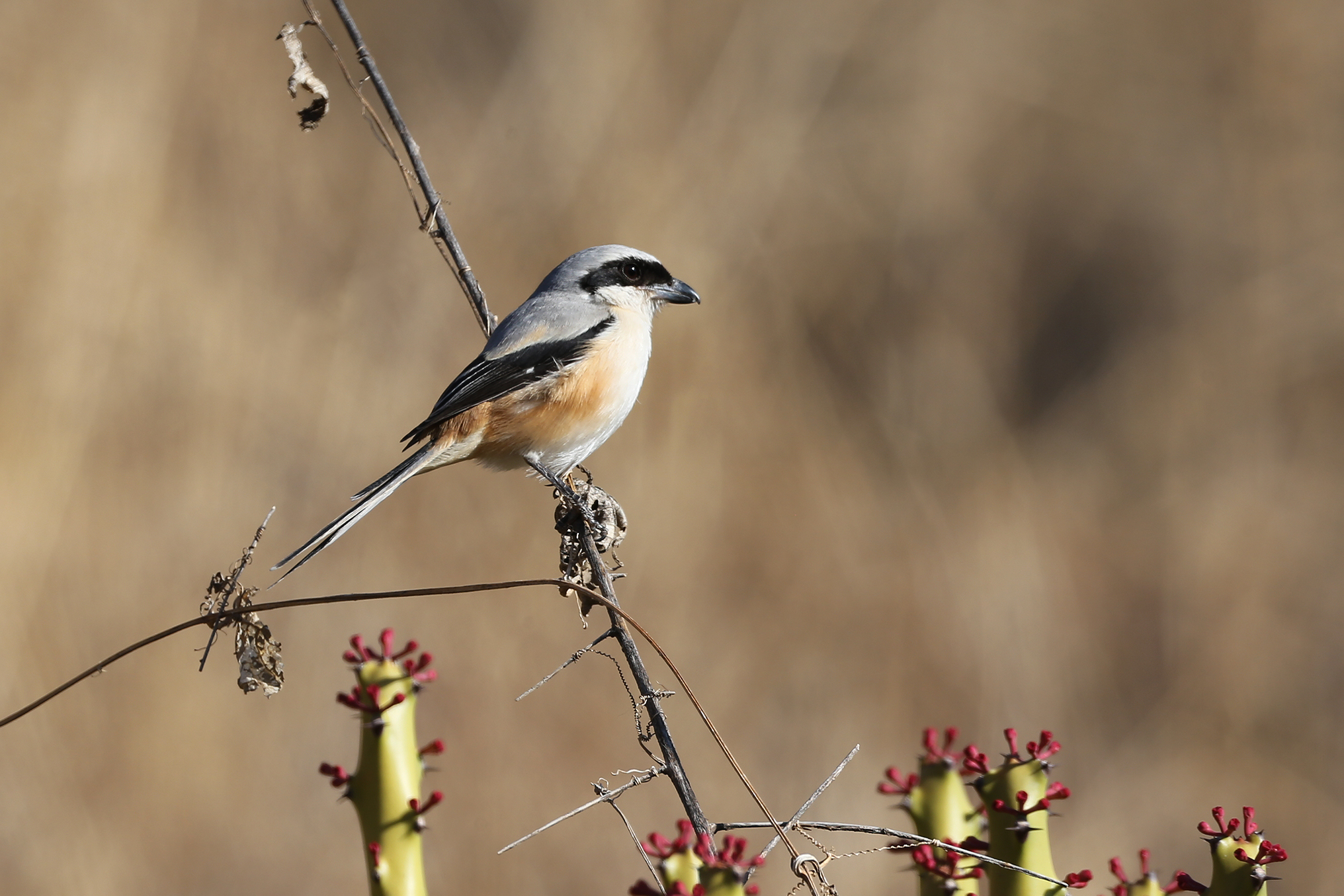 Long-tailed shrike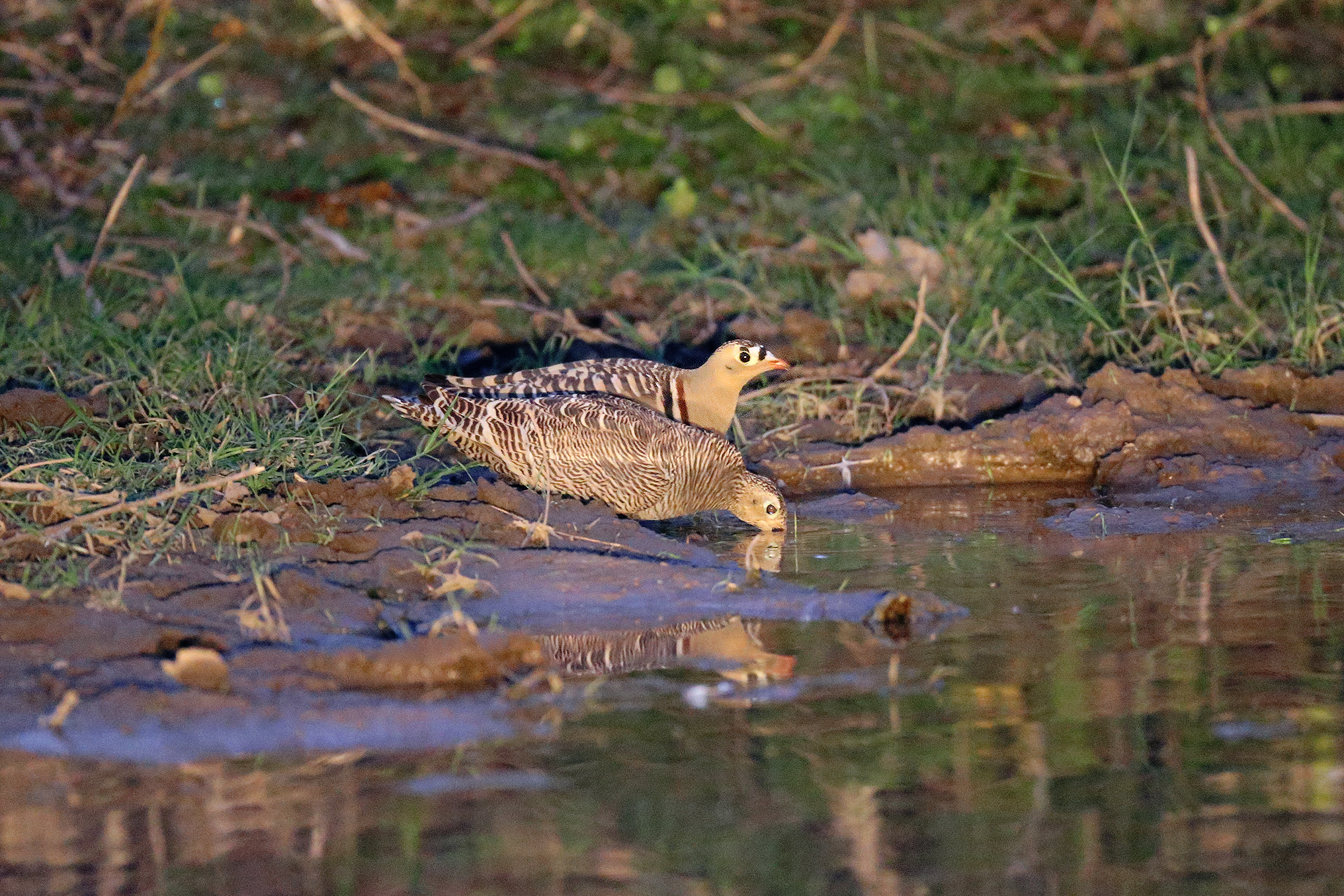 Painted sandgrouse -- the female is drinking while the male stands guard, in deep evening twilight.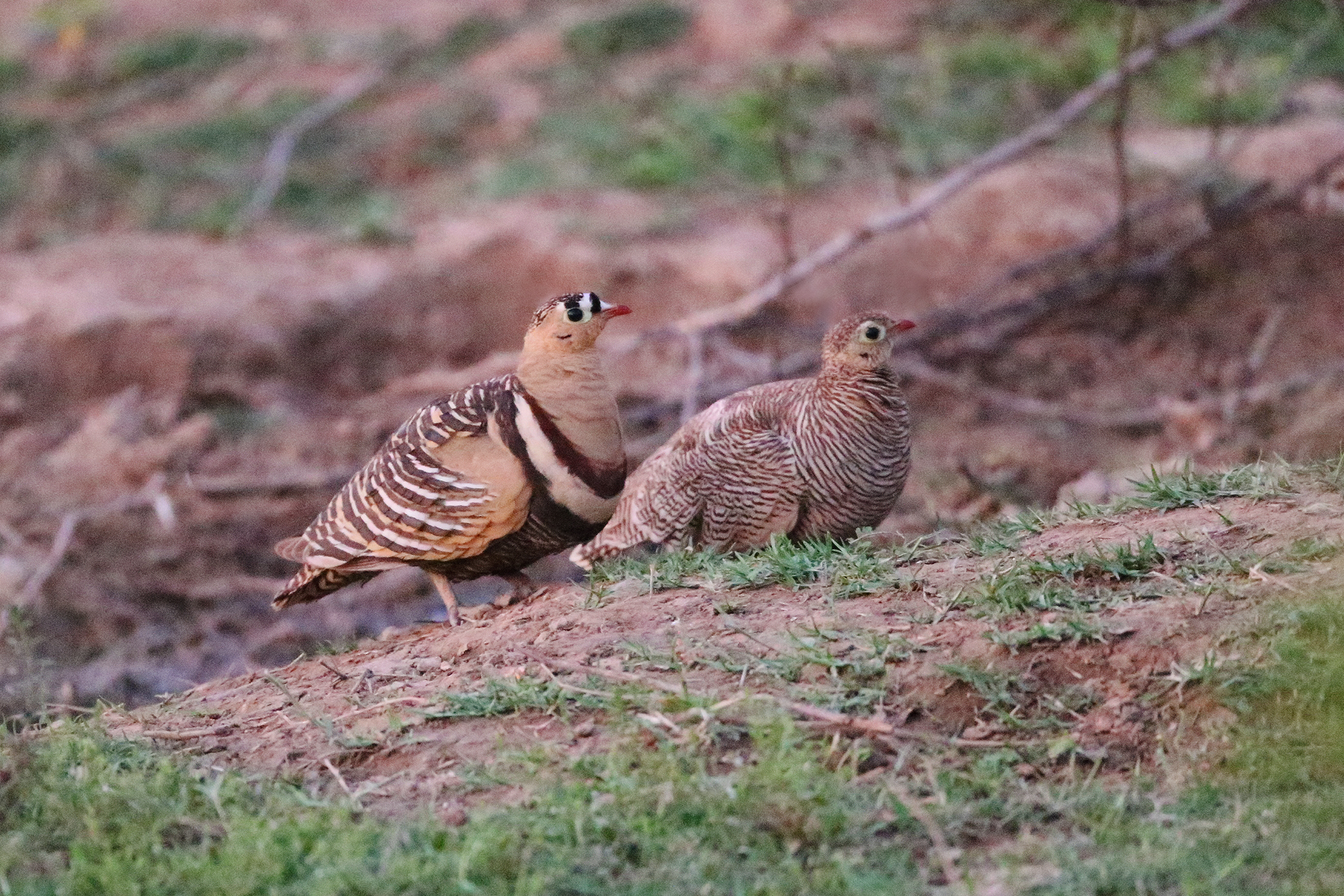 Painted sandgrouse (These are our life birds, photographed in deep evening twilight without artificial light in a long exposure at high camera ISO speed setting.)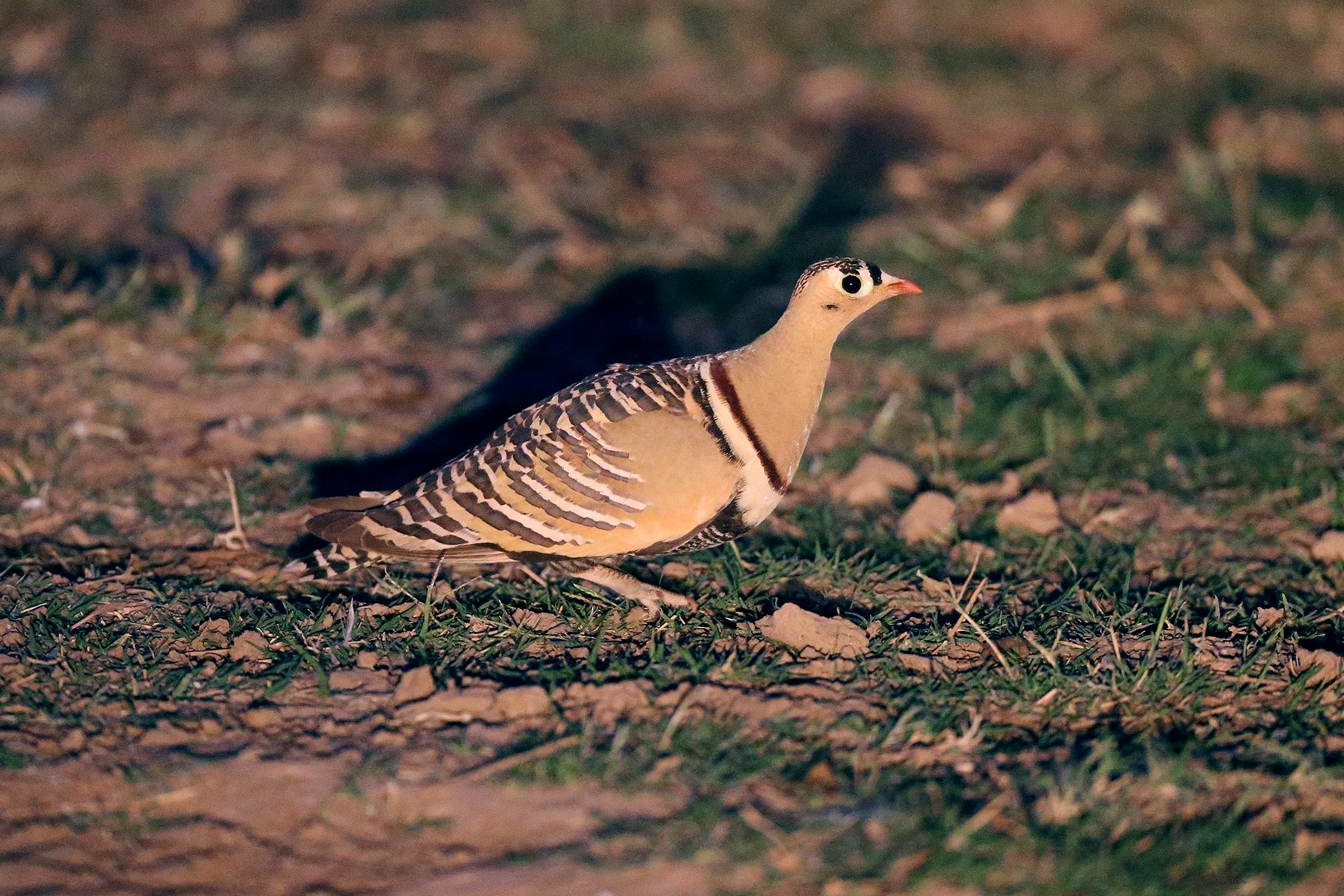 Painted sandgrouse (male, in car headlights)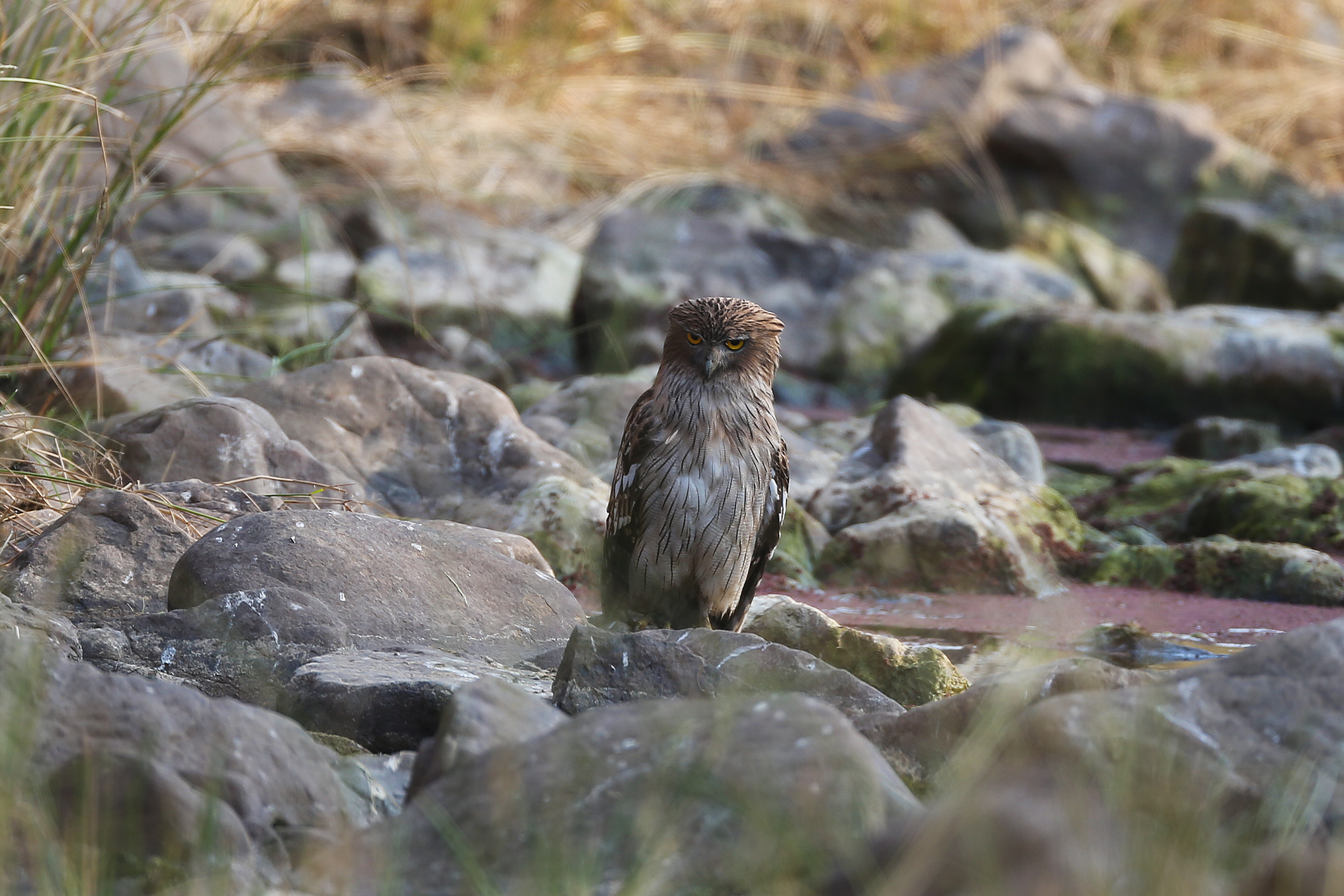 Brown fish-owl (last day at Ranthambore)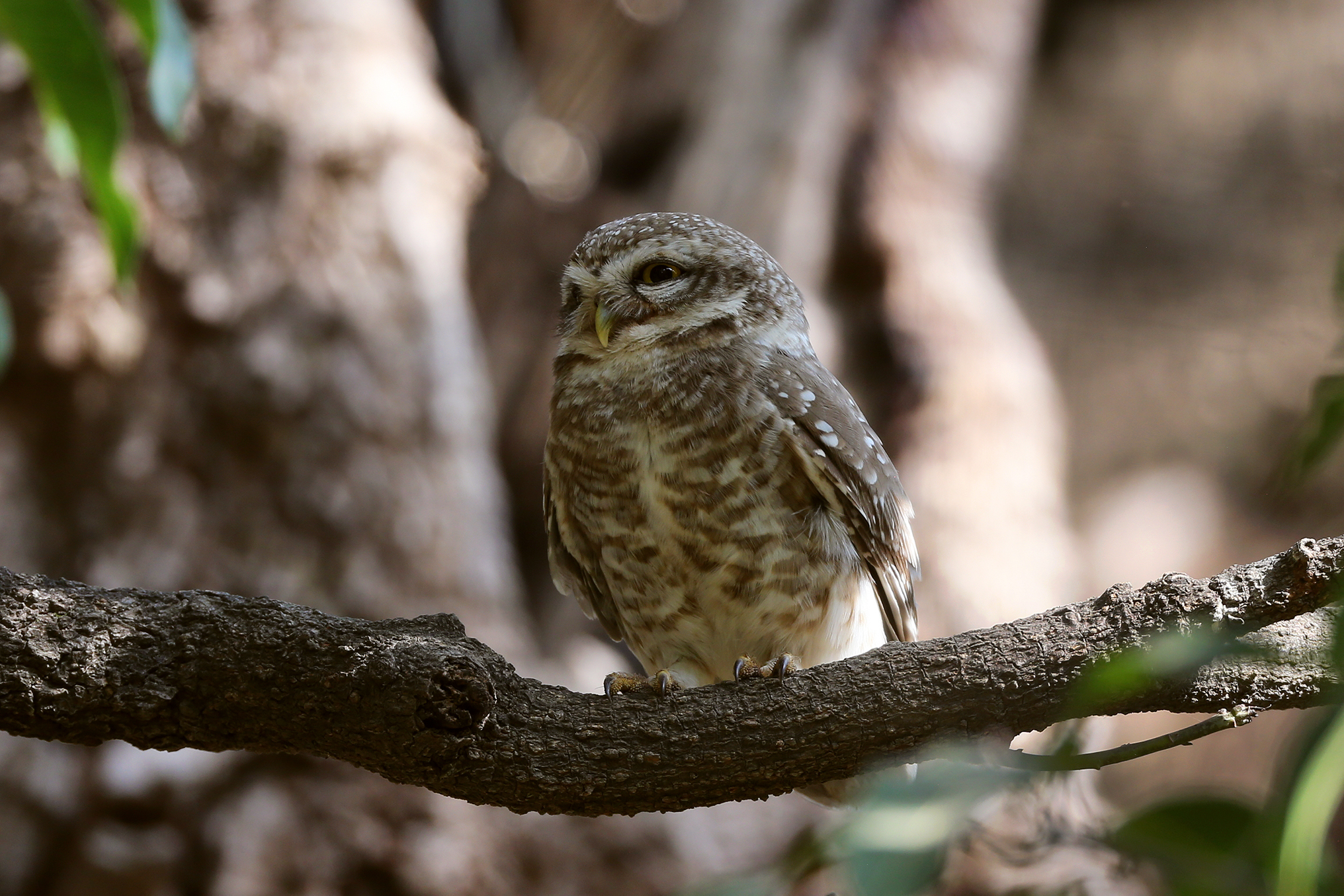 Spotted owlet (There are lots of owls in Ranthambore; that's one sign of a healthy ecology)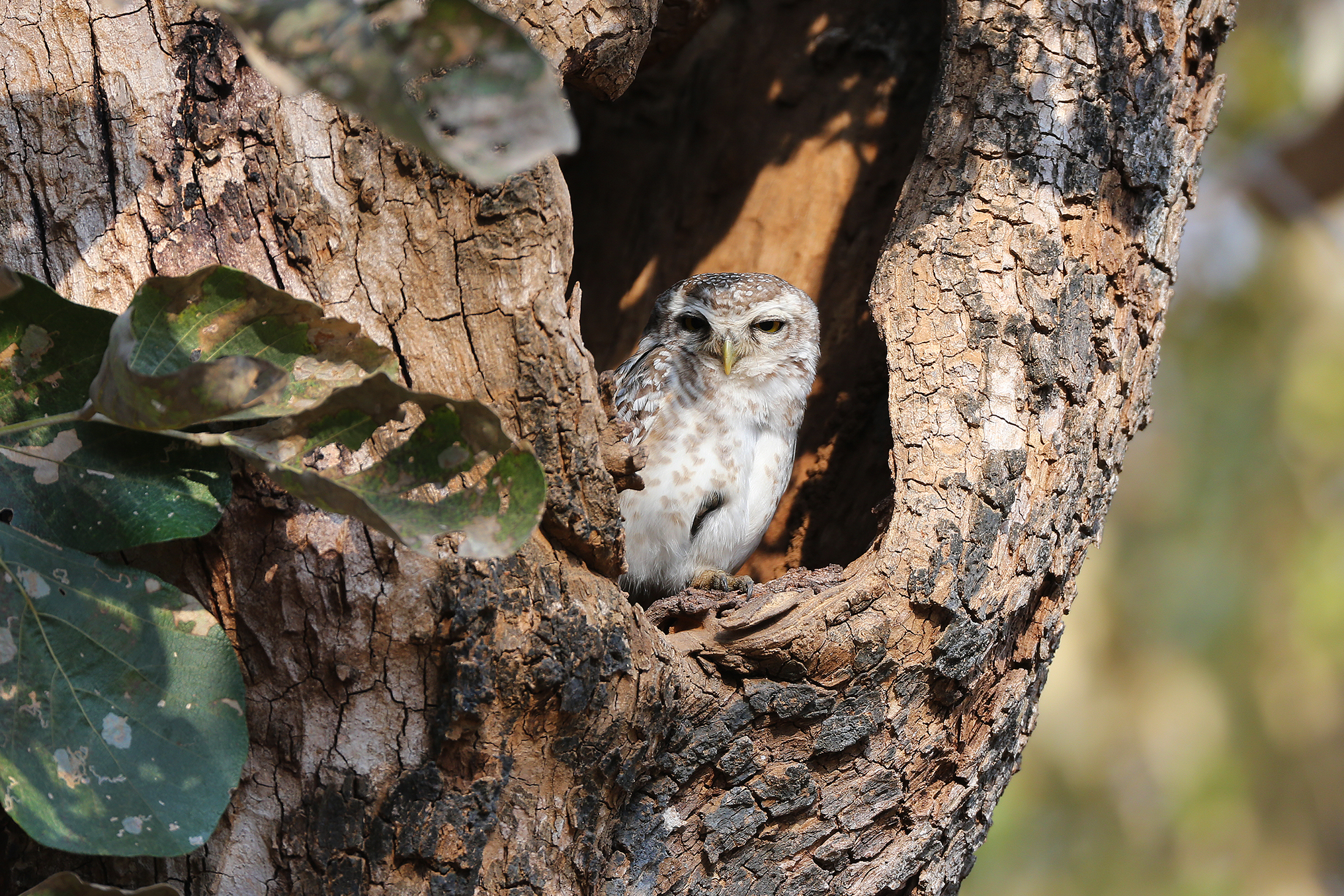 Spotted owlet (different bird; last day at Ranthambore)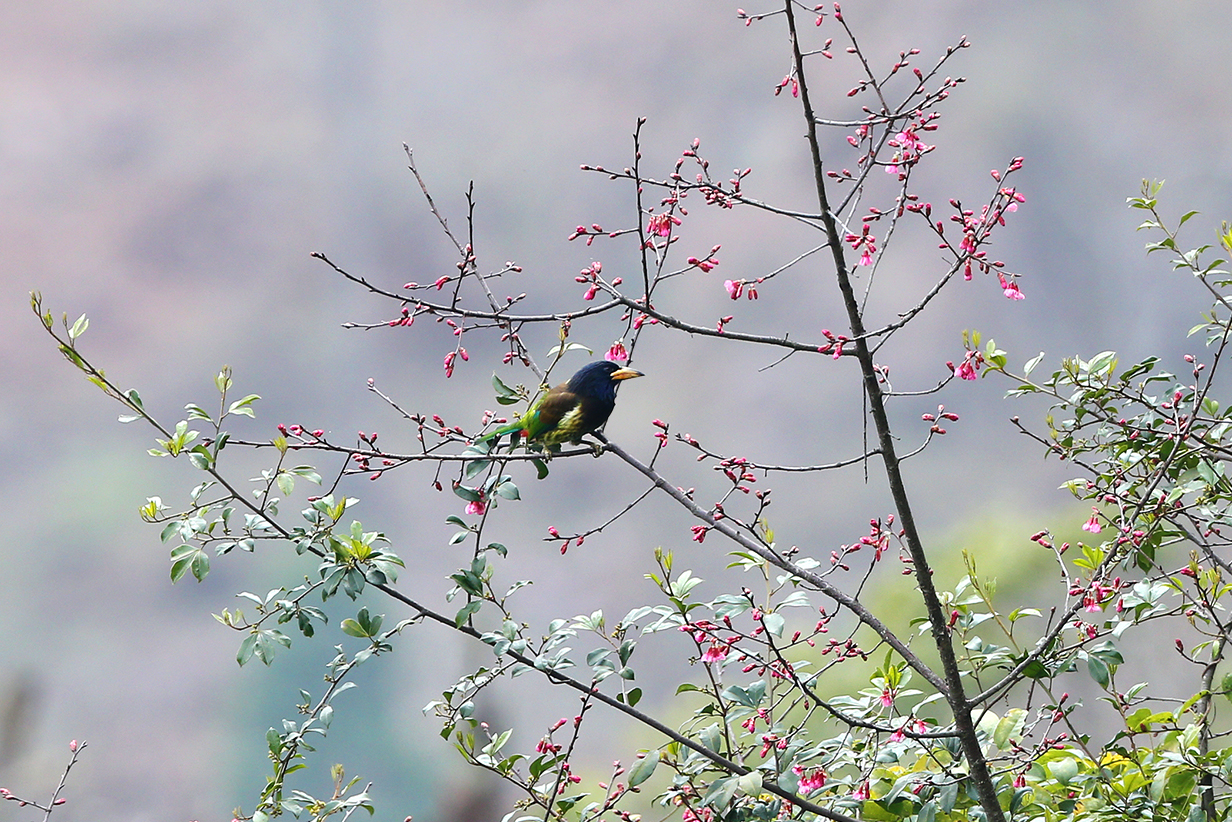 Great barbet (We saw it several times, always very far away.)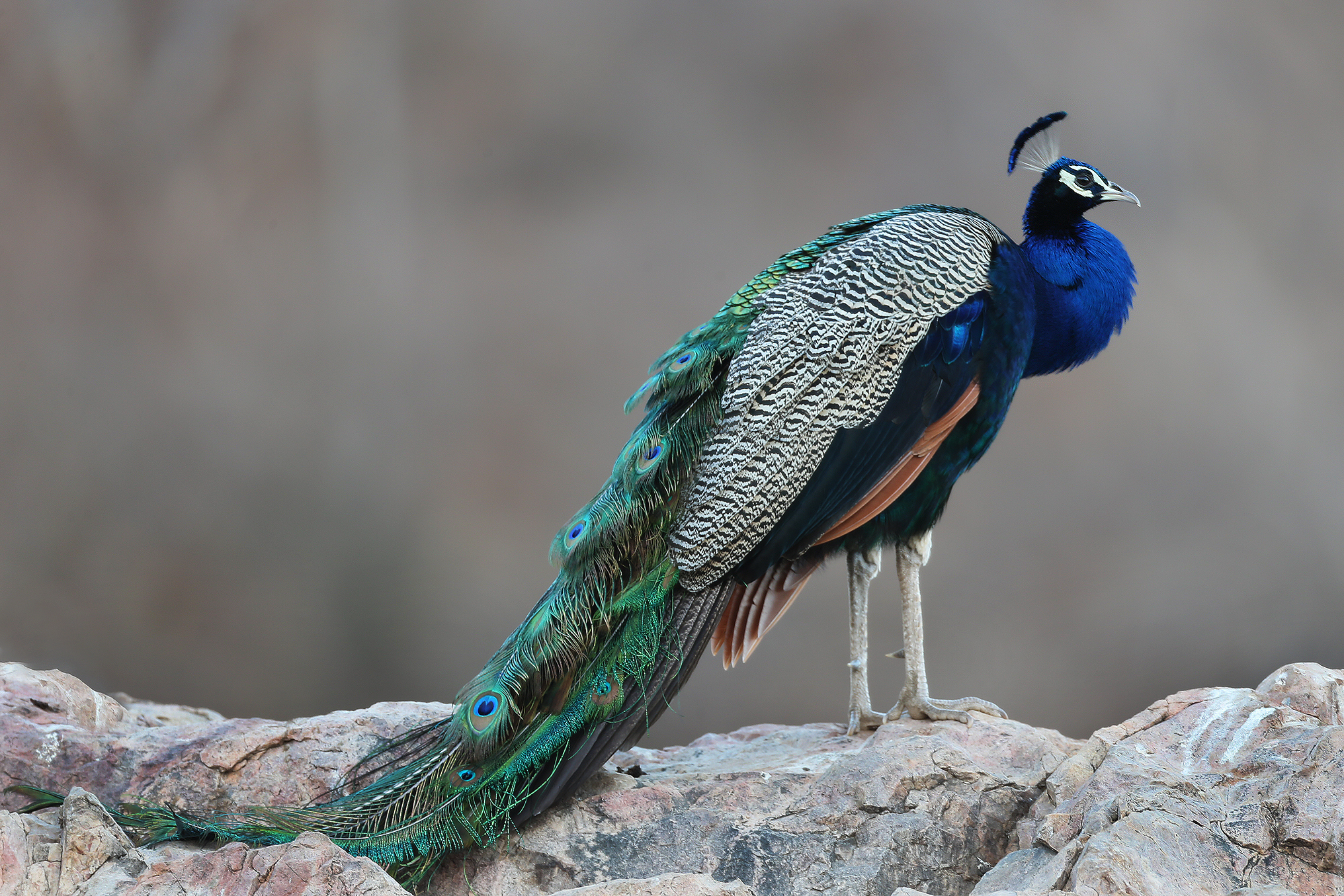 Peacock (It would not be right to show pictures from Ranthambore without including this iconic bird.)
Eagle Nest Wildlife Sanctuary to Sela Pass to Tawang
Warning to birders who want to come to Eagle Nest Wildlife Sanctuary: The access road is being improved rapidly as I write this in early April 2018. It is nice NOT to be bounced around when we drive the road, but improved access promises more traffic, and the construction already degrades the birding. I am sad to predict that birding this area is likely to be further degraded in coming years, especially if the break in the road below Bompu Camp is repaired and the Tenga - Lama Camp - Bompu Camp road actually goes somewhere. If you want to go, my advice is: Go soon.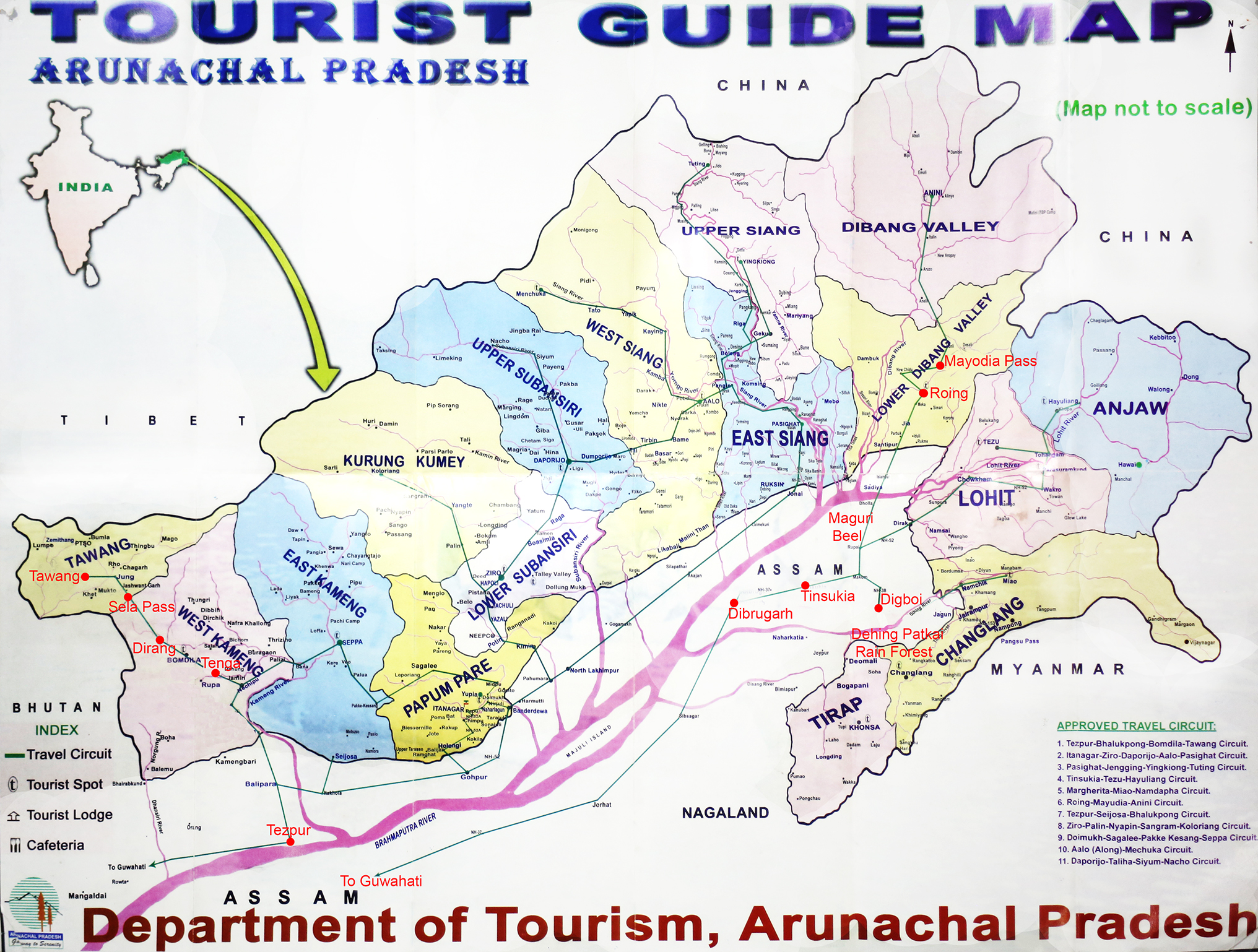 The left part of this approximate map shows our route from Assam across the Brahmaputra River to Tezpur. Nameri National Park (not marked) is across the Kameng river north of Tezpur. A very rough road (currently being improved) goes south (down, on the map) from Tenga (where we stayed for five nights) to Lama Camp, over Eagle Nest Pass, and on to Bompu Camp. After birding the Eagle Nest Wildlife Sanctuary, we drove on via the Mandala Road (not shown) to Dirang and thence over Sela Pass to spend one night in Tawang. On the way back, after crossing Sela Pass, we took a new road just past Bomdila south to the flatlands of Assam west of Tezpur and almost on the border to Bhutan. This region is called the "Assam lowlands near Guwahati". below.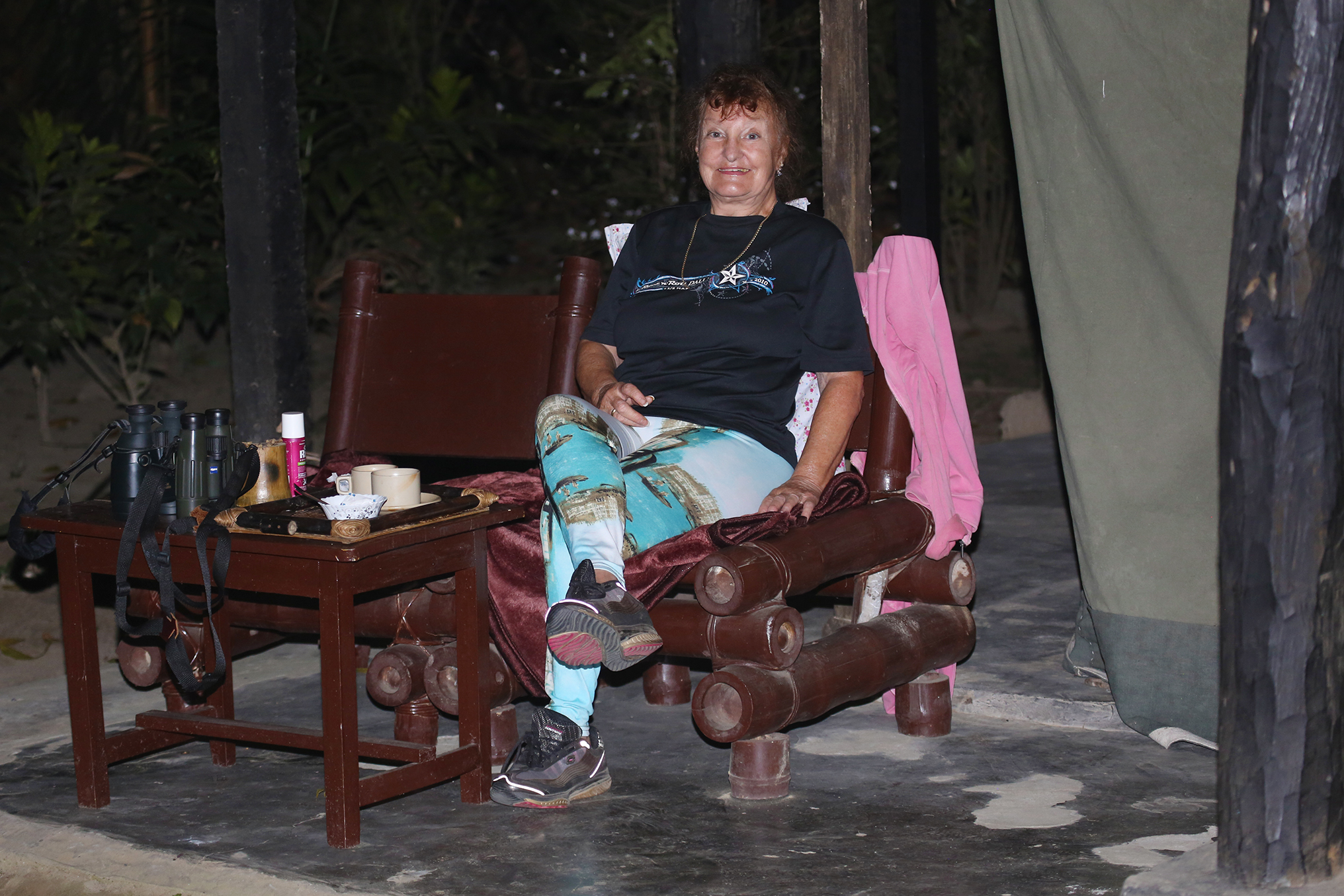 Mary at our tent in Nameri National Park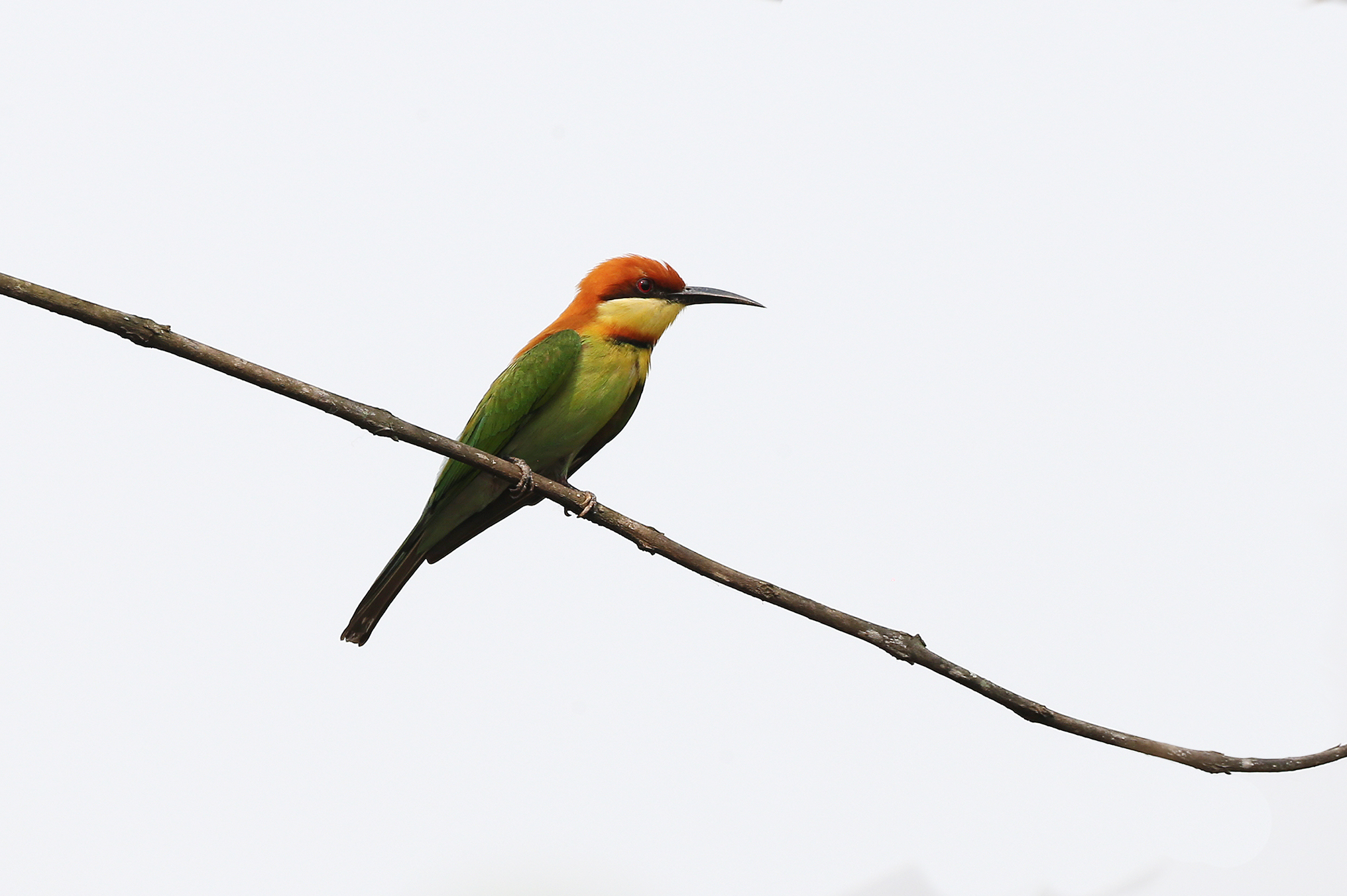 Chestnut-headed bee-eater (Nameri National Park)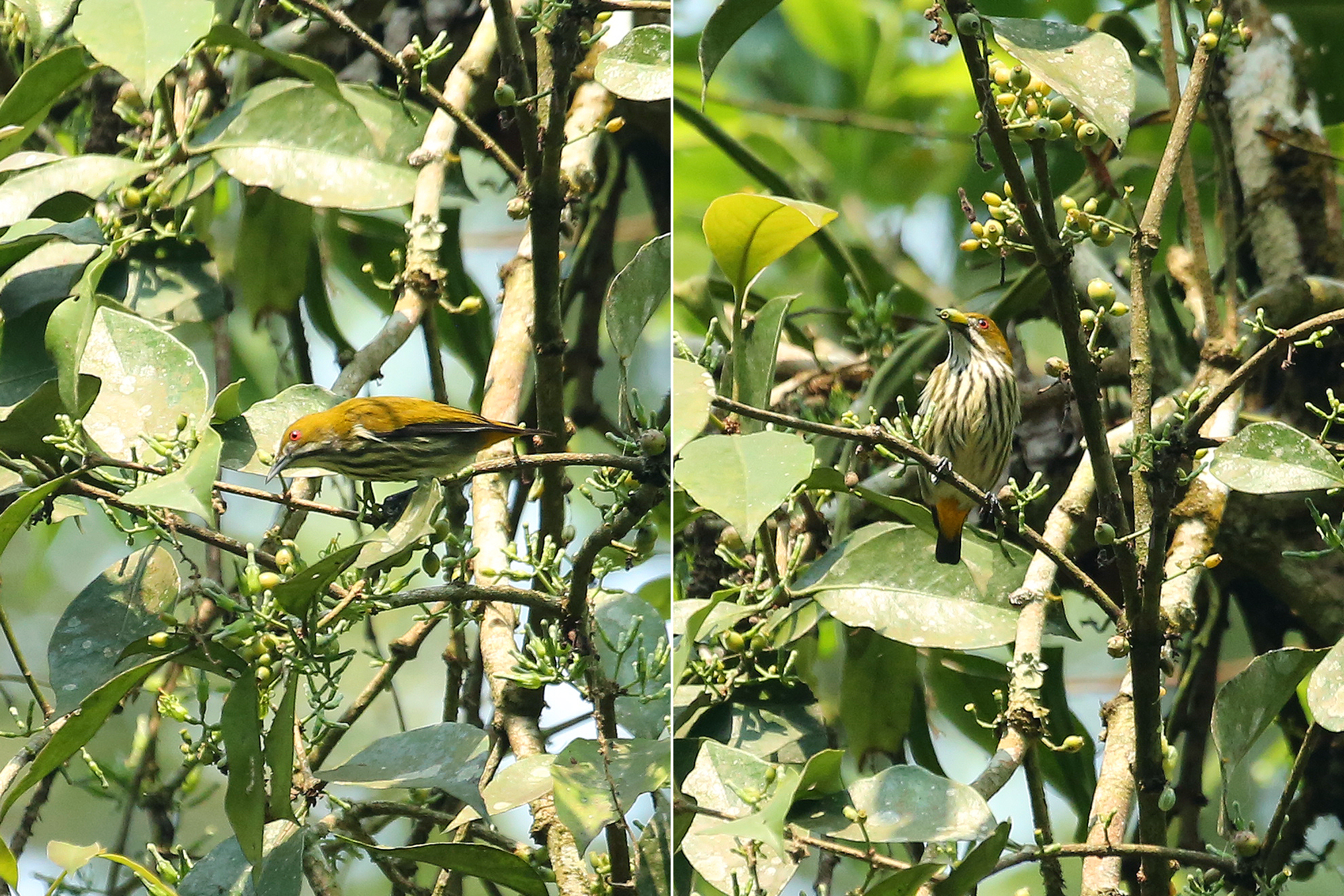 Yellow-vented flowerpecker (Nameri National Park: This is John's life bird.)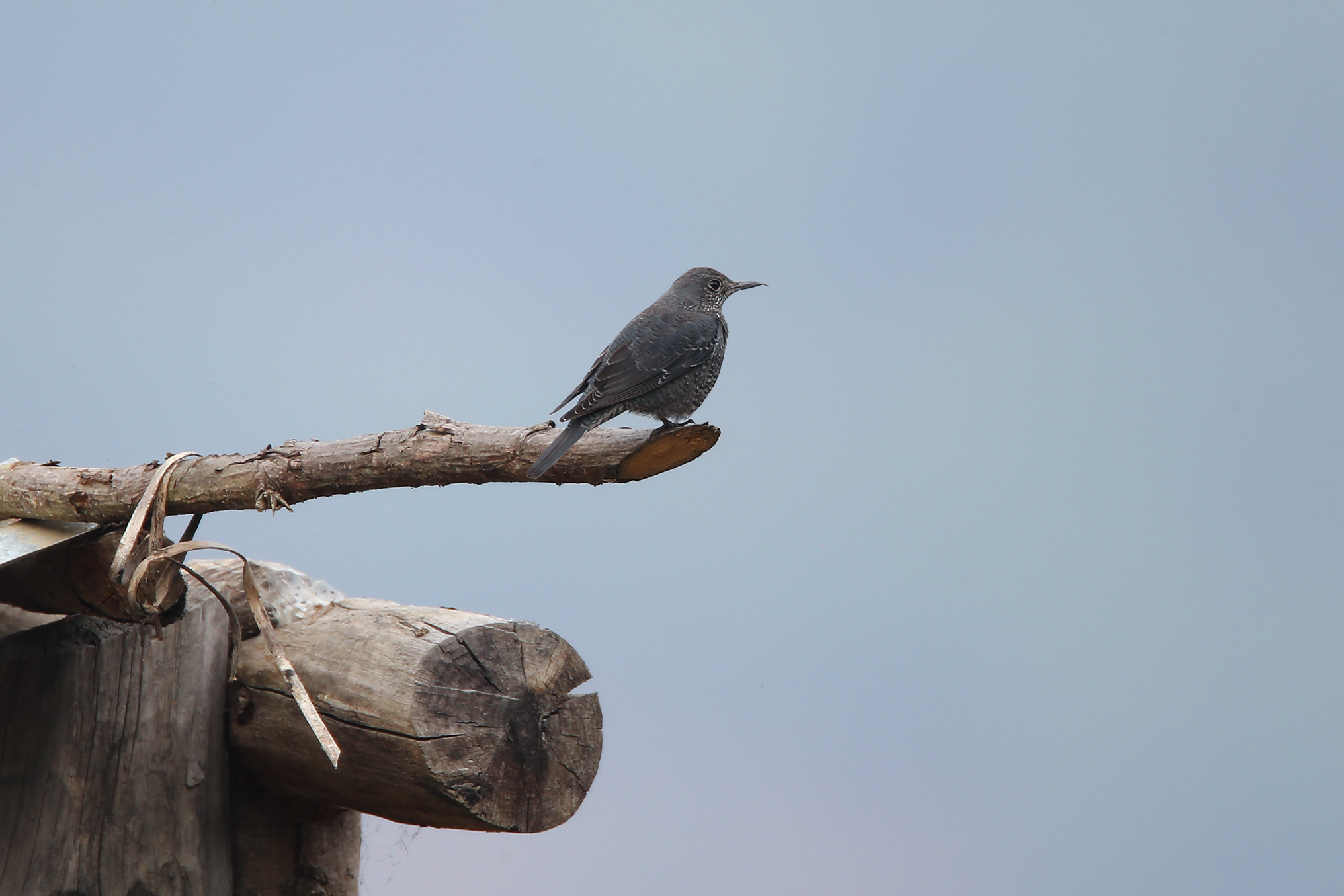 Long-billed thrush (This is our life bird.)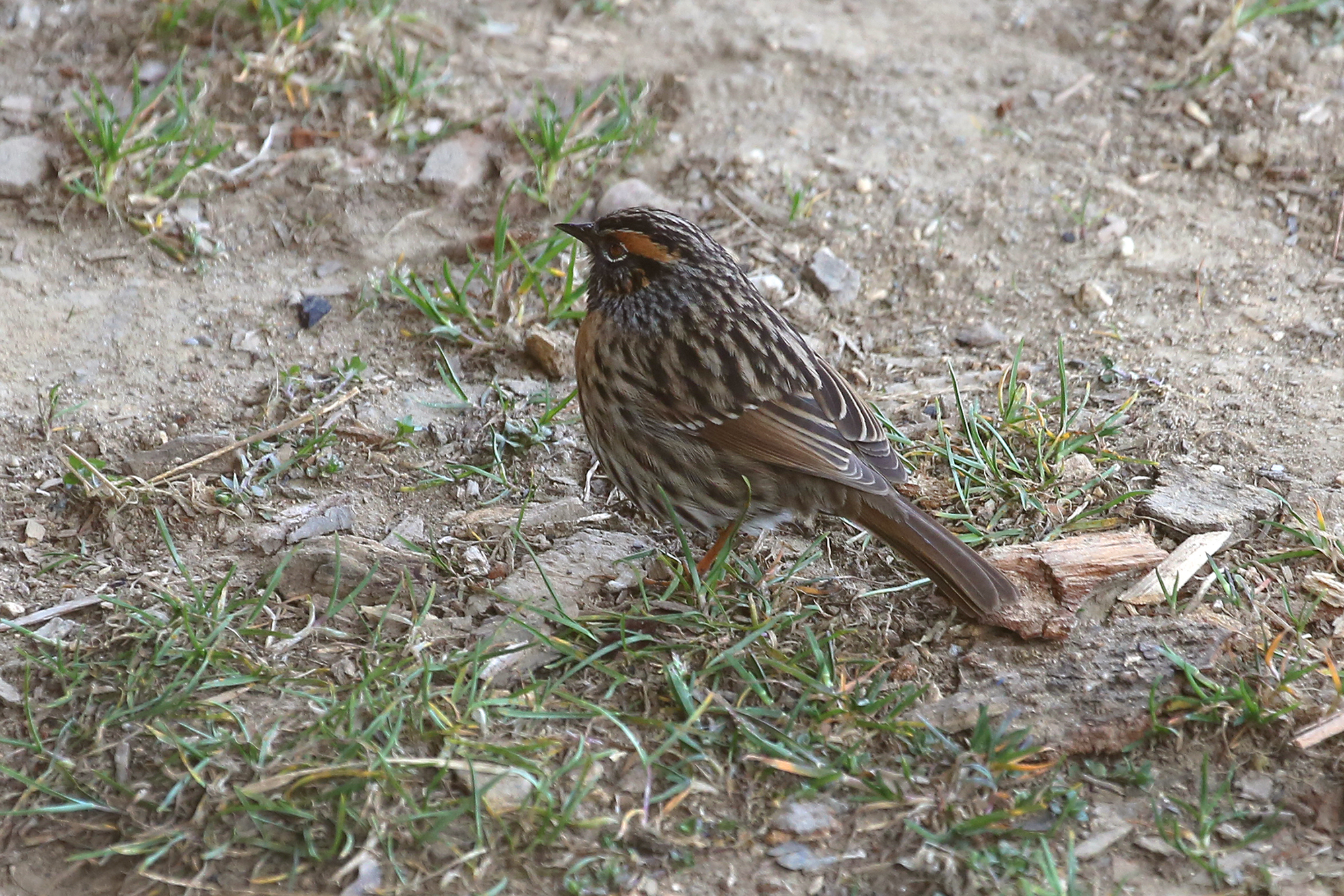 Rufoous-breasted accentor was the first new bird that we got at Eagle Nest this year. This bird is part of a small flock of our life birds at Lama Camp.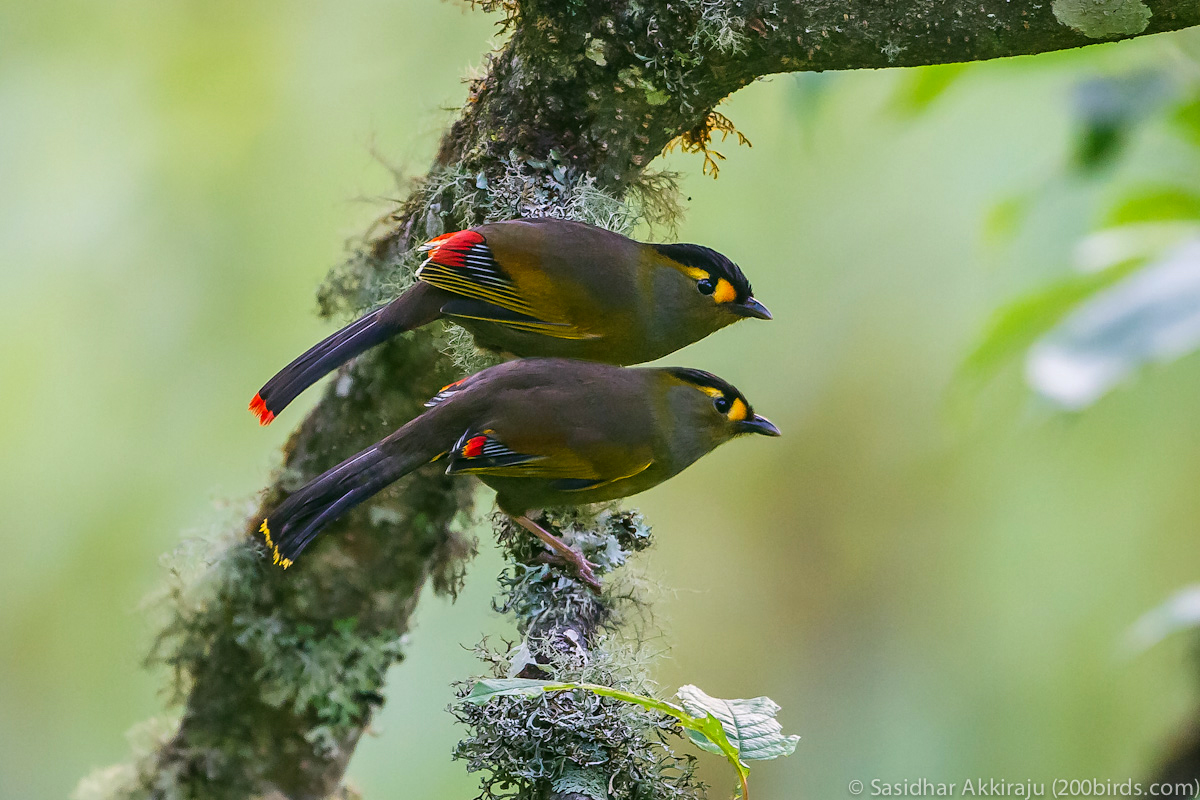 Bugun liocichla: This is NOT my picture; it is the best picture of Bugun liocichla posted at Lama Camp. This bird is so important to the trip that -- as in our 2016 pictures -- I include a superb picture that I did not take. John and Vinod got Bugun liocichla in 2016, near a nesting site about 1 km uphill from Bompu camp. In 2018, Mary and Jack finally got this species after 2 previous unsuccessful trips. Also, we got much better looks at much closer birds. But no pictures.
Bugun liocichla was formally discovered in 2006 near Lama Camp. In 2018, we saw a male and a female along the "Bugun liocichla side road". Wikipedia says that only 3 breeding pairs are known; this would mean that we have now seen two of them. The species is critically endangered, and this area is famous for it. Bugun liocichla is probably the third-rarest species that John has seen (exact ranking unknown because the world population is unknown).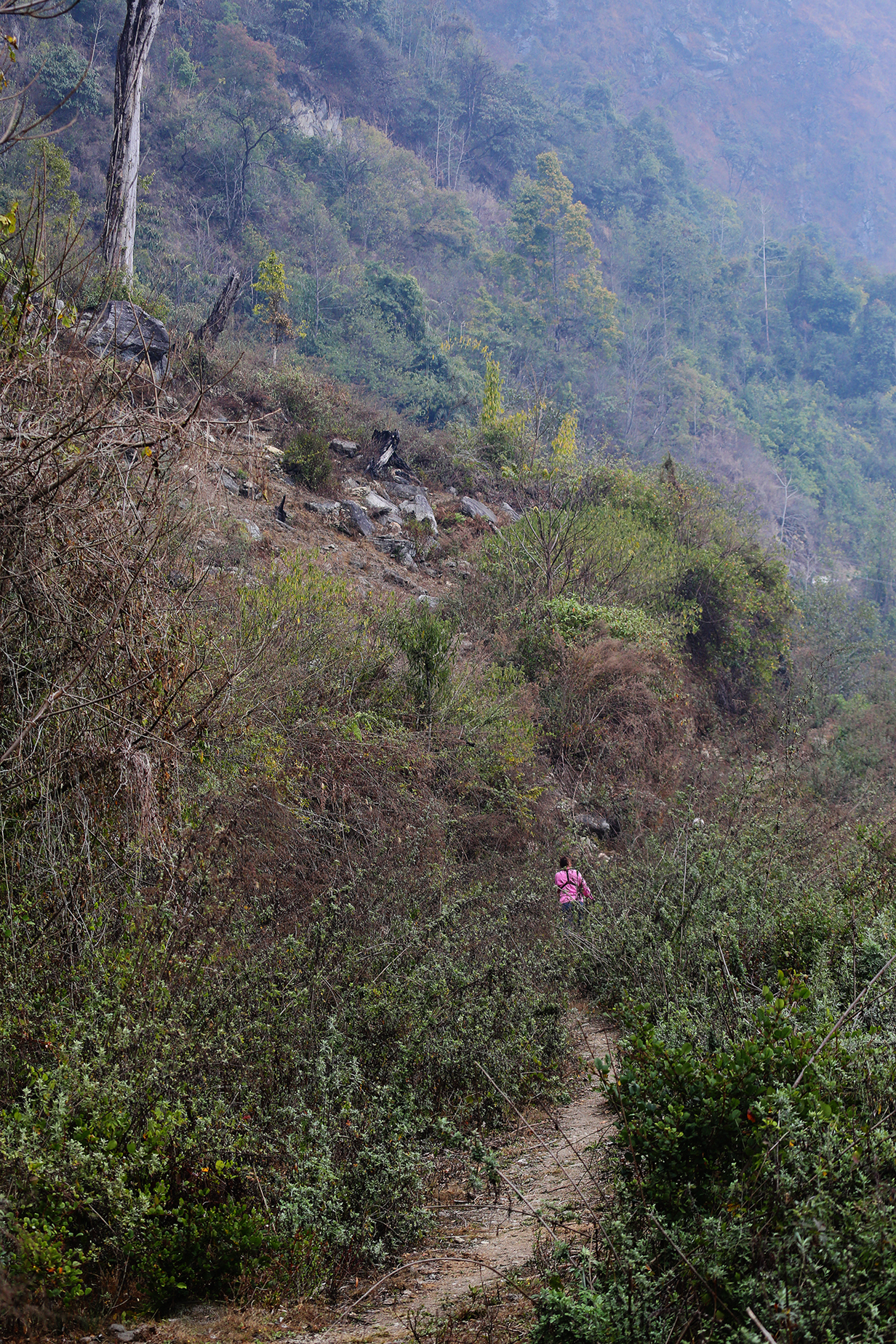 Mary and (disappearing in the distance) Jack Poll on the trail that the "Bugun liocichla side road" turns into almost as soon as you get below the main road up to Lama Camp. We saw Bugun liocichla from this trail in 2018, a few hundred meters behind where I am standing as I take this picture.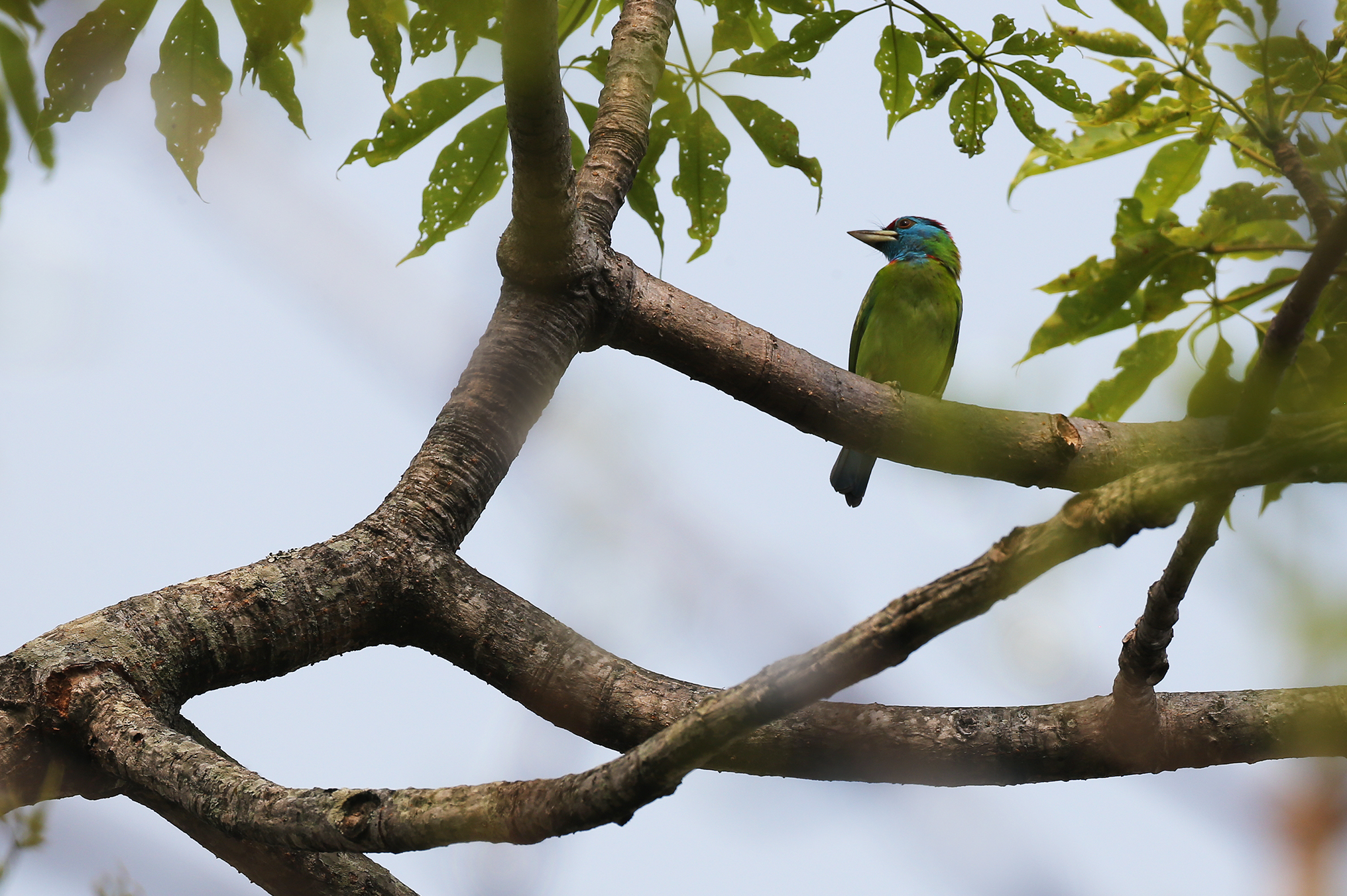 Blue-throated barbet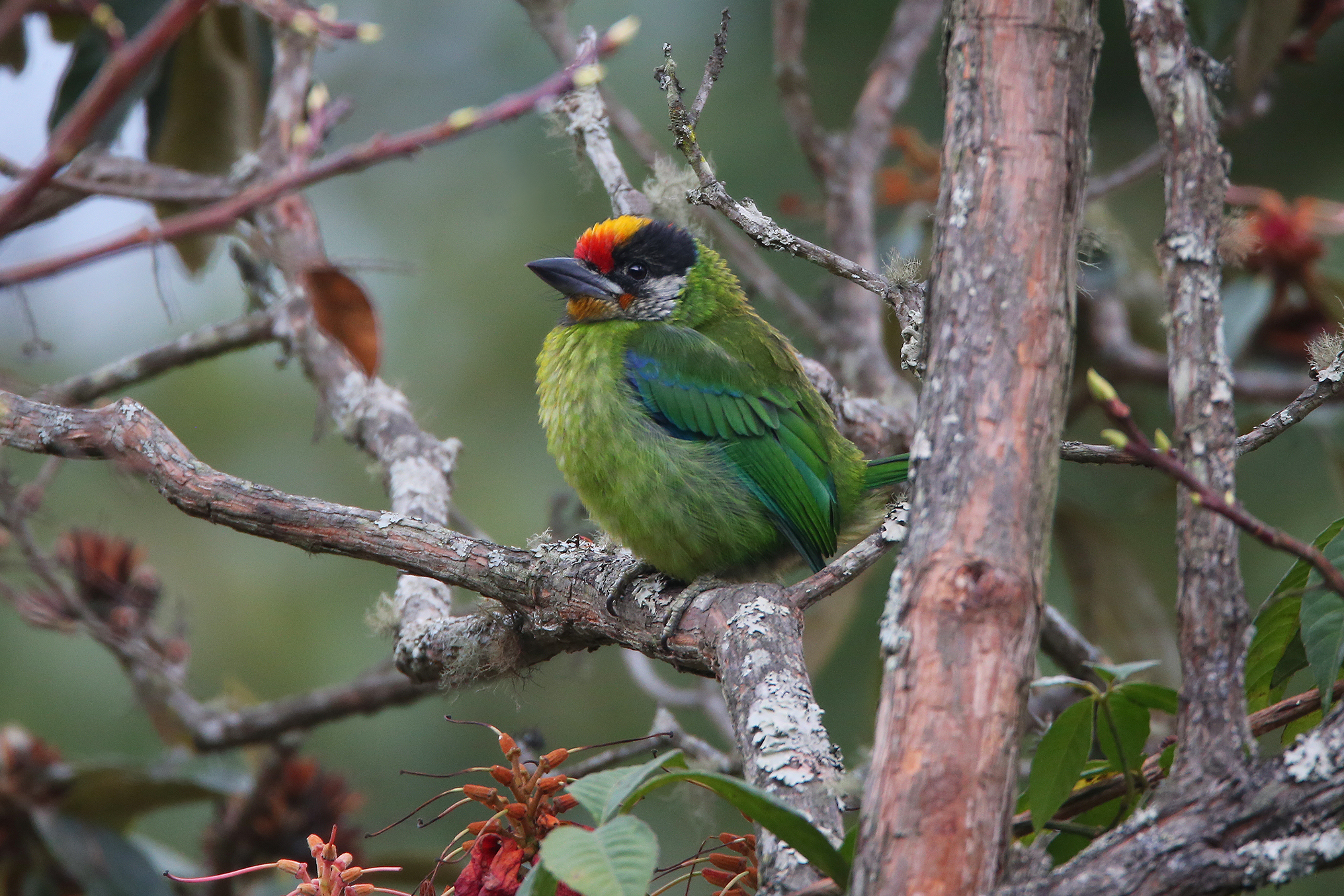 Golden-throated barbet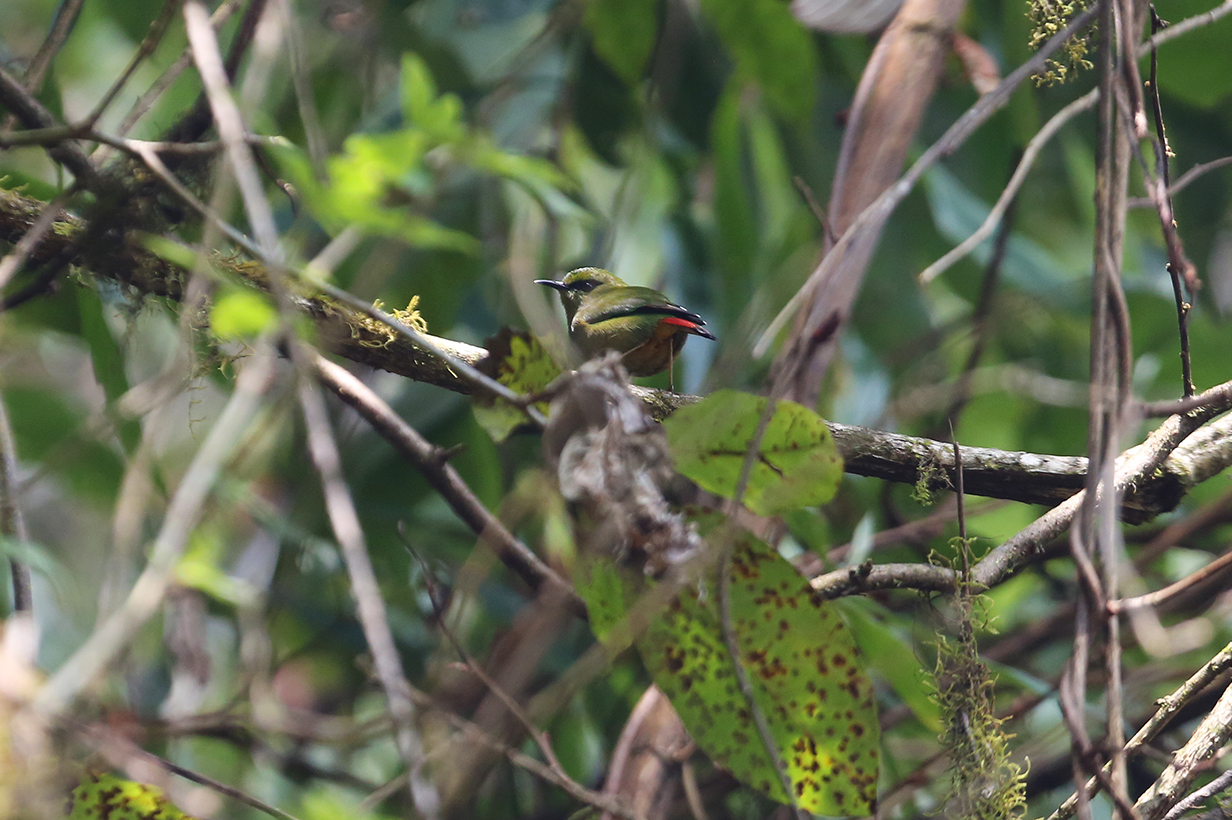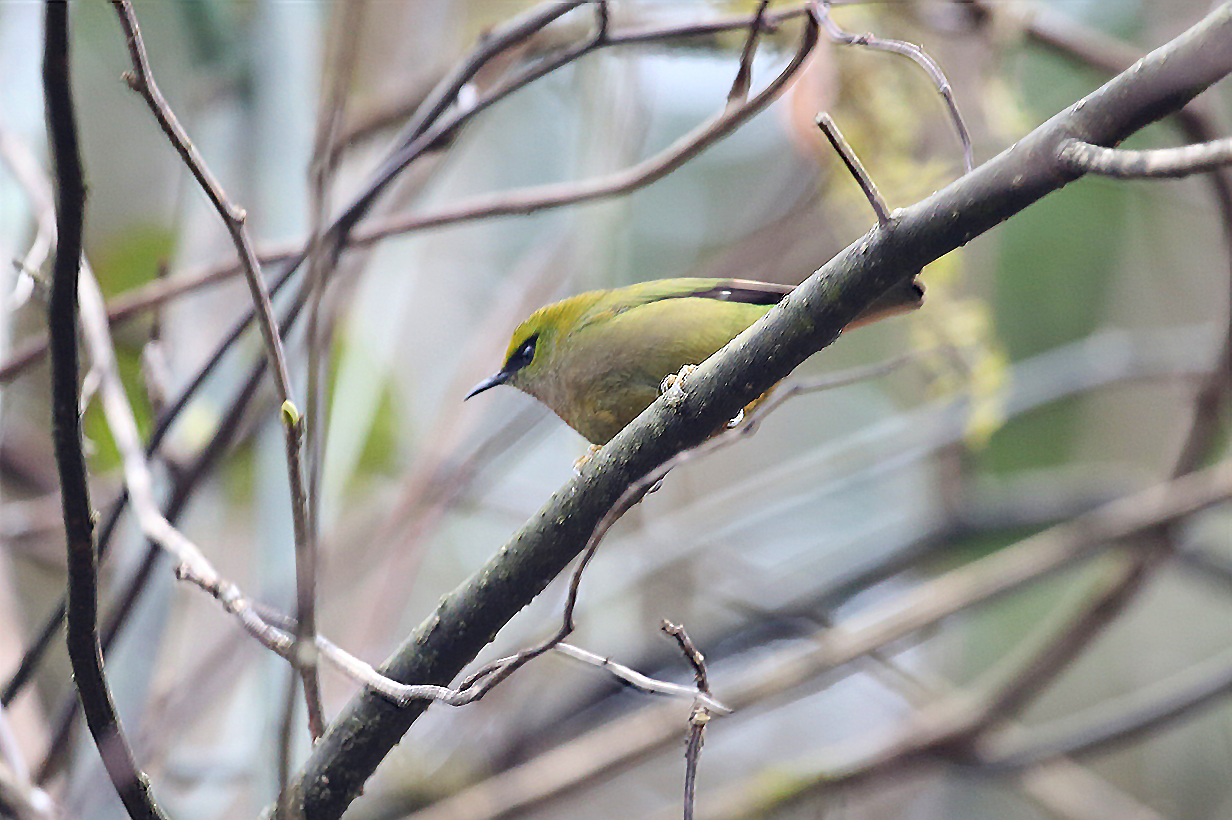 Fire-tailed myzornis (This was one of our most wanted new birds of the trip. We saw it several times -- even saw it very well -- but we got only the above very poor pictures of female birds.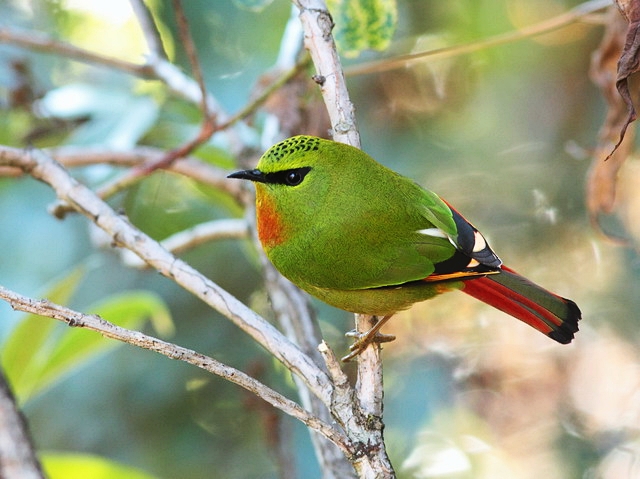 Fire-tailed myzornis (This is NOT my picture; it comes from this site. It shows how gorgeous the male can look.)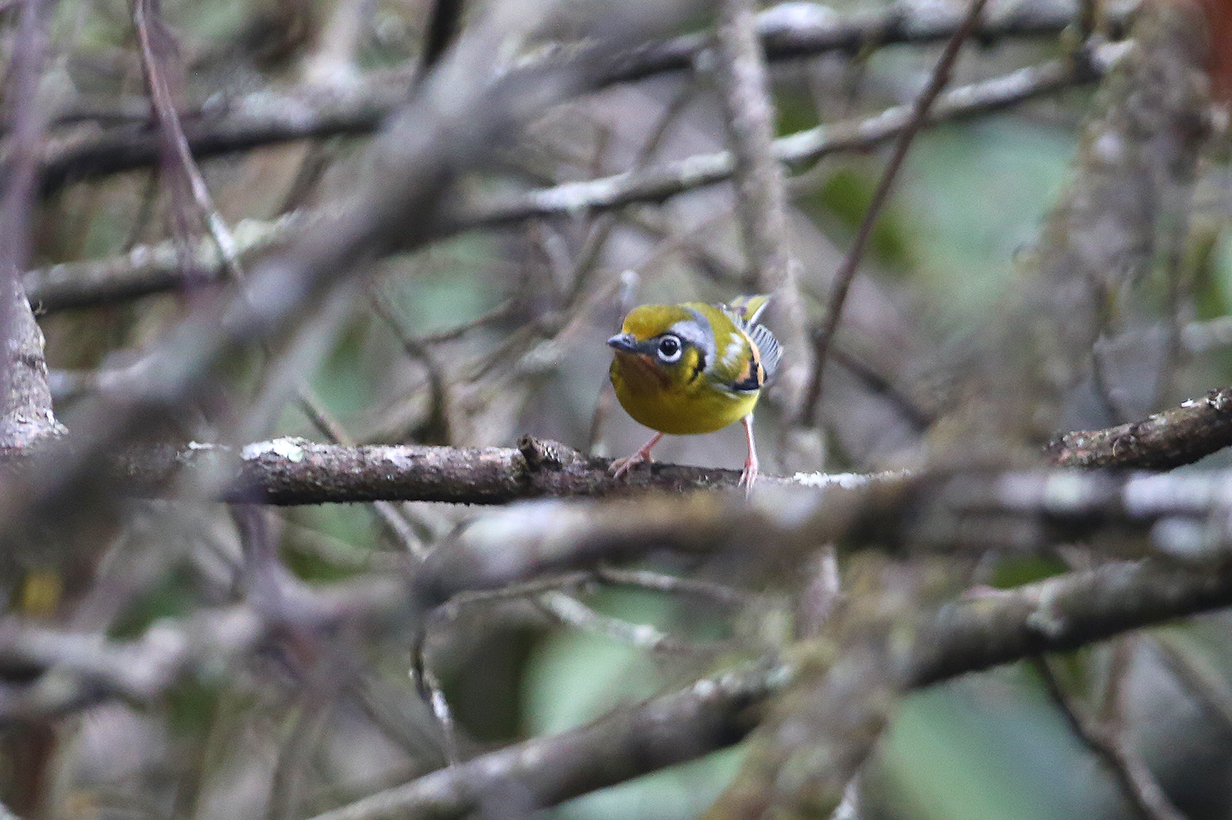 Black-eared shrike-babbler (This is John's life bird.)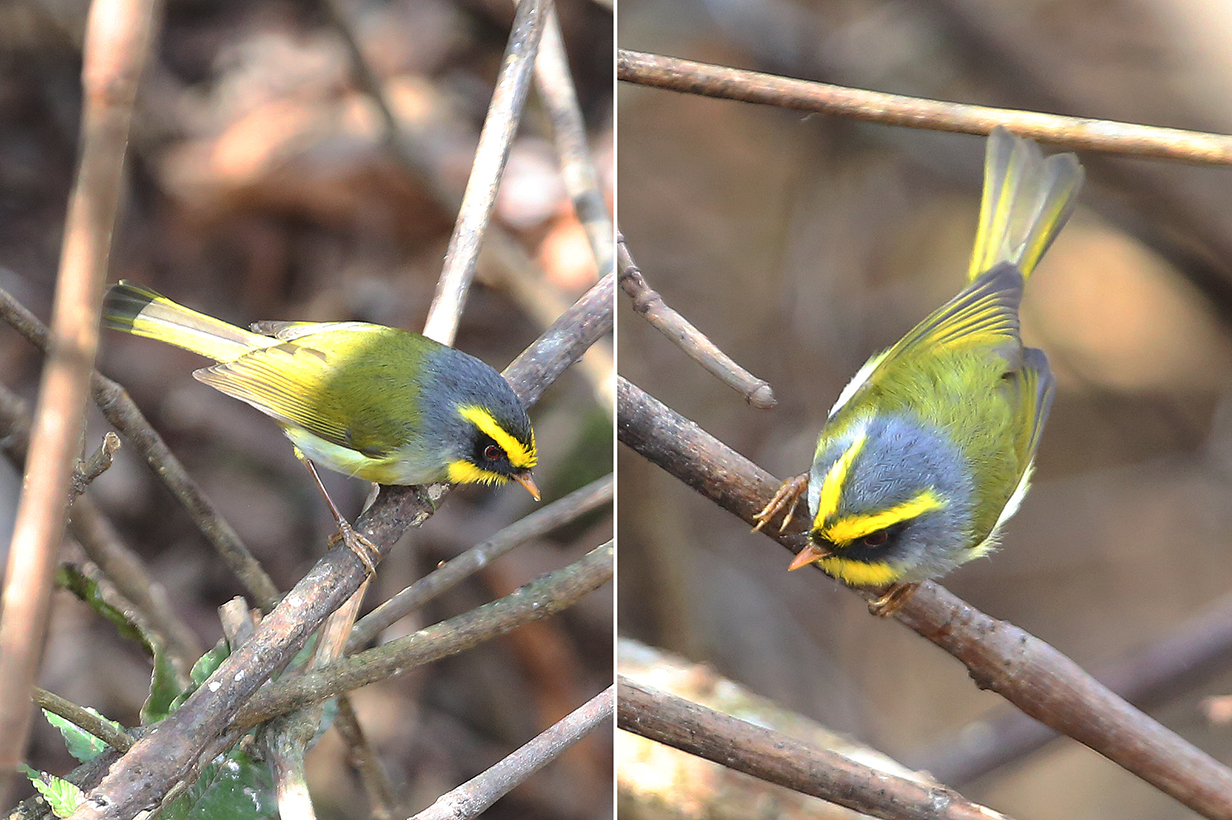 Black-faced warblers were bathing in a trickle of a stream that crossed the road between Lama Camp and Eagle Nest Pass.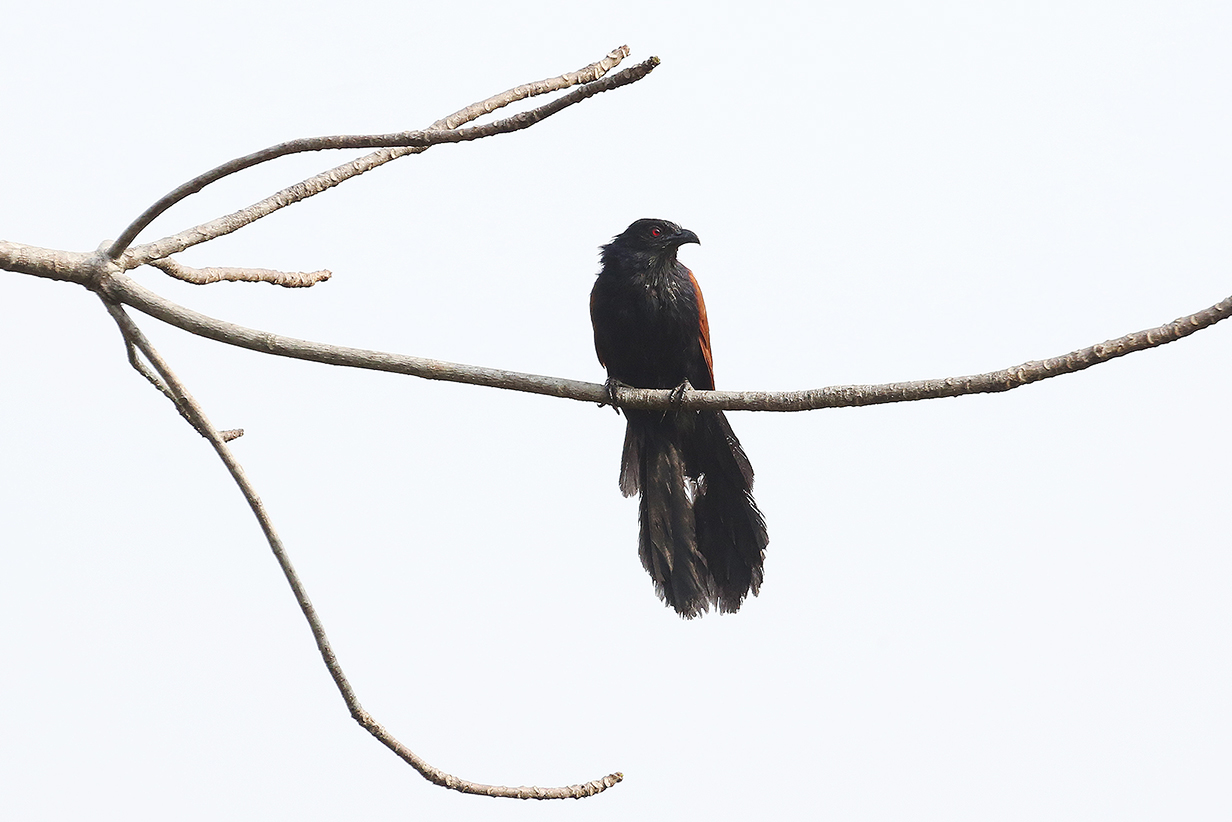 Greater coucal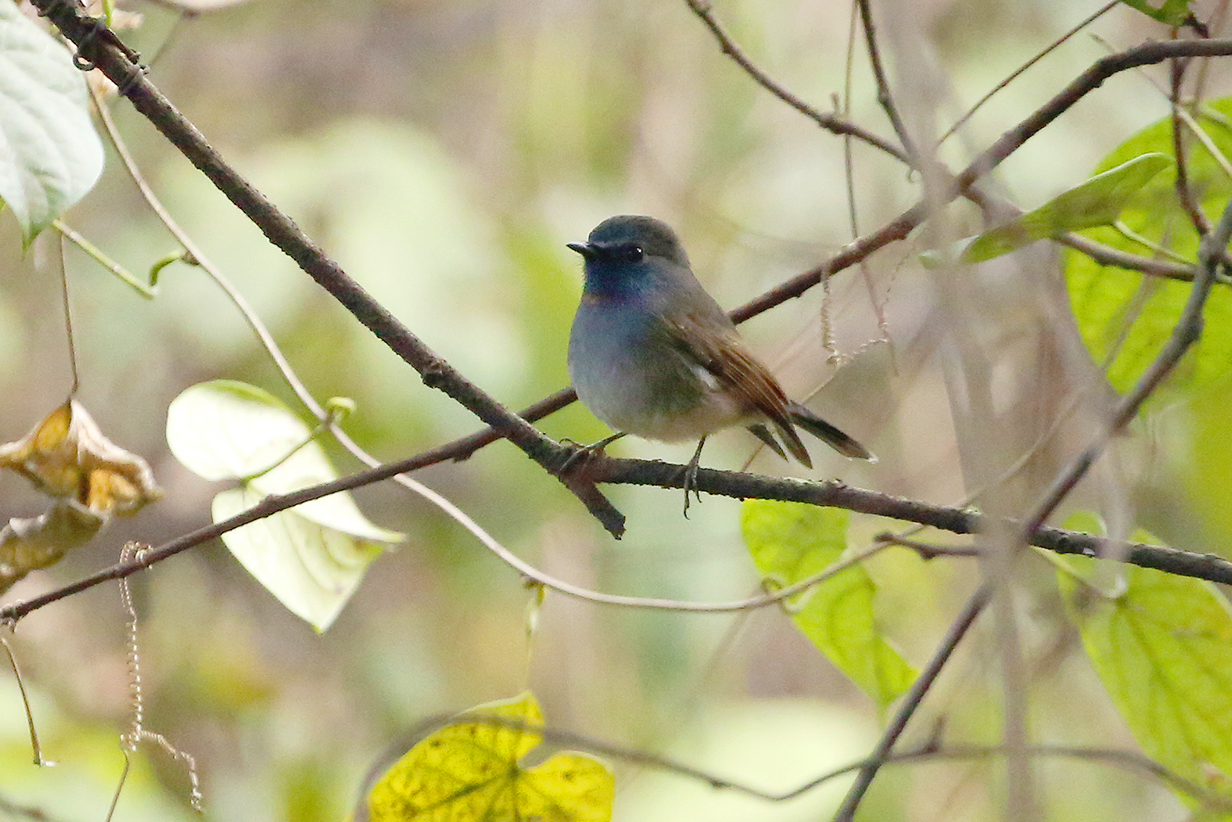 Rufous-gorgeted flycatcher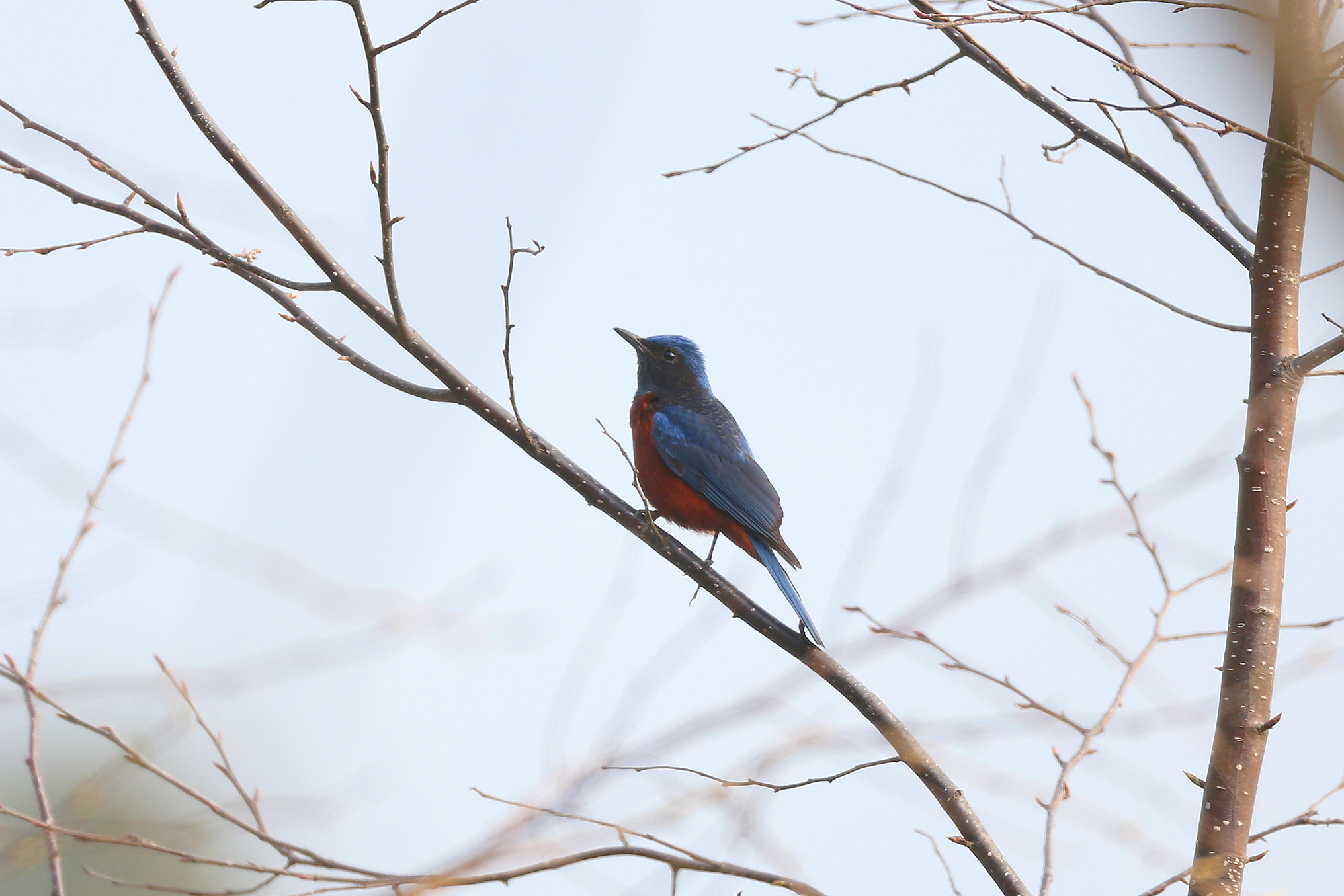 Chestnut-bellied rock-thrush (Eagle Nest Wildlife Sanctuary)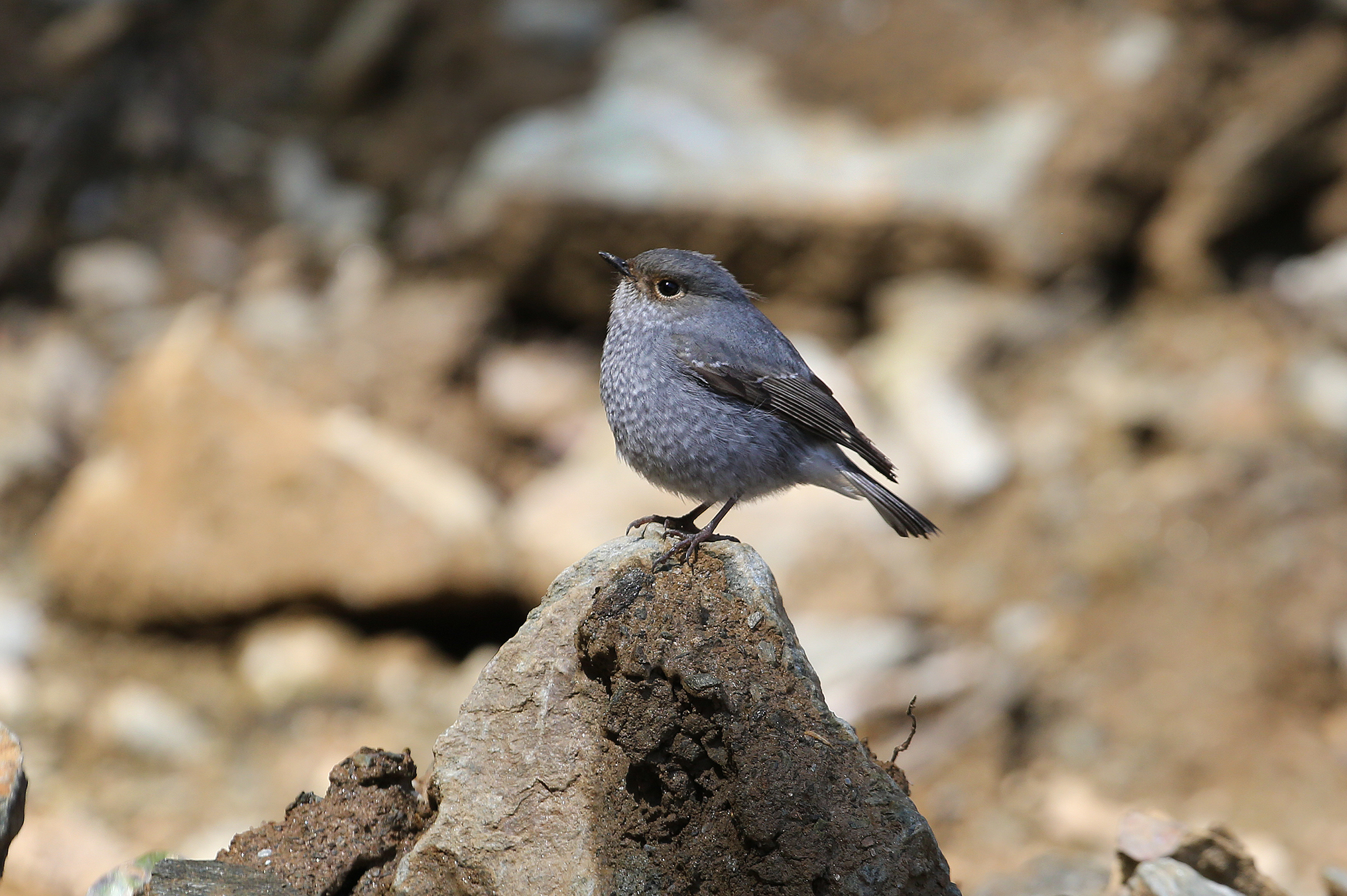 Plumbeous redstart (female, on the Mandala Road from Tenga to Dirang)
White-collared blackbird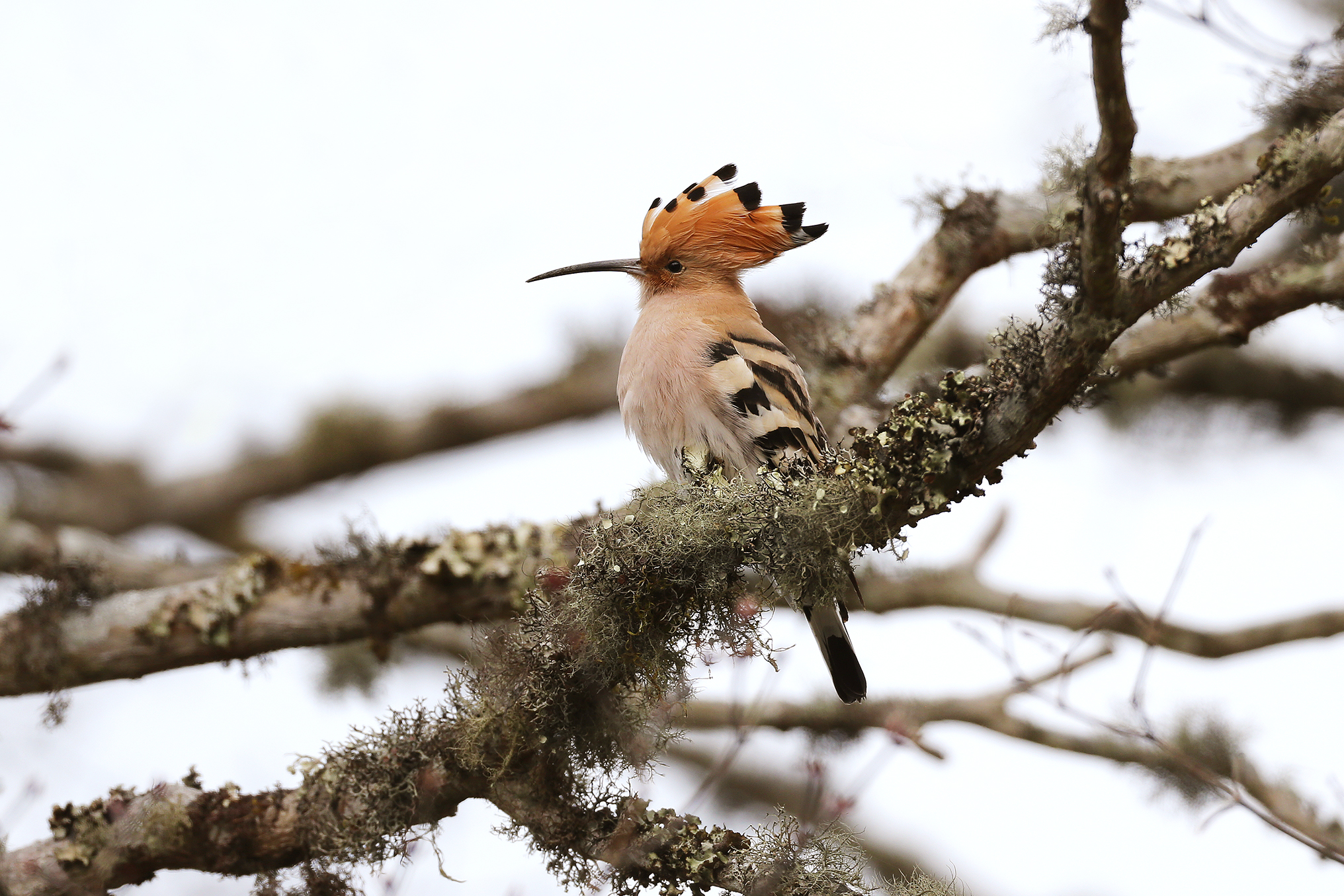 Hoopoe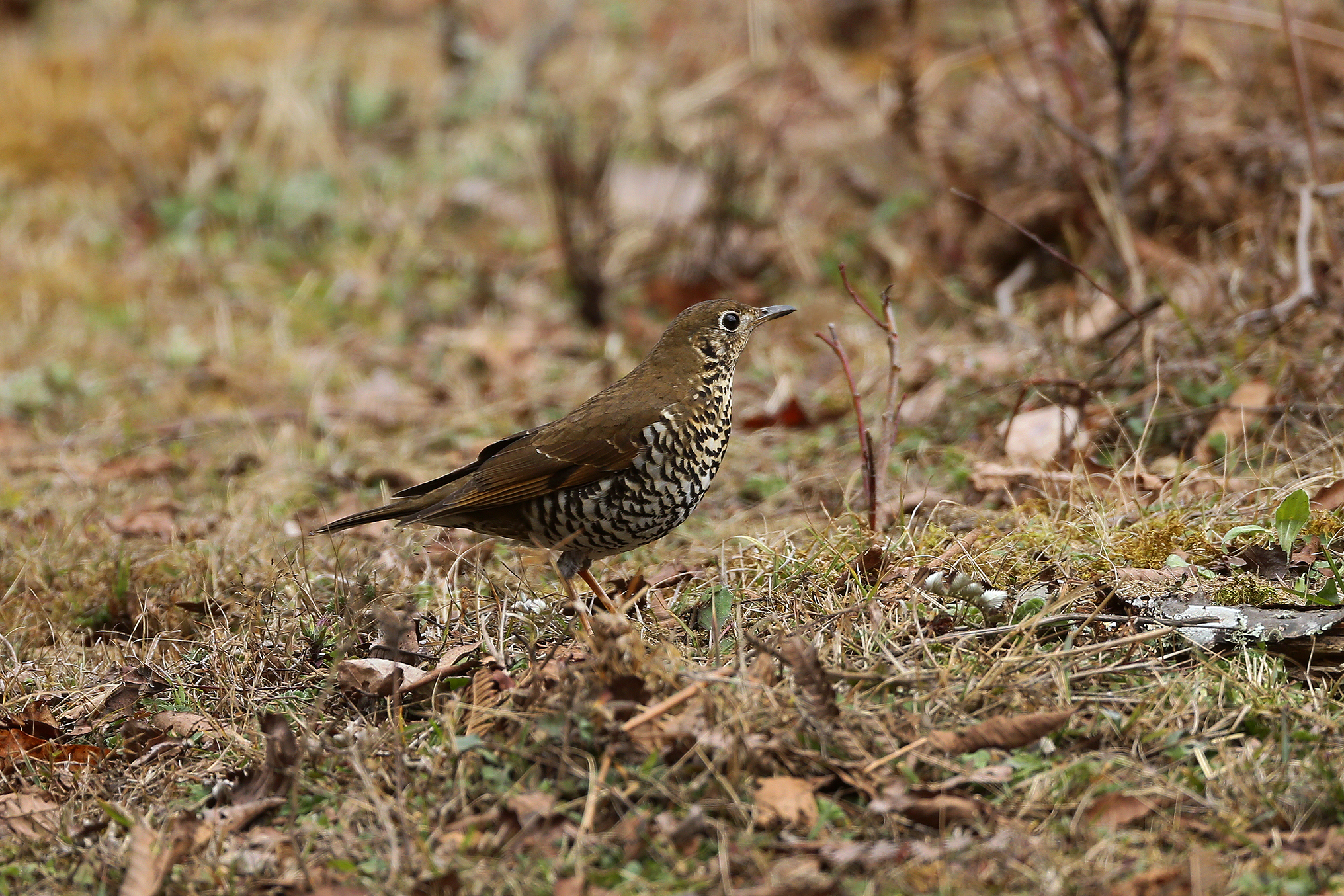 Himalayan thrush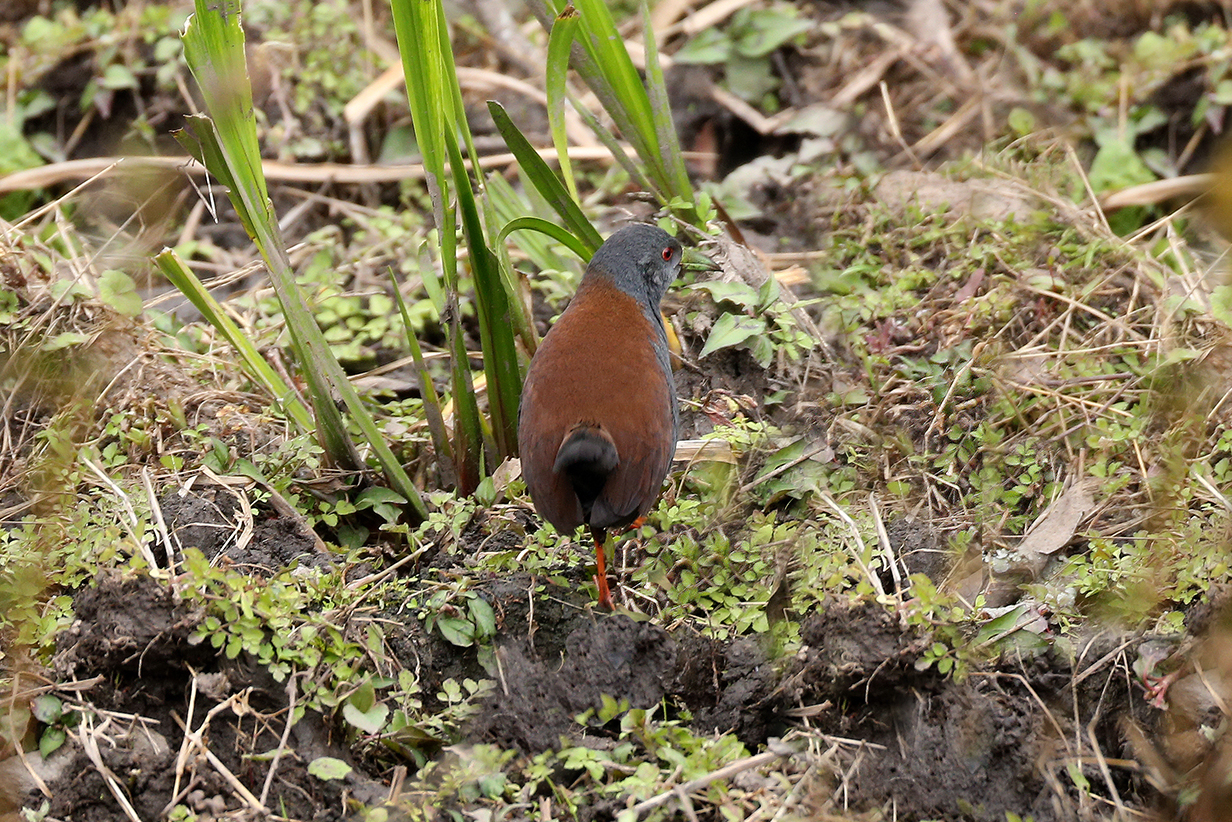 Black-tailed crake (This is our life bird, near Dirang. It's a very elusive bird: we were lucky to see it at all; it was a coup to see it relatively close-up.)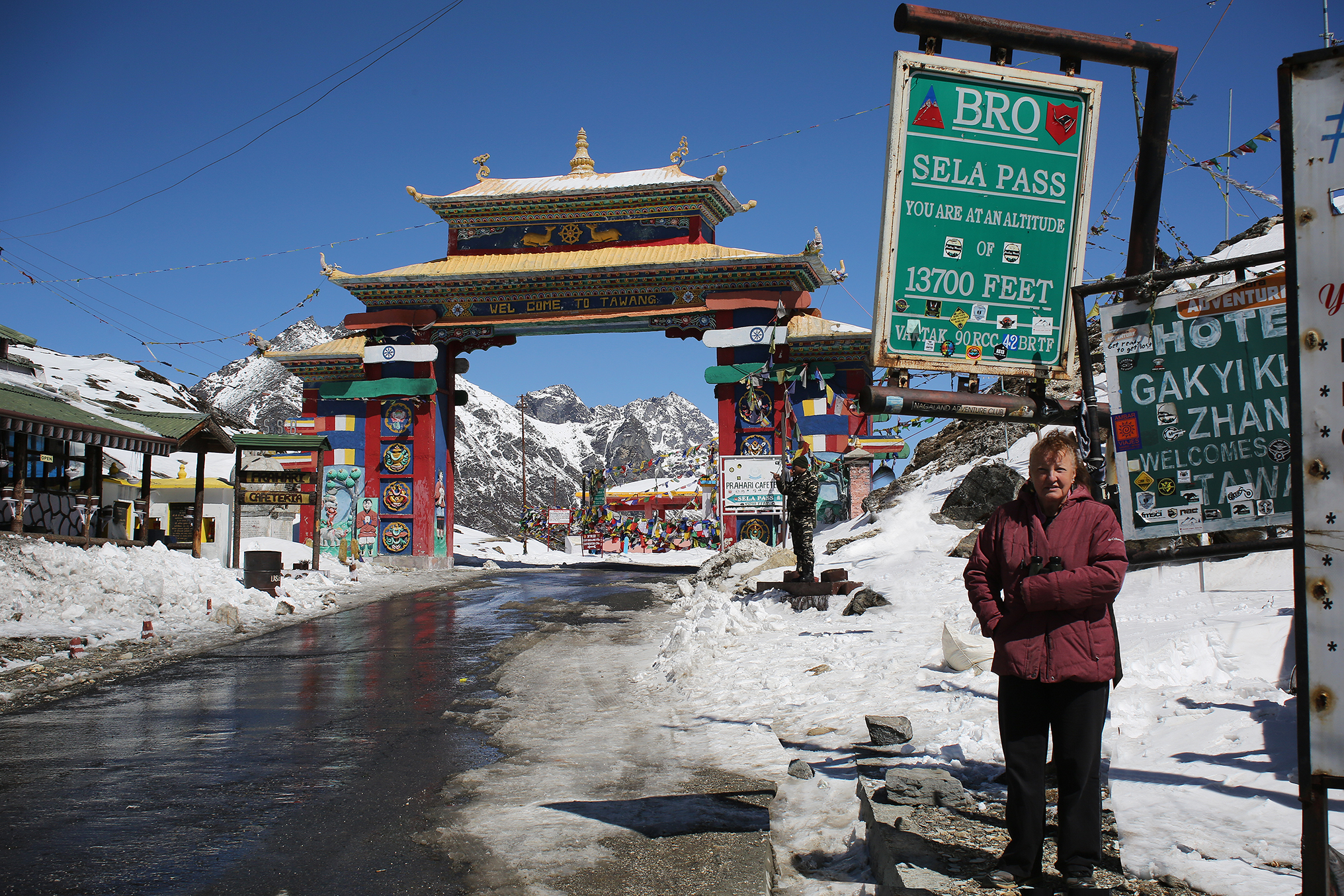 Mary at Sela Pass, on the way north from Dirang to Tawang. We got stuck here for several hours, because snow was cleared only one traffic lane wide, but lots of traffic -- especially big trucks and Indian Army vehicles -- were moving in both directions. Chaos!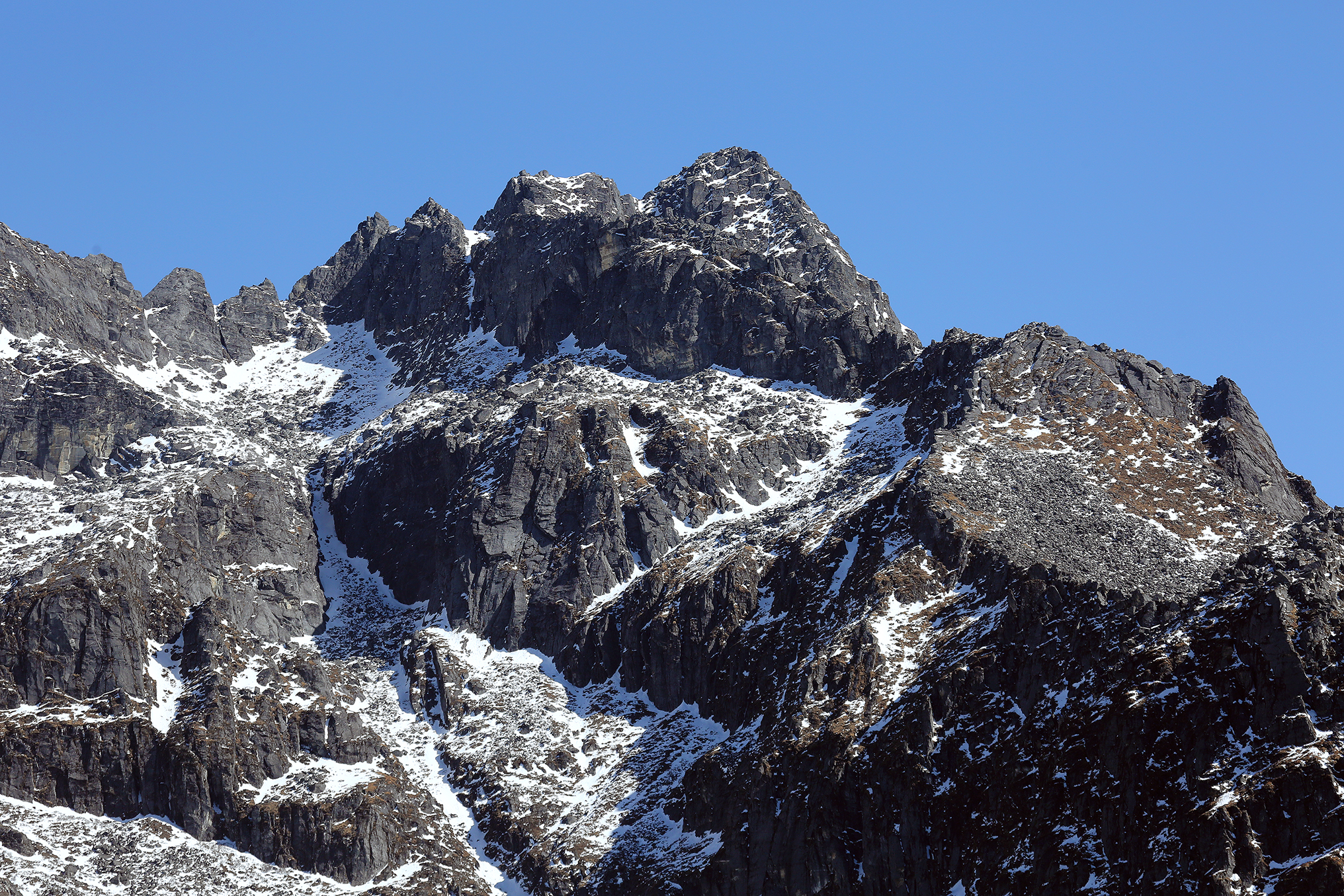 Mountain headwall above Sela Pass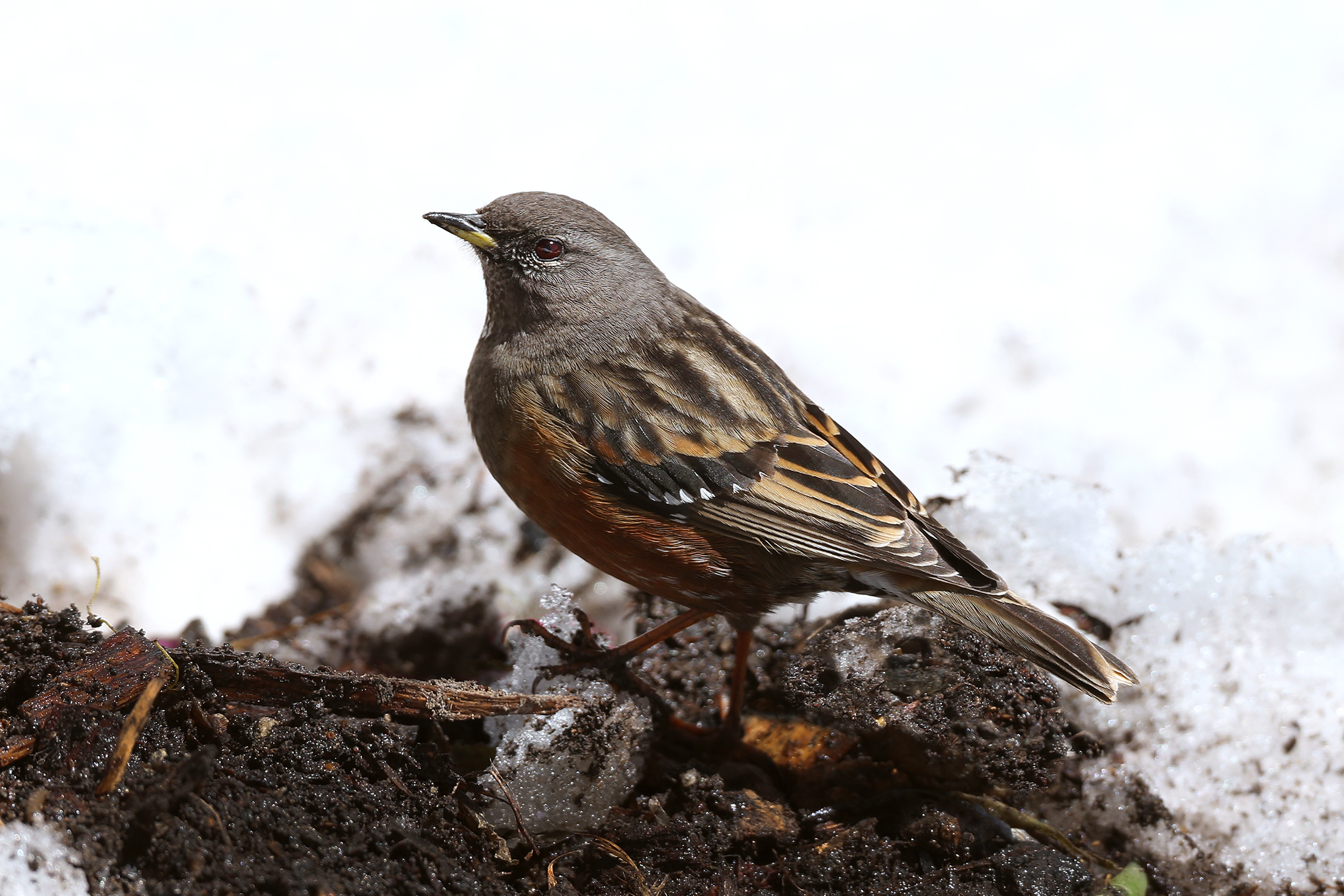 Alpine accentor (at the edge of the snow field at Sela Pass)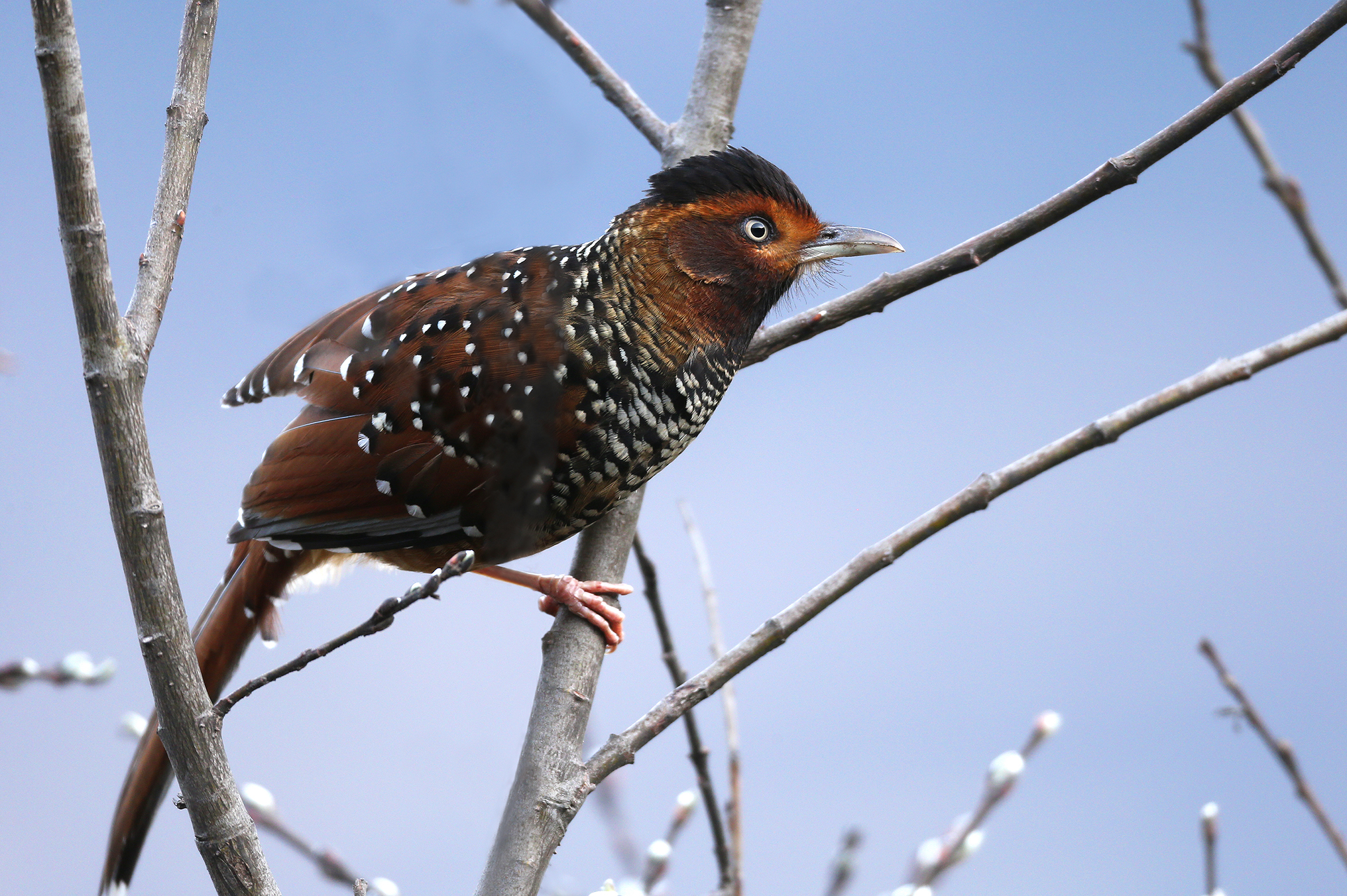 Spotted laughingthrush (on the way back from Tawang to Sela Pass)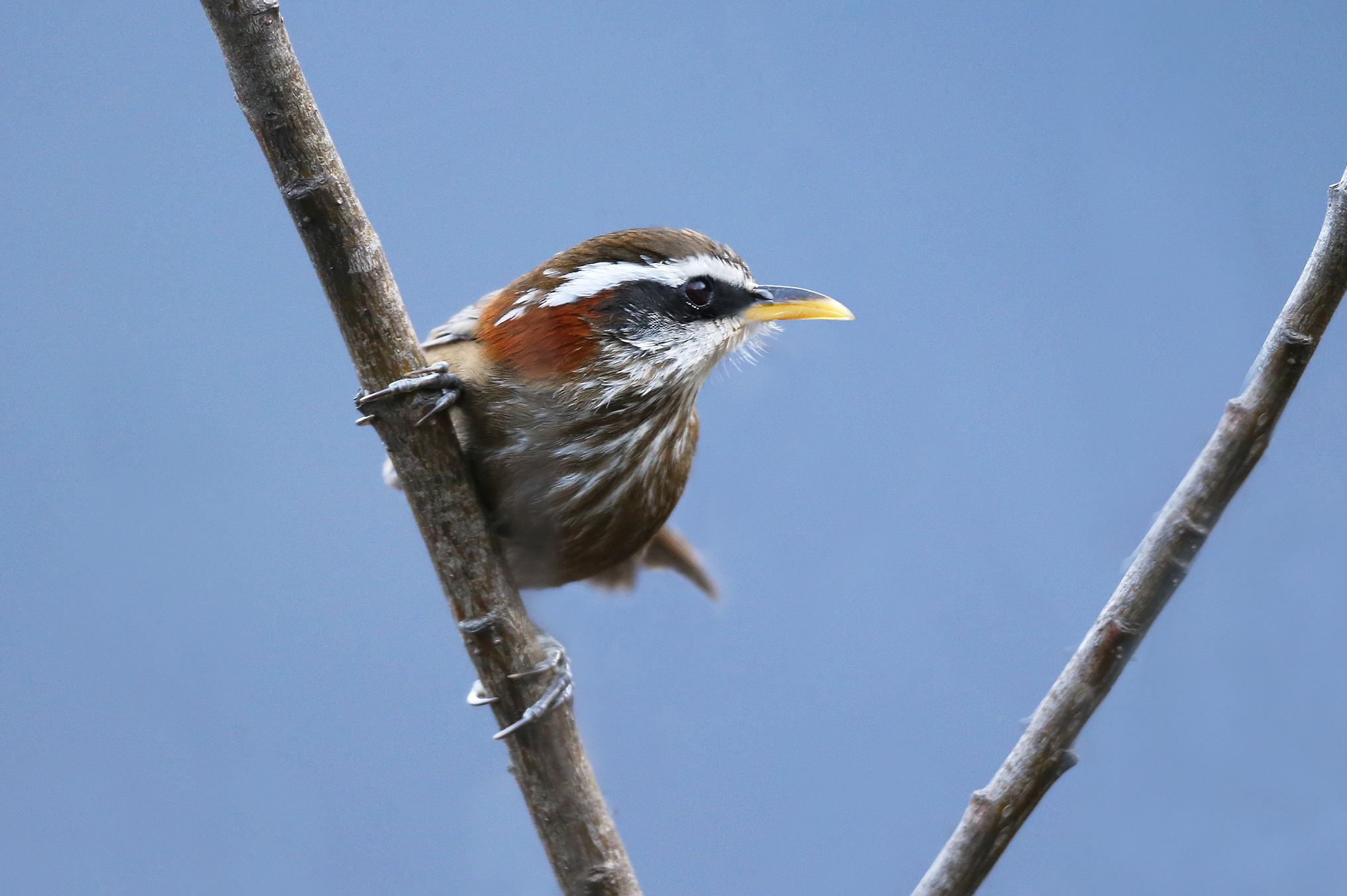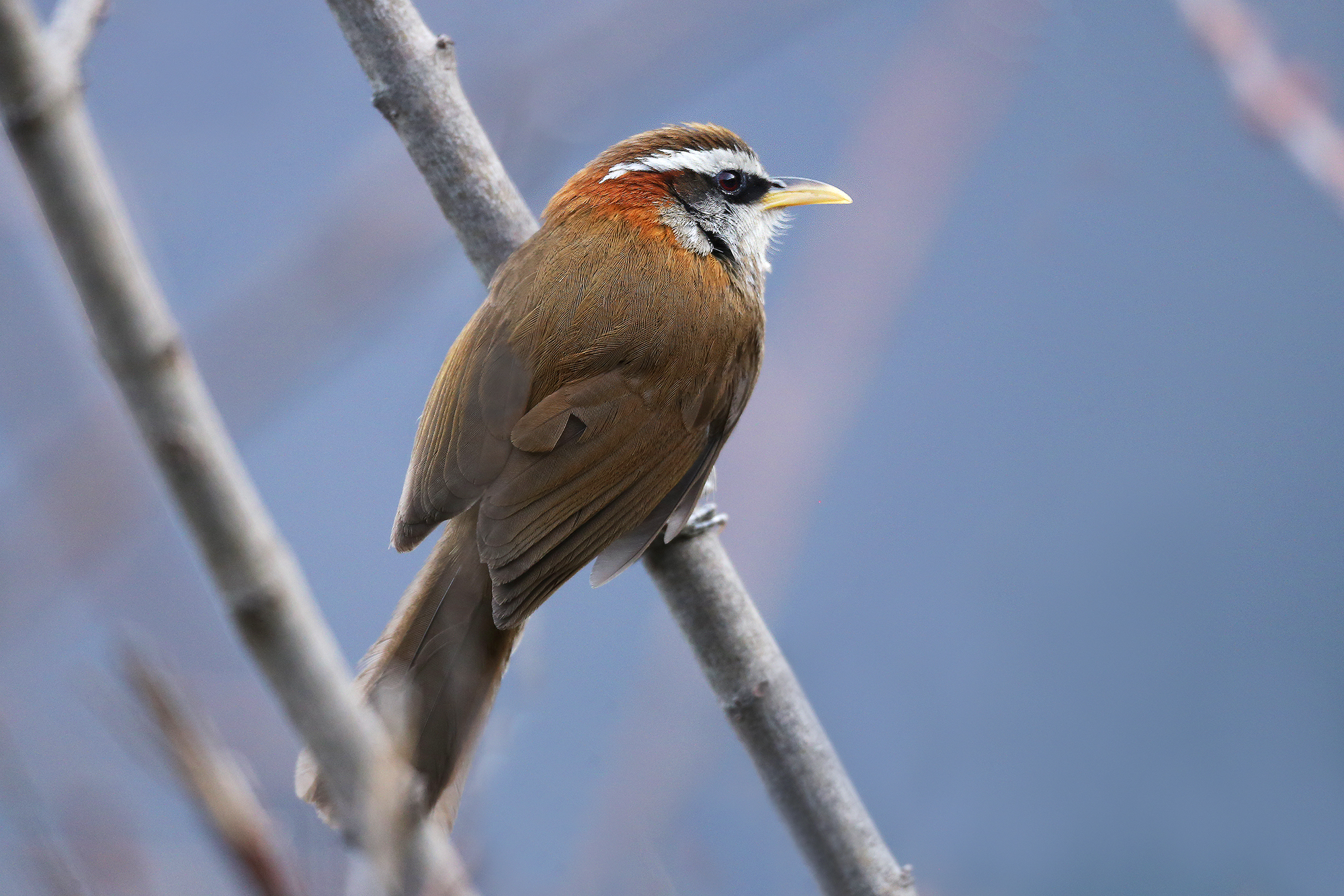 Streak-breasted scimitar-babbler (part of the same flock as the Spotted laughingthrush)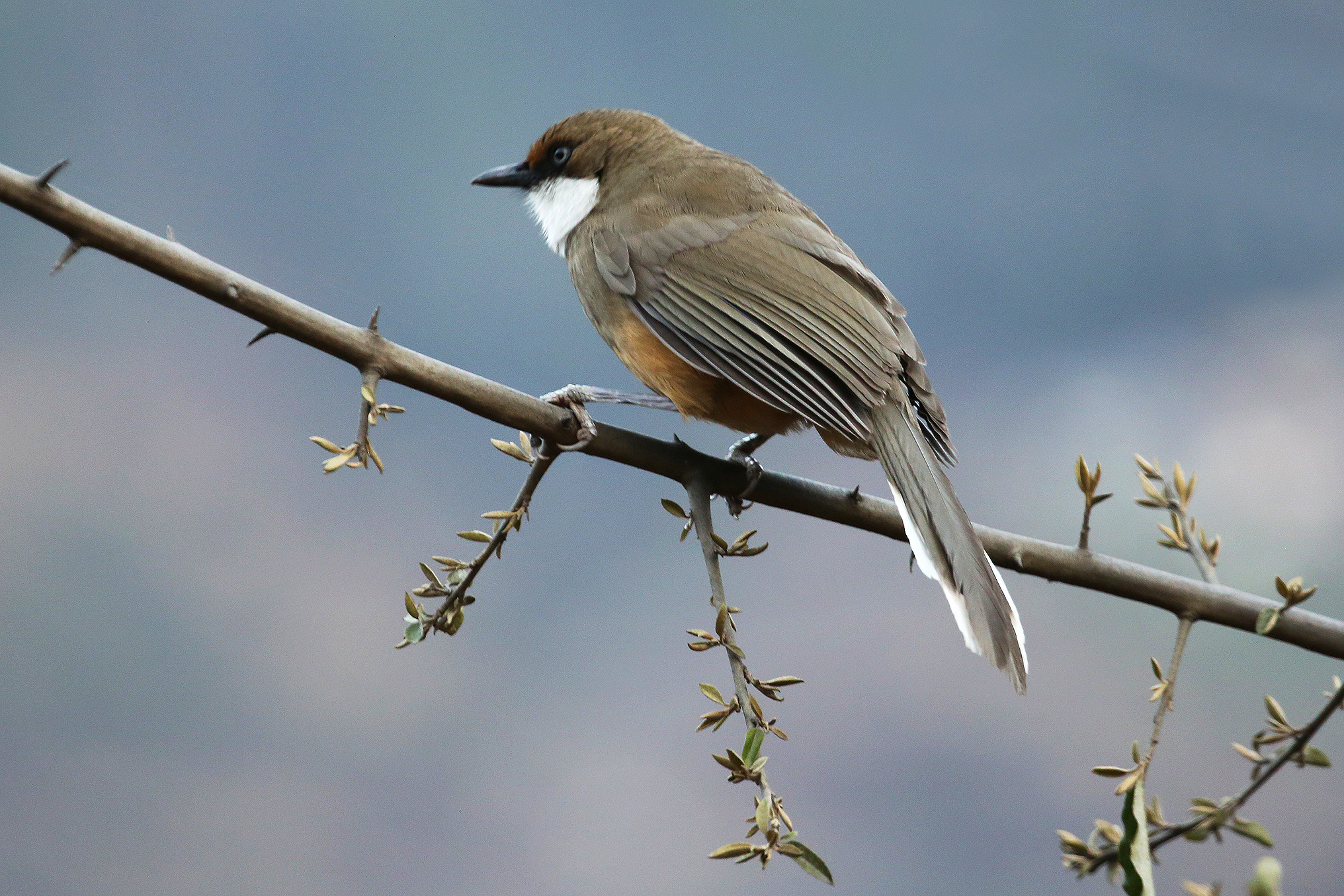 White-throated laughingthrush (part of the same flock as the Spotted laughingthrush)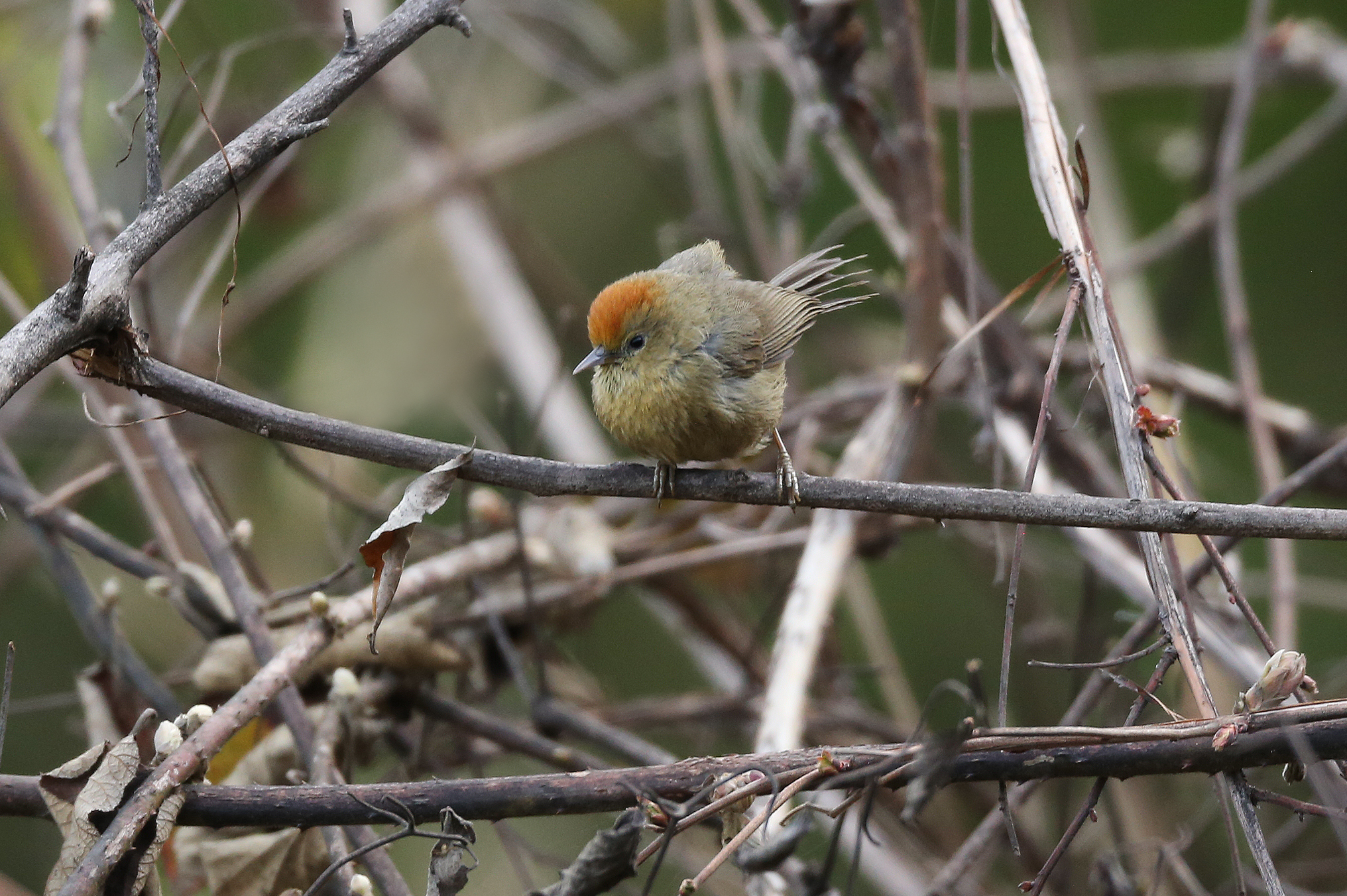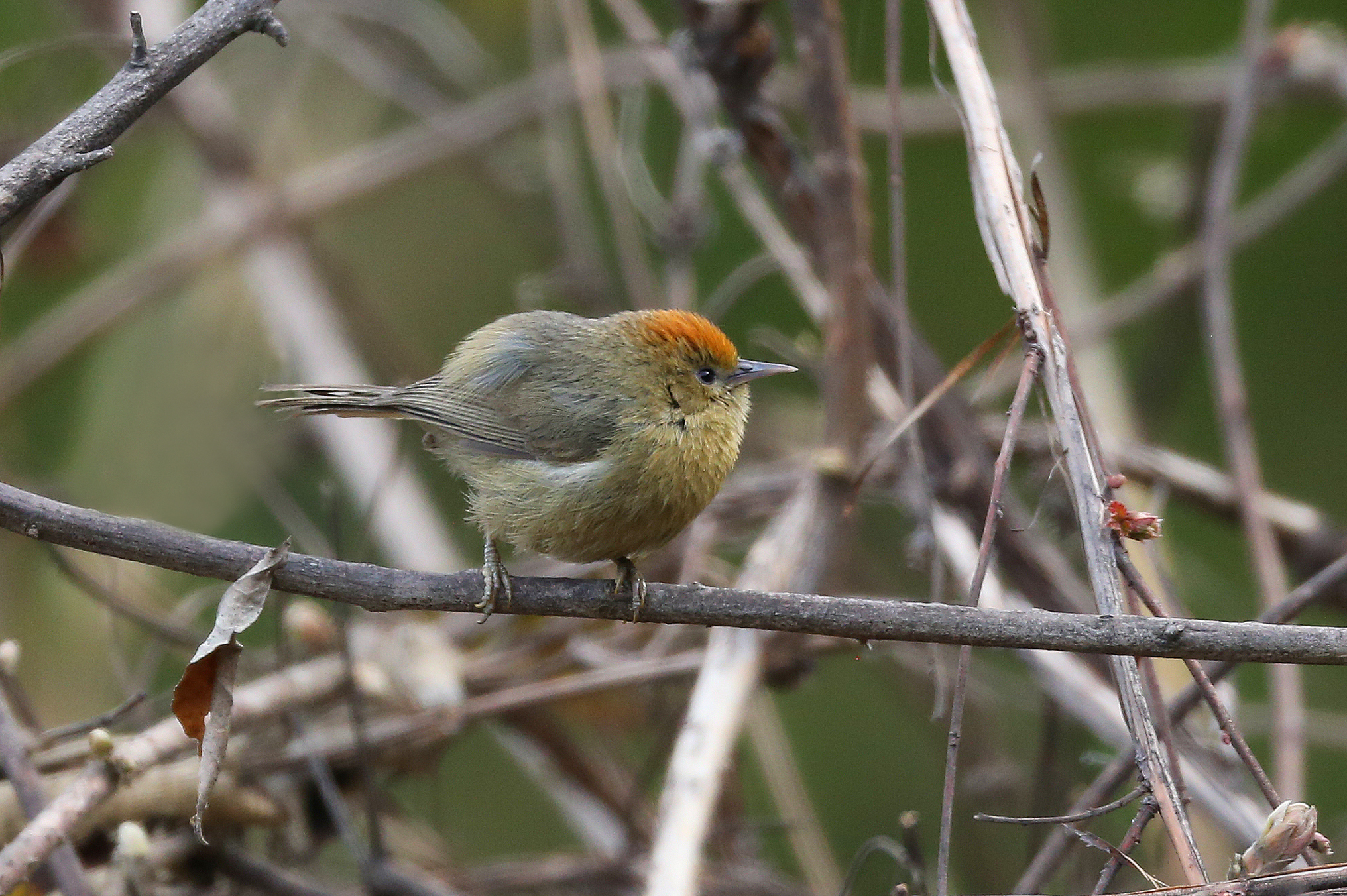 Rufous-capped babbler, still in the same flock. It was a cold morning.
Gray bush-chat (male, on the road from Sela Pass southward, near Bomdilla)
Assam lowlands near Guwahati: Manas National Park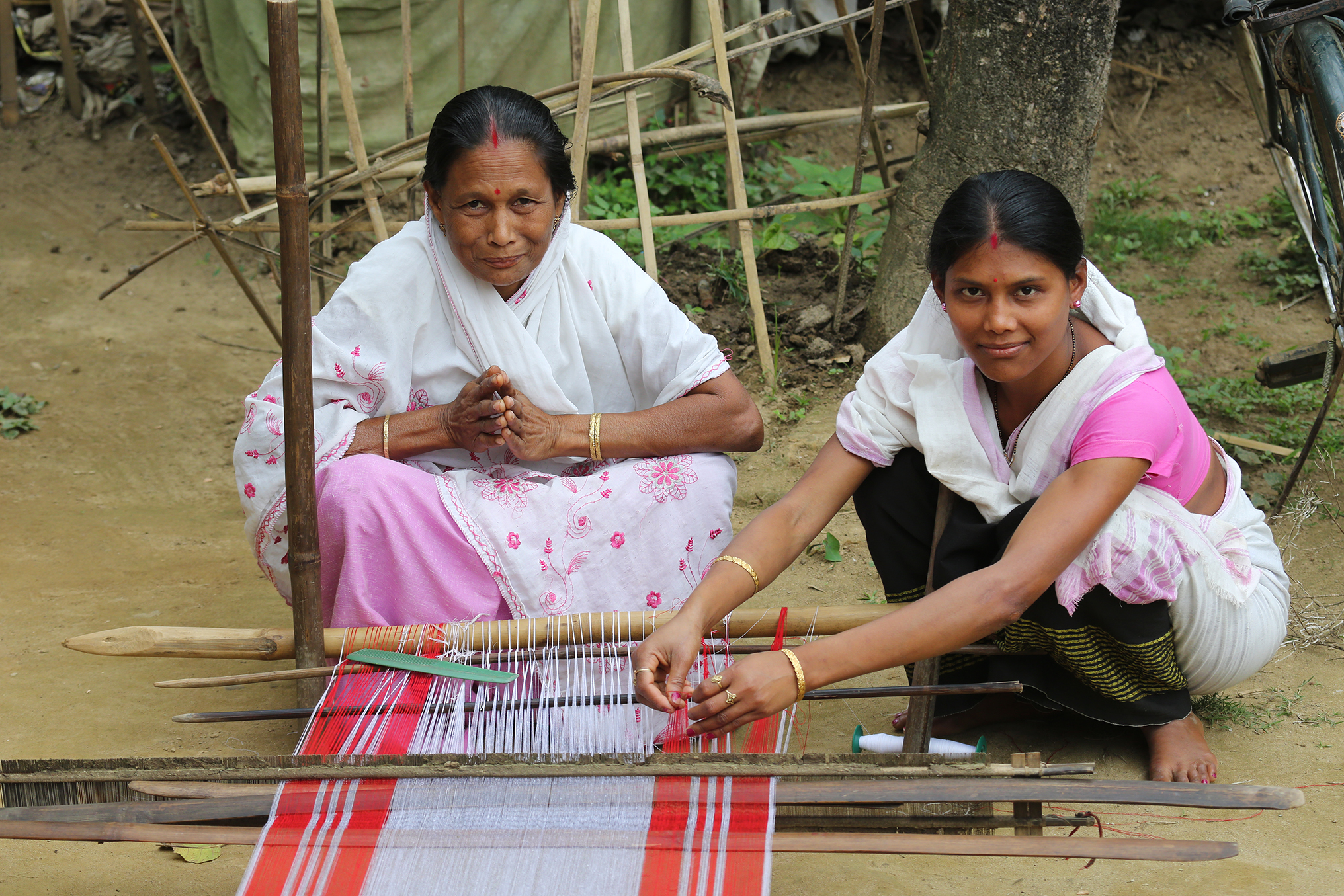 Women weaving (Assam lowlands, on the way to Manas National Park: We concentrate on birds but should not forget the friendly people. Mary especially enjoys people watching. These ladies weaving in their front yard graciously let us take pictures of them.)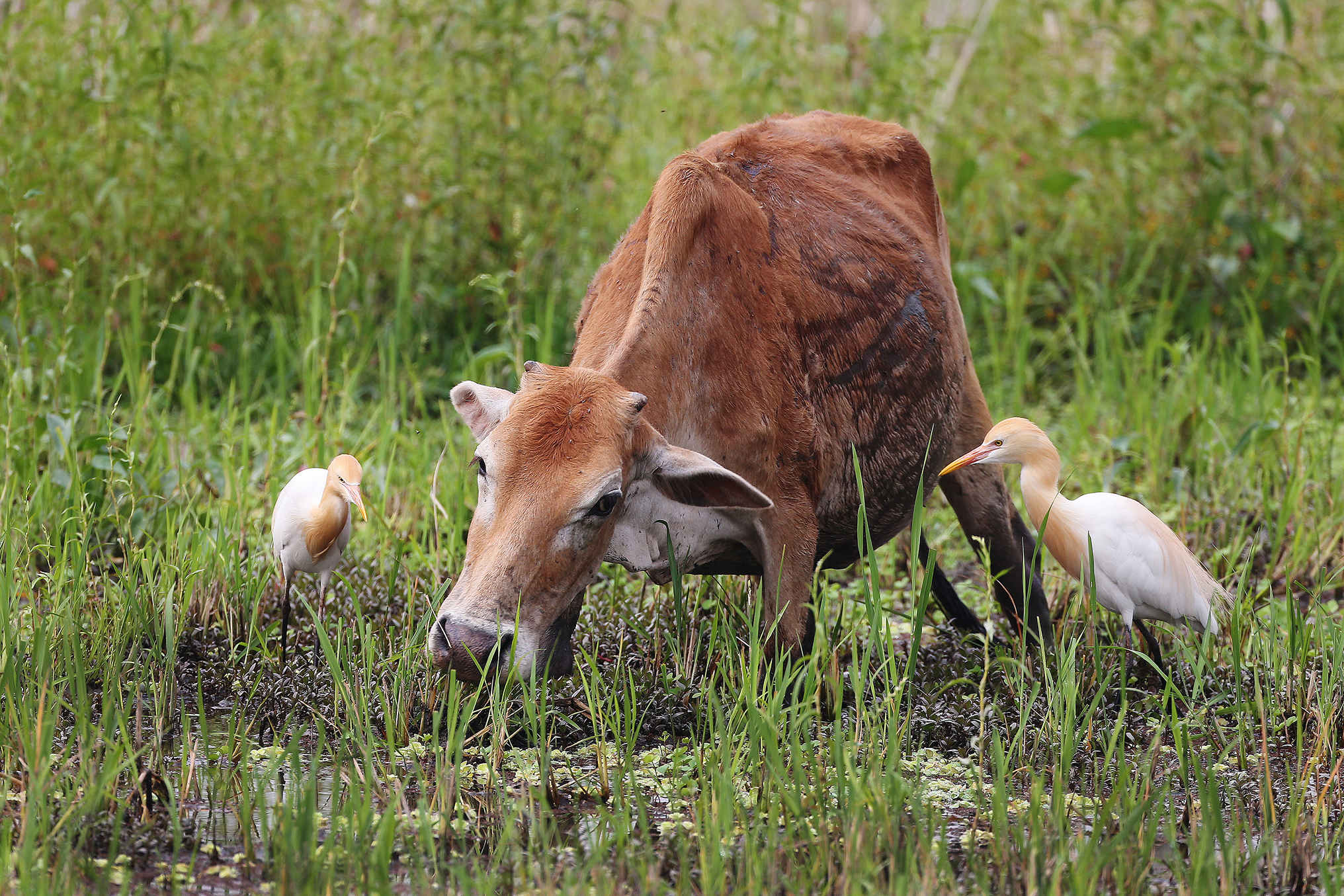 Cattle egrets at work, looking expectant (on the road south to Manas National Park)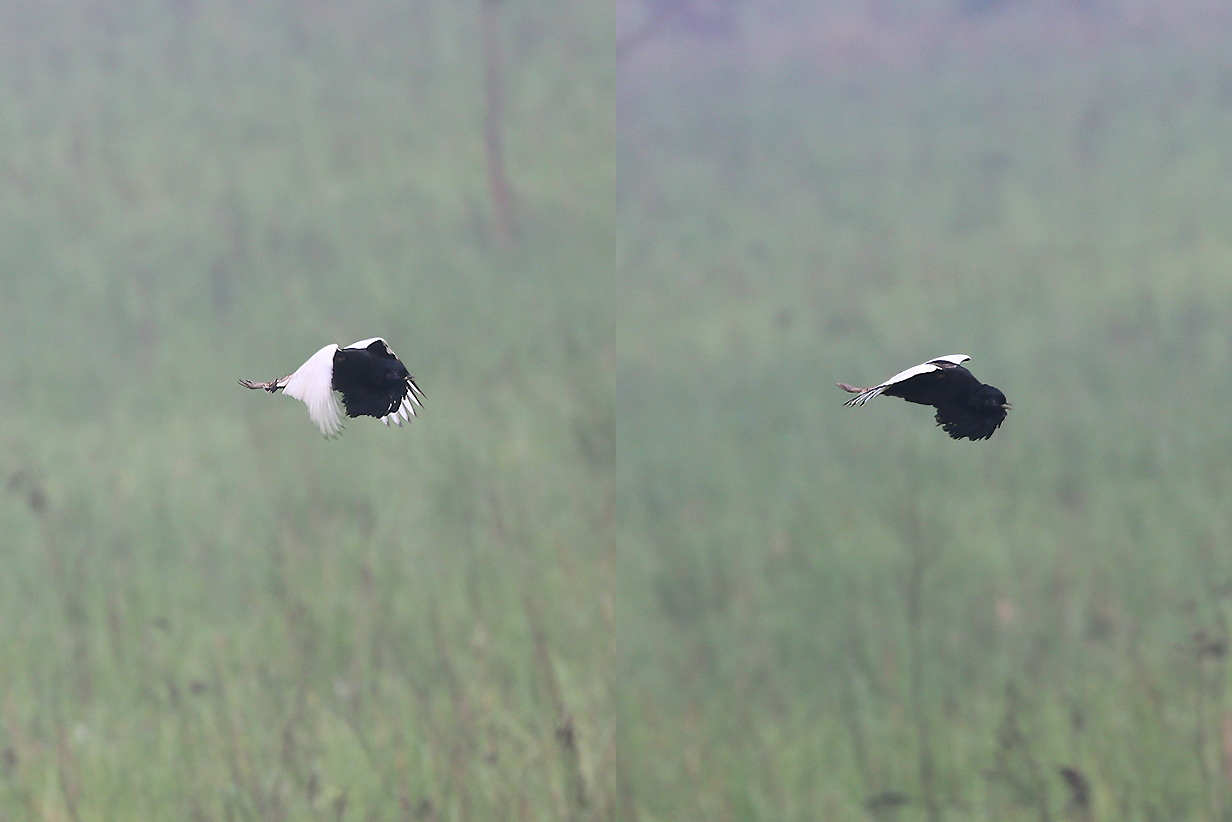 Bengal florican courting display flight (We came to Manas National Park to see Bengal florican, always a difficult rarity but relatively easy here from a reliable raised viewing platform. We succeeded easily, but the birds never came close, so we never got good pictures. This is our best effort at catching a courting flight, with the male's chest feathers fluffed out as much as possible while flaunting his bright white wings. Note that he is calling all the while that he is in flight. Females must have been around, too, but we never saw one.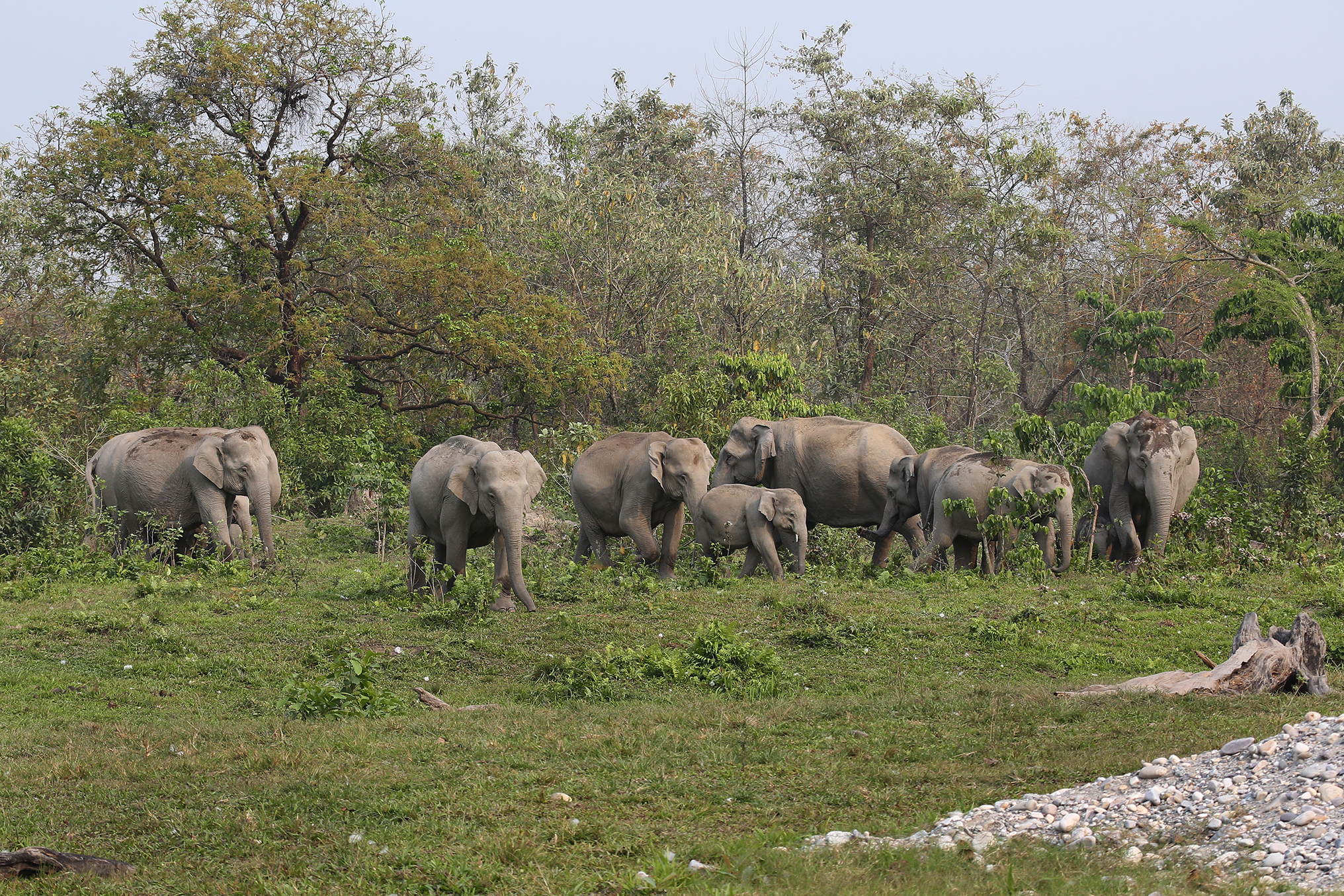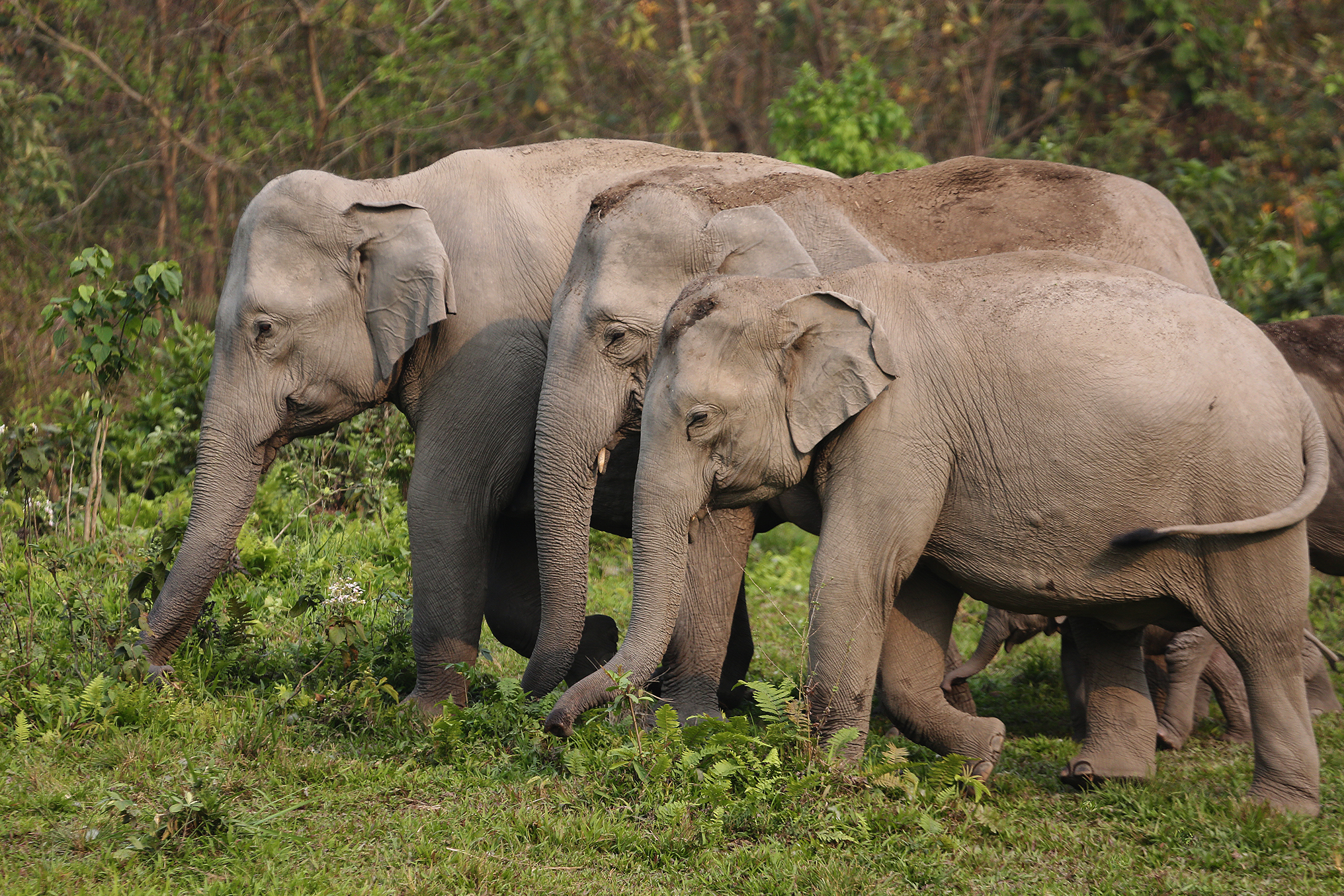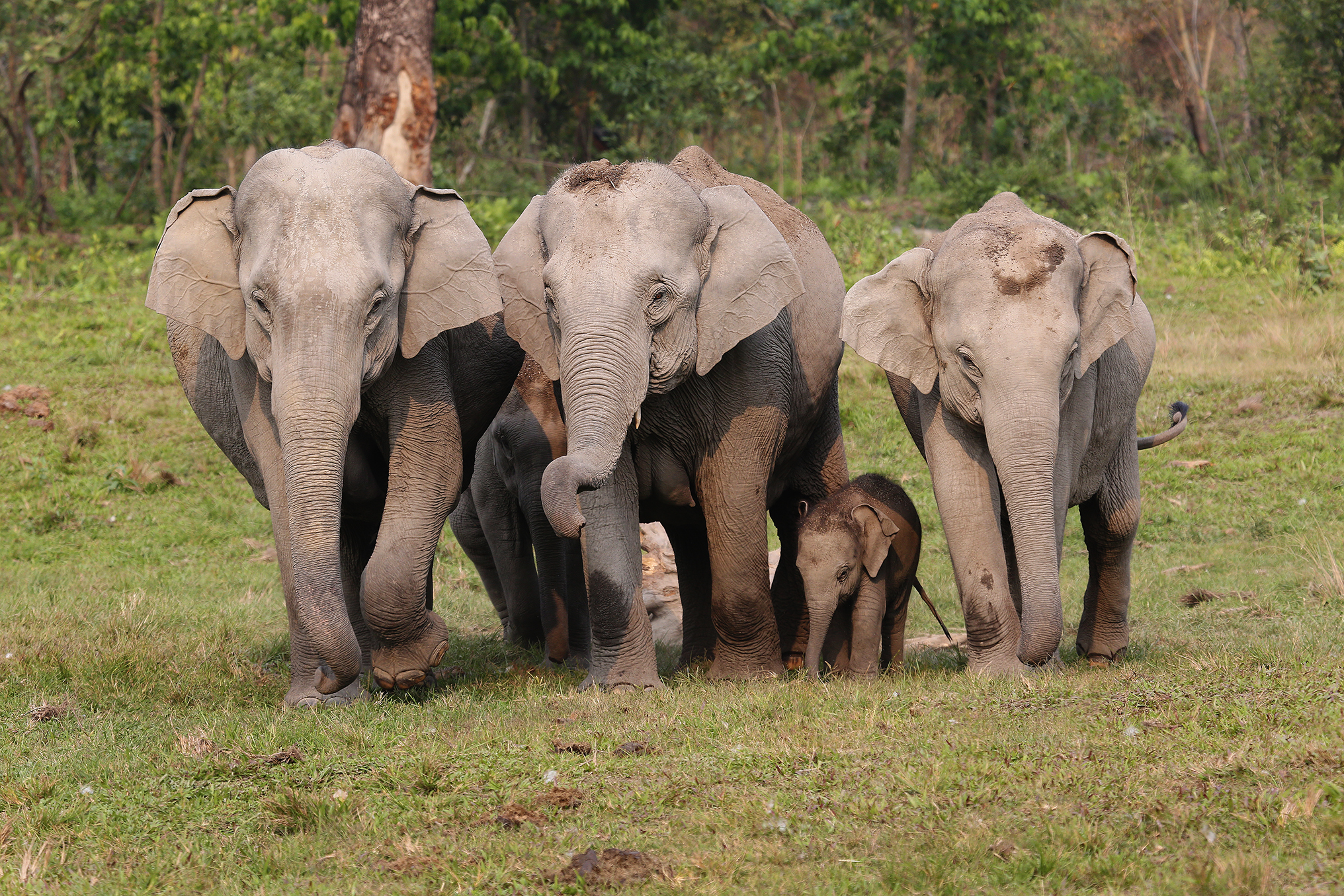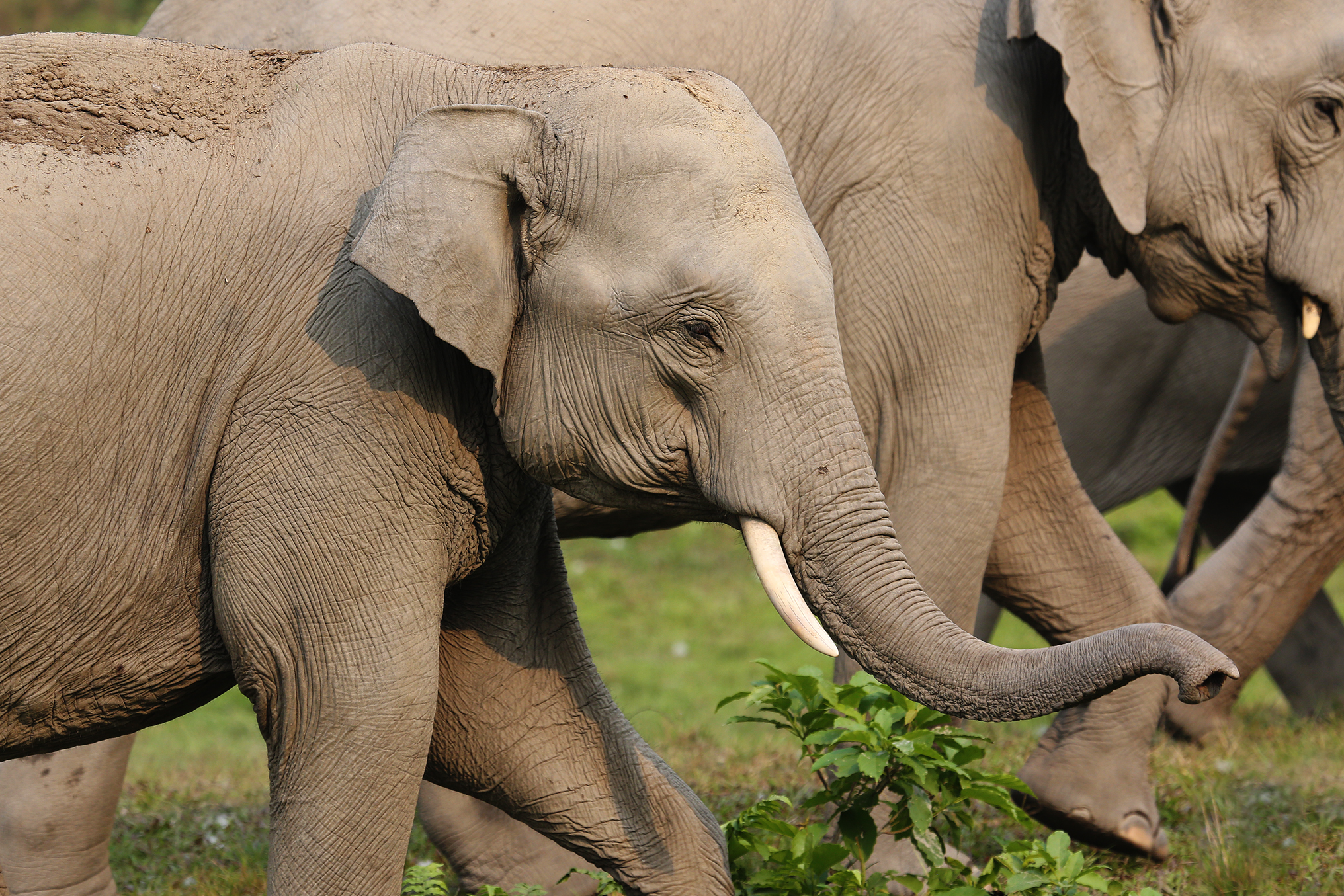 Elephants at the Bengal florican viewing platform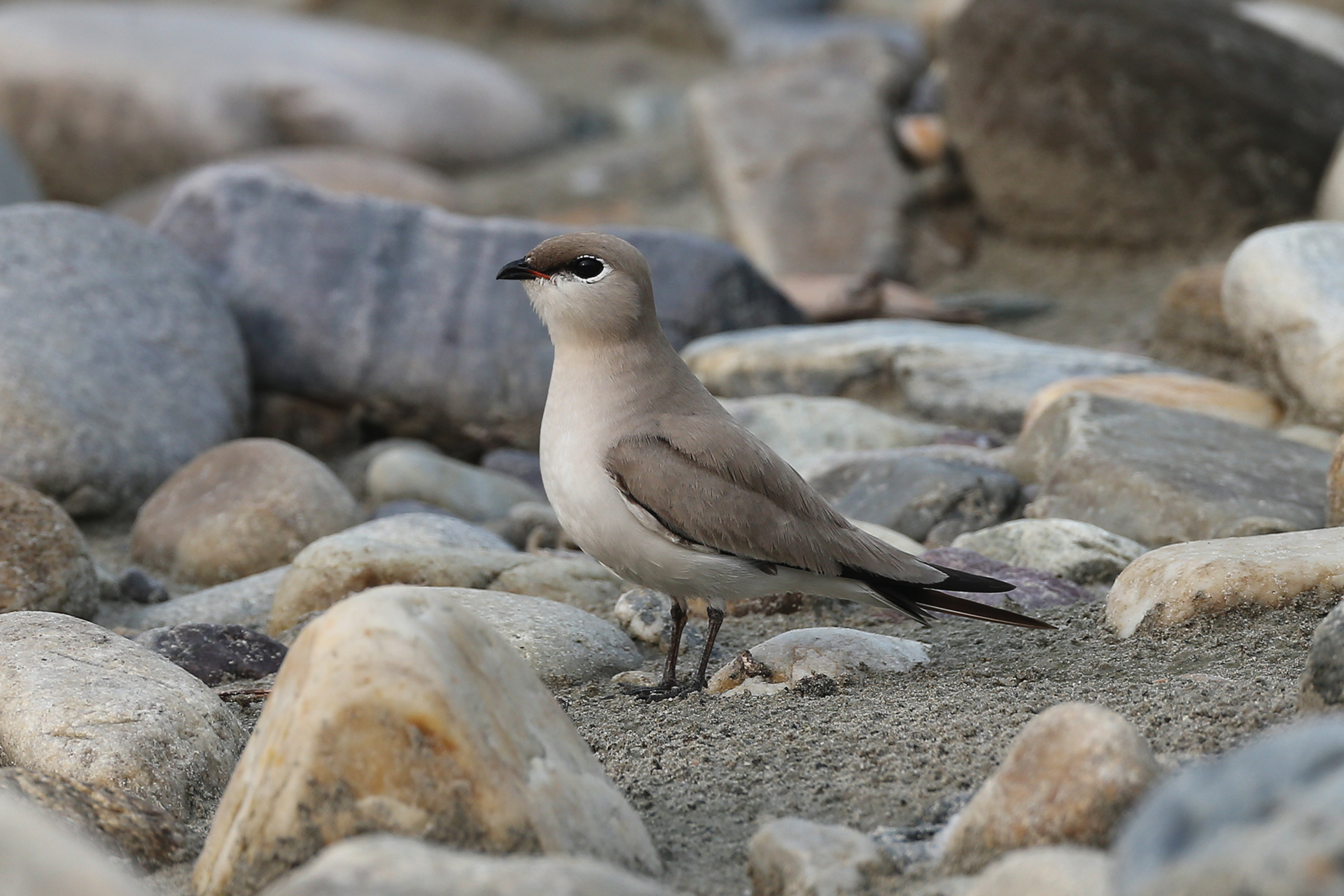 Small pratincole (This is John's life bird.)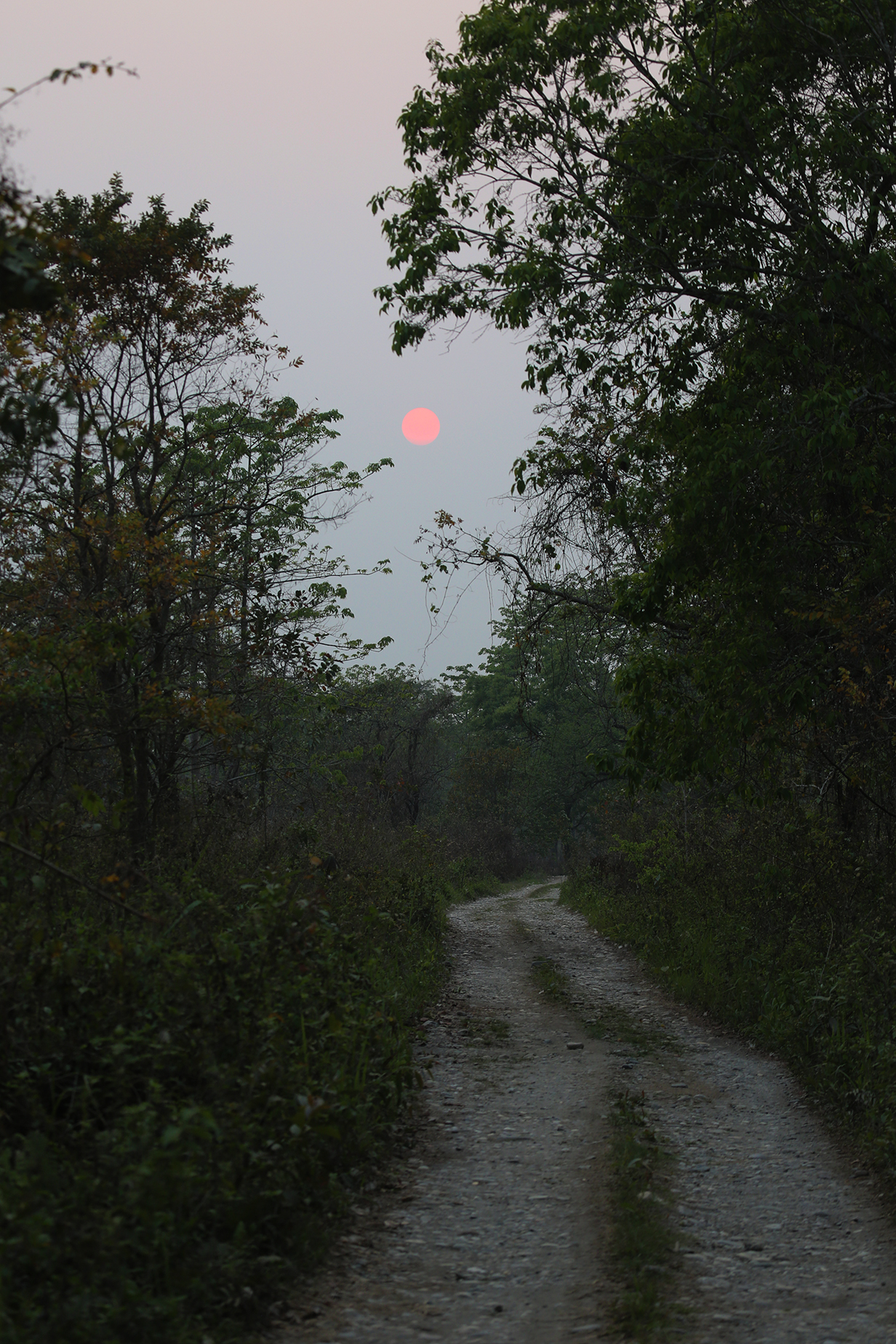 End-of-safari sunset at Manas National Park. In India, the sun seems to set into a sea of molasses, fading out into the all-pervasive haze.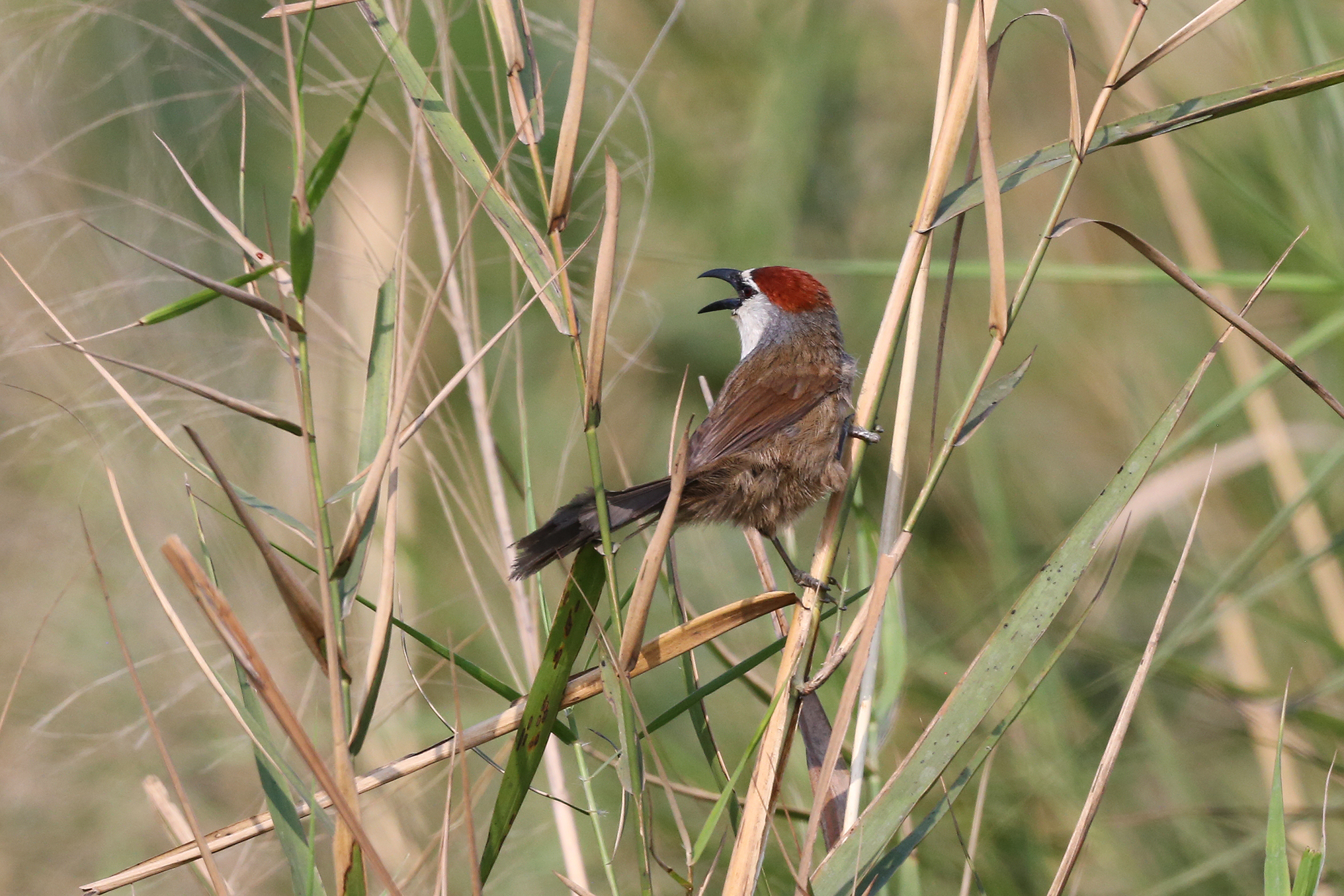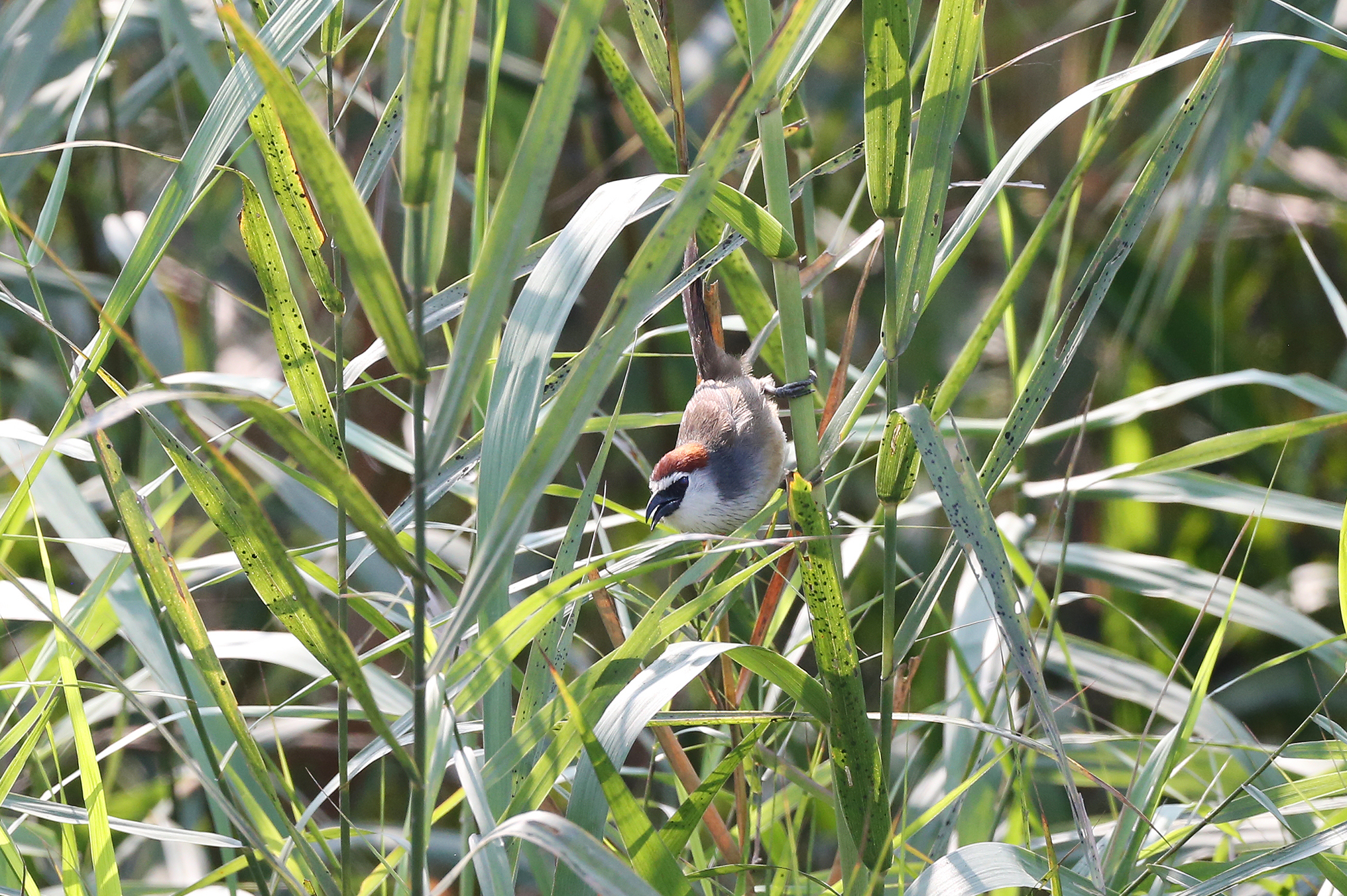 Chestnut-capped babbler (Mary voted this species as her "trip bird".)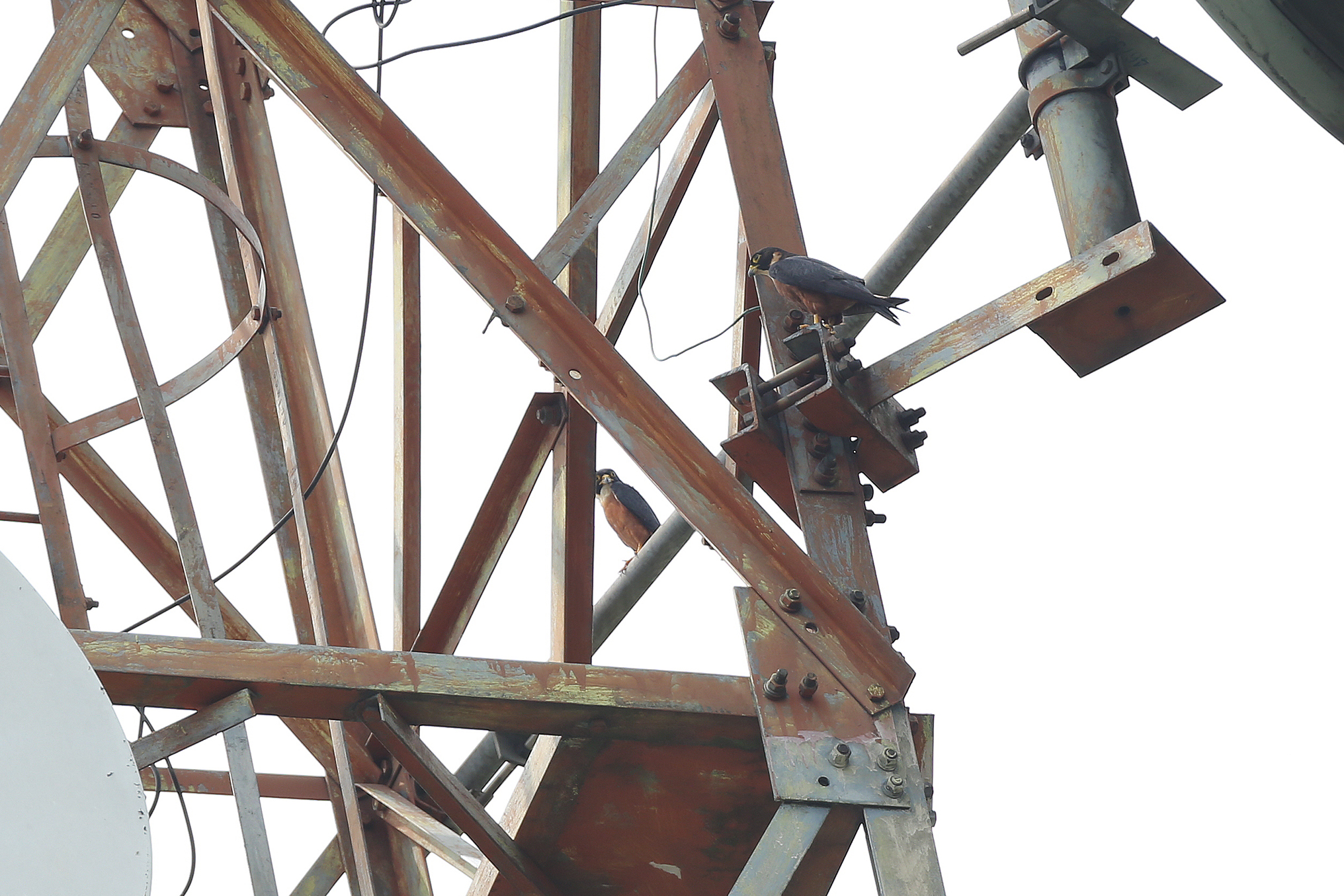 Oriental hobby (only the second time that we have seen this species)
Mismi Hills, Digboi, and Dehing Patkai Rain forest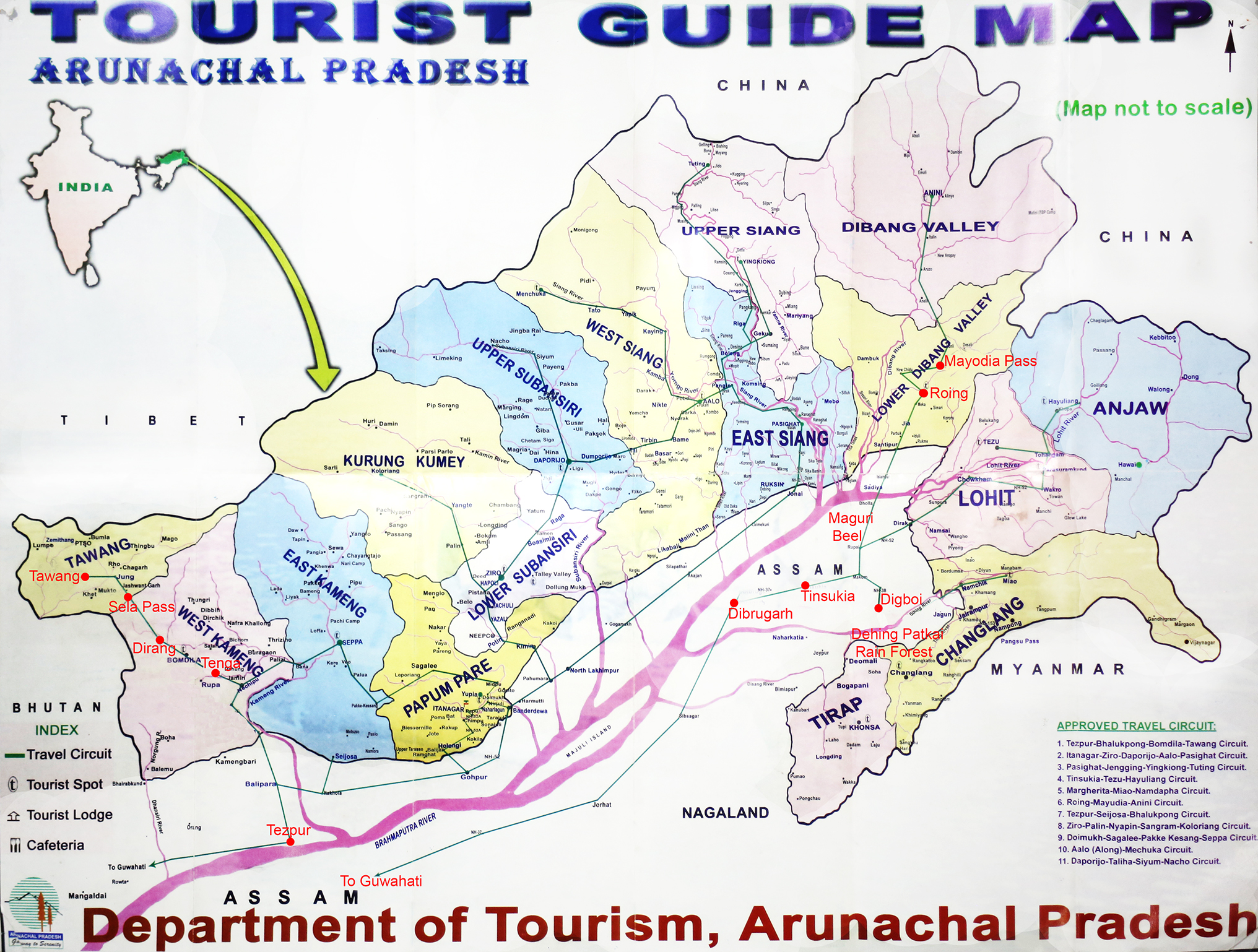 The rest of the birding, excepting only Sultanpur National Park (which is near Delhi) was in the far east of Arunachal Pradesh and Assam, from Dibrugarh to Mayodia Pass to Maguri Beel, the Digboi oil field area, and Dehing Patkai Rain Forest. We went to many of these places also in our 2016 trip to India.
Vinod saved us from a very long drive from western to eastern Assam by arranging for us to fly from Guwahati to Dibrugarh. We then were driven to Roing, and all trips into the Mismi hills were handled as day trips from Roing. All this is easier now than it was in 2016, because a miles-long bridge over the Brahmaputra River is now finished and because the road from Roing into the Mismi Hills is rapidly being improved. Caution to birders who want to come here in future: The improved road means that people are moving into and beyond the Mismi Hills in large numbers. Traffic is getting very much busier. The birding in this area is bound to be degraded quickly in coming years, as it has already been degraded along the Sela Pass road and, to a lesser extent, at Eagle Nest. Be warned: If you want to bird this area, it is best to go soon.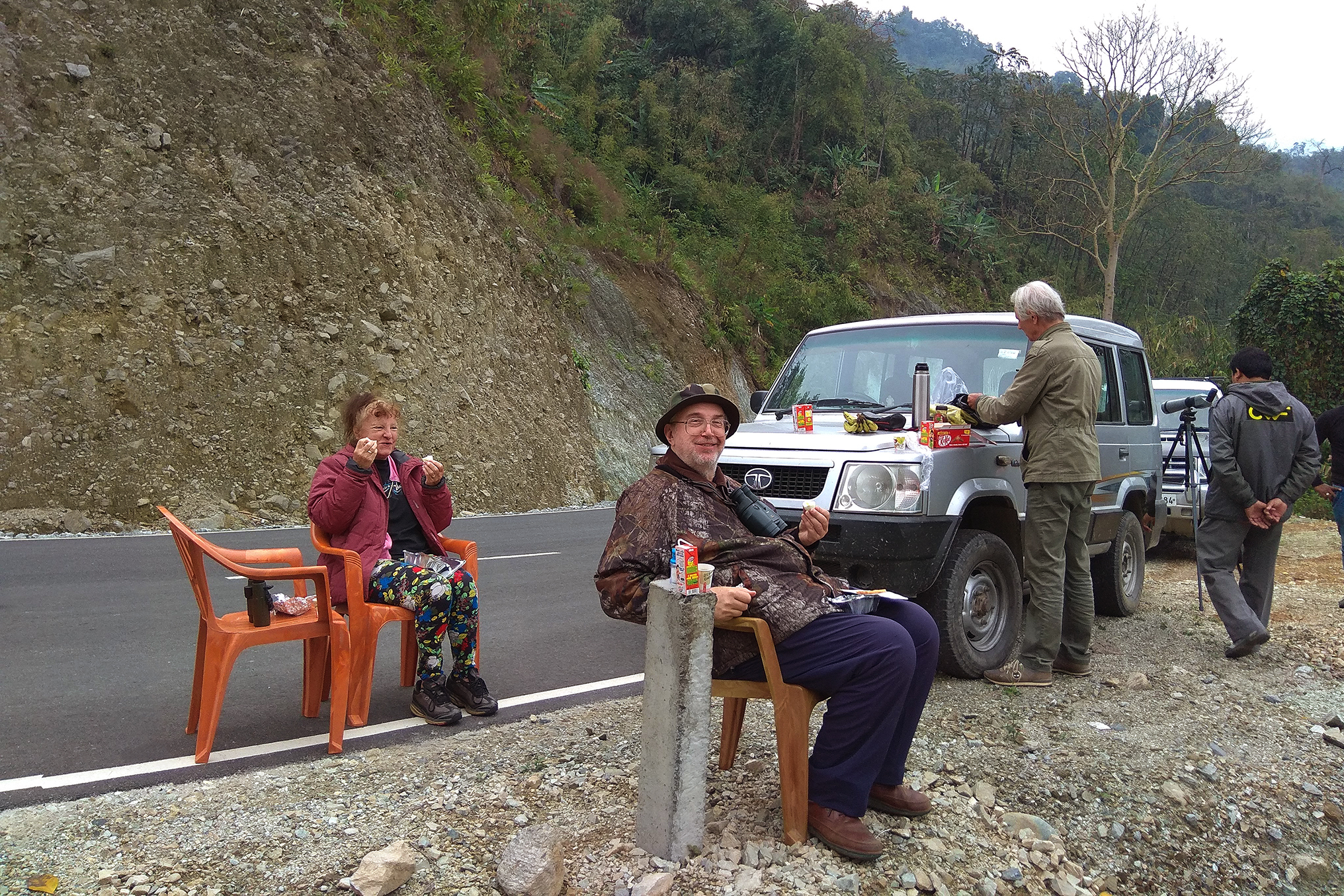 Through most of the trip, we started birding as soon as it was light enough in the morning and stopped several hours later for a roadside breakfast. It's not the best food in the world, but it is efficient. This picture was taken by travel wizard Vinod Goswamy and shows, besides Mary and John, our "world guide" Jack Poll and, at right, one of our local guides.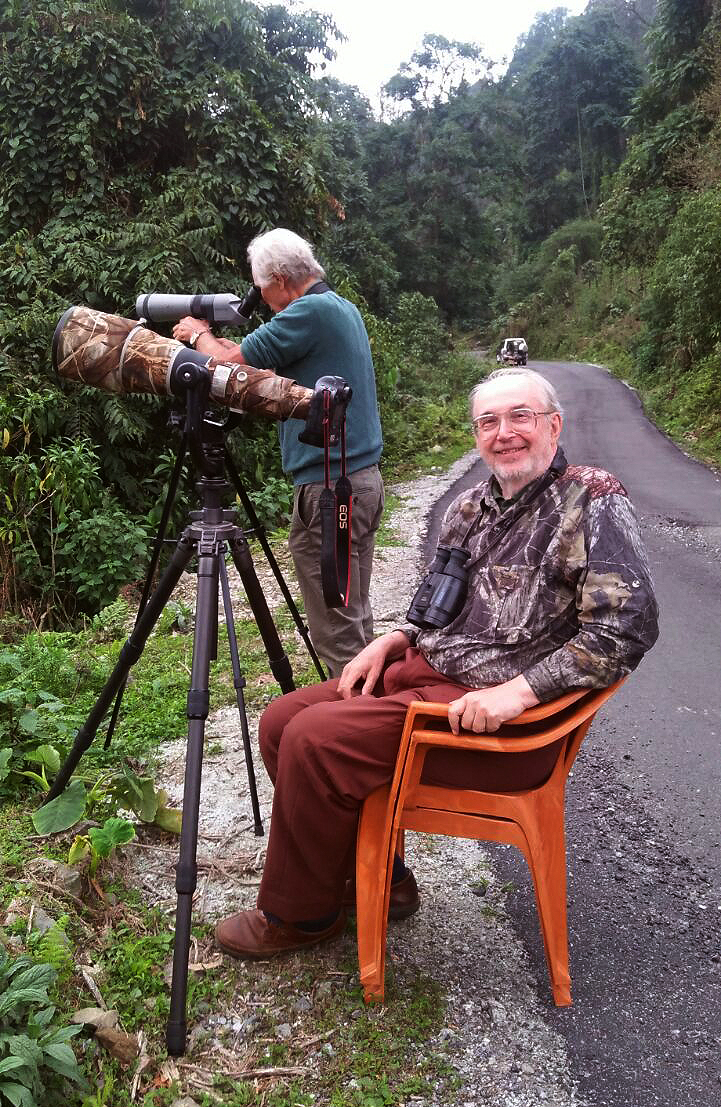 Occasionally a bird sits still, out in the open, and gives John a relaxed and easy opportunity for a picture. But not often.
Of course, it is not especially comfortable to have a car parked on your head.
Meanwhile, Jack Poll is finding the bird in his scope so we can get a really good look.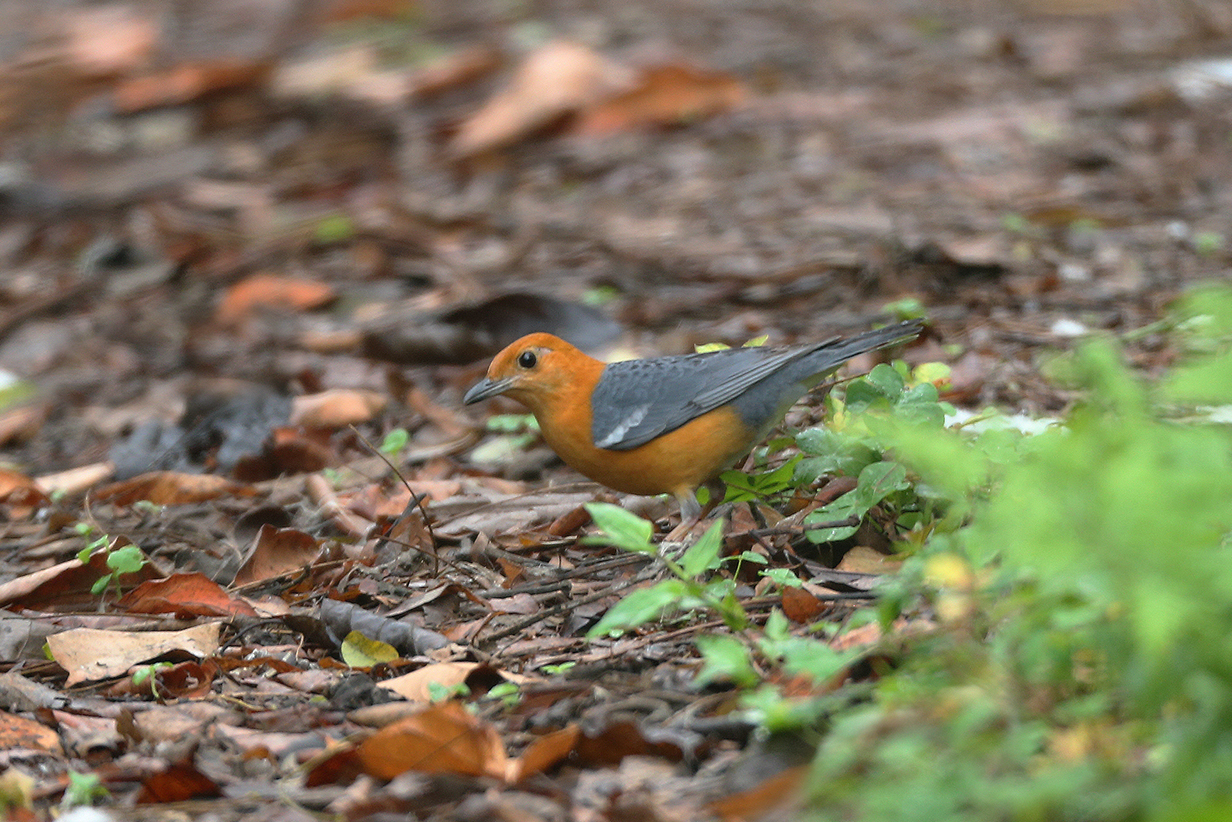 Orange-headed thrush (Geokichla citrina citrina as distinct from Geokichla citrina cyanotus in penninsular India)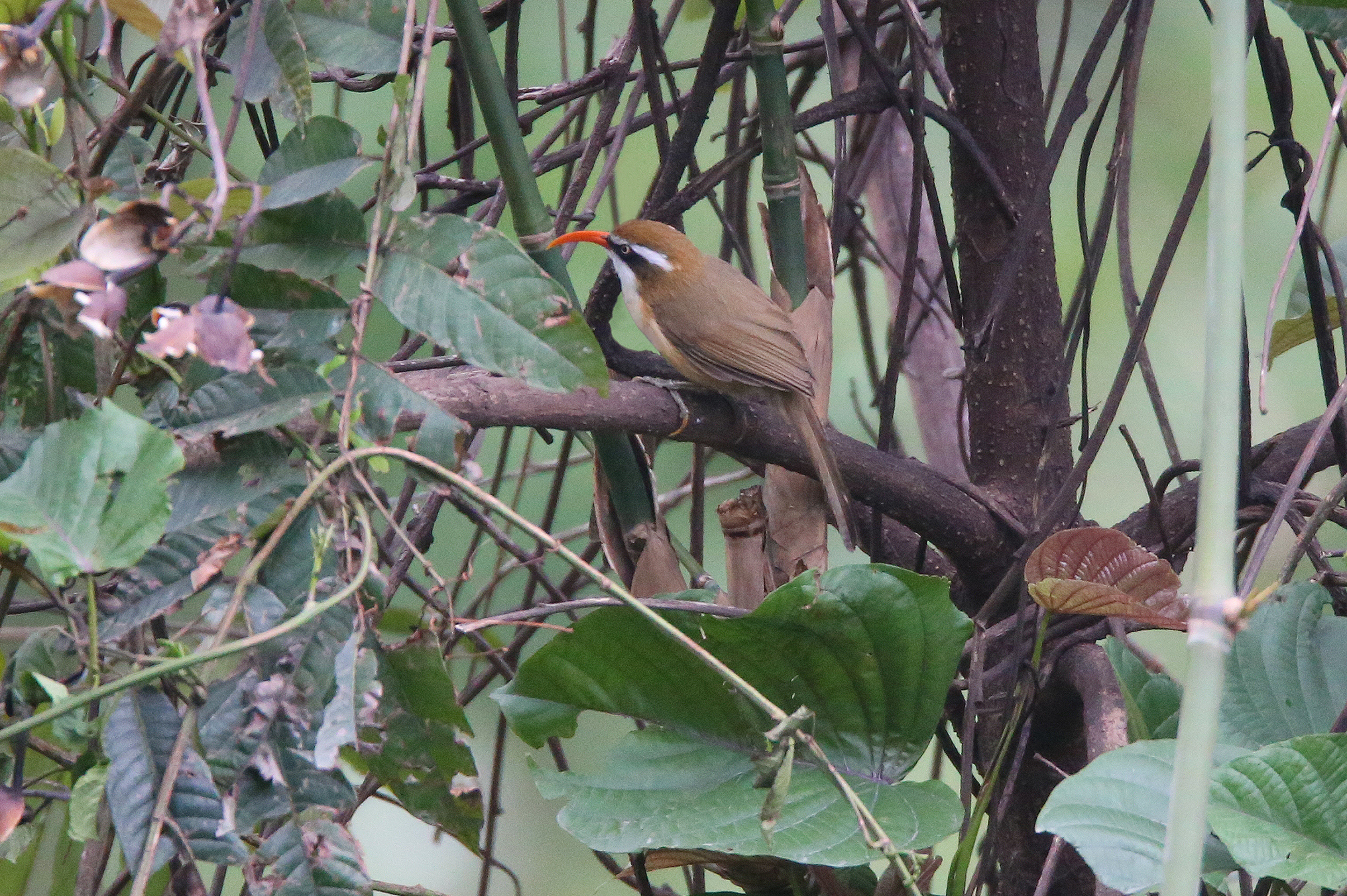 Red-billed scimitar-babbler (part of a small flock of Mary's life birds)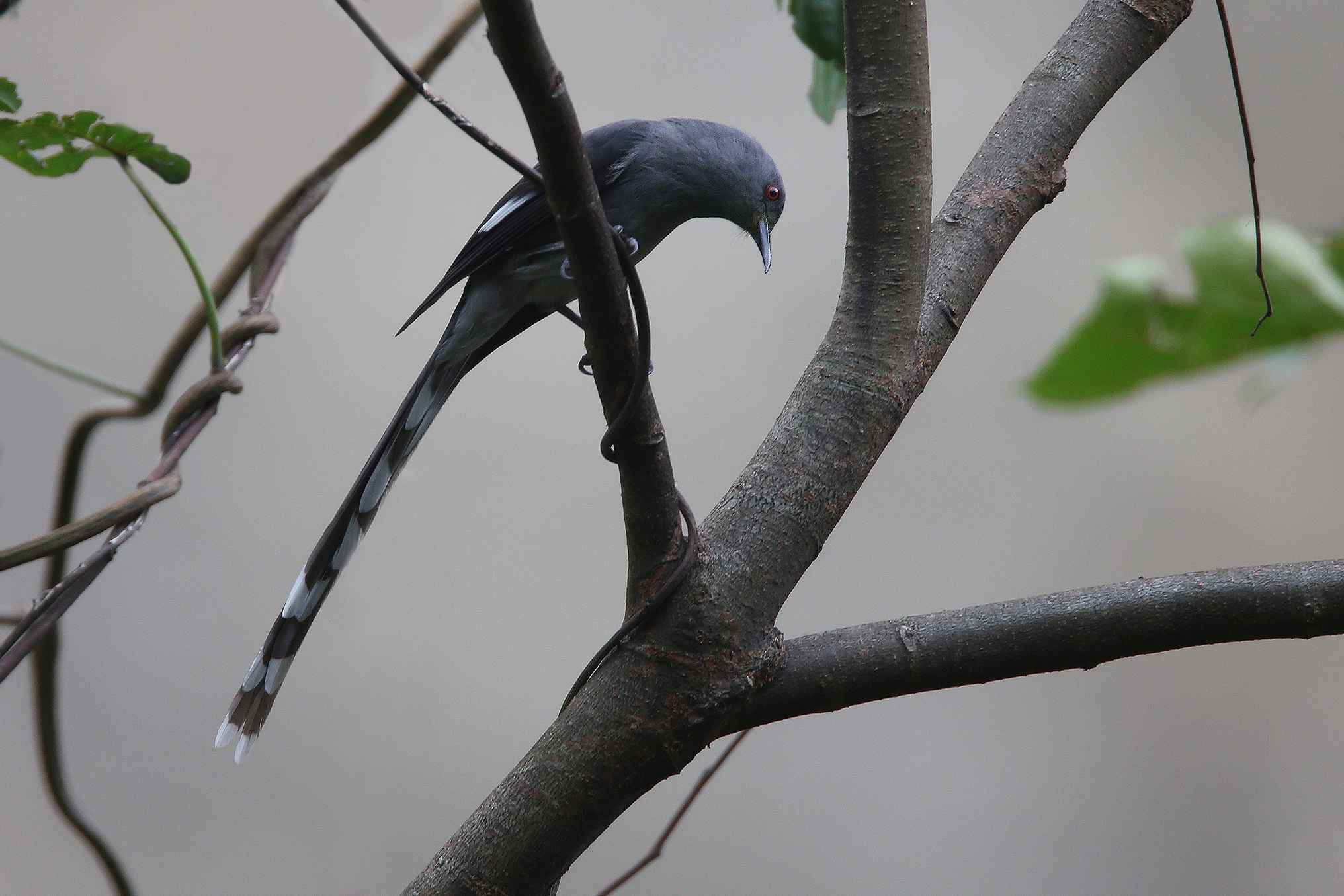 Long-tailes sibia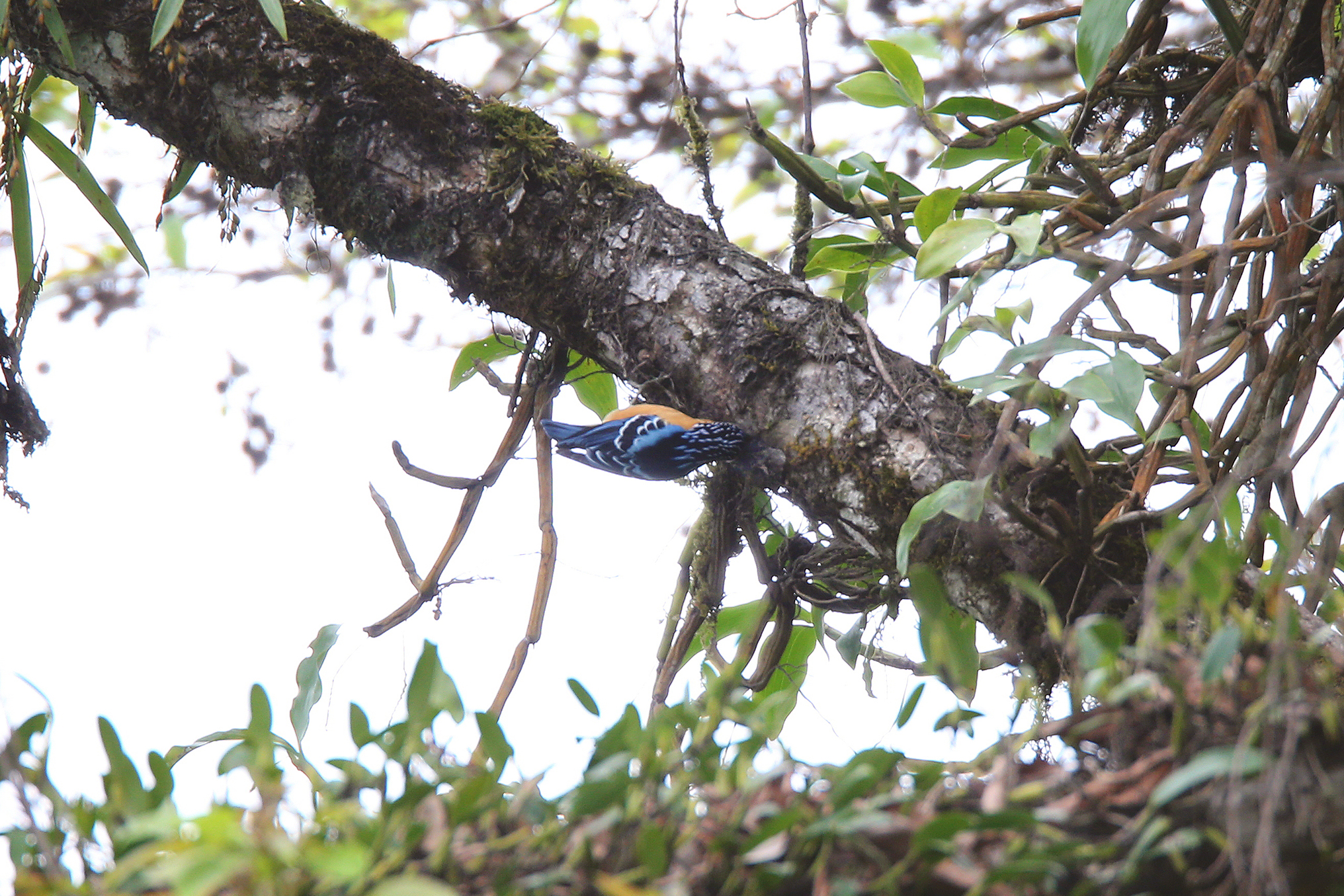 We first saw Beautiful nuthatch working the epiphyte-encrusted branches of a giant tree. There were at least three Beautiful nuthatches in this mixed flock.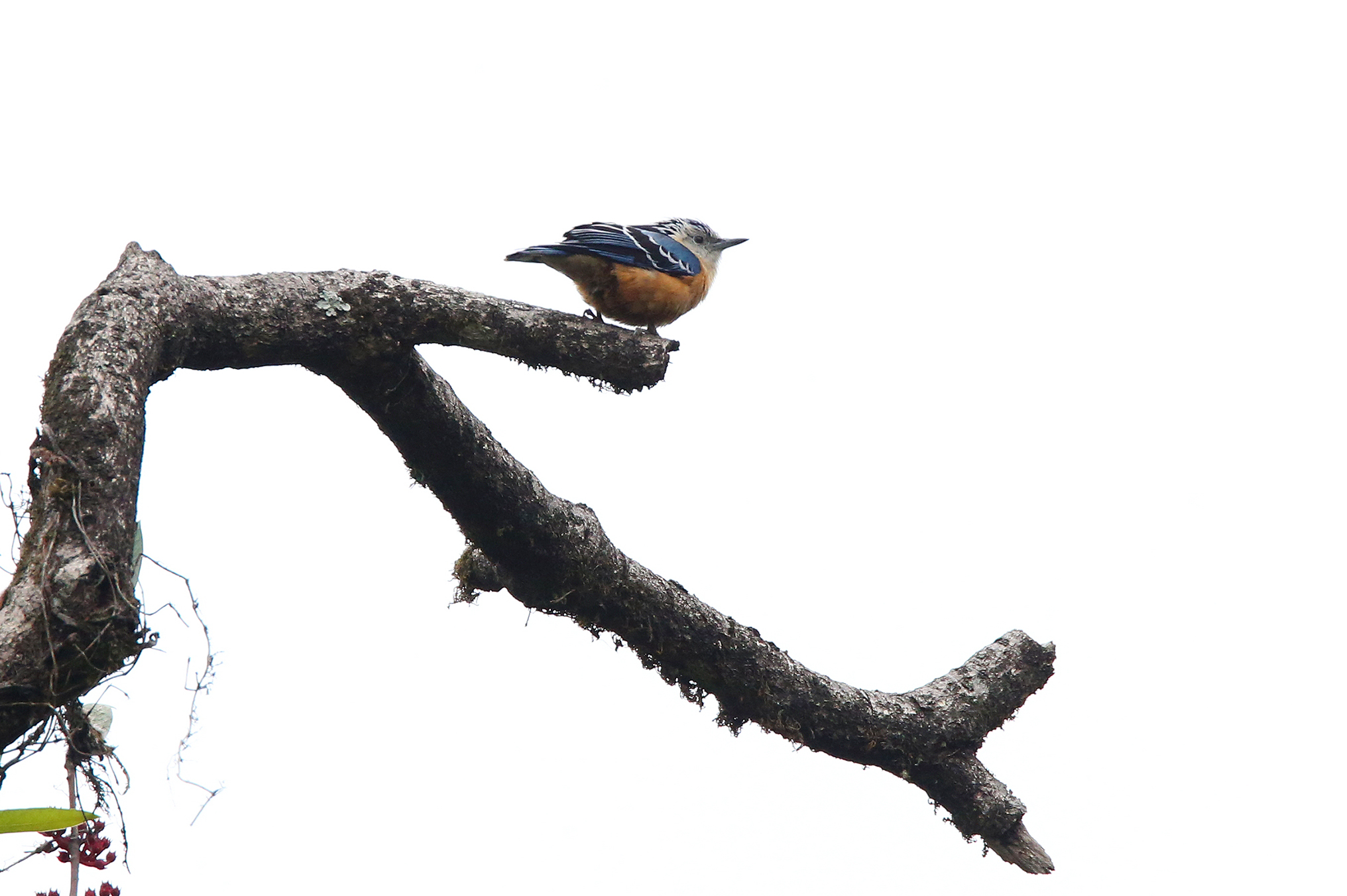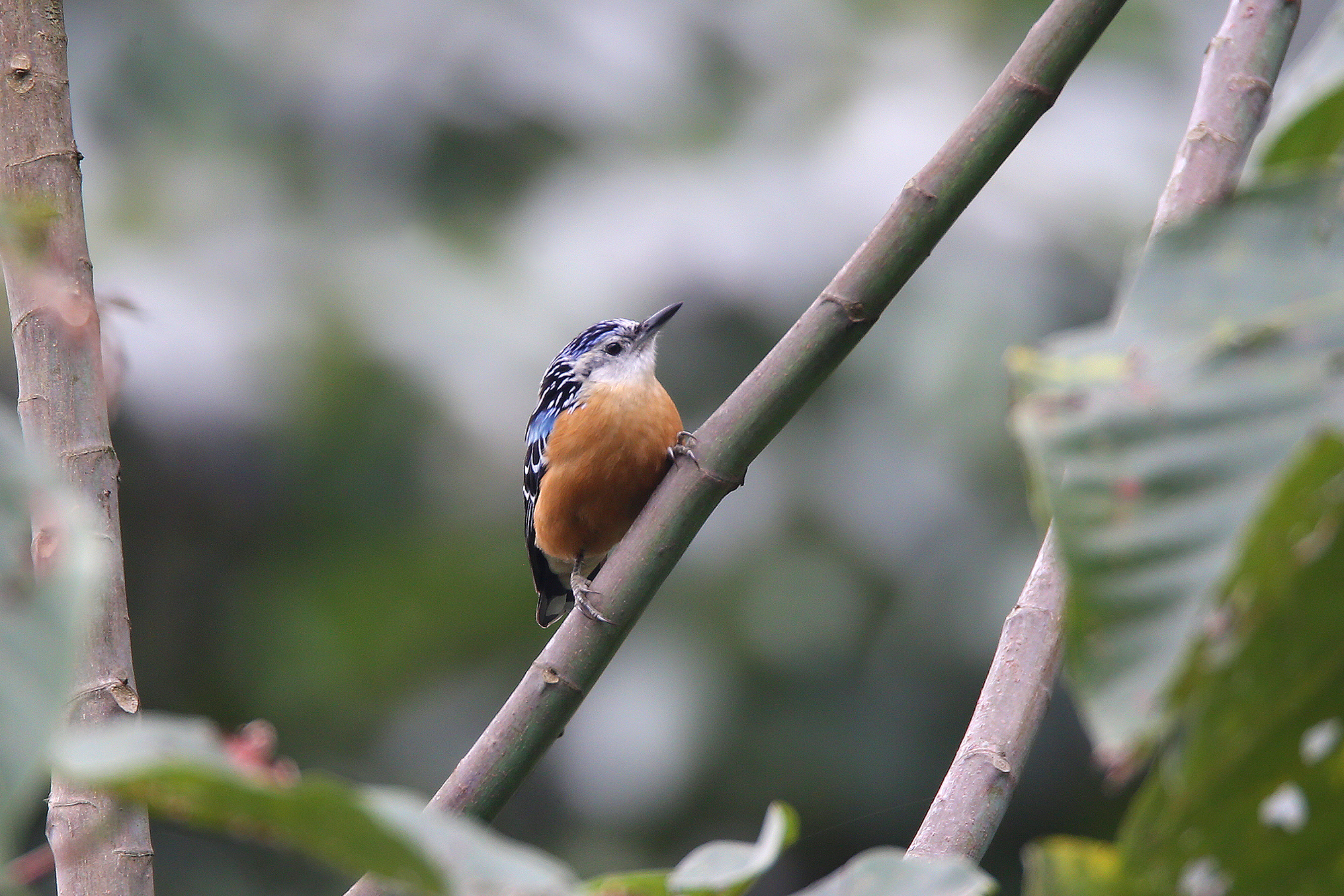 Beautiful nuthatch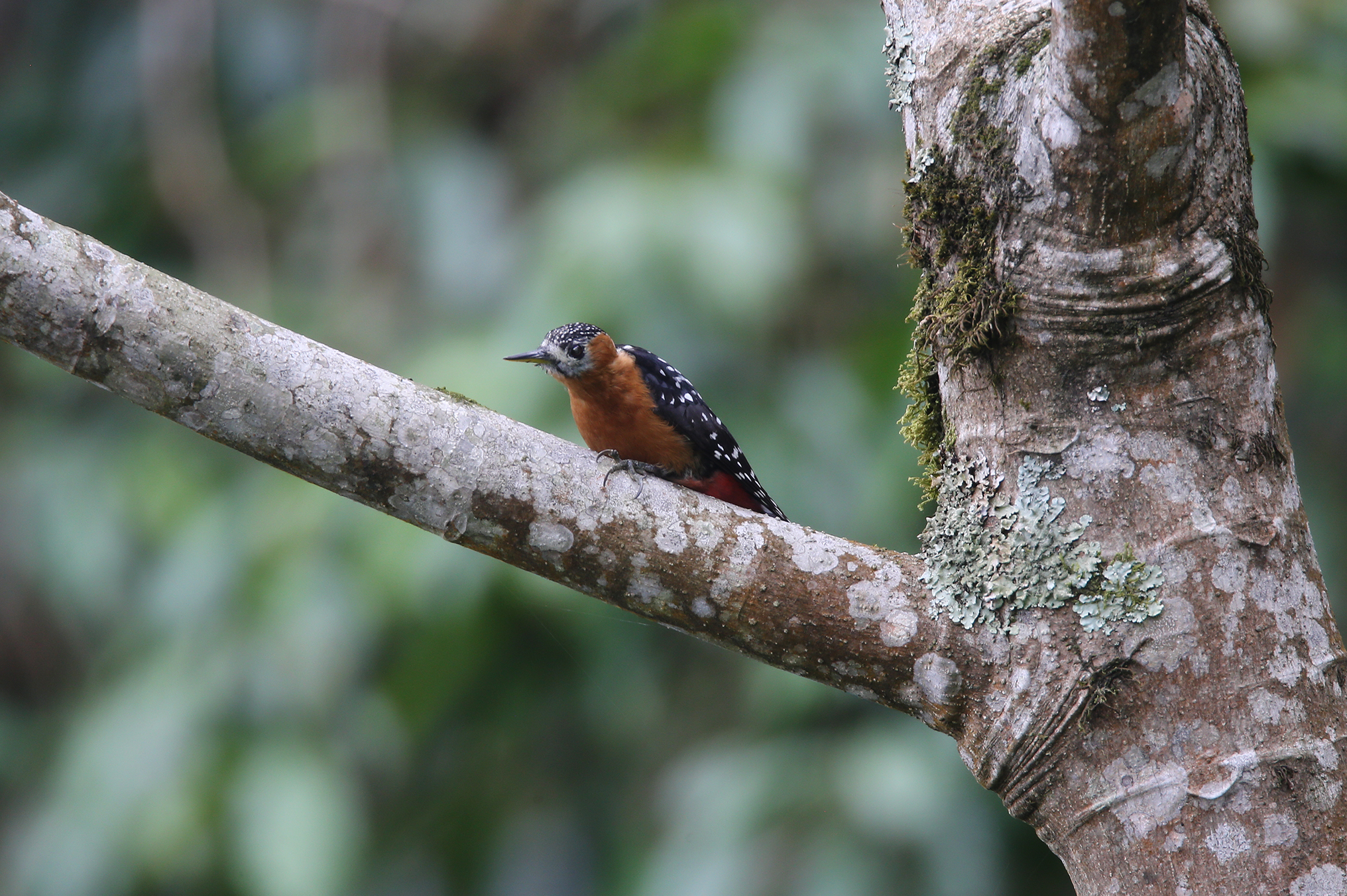 Rufous-bellied woodpecker (female)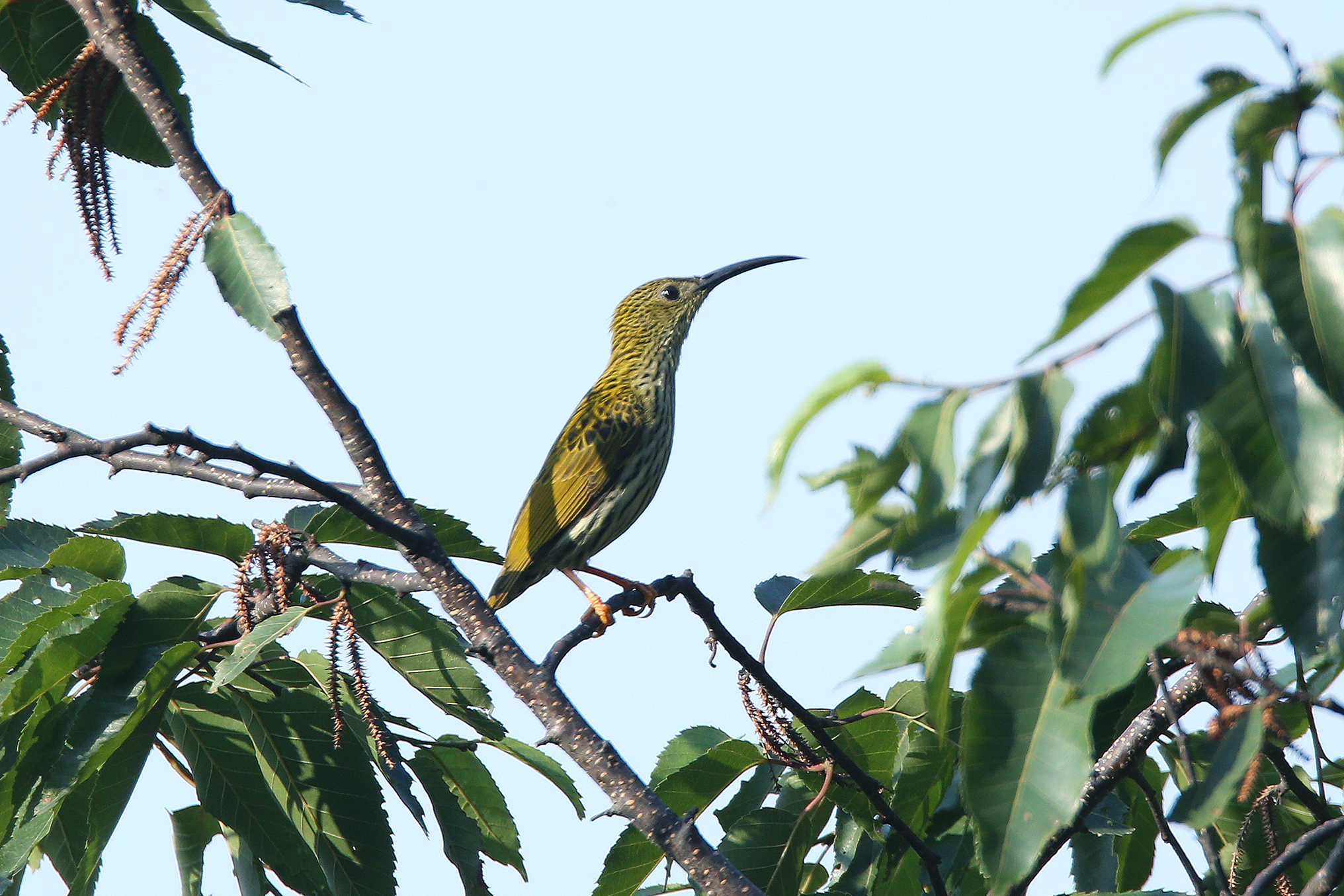 Streaked spiderhunter (On March 28, 2018 = Day 26 of the trip, on perfect, calm, calm, sunny morning, we saw hundreds of Streaked spiderhunters work their way up from the Roing valley to their hunting grounds at higher elevations in the Mismi hills. This is one of those birds.)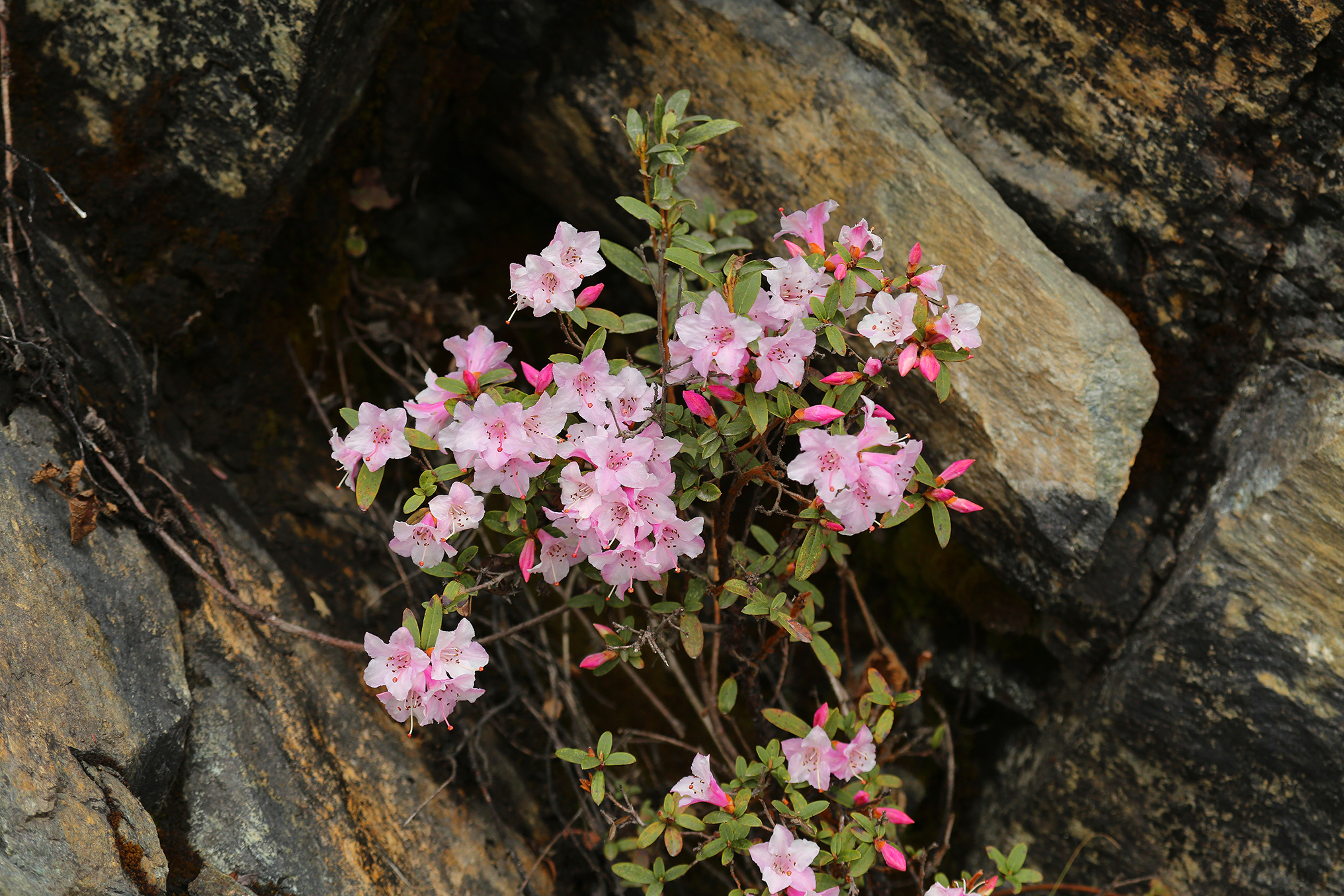 Flowers, high on the road to Mayodia Pass. We were not so completely focused on birds that we failed to see the beauty of the Himalayan foothills, including Spring flowers everywhere. Rhododendrons gave us splashes of bright color. On the clearest days, we could see the snow-capped crest of the Himalayas in the distance.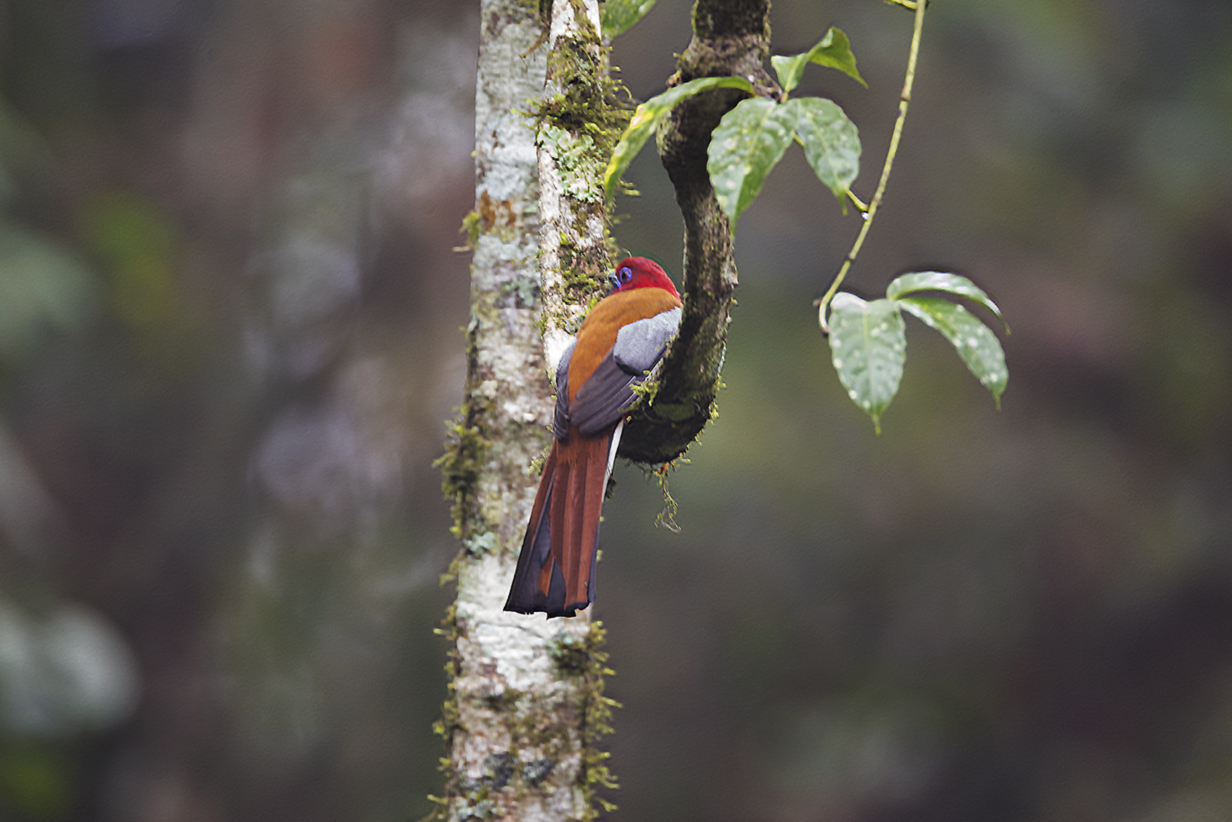 Red-headed trogon (bad picture of a shy male)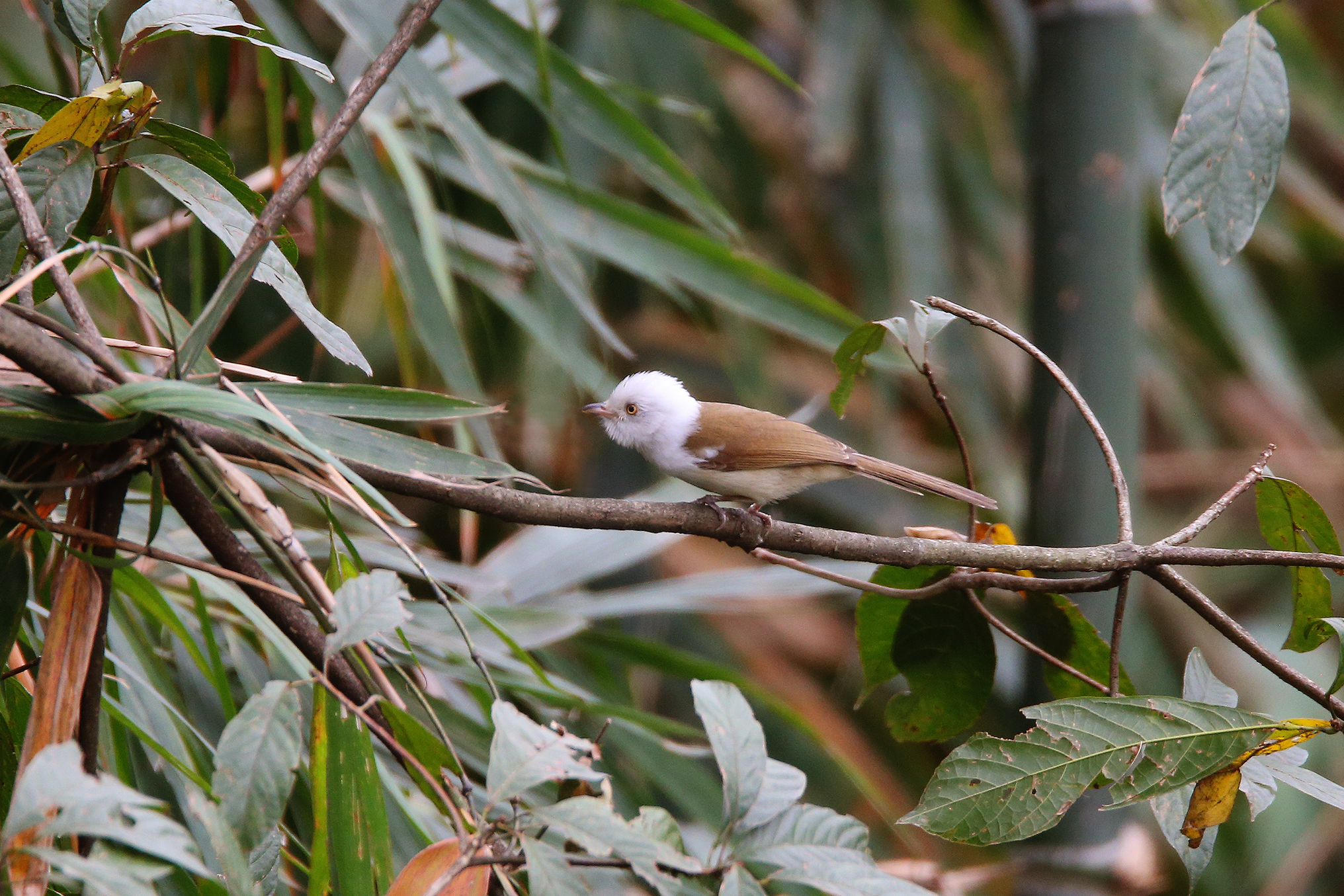 White-hooded babbler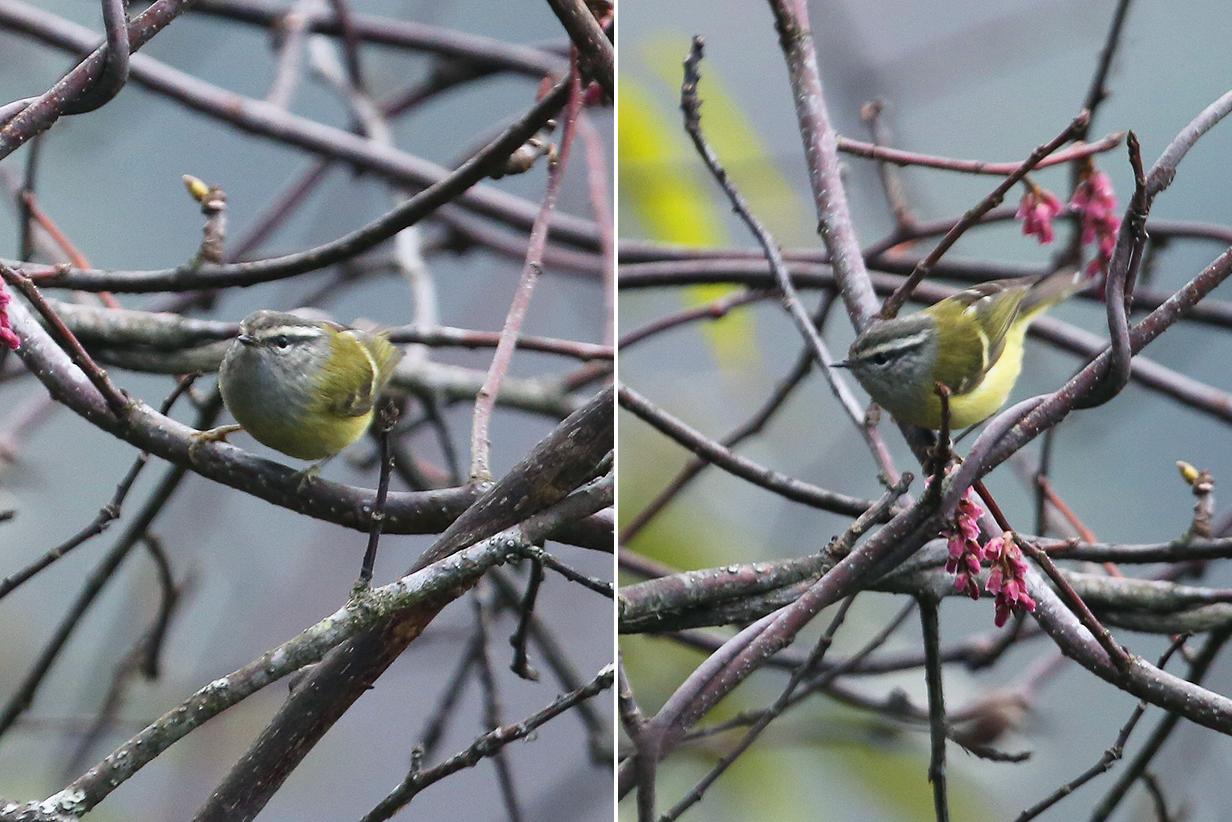 Ashy-throated warbler (This is one of the most common warblers in the region, in winter.)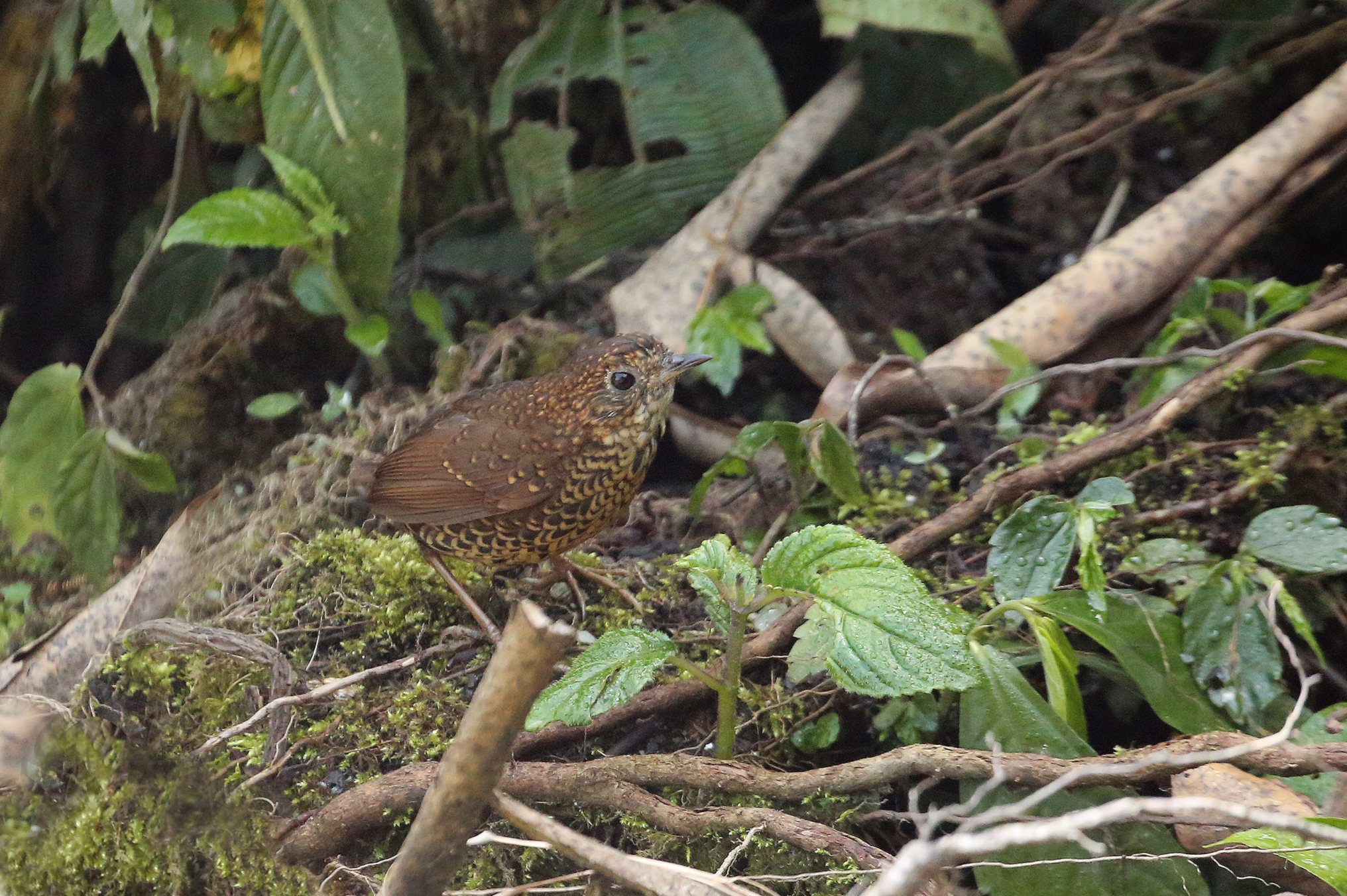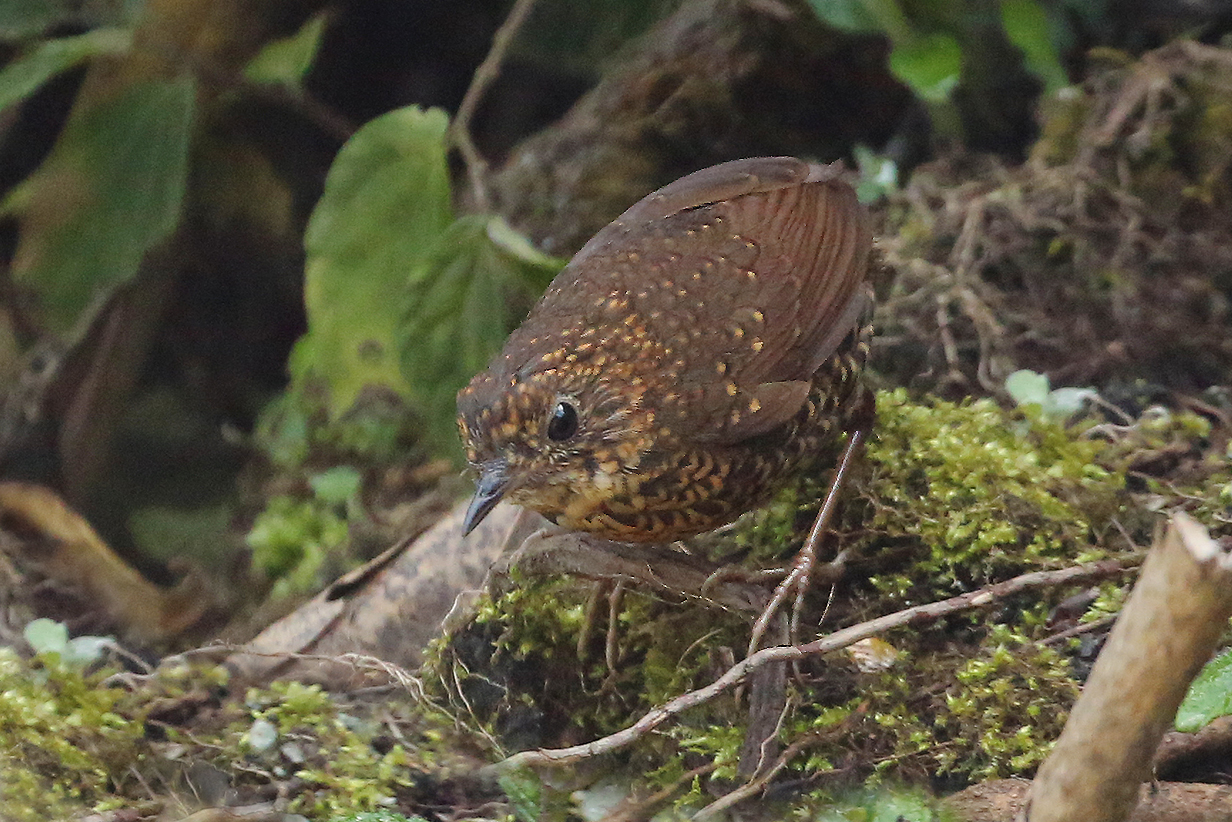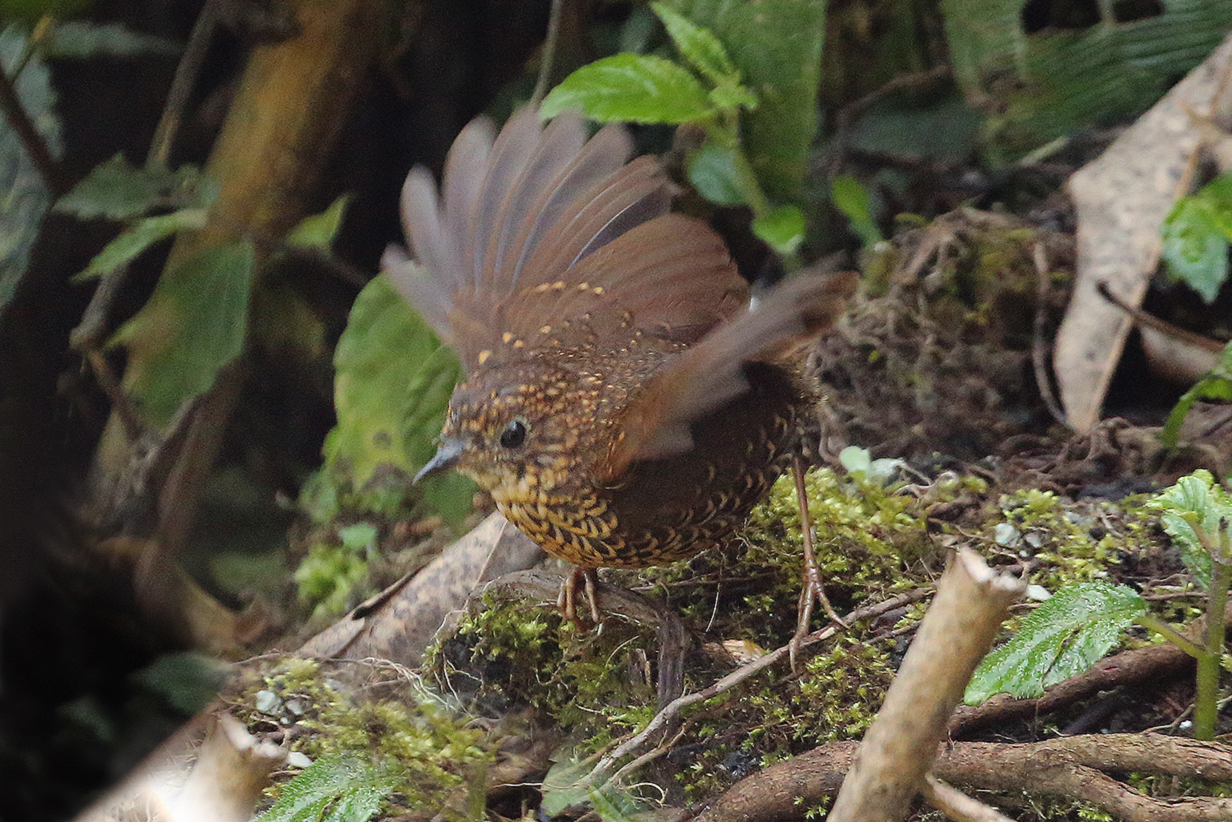 Scaly-breasted wren-babbler (It is always a pleasure to see wren-babblers, the ultimate skulkers among Himalayan foothill birds. And it is hard to get good pictures of birds that rarely sit out in the open.)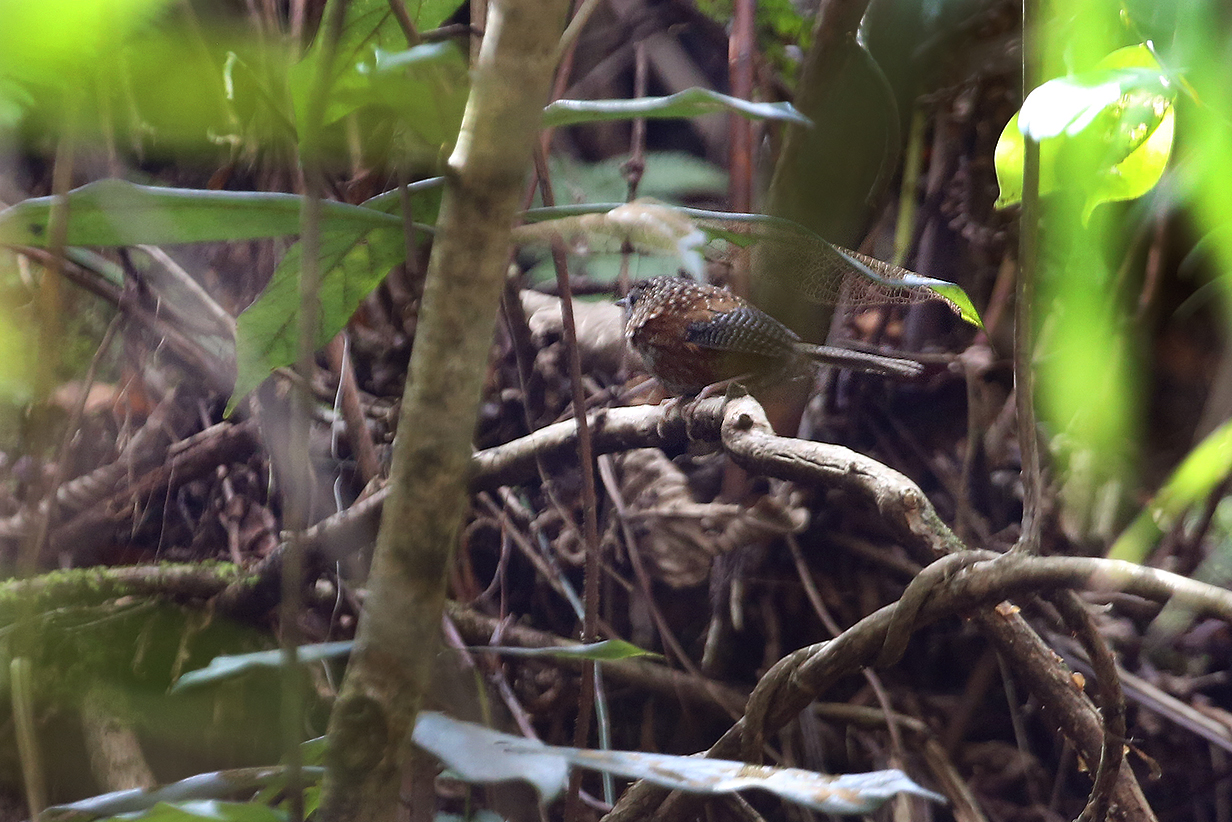 Bar-winged wren-babbler (Terrible picture; important bird: hard to photograph)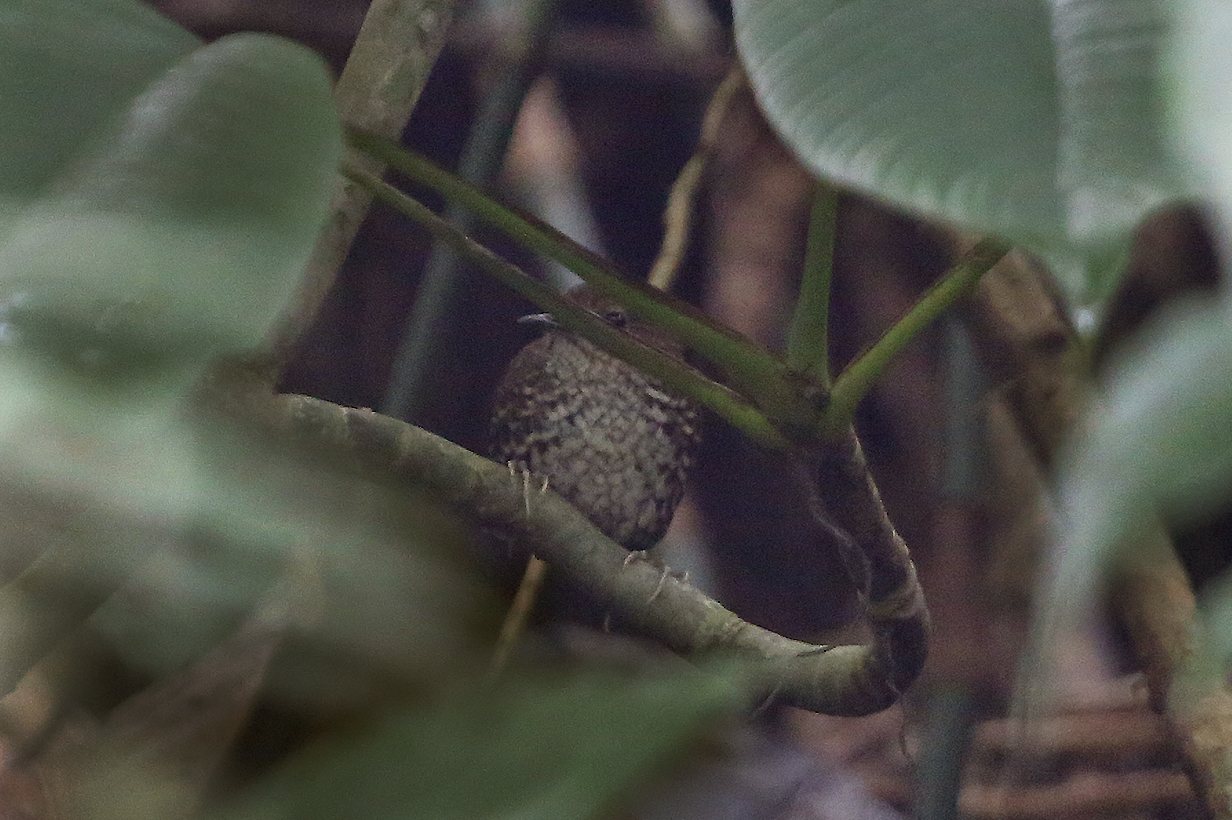 Pygmy wren-babbler (This is our life bird: Also a terrible picture. We saw it call, so the ID is especially secure.)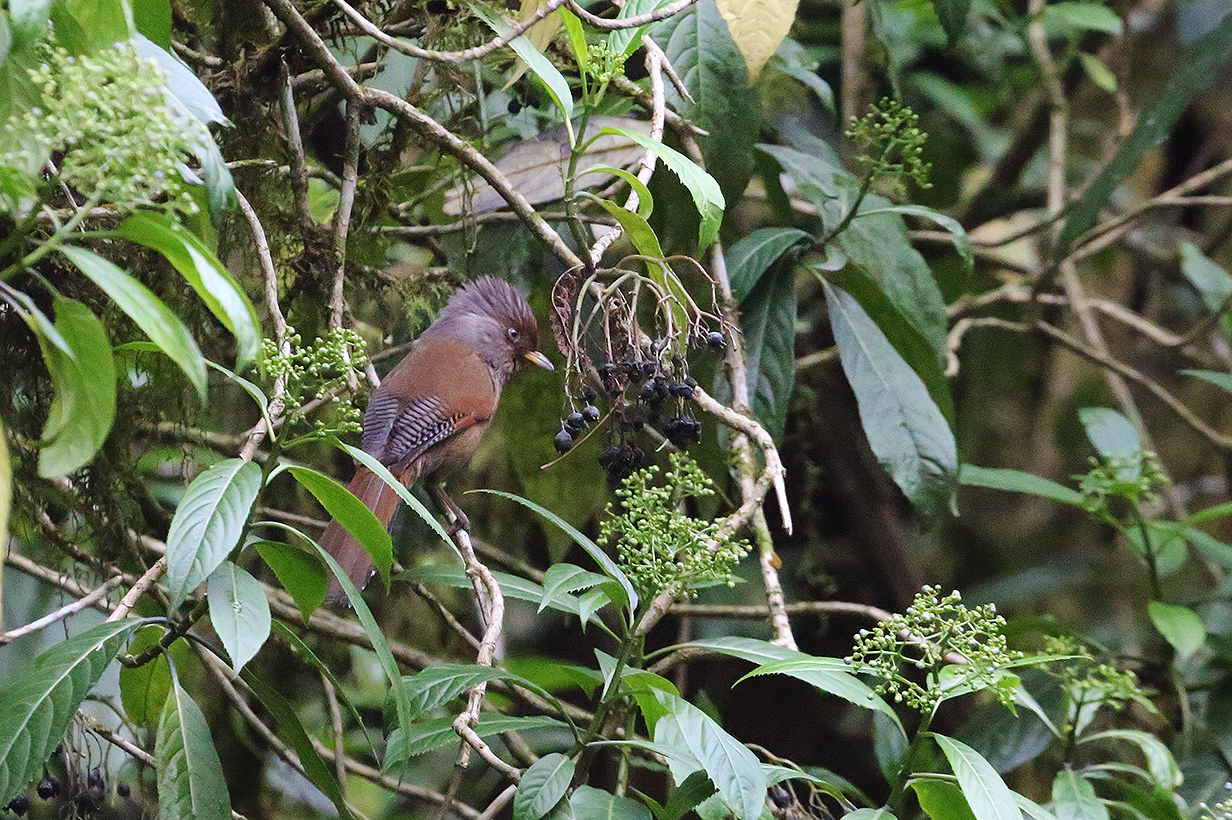 Rusty-fronted barwing is also curously shy and difficult to photograph. This picture was taken in the Mismi Hills, but at Eagle Nest, Bugun liocichla accompany flocks of Rusty-fronted barwings and other birds such as Greater rufous-headed parrotbill. Hint to birders: The parrotbills tend to be highest up in the mid-story of the forest; the barwings are below them, and Bugun liocichla tends to be closest to the ground.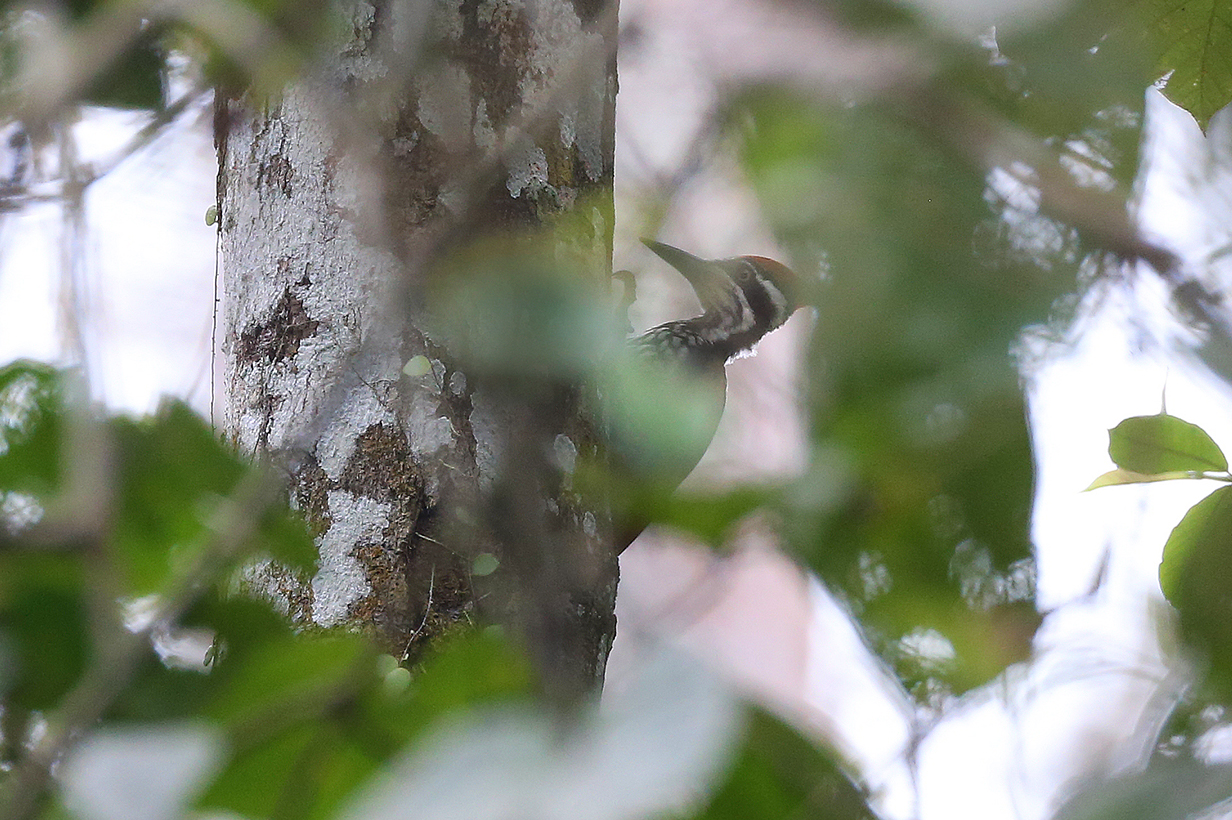 Greater flameback (Very bad picture of John's life bird, unmistakeable nonetheless)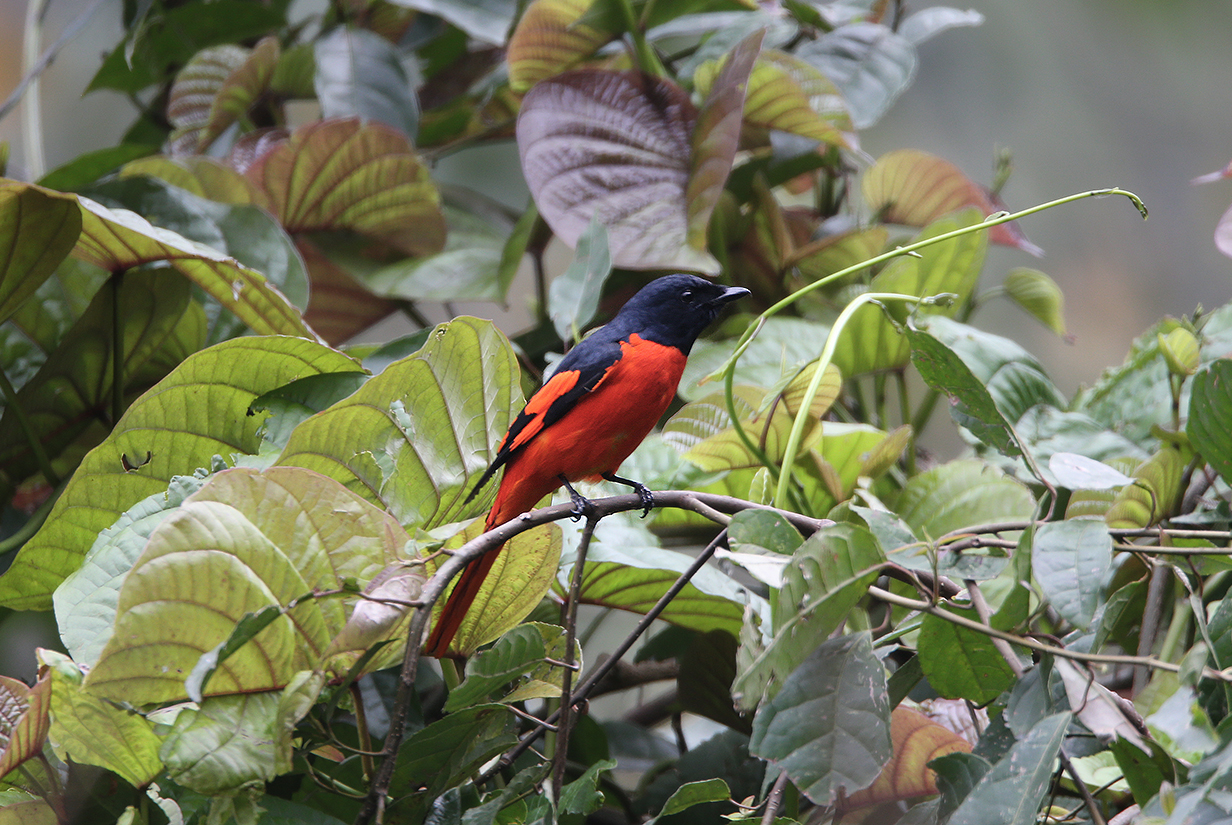 Scarlet minivet (male)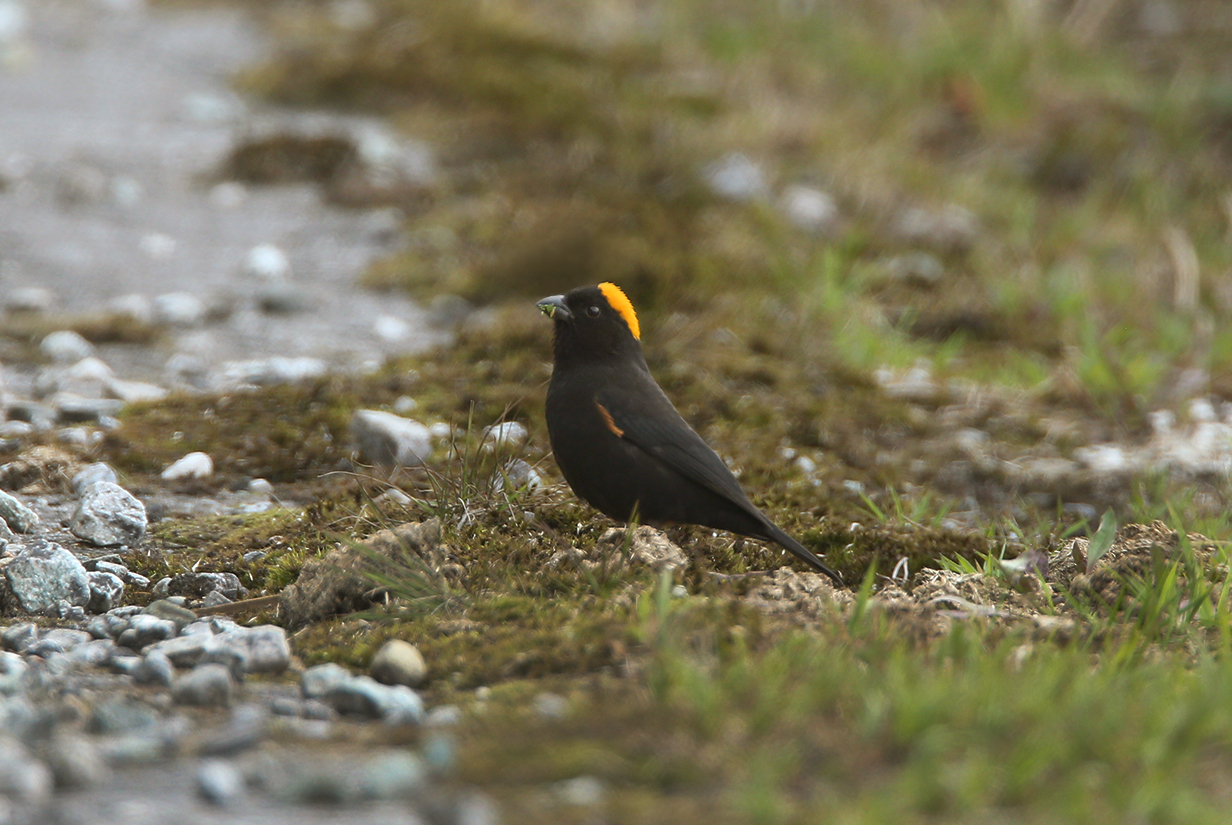 Golden-naped finch (male)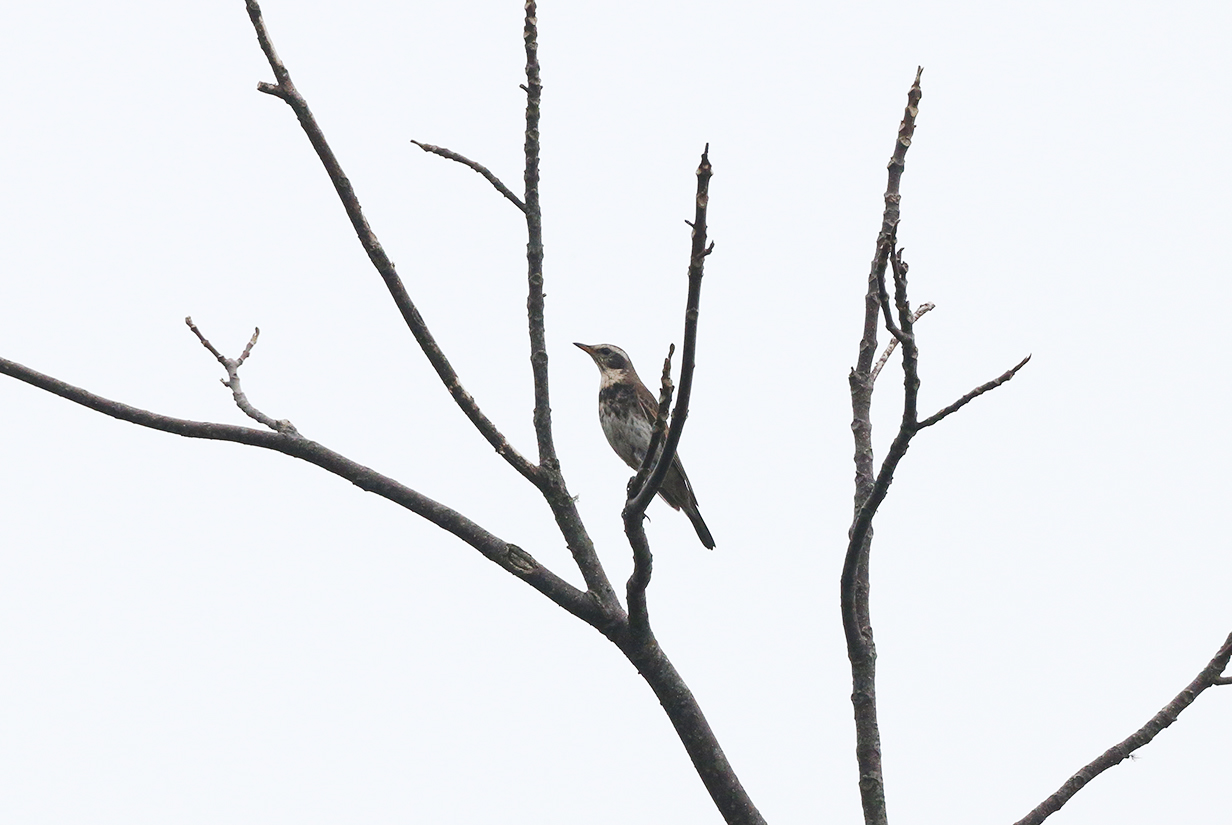 Dusky thrush (This is John's life bird, just below Mayodia Pass.)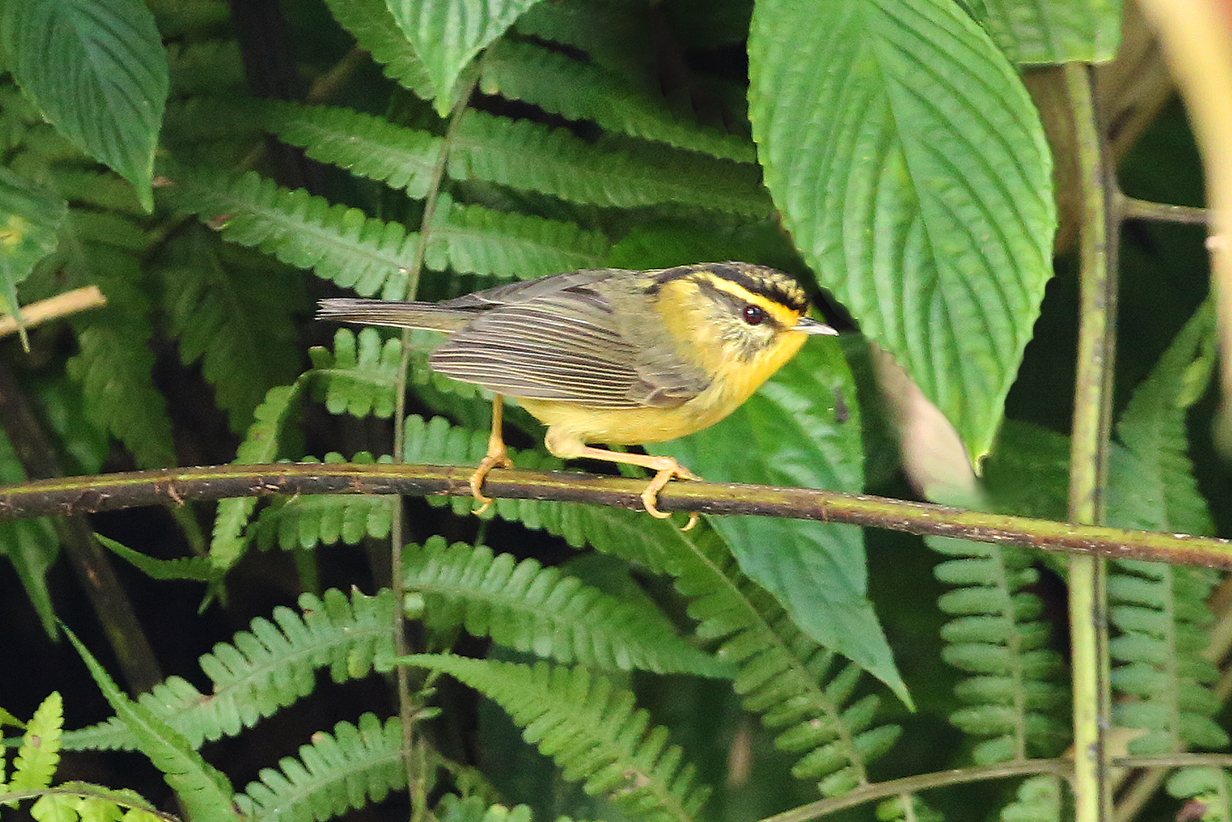 Yellow-throated fulvetta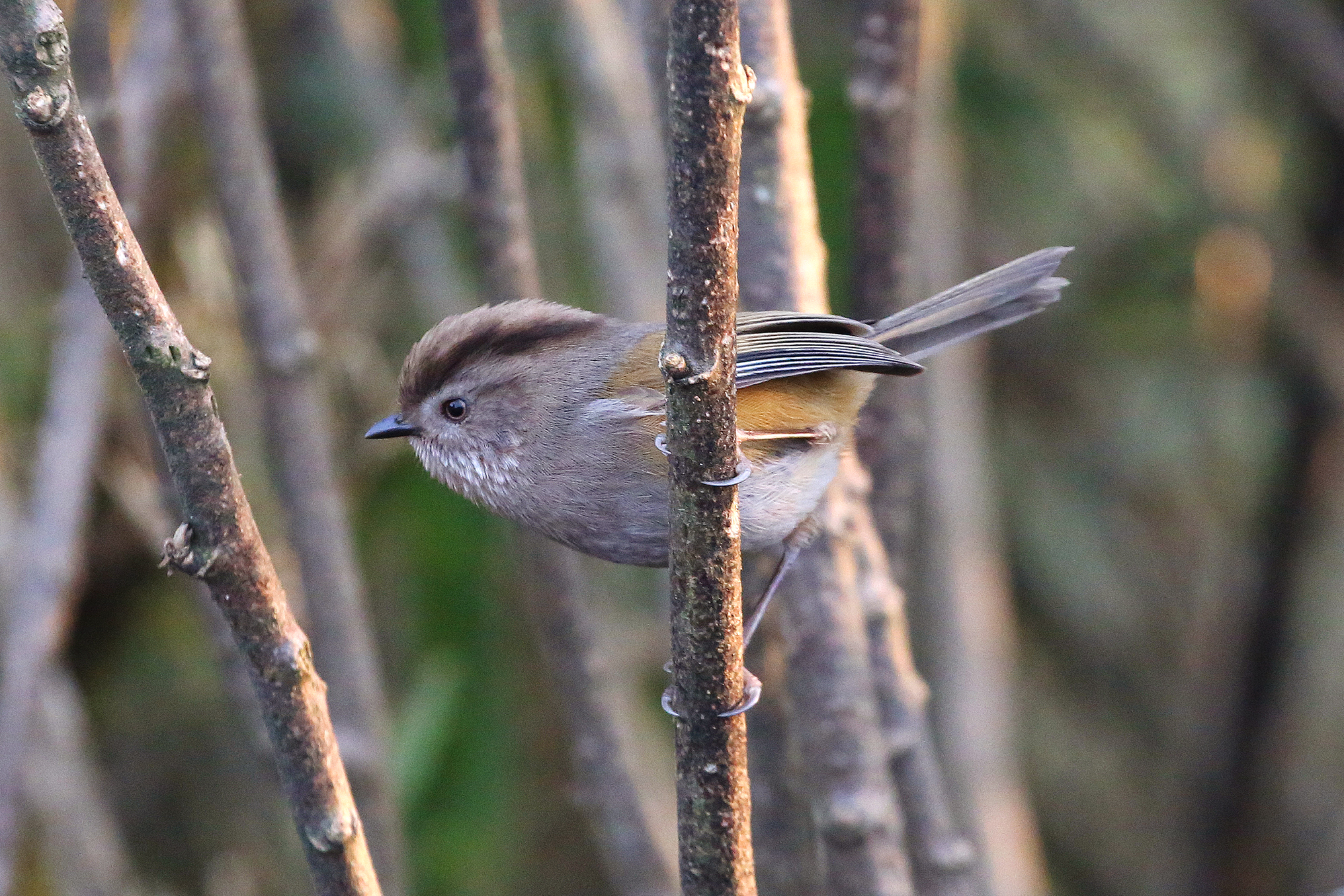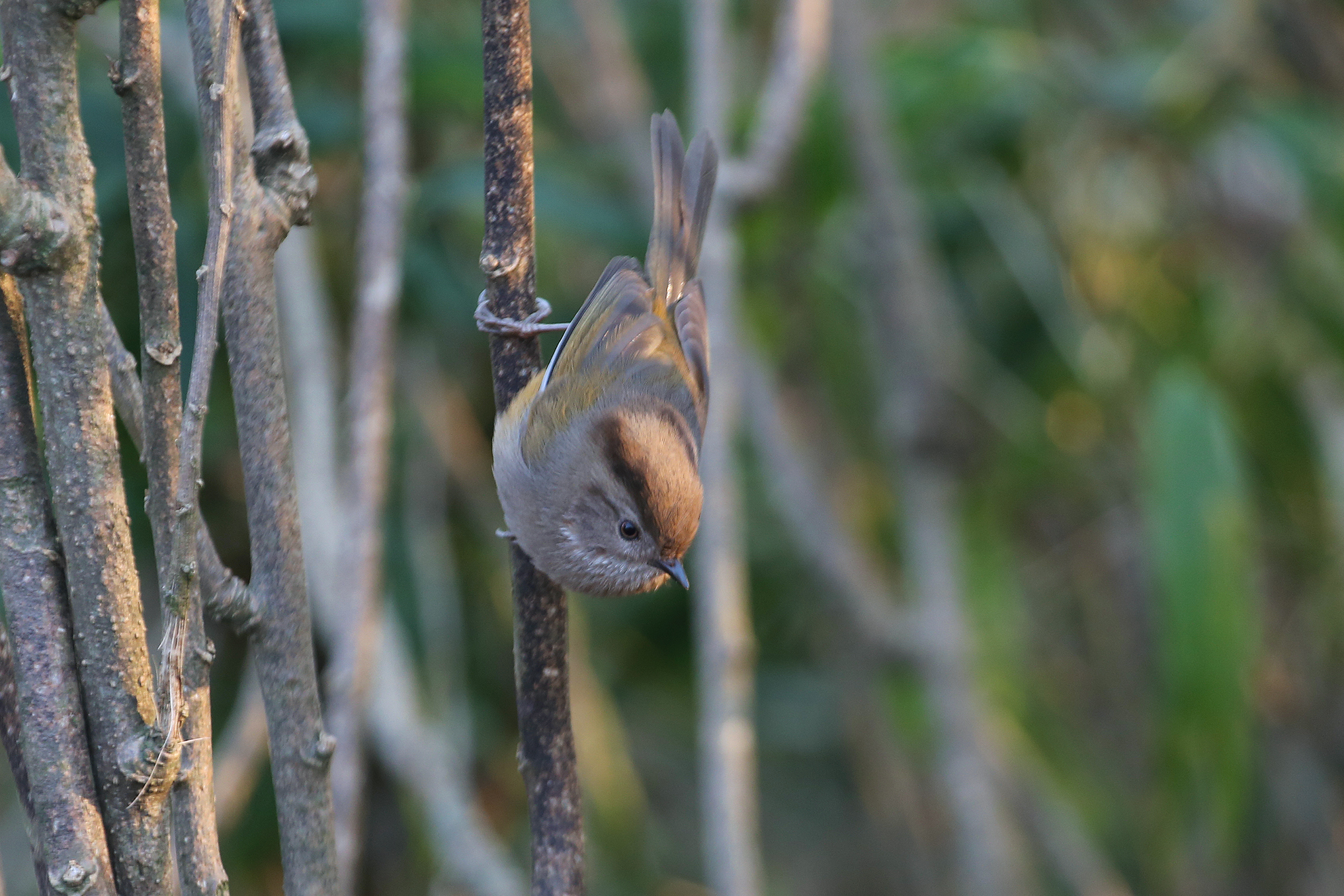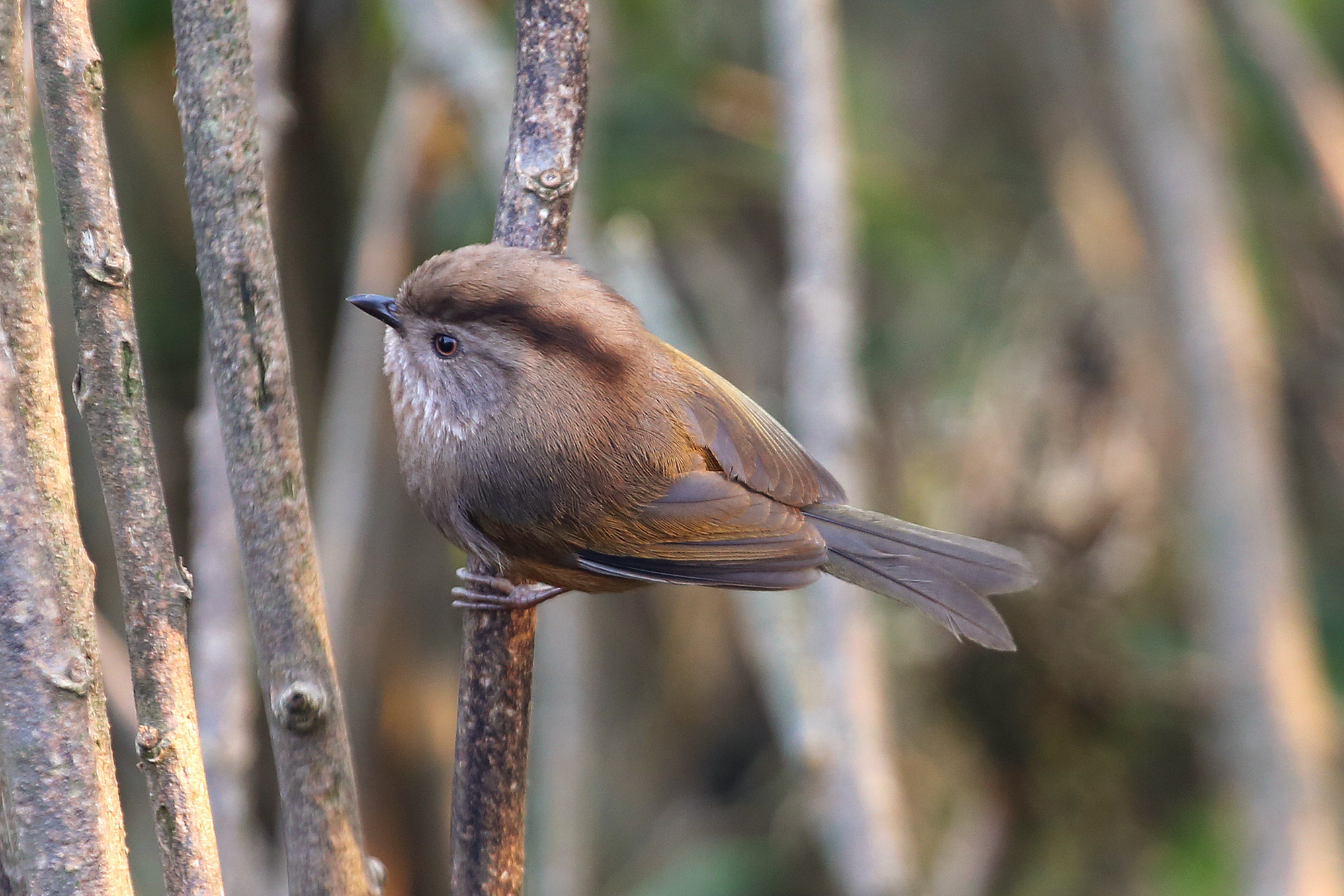 Streak-throated or Manipur fulvetta were adorable, flitting -- not shy -- around near our feet in evening sunlight.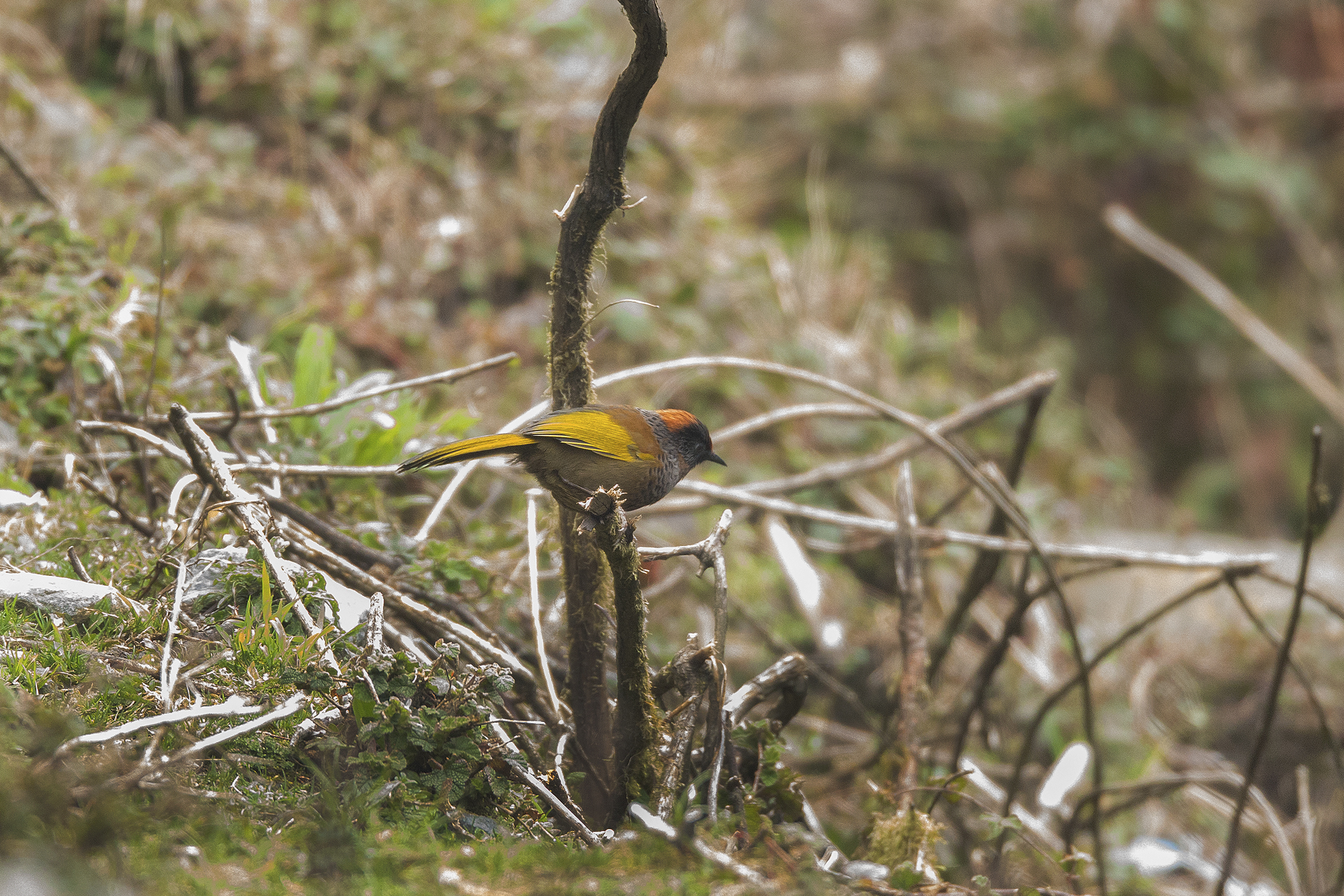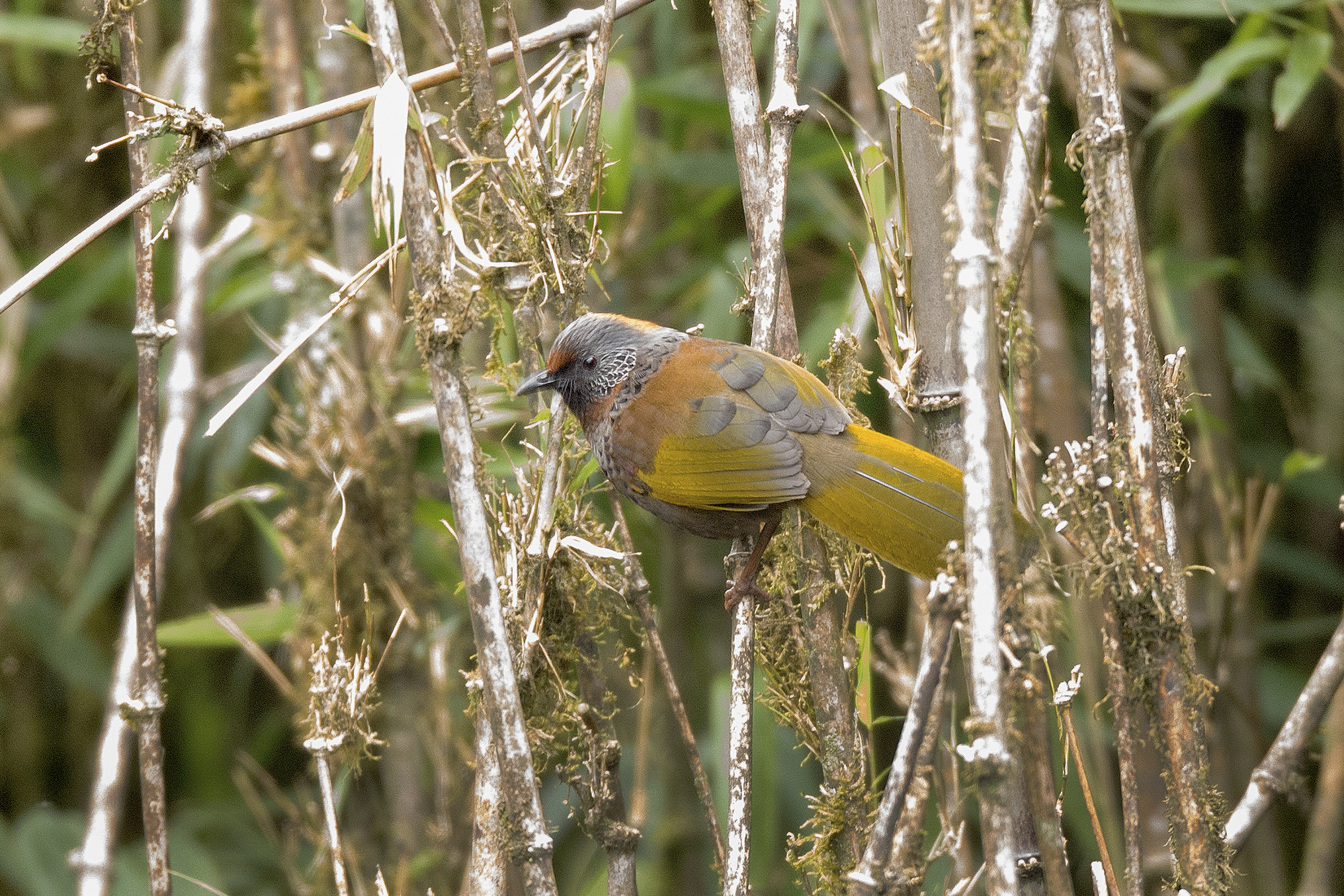 Chestnut-crowned laughingthrush (just below Mayodia Pass)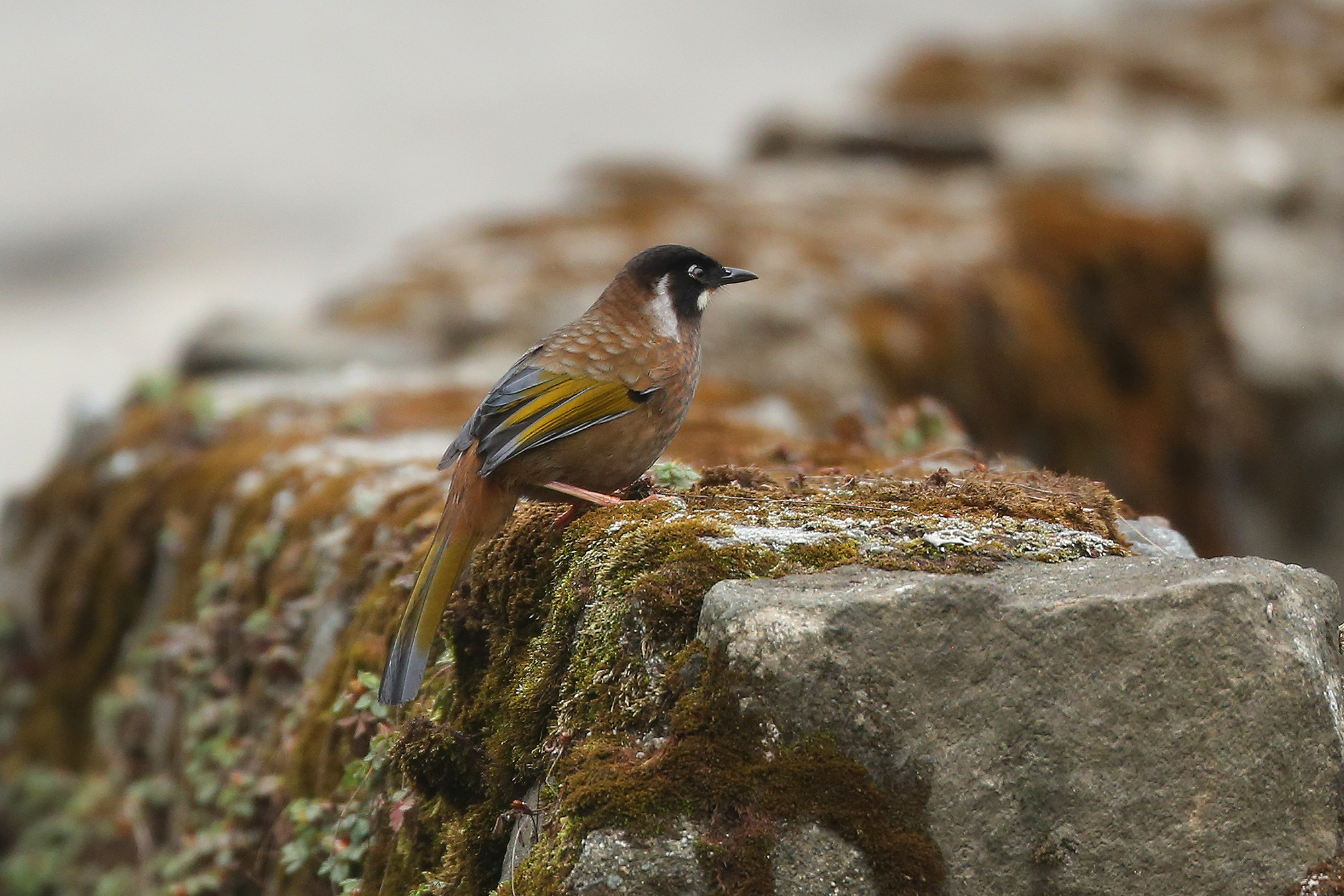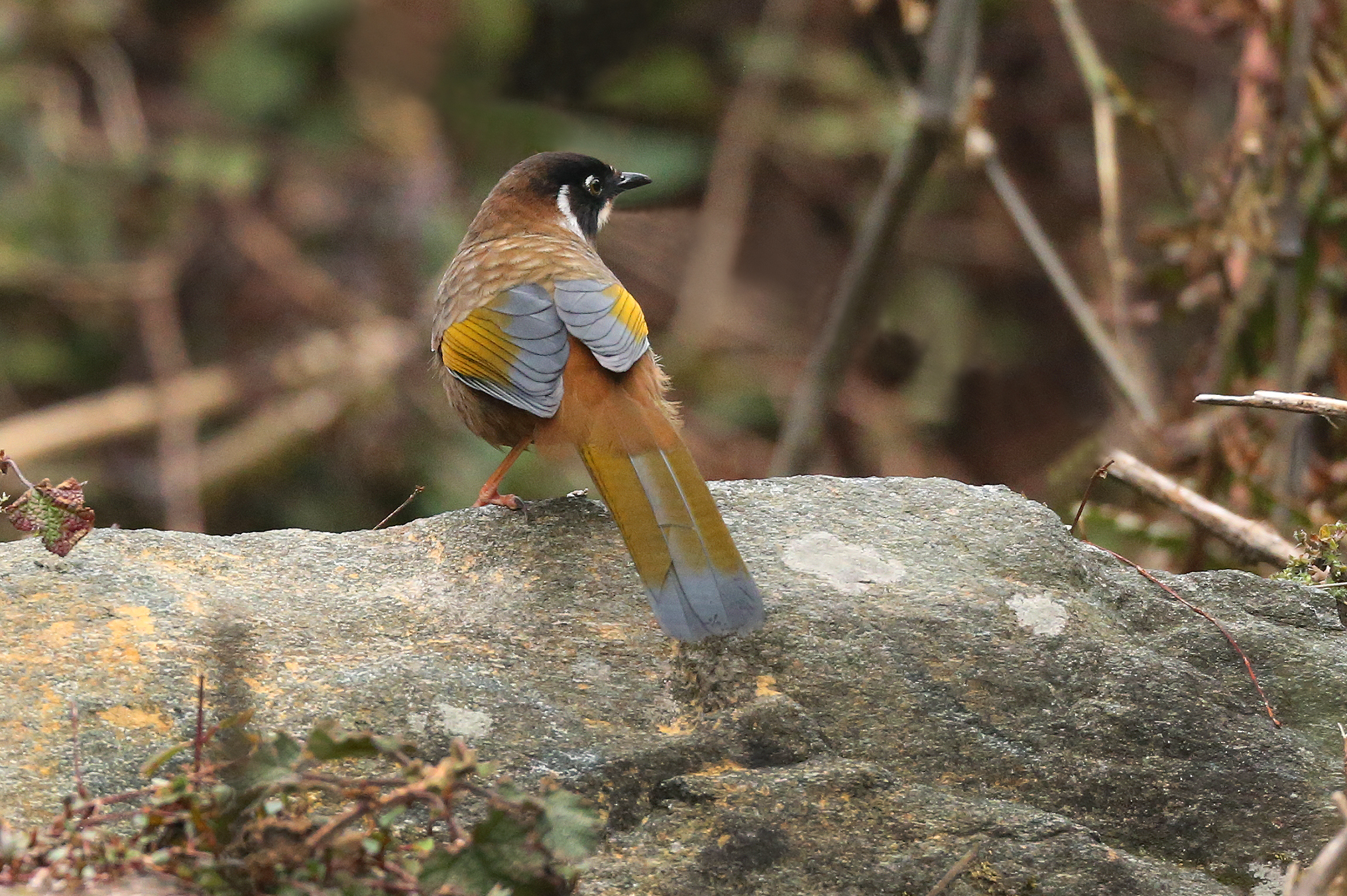 Black-faced laughingthrush (same flock, just below Mayodia Pass)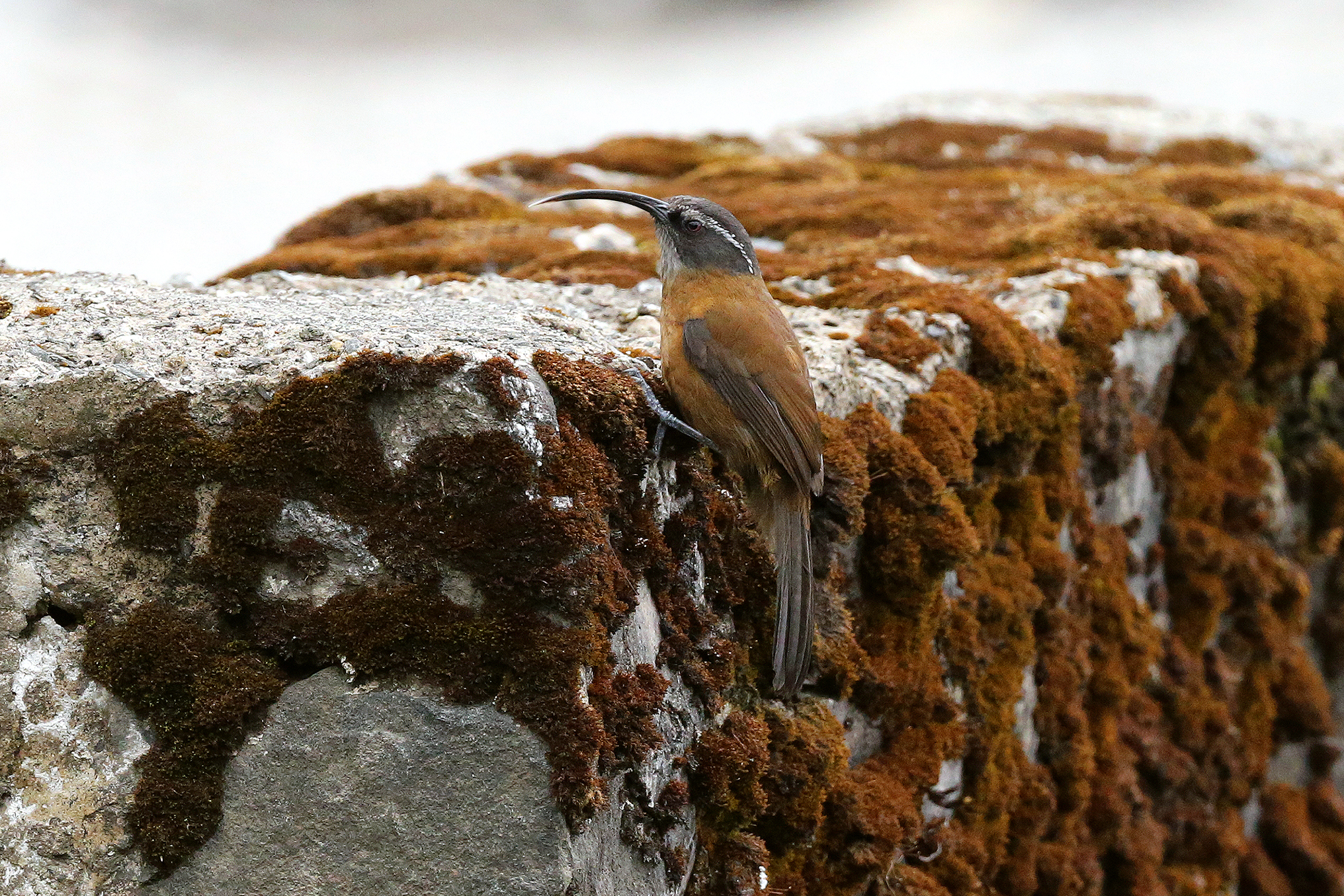 Slender-billed scimitar-babbler (Just below Mayodia Pass: John's "trip bird".)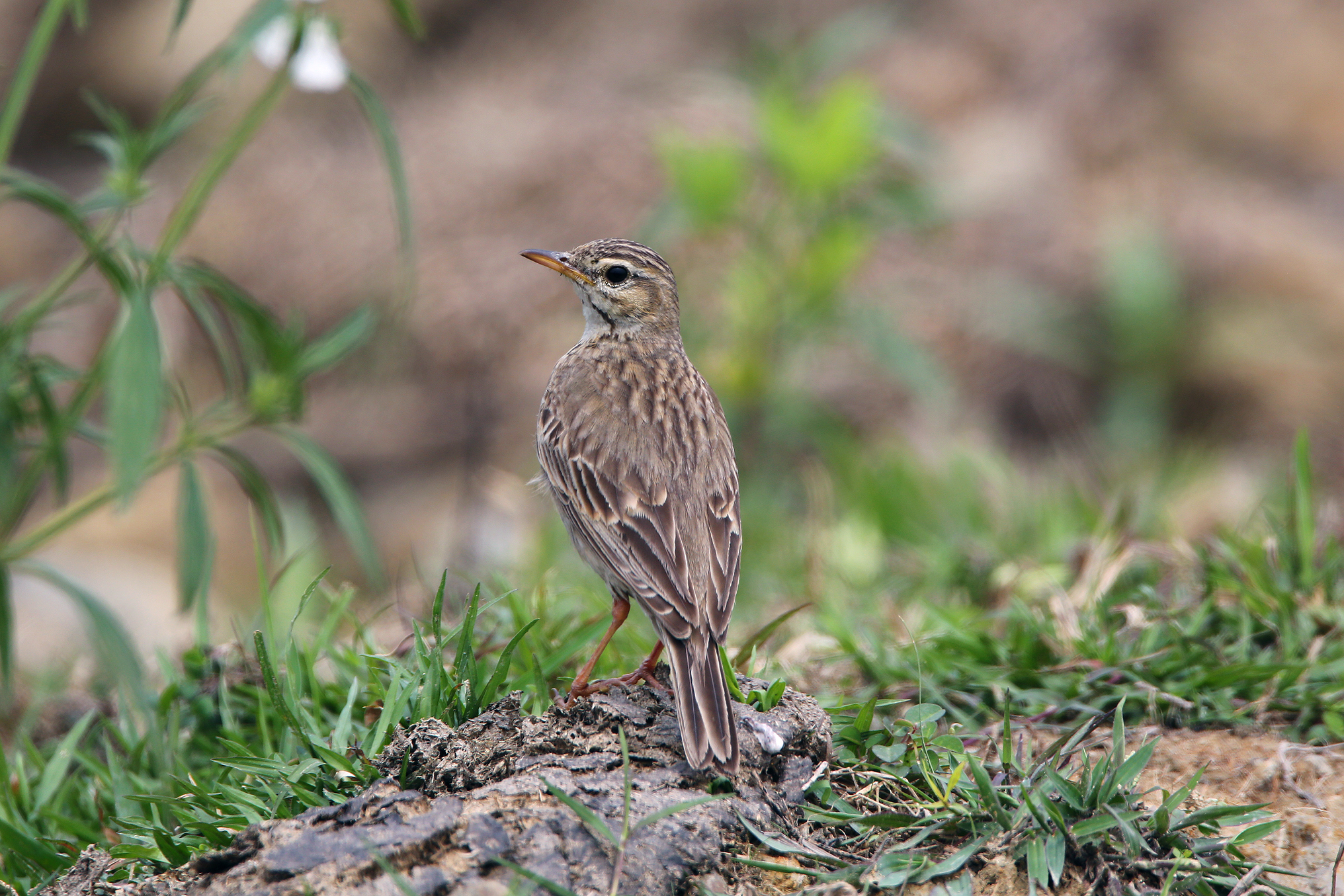 Paddyfield pipit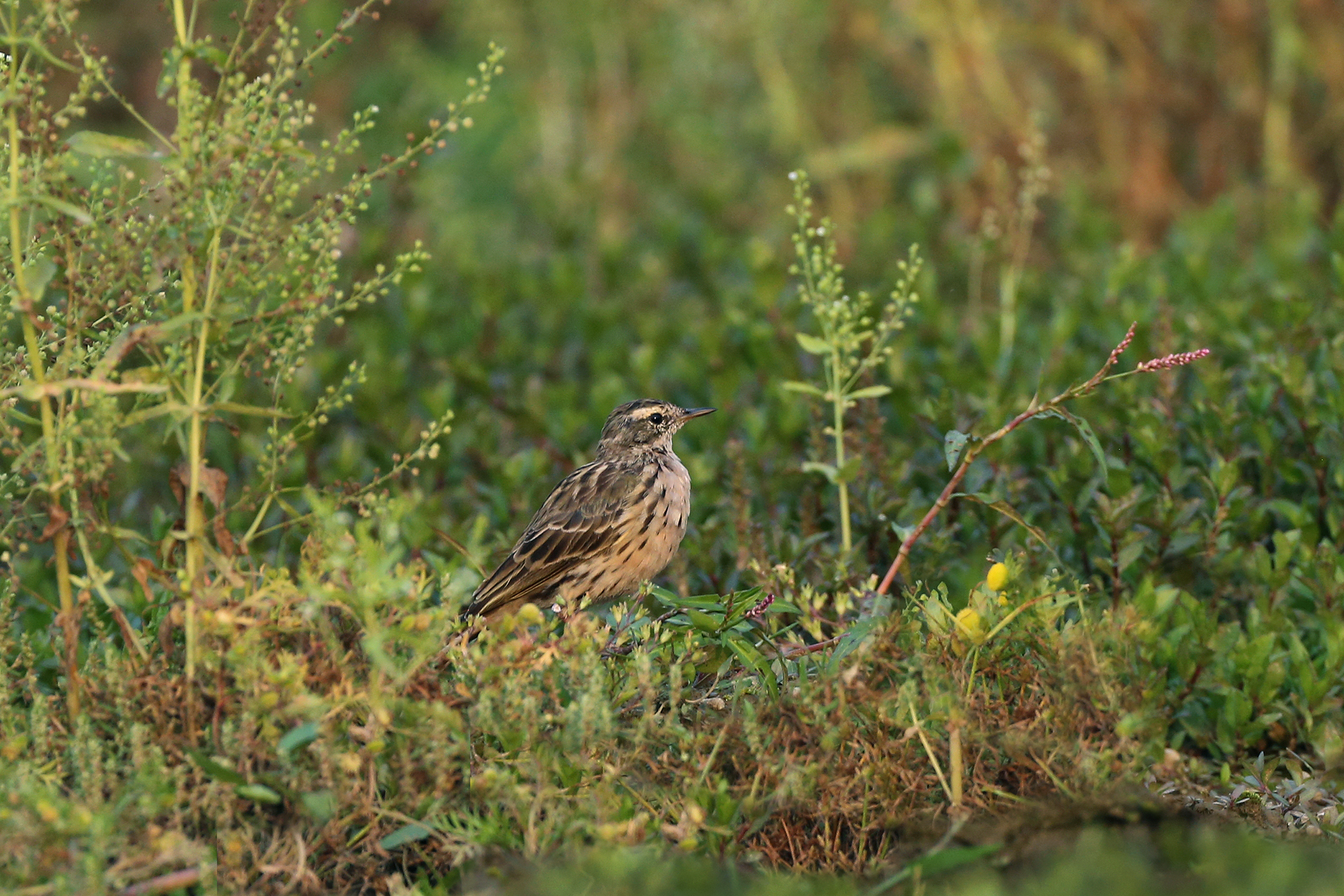 Rosy pipit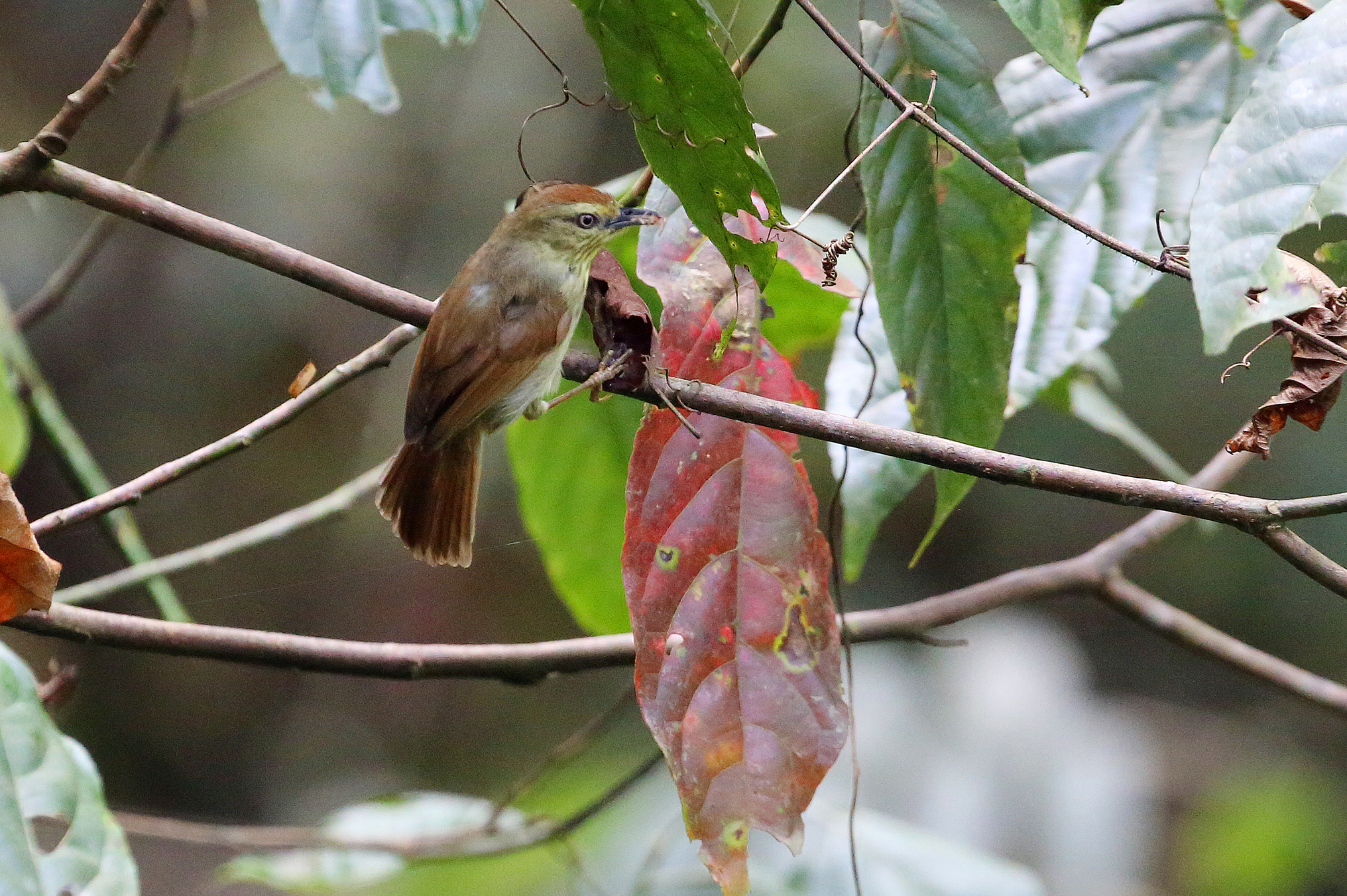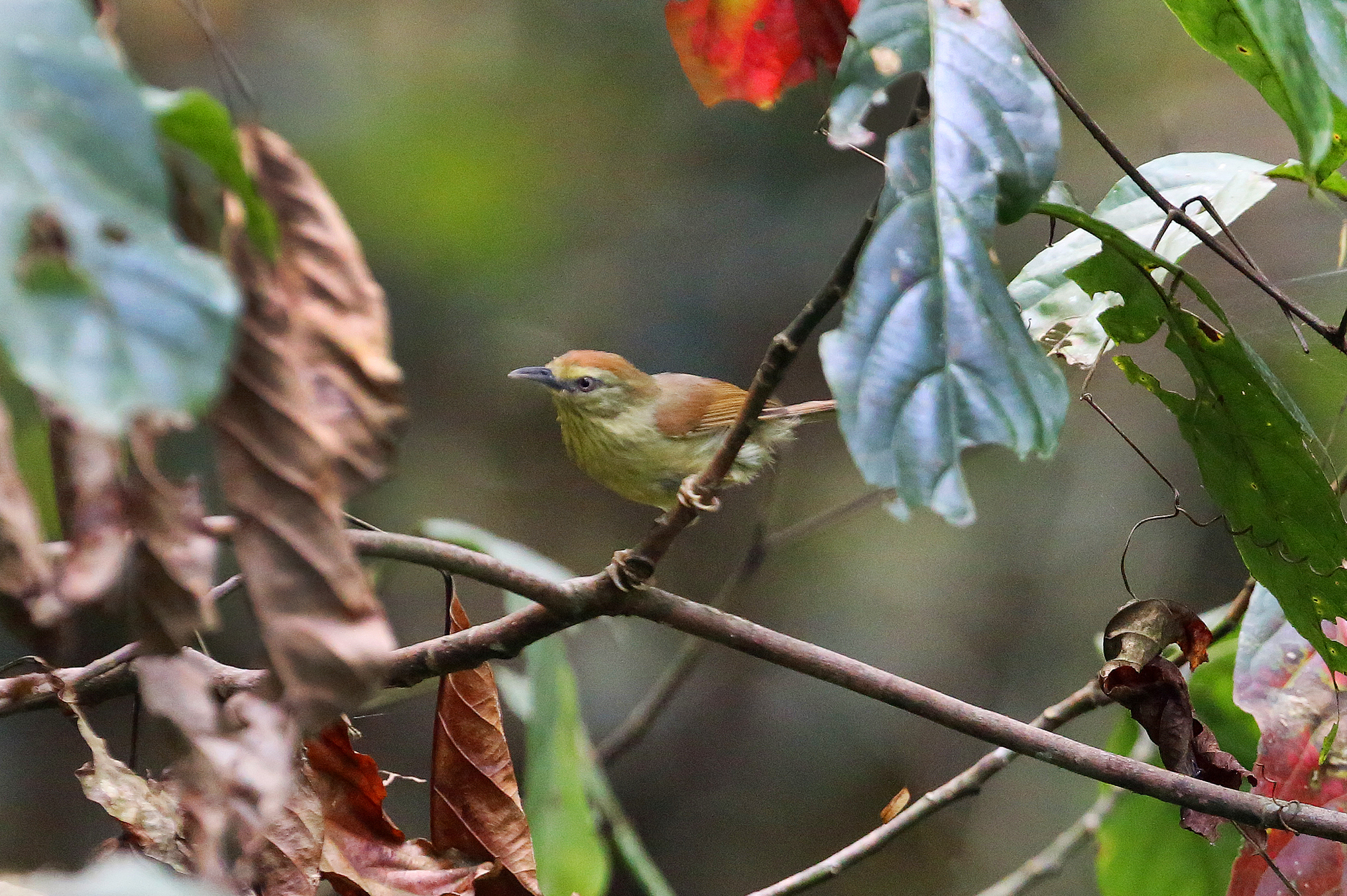 Pin-striped tit-babbler (This is one of the few new birds that we got in Dehing Patkai rain forest this time.)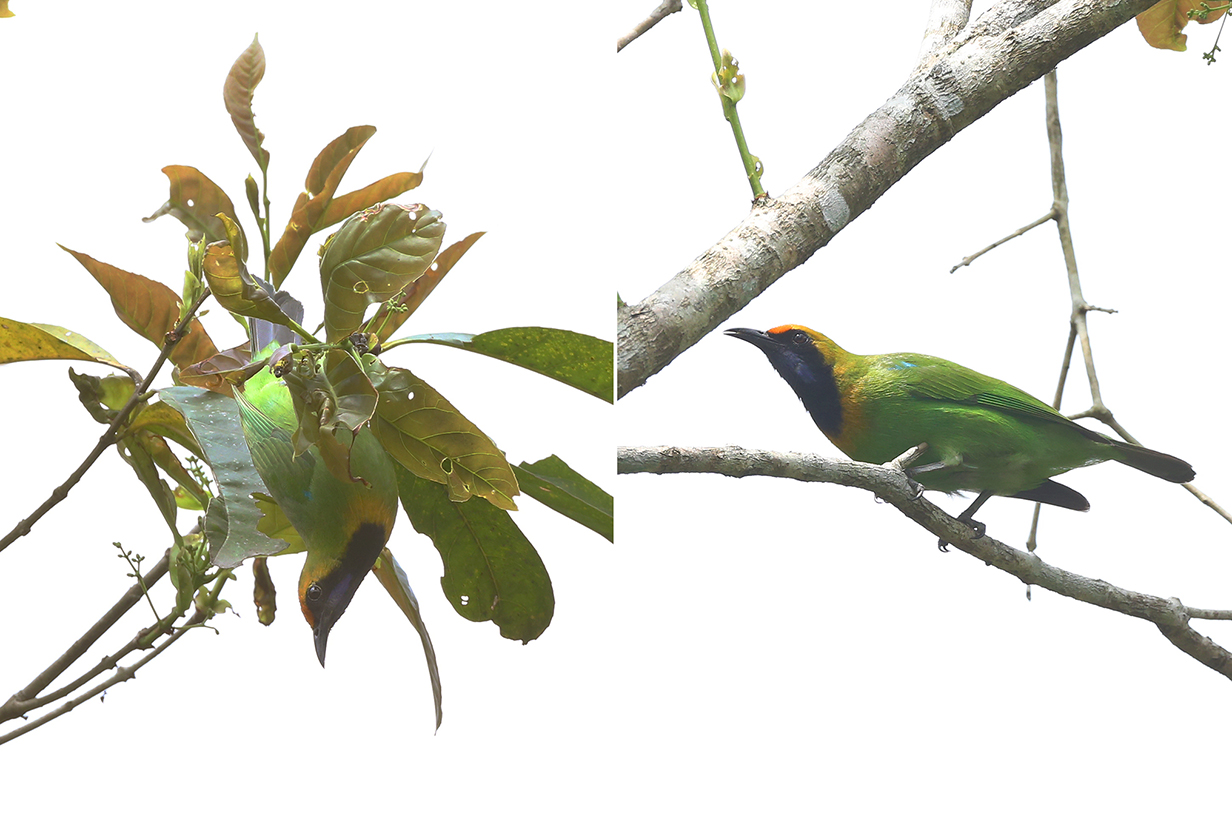 Golden-fronted leafbird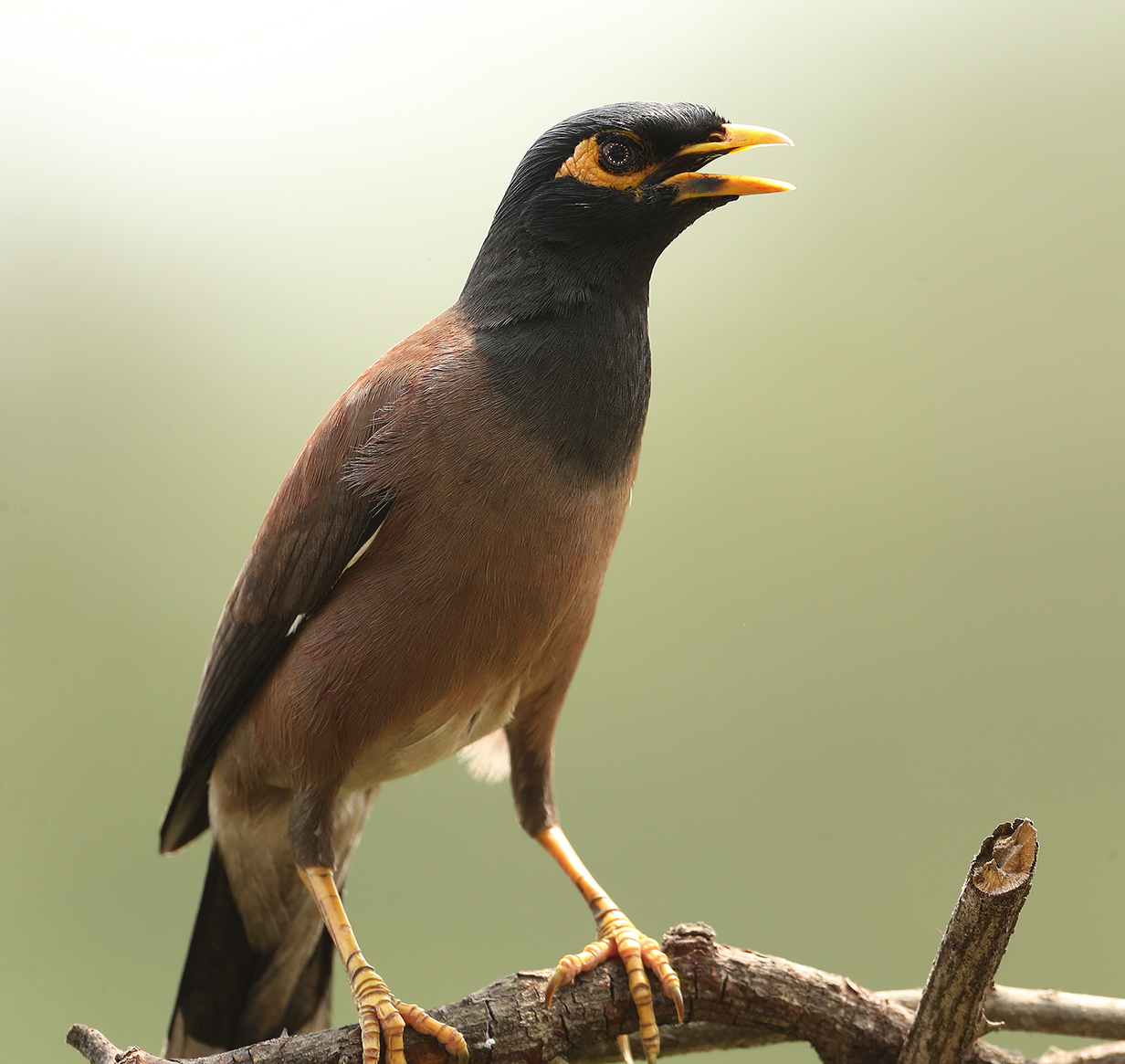 Common myna (near Tinsukia but ubiquitous in the flatlands of northern India)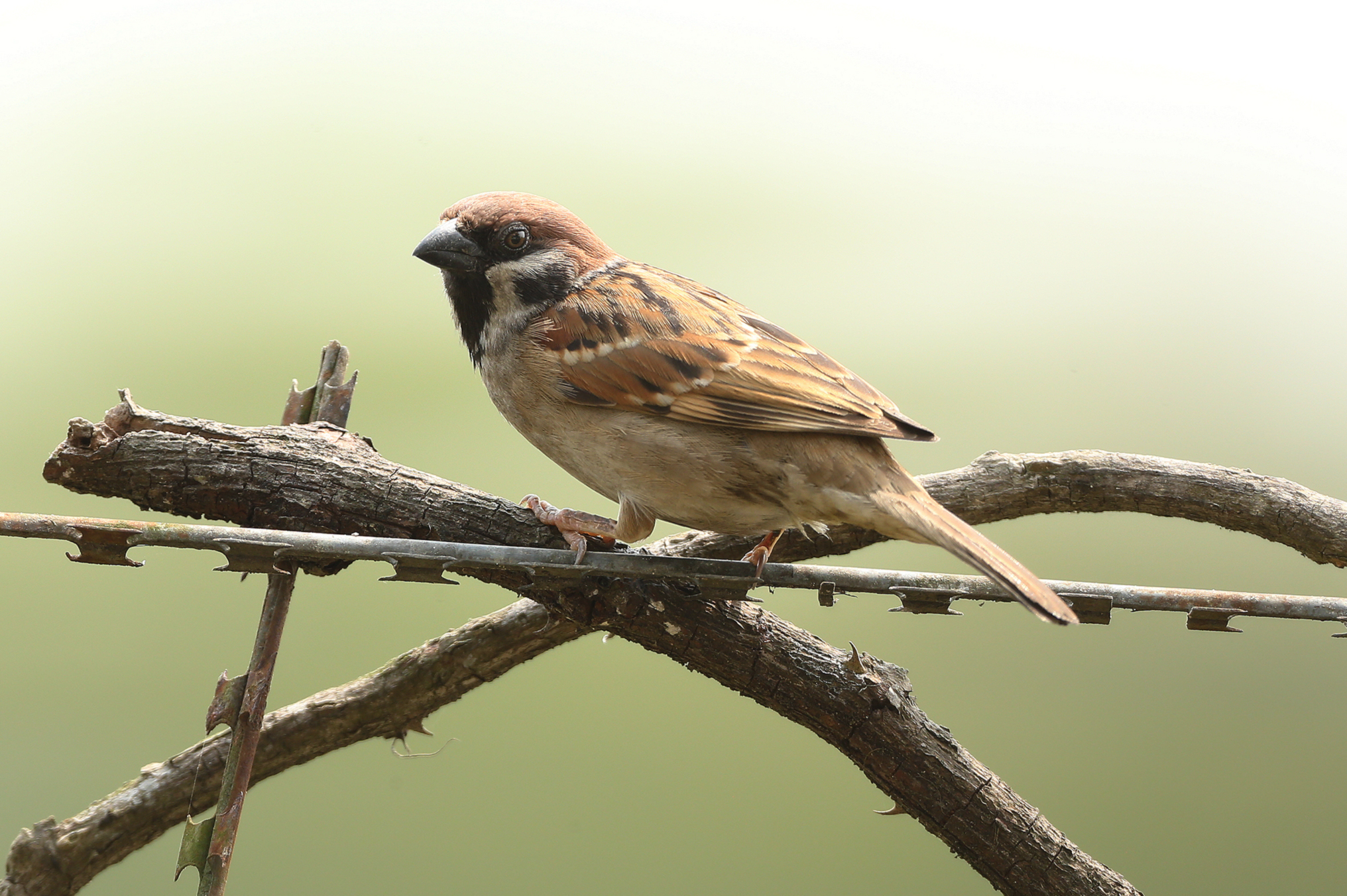 Eurasian tree sparrow is the common sparrow in India.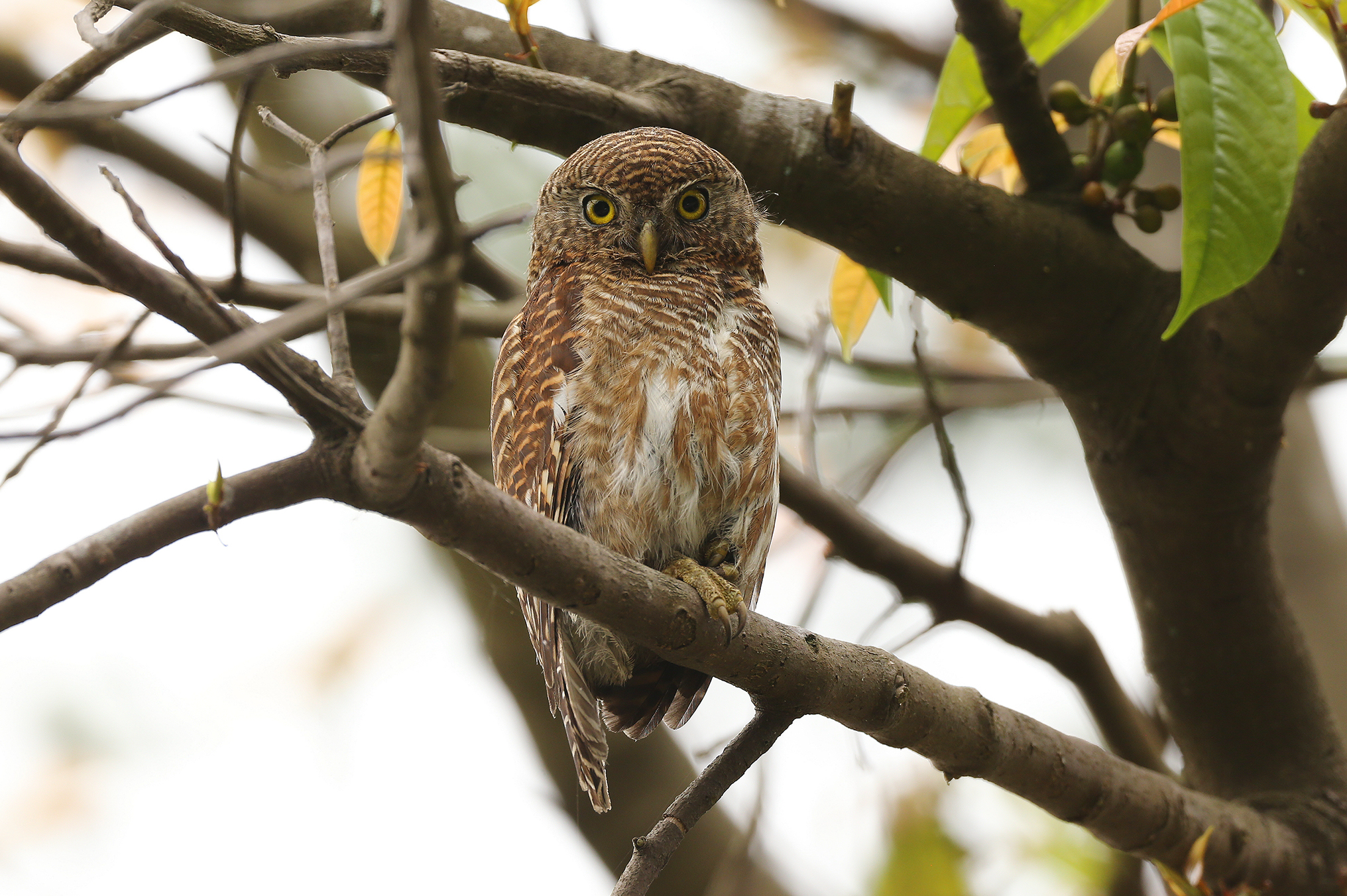 Asian barred owlet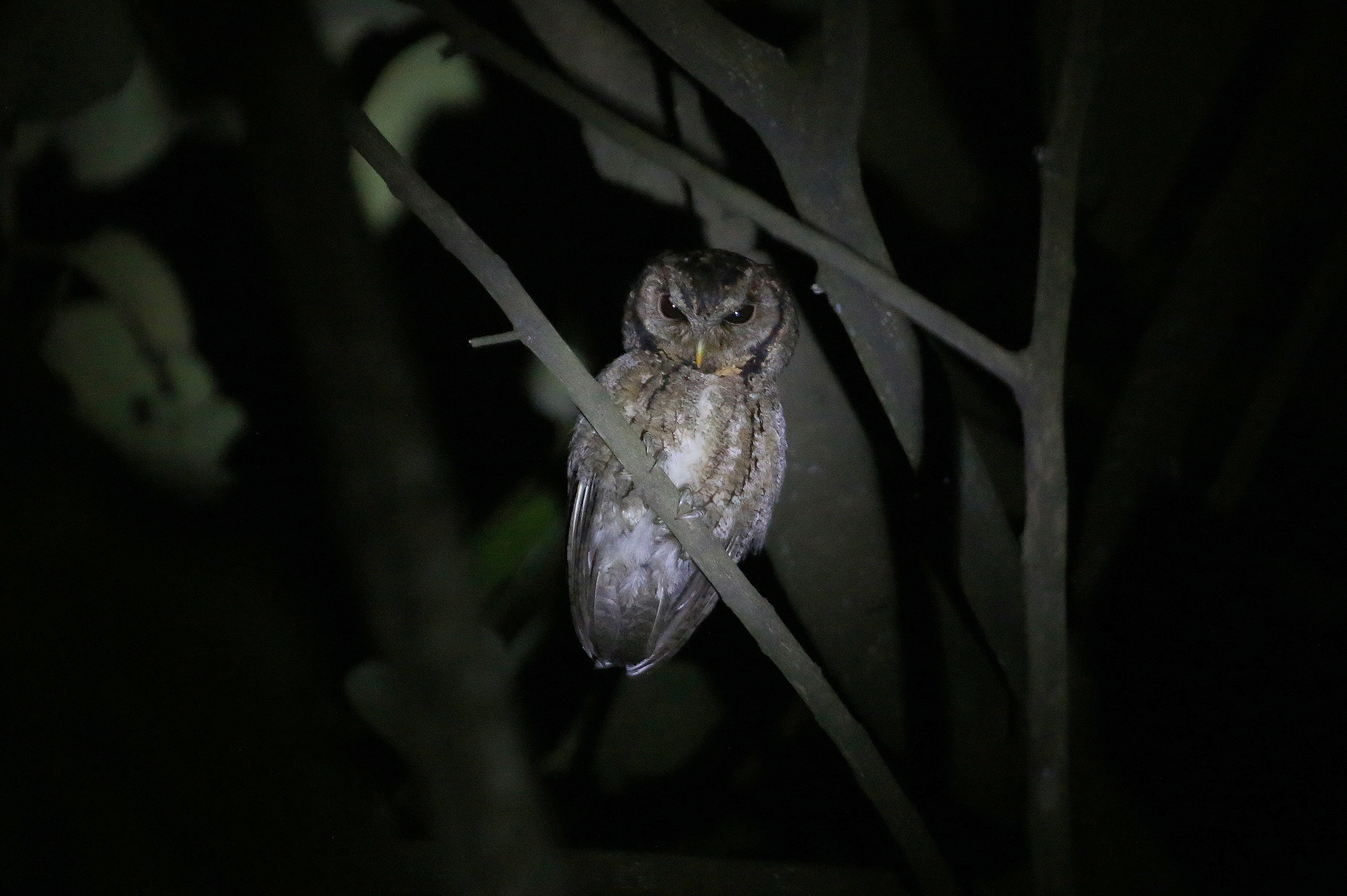 Collared scops owl (Otis lettia: This is John's life bird, gotten at Maguri Beel, near Tinsukia.)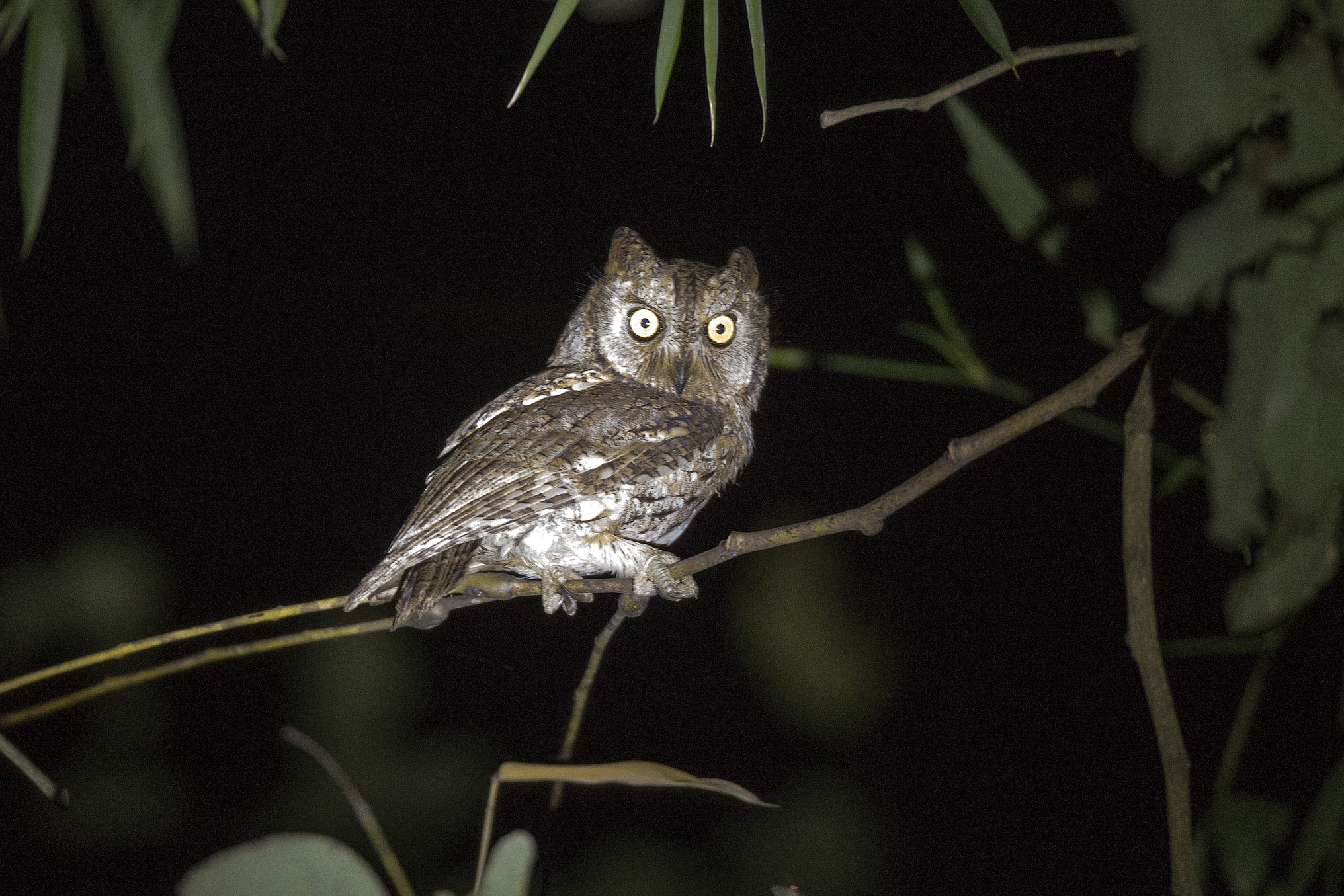 Oriental scops owl (Otis sunia: This is our life bird, also gotten at Maguri Beel, near Tinsukia.)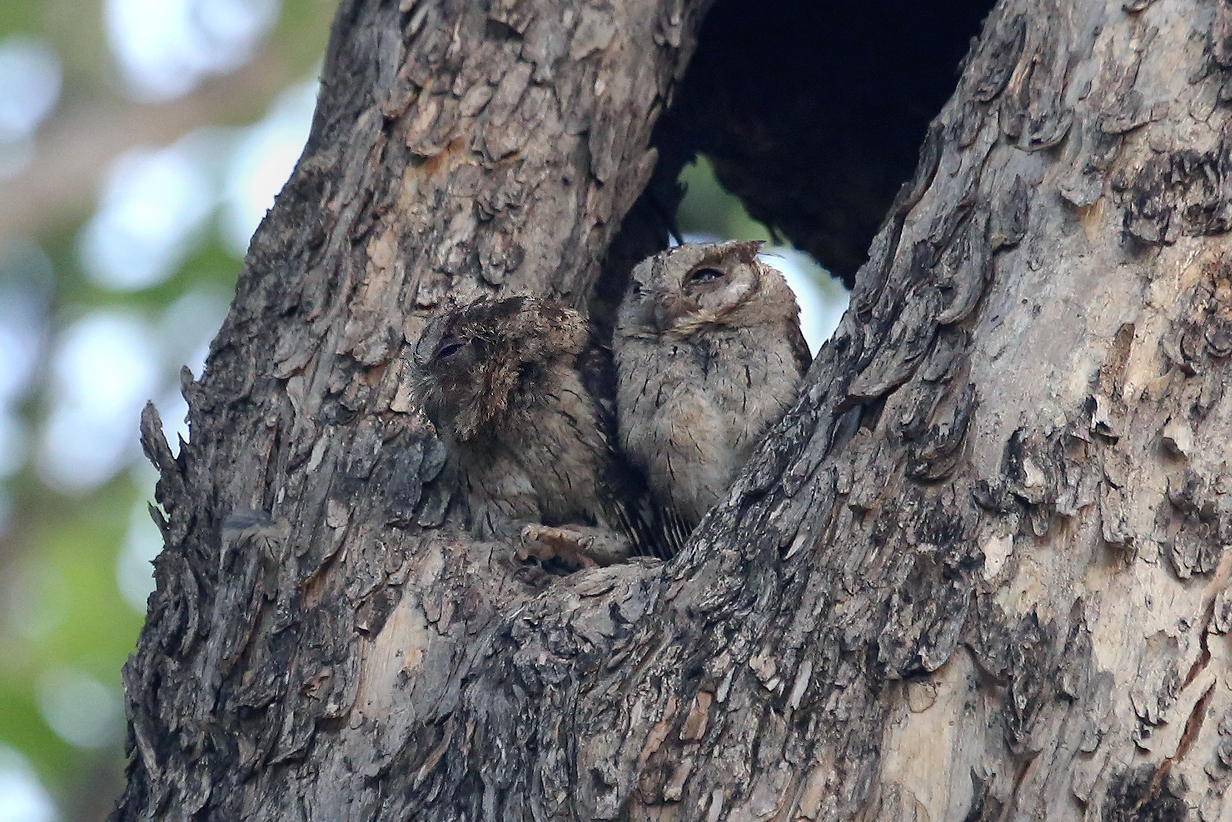 Two Indian scops owls (Otus bakkamoena, seen during our 2016 trip and repeated here for completeness and comparison)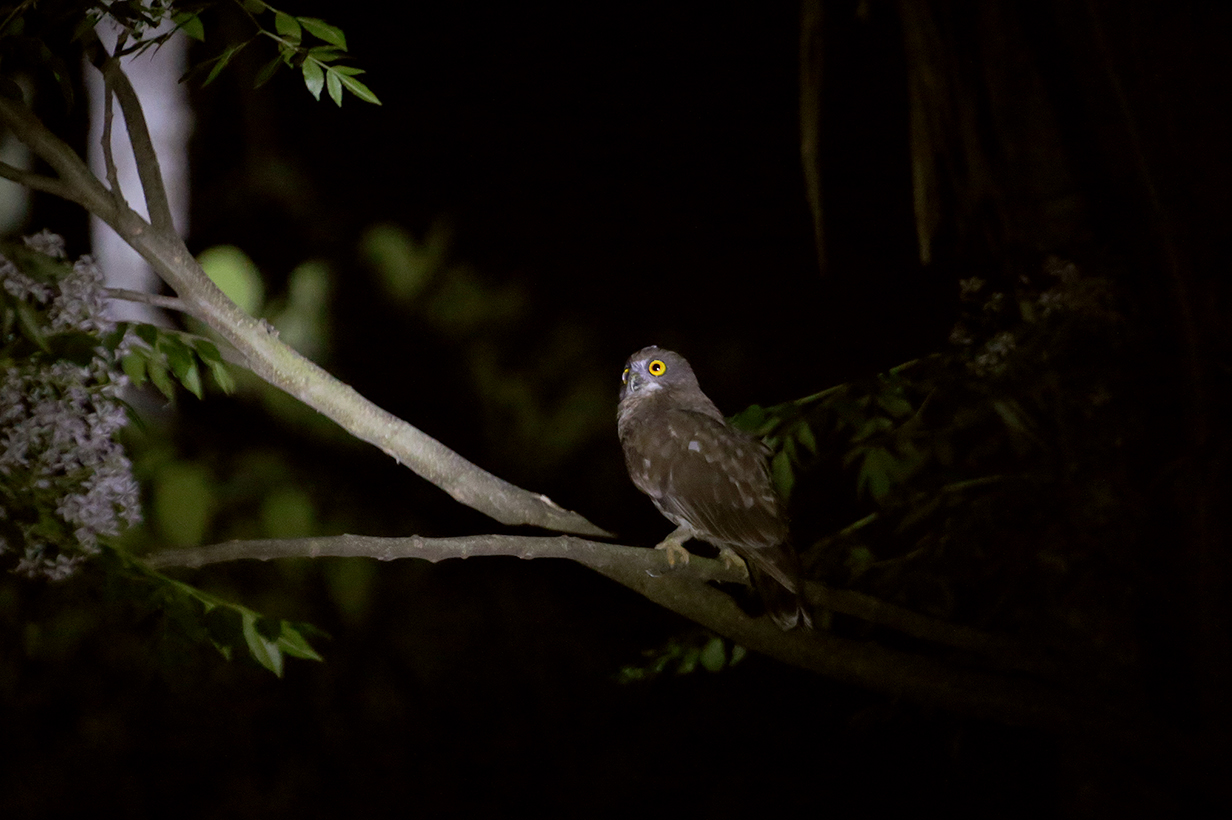 Brown hawk-owl (Maguri Beel; this is John's life bird.)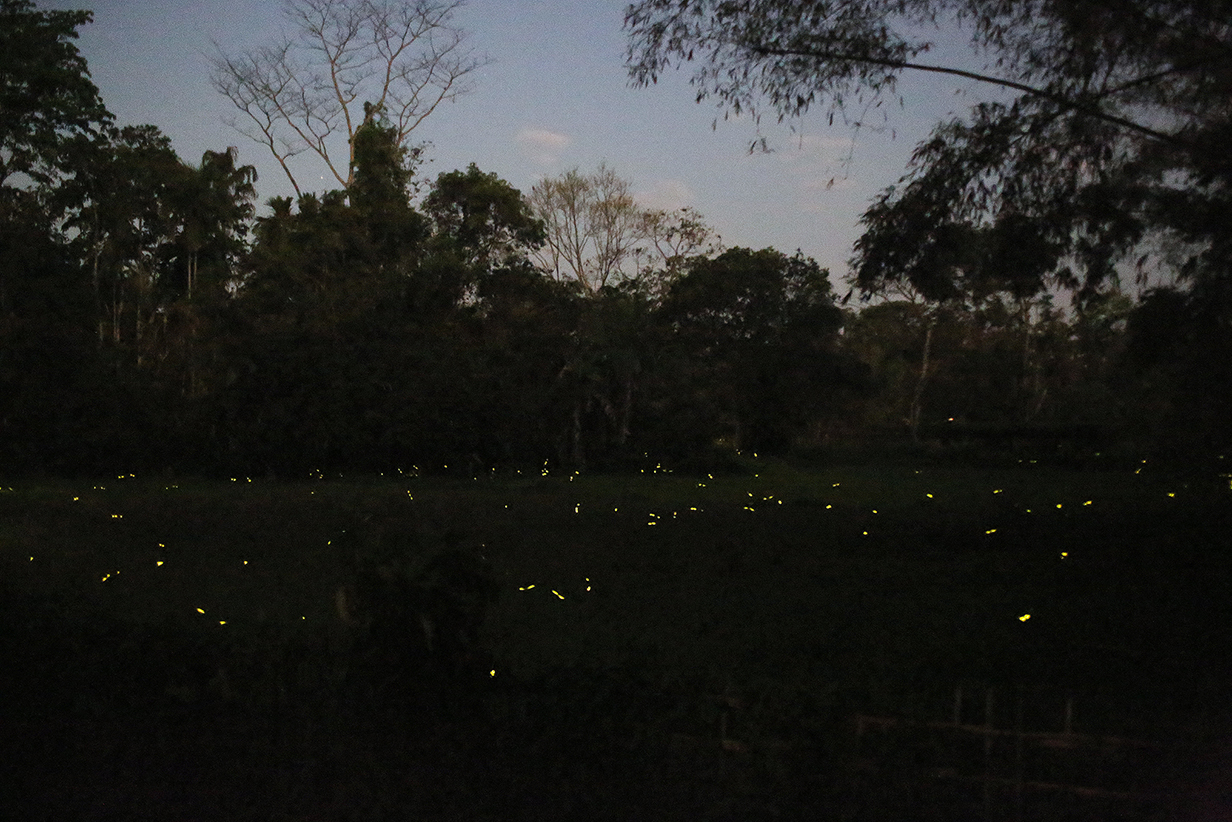 While we looked for owls, we were treated to a spectacular display of fireflies, winking on and off in their hundreds over a field that we could barely see in deep twilight. This picture is a two-second exposure and barely captures a hint of the experience. It was completely silent. It was pure magic.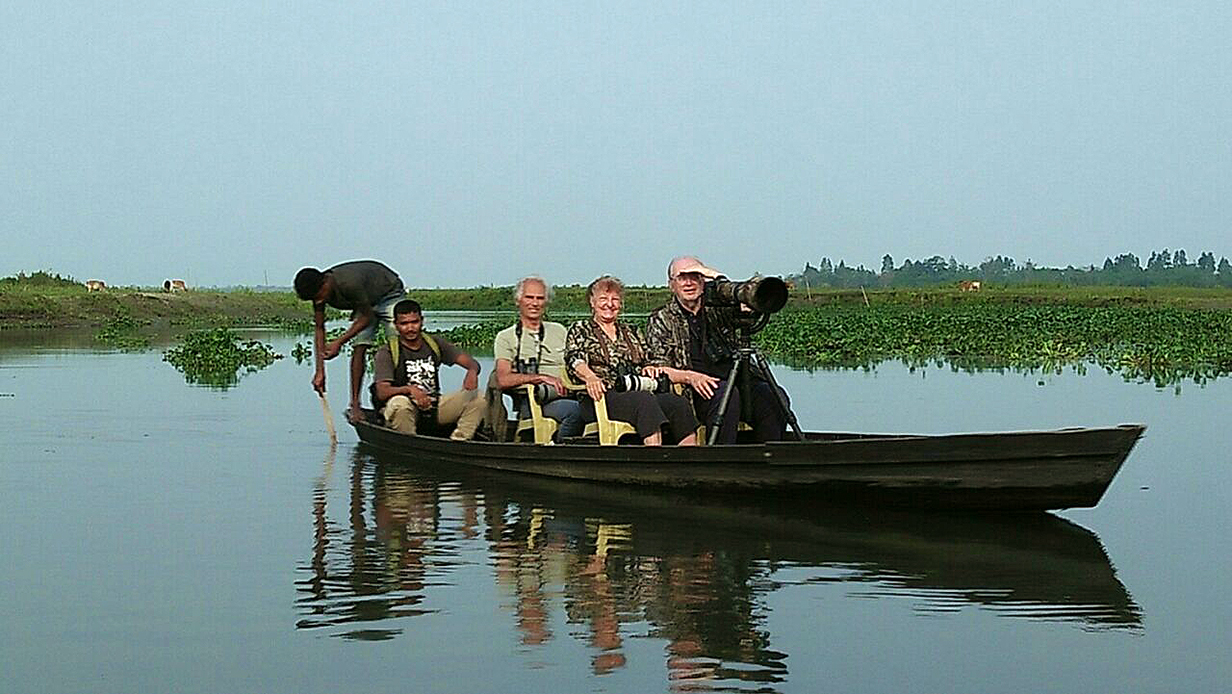 We took two boat rides in the wetlands of Maguri Beel -- wonderfully tranquil atmosphere and a chance to see difficult water birds.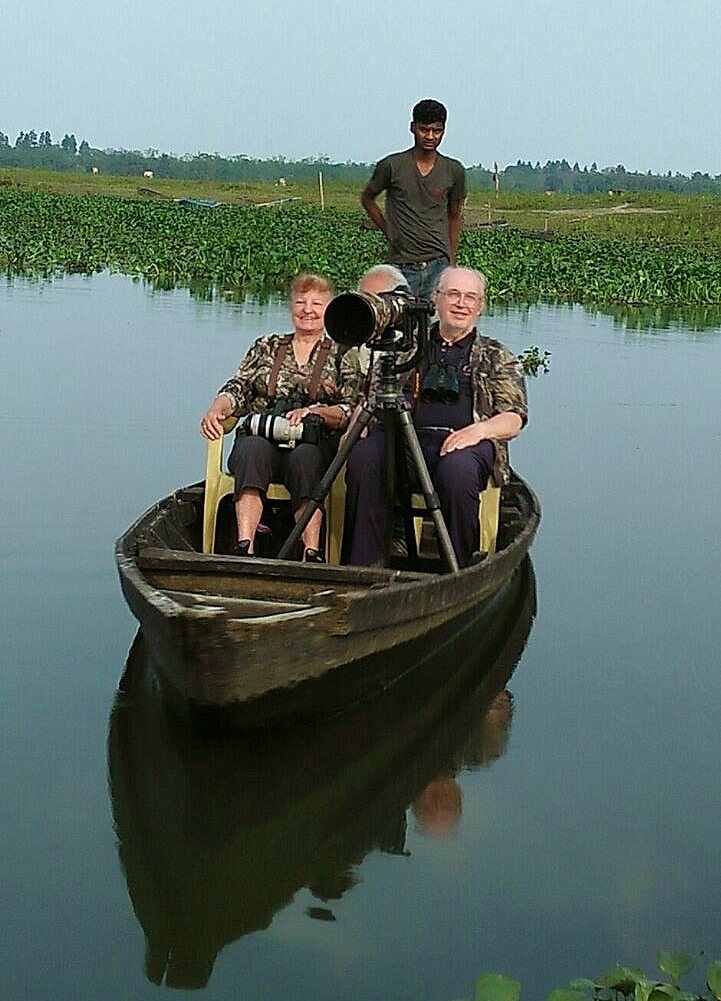 Boat ride at Maguri Beel (This picture and the one above were taken by our superb and always helpful driver Kiki.)
Ruddy-breasted crake (This is our life bird, at Maguri Beel)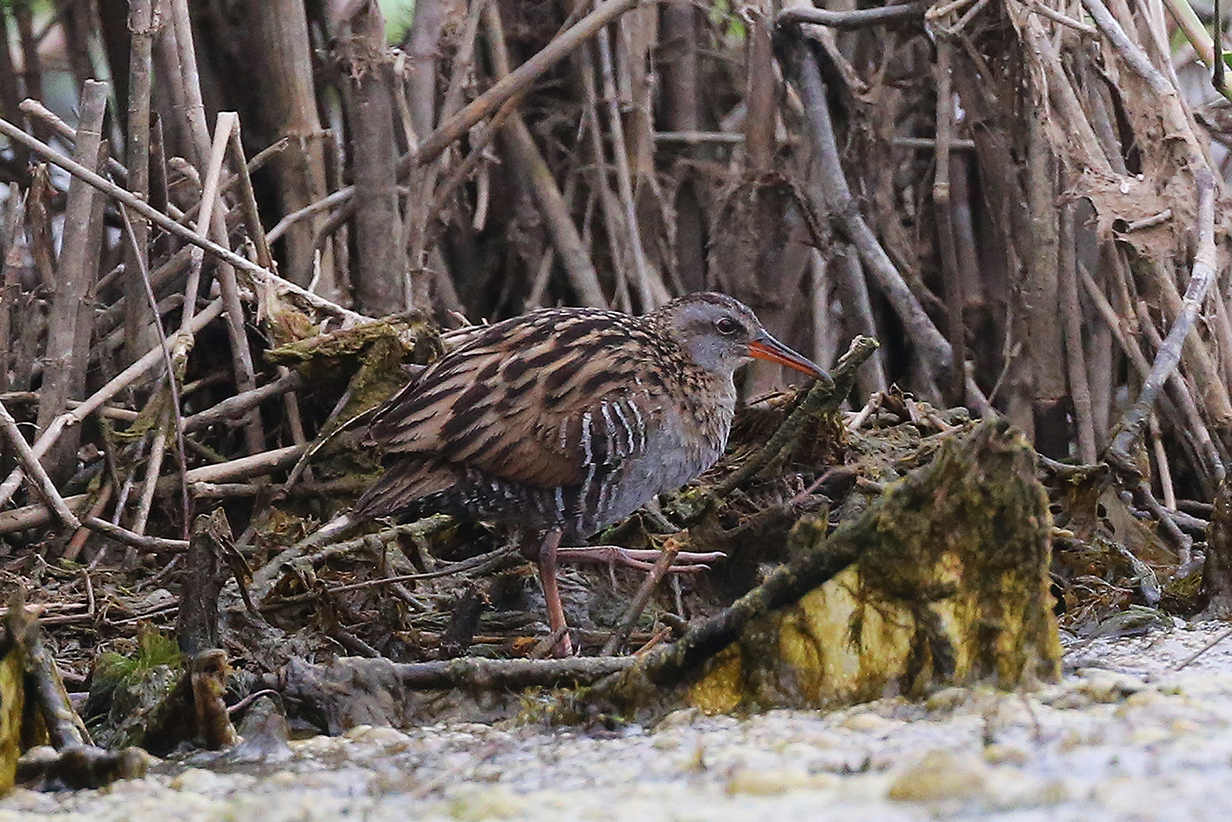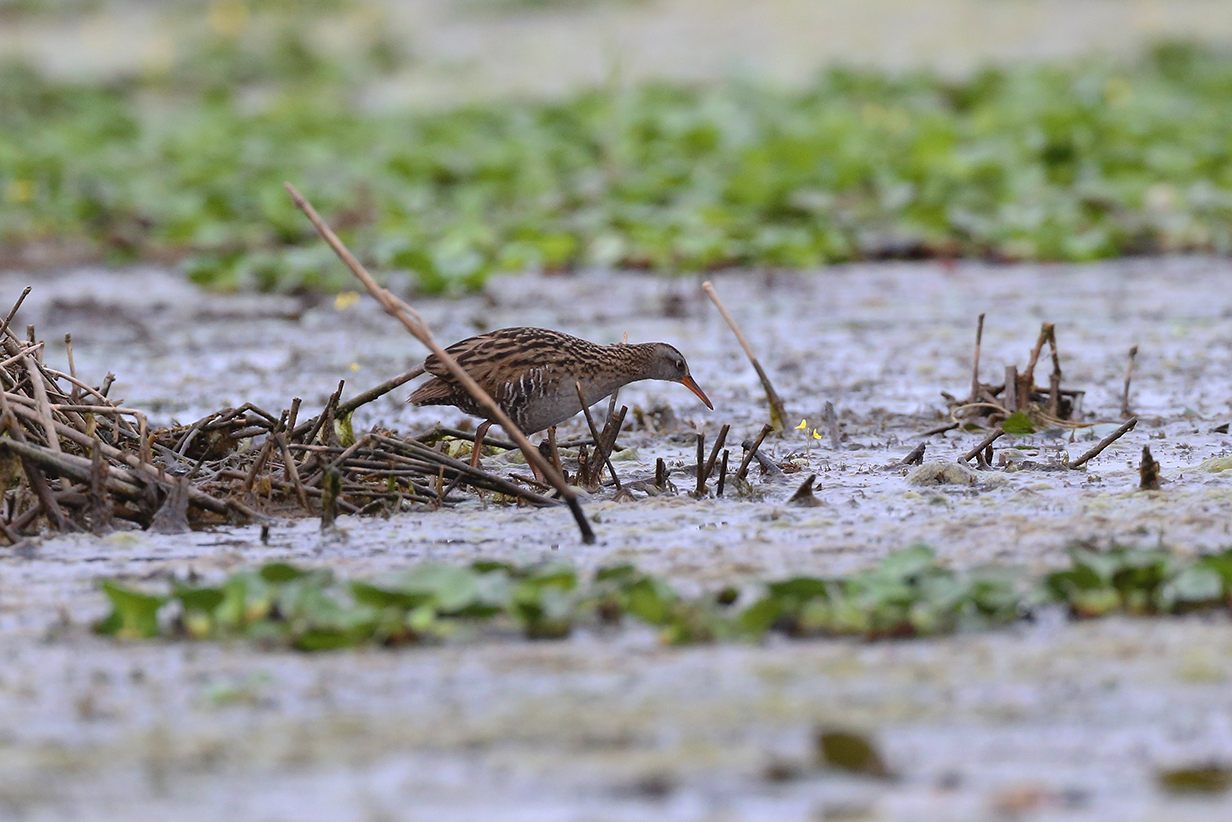 Brown-cheeked rail (This is our life bird, in the same "copse" of grass in Maguri Beel, about 10 feet away from the Ruddy-breasted crake!)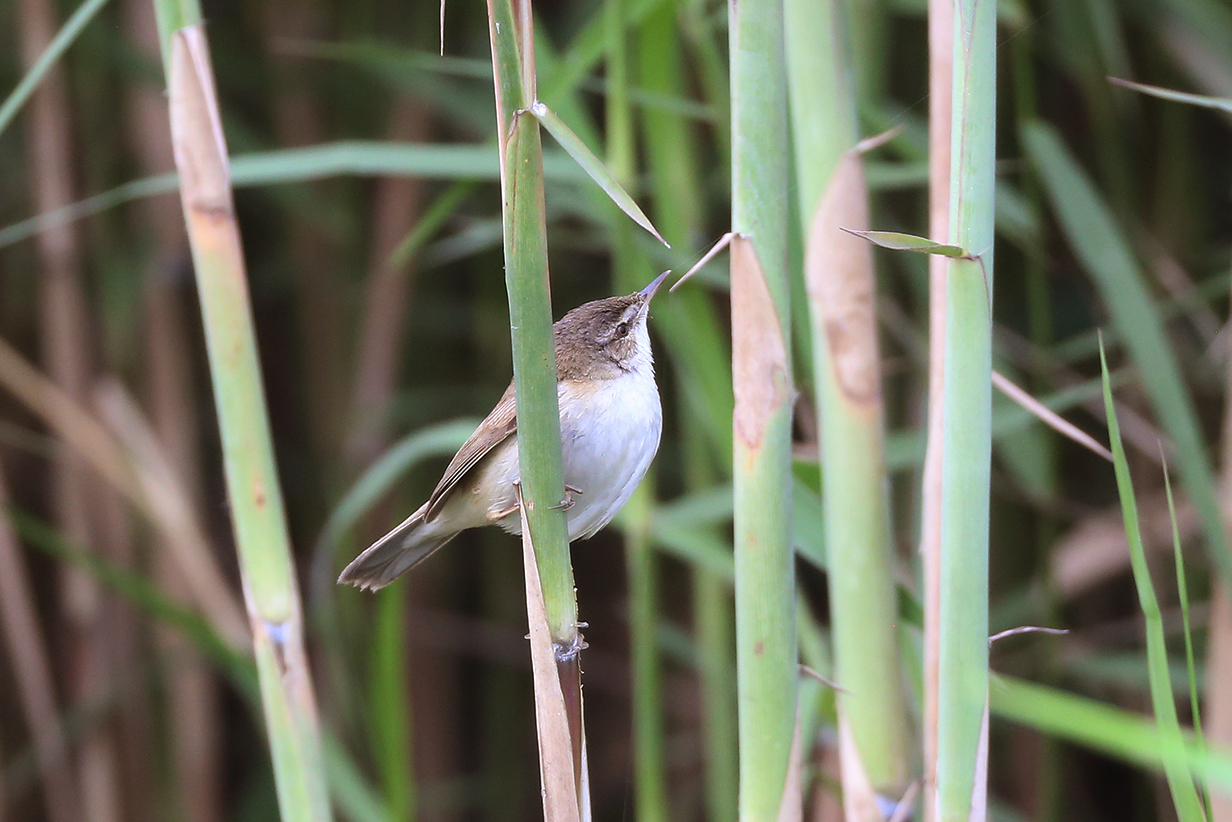 Paddyfield warbler (also from the boat ride at Maguri Beel)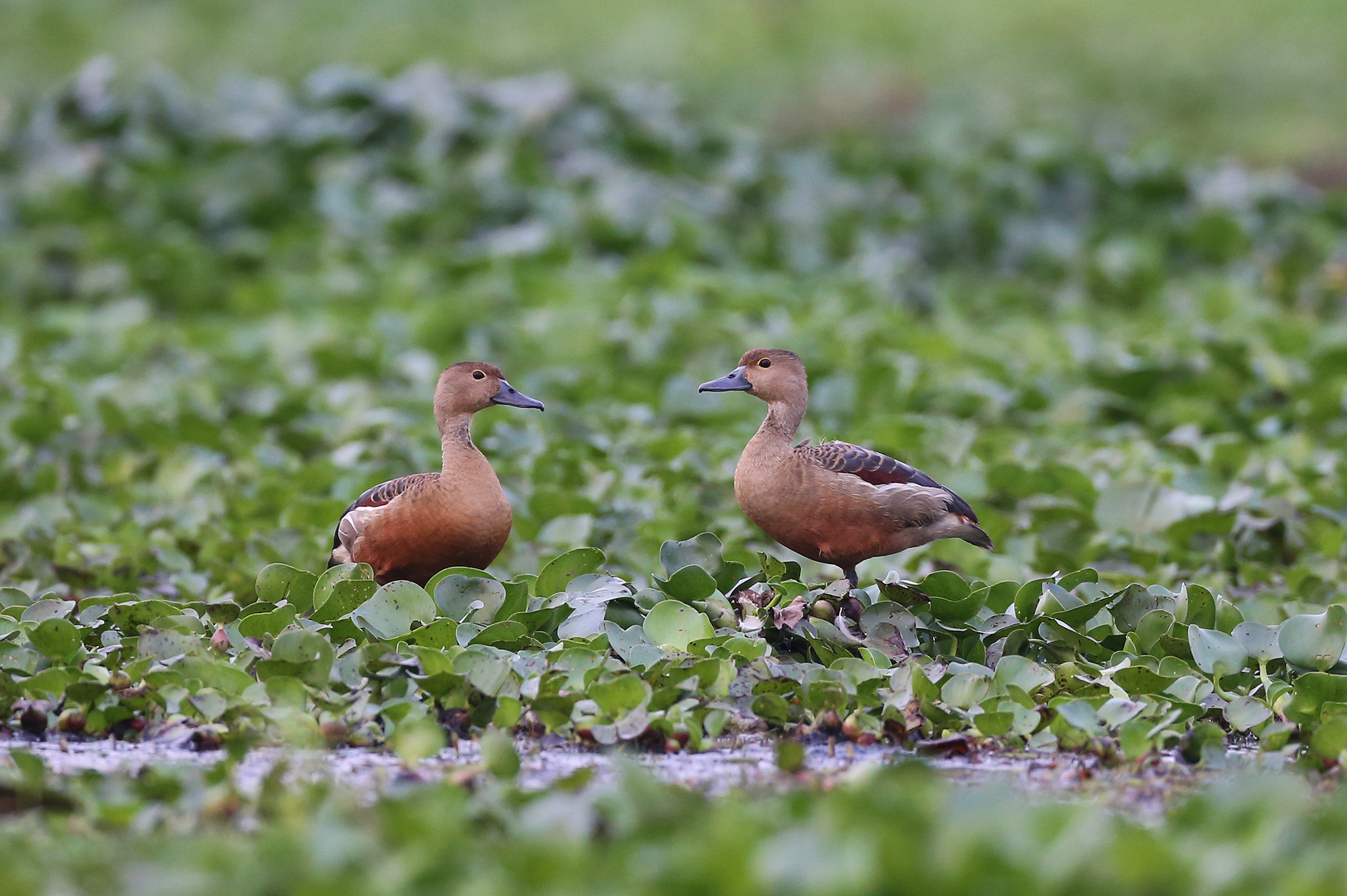 Lesser whistling-duck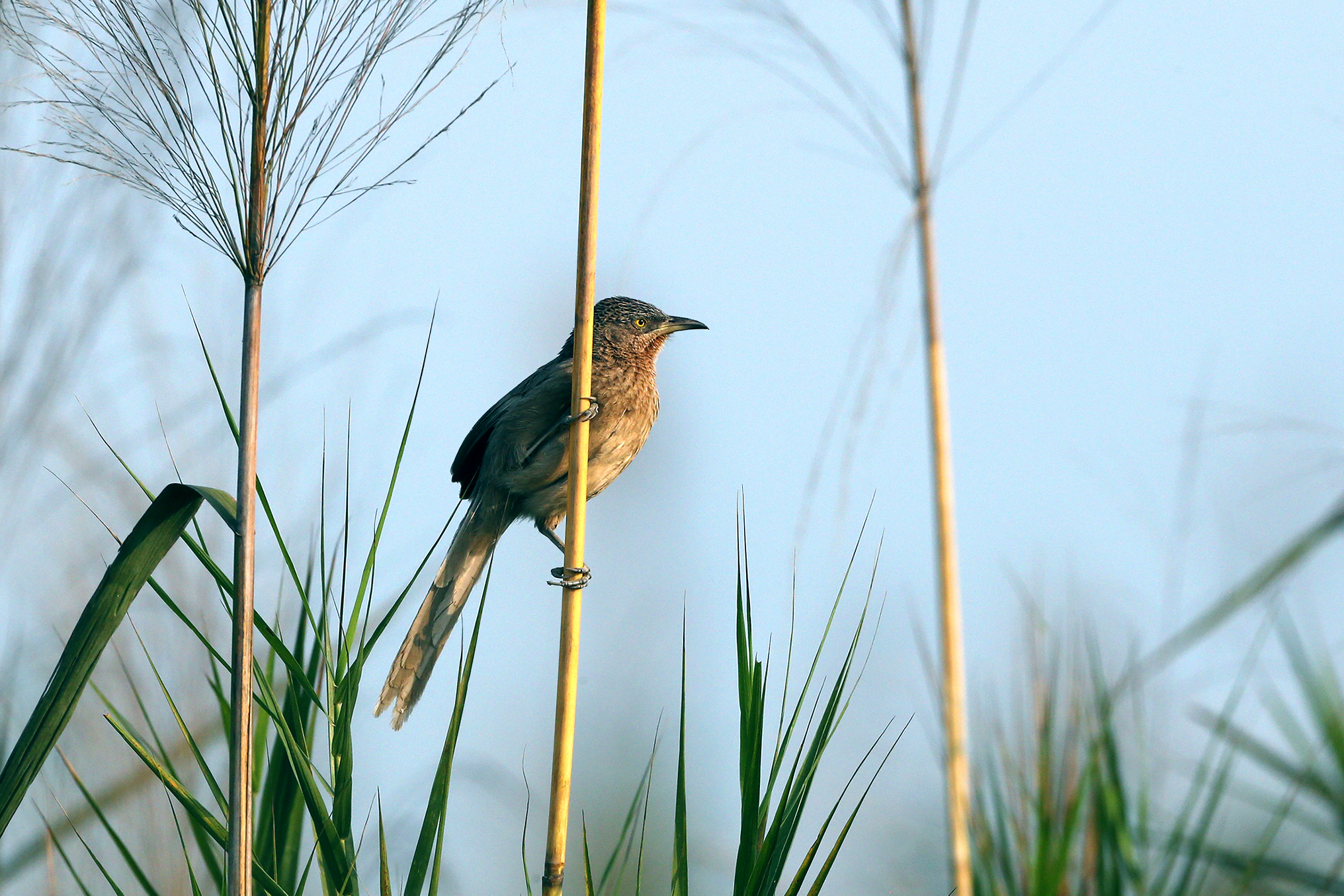 Striated babbler
Sultanpur National Park (near New Delhi)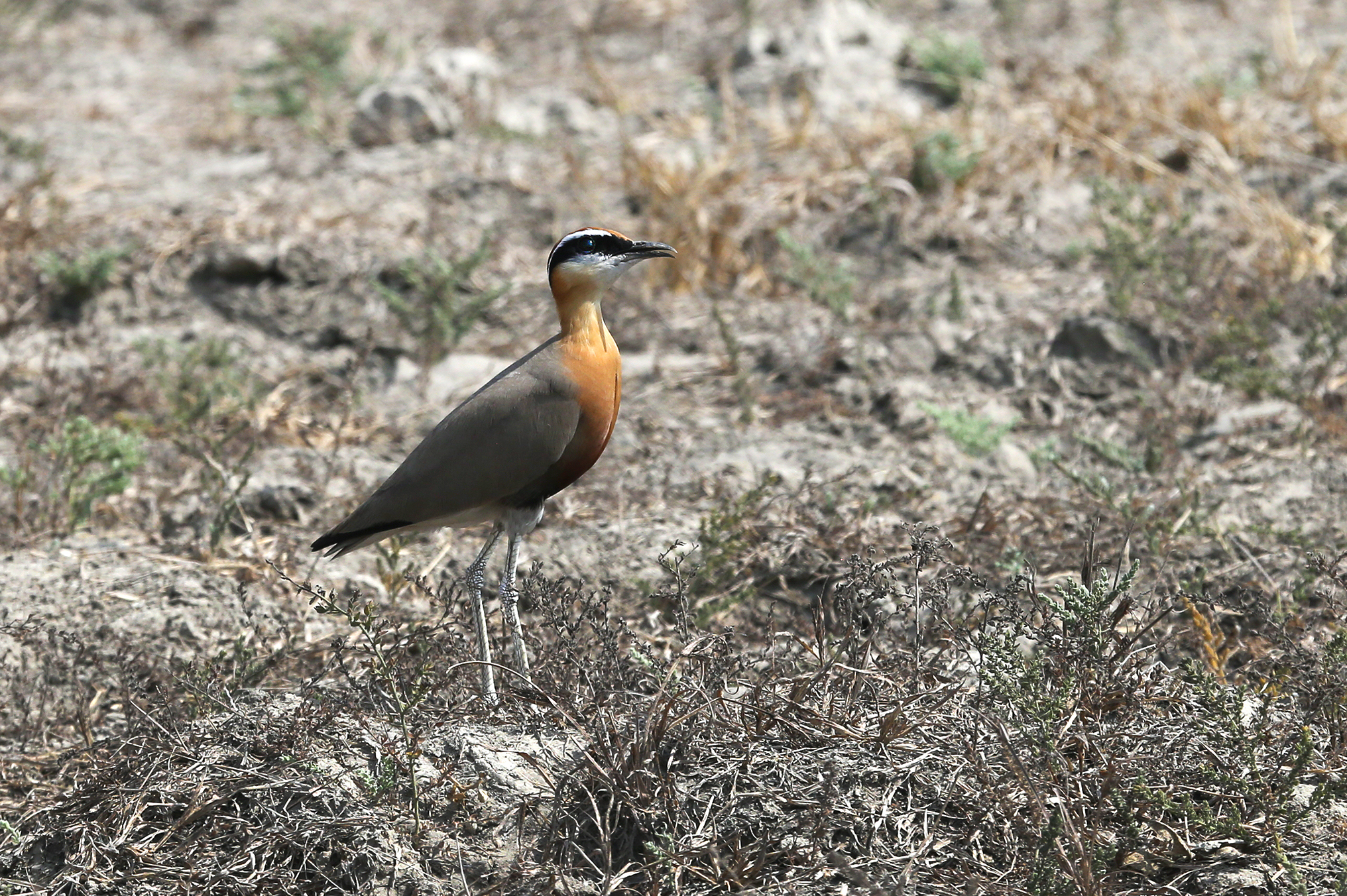 India courser (They nest just outside Sultanpur.)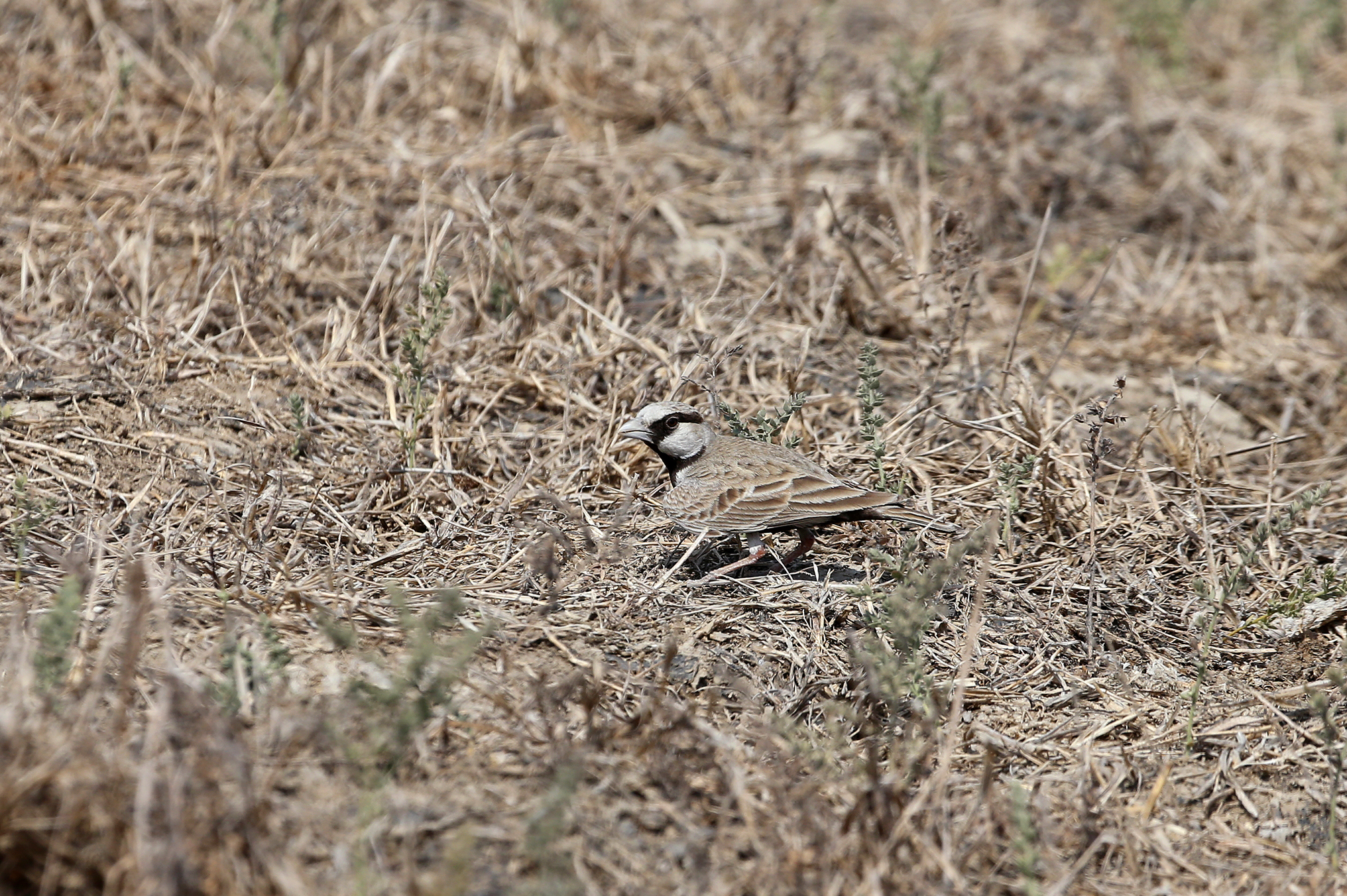 Ashy-crowned sparrow-lark (This is our life bird, also just outside Sultanpur.)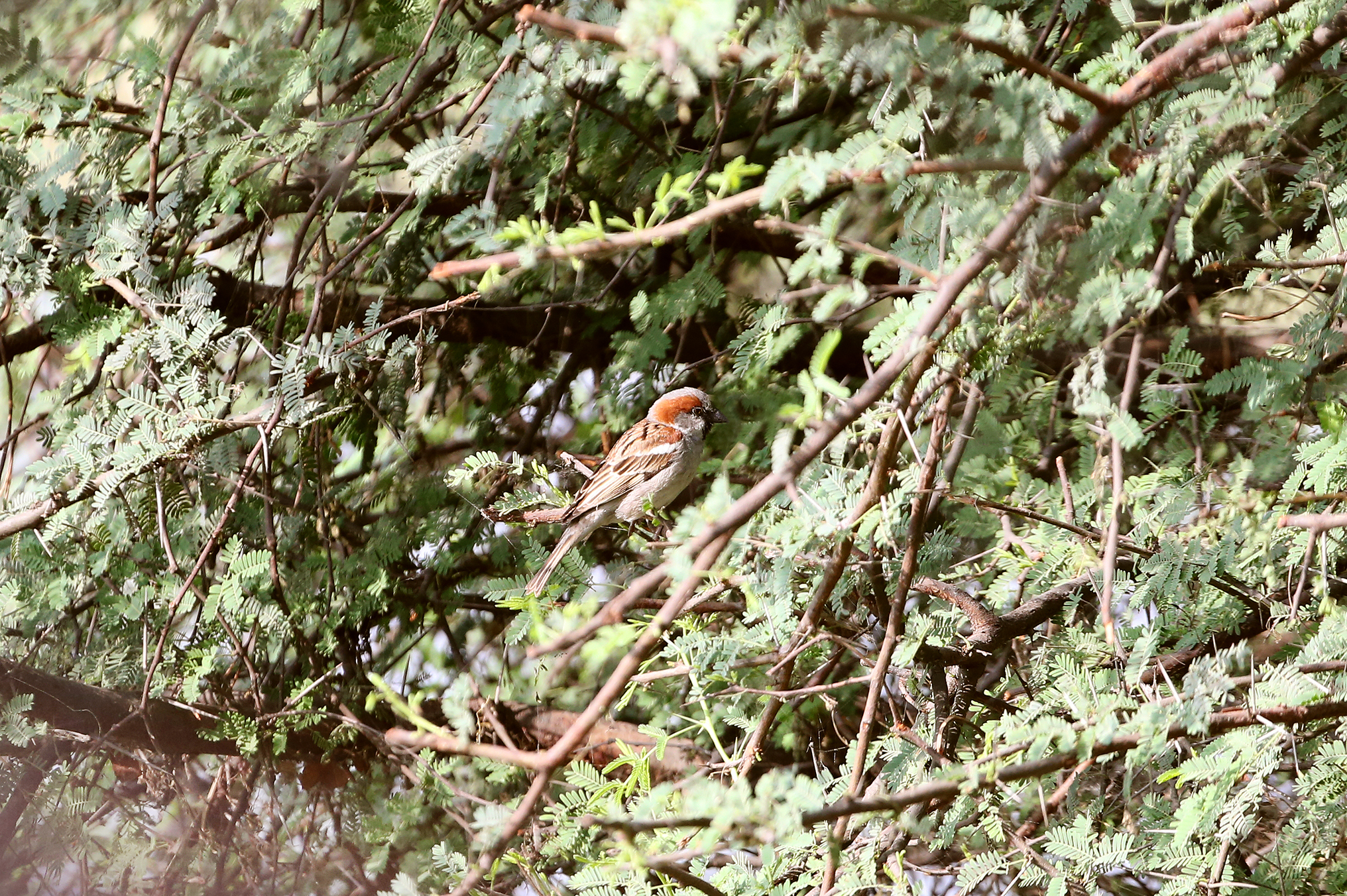 Sind sparrow (This male is our life bird. Sind sparrow were nesting at Sultanpur.)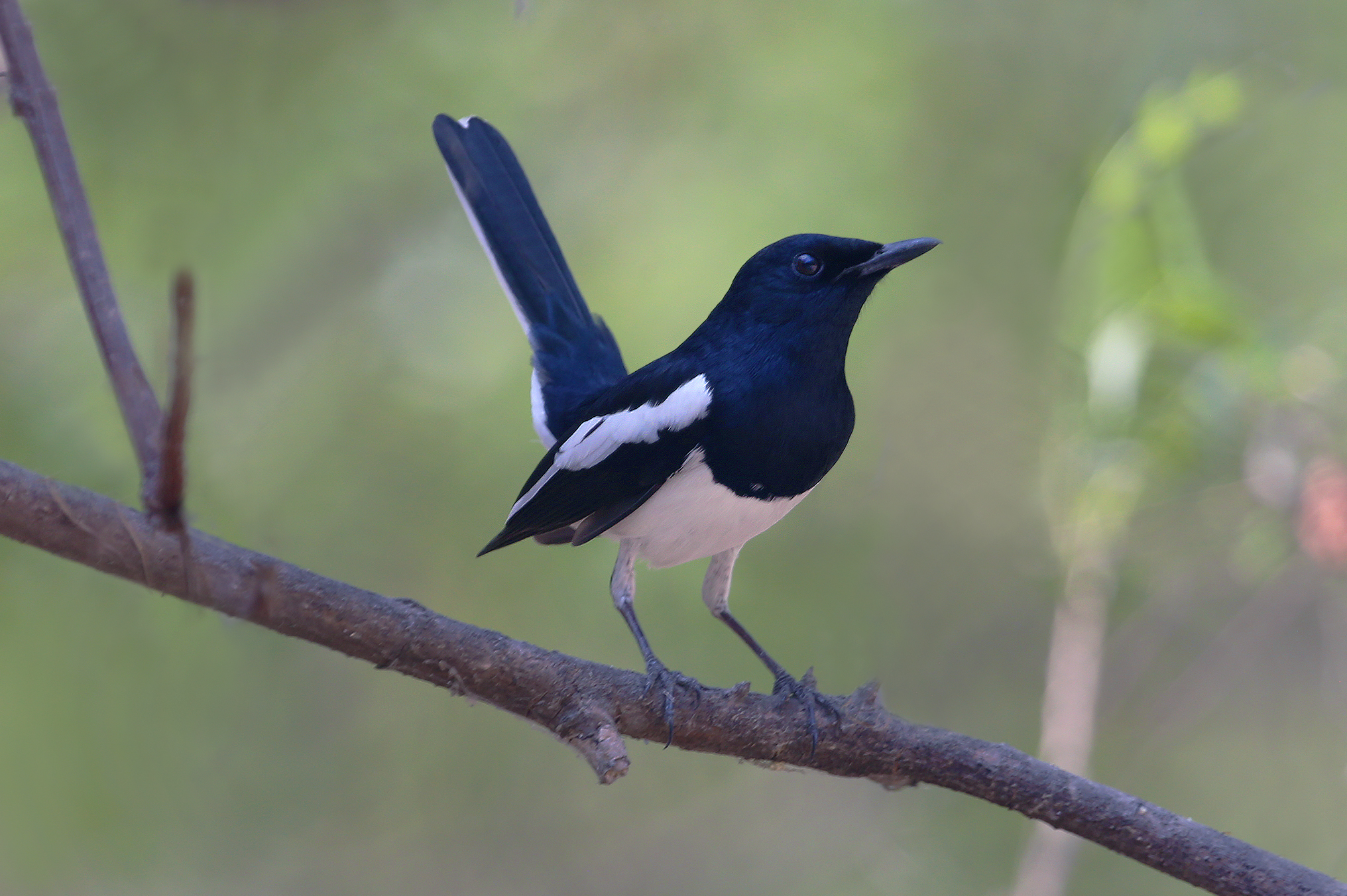 Oriental magpie-robin
---
Our bird pictures from around the world follow standard ecozones approximately but not exactly:

Birds from the USA and Canada:   our house,   Texas,   California,   Hawaii,   Canada,

Neotropic birds from Central America and the Caribbean:   Honduras,   Costa Rica,   Panama,   Trinidad and Tobago

Neotropic birds from South America:   Ecuador 2004,   Ecuador 2017,   Brazil.

Western palearctic birds:   Europe: Germany, Finland, Norway,   Europe: United Kingdom,   Europe: Spain,   the Canary Islands,   Europe: Lesbos, Greece,   Israel

Eastern palearctic birds:   China

Birds from Africa:   The Gambia,   South Africa

Indo-Malayan birds from   India: North-west (Delhi, Uttar Pradesh, Uttarakhand)   India: North-east (Assam, Arunachal Pradesh, Meghalaya)   India: Central (Maharashtra, Madhya Pradesh)

Birds from   Australia,   New Zealand.
---
University of Texas Astronomy Home Page
---
Updates are frequent in Spring and Summer of 2018. Total visits since April 7, 2018 =
John Kormendy (kormendy@astro.as.utexas.edu)