John and Mary Kormendy: Birding Trip to Sichuan, China (May 2018)
These are the pictures from a 2018 May trip to Sichuan, China. The trip was arranged and guided by China Birding Tour, a local Chinese tour company based in Chengdu. For birders from outside China who don't know what to expect, we can happily report that we were very happy with the arrangements, the guiding, and the driver (who was also superb at spotting difficult birds). Glitches can happen during almost any tour and were not infrequent for us. But our guide was exceedingly helpful in solving them as well as possible. In addition, we have health-related special needs; these were accommodated without fail. Also:
Our tour was well customized for bird photography, which is a special interest for us and indeed also for our driver and guide. In this web site, even bad pictures are included, because this is our "digital memory" of the species and scenery that we saw. This web site is a record of the species that we saw during the whole trip, including one day of birding in the vicinity of Shanghai. We have birded the Beidaihe area before, as well as adjacent parts of India on the south side of the crest of the Himalayas. Therefore, our list of new birds was not huge: John got 66 life birds and Mary got 71. But, with a substantial emphasis on Chinese pheasants and their relatives, the quality of the new birds was spectacular.
In this web site, scenery and other pictures are largely interspersed chronologically. A complete travelog is the best way for us to remember the trip. Eventually, I will make a public web site of the best bird pictures. This web site is not public. It will be under construction for the next few months, as I gradually process pictures and add them. Come back often if you want to keep up with progress.
The pictures are copyrighted and should not be used without permission.
---
Trip Birds
We found it impossible to single out one "trip bird". These five specias stood out as the most spectacular.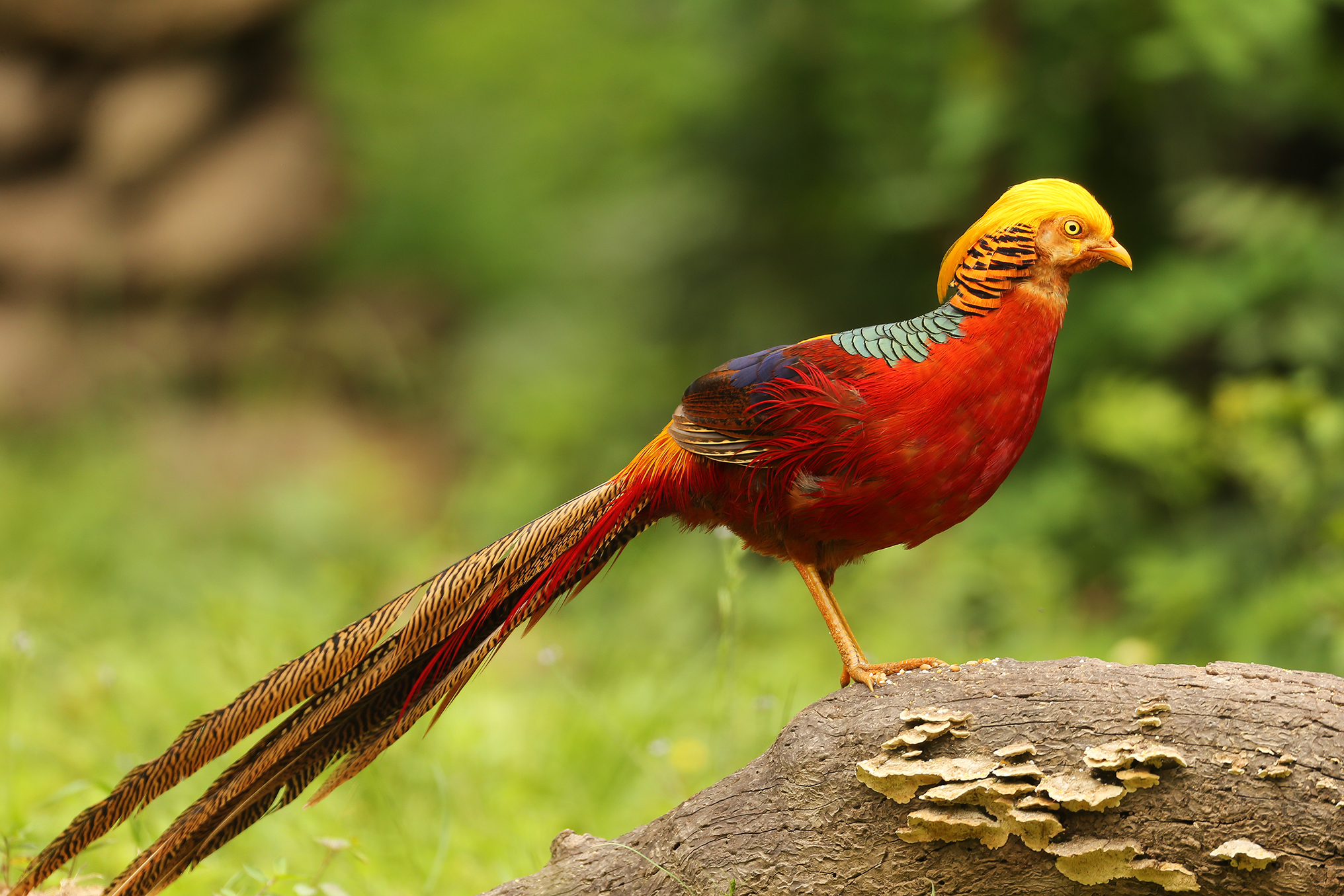 Golden pheasant (This is our life bird.)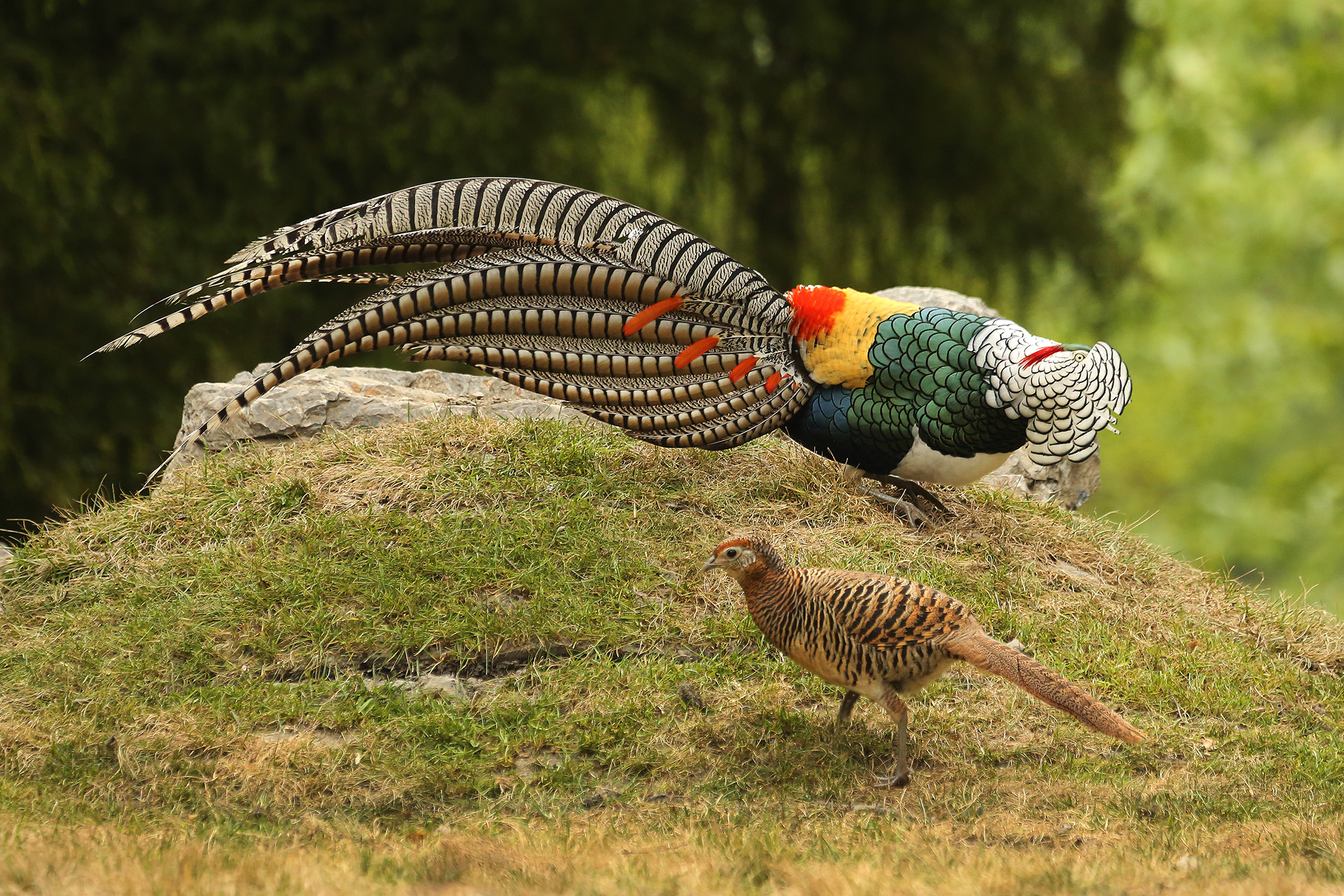 Lady Amherst pheasants (The male bird put on a spectacular display for the female bird ... who was profoundly unimpressed.)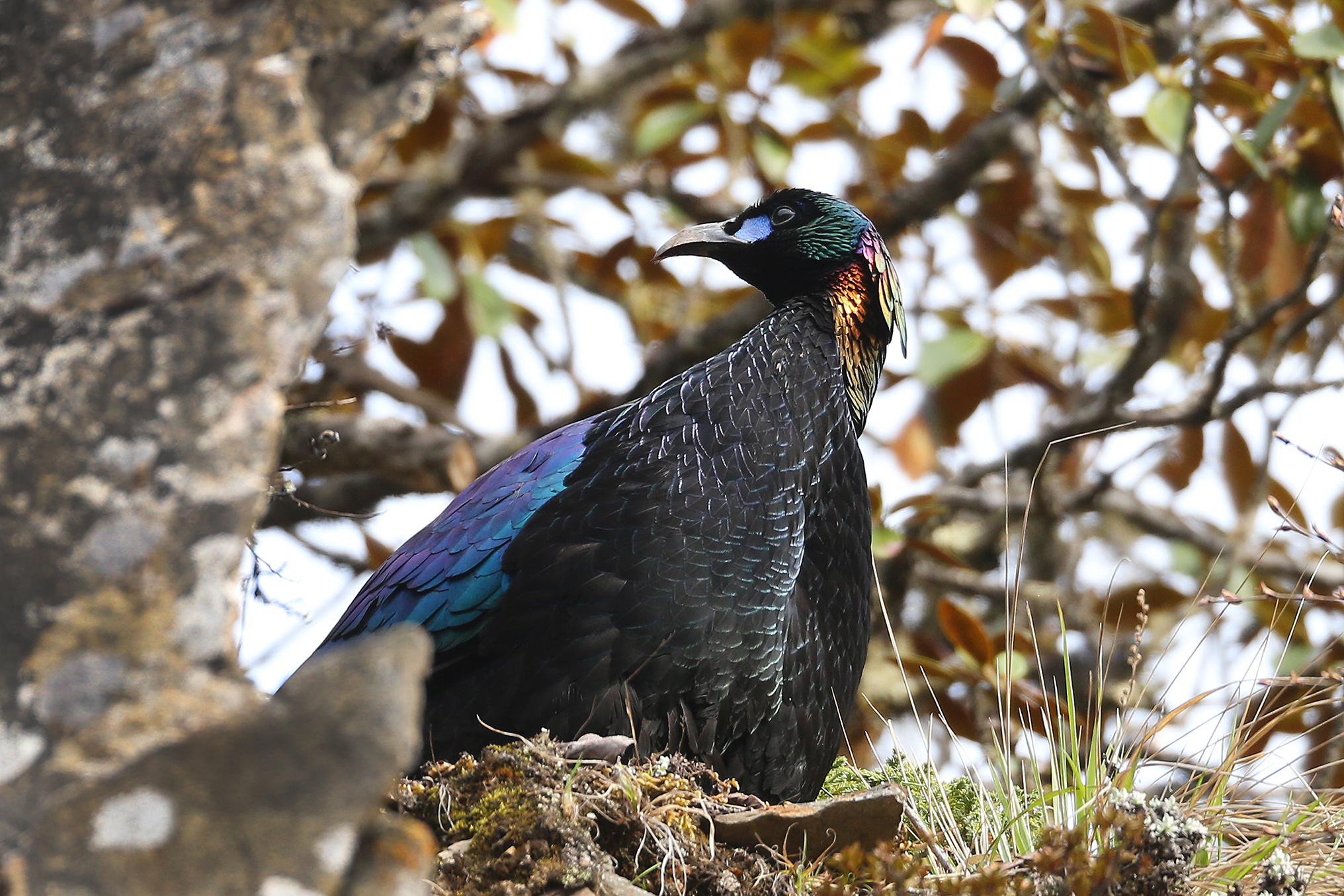 Chinese monal (We worked hardest on this bird - for three days - in part because of competition with other photographers who crowded the most reliable viewing site and in part because my camera and 800 mm telephoto lens were broken earlier in the trip and required awkward handling in order to take this picture almost straight upward.)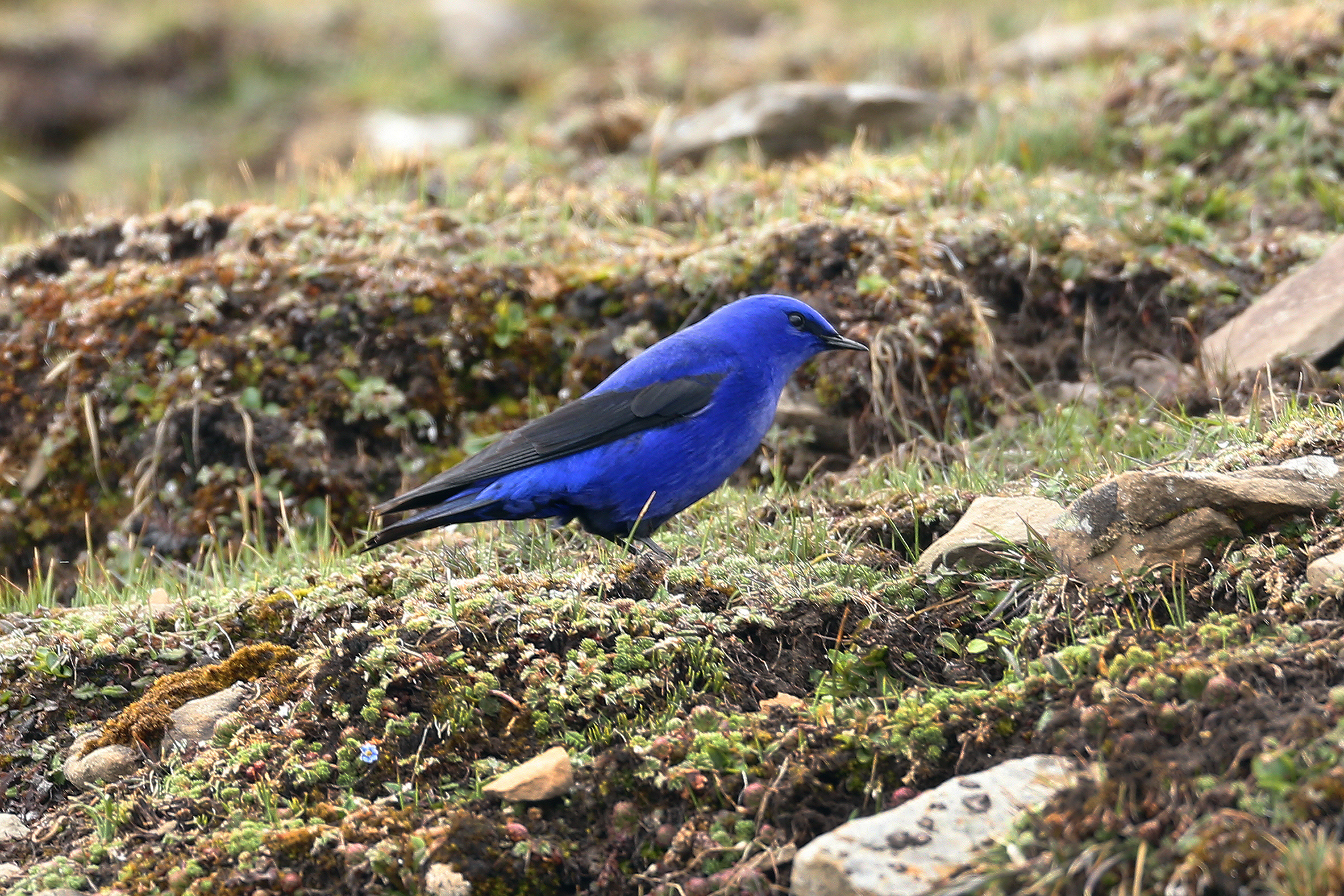 Grandala (male) (We finally got Grandala on this trip after three unsuccessful trips to try it in India. There, we were at high enough altitudes (around 4000 m) for only a few km near Sela Pass. In Sichuan, we were at high enough altitudes for many km around Balang Shan pass (4481 m or 14700 feet).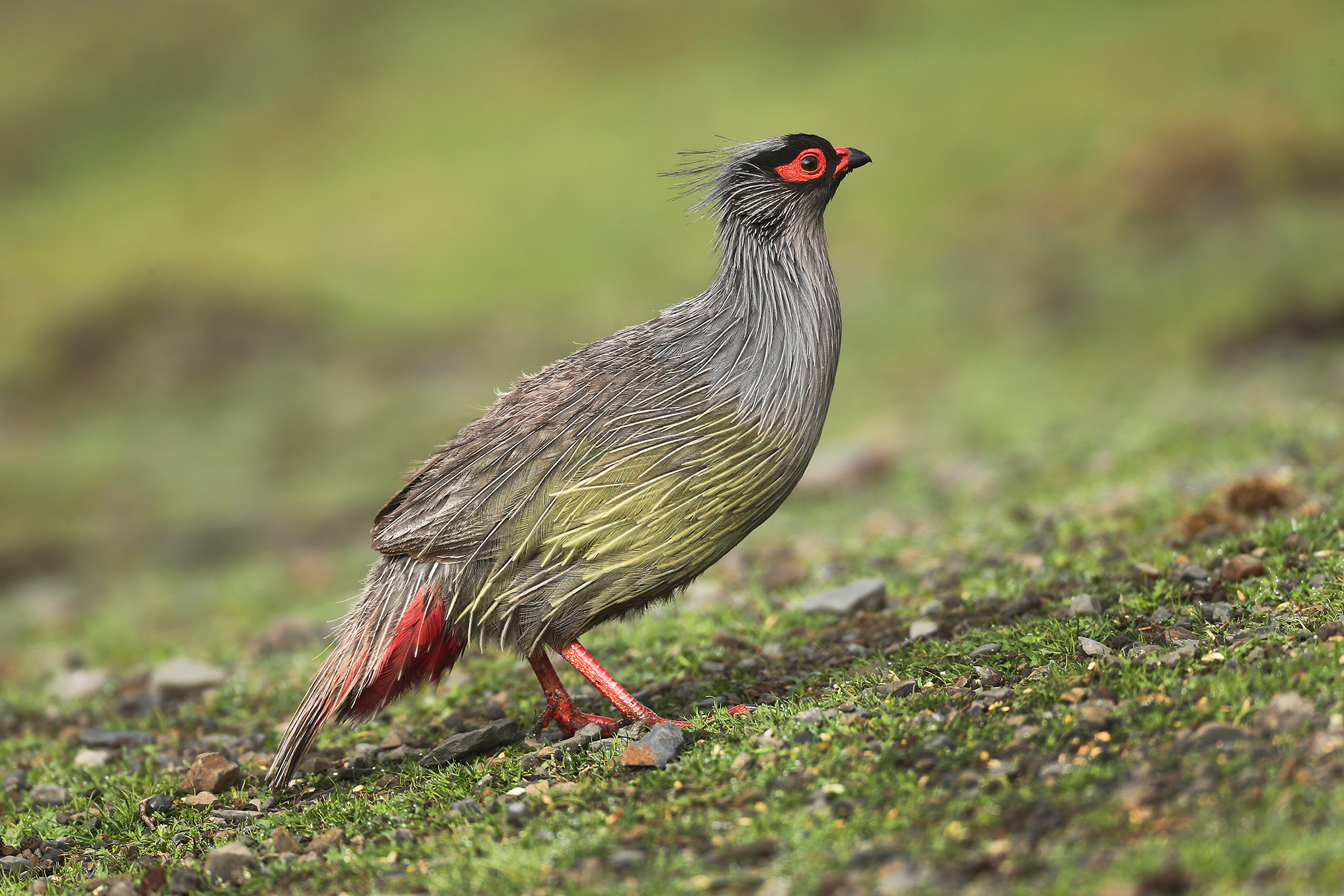 Blood pheasant is another bird that we have looked for, in India, for many years. This is our life bird.
---
Vicinity of Shanghai
Before we flew to Chengdu to start the Sichuan bird tour, we had one good day of birding with a local guide in the outskirts of Shanghai. The venues were not scenic -- urban industrial and farm lands -- but we got five life birds that were unlikely to show up in Sichuan. Pictures range from poor to terrible, but for the record (and so that we can remember them), here are 4 of the 5 life birds. John also got Mugimaki flycatcher but no picture.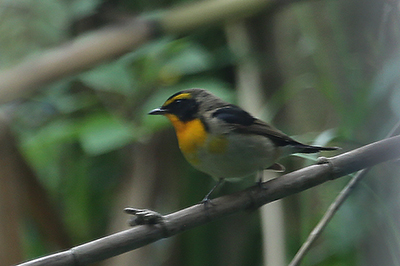 Narcissus flycatcher was the first life bird of the trip. This is a juvenile male; he did not stay around long enough for a good picture.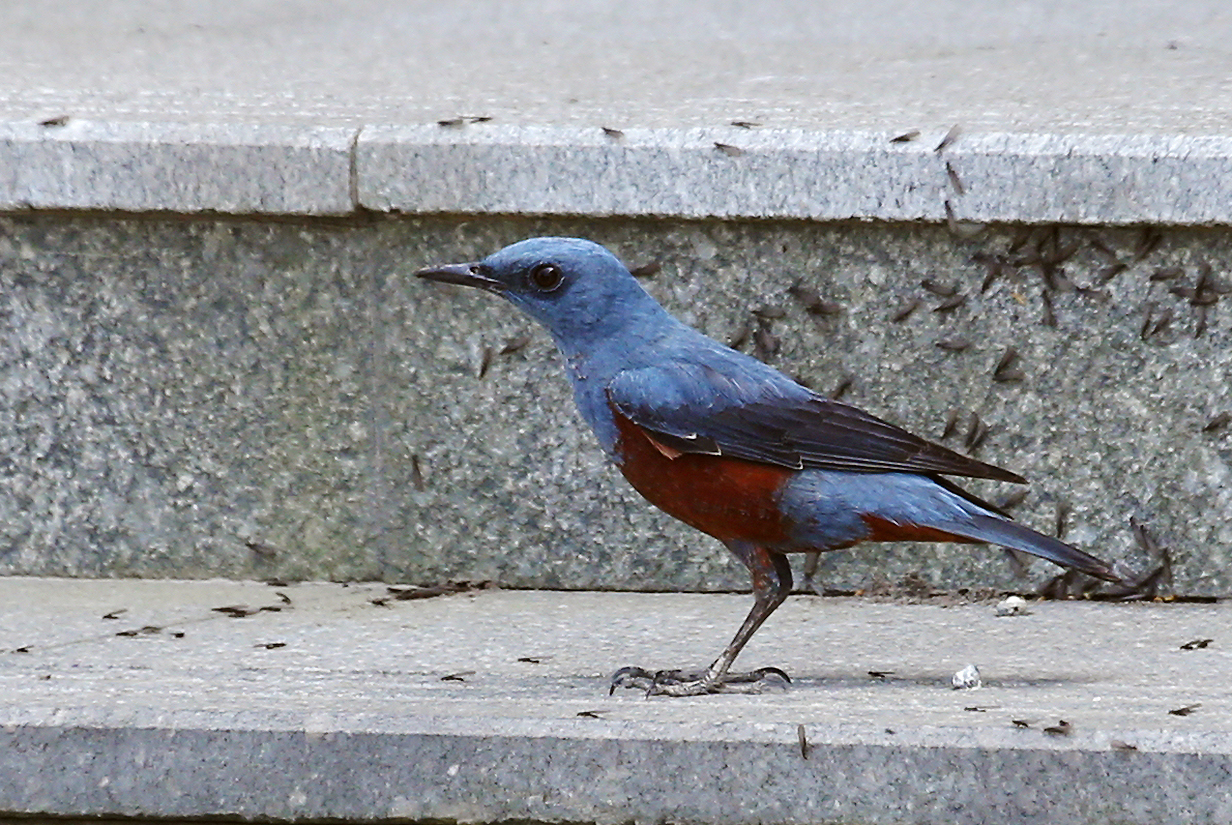 Blue rock thrush (not new)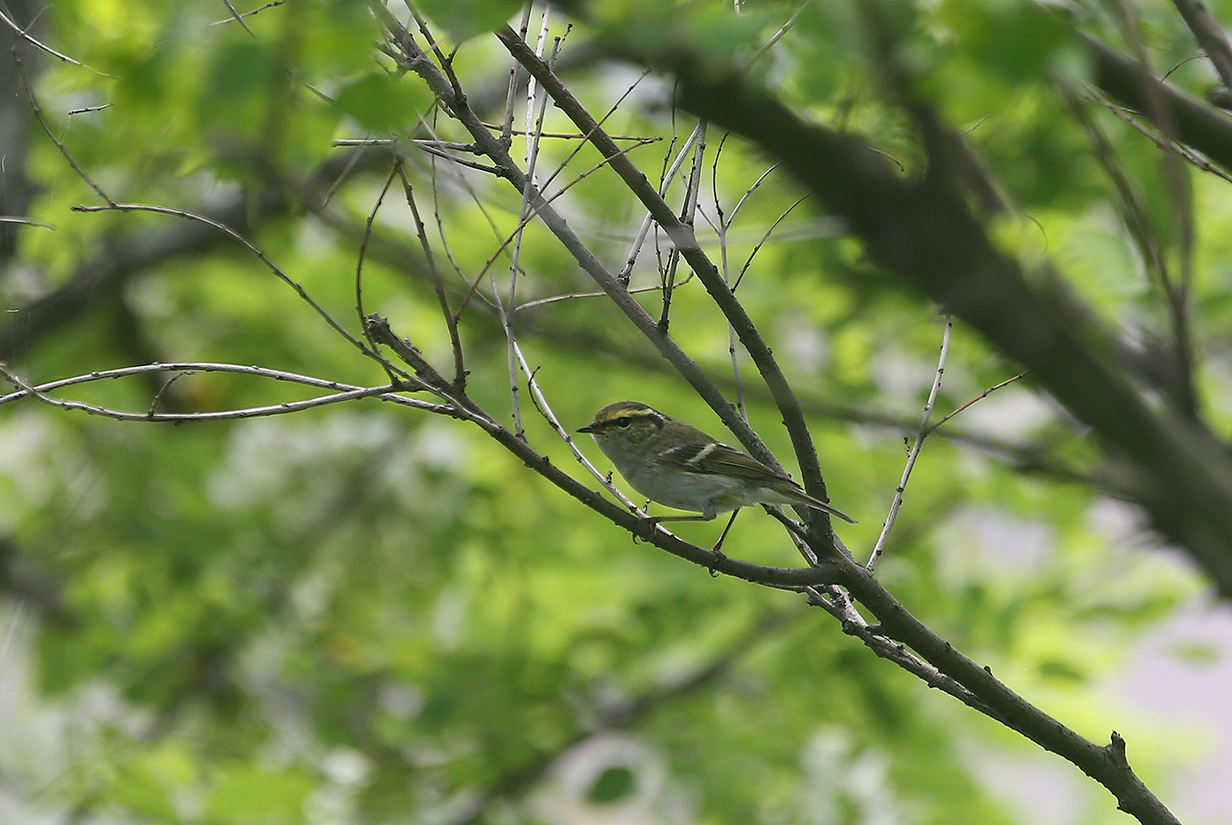 Pallas's leaf warbler (also not new)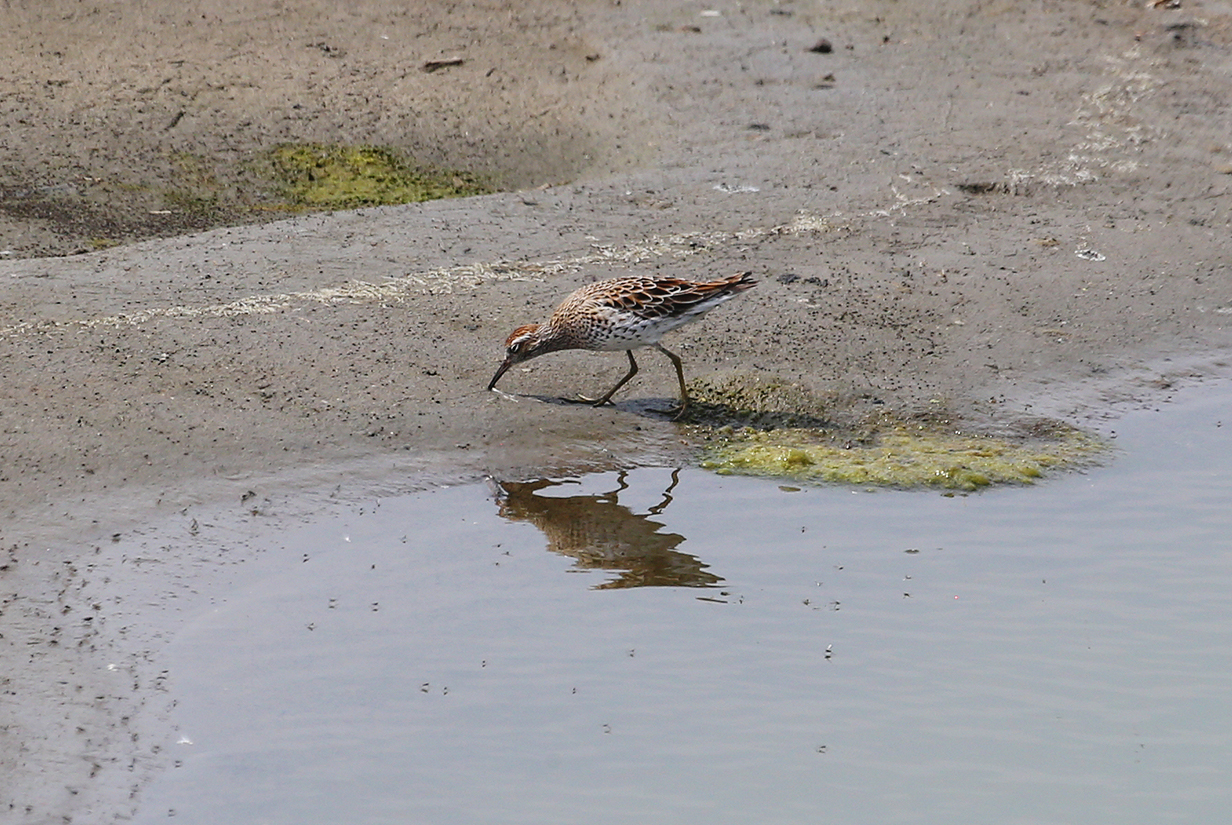 Long-toed stint (This is our life bird.)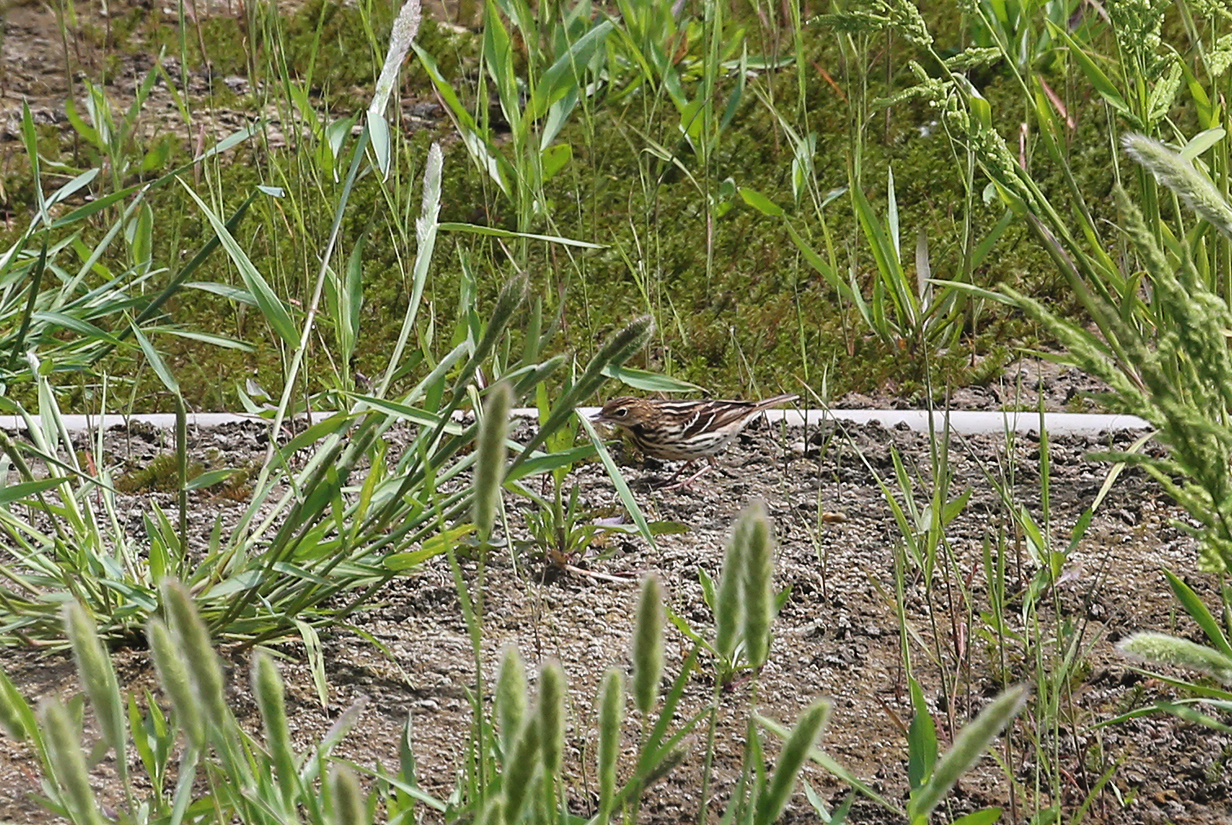 Pechora pipit (This is our life bird.)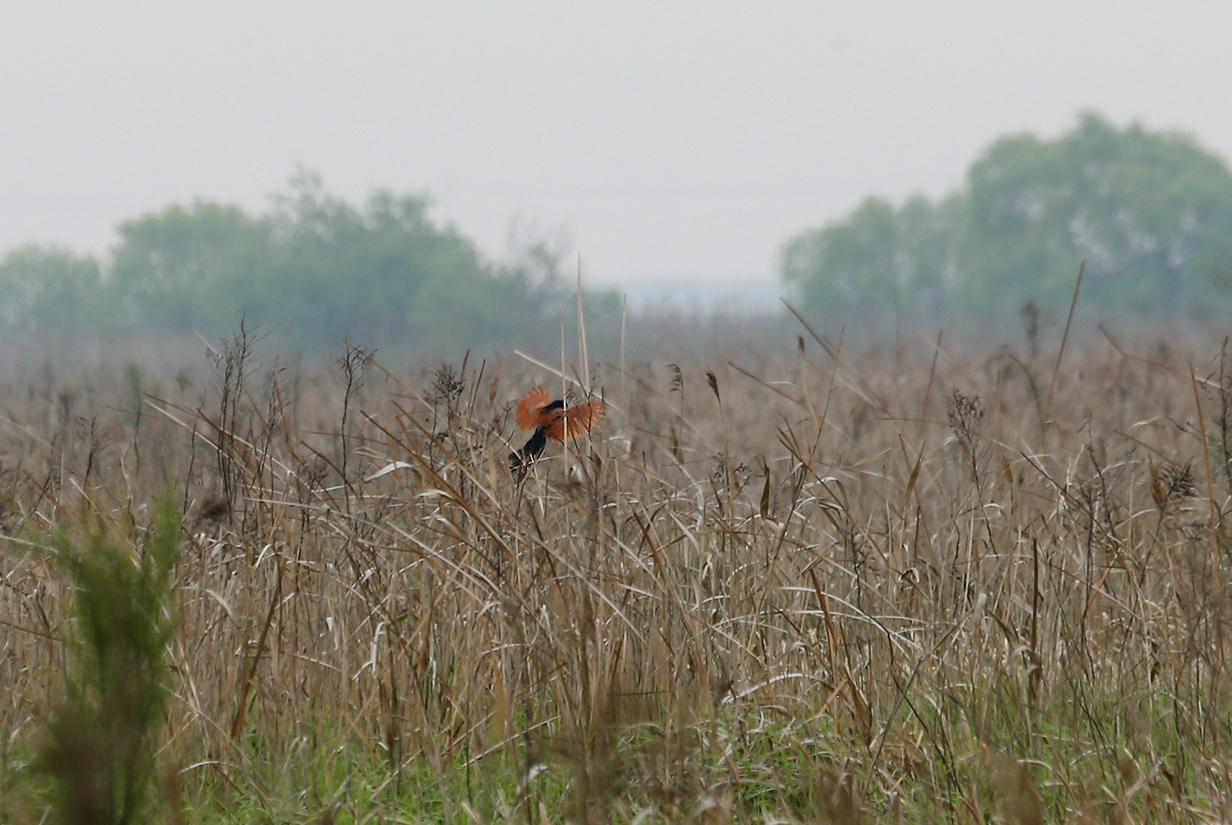 Lesser coucal (This very bad picture does not show our life bird, but this bird showed up just a few minutes later.)
Longcanggou
Longcanggou Reserve was disappointing: The habitat is excellent, but a surprise change in government rules or local efforts to gouge foreign visitors (or, most probably, both) prevented us from getting to the higher elevations for more than a short time and only with extra cost (kindly covered by the tour company). We got a few new birds, but fewer than should have been possible. Our guide did her best to deal with the change, but it frustrated everybody - other tours as well as our own. Warning to birders who come to the area: Even well connected tour companies may not be able to deliver, and the tour leaders present recommended to their companies that this destination be avoided in the future. The reason given for excluding all but local birders was that this area is being developed for a panda release program.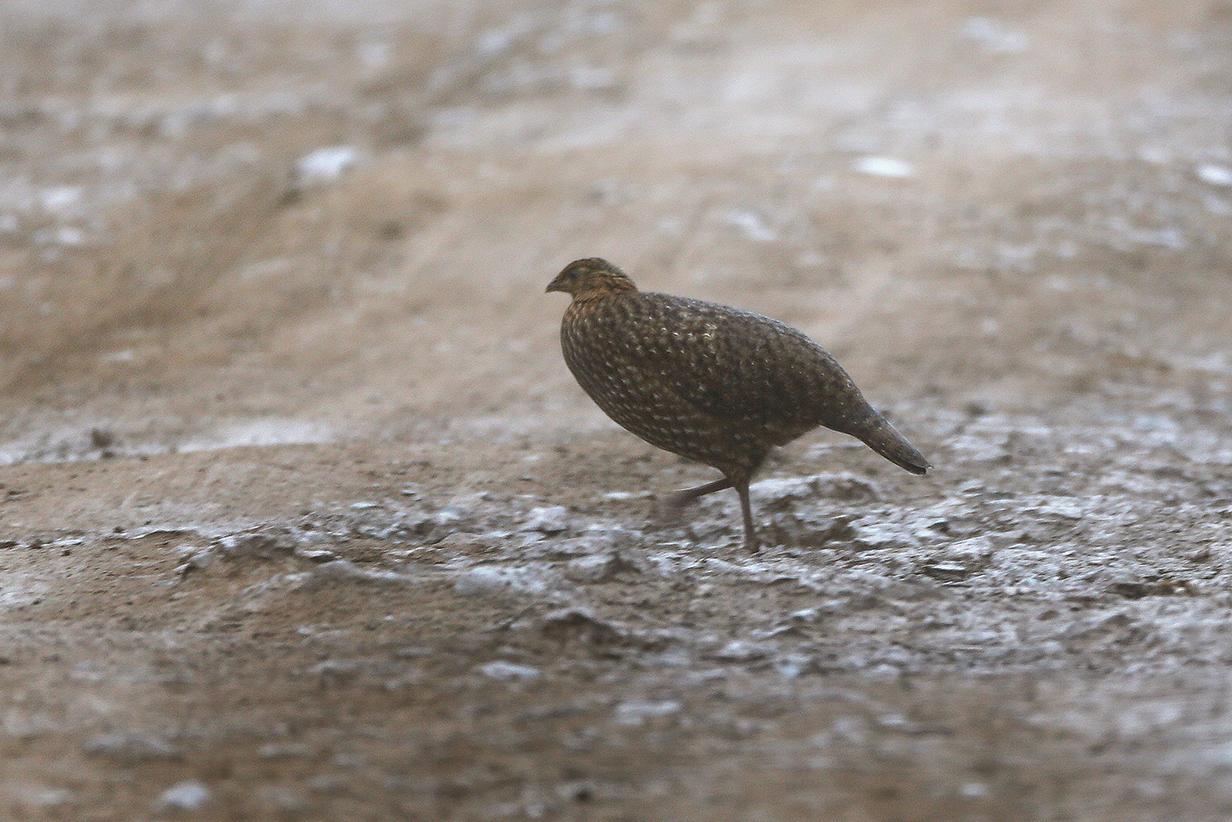 Temminck's tragopan (This female is Mary's life bird. We never had good luck with tragopans and did not see one again on the trip.)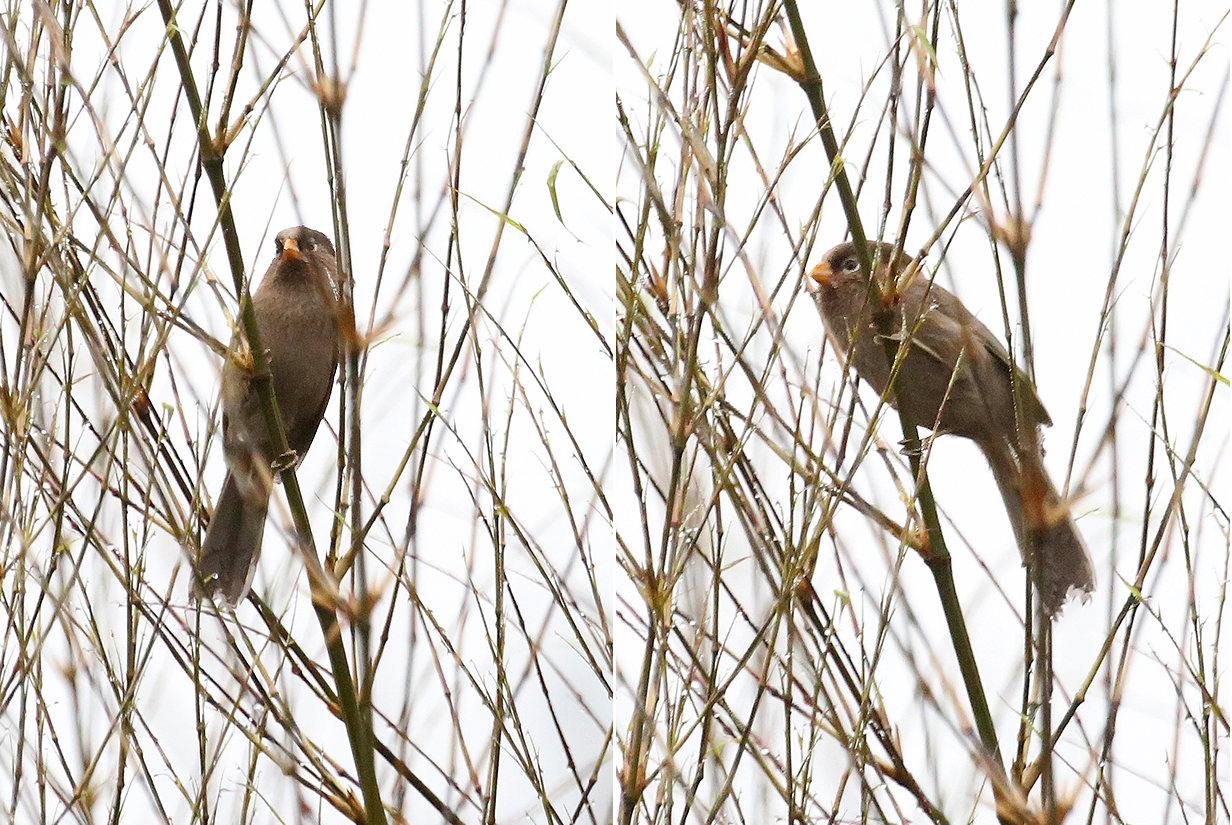 Three-toed parrotbill (This is our life bird.)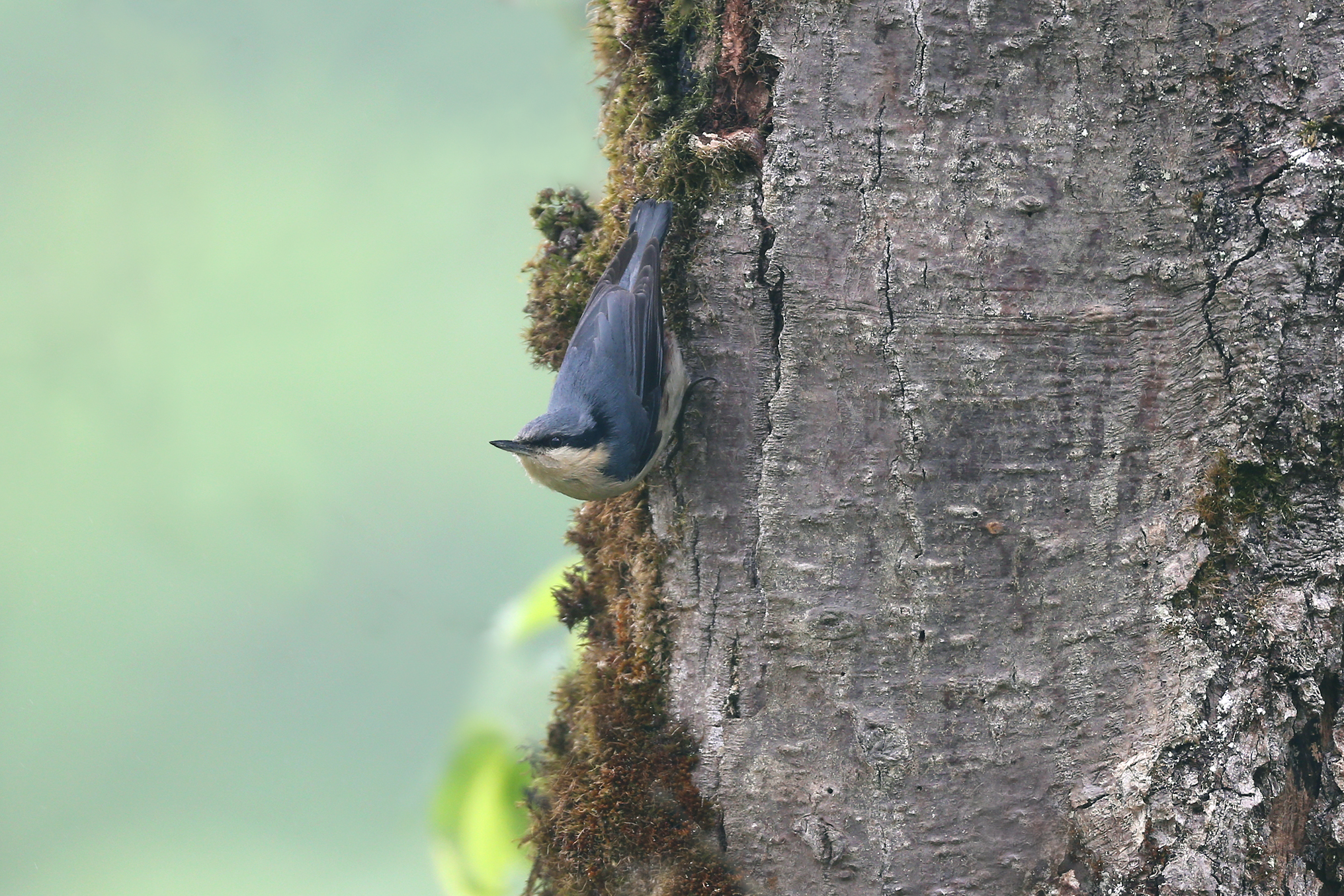 Eurasian nuthatch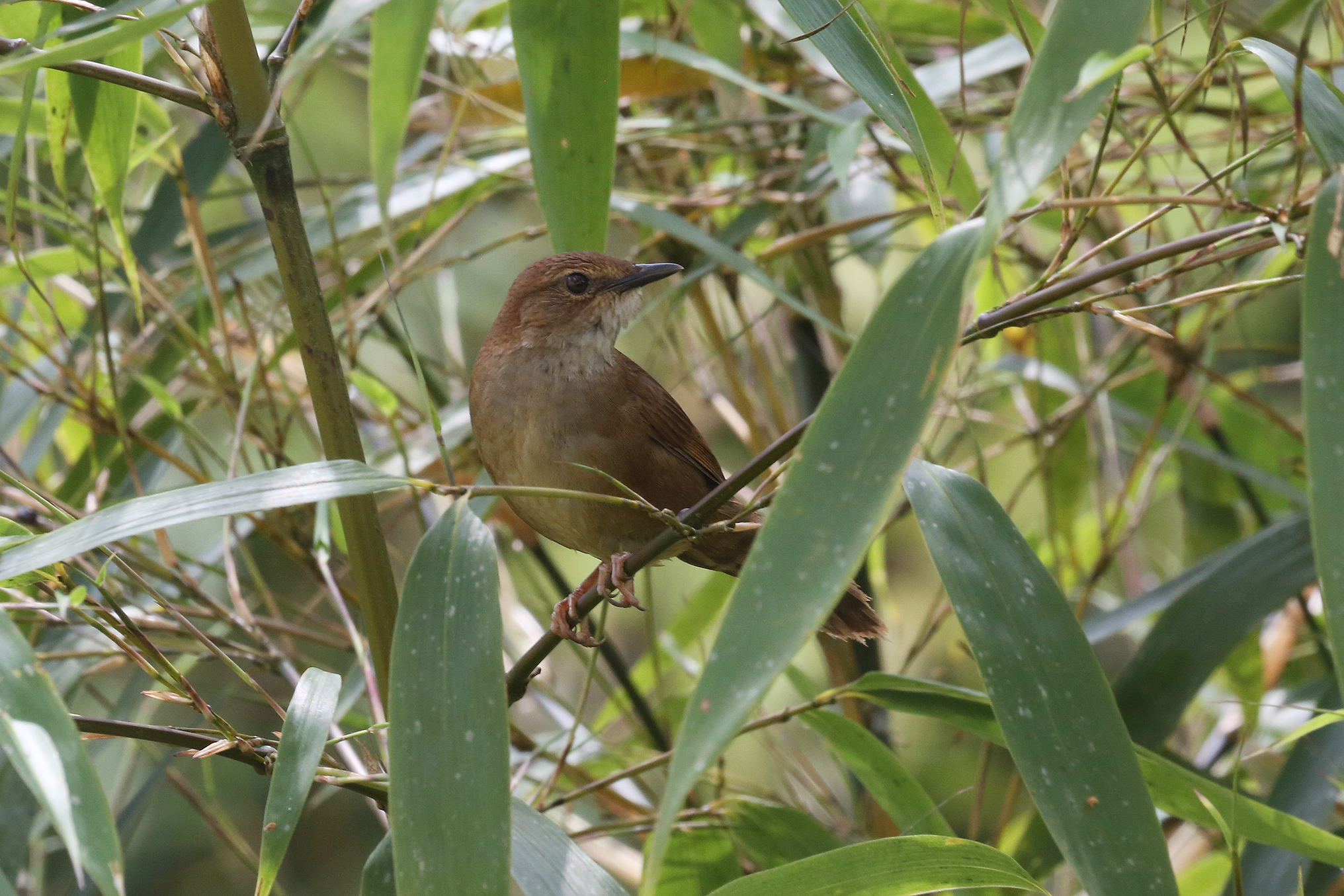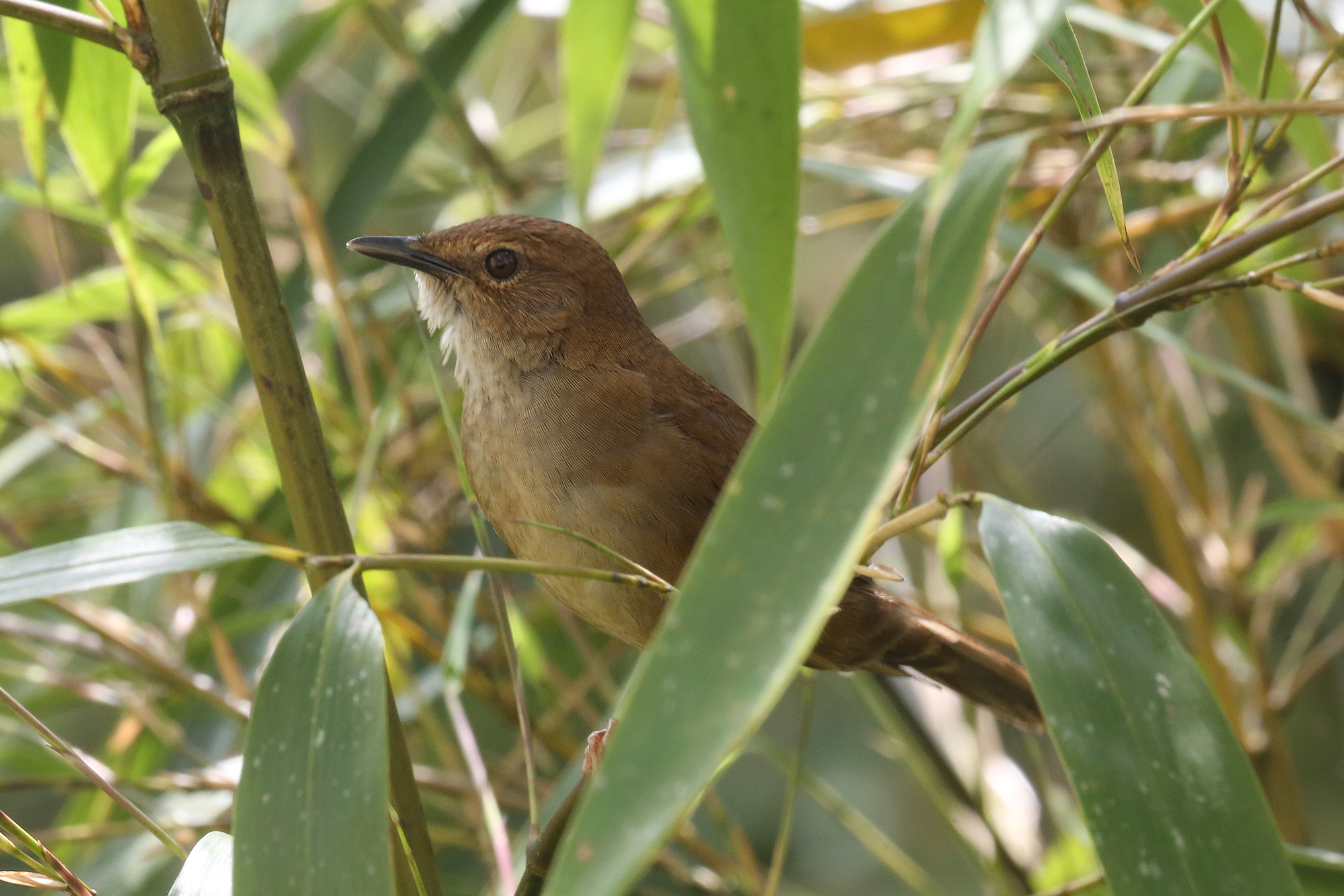 Sichuan bush-warbler (This is our life bird. His call sounds like a frog croaking.)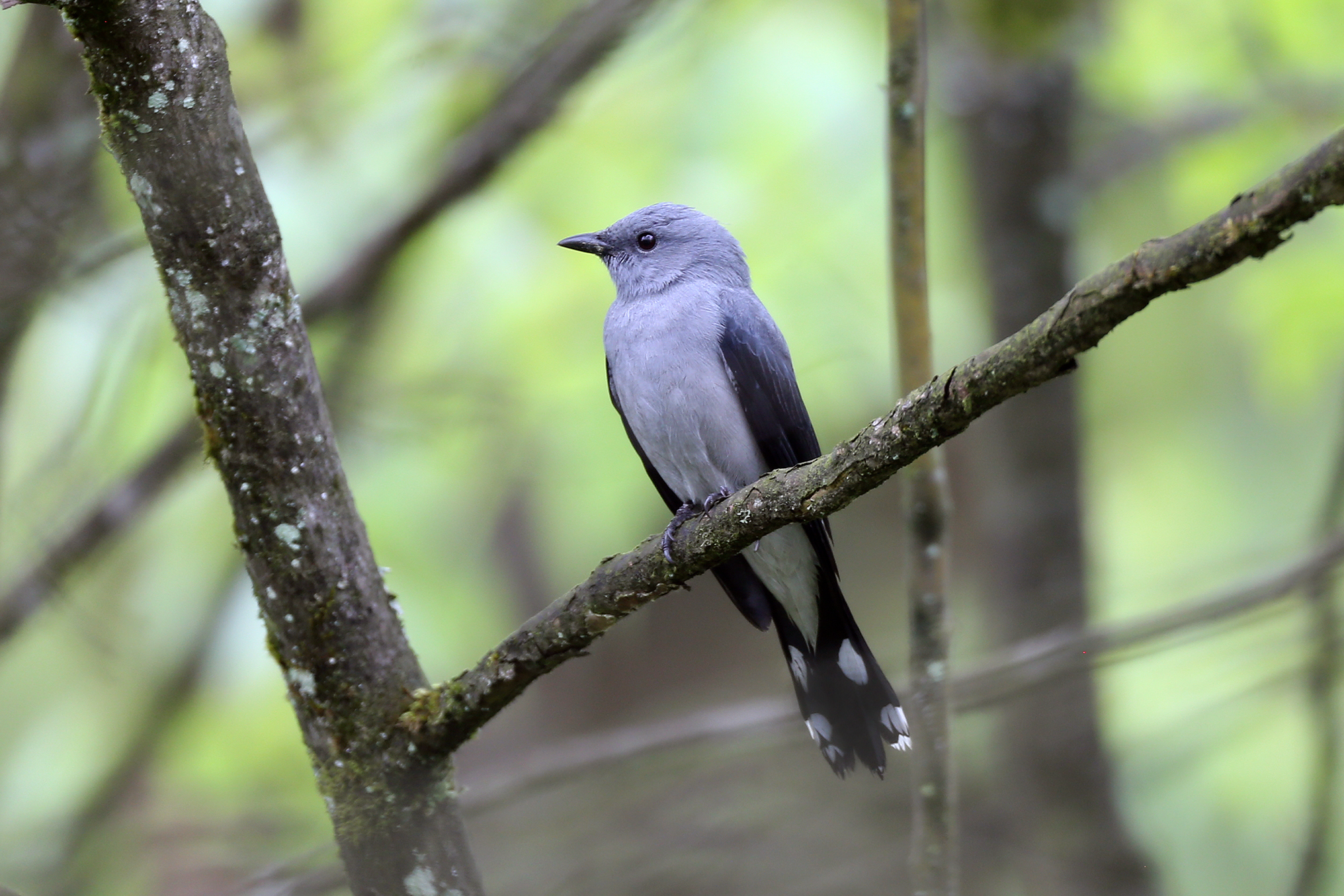 Black-winged cuckooshrike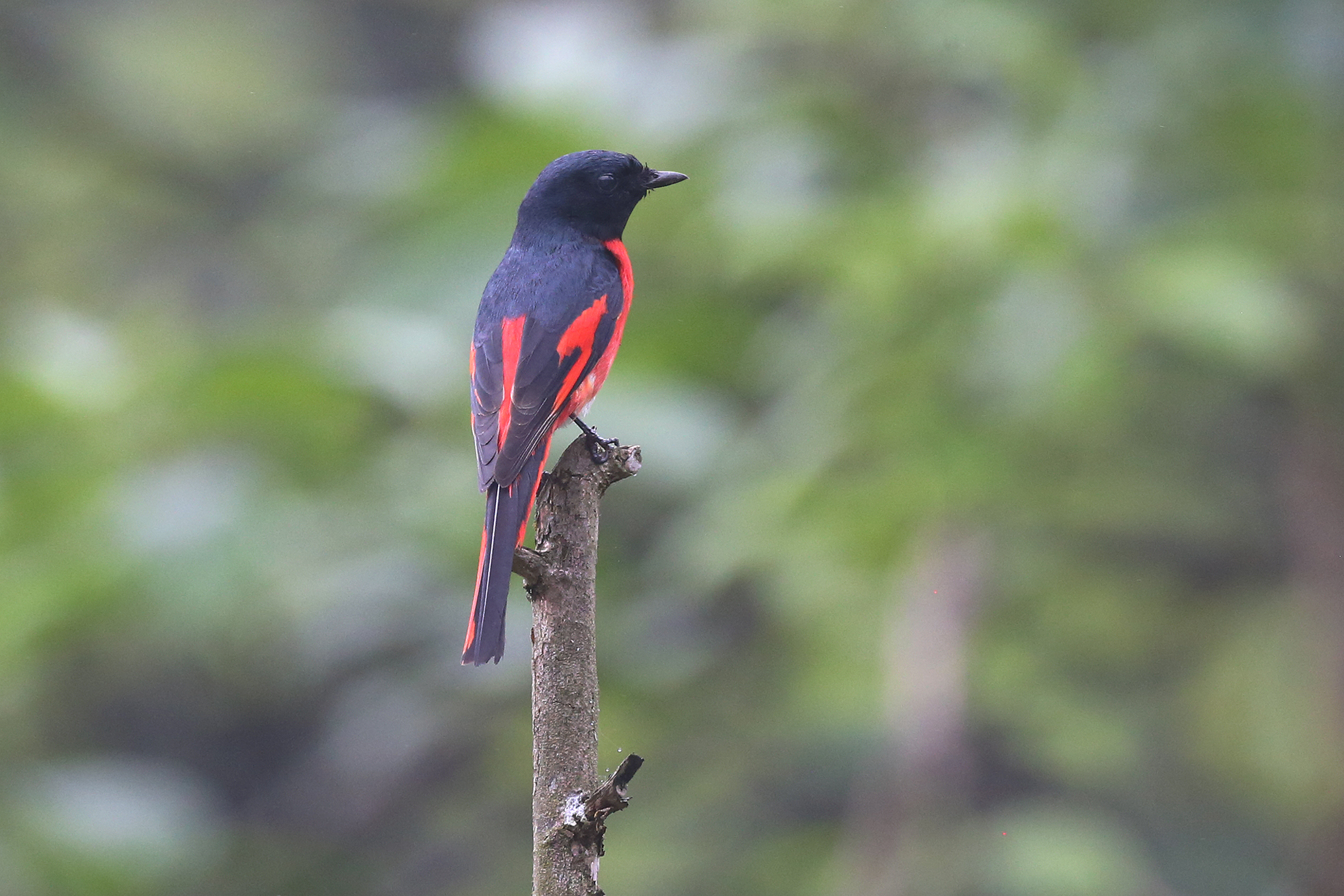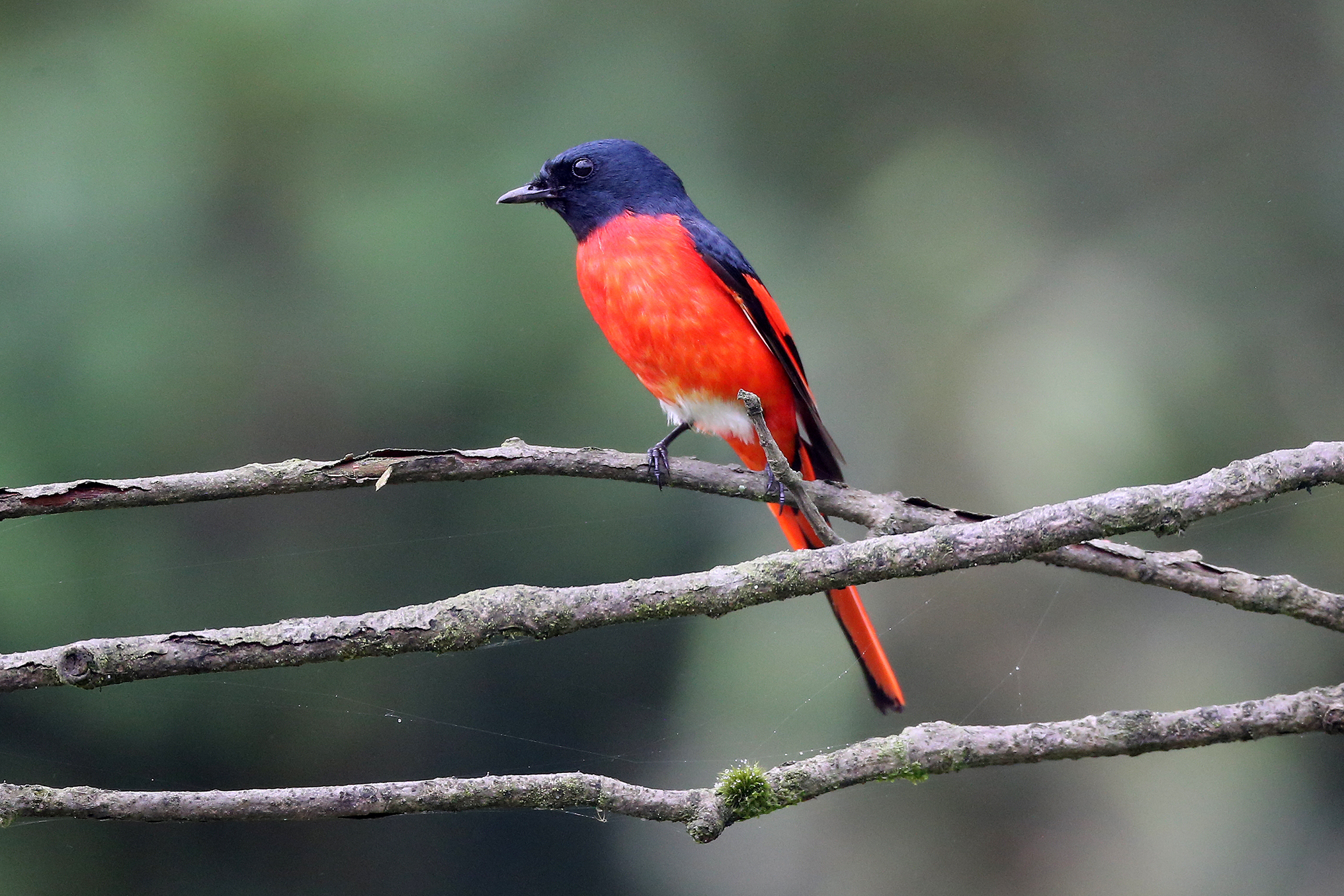 Long-tailed minivet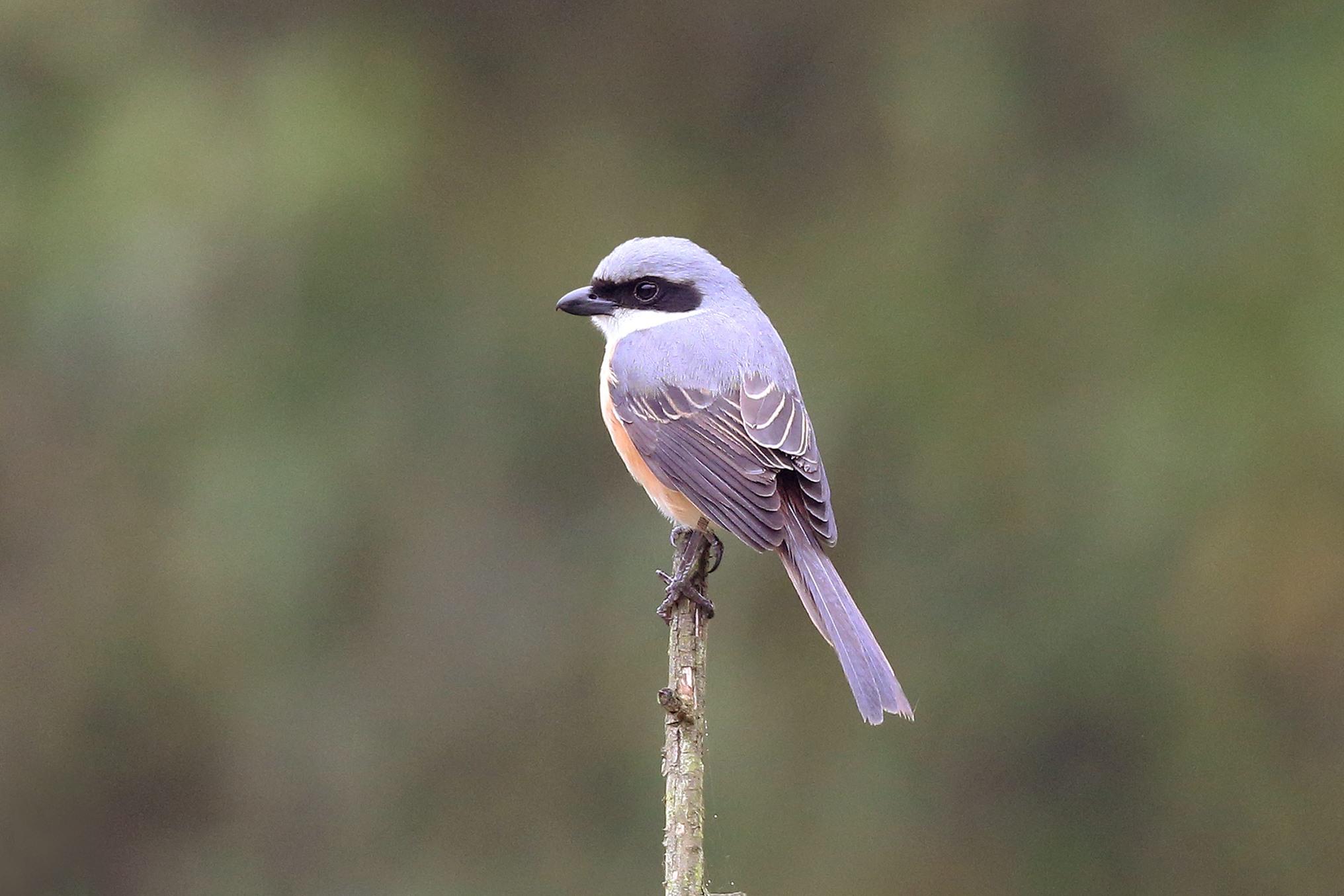 Gray-backed shrike
Old abandoned high road from Sichuan to Tibet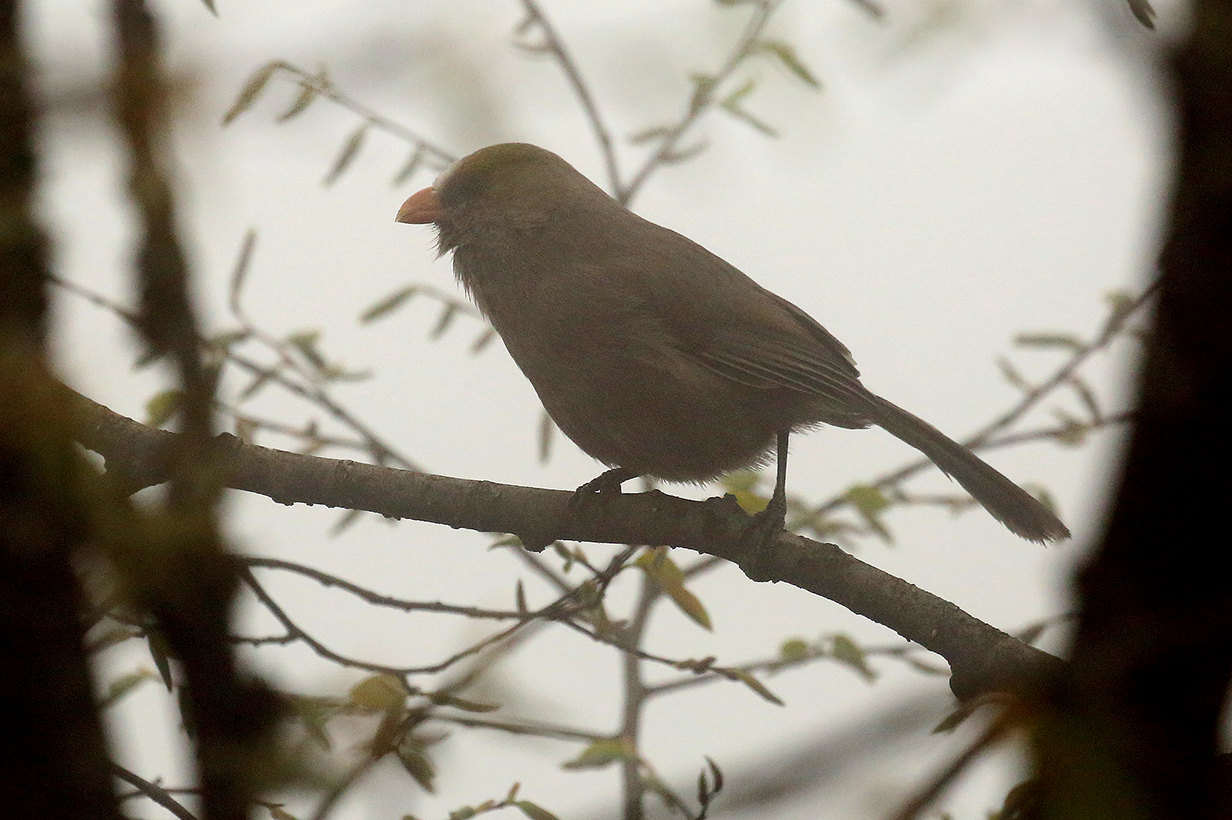 Great parrotbill (This is John's life bird; Mary got her life bird at Longcanggou.)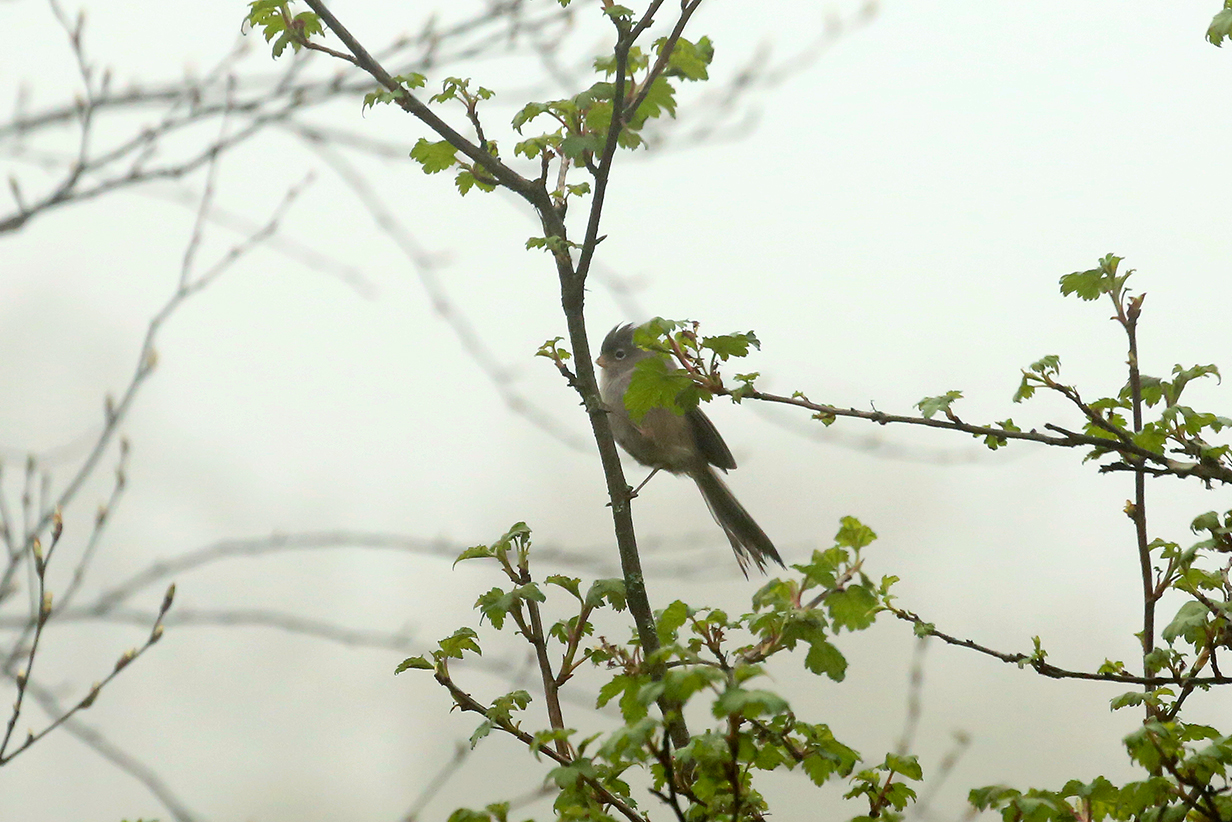 Gray-hooded parrotbill (This is our life bird.)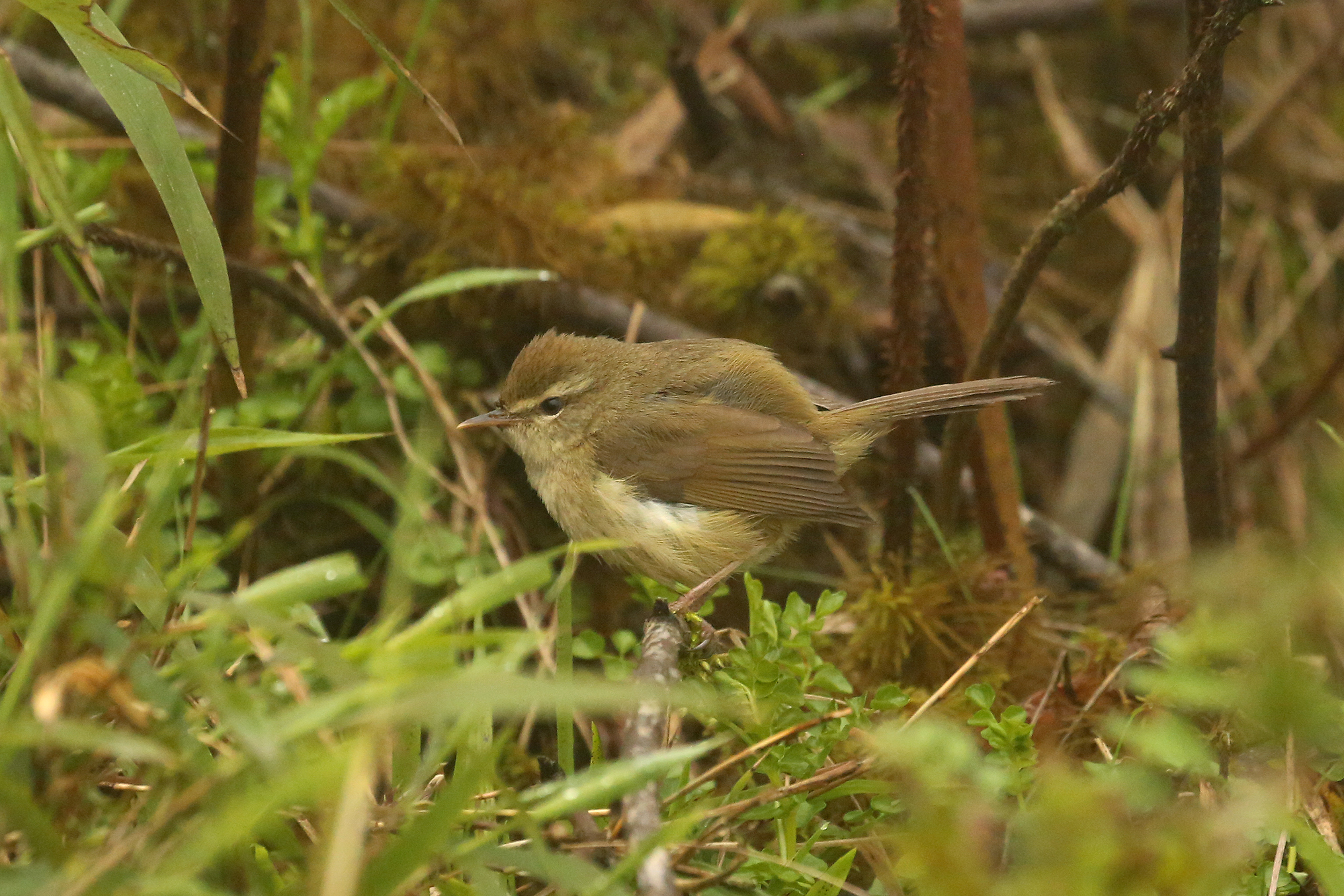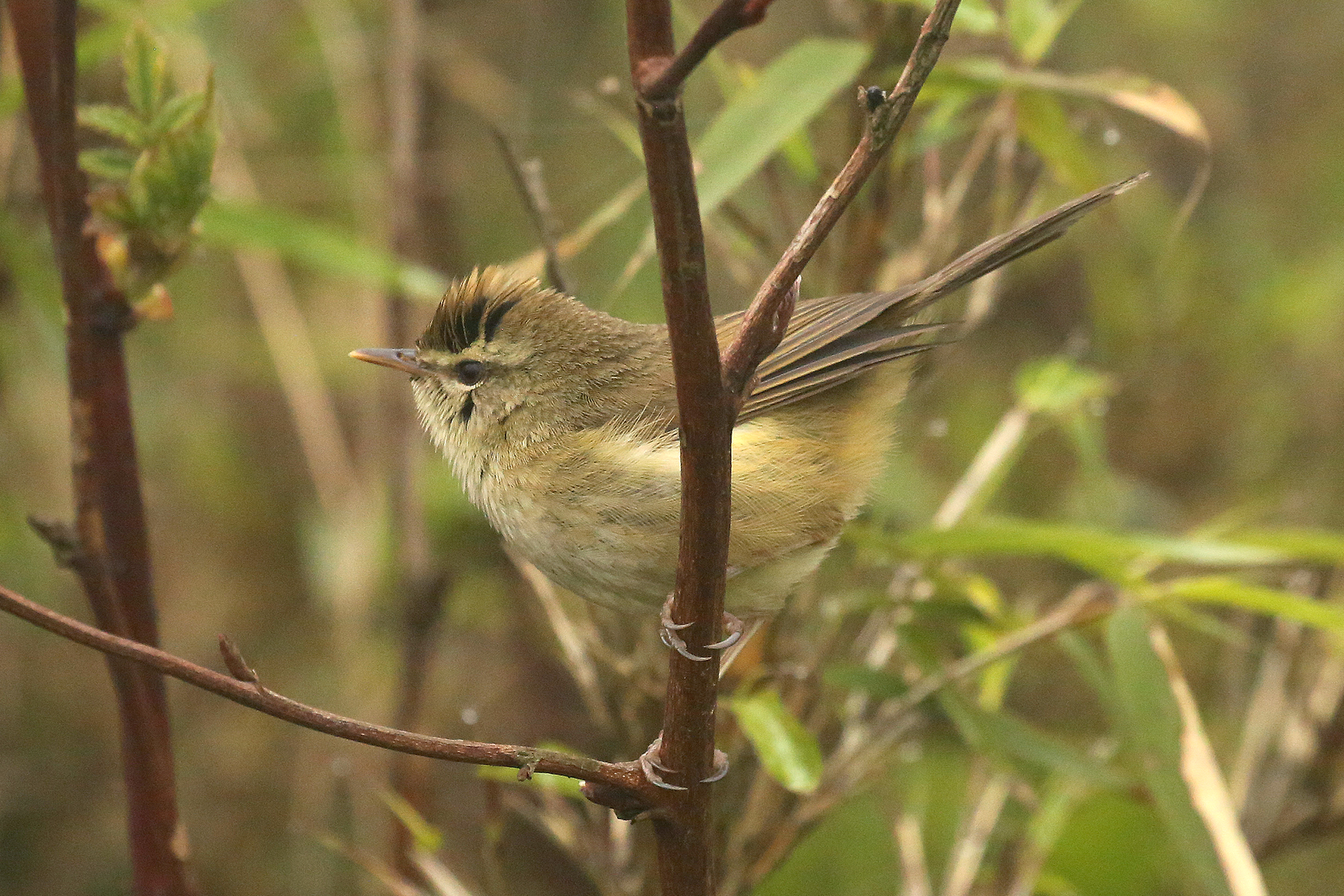 Aberrant bush-warbler (This is our life bird, which reacted strongly to tape. So the ID is relatively secure.)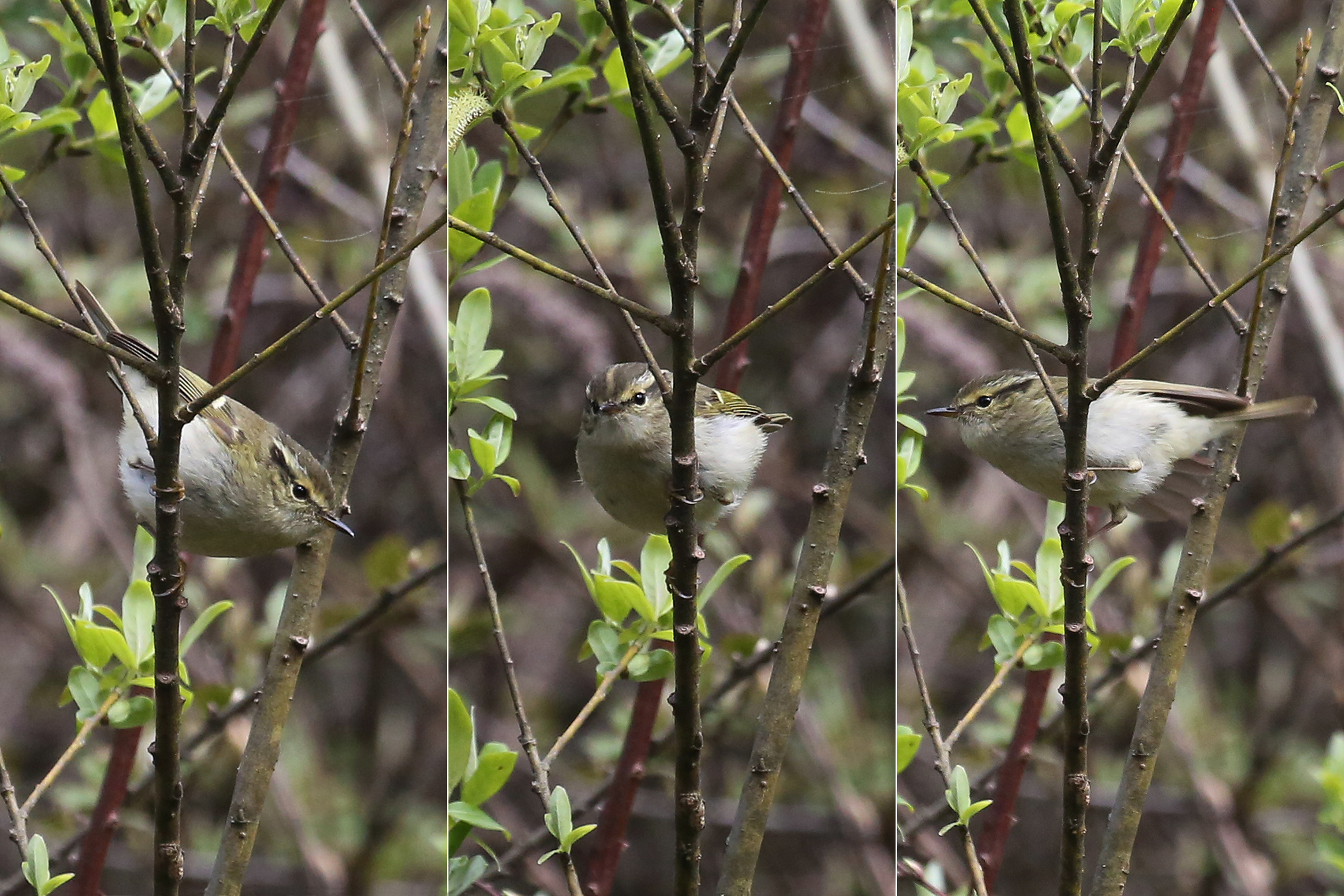 Sichuan leaf warbler (This is our life bird. Again, it reacted strongly to a taped call by this species. Comparing to pictures on the WWW - not always reliable - the ID looks pretty good morphologically, especially including the form of the crown stripe, eye stripes, partial eye ring, and wing bars. The bill looks a bit longer than those in published pictures, though in these pictures, the base of the lower mandible is pretty dark, as we understand it should be. )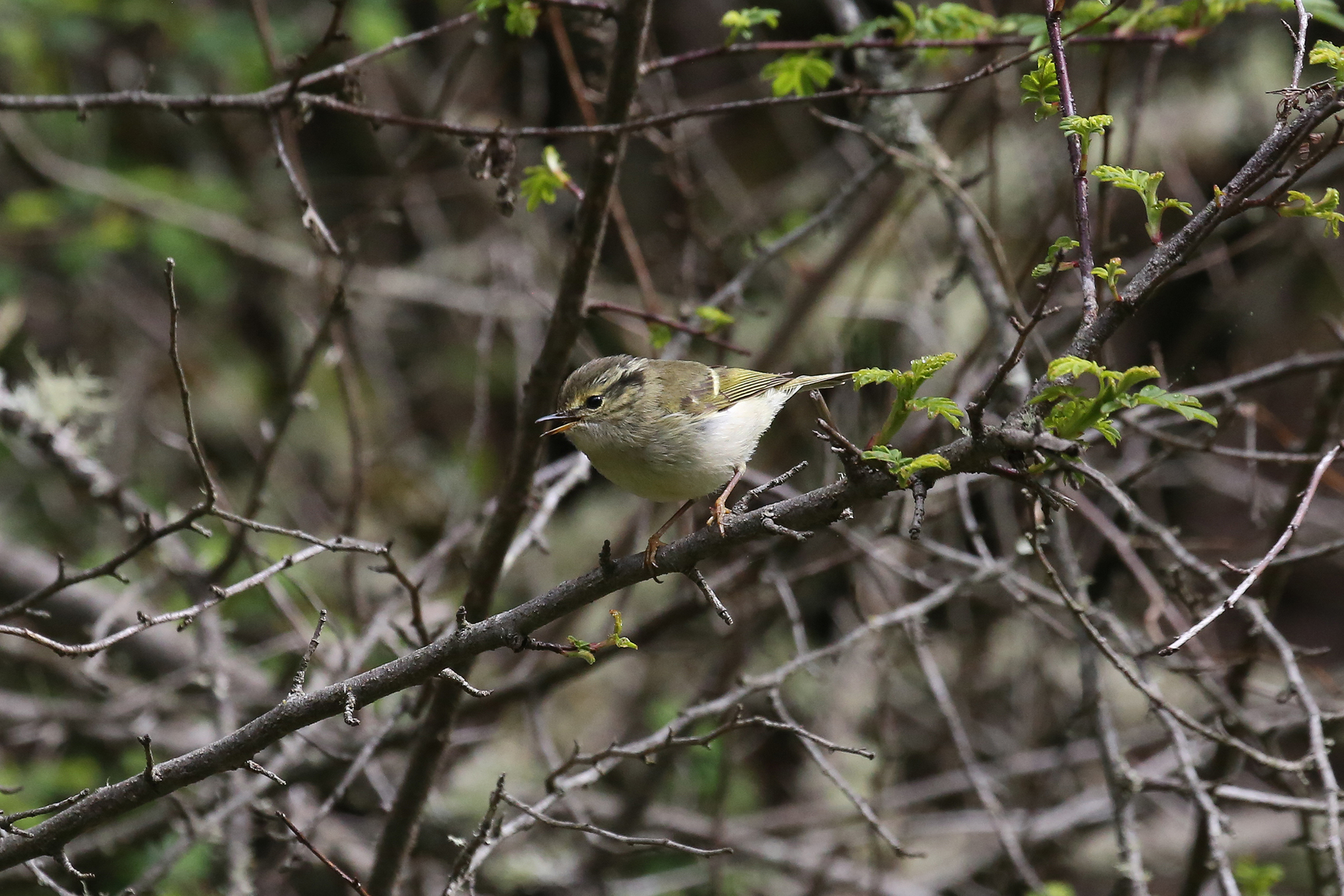 Sichuan leaf warbler (This is the same bird. Again, the eye stripes and wing bars look OK. But here, the bill looks definitely surprisingly long, and the base of the lower mandible is not dark in this light. I don't quite know whether the ID is in doubt or whether the published pictures show - for example - a different subspecies. Comments welcome.)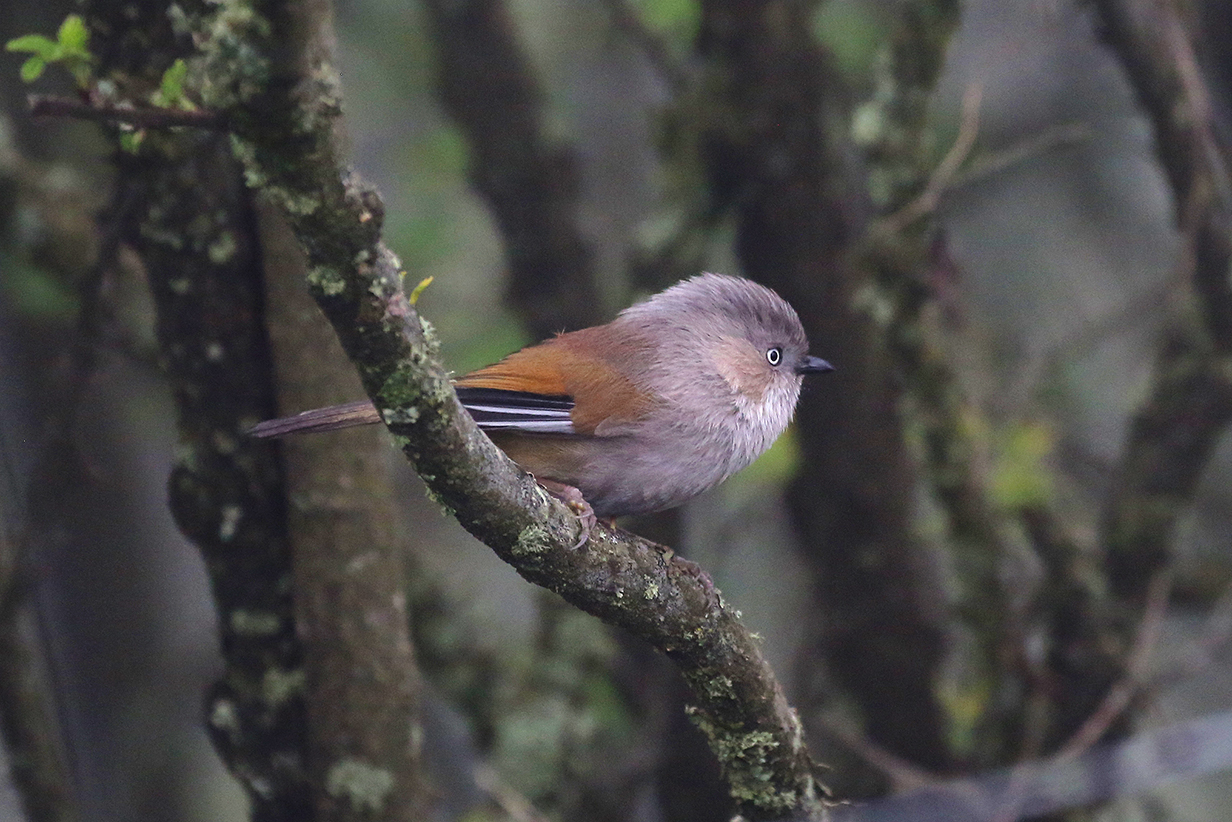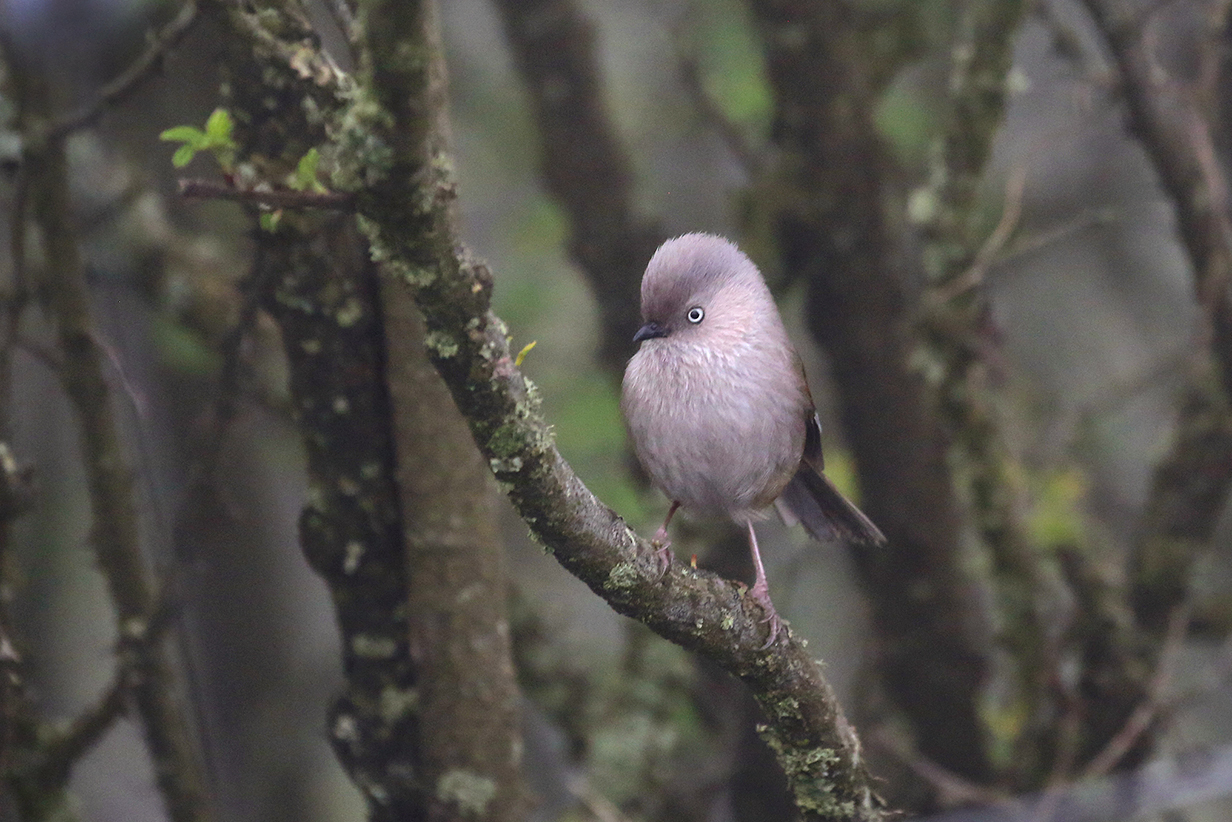 Gray-hooded fulvetta (also called Manipur fulvetta in India)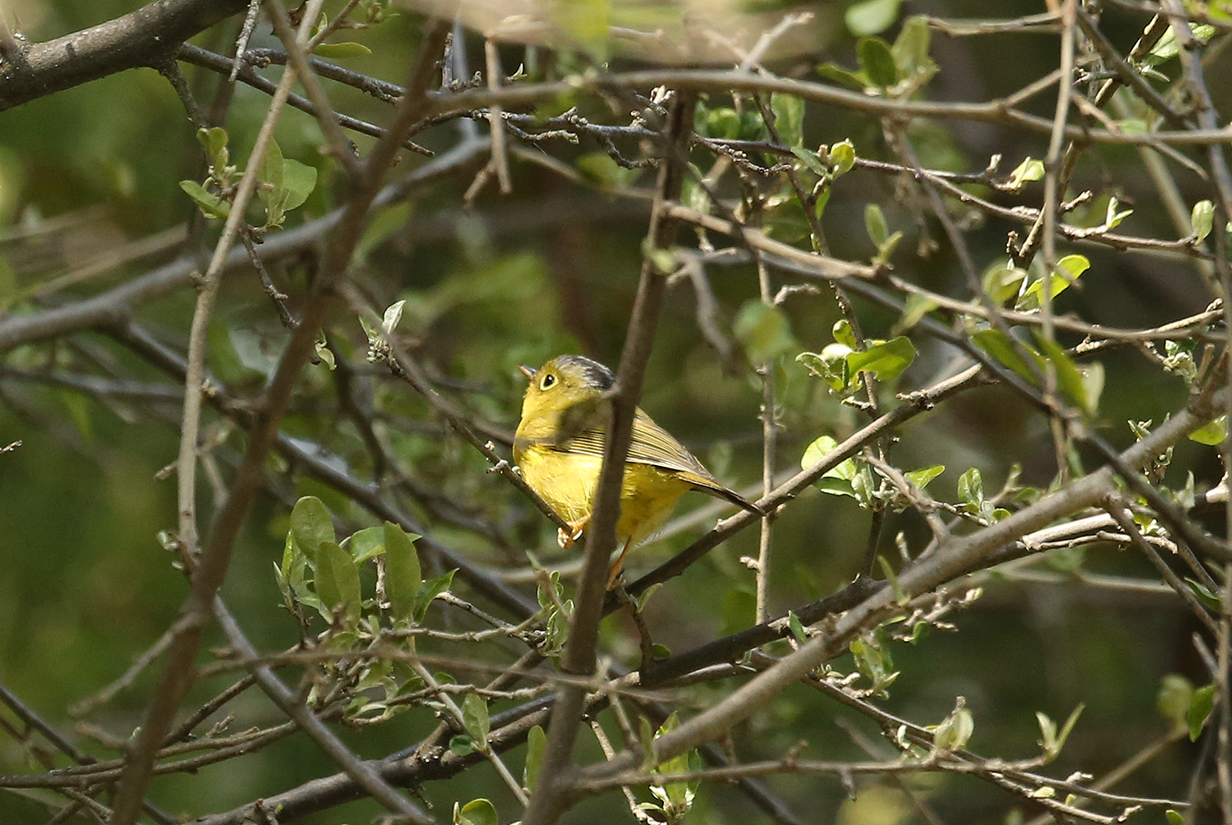 Marten's warbler (This is our life bird. It is the high-altitude relative of Bianchi's warbler, which we saw on Happy Island.)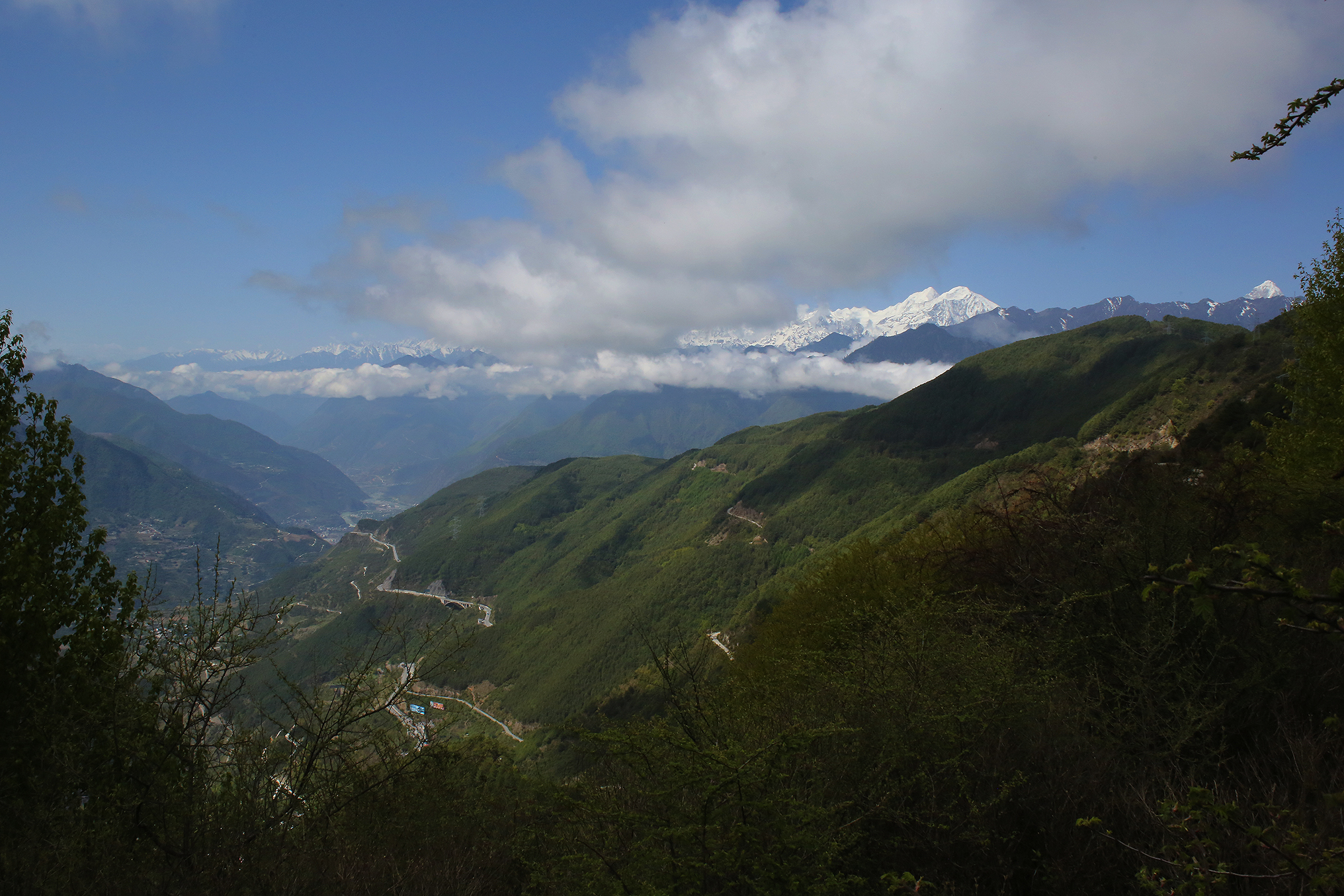 View from the old road to Tibet back eastward, the way we came. The scenery on this trip was frequently spectacular.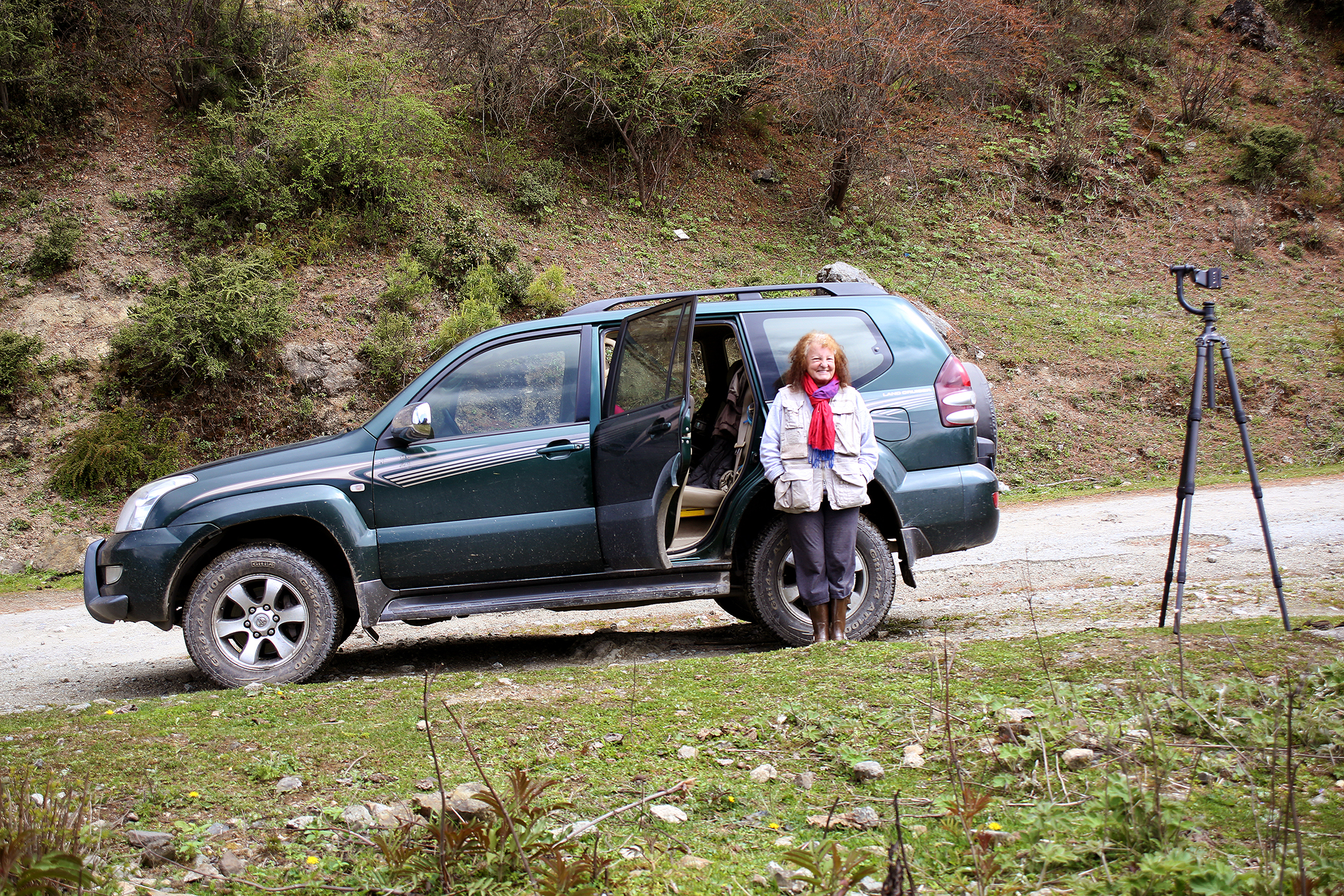 Mary and our vehicle at about the same place where the above picture was taken.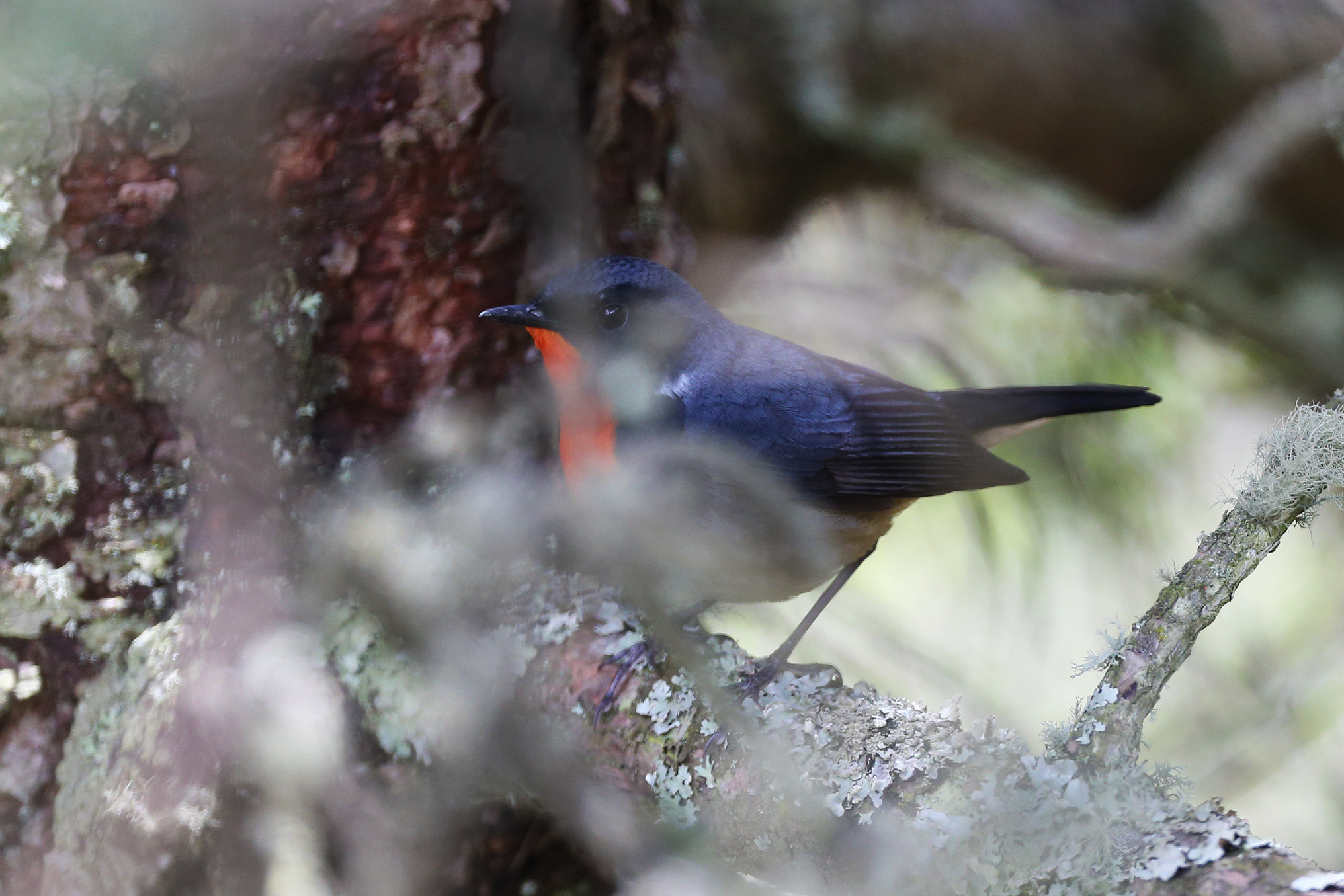 Firethroat (OK, it's a terrible picture, but this gorgeous male is our life bird. We saw it very well; we just didn't have time to set up the camera. This picture was taken from almost the same spot as the above picture of Mary.)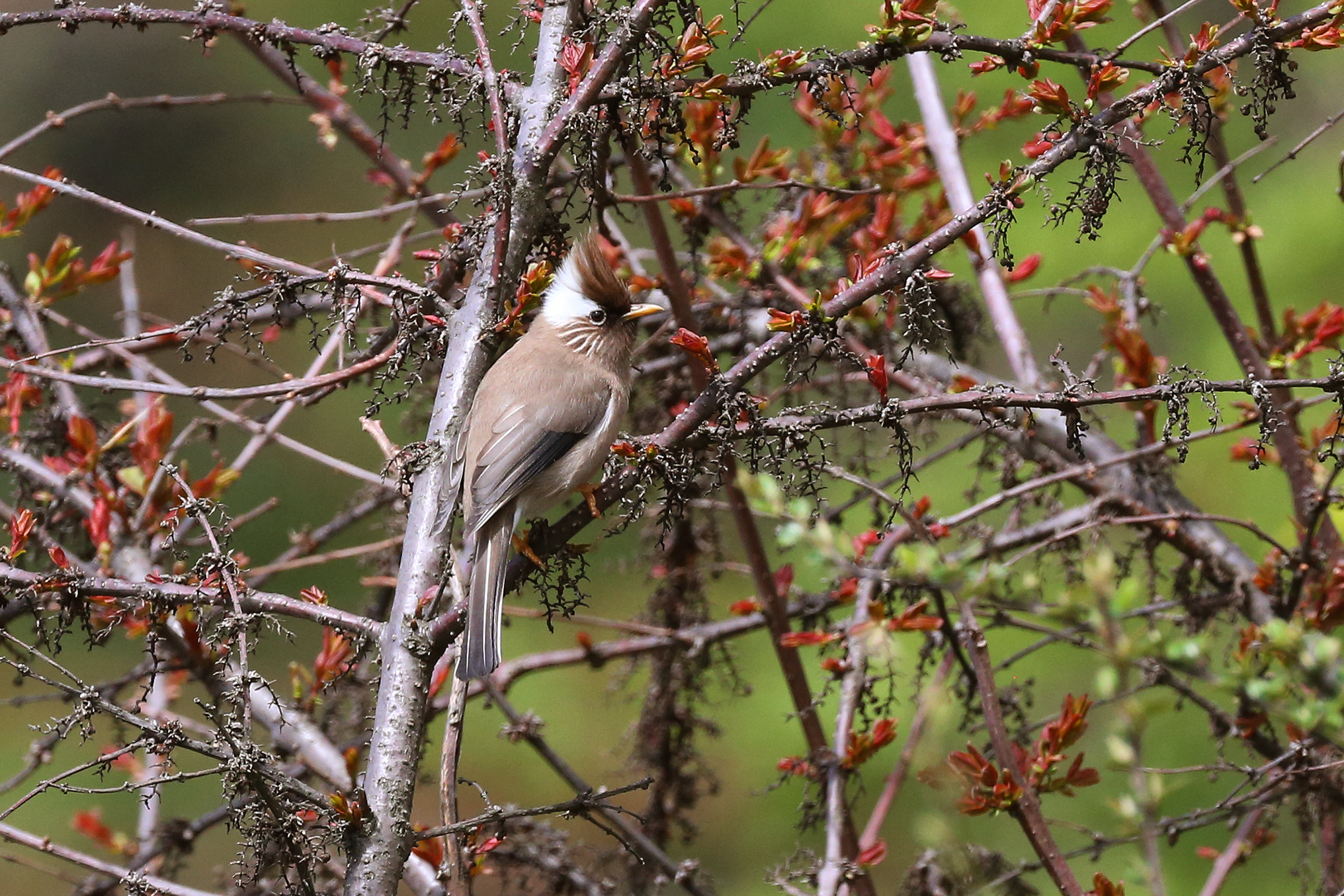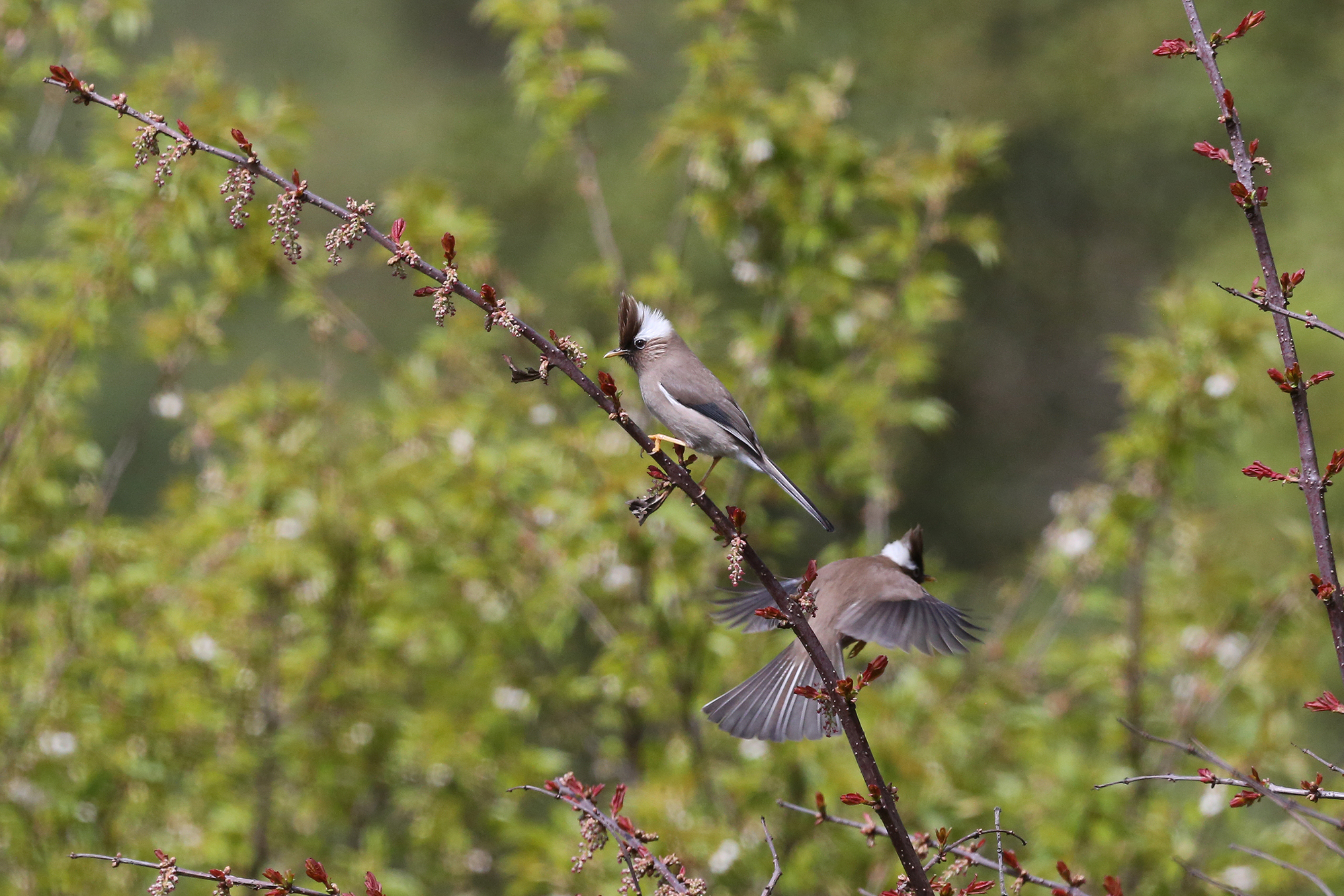 White-collared yuhina (also from the same place)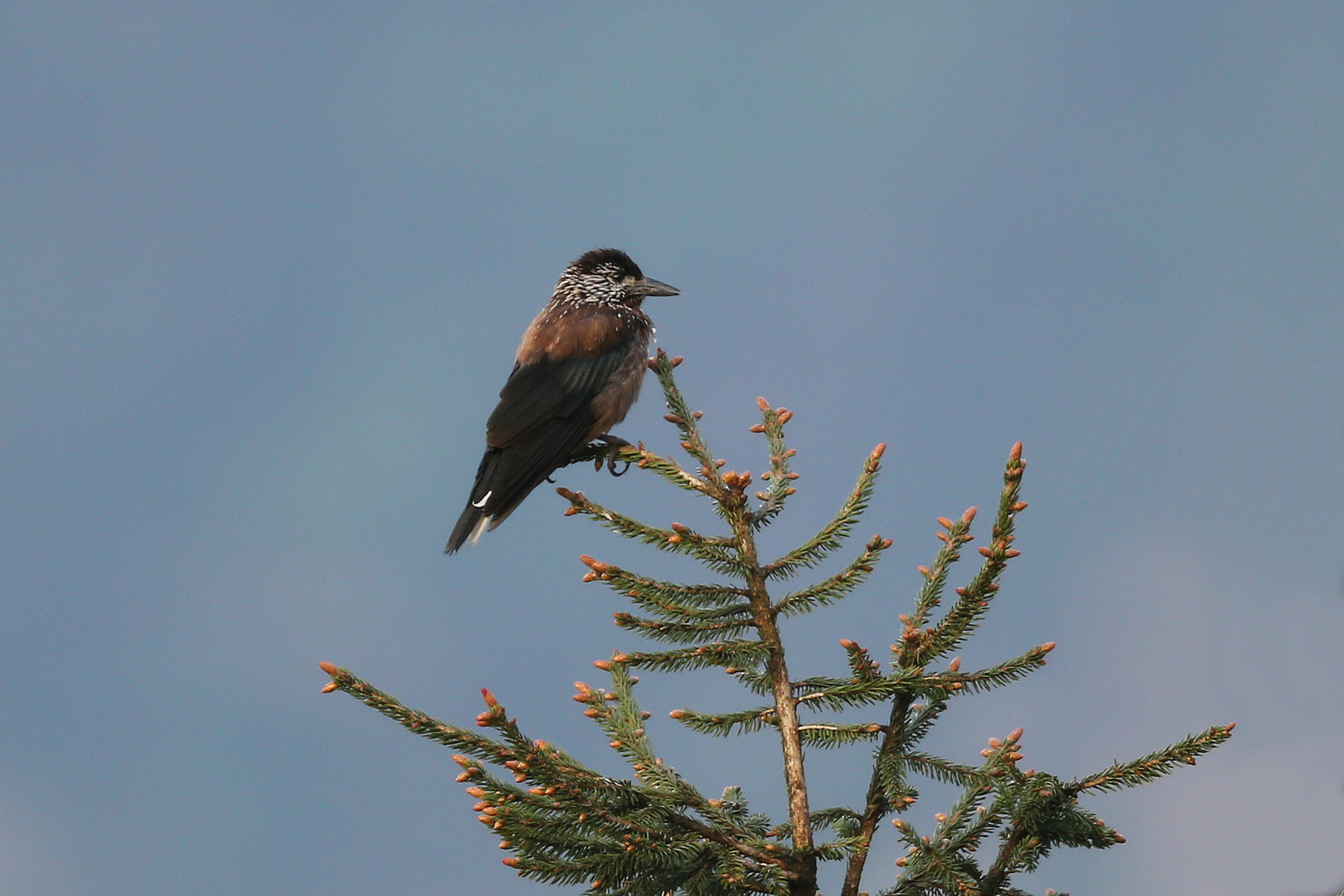 Spotted nutcracker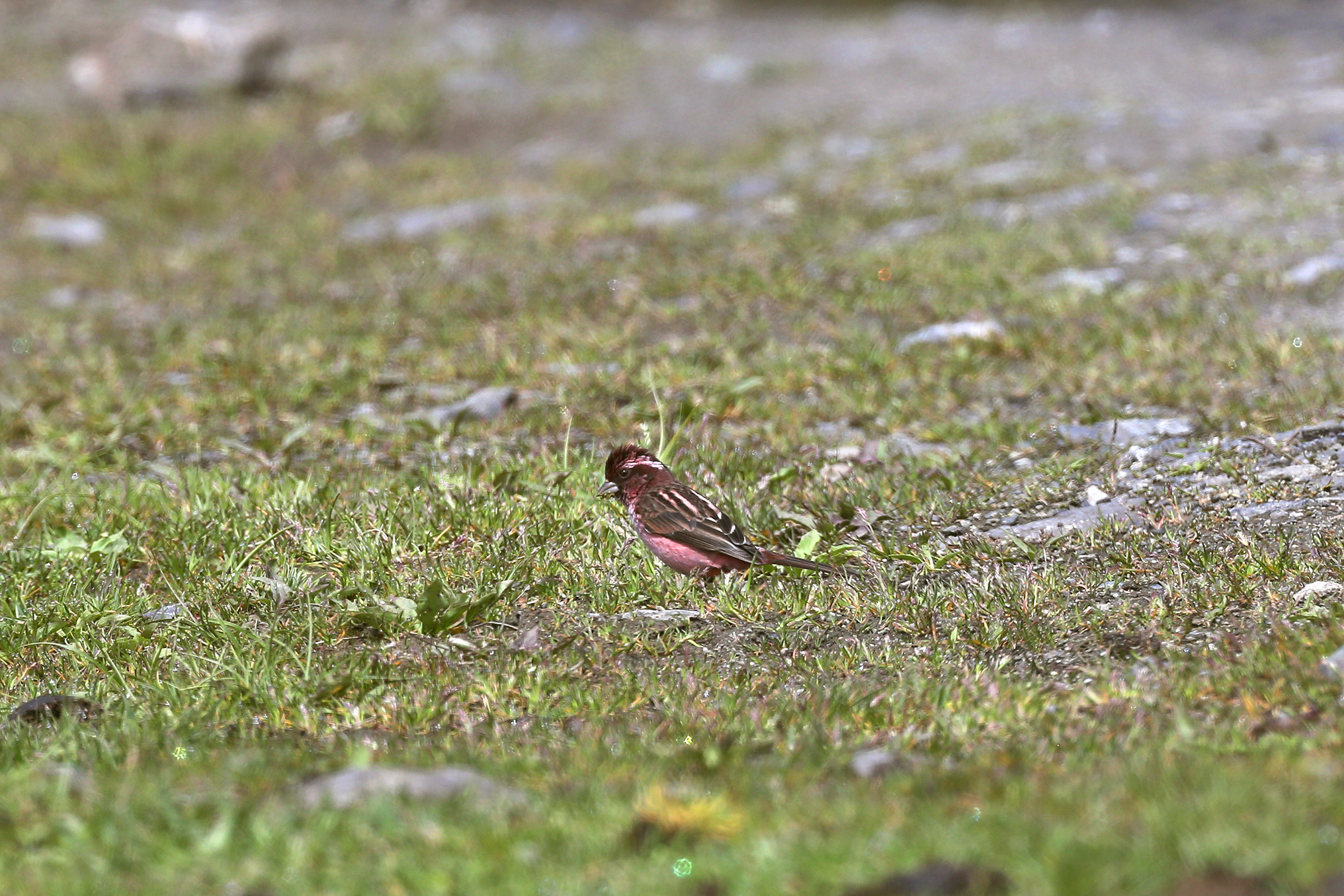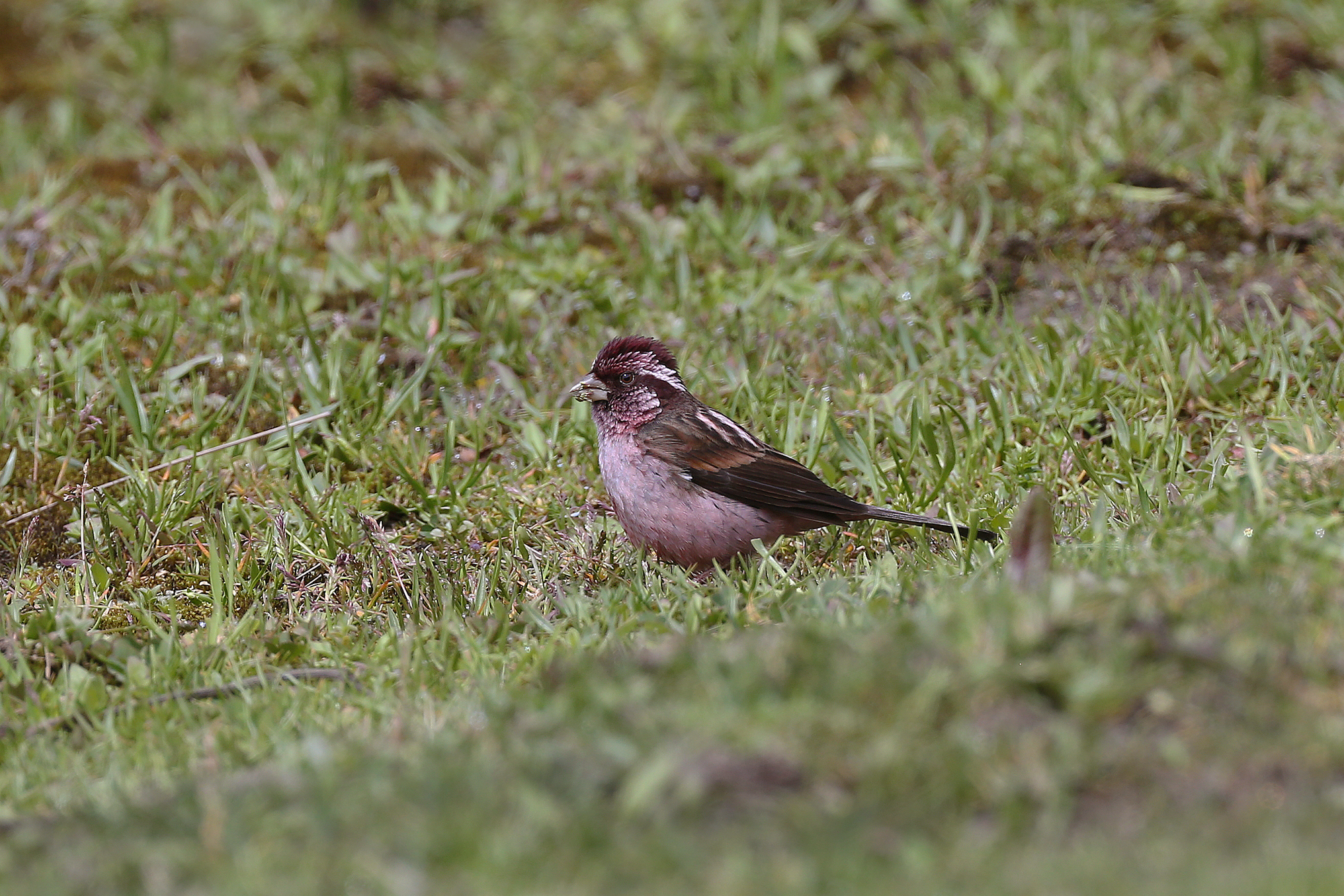 Sharpe's rosefinch (This male is our life bird.)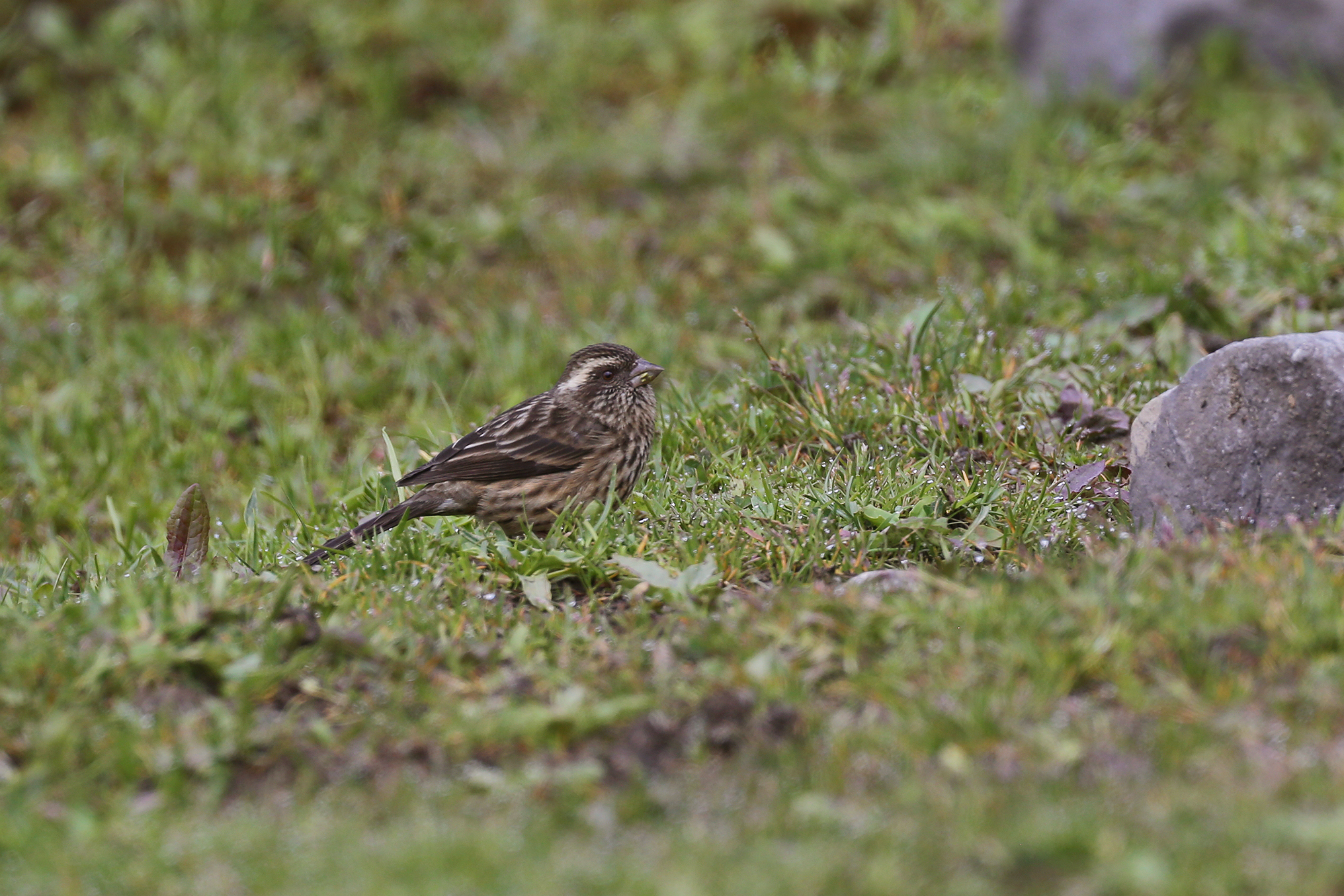 Sharpe's rosefinch (female)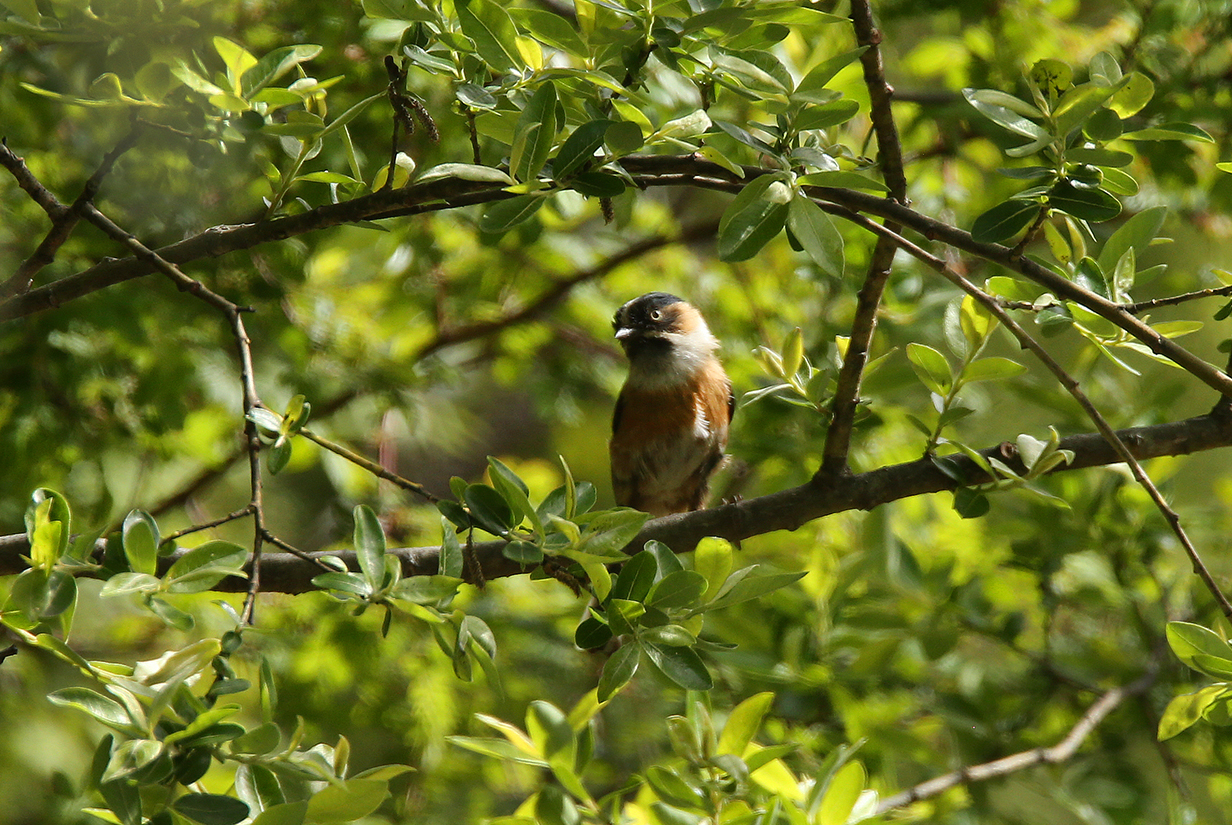 Black-browed tit (not a good picture, but the best that we got)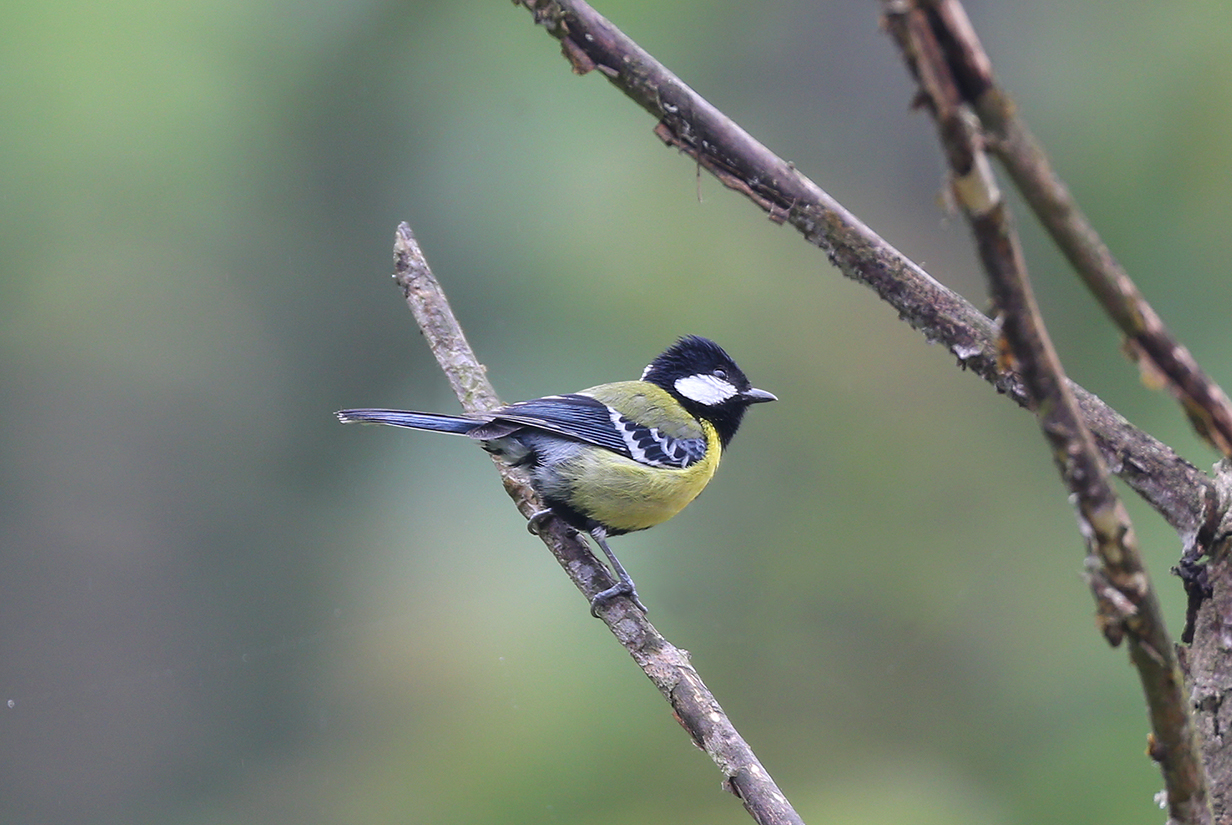 Green-backed tit
Near Kangding: From the hide for Lady Amherst Pheasant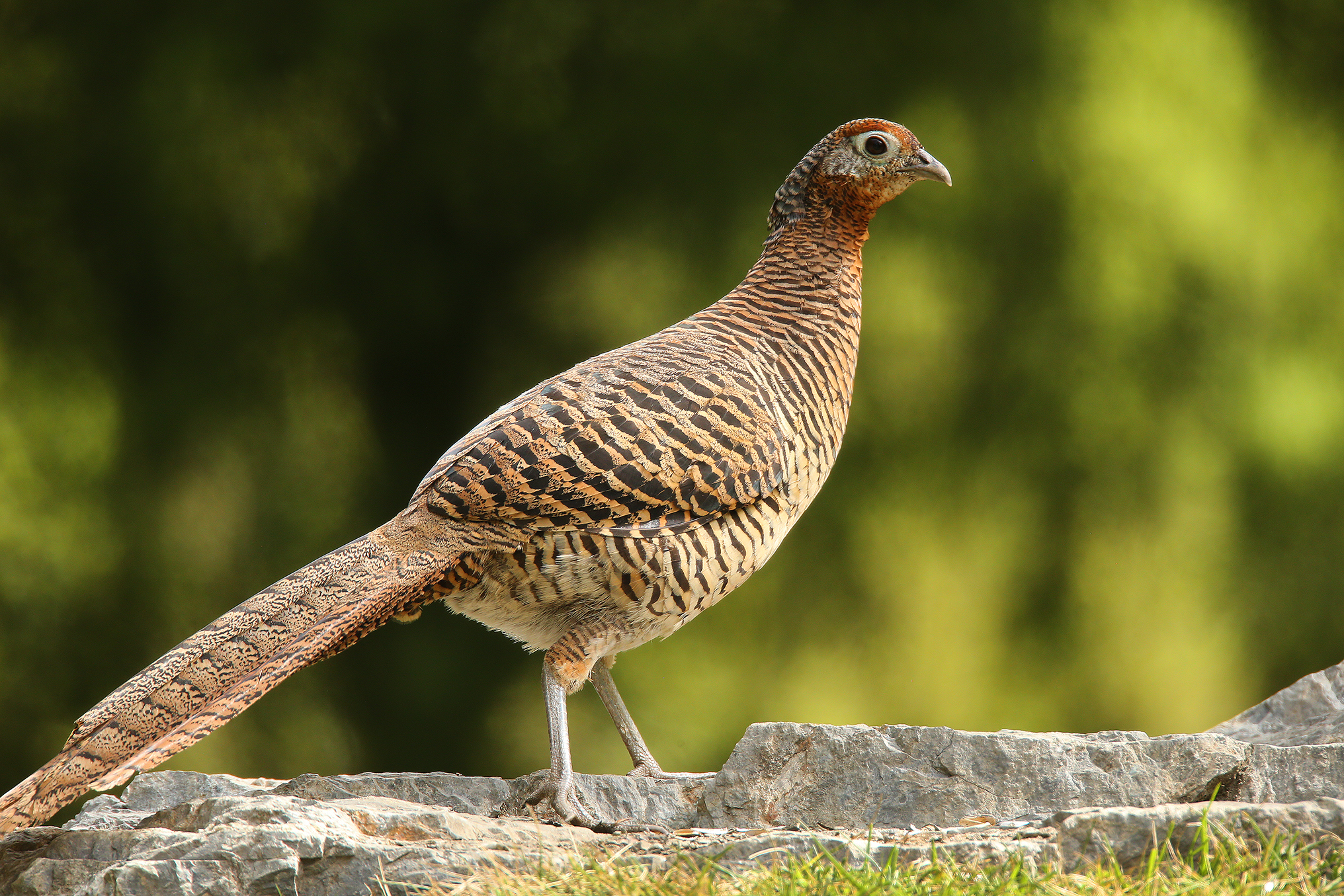 Lady Amherst pheasant: The first requirement for a successful courting performance is an adult female. No female: No action.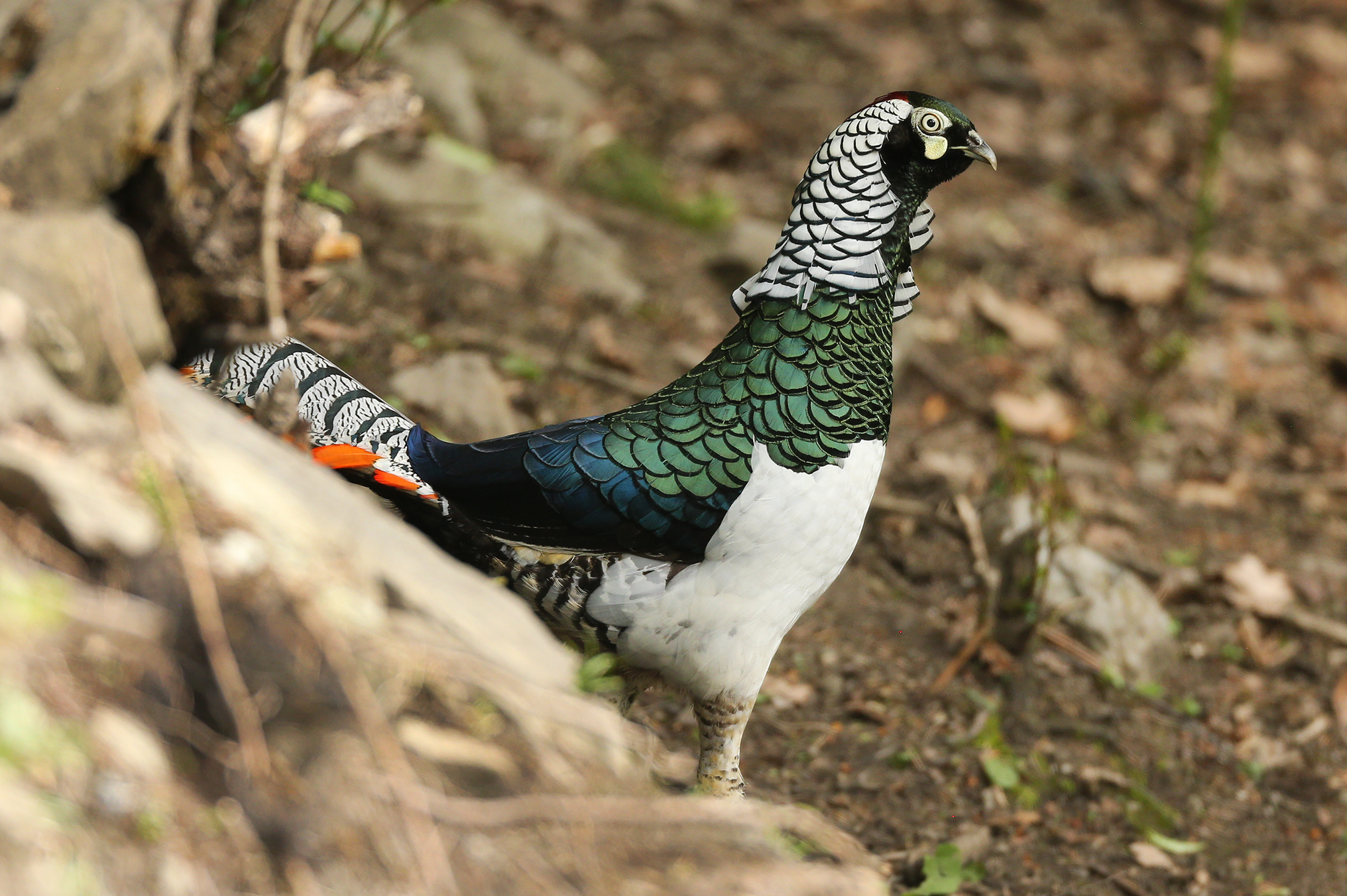 Lady Amherst pheasant:This is a male, newly arrived on stage and not yet primed to perform.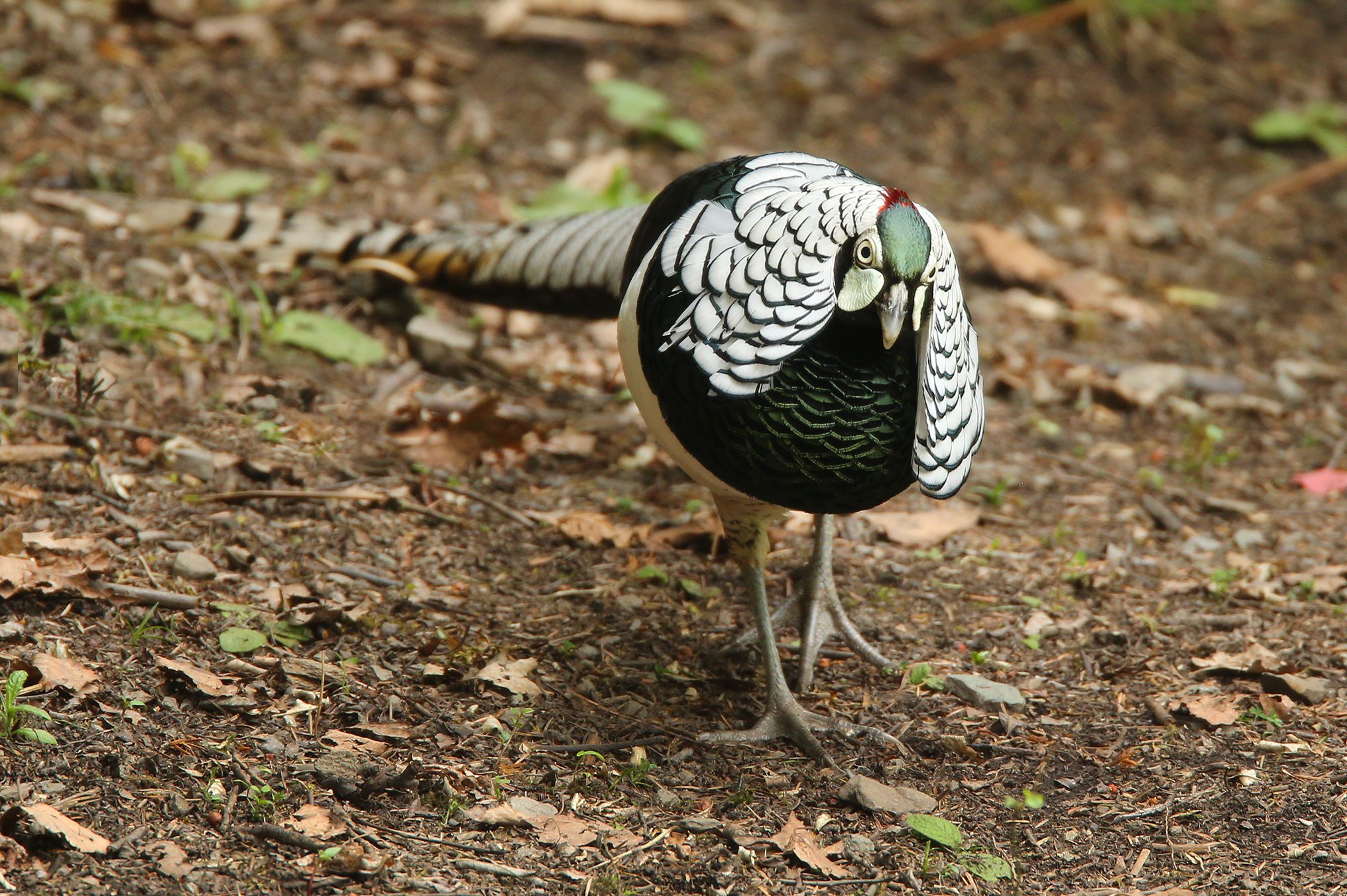 Lady Amherst pheasant getting "pumped up" to perform.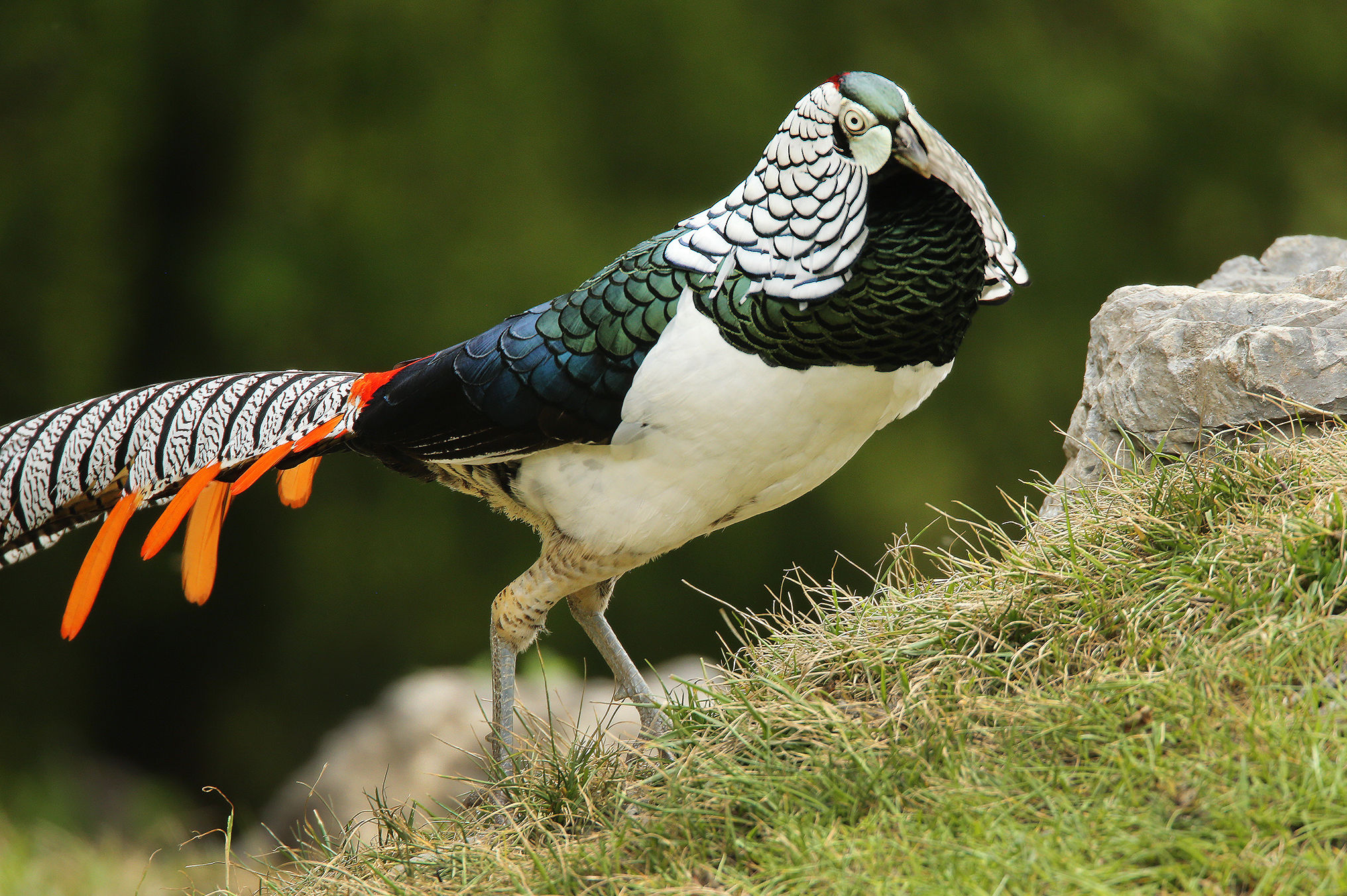 Lady Amherst pheasant ... almost ready.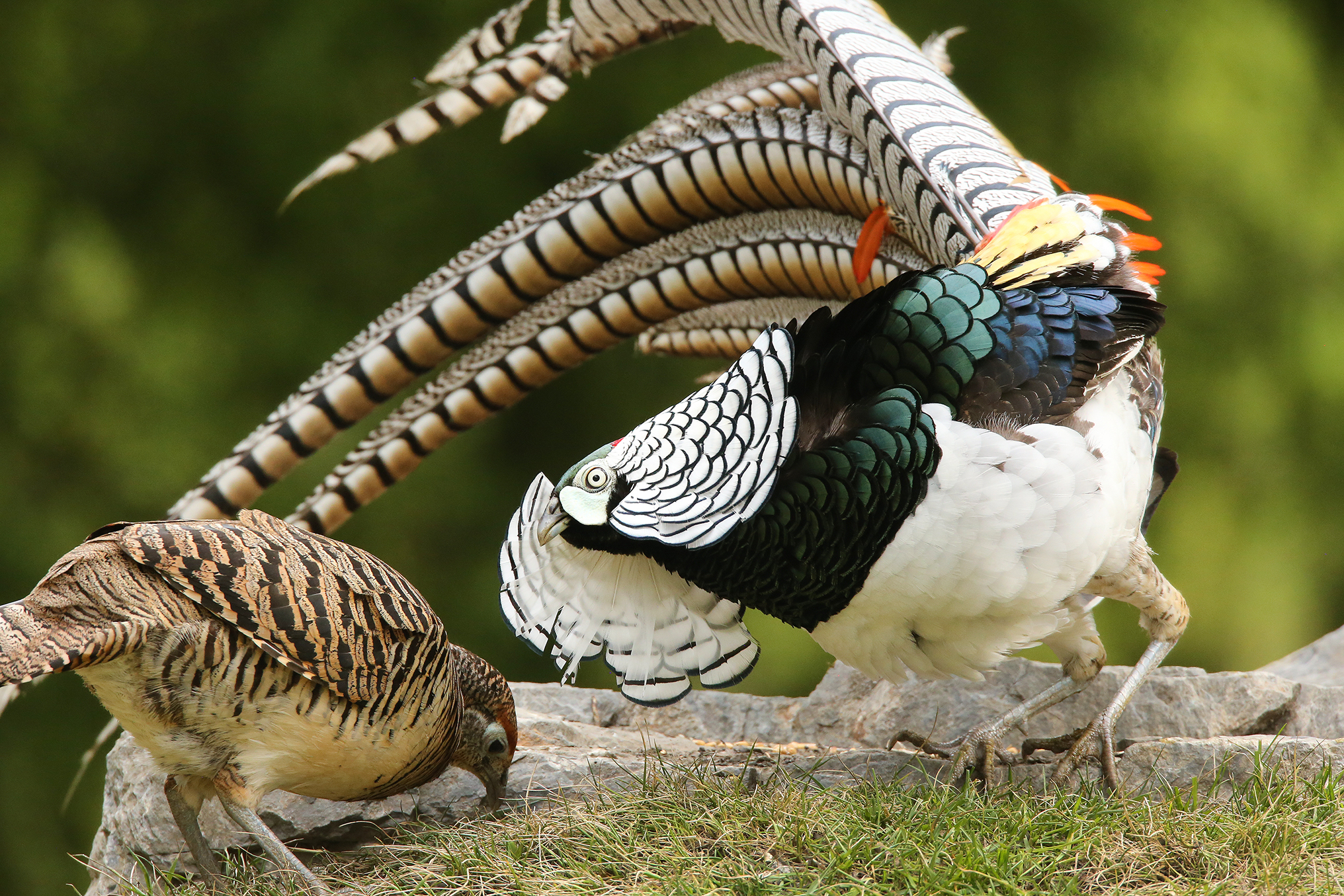 Lady Amherst pheasant: and AWAY we go! Interest by the female is not mandatory, nor indeed expected at the beginning.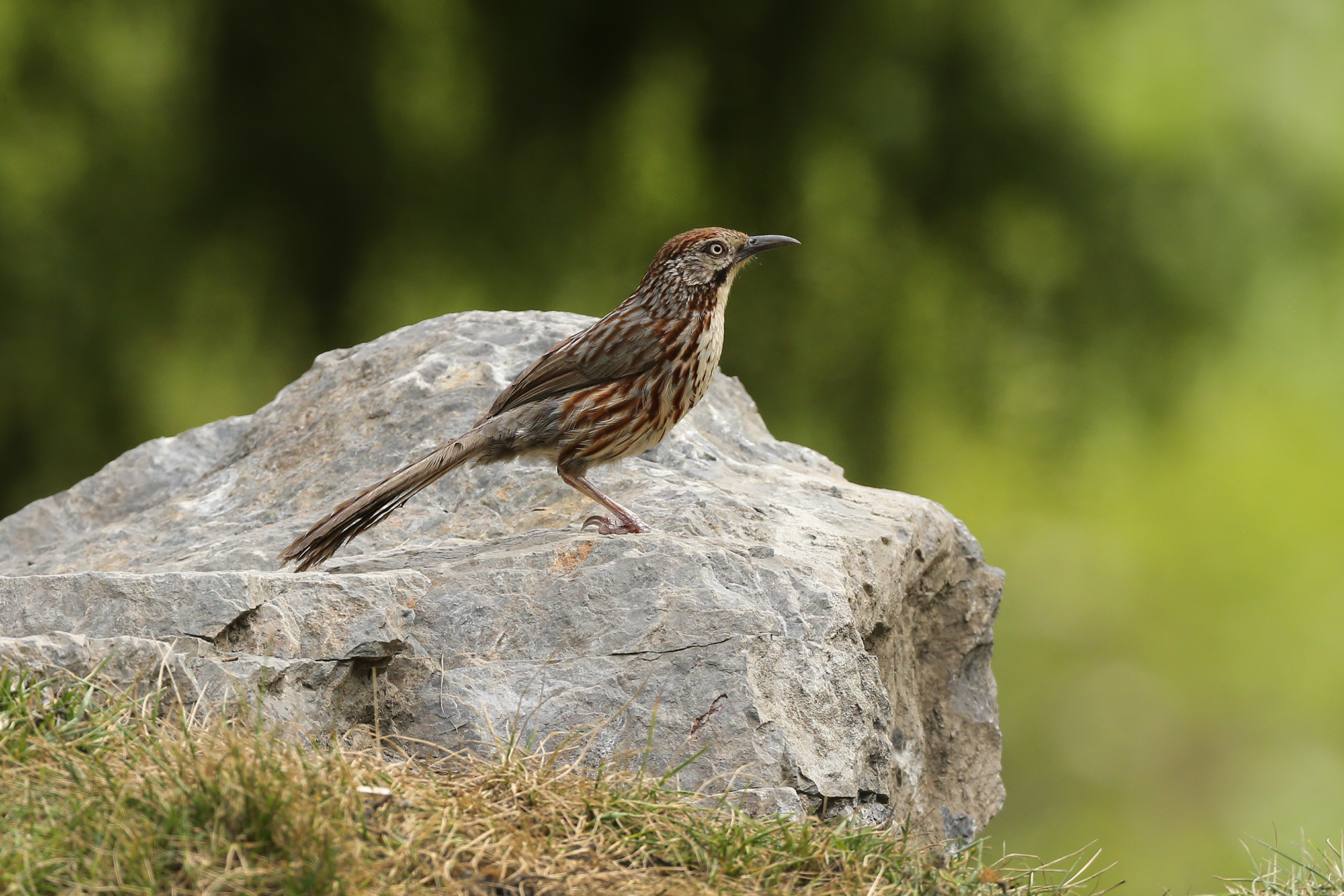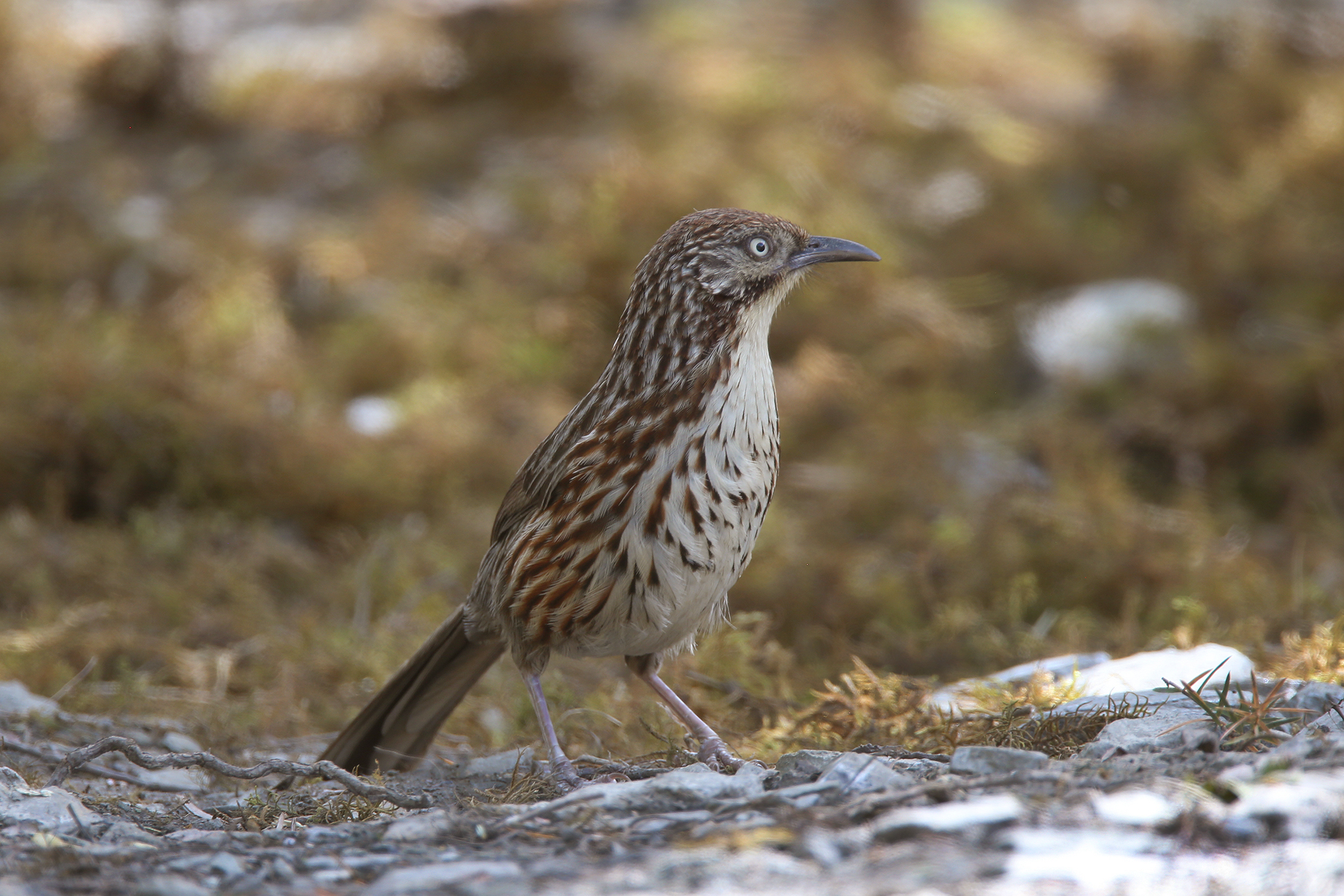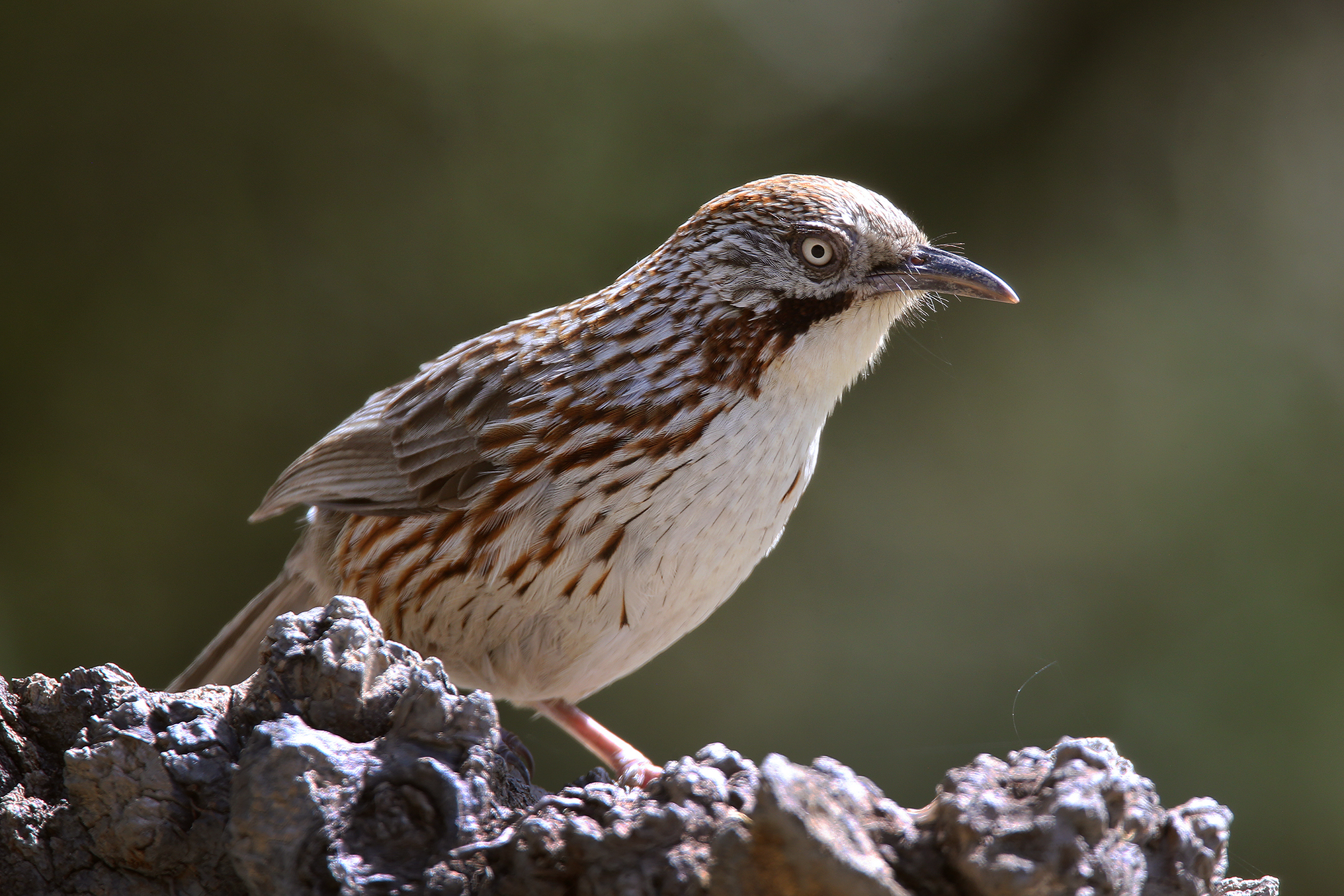 Chinese babax (This is part of a small flock of our life birds.)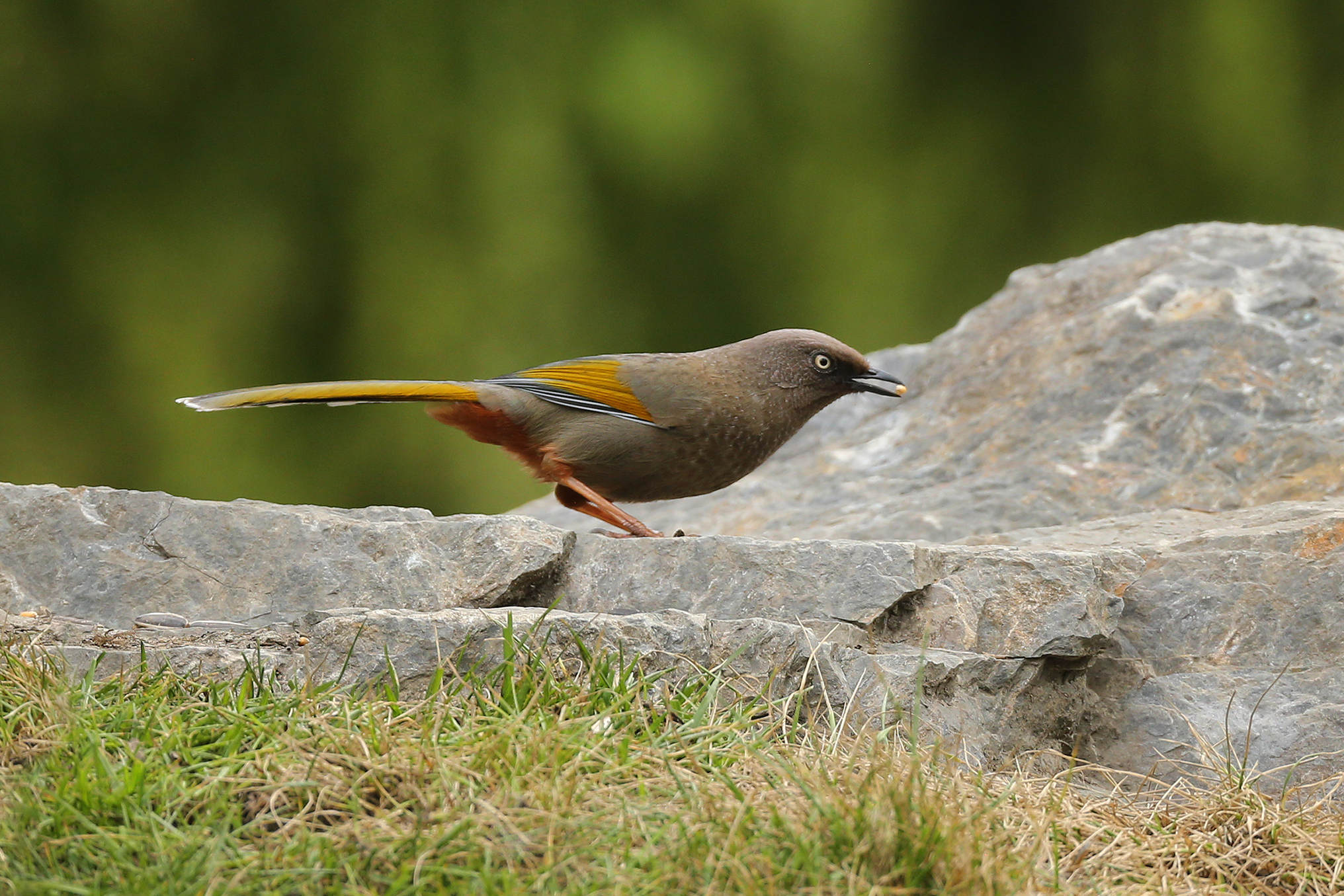 Eliot's laughingthrush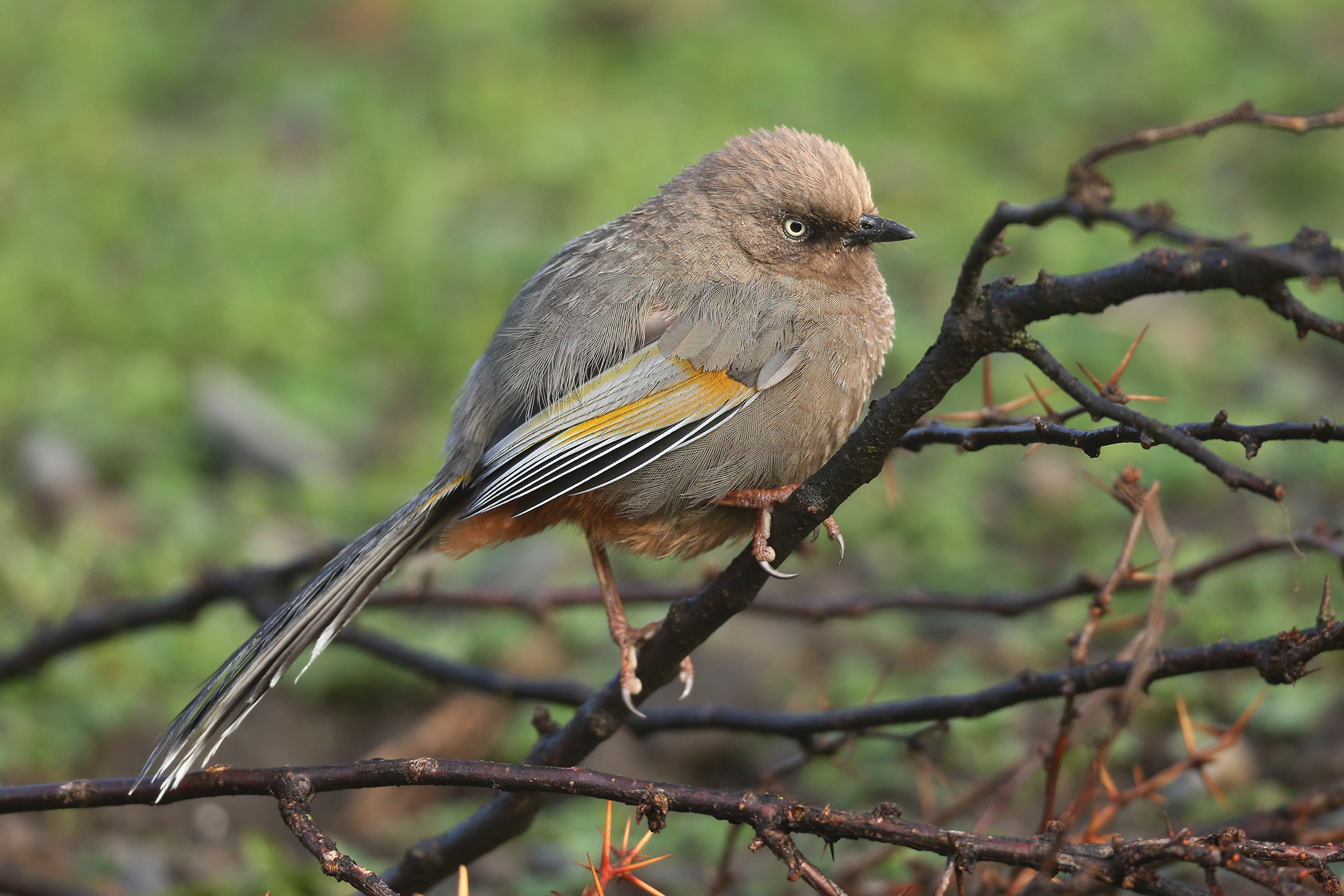 Eliot's laughingthrush (This was taken at the place where we saw White-eared pheasant, below. It is probably a young bird; the colors on the wings are not well developed.)
Jiagenba Area

This is the view in the early morning near the place where we saw White-eared pheasant, Blood pheasant, Chinese white-browed rosefinch, Giant laughingthrush, Himalayan rubythroat, and Robin accentor, all life birds.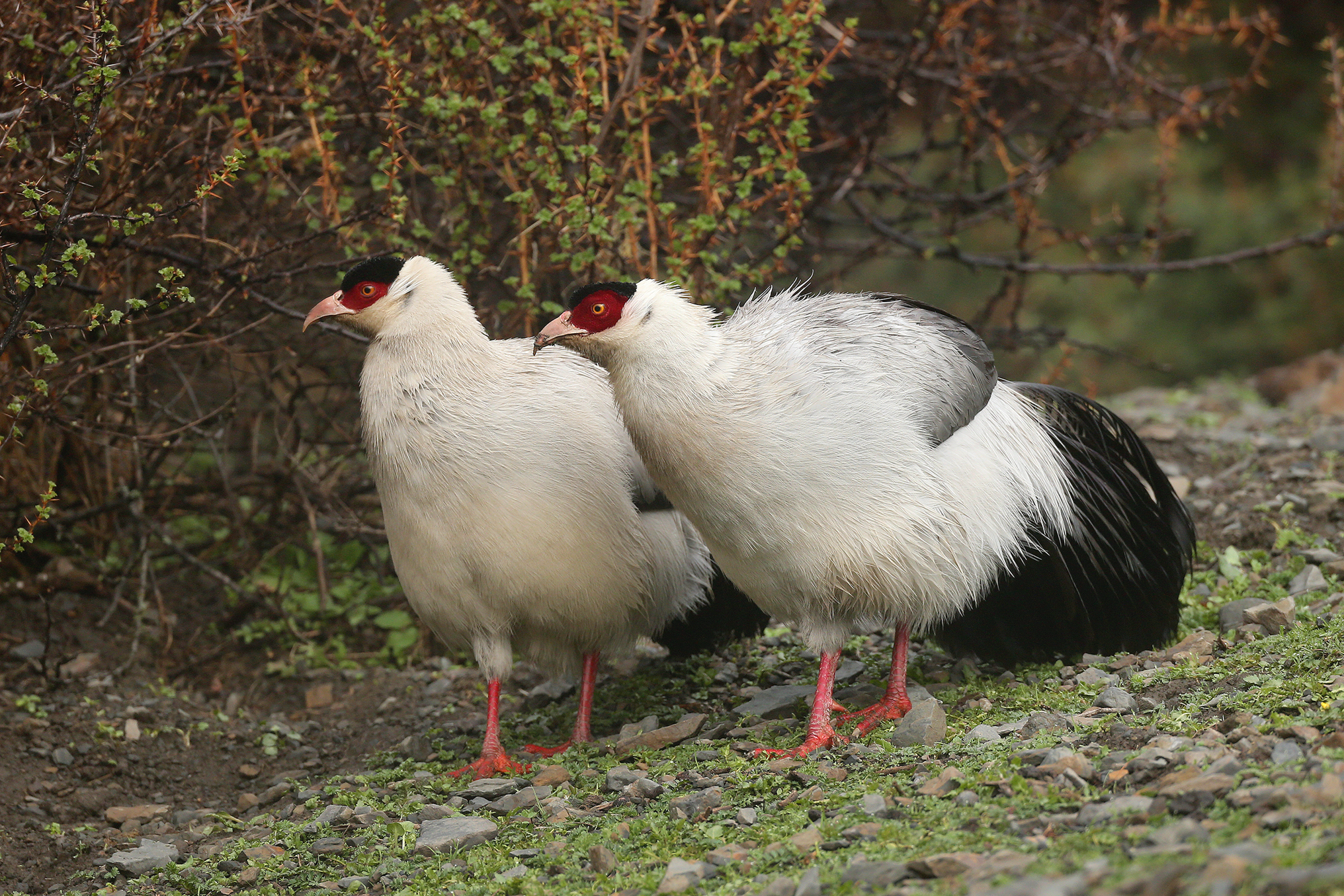 White-eared pheasants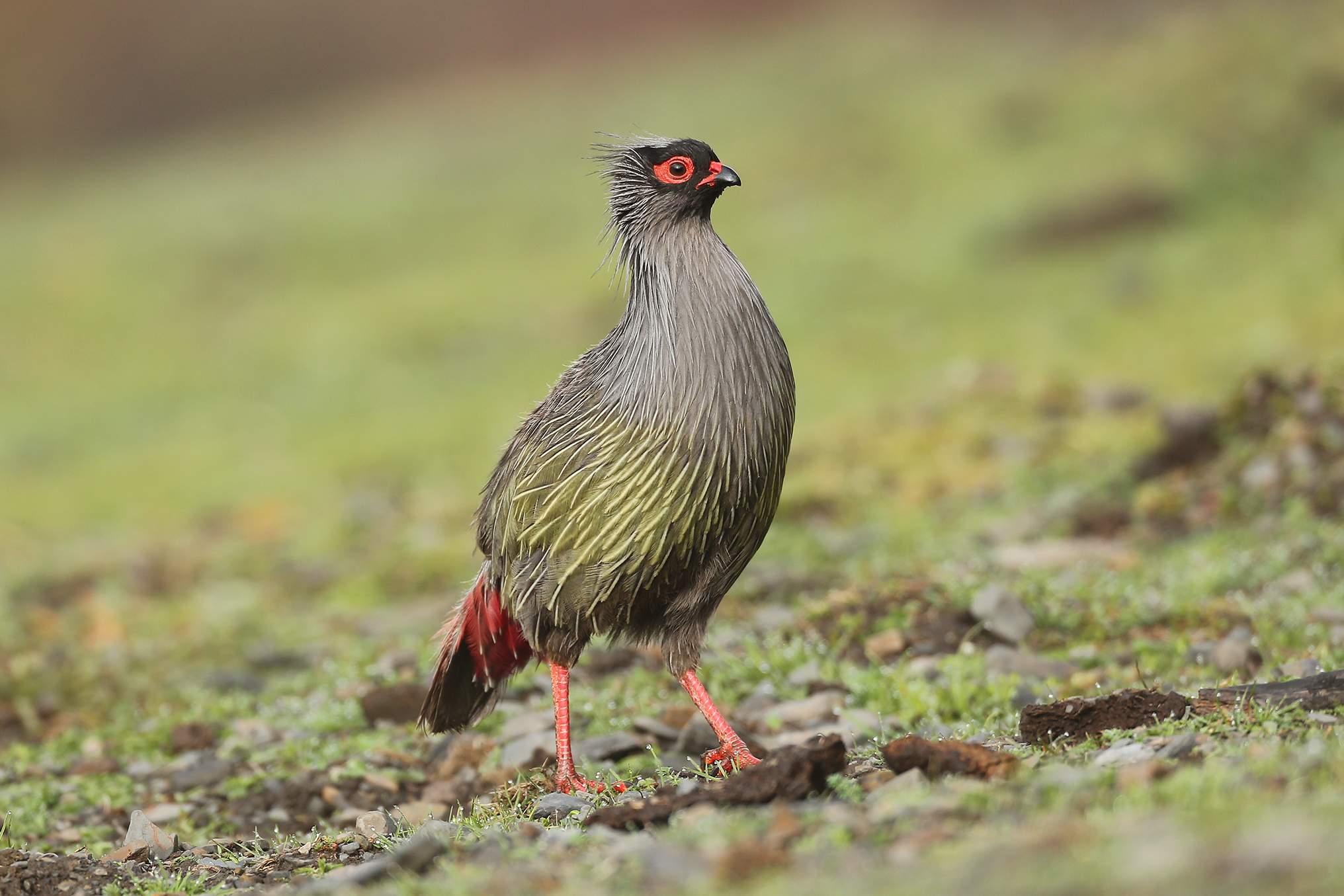 Blood pheasant (This is our life bird.)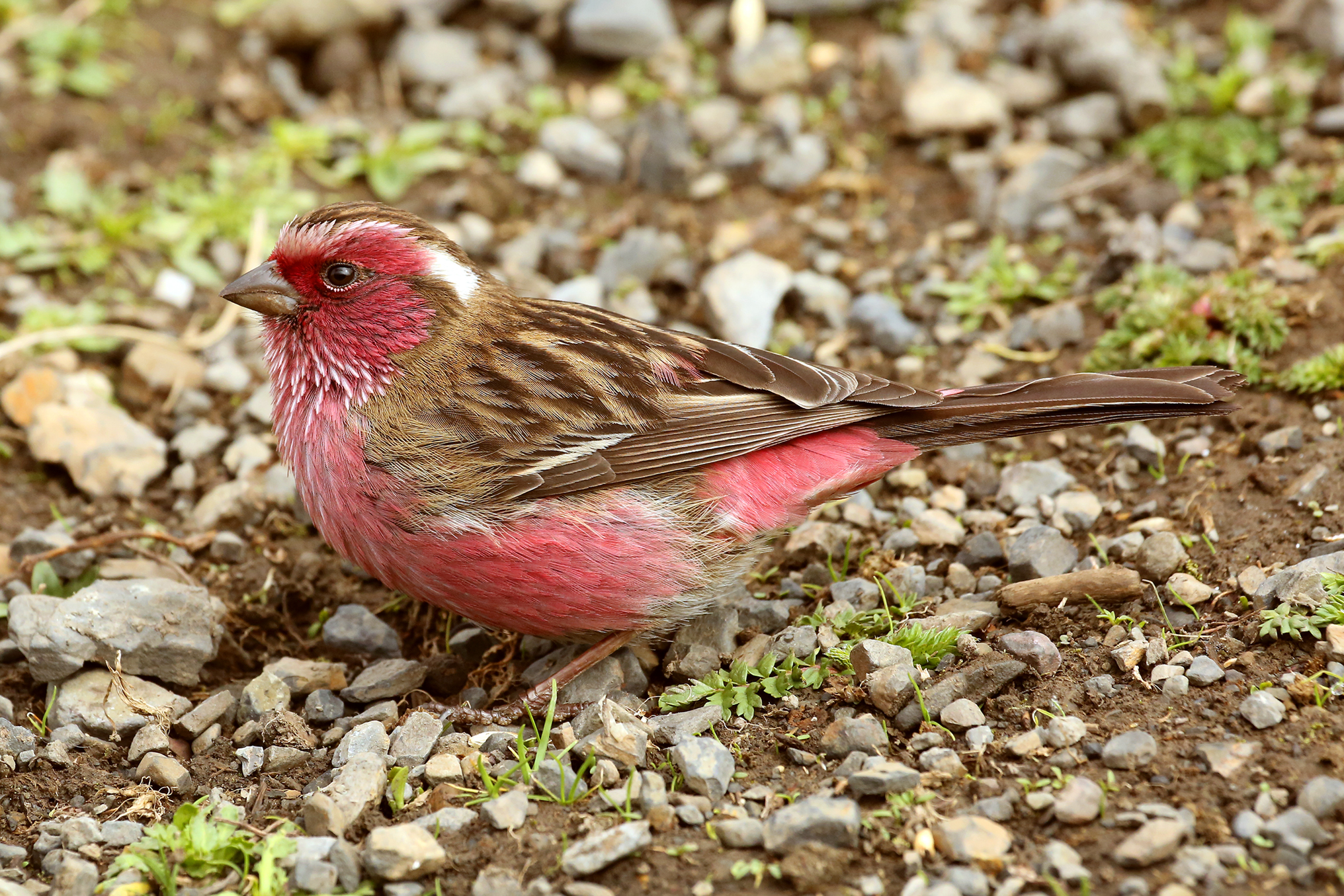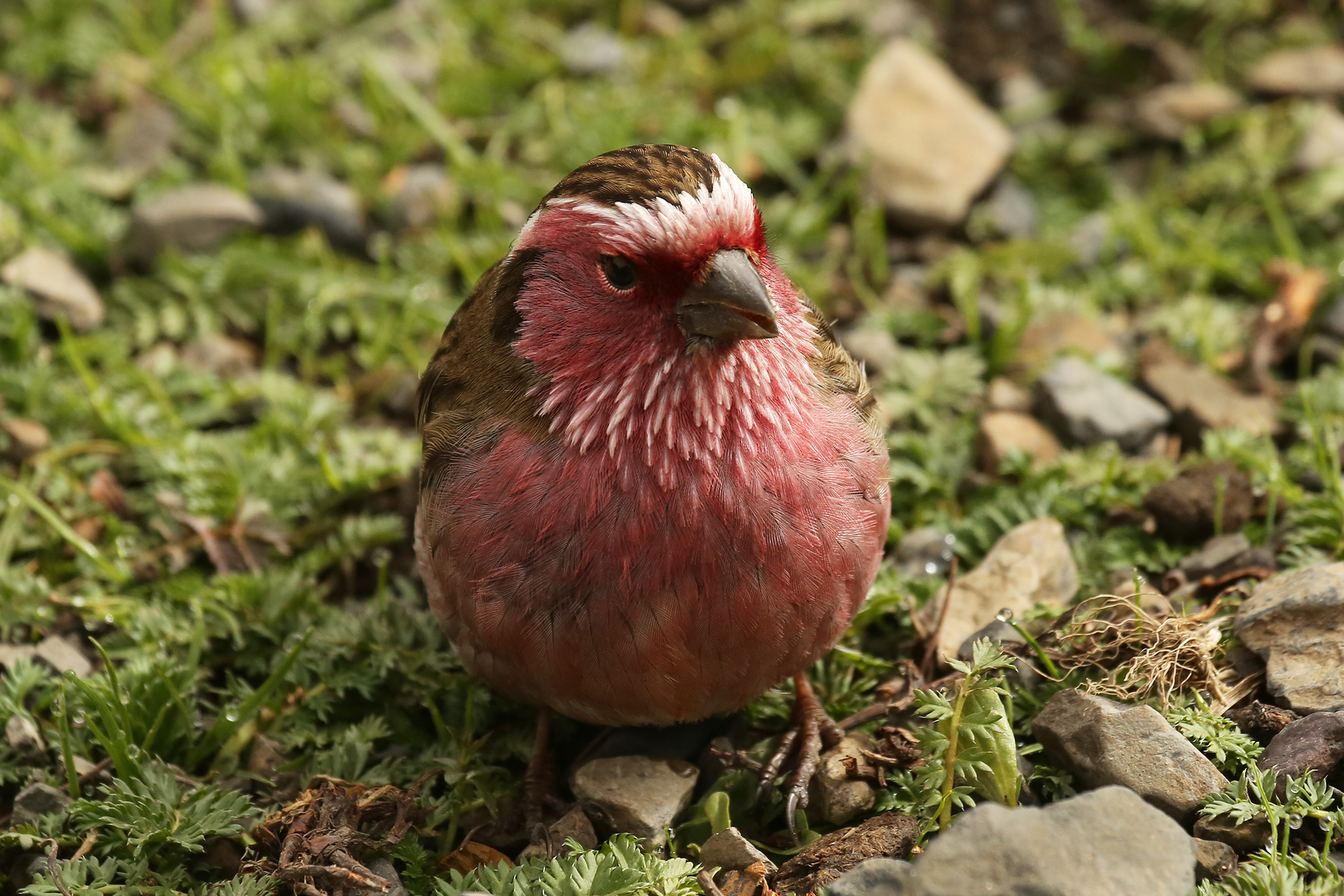 Chinese white-browed rosefinch (This male is part of a small flock of our life birds. John had seen Himalayan white-browed rosefinch - only a female, but with clearcut ID - near Sela Pass; when we saw these birds, we were not yet aware of the species split, so we did not know until the end of the trip that these were new birds.)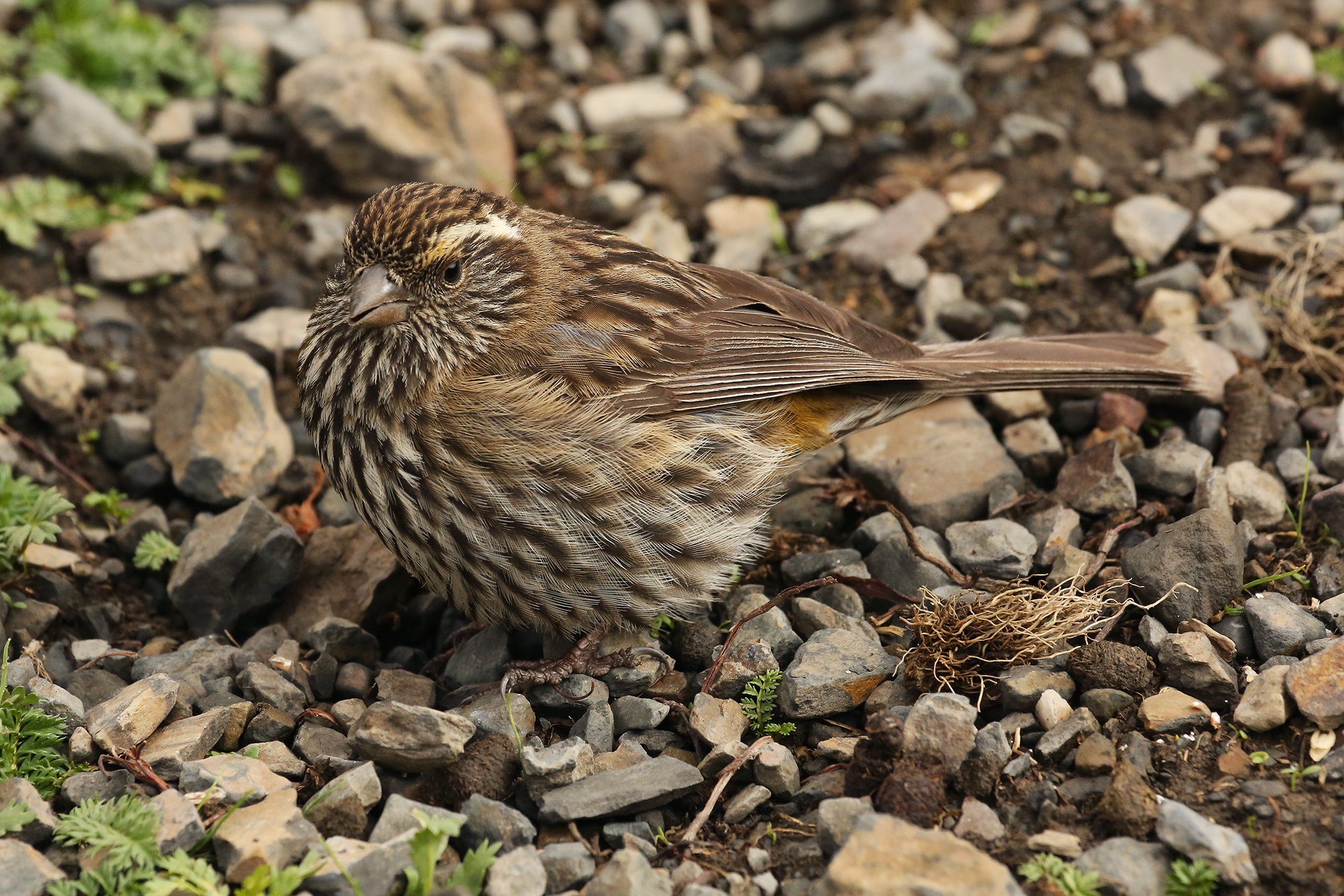 Chinese white-browed rosefinch (This is a female; contrast the incomplete post-ocular dark stripe with the complete dark stripe in a female Himalayan white-browed rosefinch. Also, the breast of the present bird is a dark-striped white, whereas the breast of the Himalayan white-browwed rosefinch is dark-striped pink.)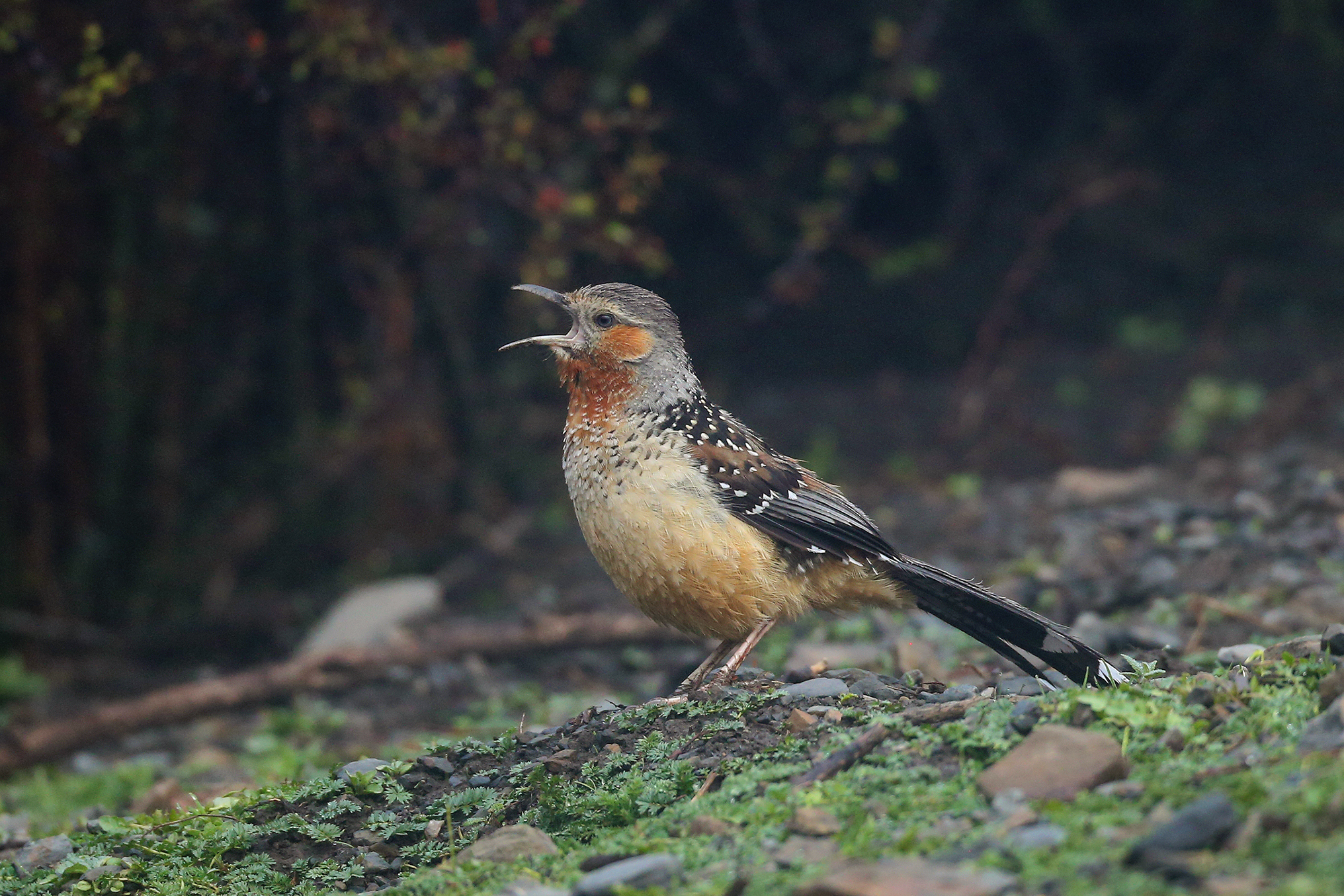 Giant laughingthrush (This is our life bird.)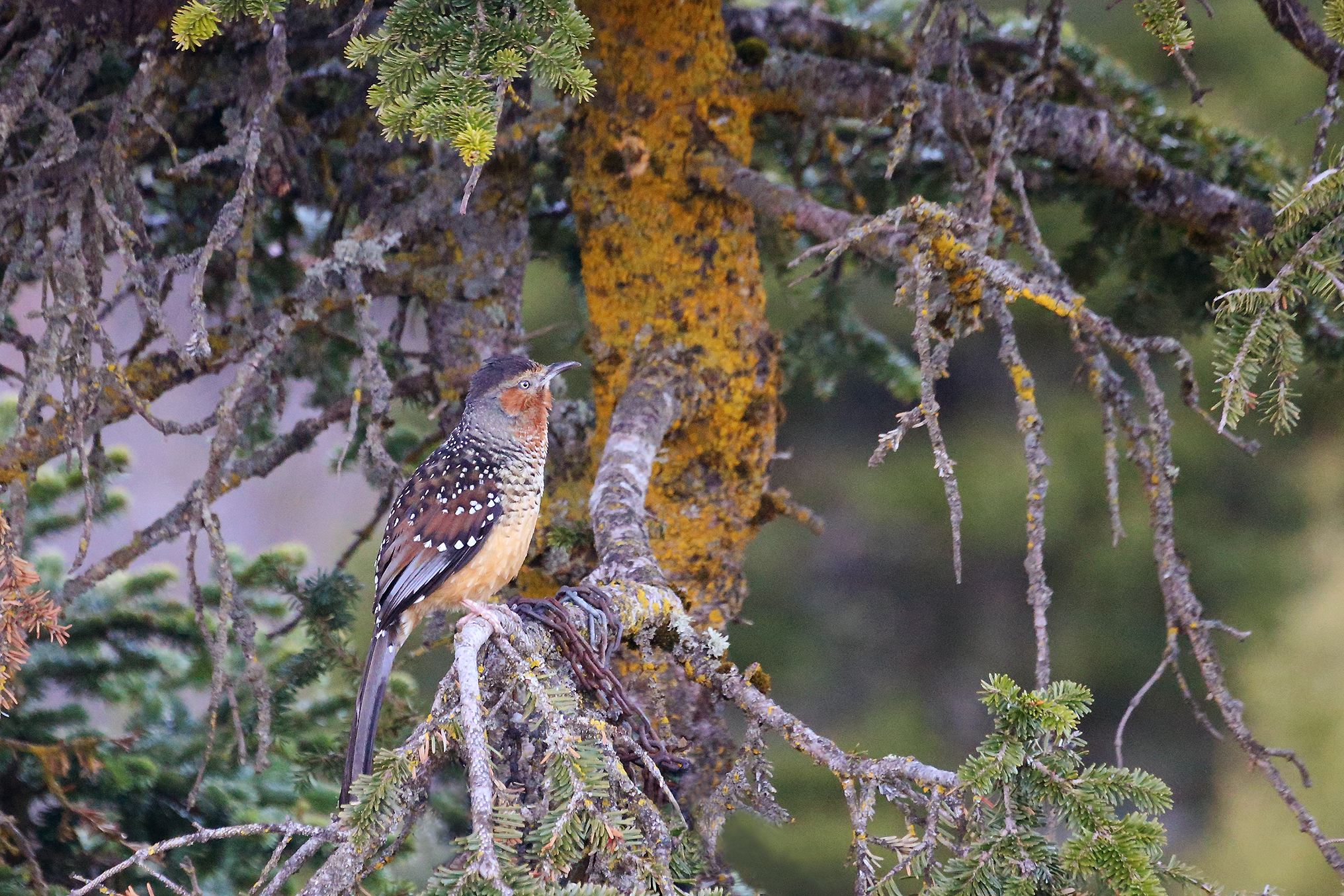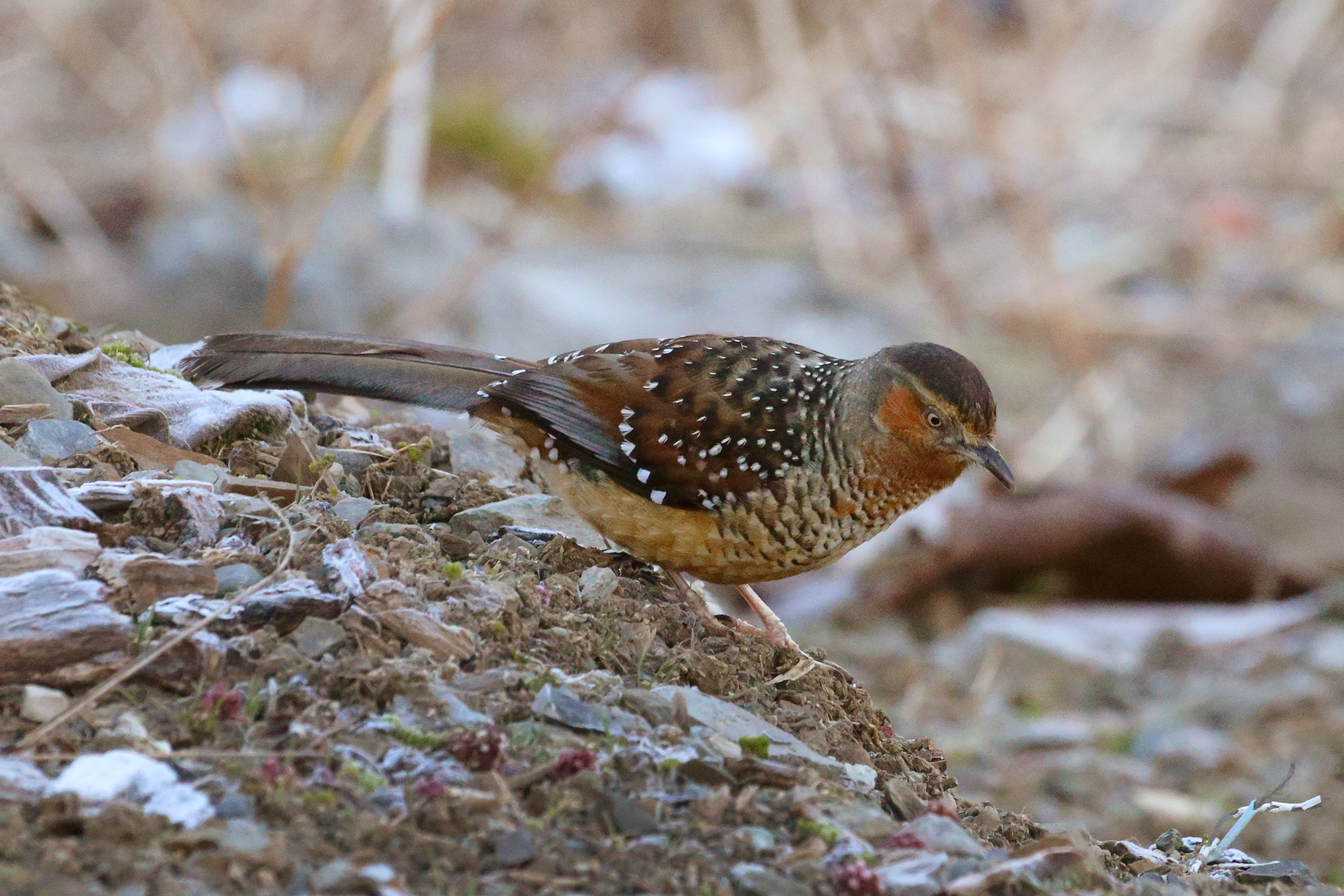 Giant laughingtrhrush (Mengbi Shan forest, later in the trip)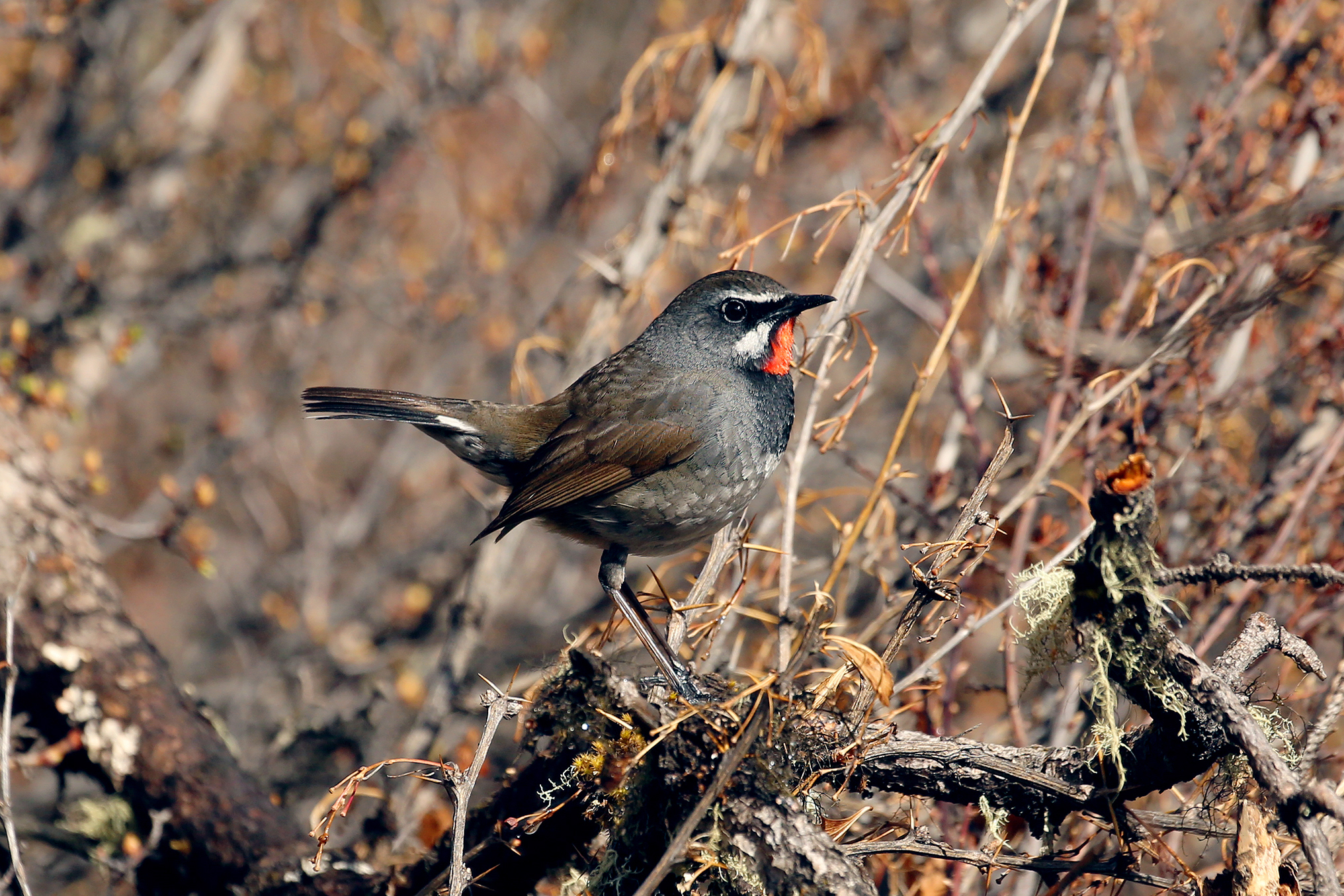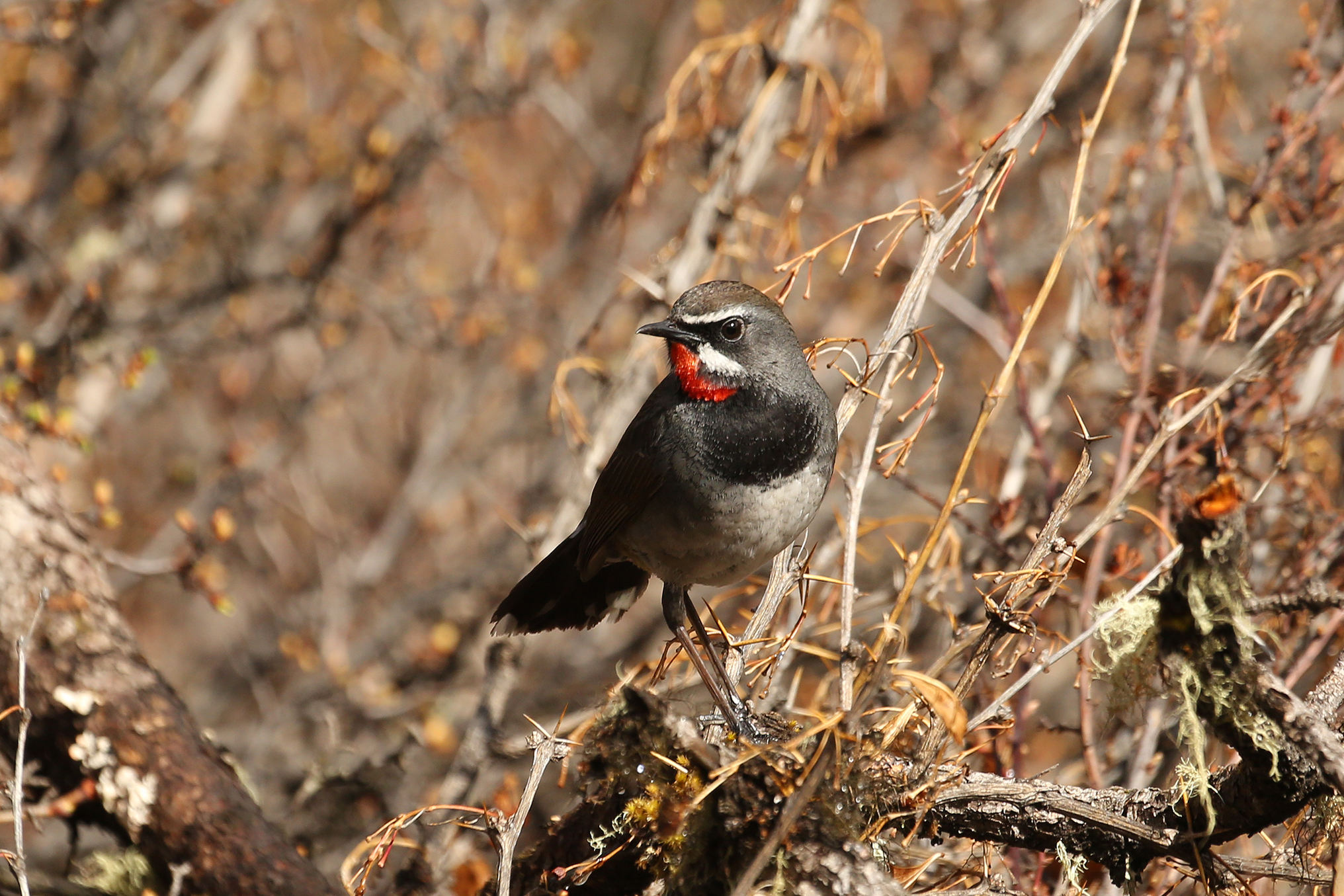 Himalayan rubythroat (This is our life bird.)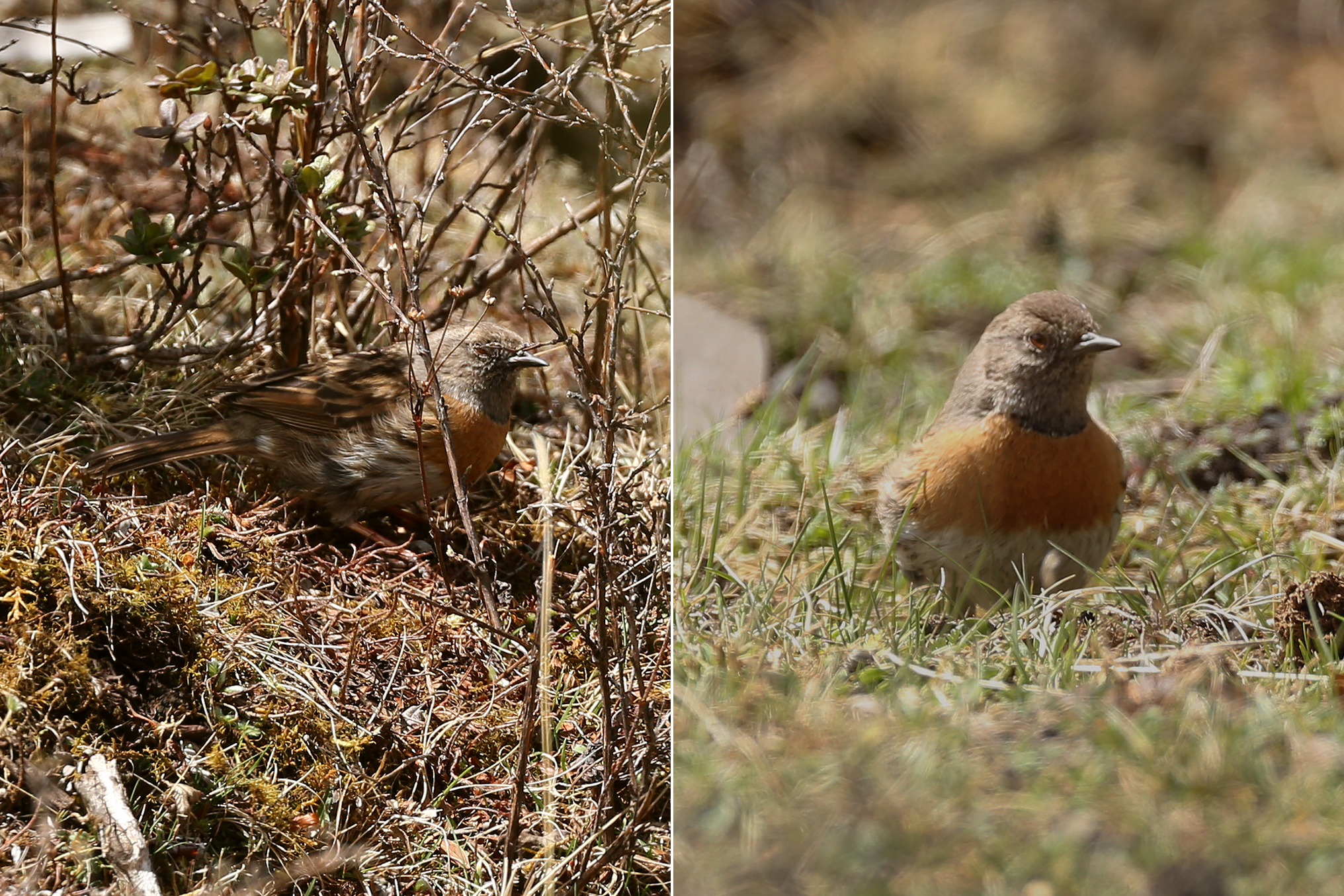 Robin accentor (This is our life bird -- not a good picture.)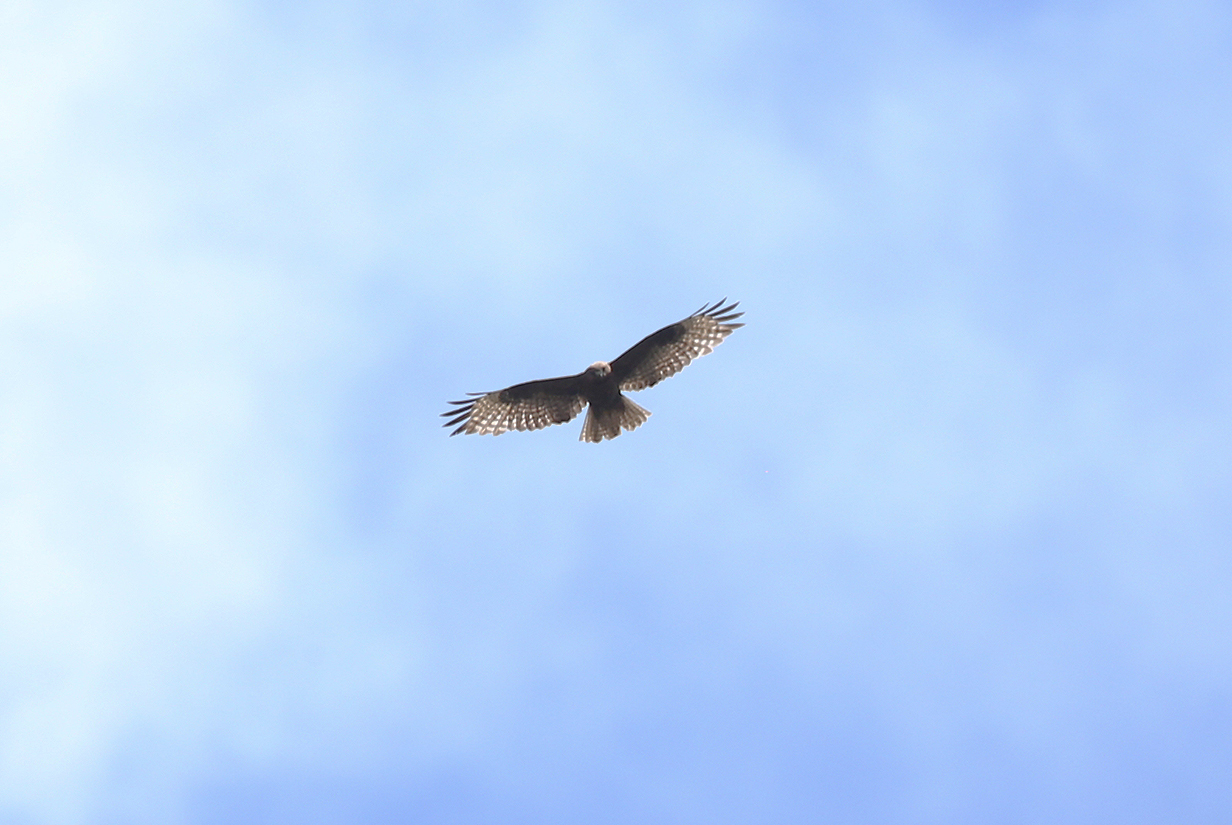 Upland buzzard (This is our life bird. Note the very white tail and the substantially white underwings.)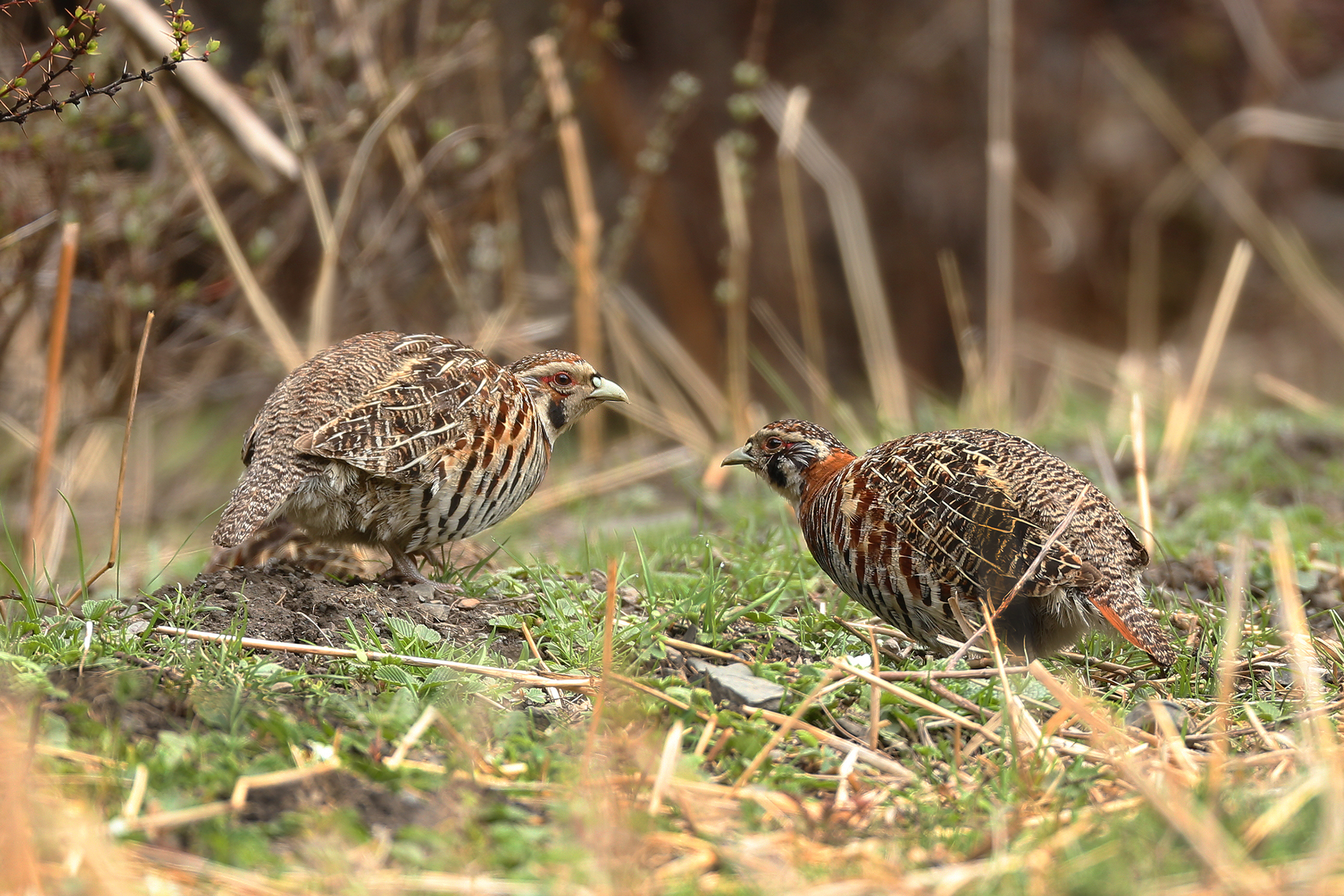 Tibetan partridge (This female and male are our life birds.)
Tibetan partridge (This the same male as above.)
Pamling Mountain and Monastery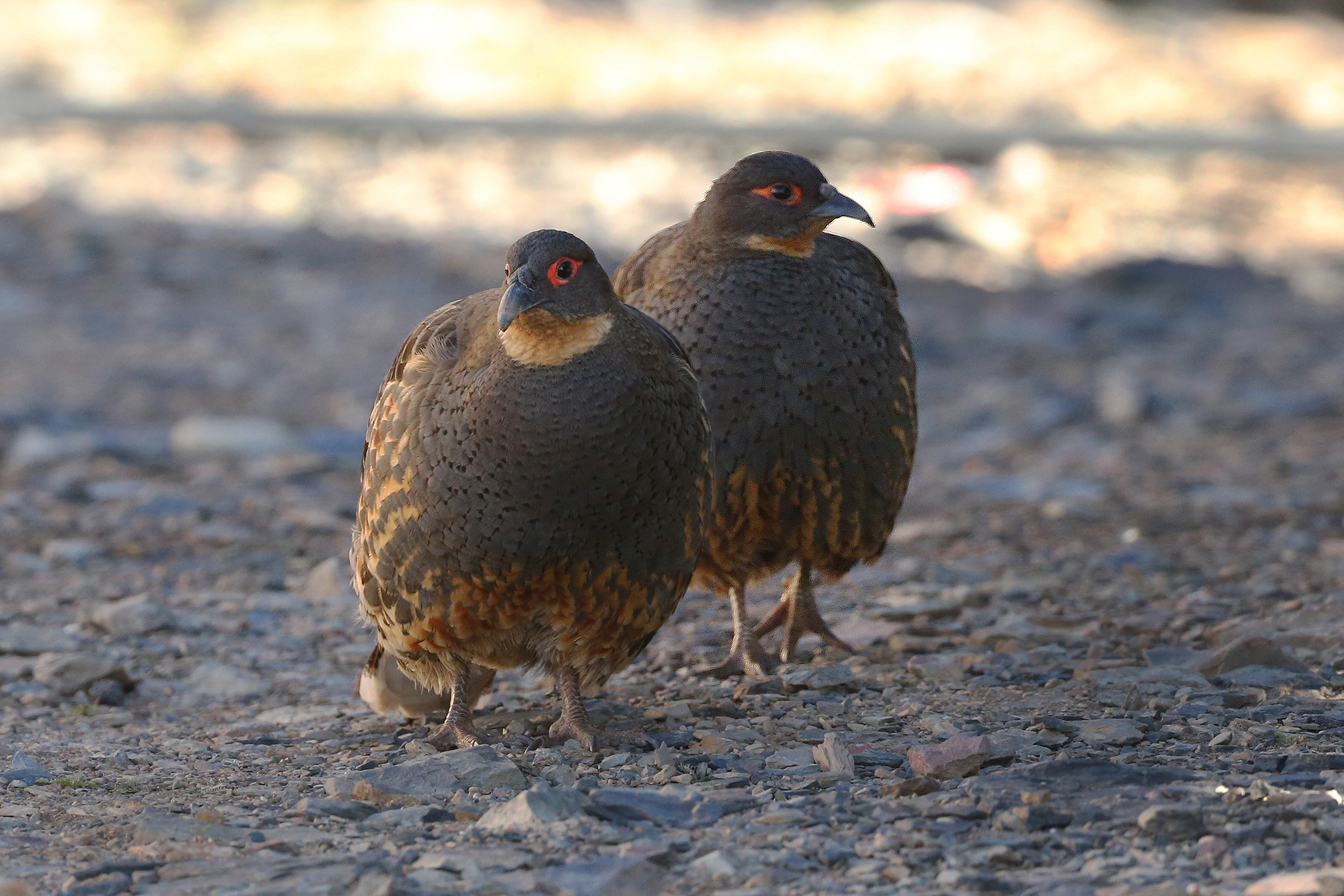 Buff-throated partridge (These are two of our three life birds - close grouping.)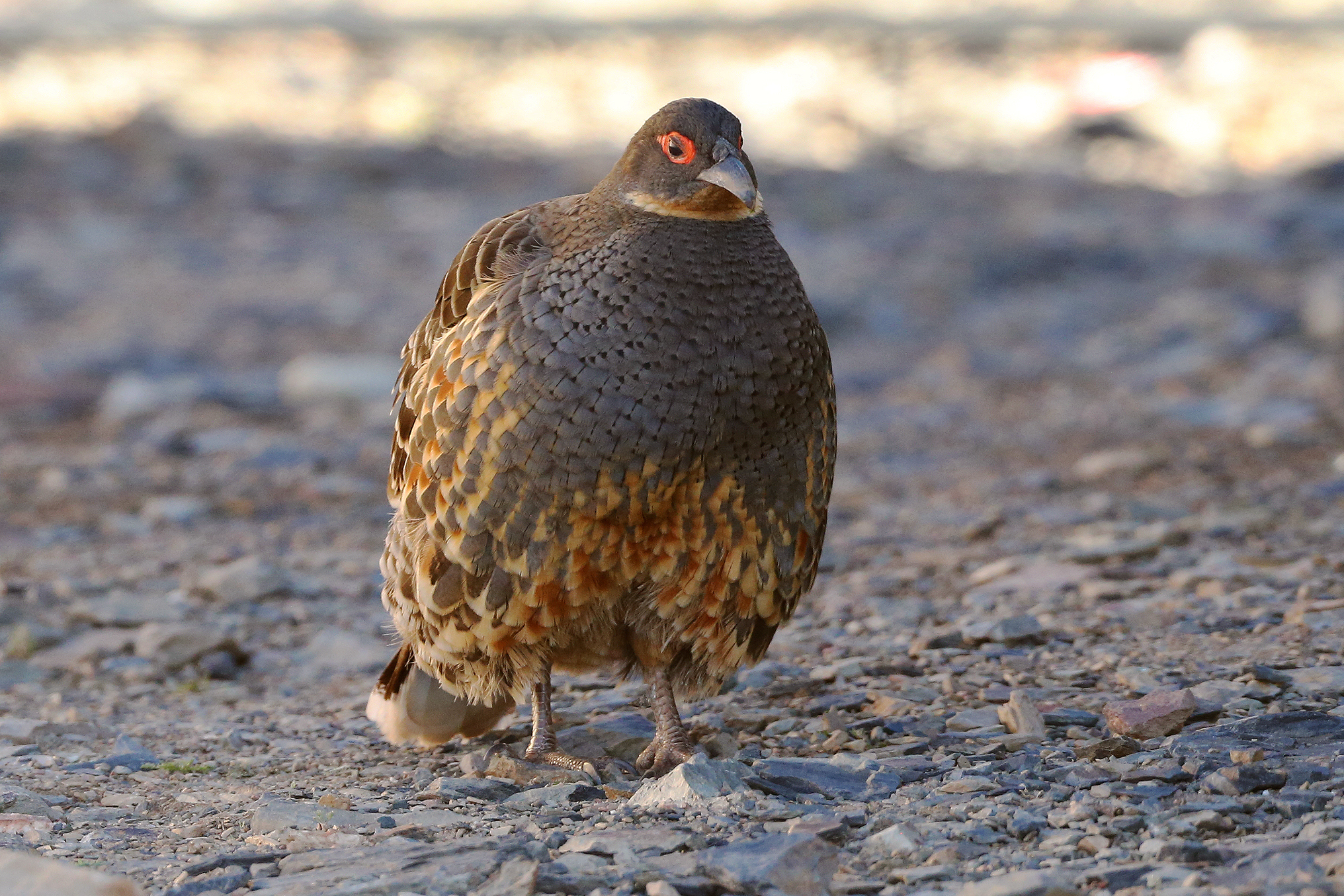 Buff-throated partridge (This is one of our life birds.)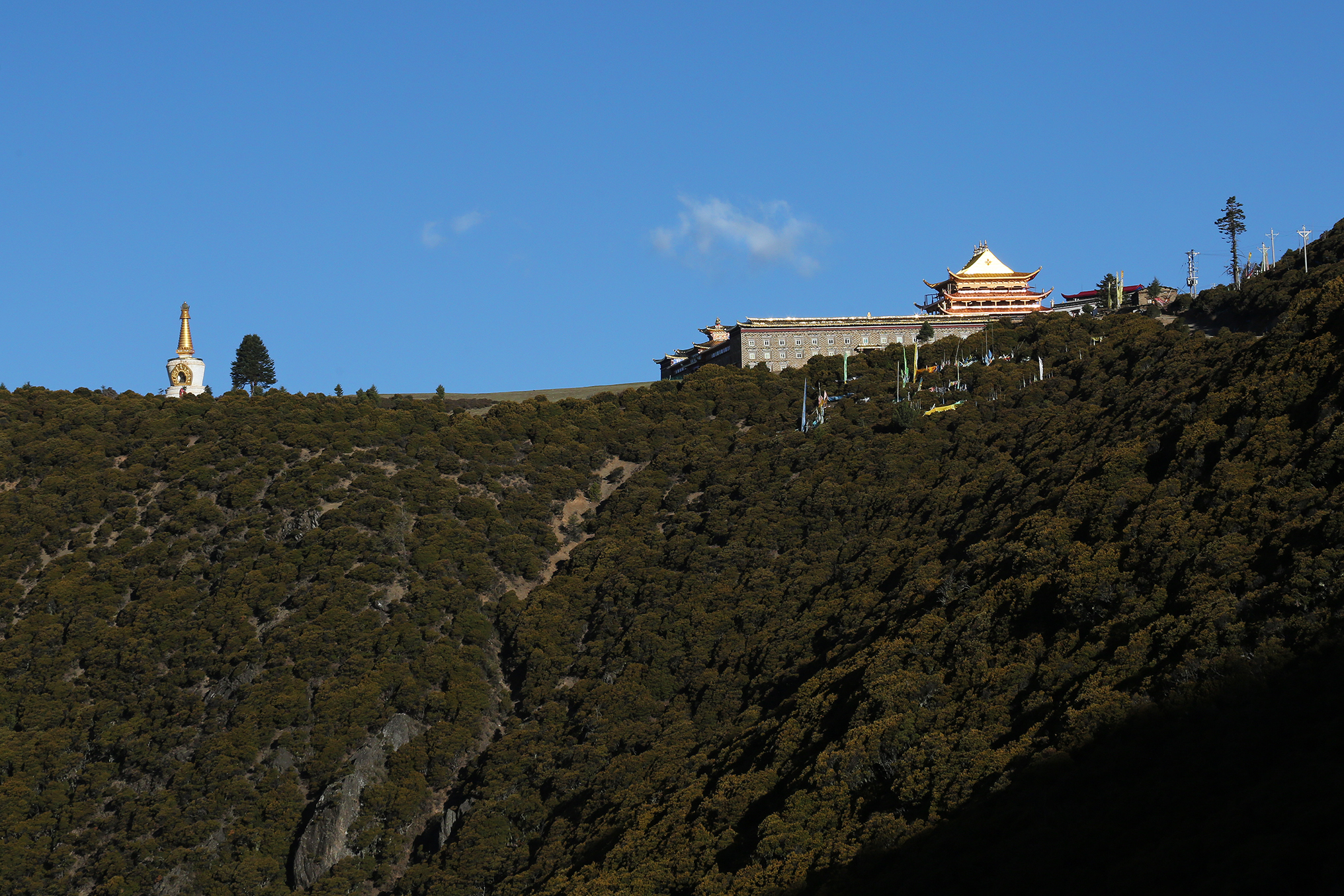 Buddhist monastery at Pamling Mountain, where we saw Buff-throated partridge.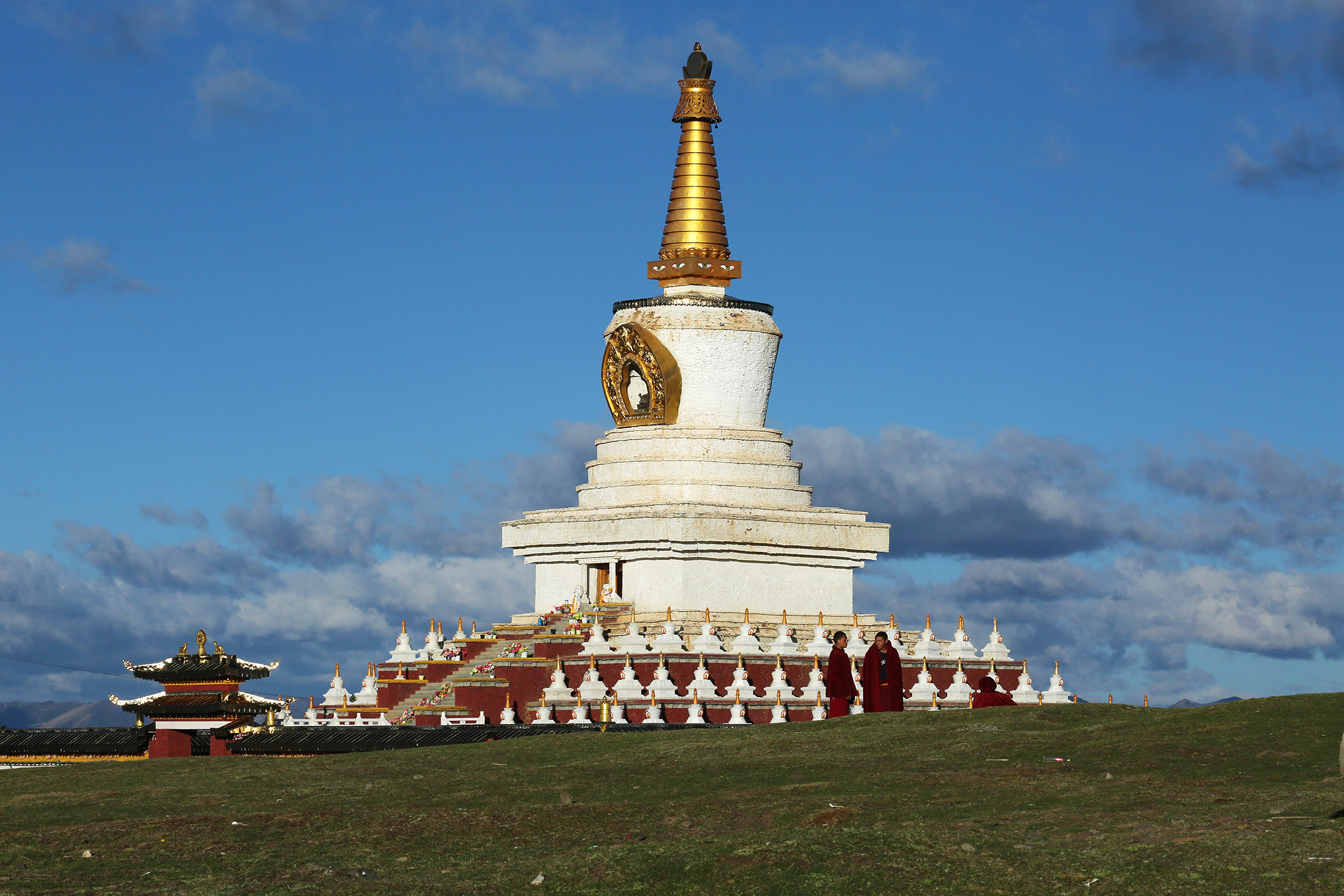 Stupa and monks at Pamling monastery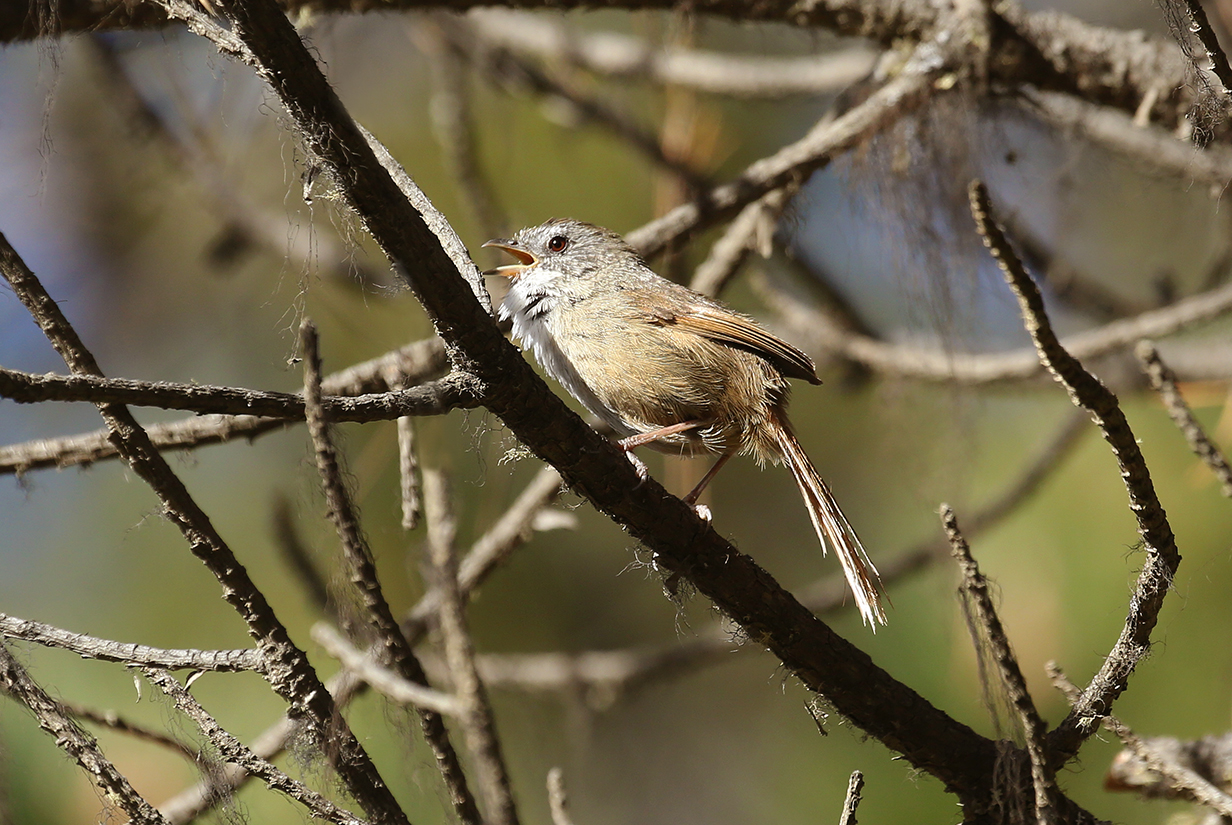 Rufous-tailed babbler (This is our life bird - not richly marked.)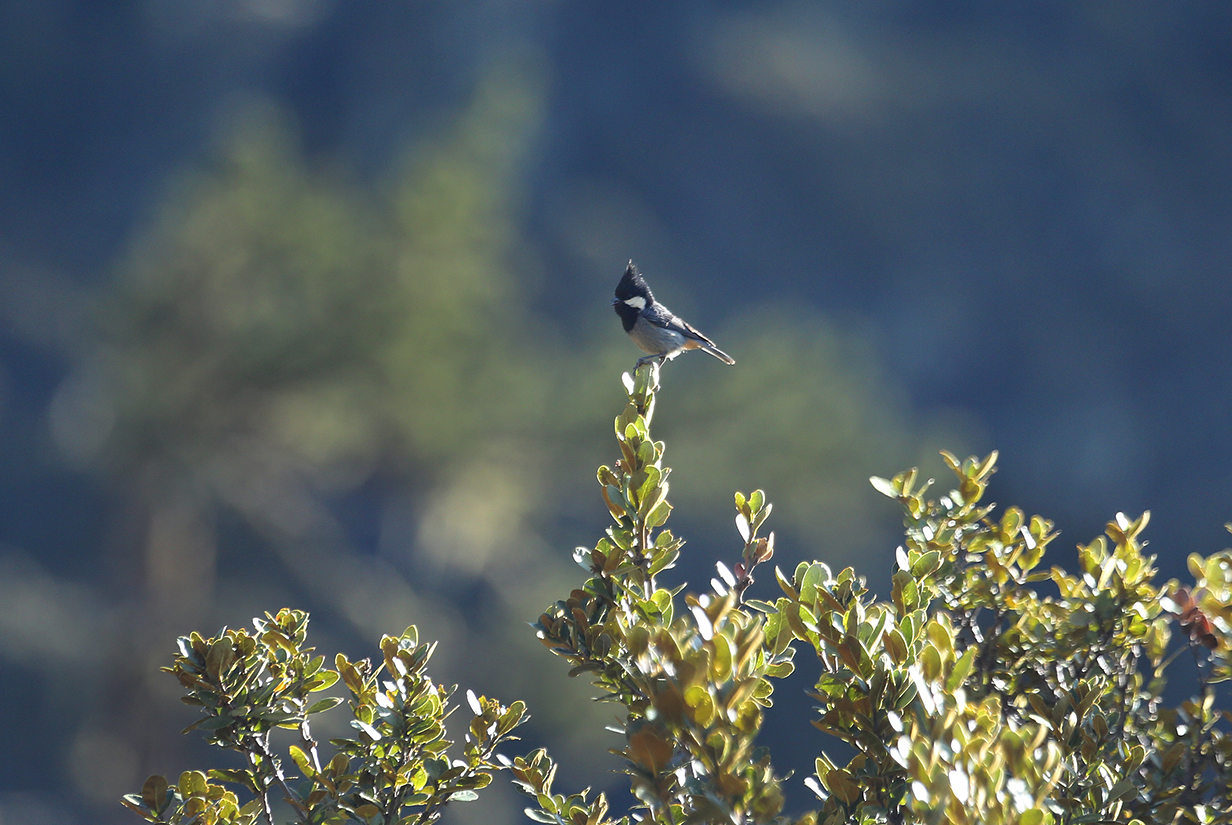 Rufous-vented tit (We never got a close look: this is roughly what you see in binoculars.)
Balang Shan (5040 m or 16,535 feet high; Balang Shan Pass is at 4481 m or 14,577 feet)
This was one of the most important stops on the tour, because we got to spend a lot of time and a lot of miles at altitudes above 4000 m or about 13,100 feet. Many of the most interesting birds live at these altitudes in summer. The weather during our trip was generally good, though we were hampered by fog for the first two days here. We spent three days plus one morning here; the most difficult target was Chinese monal. Trouble is: Chinese photographers in large numbers - including ones that are not birders and that don't know how to behave to NOT scare the birds away - have developed an intense interest in bird photography and in Chinese monal in particular. We were ultimately successful in photographing Chinese monal from reasonably close up, but the fog and the crowds did not help.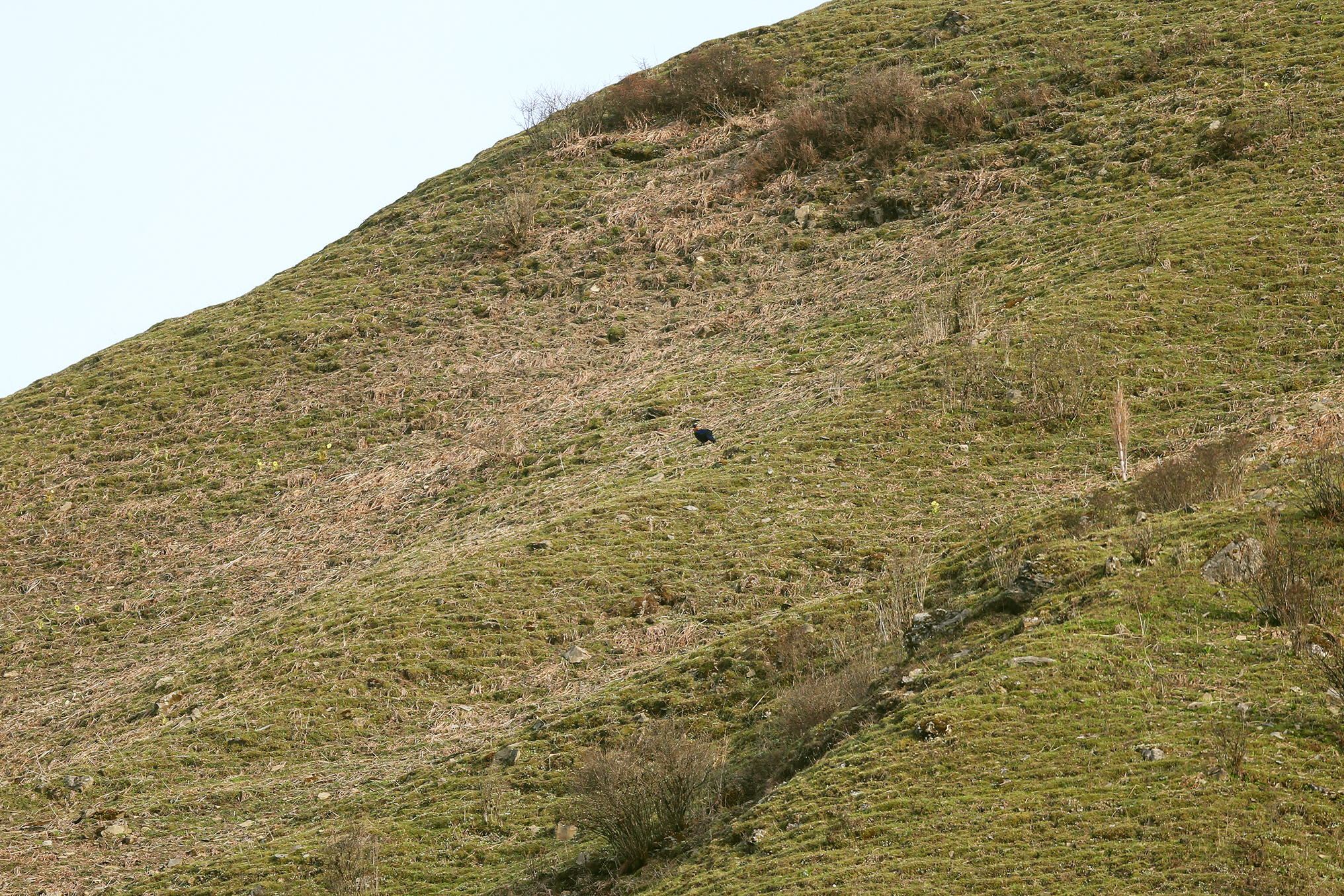 Chinese monal (This is our life bird. After two days of fog, day 3 dawned clear and we set out to look for Chinese monal with renewed hope. Mary spotted our life bird about a mile away, up on a distant slope. Our driver soon found it independently. We "got" the species, but of course, even telphoto pictures at this distance are terrible. So we kept trying to get a closer look for the rest of this day and one more morning ... ultimately with success.)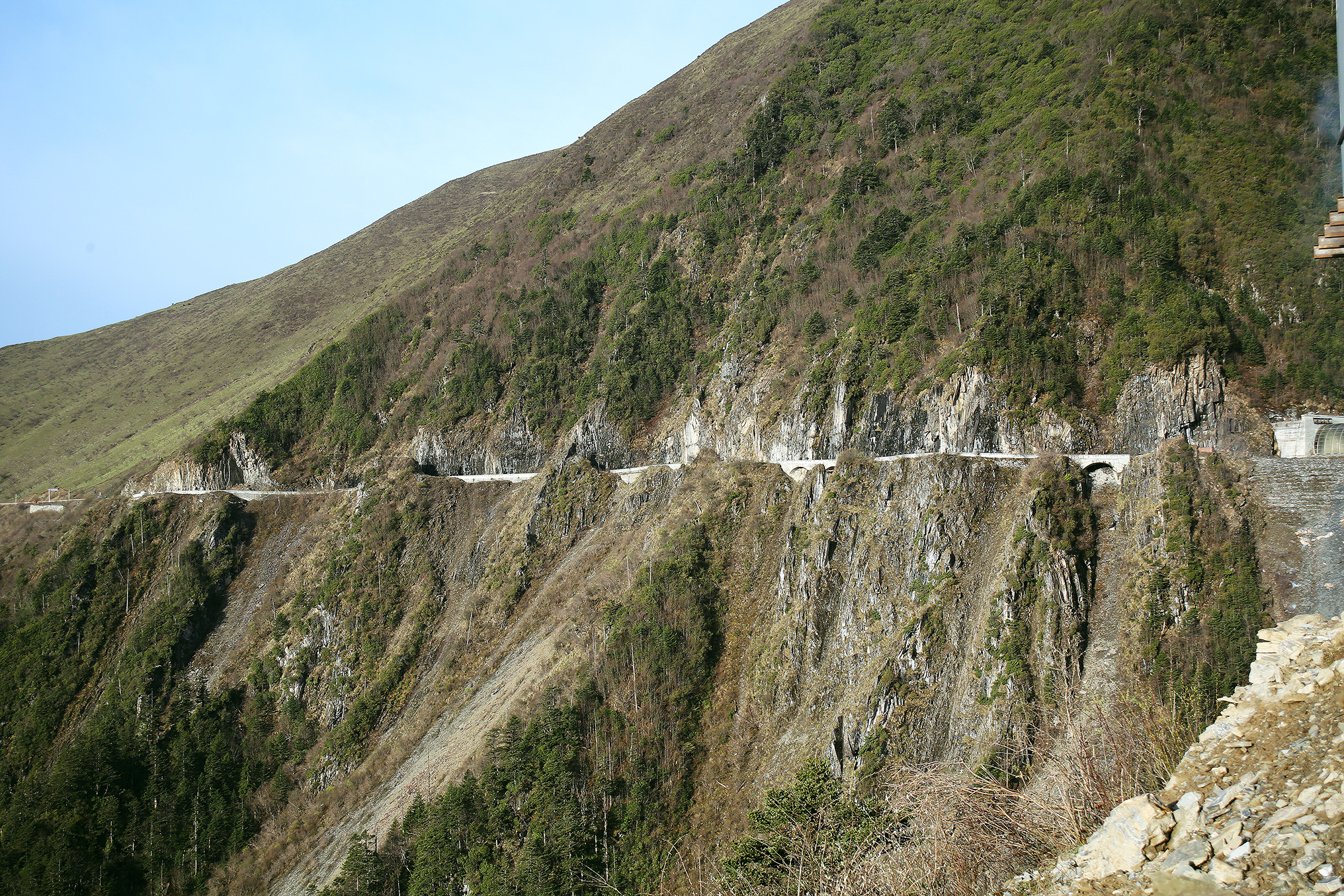 The only local "hot spot" for closeup views of the monal was this side road that was obsoleted and hence abandoned after construction of a tunnel through the pictured ridge. The downhill entrance of the tunnel is the big tube at the right side of the picture. The uphill exit is out of sight at left, around the ridge line. Searching for monal required walking this sideroad, staking out a spot that our guide's experience suggested might work. It also required avoiding the crowds of photographers, who talk a lot and (argh!) smoke cigarettes.

This is an ~150 degree panorama of the Balangshan range. The seven individual pictures do not mesh perfectly, but this still gives an impression of the beautiful view from the place where we got the Chinese monal (up the slope well to the right of this picture). Scroll right to see the complete panorama. At far right is the Monal sideroad, across a valley. Balangshan pass is well out of sight behind the ridge at the right and almost 1000 m higher in elevation than the place where this picture was taken. The highest mountains in this picture are a little less high than Balangshan, i. e., almost 5000 m or rather more than 16,000 feet high.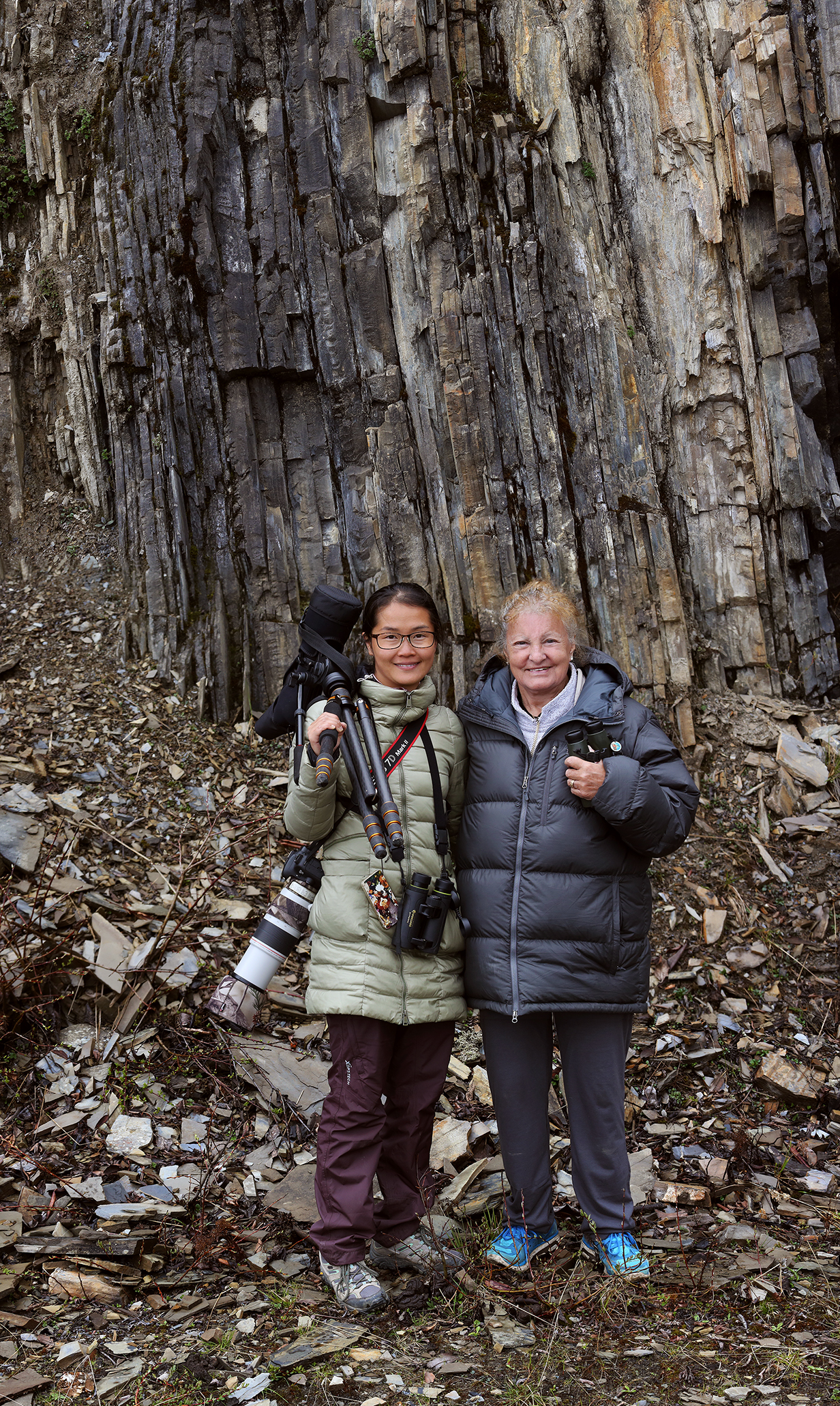 This picture taken on the Monal sideroad shows Mary with our guide, Xiongrui ("Sissi") Tang. Note how, as in most of Sichuan, the layers of rock are tilted almost vertically. They must have been laid down horizontally at the bottom of a large body of water (essentially an ocean) and then, as India began to dive under Asia, lifted up and tilted. The layers evidently were never melted, because even wafer-thin separate layers are well defined and cleave cleanly. Imagine the time and forces necessary to move hundreds of miles of rock and lift them by tens of thousands of feet and tilt them by around 90 degrees. This is evident throughout Sichuan; other pictures in this web site show additional examples. The vertical layers explain why so many Himalayan mountains - especially in this region - have astonishingly steep slopes. The rocks tend to weather and cleave along layer boundaries.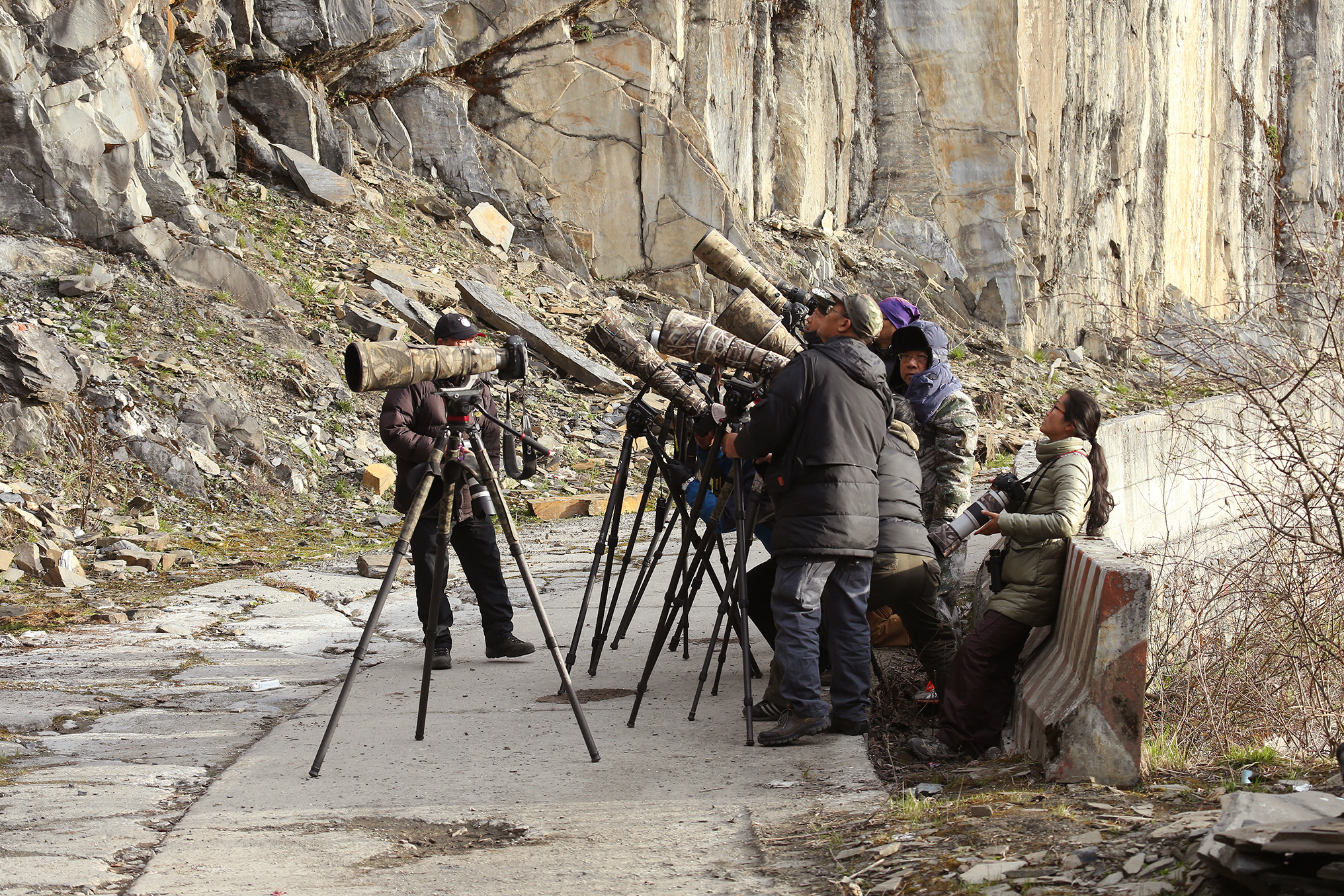 As soon as the monal showed up, high on the ridge above us, the local photographers gathered for a feeding frenzy. There was an explosion of clicks every time the monal stretched its neck to call. Luckily, despite the interference, it flew lower and gave us the view shown below.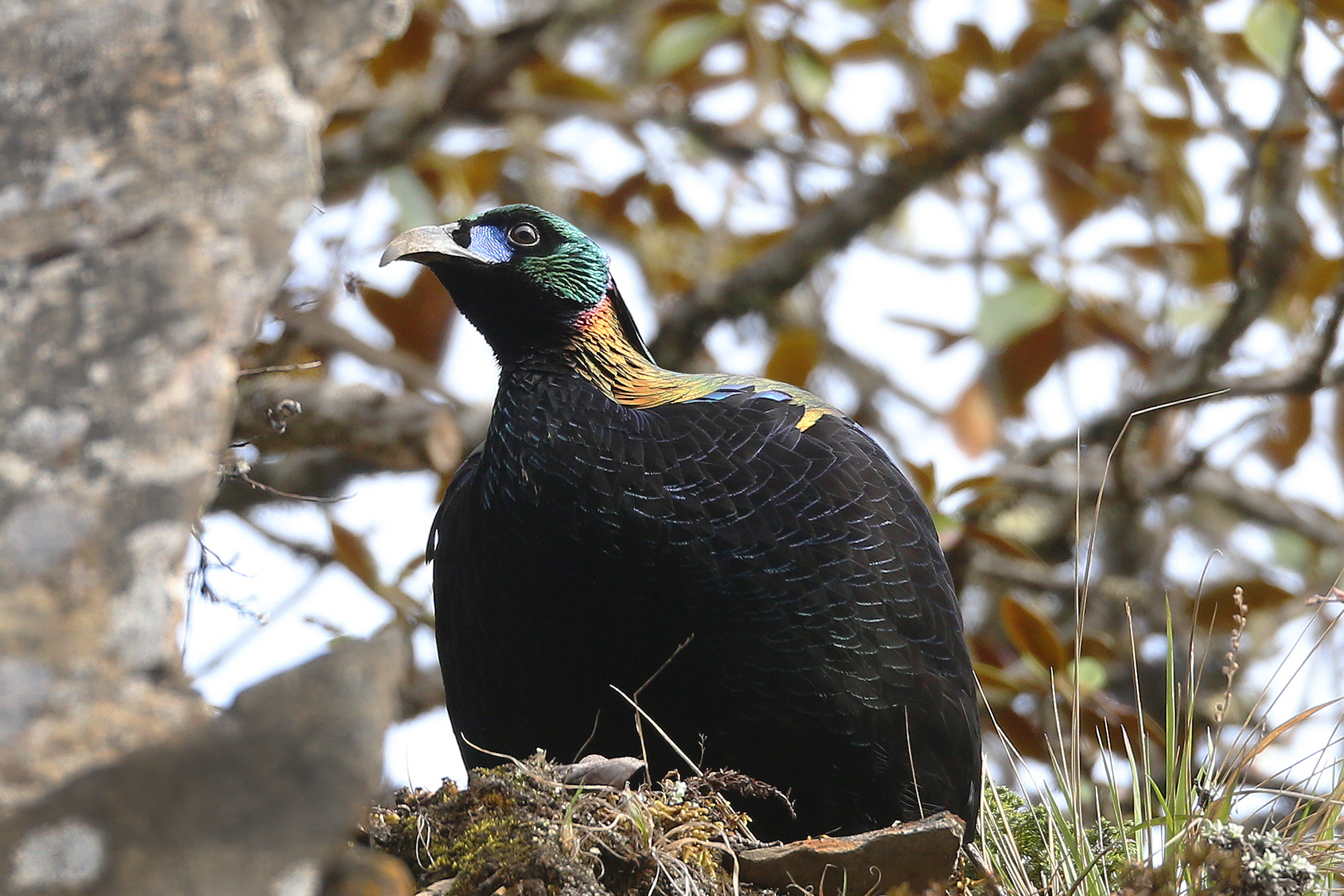 Chinese monal (after three days of hoping for a good view)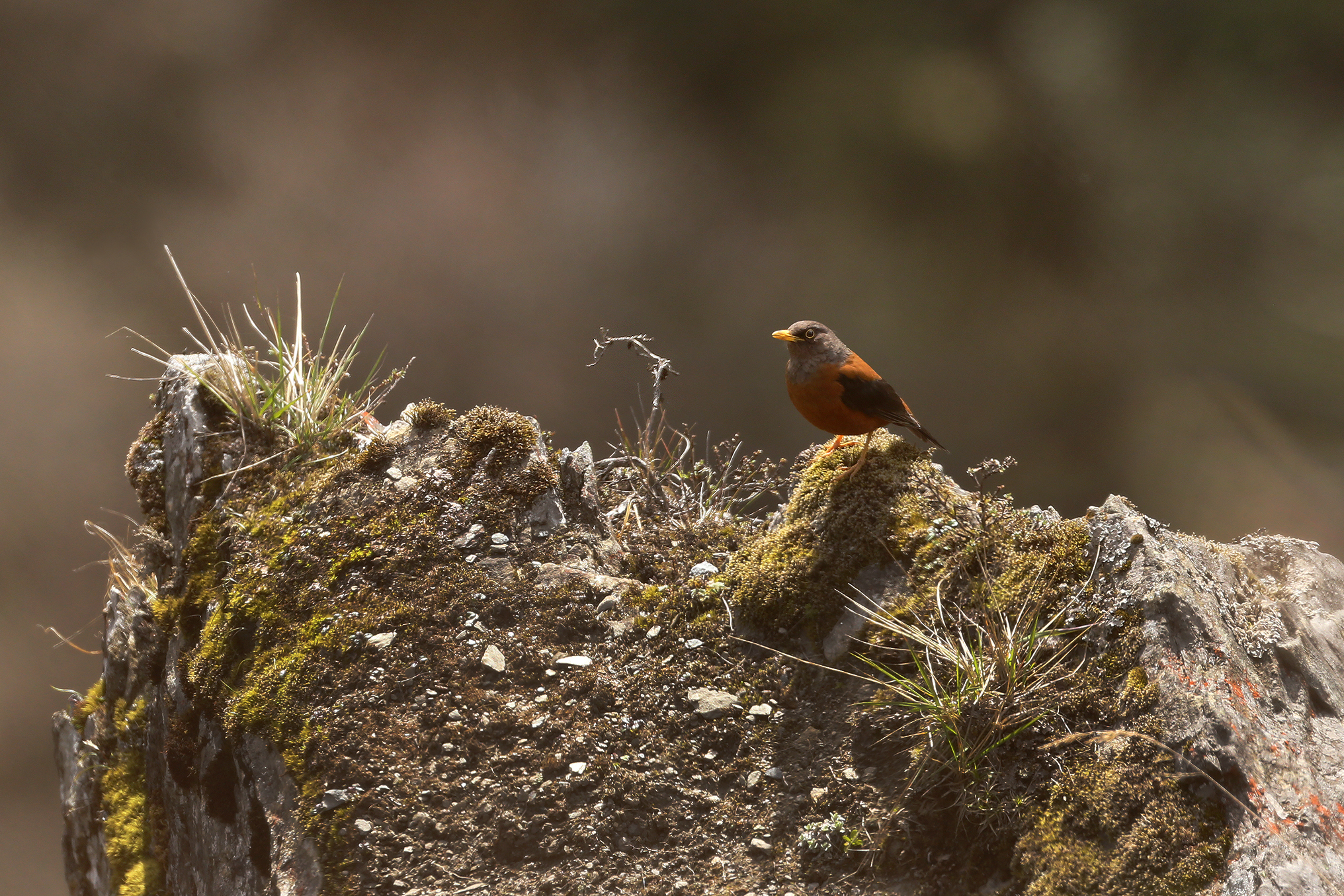 Chestnut thrush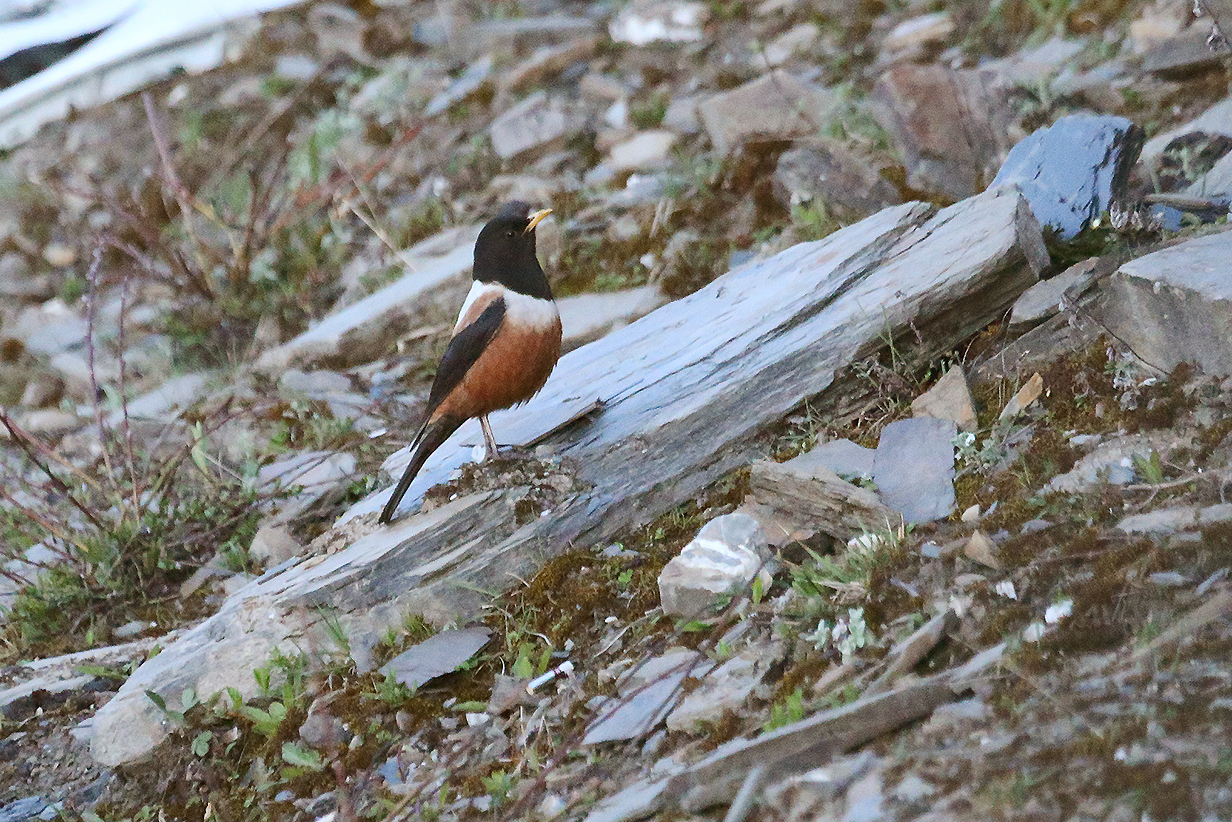 White-backed (formerly Kessler's) thrush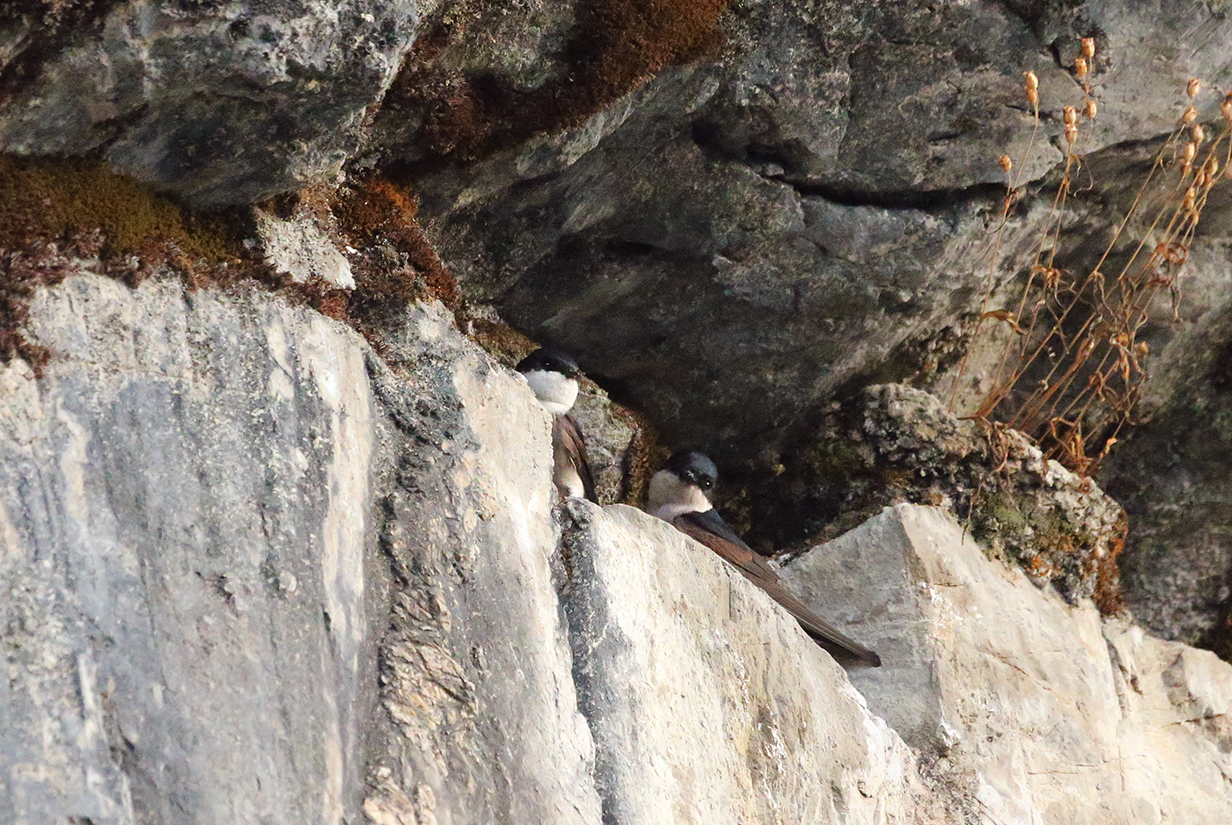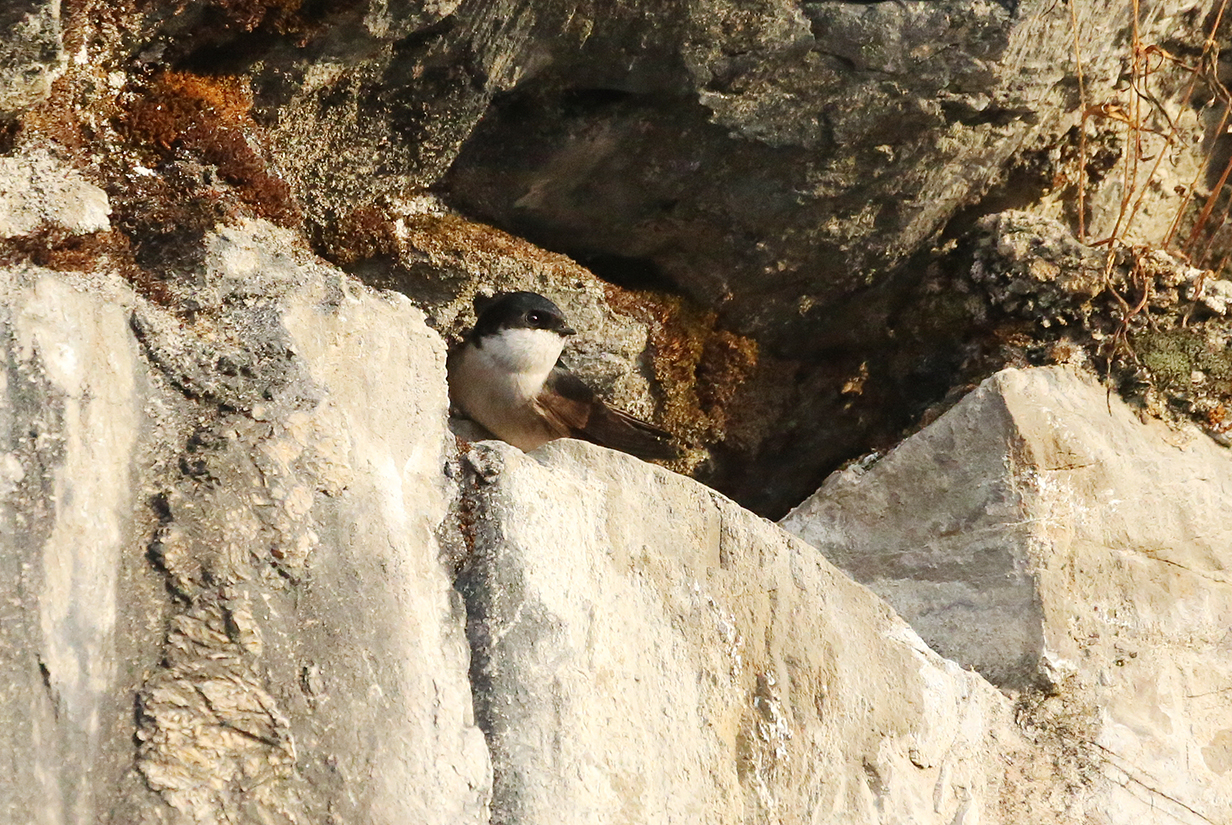 Asian house martin was a life bird that we got along the Monal sideroad while we were looking for Chinese monal.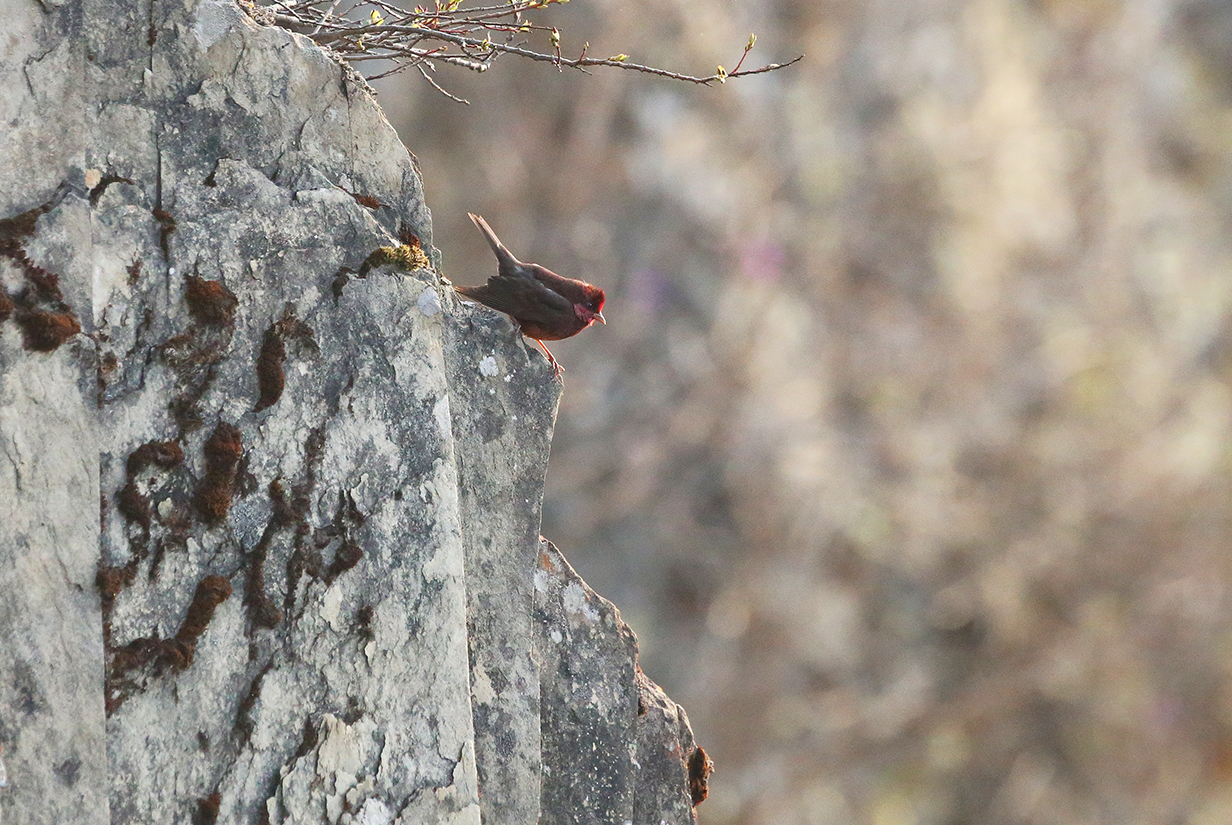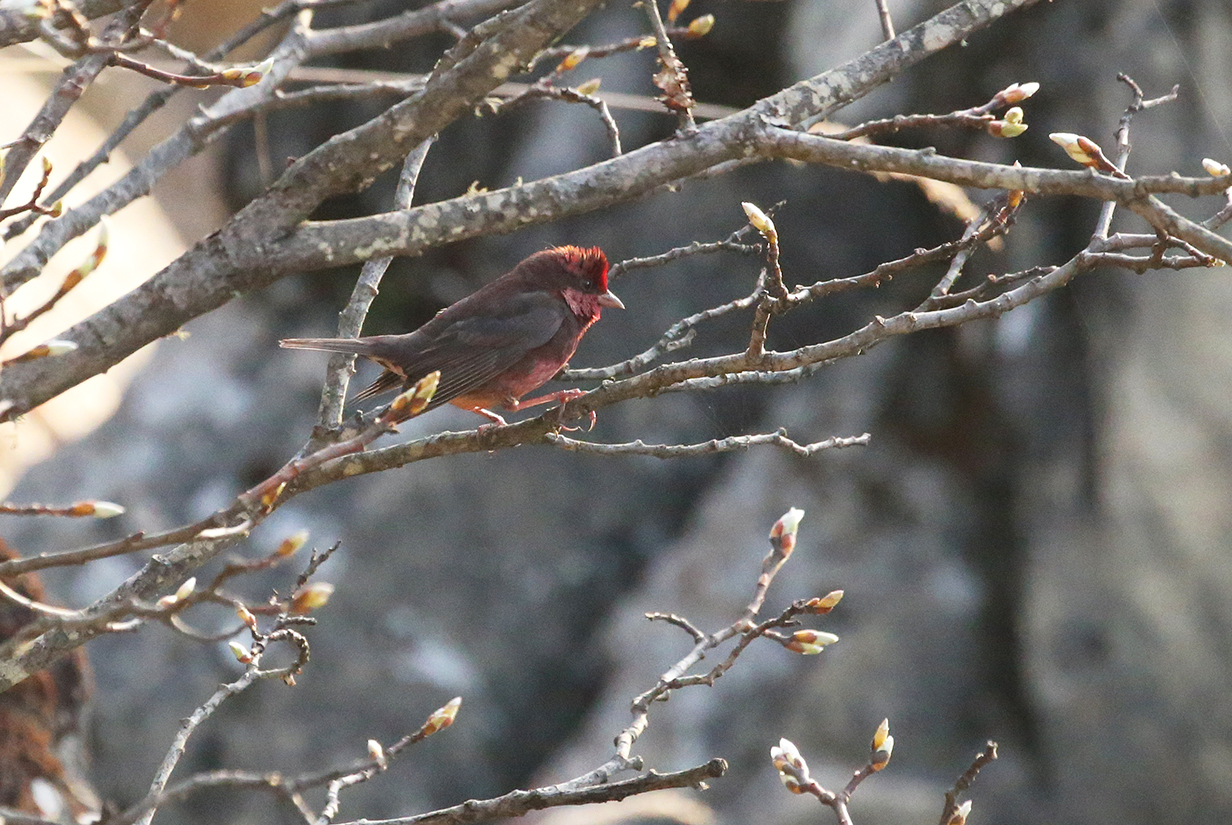 Dark-breasted rosefinch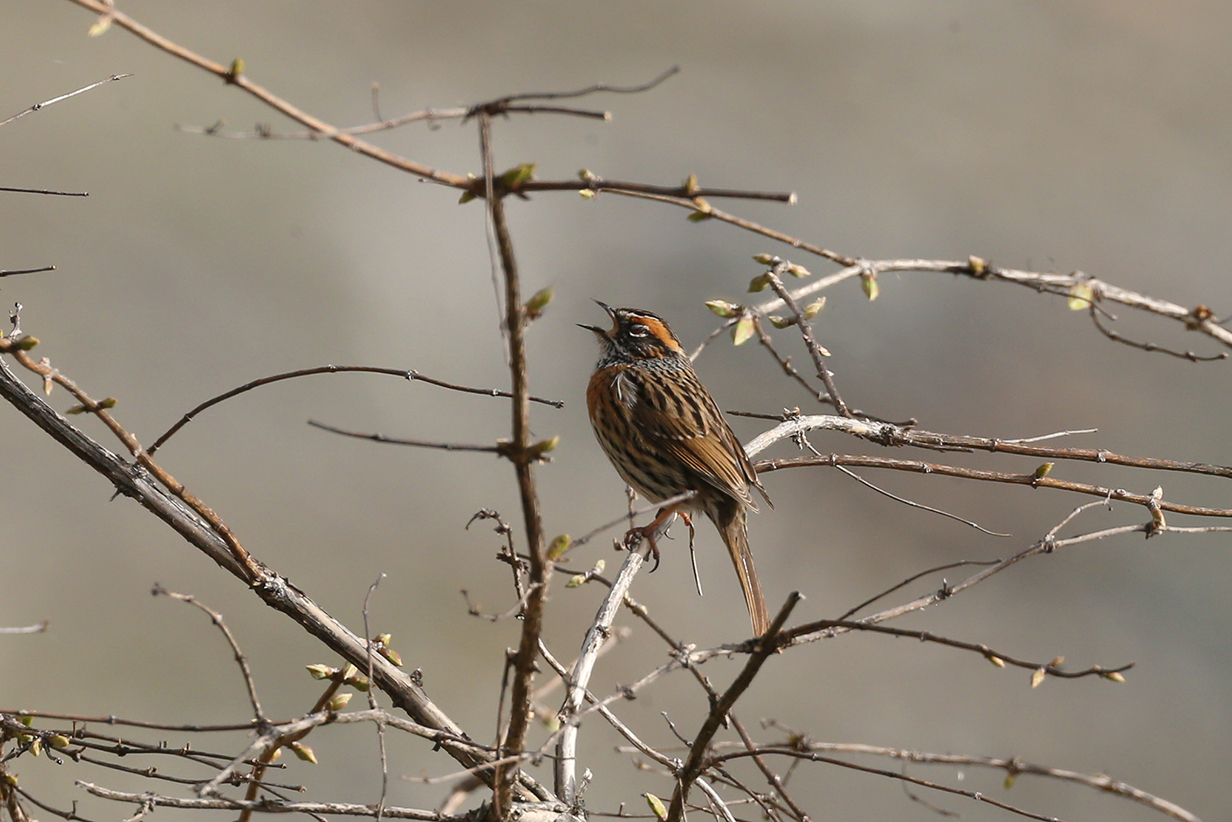 Rufous-breasted accentor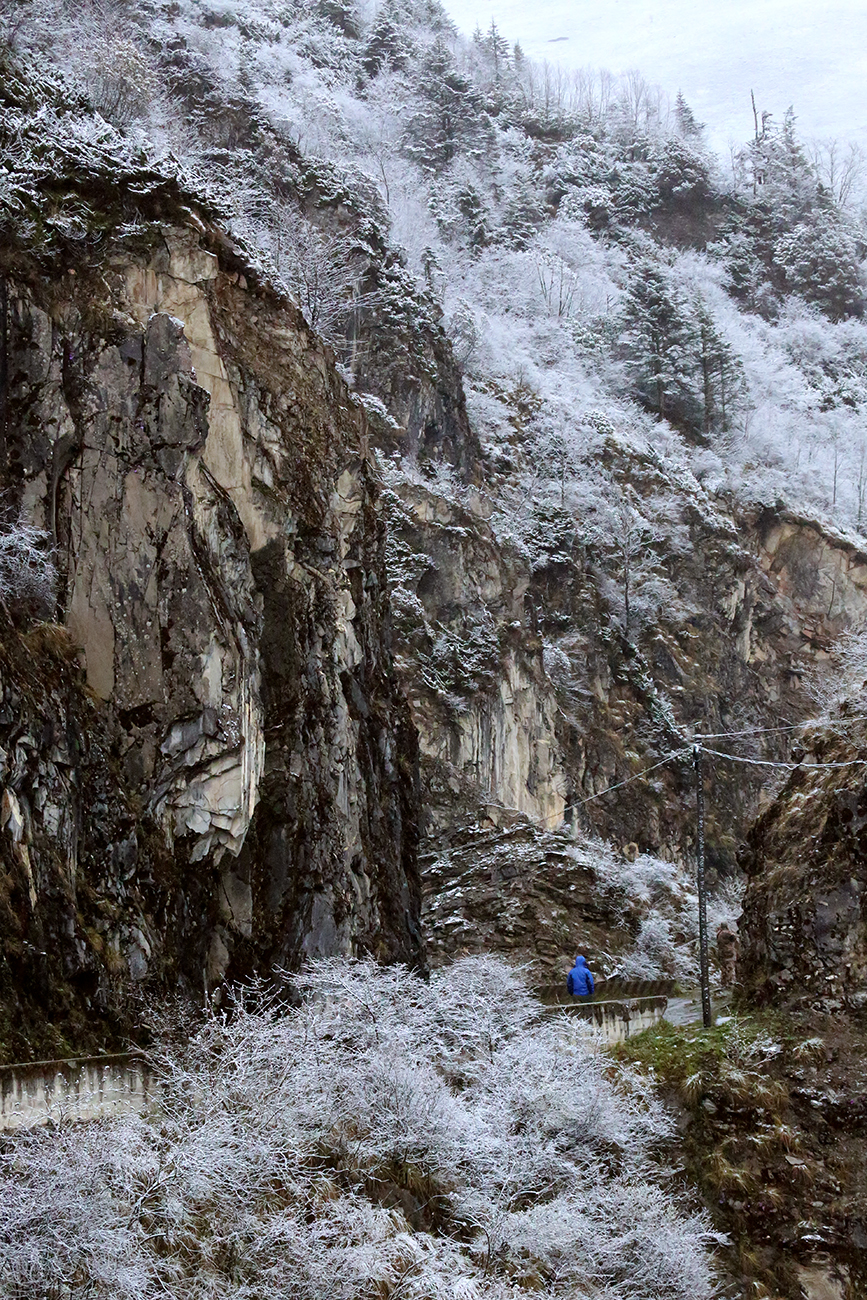 Cold, snowy morning on the Monal Sideroad.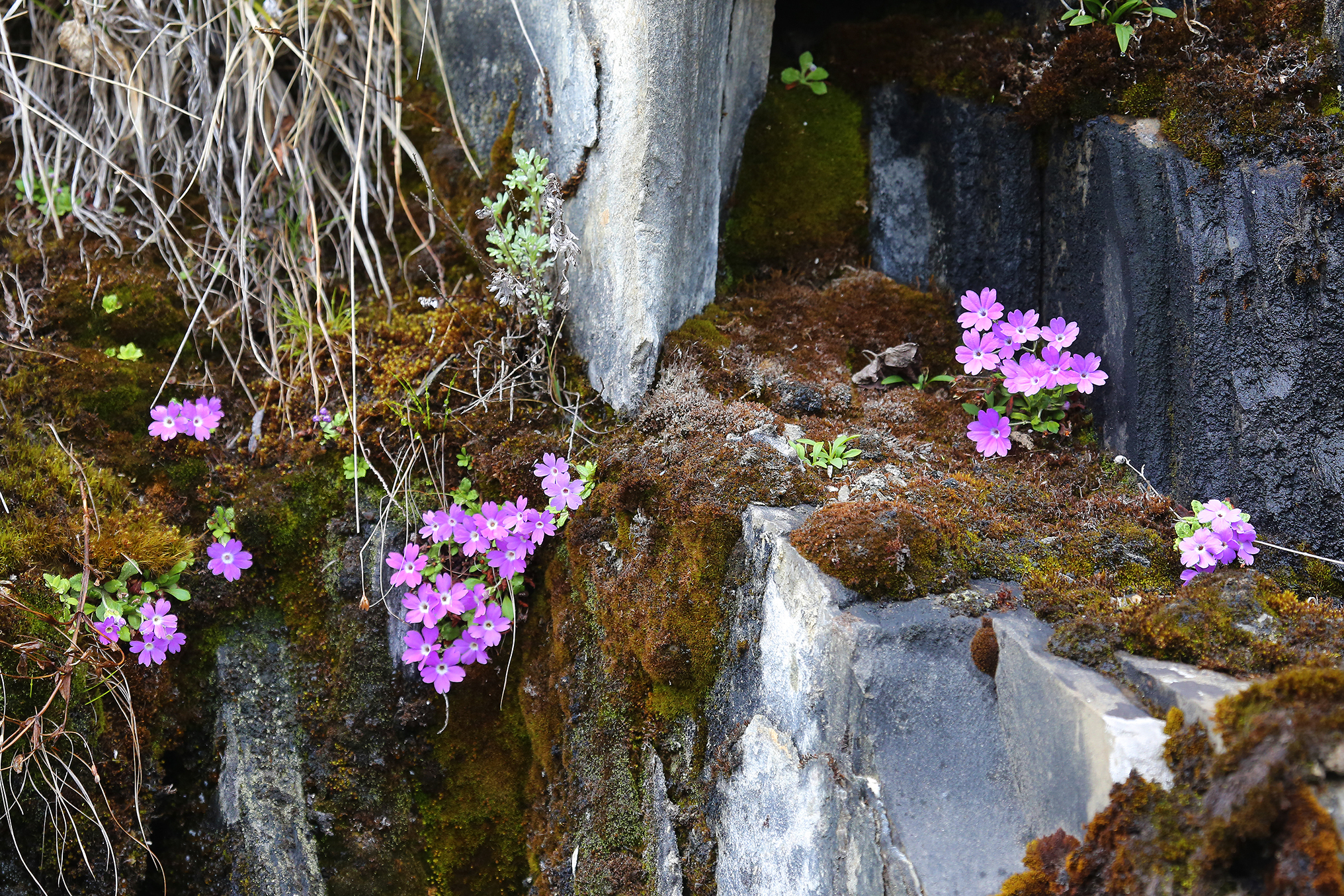 This, by contrast, was a friendly morning on the Monal Sideroad: spring flowers were in bloom all over the mountain.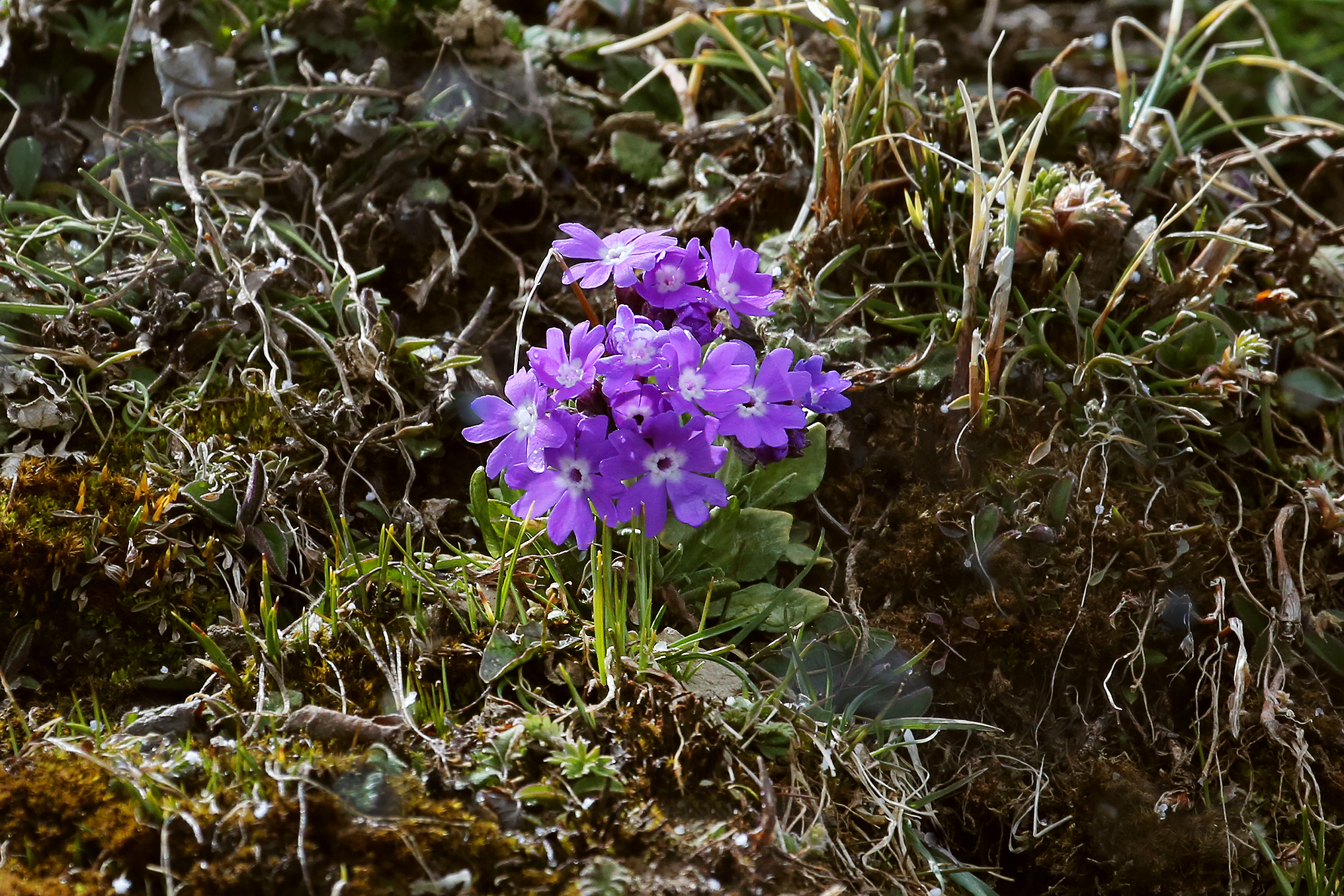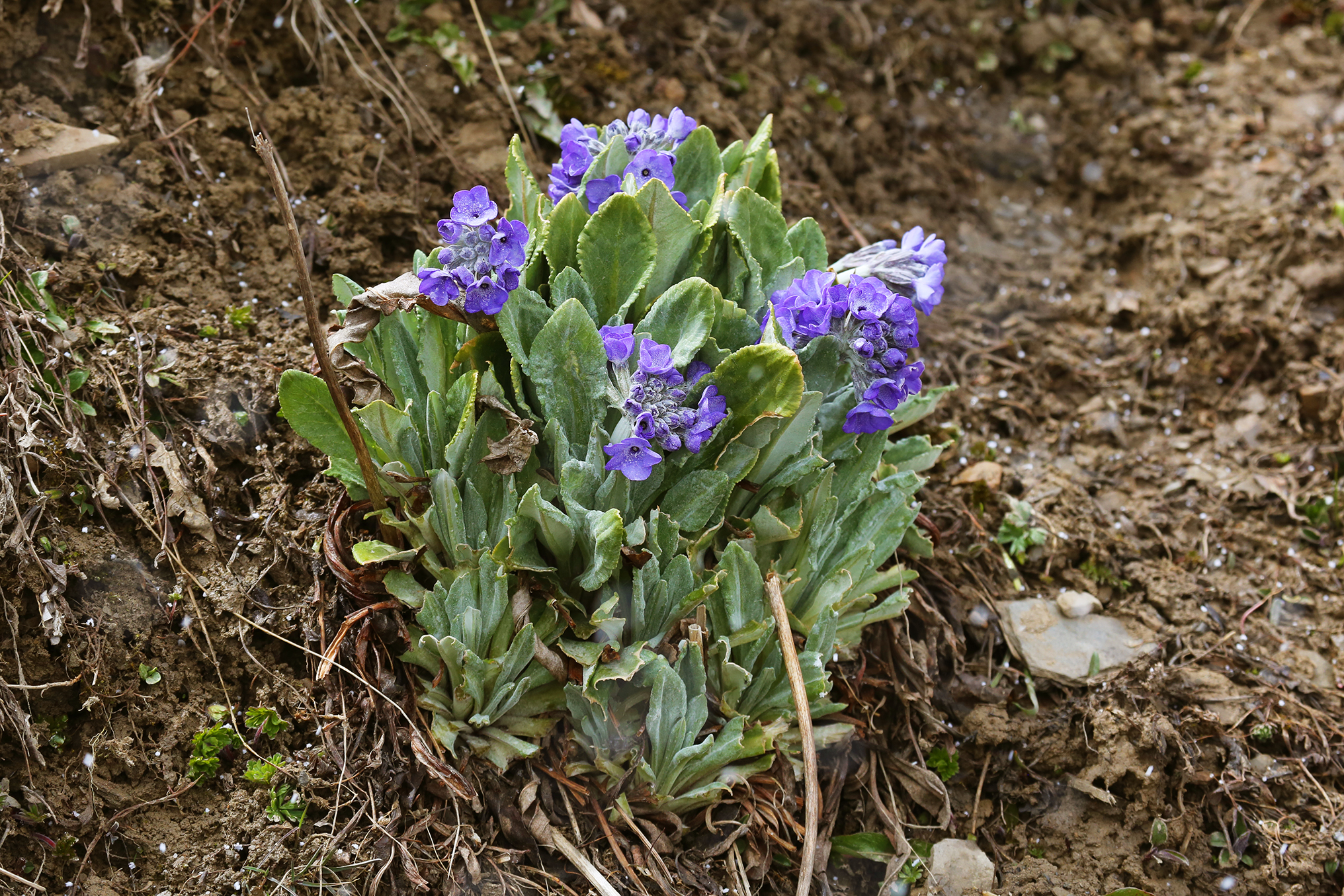 Spring flowers higher up the mountain, just below snow line, where (below) we saw Grandala.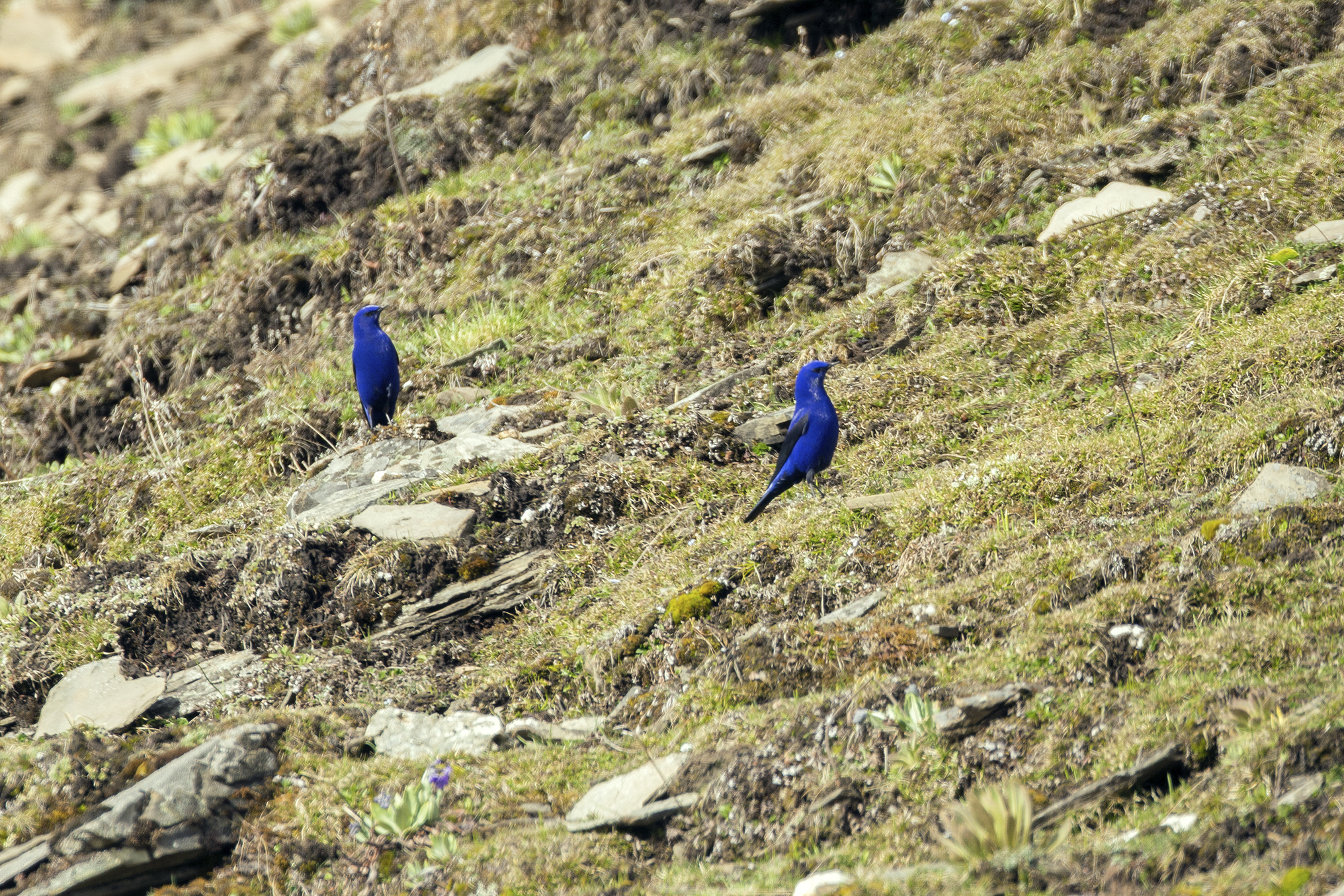 Grandala (We missed it during three trips to India but finally got it here and saw it well four times. We got our life bird in heavy fog - no pictures. But we also saw a small flock of about seven birds, including these two, and we got lucky enough to get close to the bird shown below.)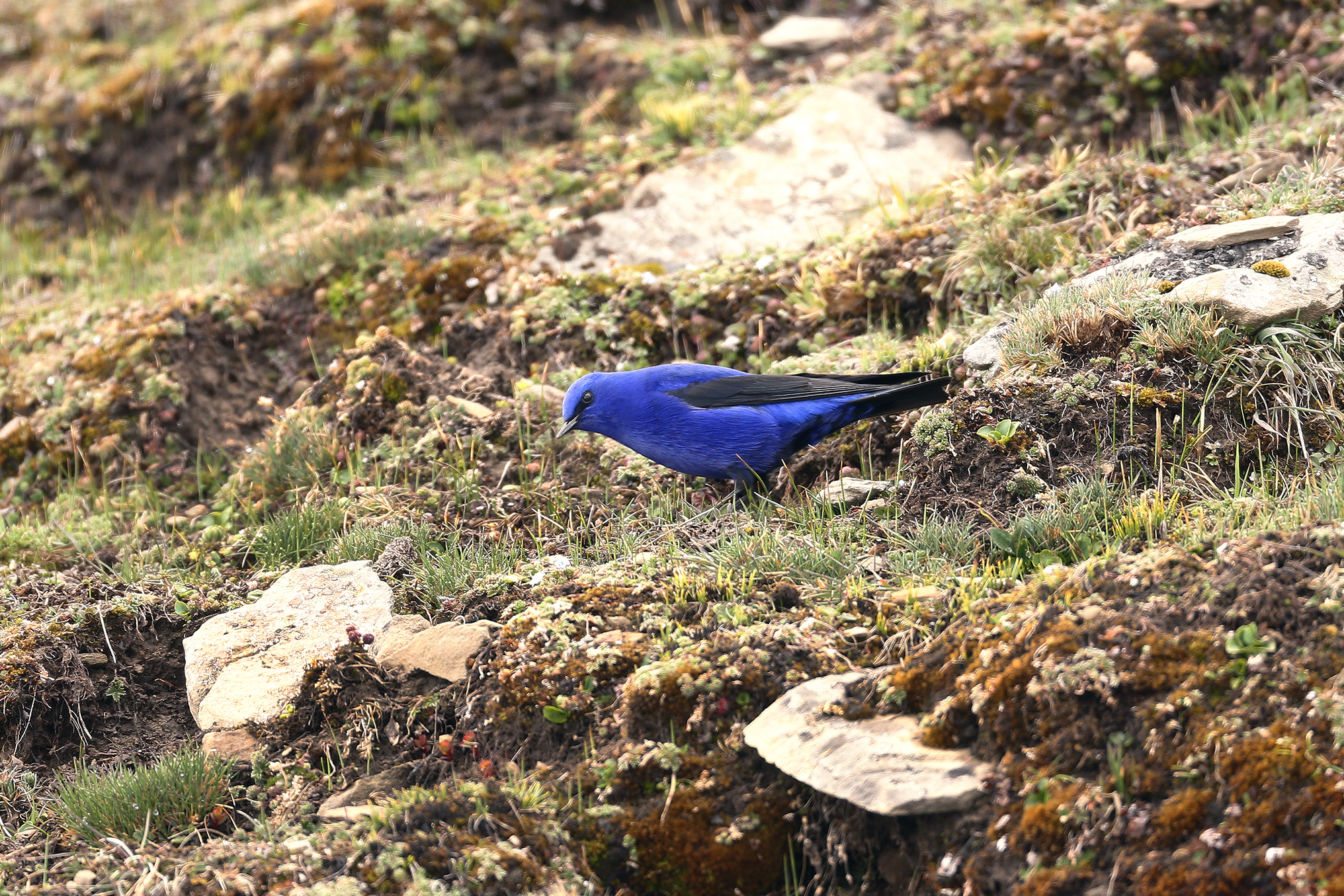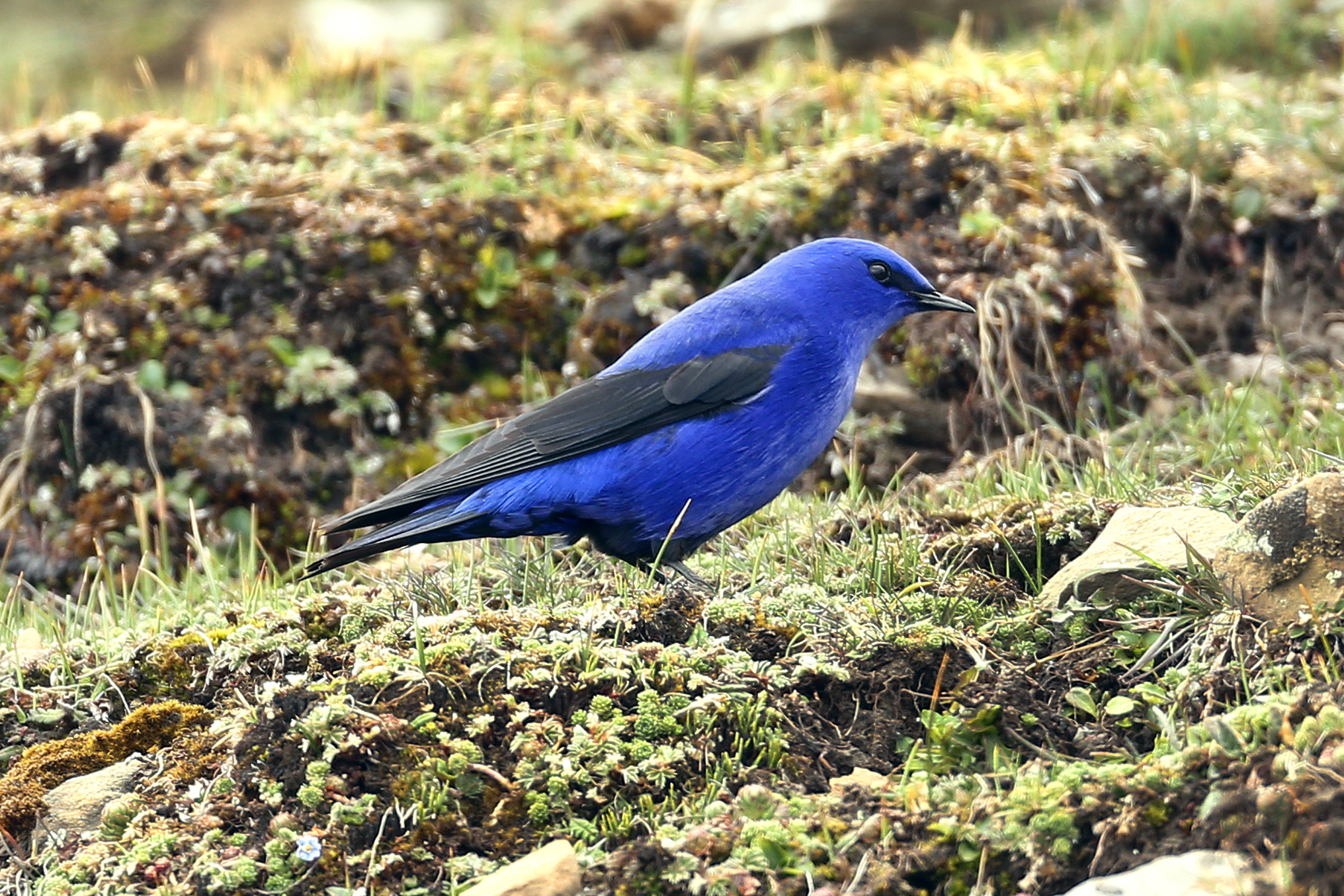 Grandala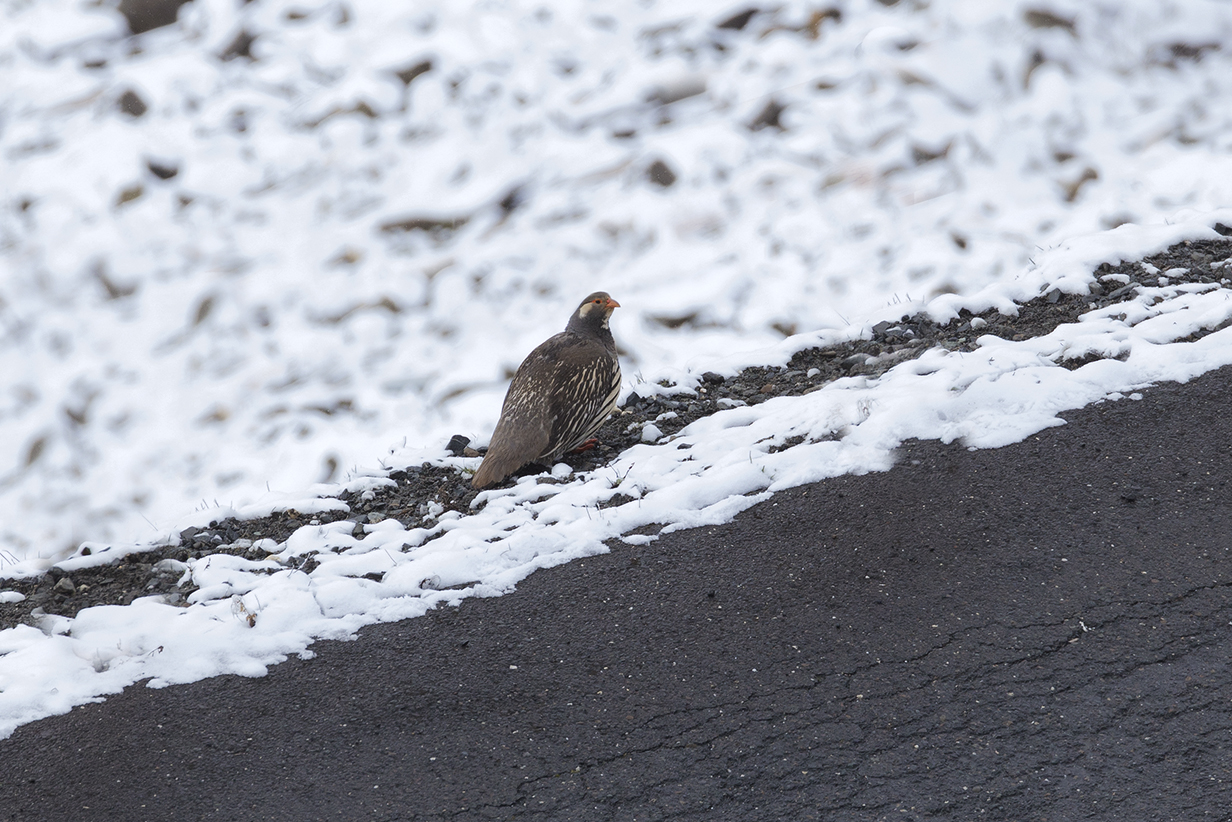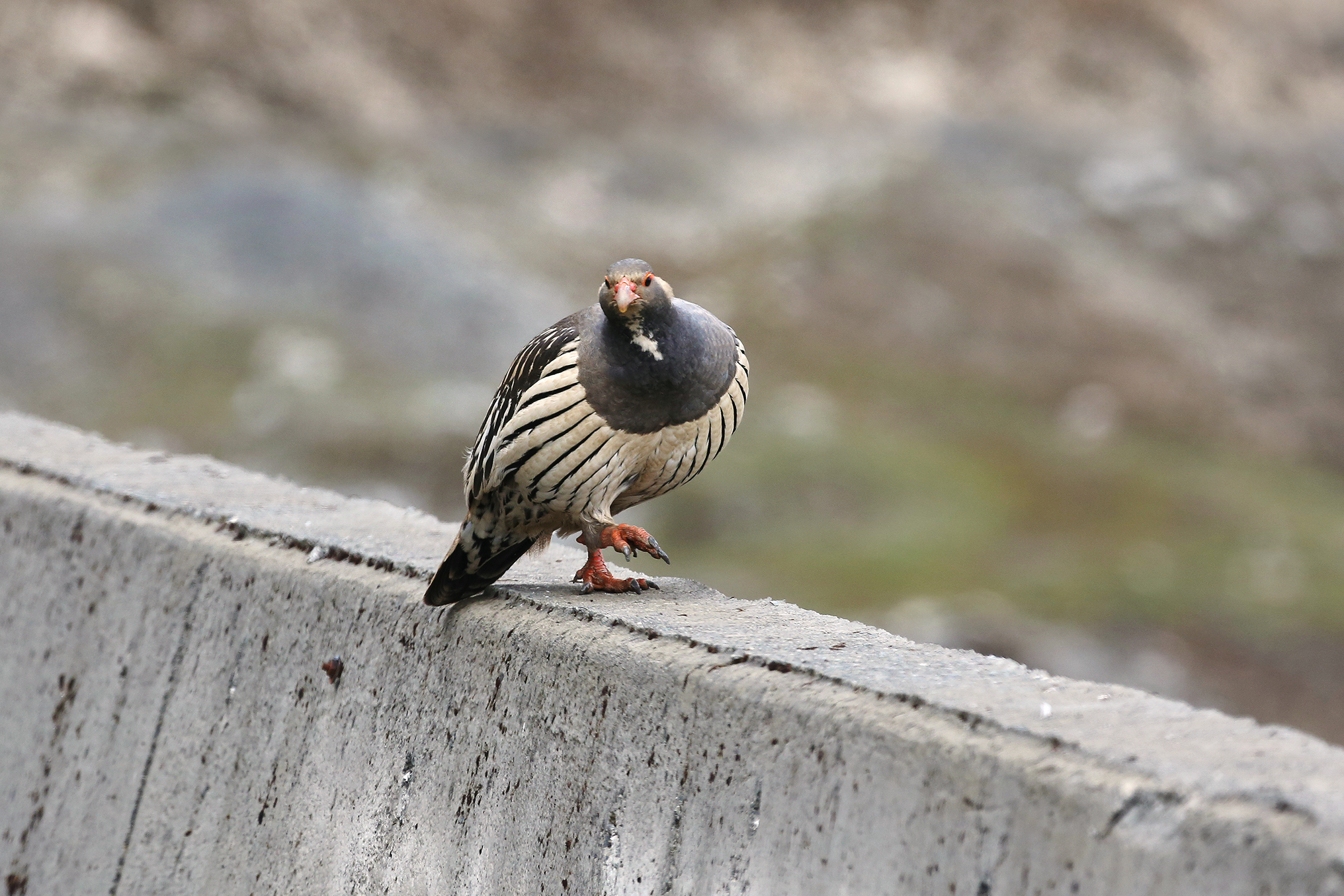 Tibetan snowcock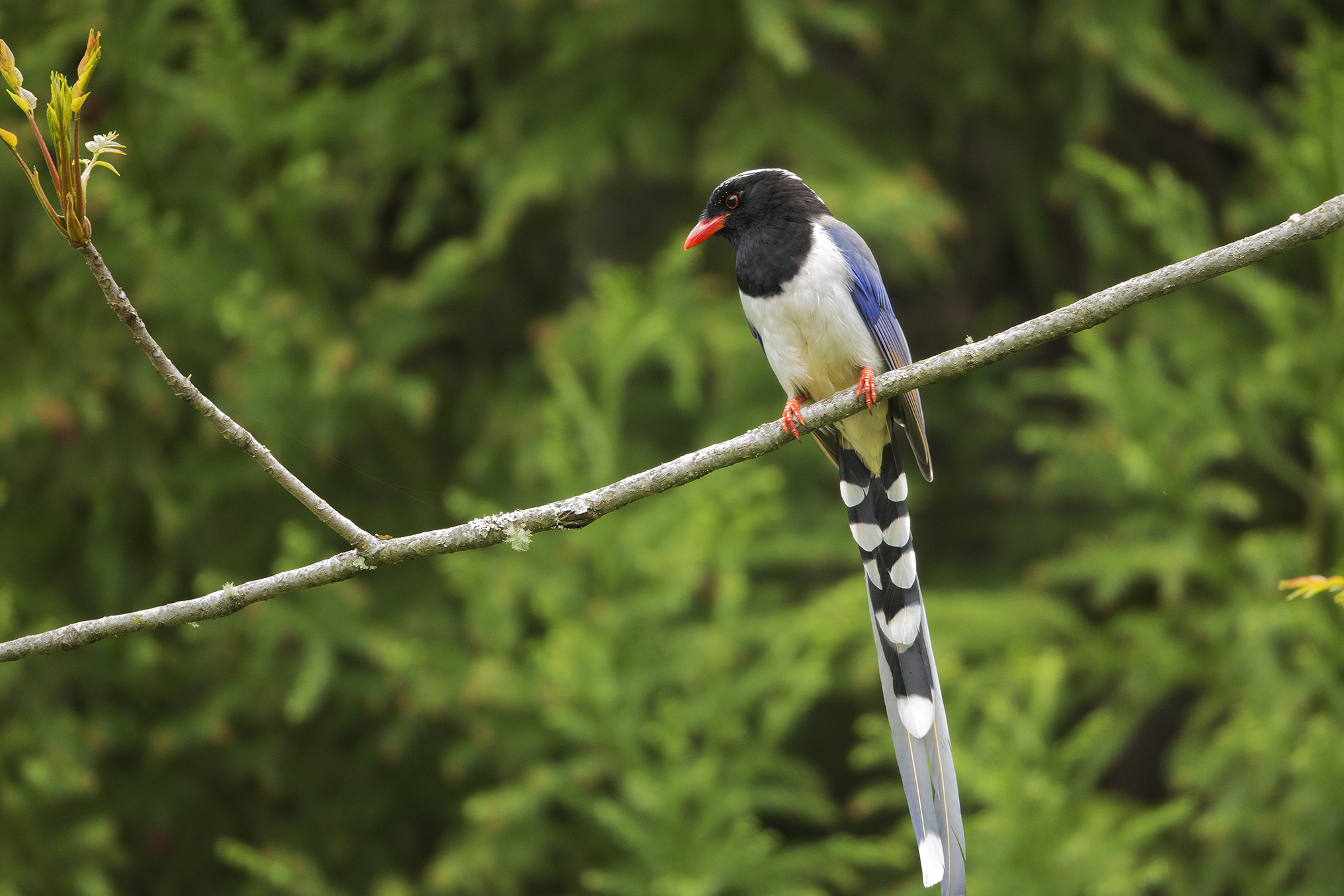 Red-billed blue magpie (At lower elevation: We slept at Wolong, at 6365 feet elevation, for four nights and commuted up the mountain every day.)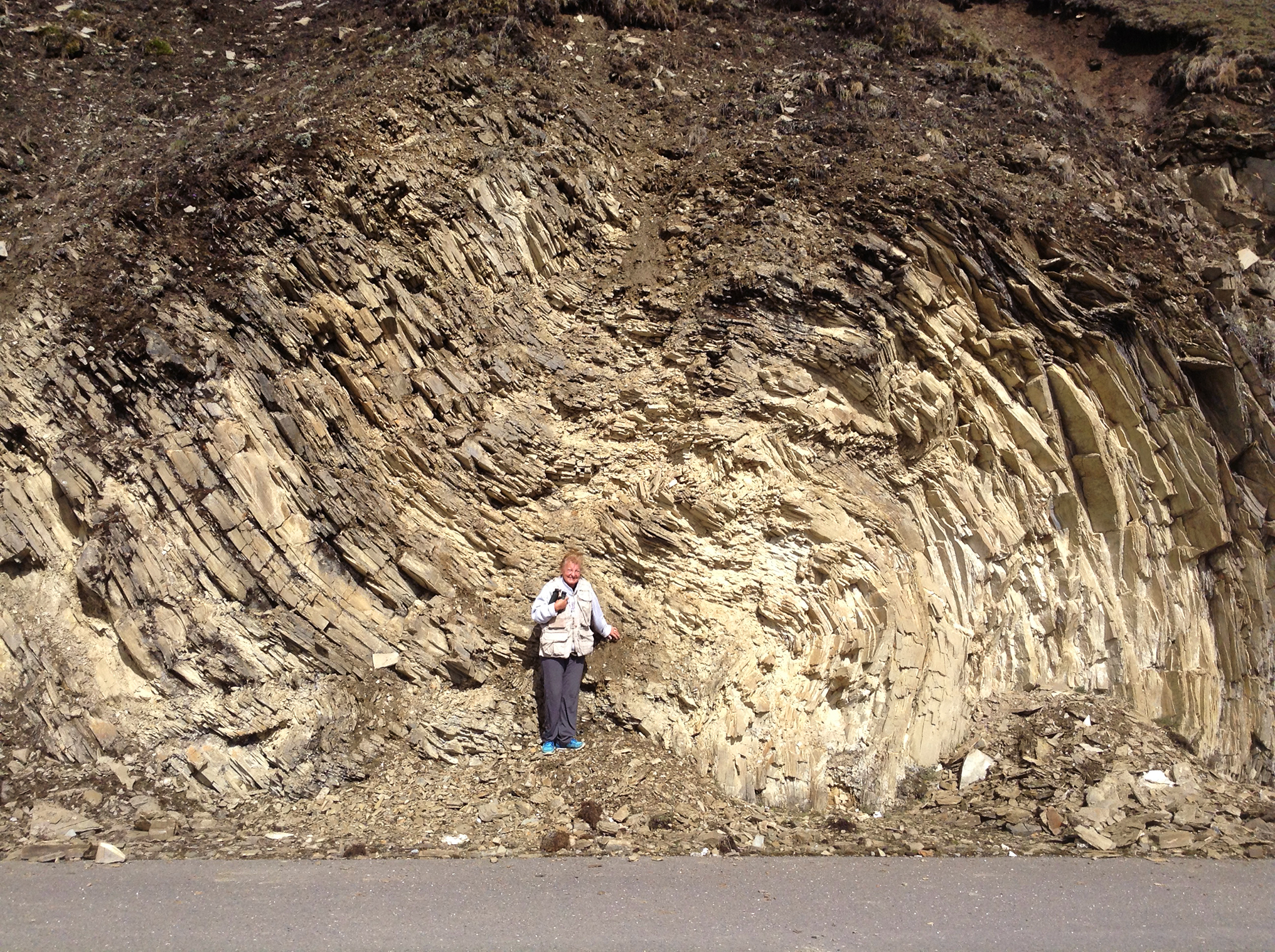 Tortured rock, bent by millions of years of pressure as India has dived under Asia, lifting up the Tibetan plateau. This was taken just below the snow line on our first day's drive from Wolong (back) up toward Banangshan Pass.
John and Mary (with camera and tripod) on the last switchbacks up to Balangshan Pass. The pass - at 4481 m or 14,577 feet altitude - is visible at far-right. Pan right to see the complete panorama. Photo courtesy of our guide, Ms. Sissi Tang.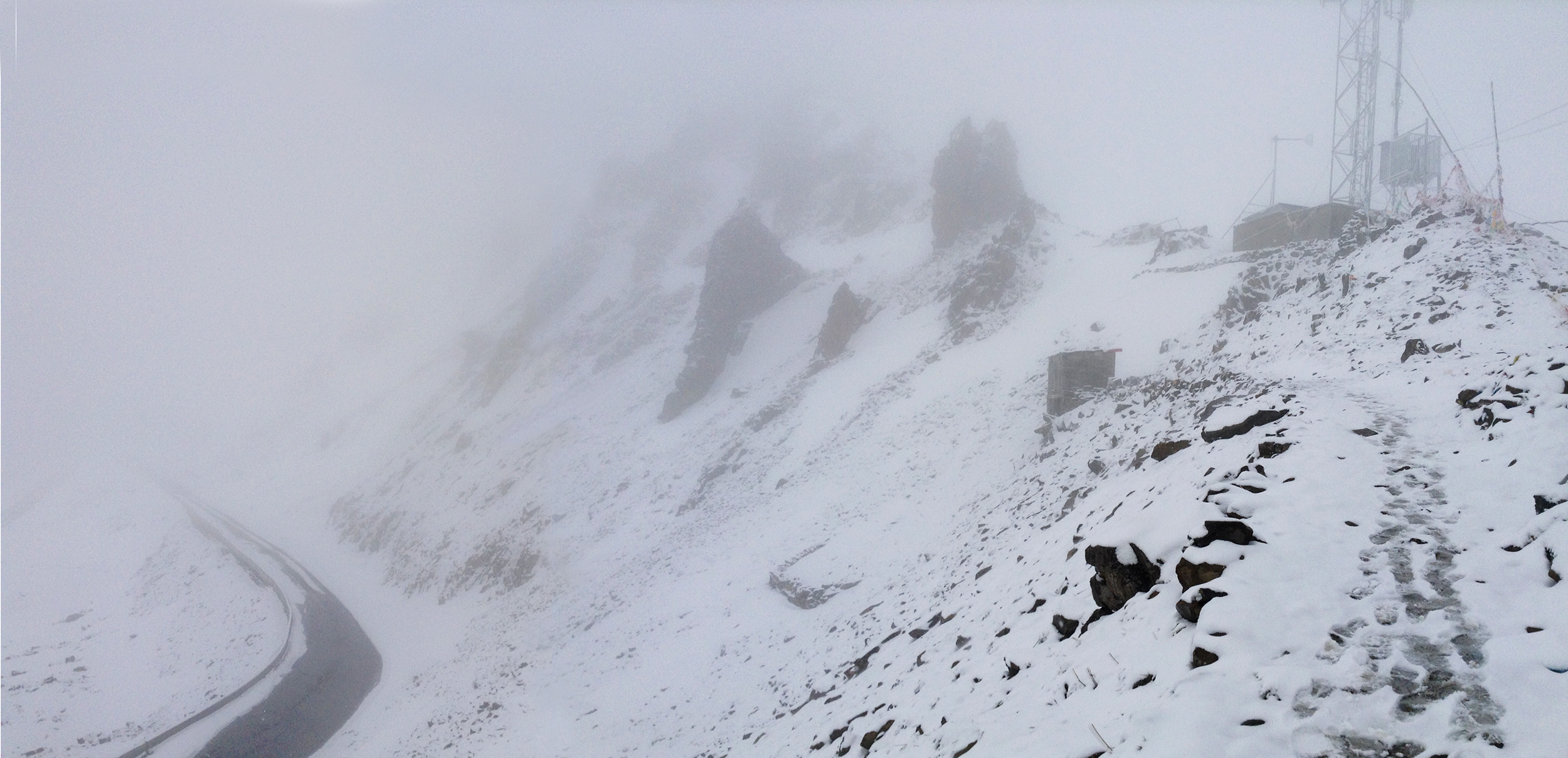 Balangshan Pass can be an adventure in bad weather. Especially if you have to make an emergency visit to the smallest room on the mountain (tiny building right of center).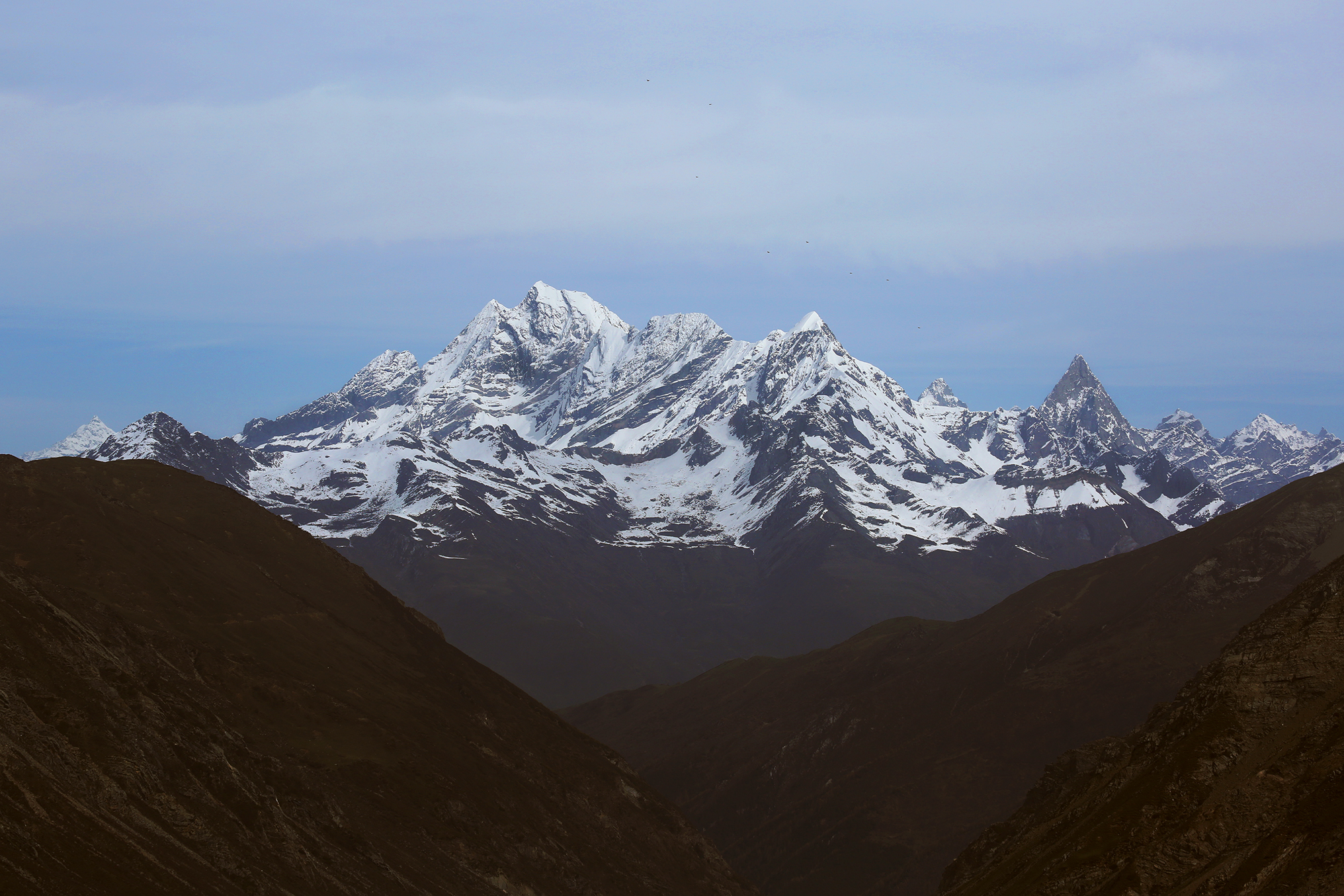 After crossing Balangshan Pass, this is the view toward the west. As noted elsewhere in these pages, the near-vertical tilting of rock strata tends to result in near-vertical cleaving and hence in impressively steep mountain slopes.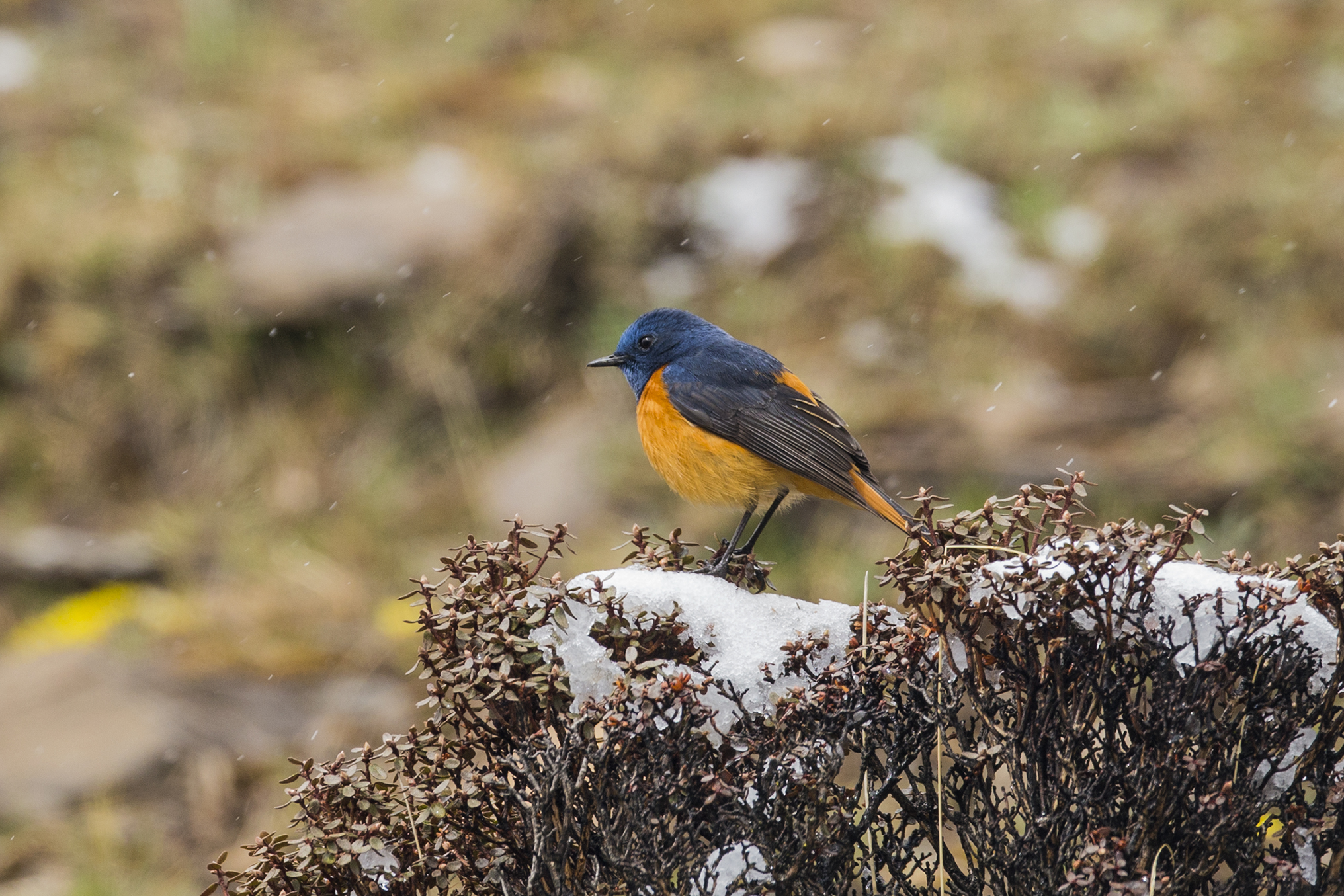 Blue-fronted redstart (We are now over Balangshan Pass and on our way down toward the west - toward Tibet.)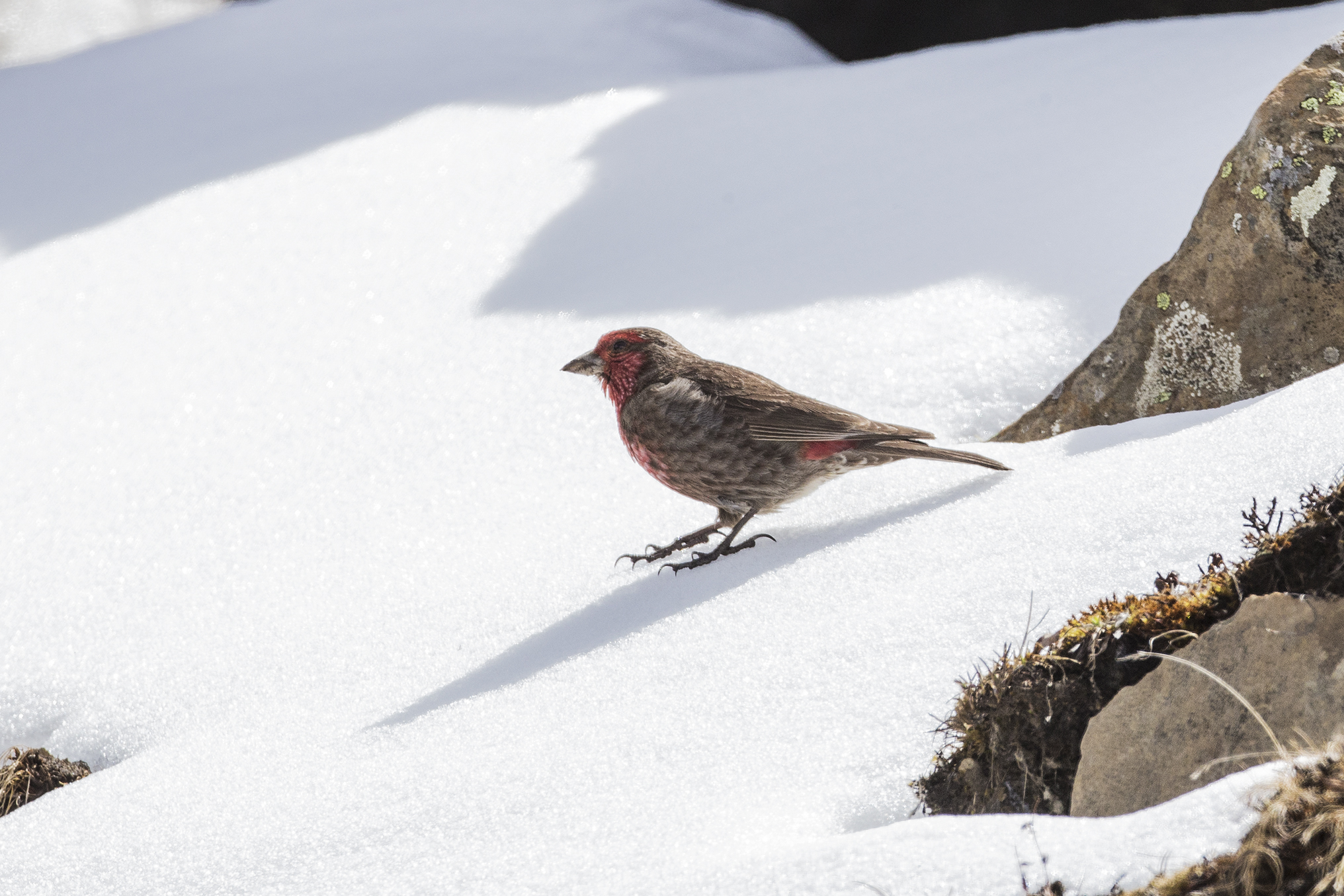 Red-fronted rosefinch (This male was trying VERY carefully not to ski down the snow slope. He succeeded and arrived at: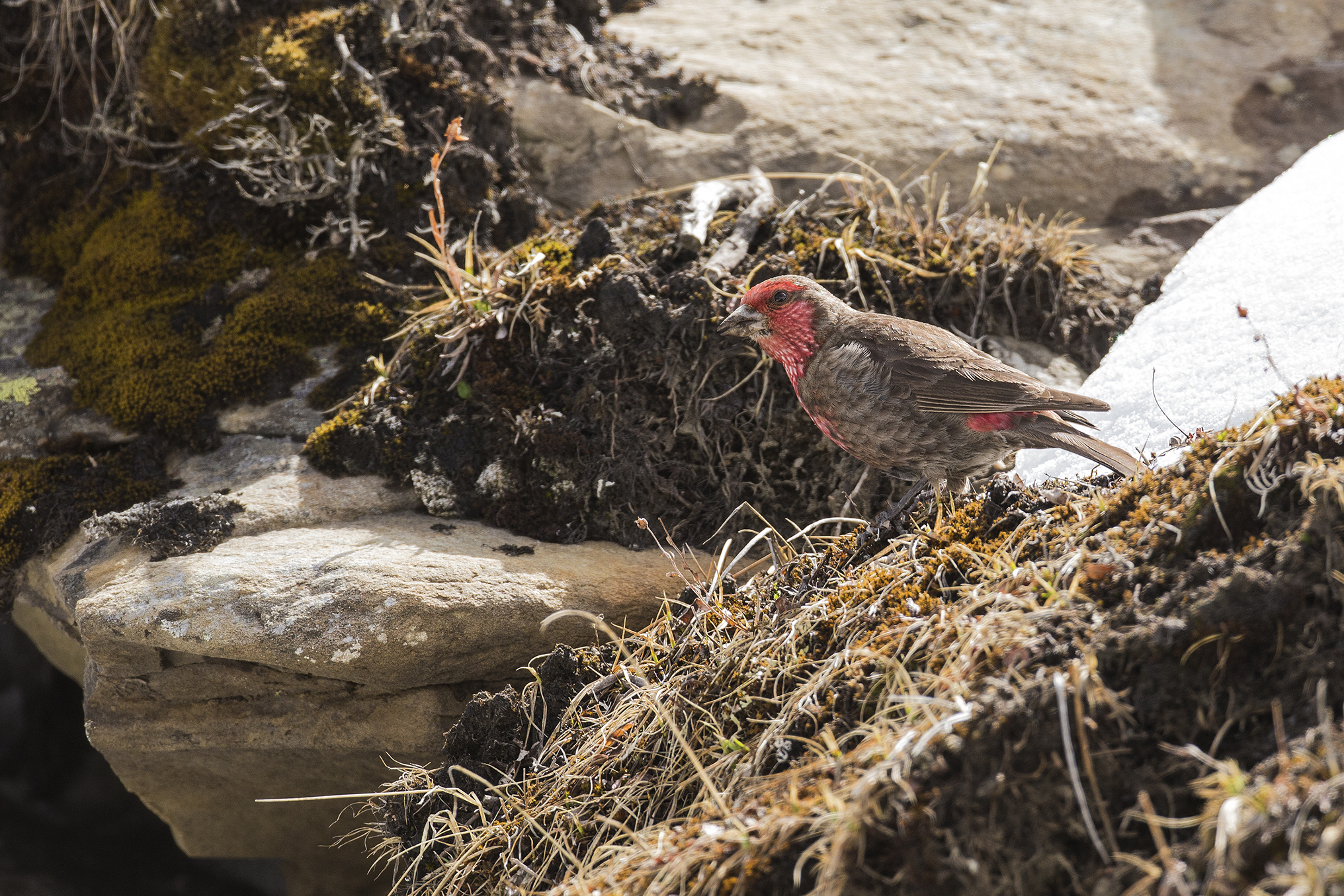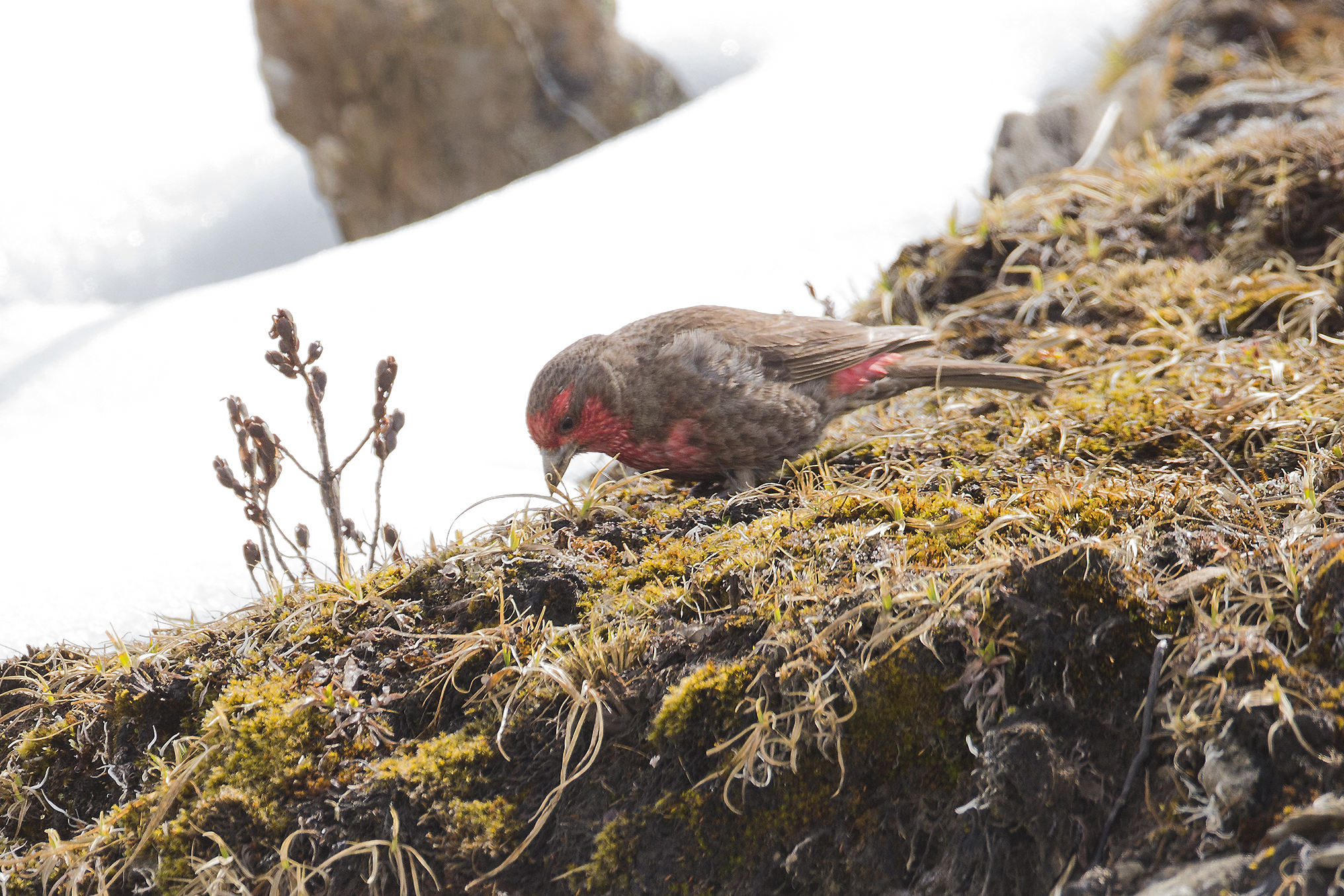 Red-fronted rosefinch (His features are more easily seen when he is not silhouetted against bright snow.)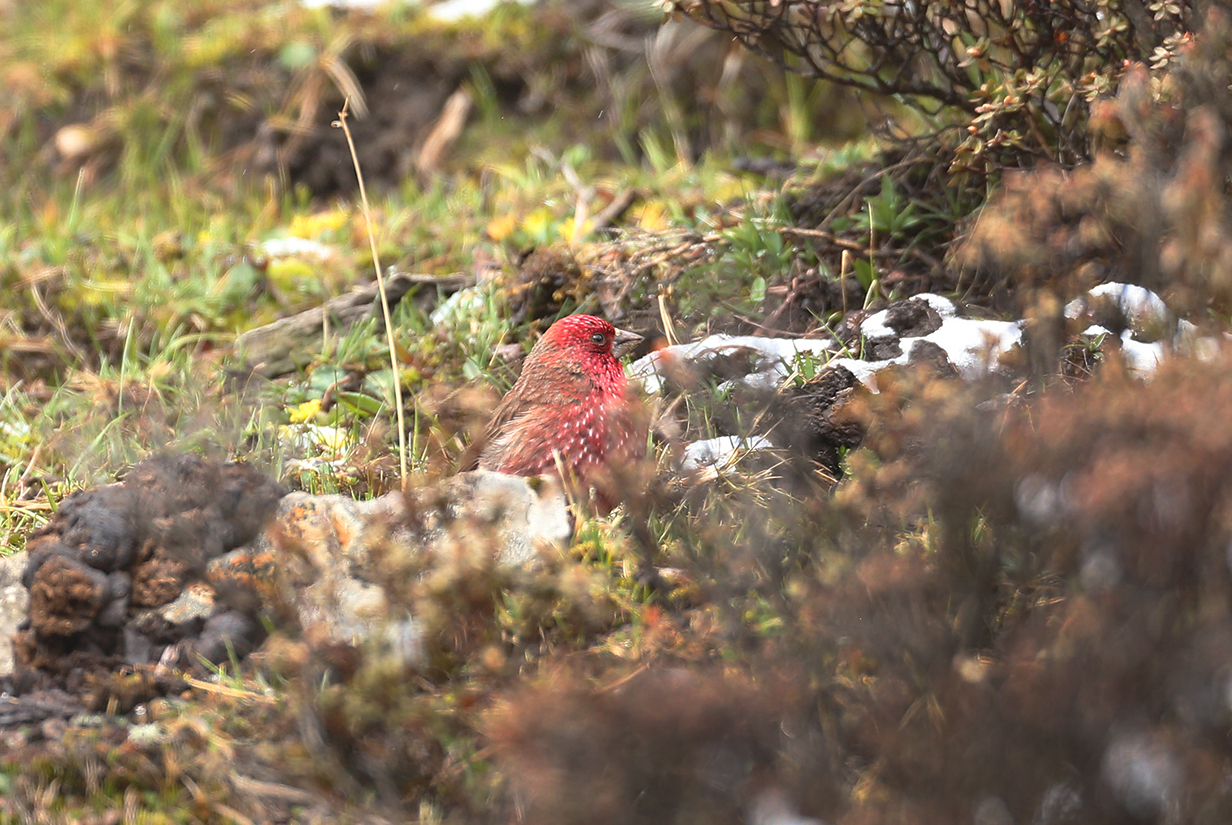 Streaked rosefinch (This is John's life bird.)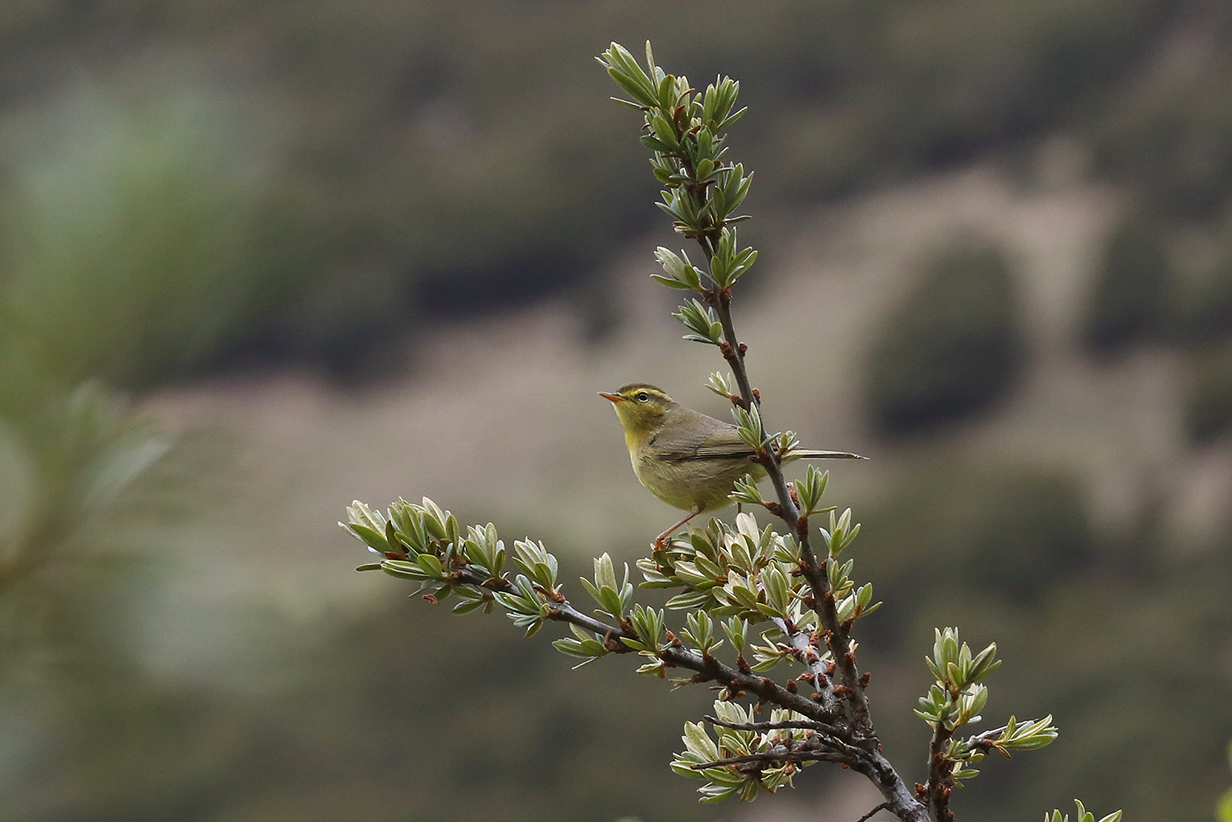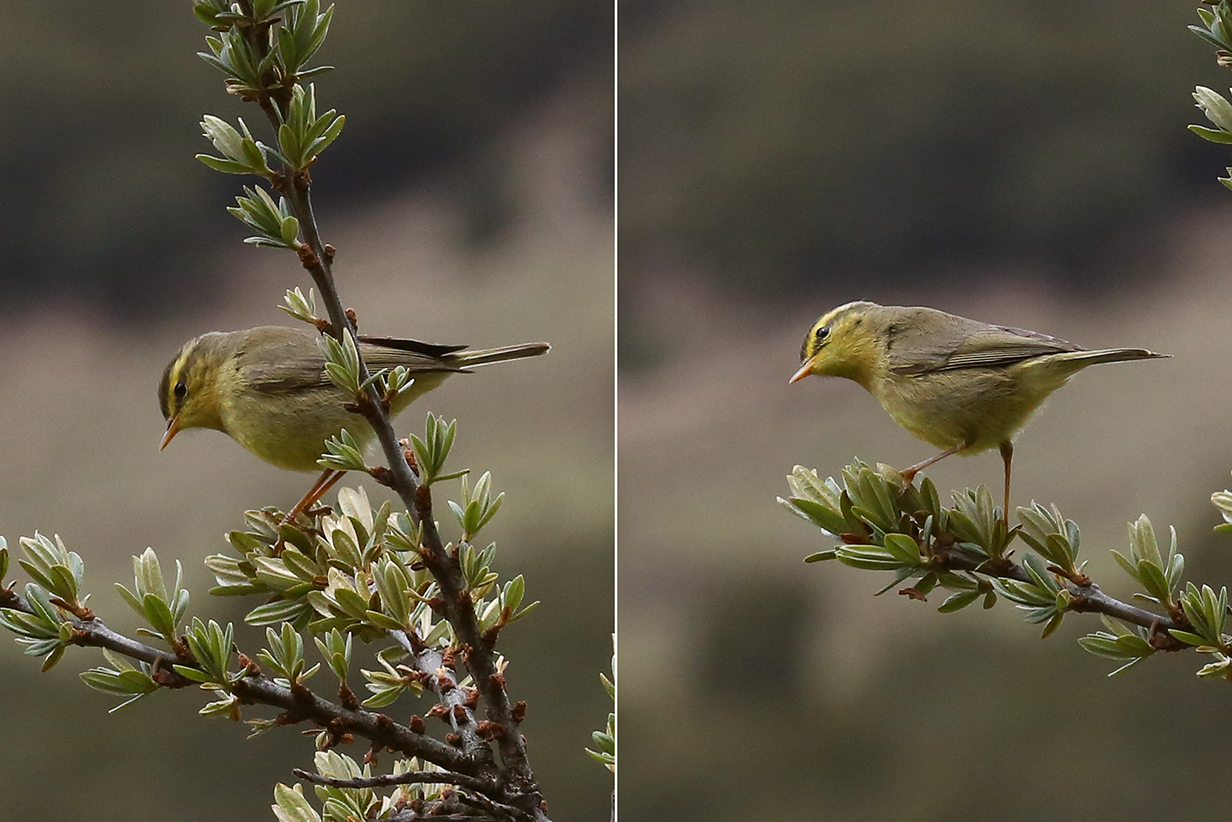 Alpine leaf warbler (This is our life bird. This species is split from Tickell's leaf warbler - e. g., in Arunachal Pradesh - in the Clements world list.)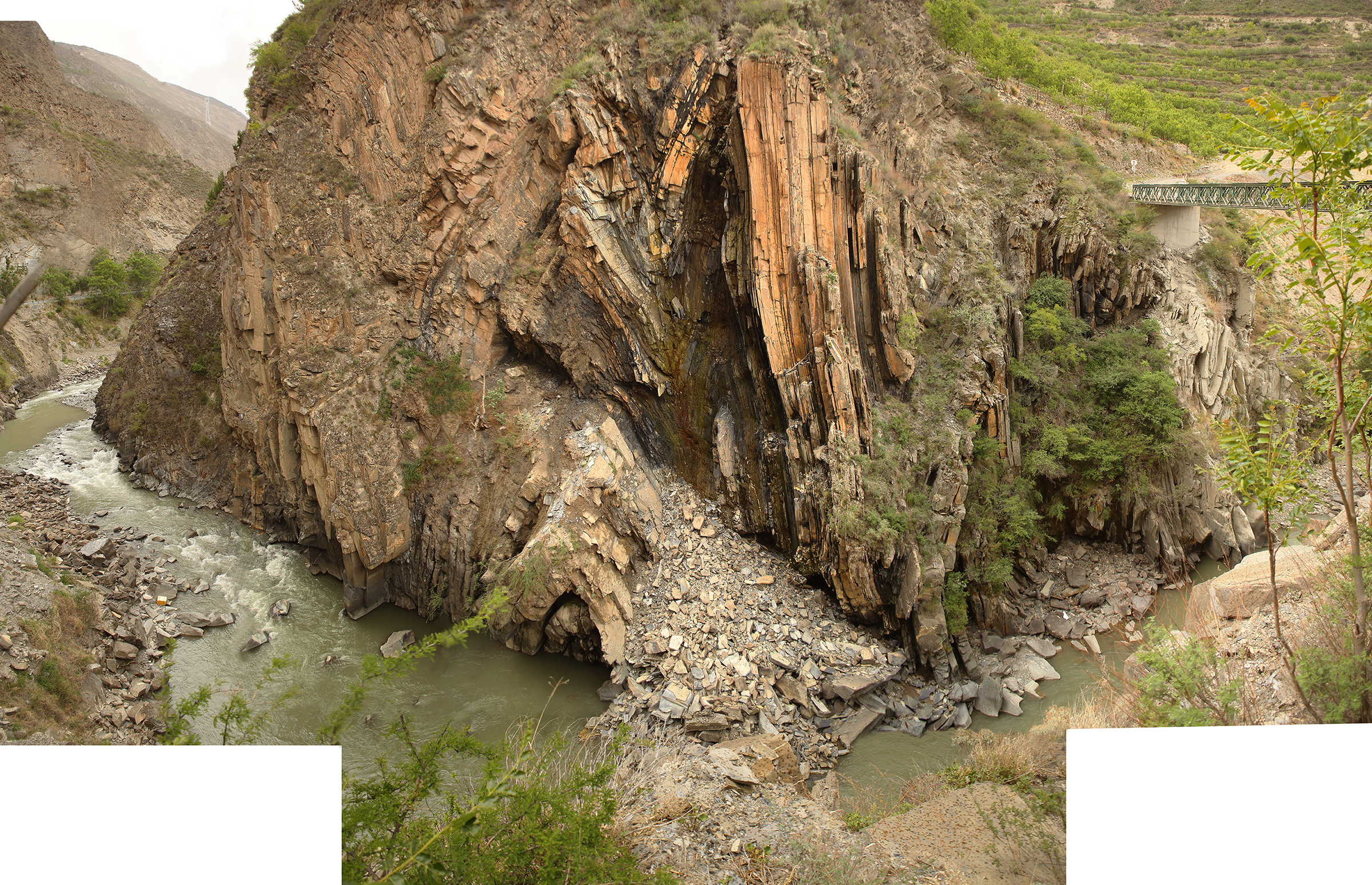 More tortured rock, during the drive described below. This is roughly a 150-degree panorama of a gentle curve in a river with cliffs of characteristically layered but also characteristically folded rock walls. The cliff is about 50 m or more than 150 feet high. A narrow but drivable vehicle bridge at right provides scale. Note again how the rock layers are tipped close to vertical. But the V-shaped feature in the middle of the picture is real; is is not an artefact of montaging the 5 pictures that were combined to make this panorama. It is exceedingly impressive to contemplate the forces that were required to make this feature.
Mengbi Shan Forest
From Wolong, we drove over Balangshan Pass for one last time and then on, eastward toward the Tibetan Plateau, going over a pass at 4119 m or 13,497 feet altitude near Mengbi Shan. In the town of Maerkang (altitude ~ 2600 m), we stayed in one of the nicest hotels of the trip, in a modern suburb. The hotel even had an elevator and heated floors! Next day, Mary rested and John went back up to the Mengbi Shan forest, almost to the pass. Here, he had the good luck to meet John MacKinnon, who authored the authoritative "Field Guide to the Birds of China" (Oxford University Press).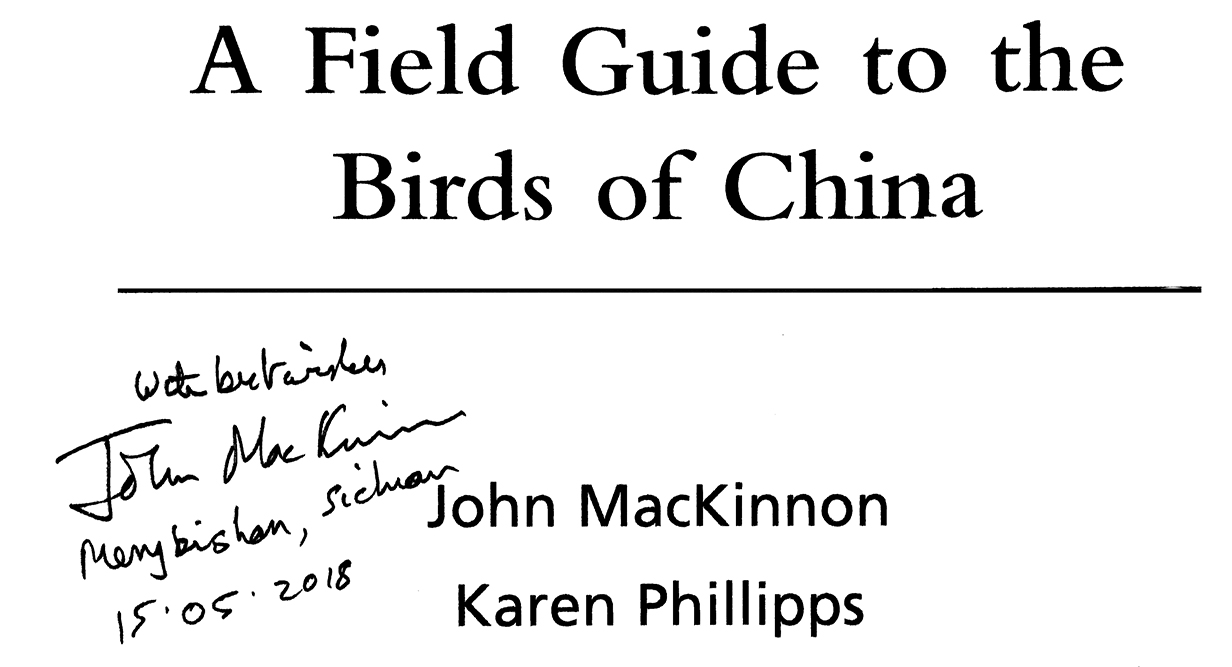 John MacKinnon kindly autographed John and Mary's copy of his field guide.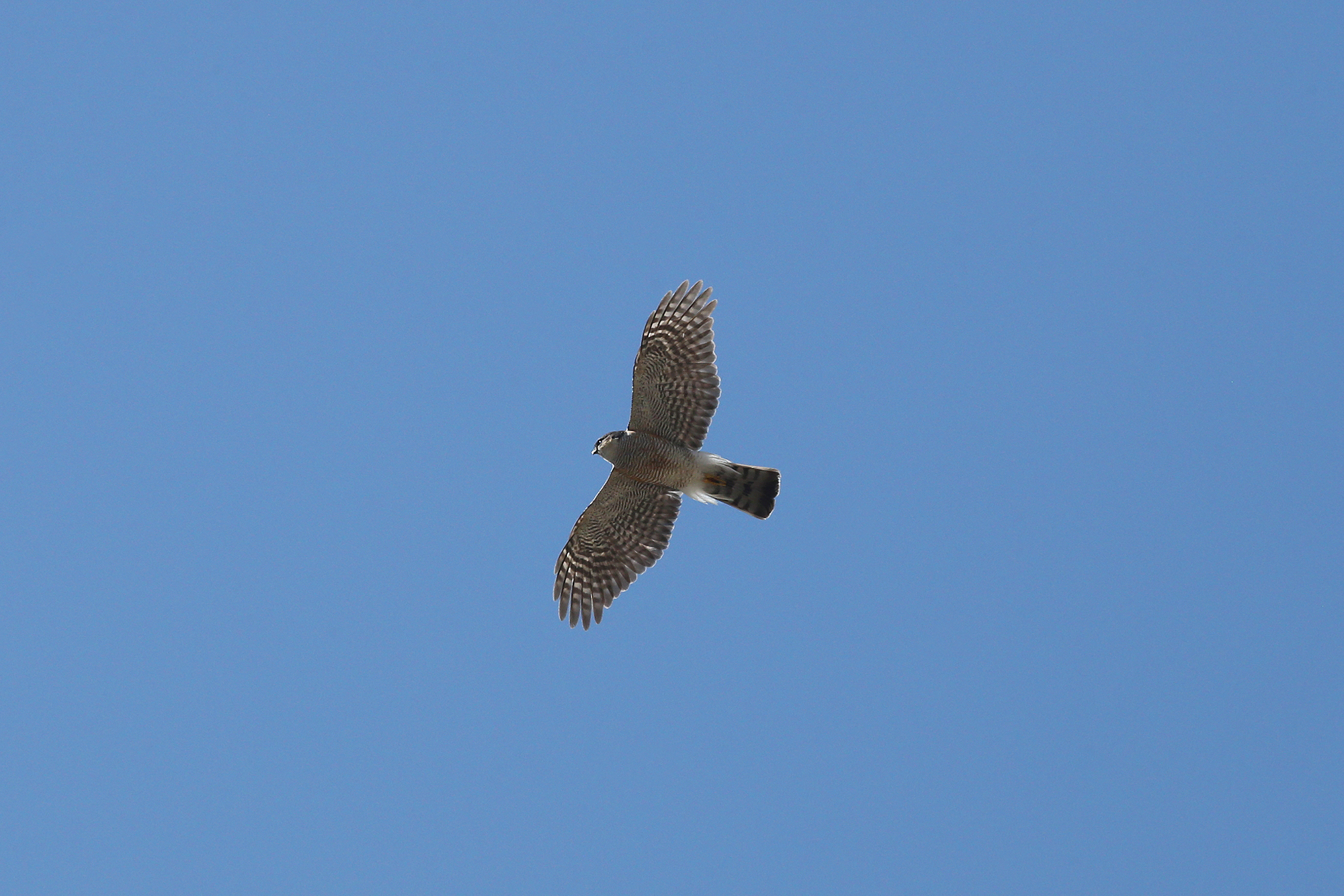 Eurasian sparrowhawk flying over Mengbi Shan forest.
The second and third pictures of Giant laughingthrush were taken near our high point in Mengbi Shan forest.
Tibetan Plateau and Baxi Forest
From Maerkang, we drove to Hongyuan, on the Tibetan Plateau. After many days of acclimatization, it proved easy to sleep at 3500 m = 11,520 feet elevation, by far the highest altitude at which we have ever spent a night.
The next day was dominated by a very long drive to Ruoergai (altitude 3450 m) and from there to Ruoergai wetlands and back. The following pictures are from these two days.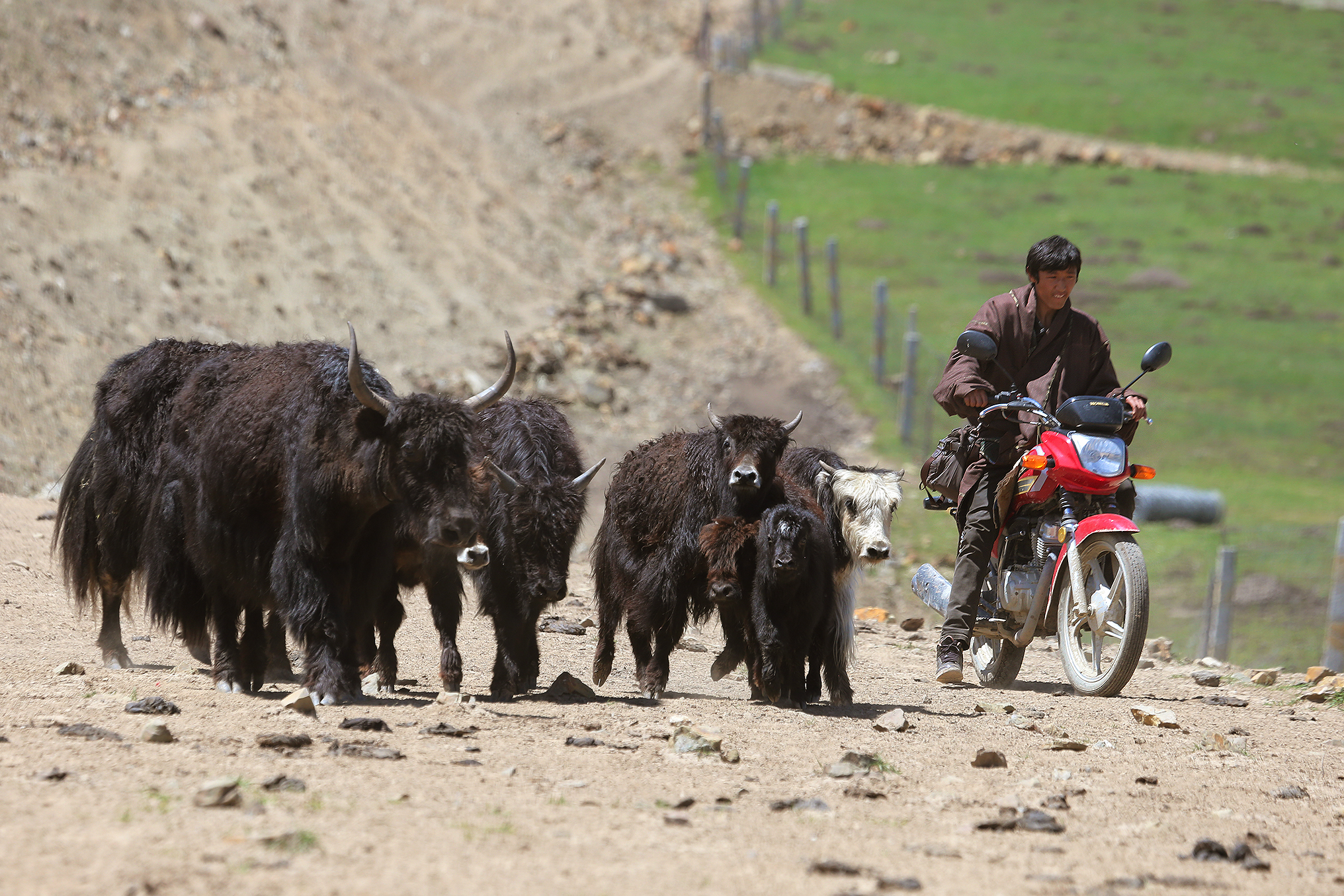 Civilization comes to the Tibetan Plateau: Herding yaks via motorcycle.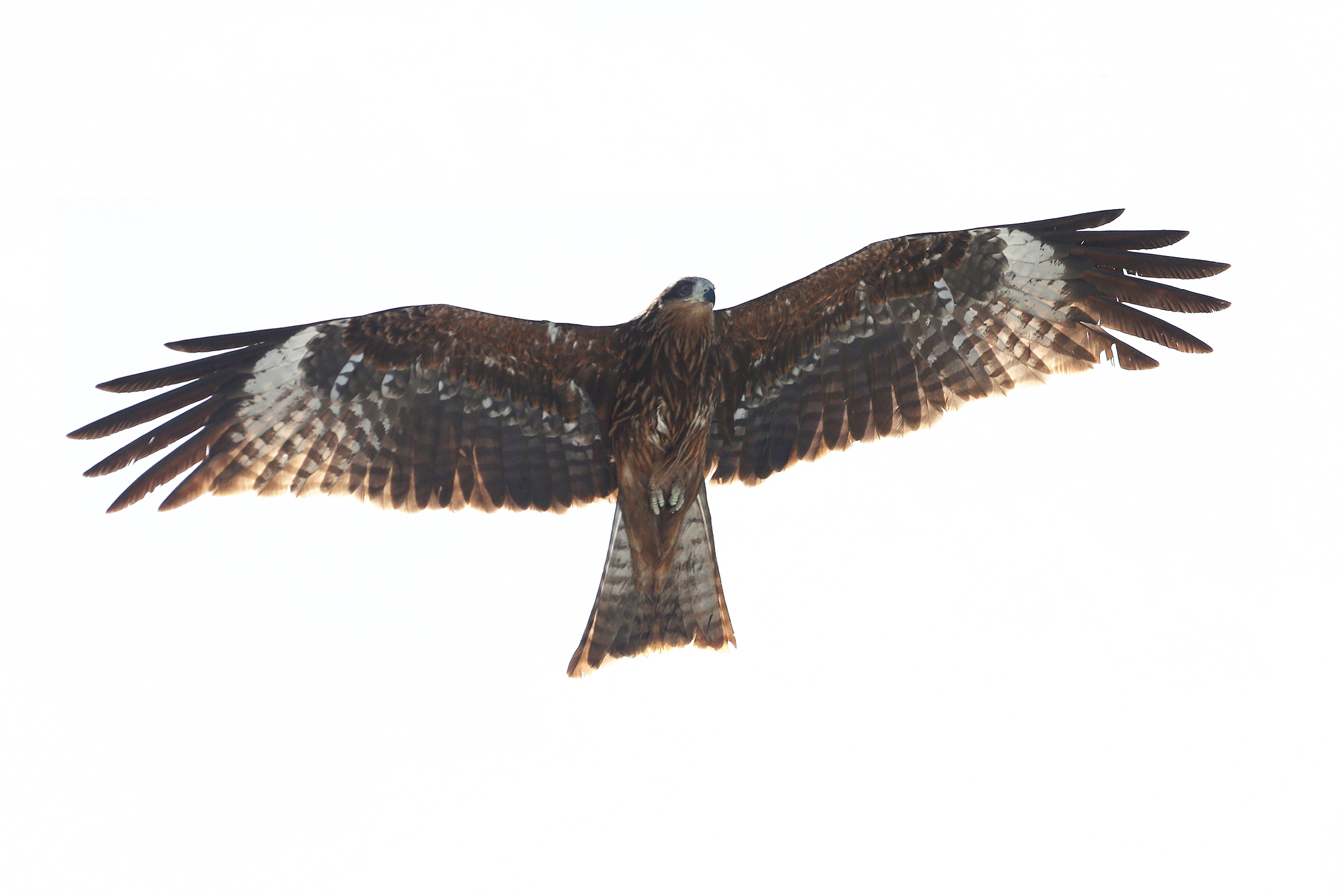 Black kite (The Tibetan Plateau is raptor country!)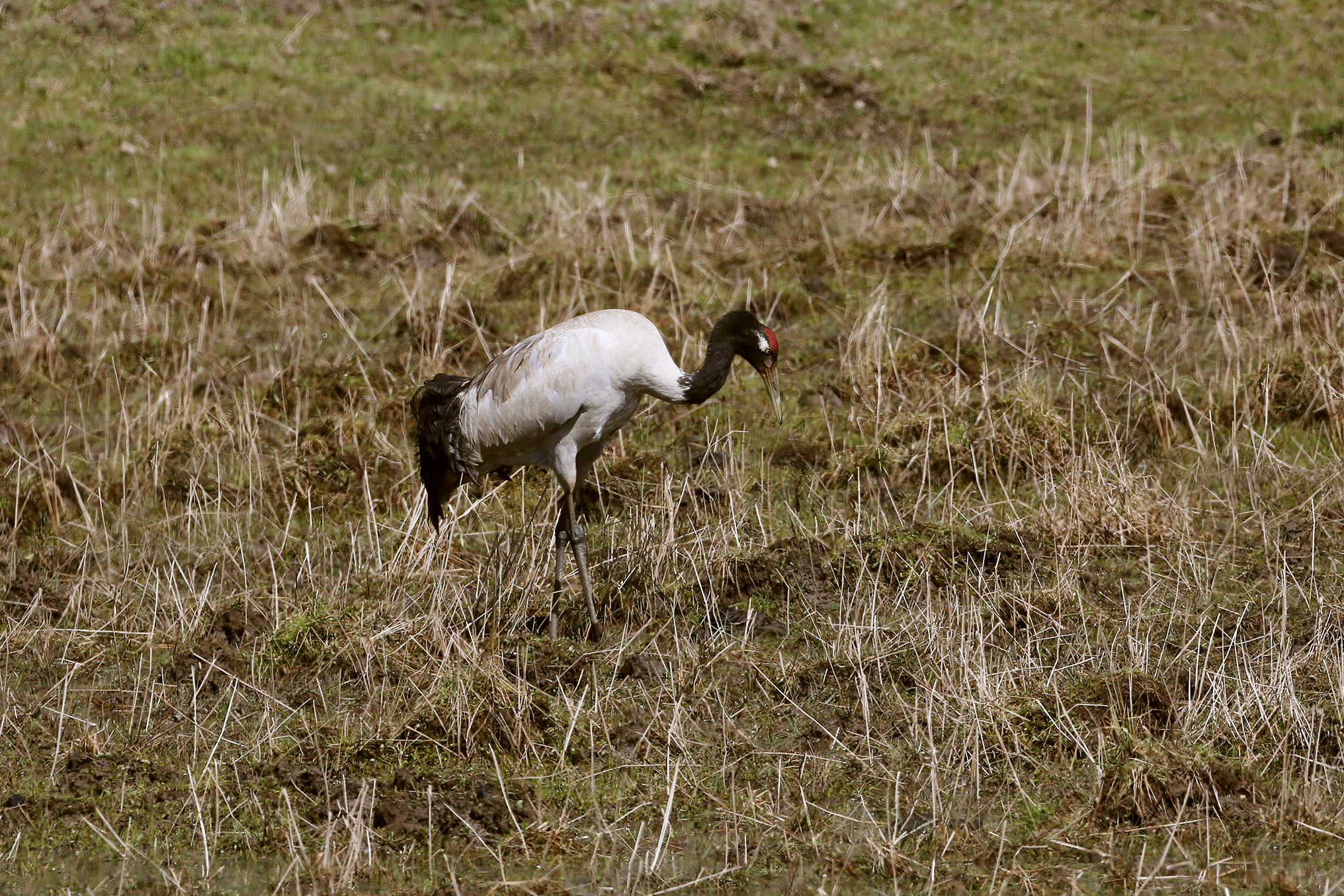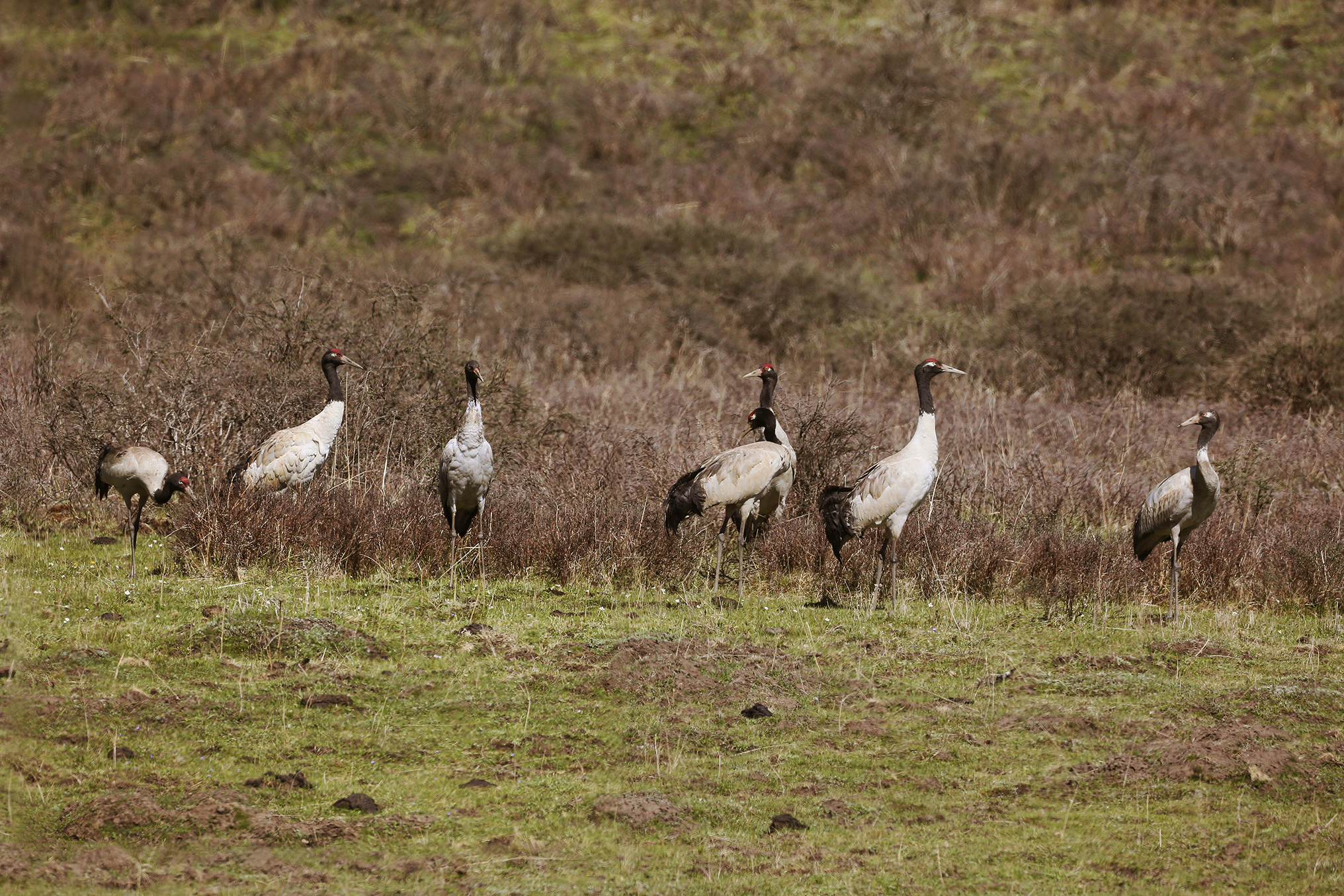 Black-necked cranes (These are Mary's life birds. John saw two Black-necked cranes in Arunachal Pradesh in 2016.)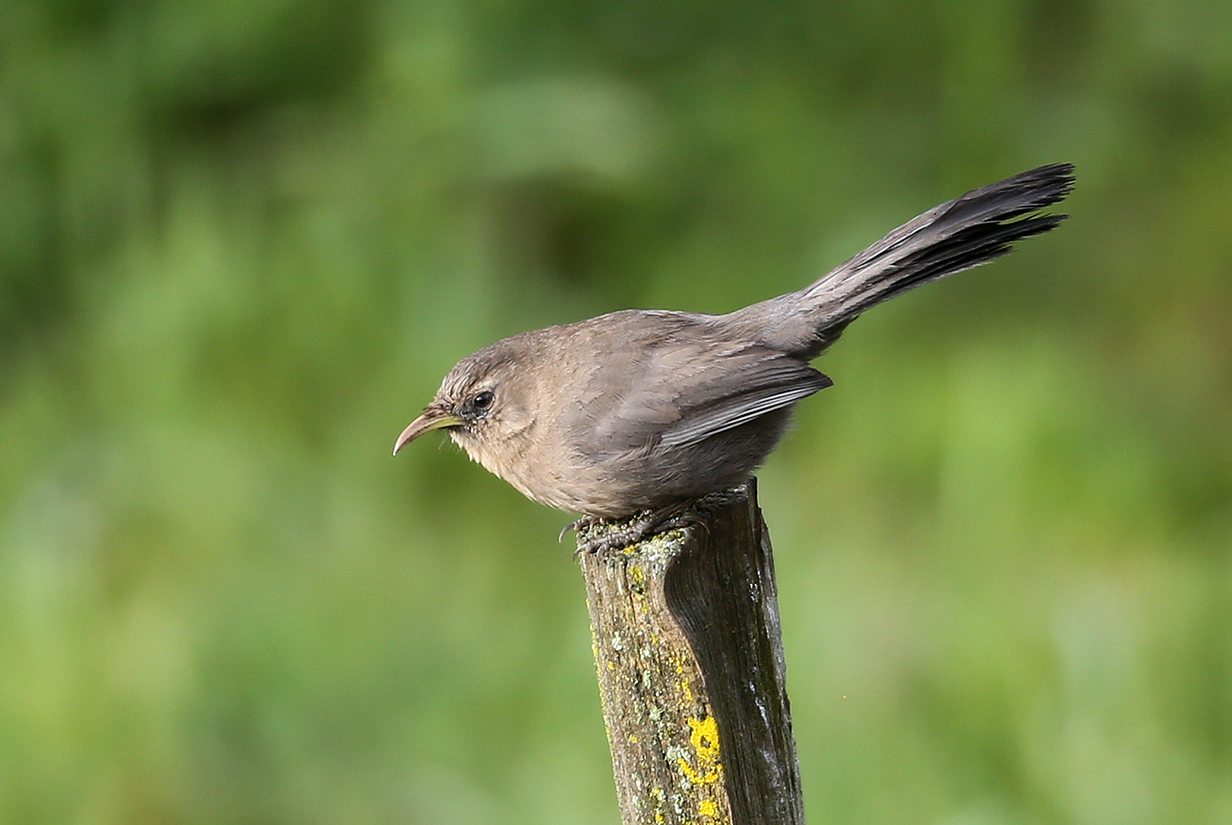 Pere David's (formerly Plain) laughingthrush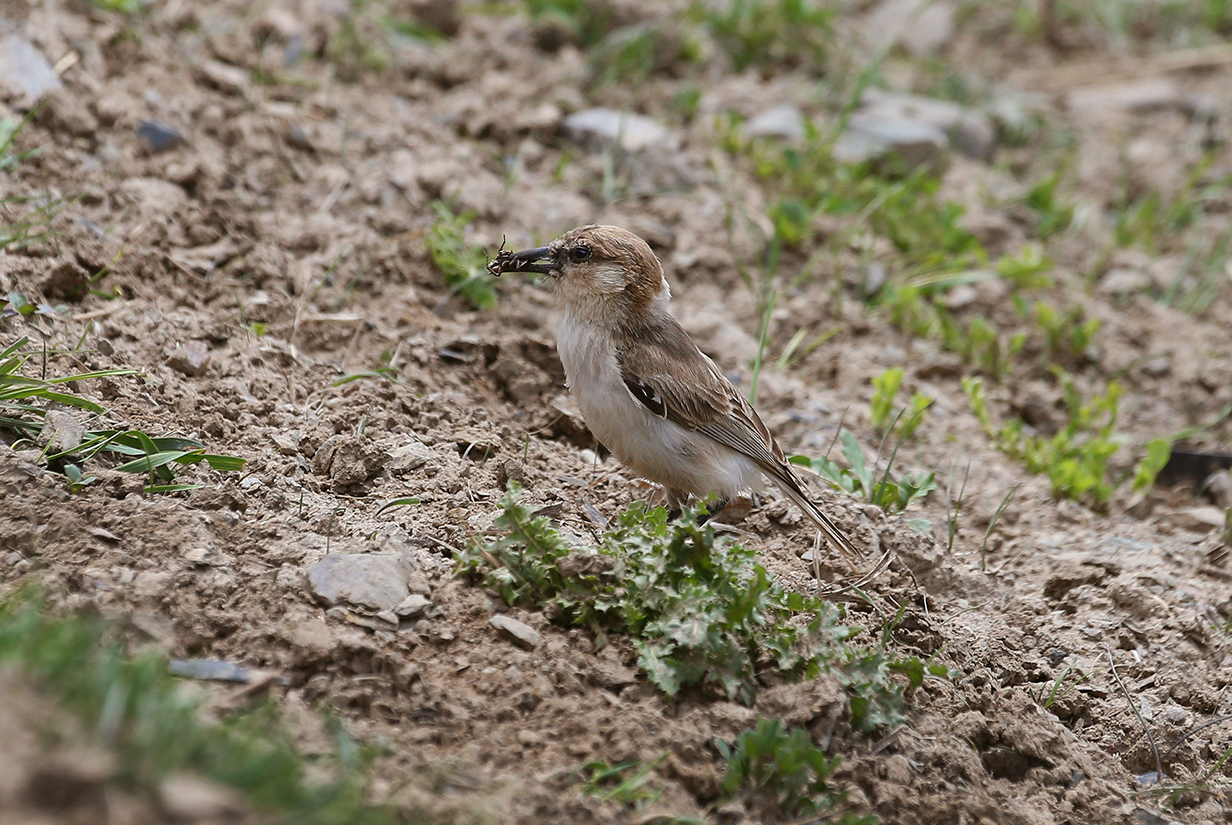 Ground tit (formerly called Hume's groundpecker: This is our life bird. Ground tits use the abandoned nesting burrows of pikas, a small mammal that's rather like a tiny rabbit and that lives at remarkably high altitudes (up to ~ 20,000 feet, according to Wikipedia. Whenever we saw Ground tits, they were in the middle of large colonies of pikas. Repeatedly, we saw them run around, forage successfully, and then run back and disappear into their burrows. We concluded - consistent with the season - that they were feeding young.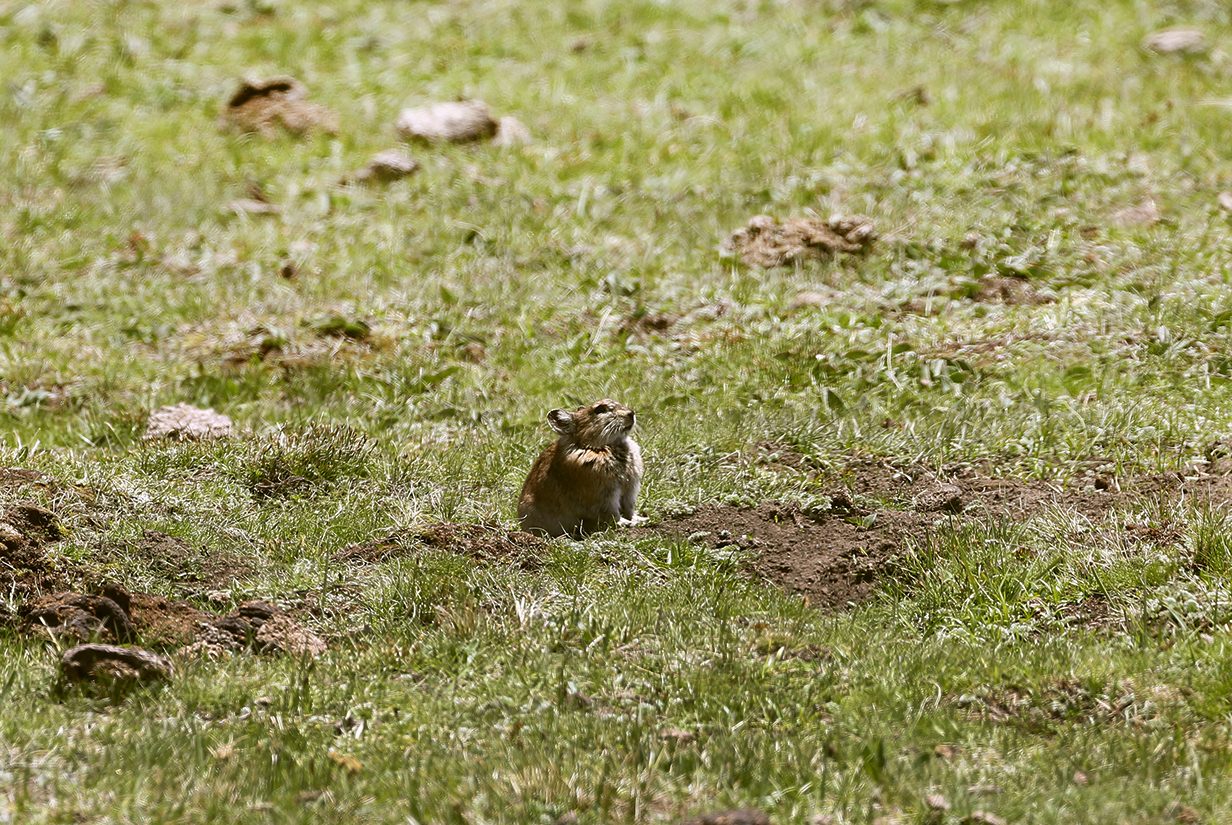 Pika at its hole, one of many dozens in the nest warren where we saw the Ground tit.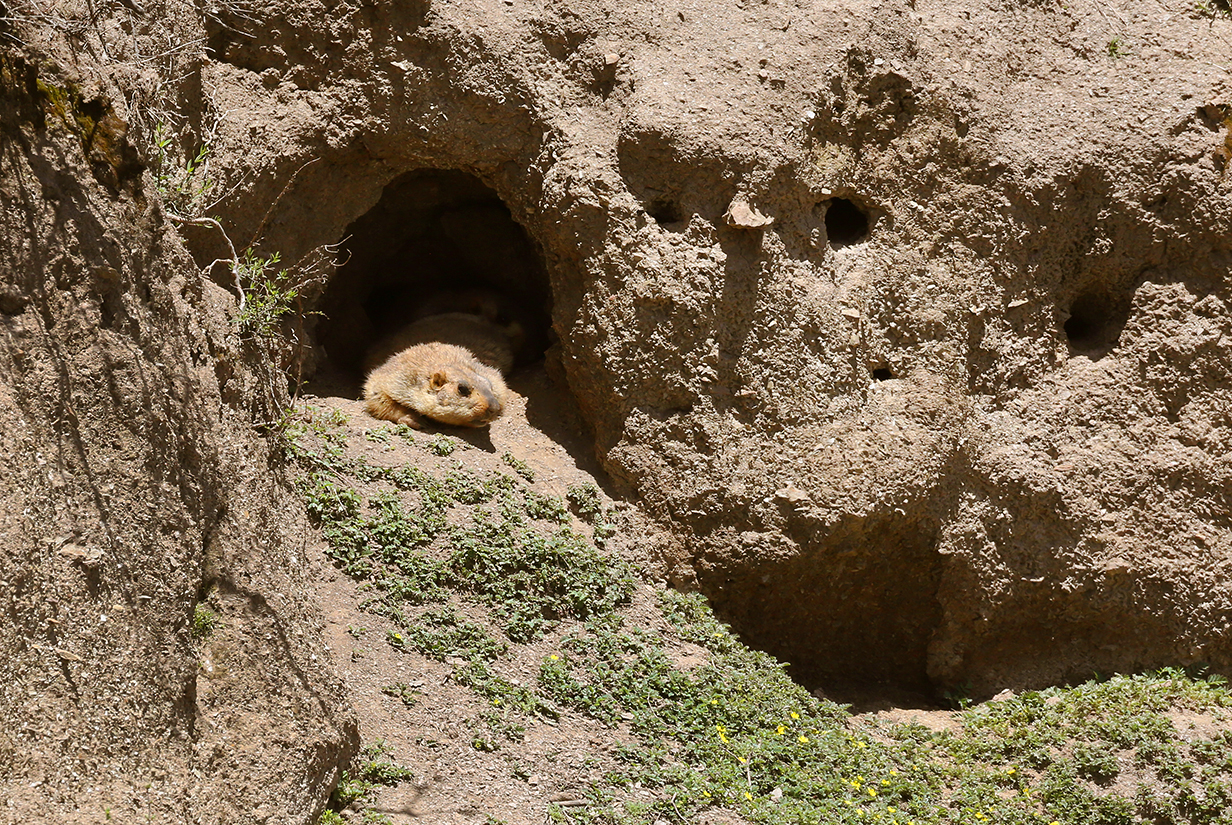 Pika in ... well: this is a mansion compared to other nest holes!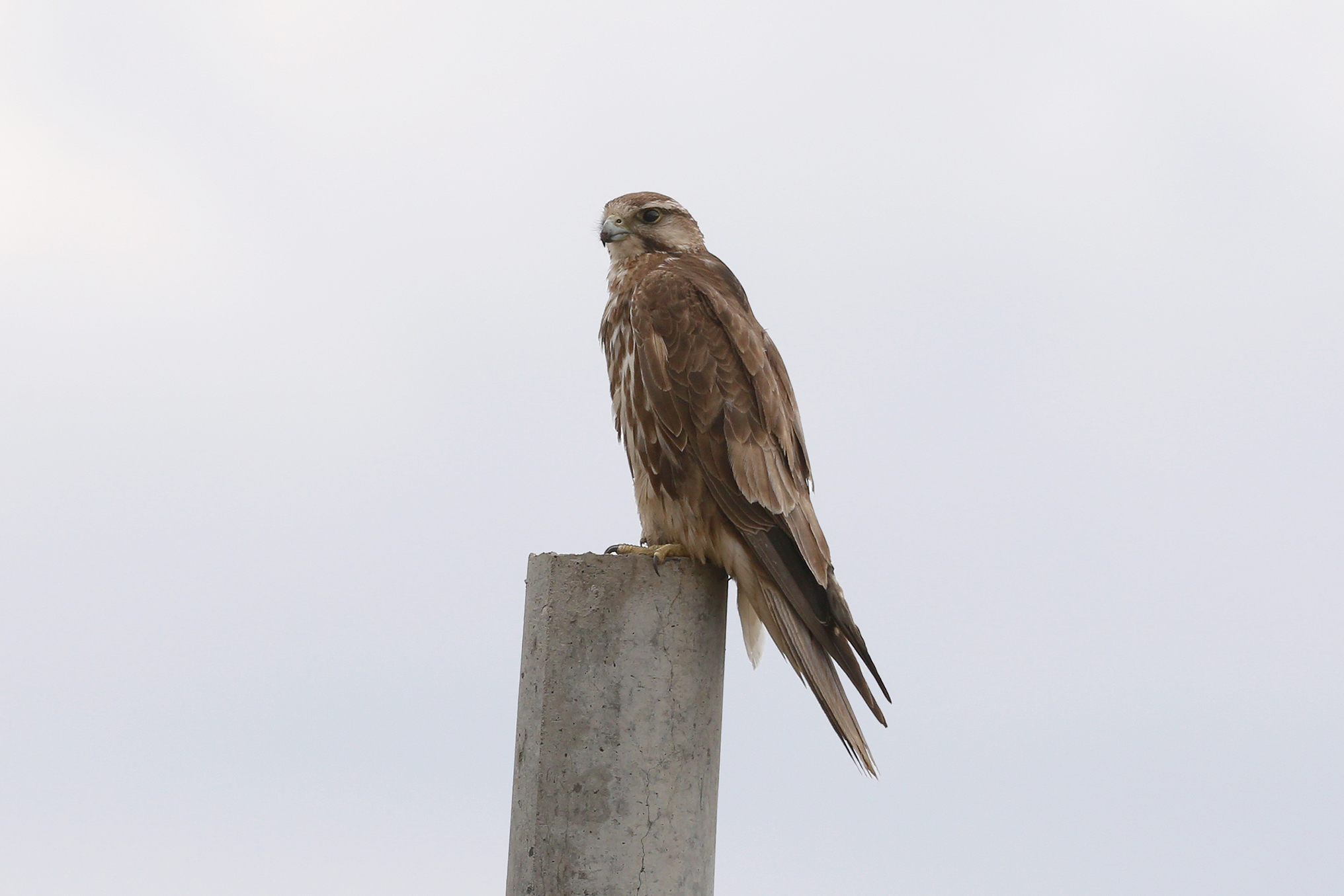 Saker falcon (We got our life bird around this time. This is not it - we saw Saker falcon many times, during the drive to Ruoergai.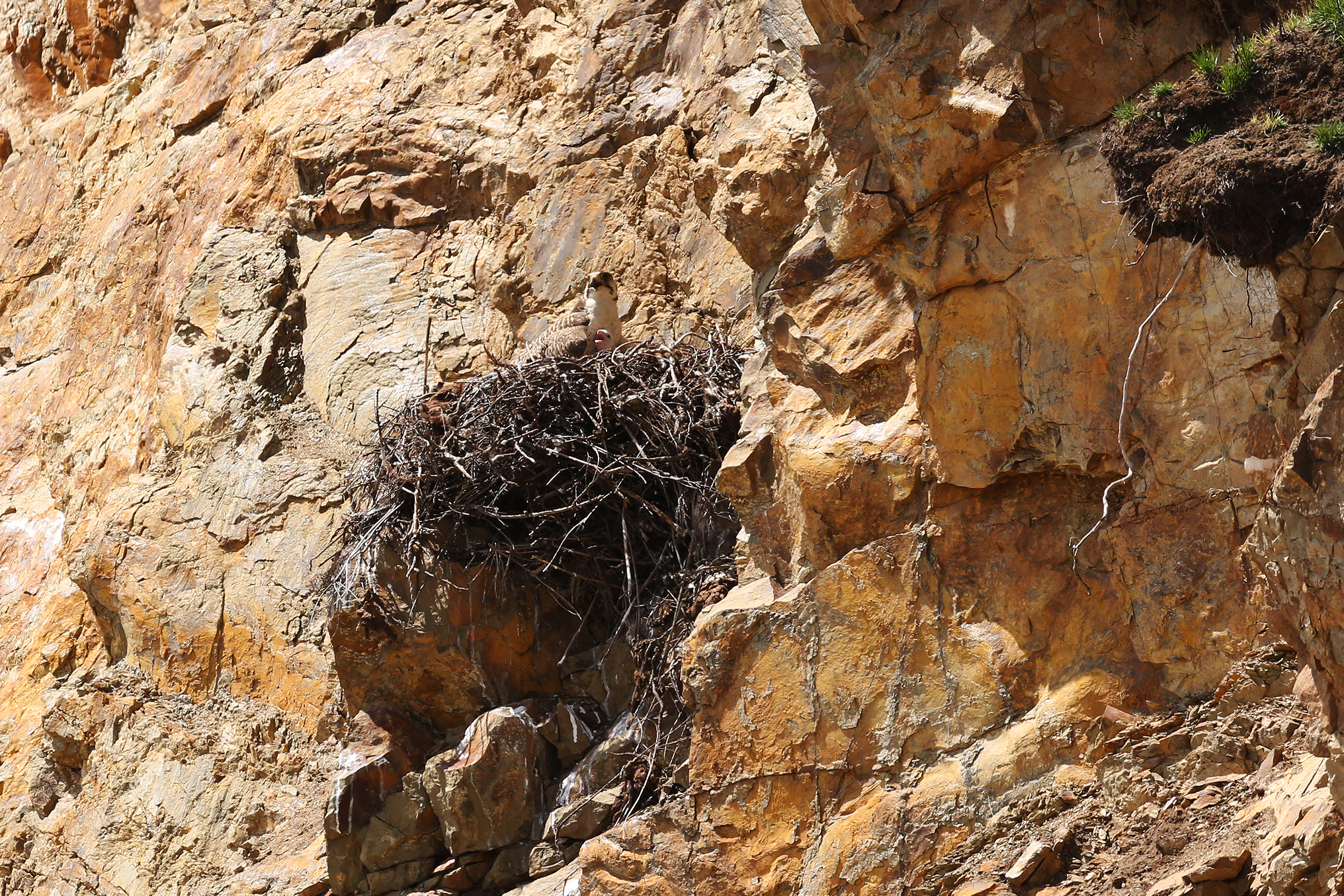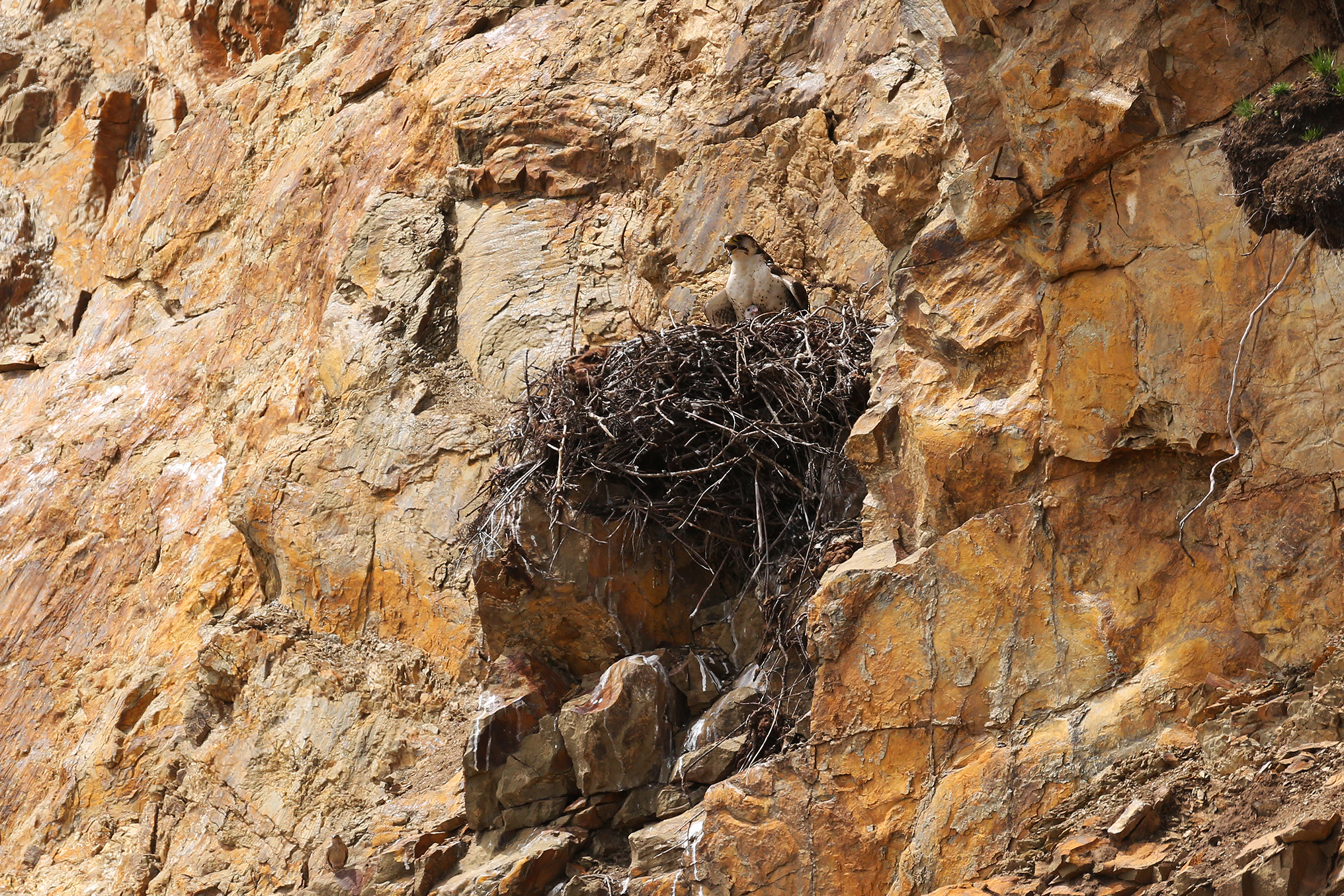 Saker falcon on nest with at least one chick.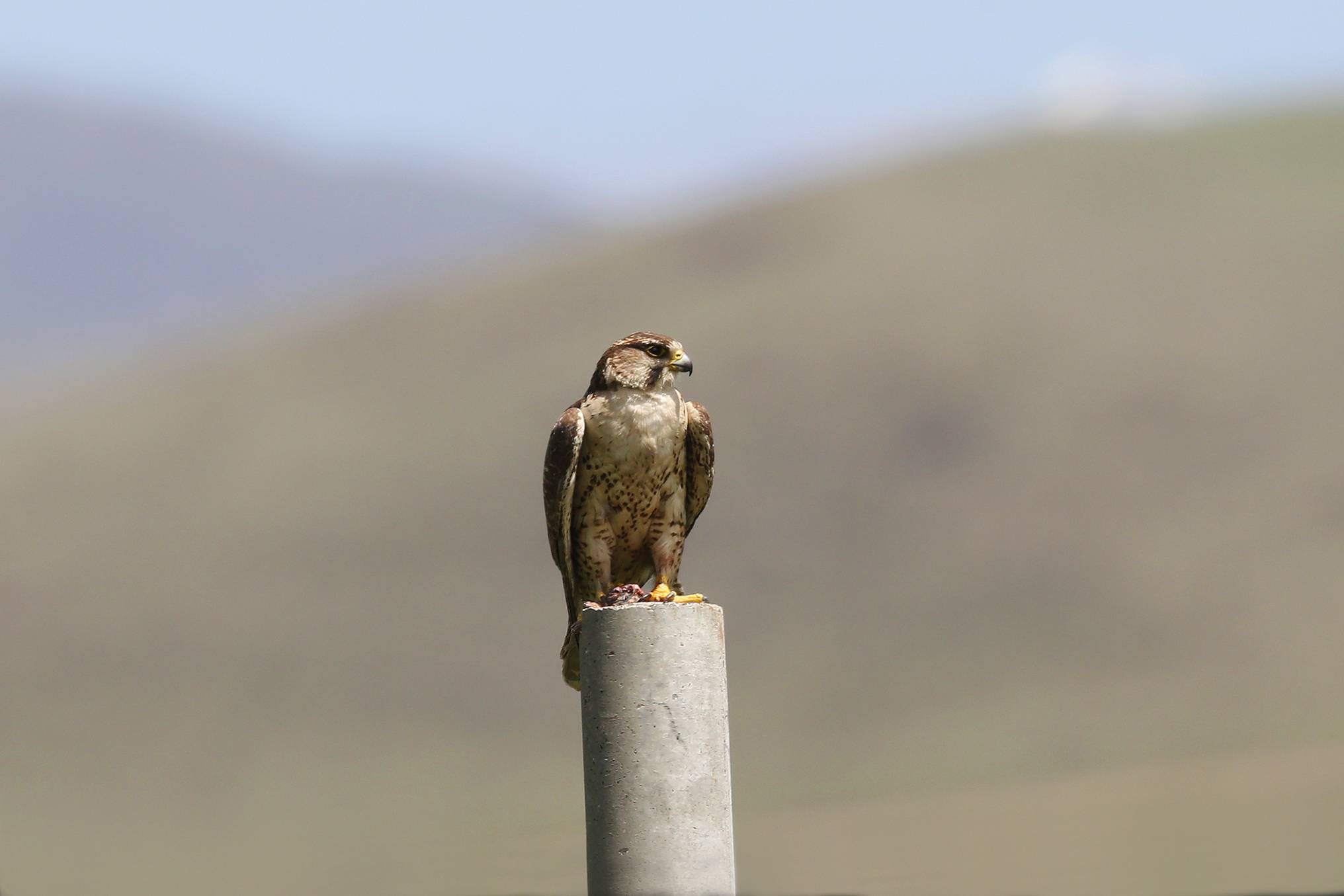 Saker falcon (We assumed that this was the male, guarding the nest from the other side of the road.)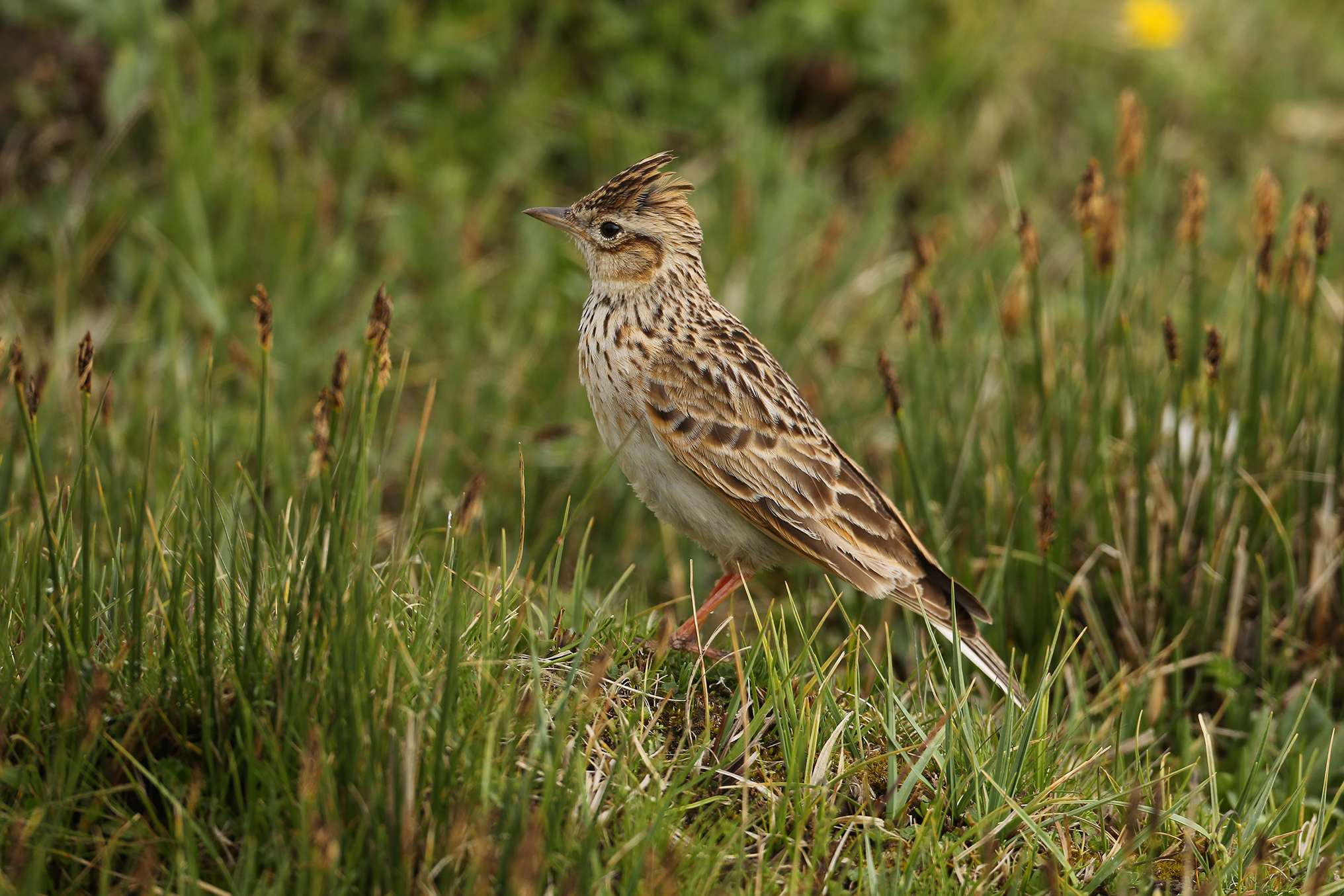 Oriental skylark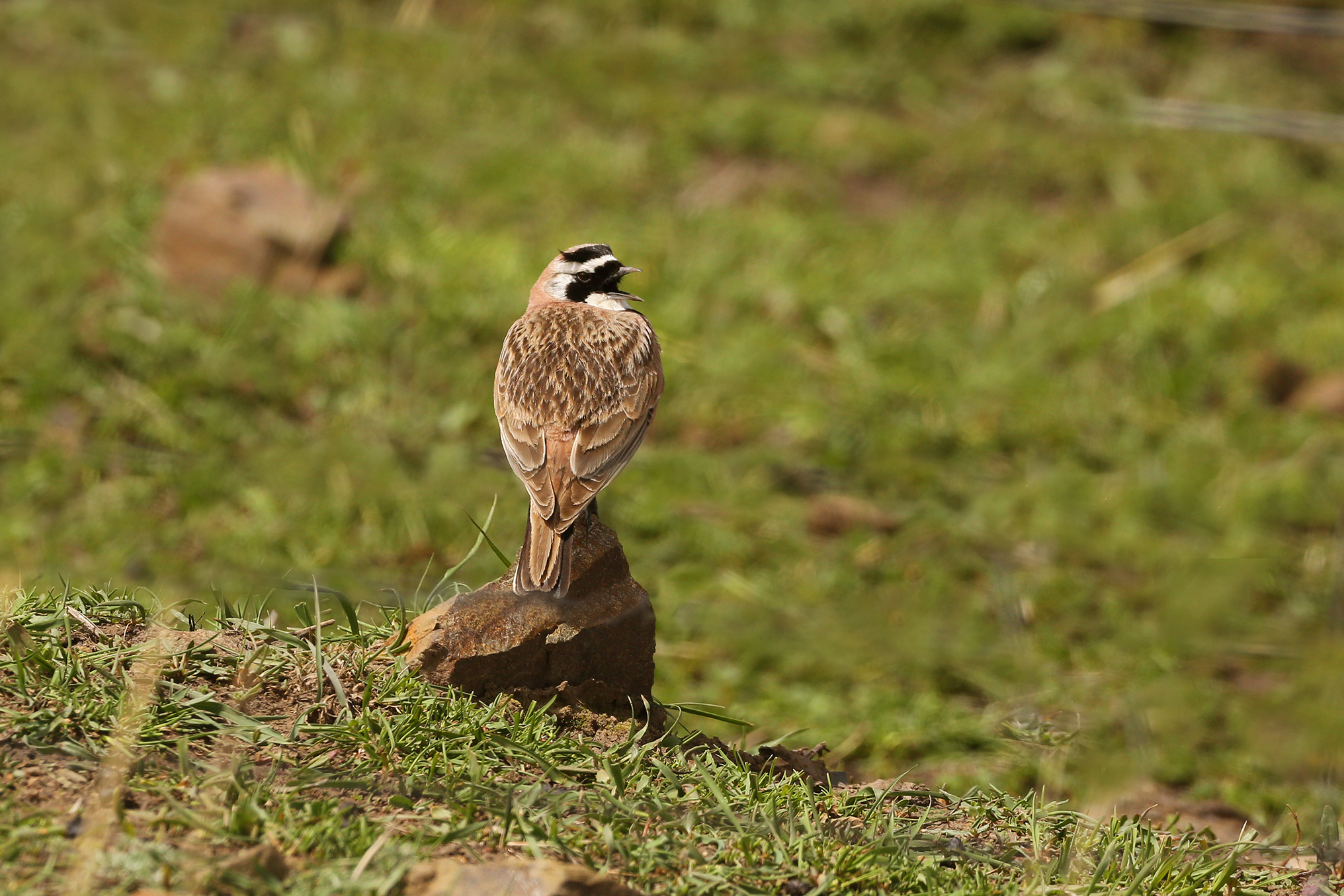 Horned lark are common on the Tibetan Plateau.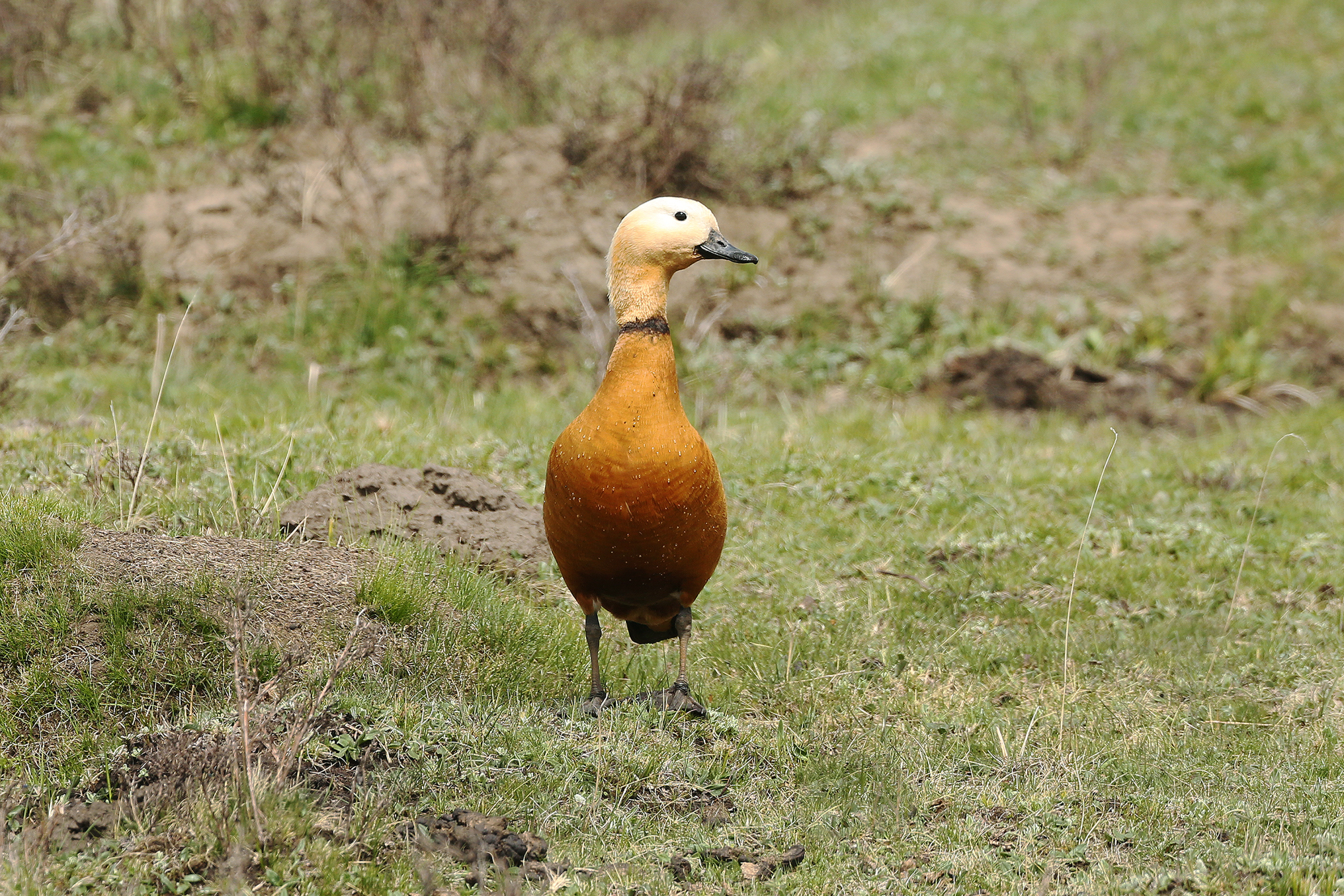 Ruddy shelduck is the common duck nesting on the plateau.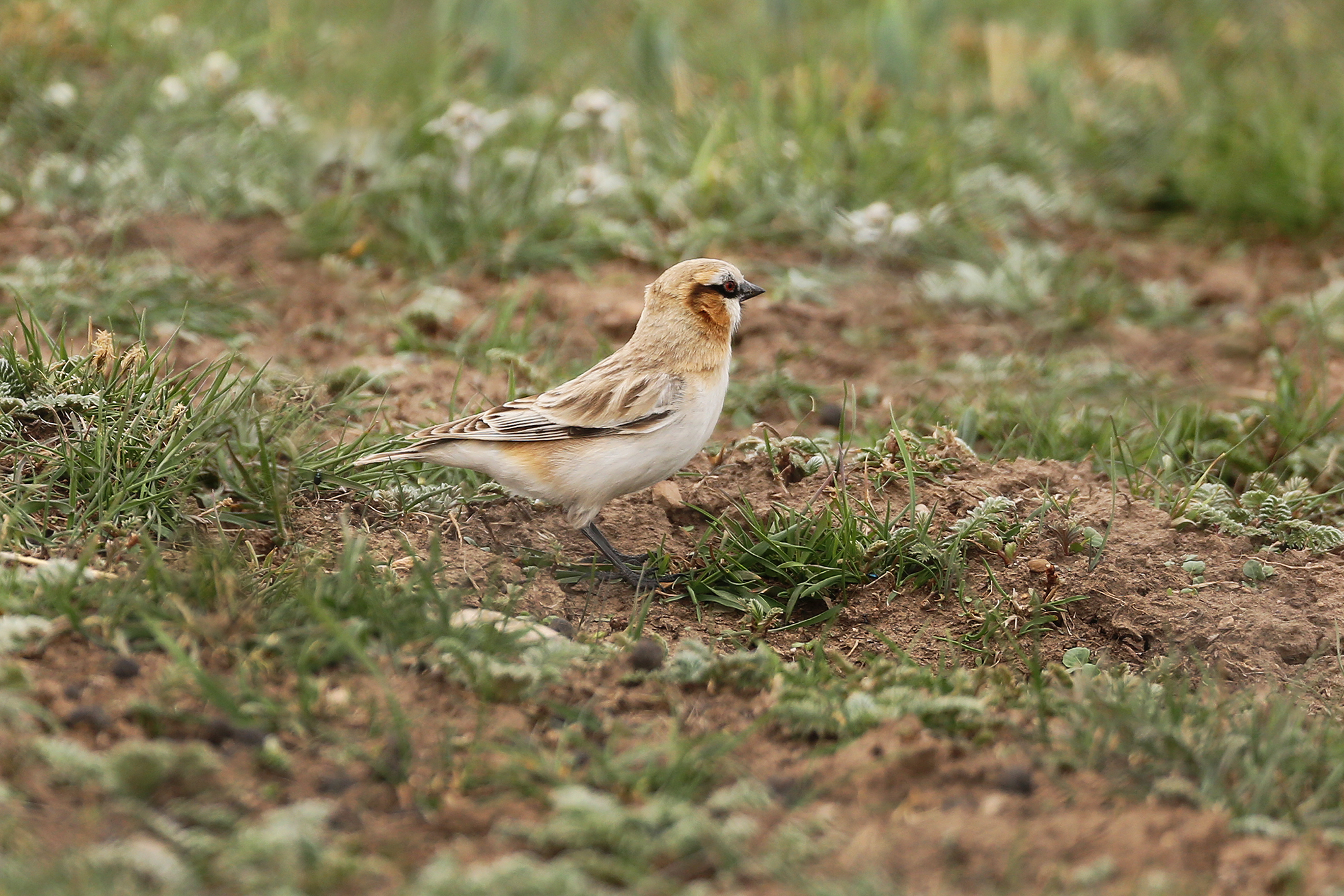 Rufous-necked snowfinch (This is our life bird at the Ruoergai wetlands.)
Baxi Forest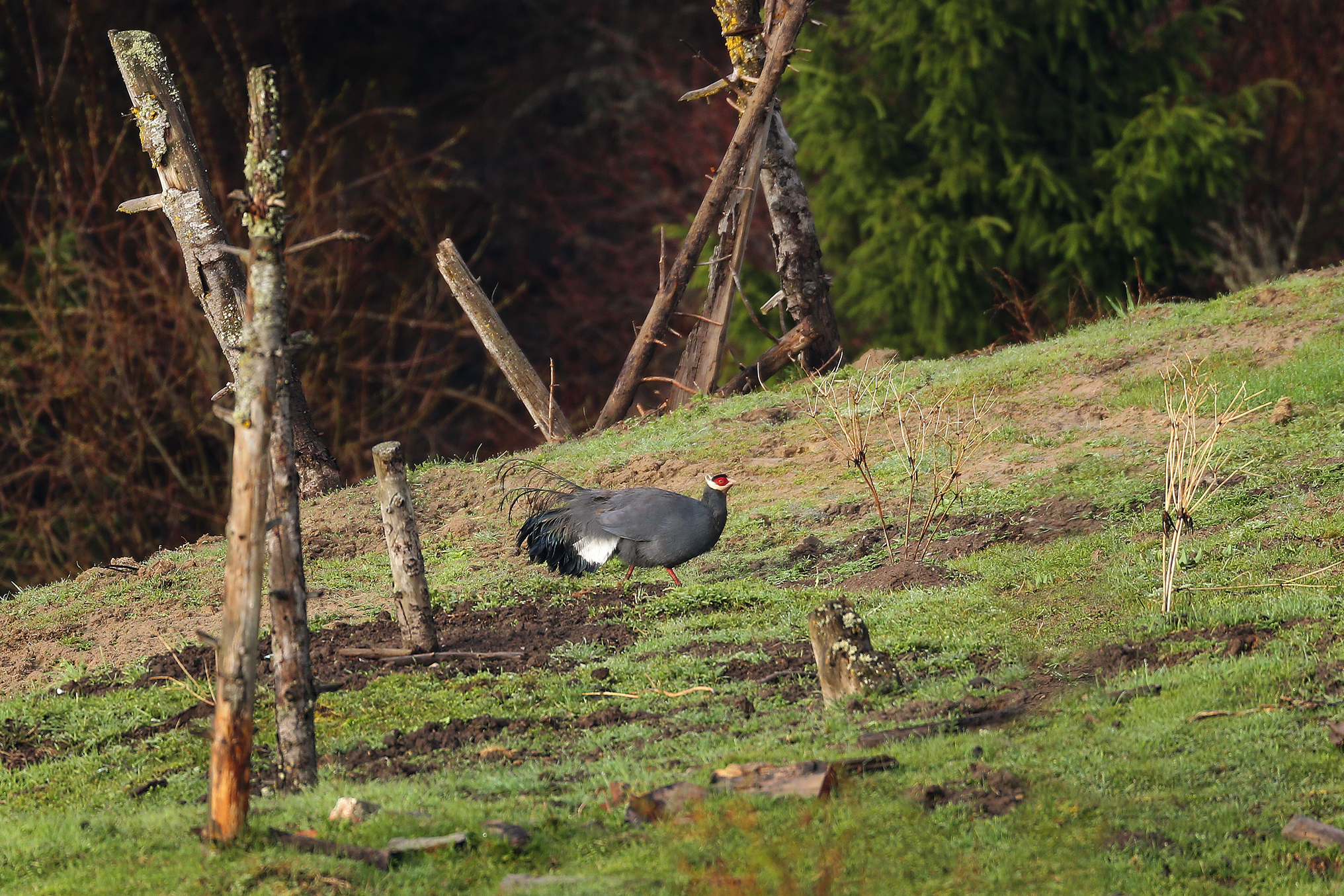 Blue-eared pheasant (These are our life birds.)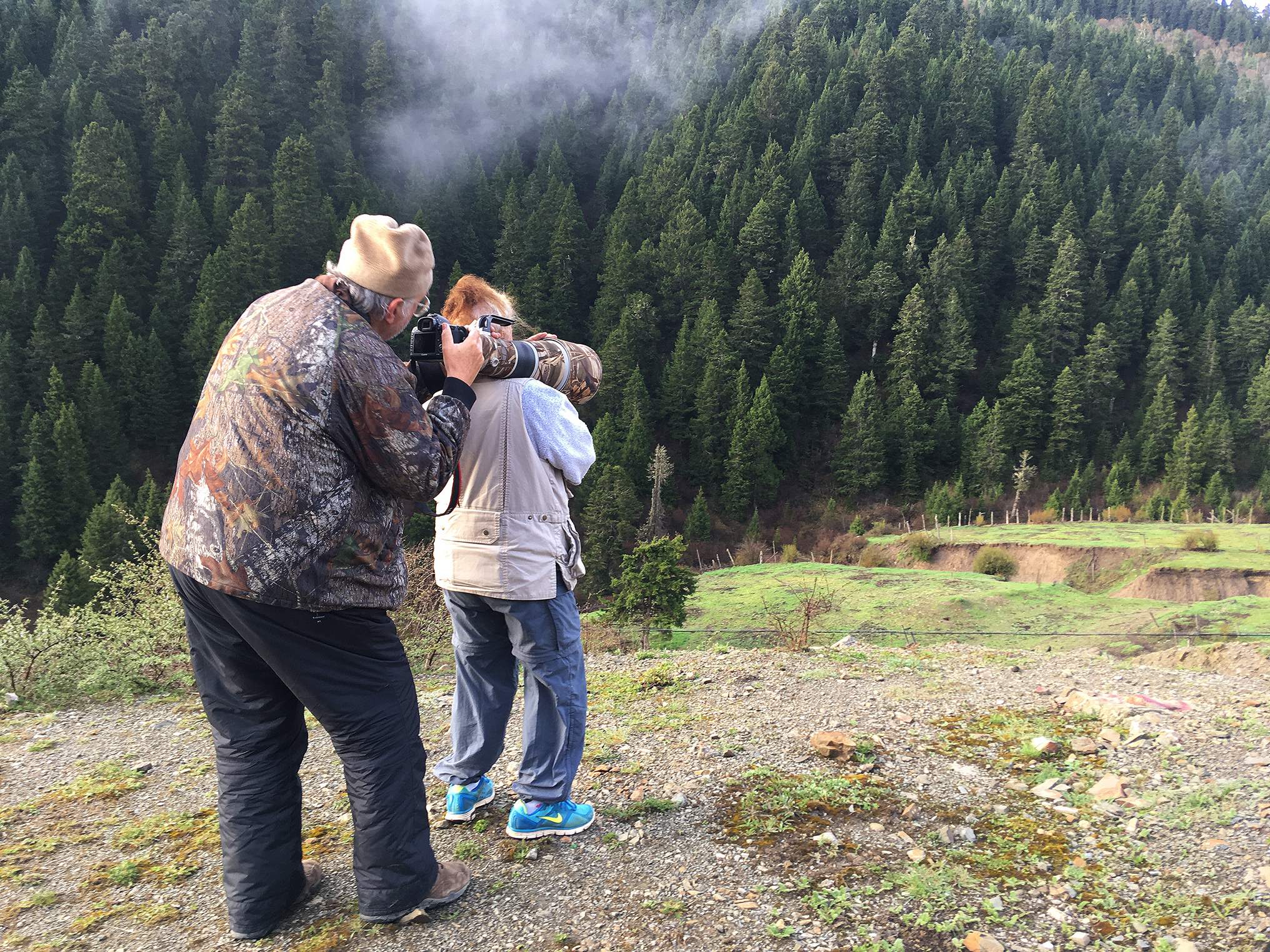 Sometimes there is not enough time to set up the tripod and we have to improvise. This shows me getting our first pictures of Blue-eared pheasant. The picture is courtesy Sissi Tang.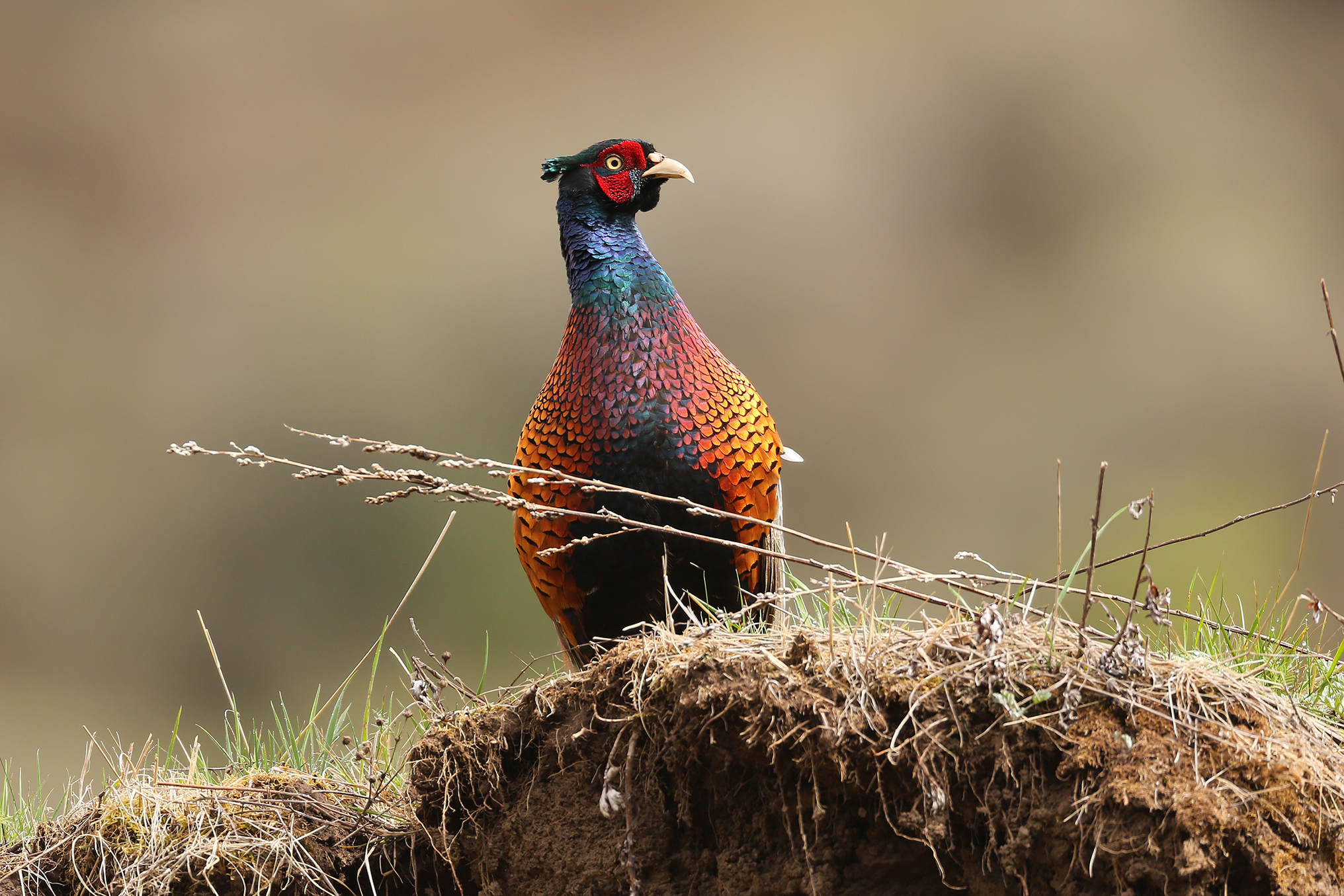 Ring-necked pheasant (The local subspecies has no white neck ring.)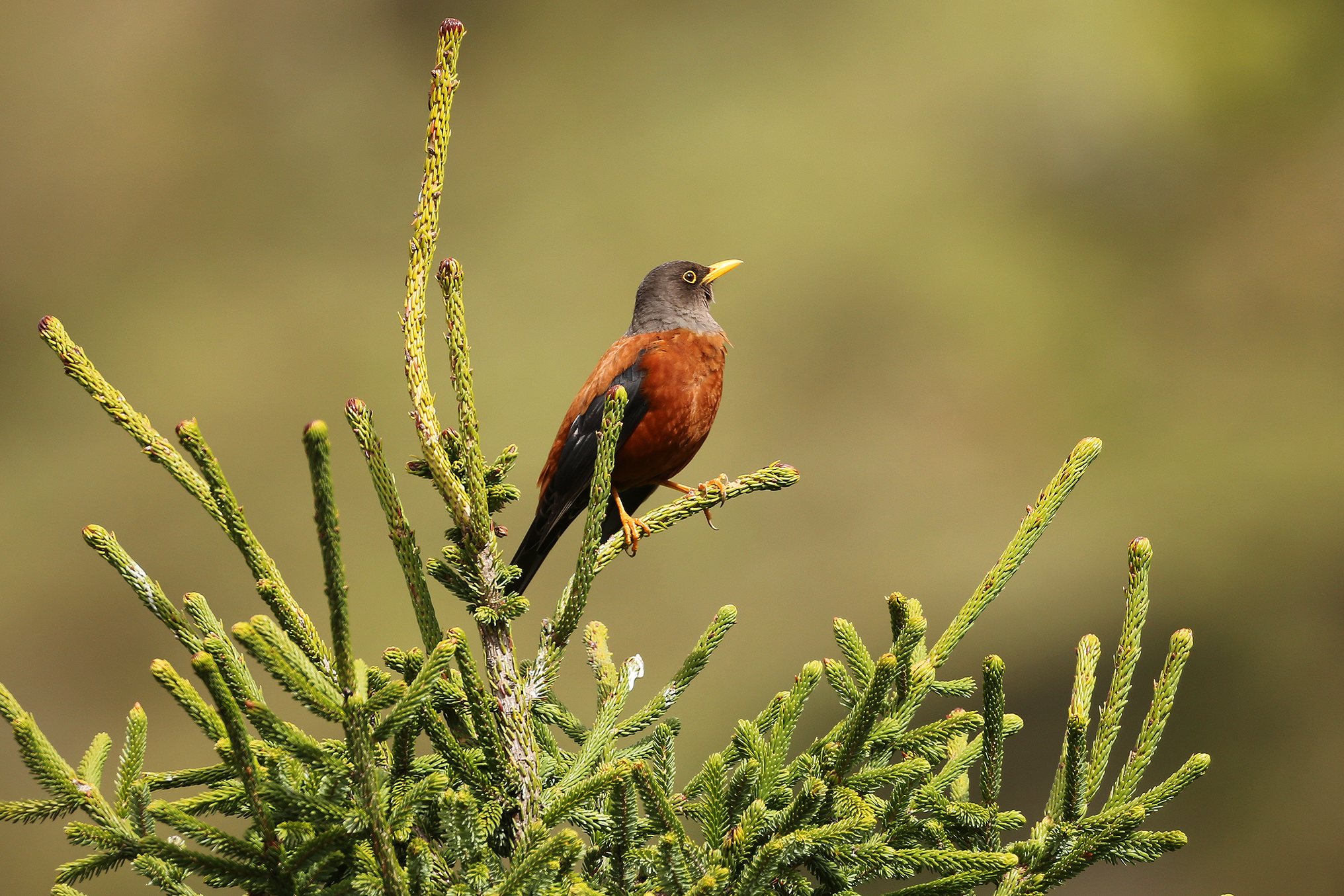 Chestnut thrush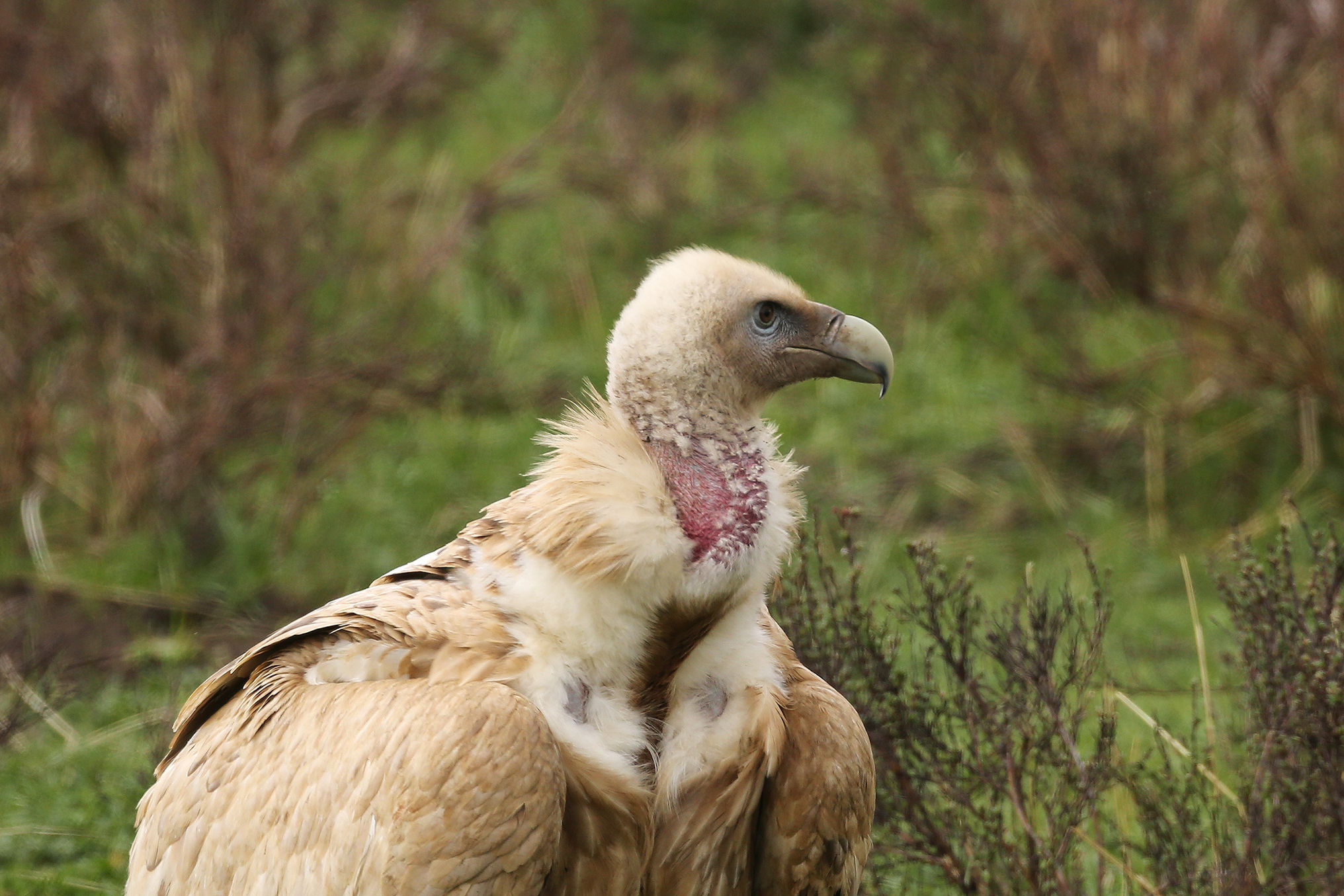 Himalayan griffon vultures are HUGE. They soar almost effortlessly for hours ... but it is hard work to get off the ground:

Himalayan griffon takeoff: Gather your strength ... open your wings and start to run ... run as fast as possible ... "V1" - takeoff and use ground effect for the first few wing beats!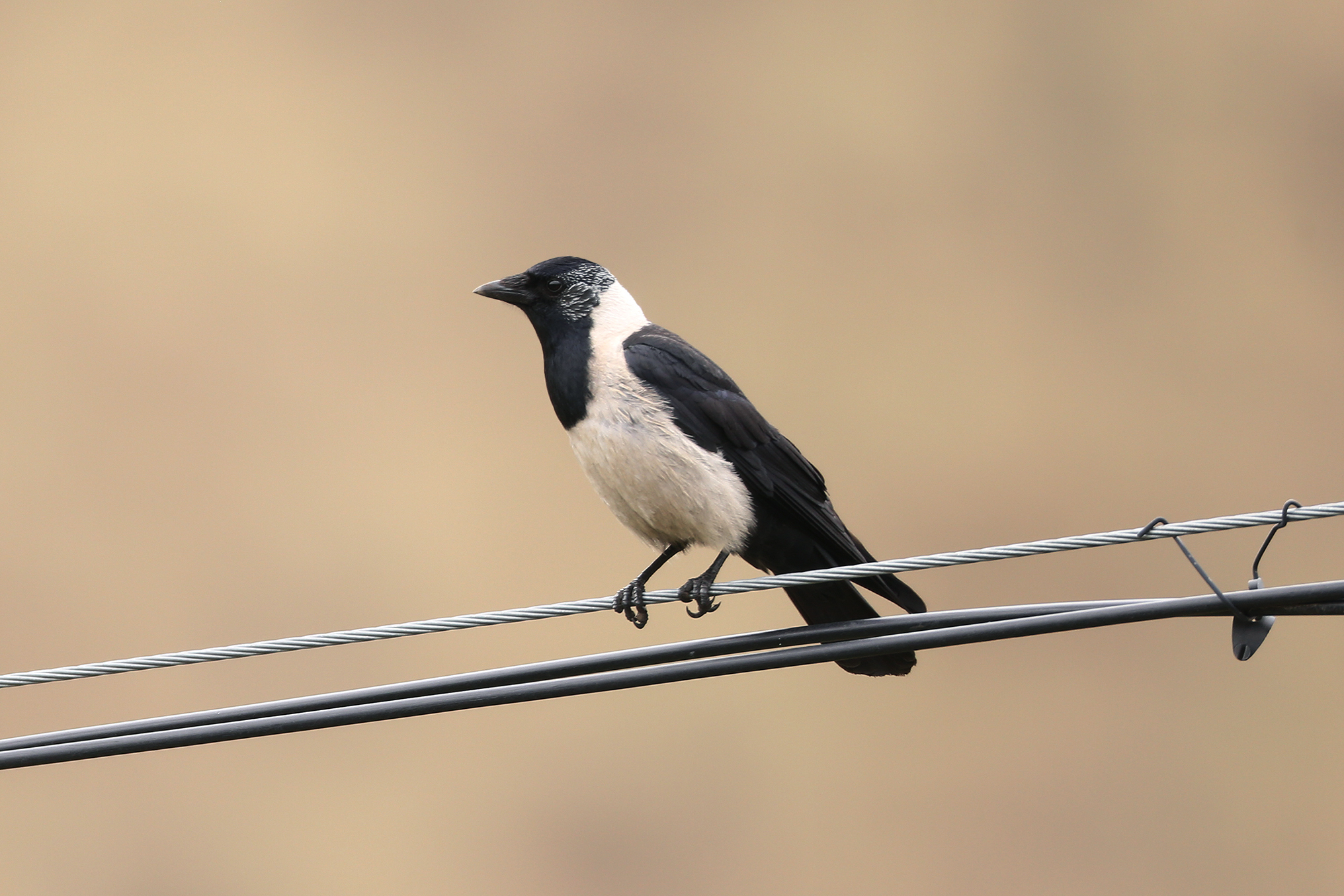 Daurian jackdaw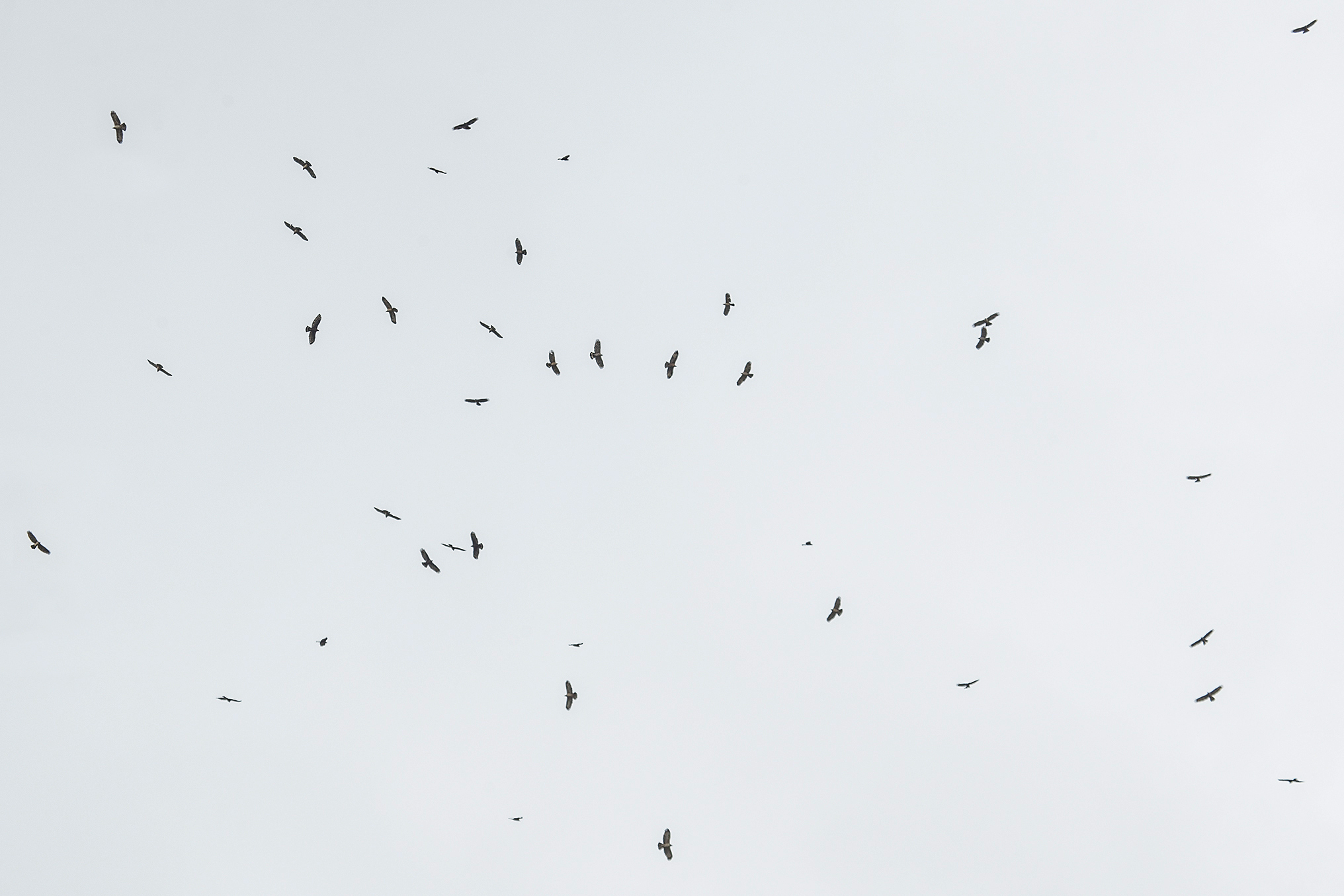 This is part of a kettle of more than 100 raptors, drifting slowly northward in their spring migration to their nesting grounds. We did not try to identify the various species. We were at about 4200 m altitude, still on the Tibetan Plateau, when we saw these birds.
From here, we had a very long drive to the north, off the Tibetan Plateau, first to Guangyuan (1200 m altitude) and Gongganling Forest and, the next day, to the lowlands near Yangxian (470 m). This last stop proved to give us some of the most important highlights of the trip.
Gonggangling Forest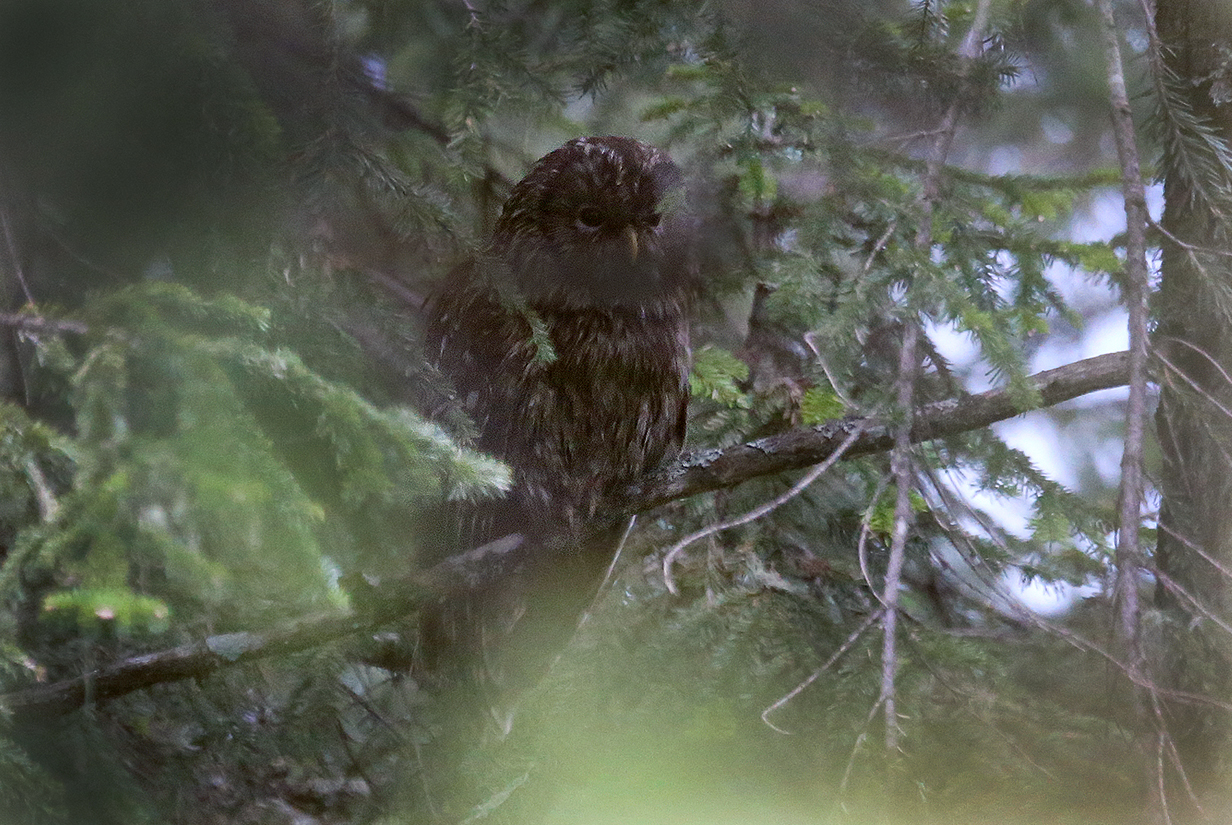 Pere David's owl (This is our life bird, seen precariously via a long tunnel through dense leaves in morning twilight.)
Lowlands near Yangxian (470 m altitude)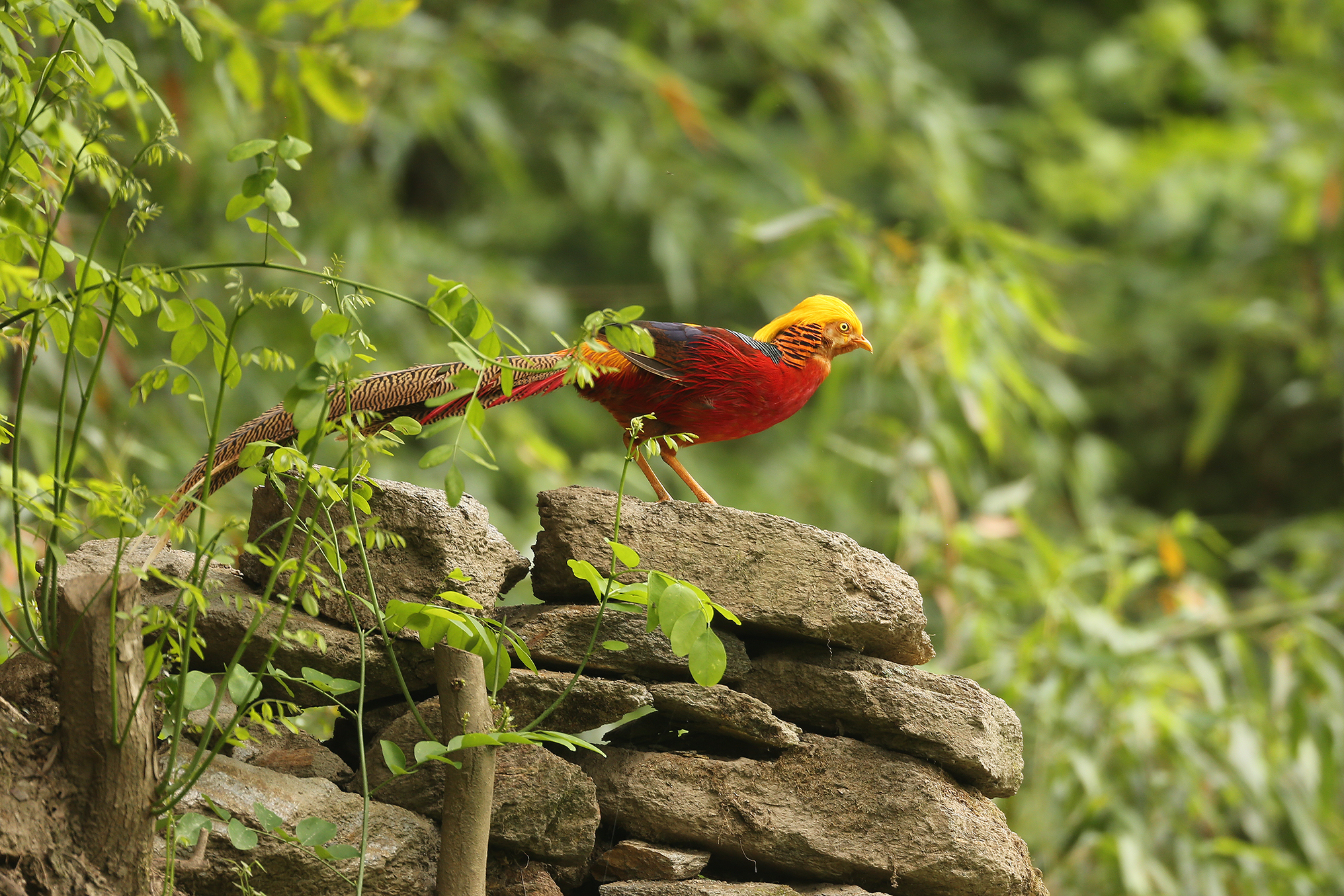 Golden pheasant first emerges ... with some hesitation.
Golden pheasant (Portrait of our life bird.)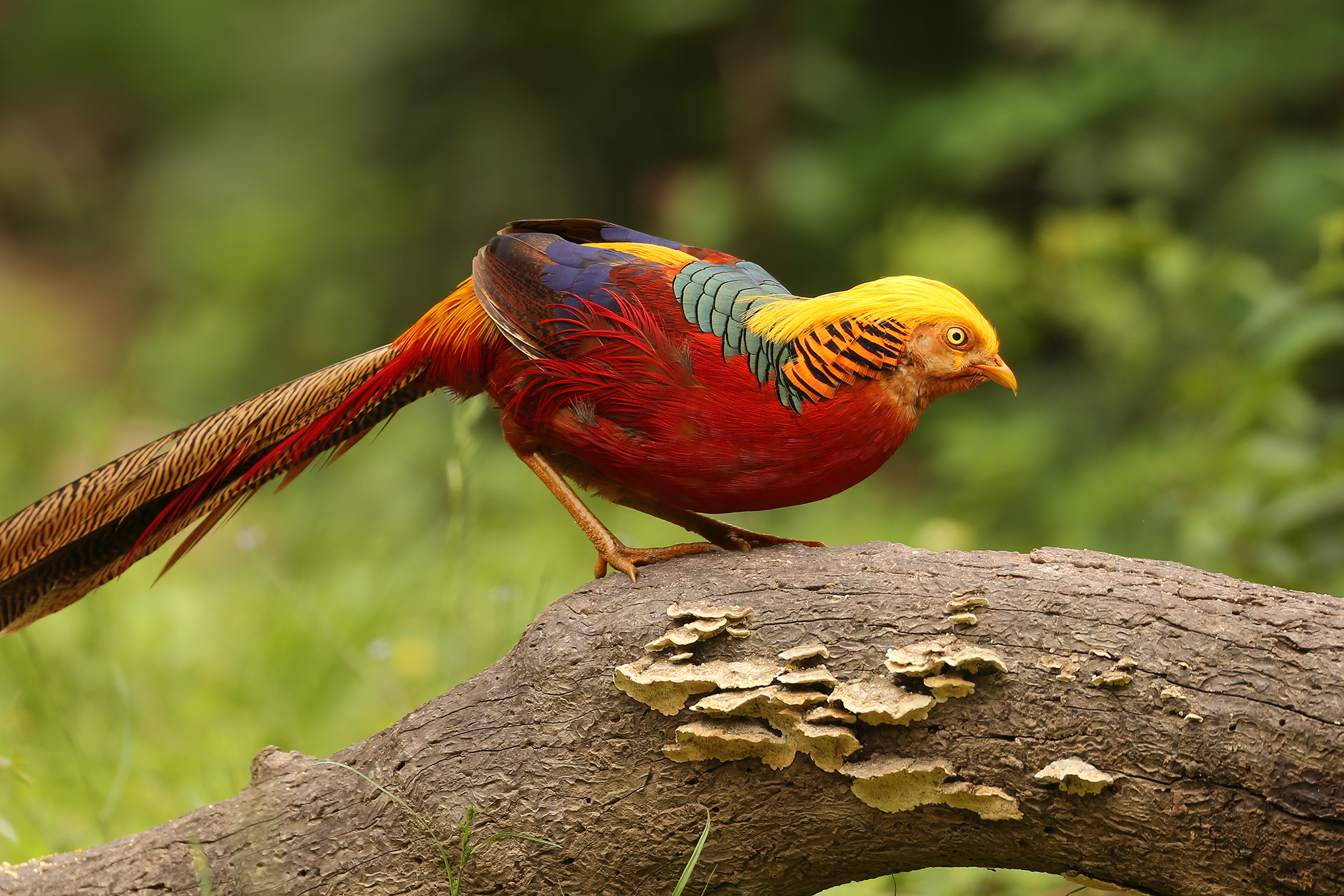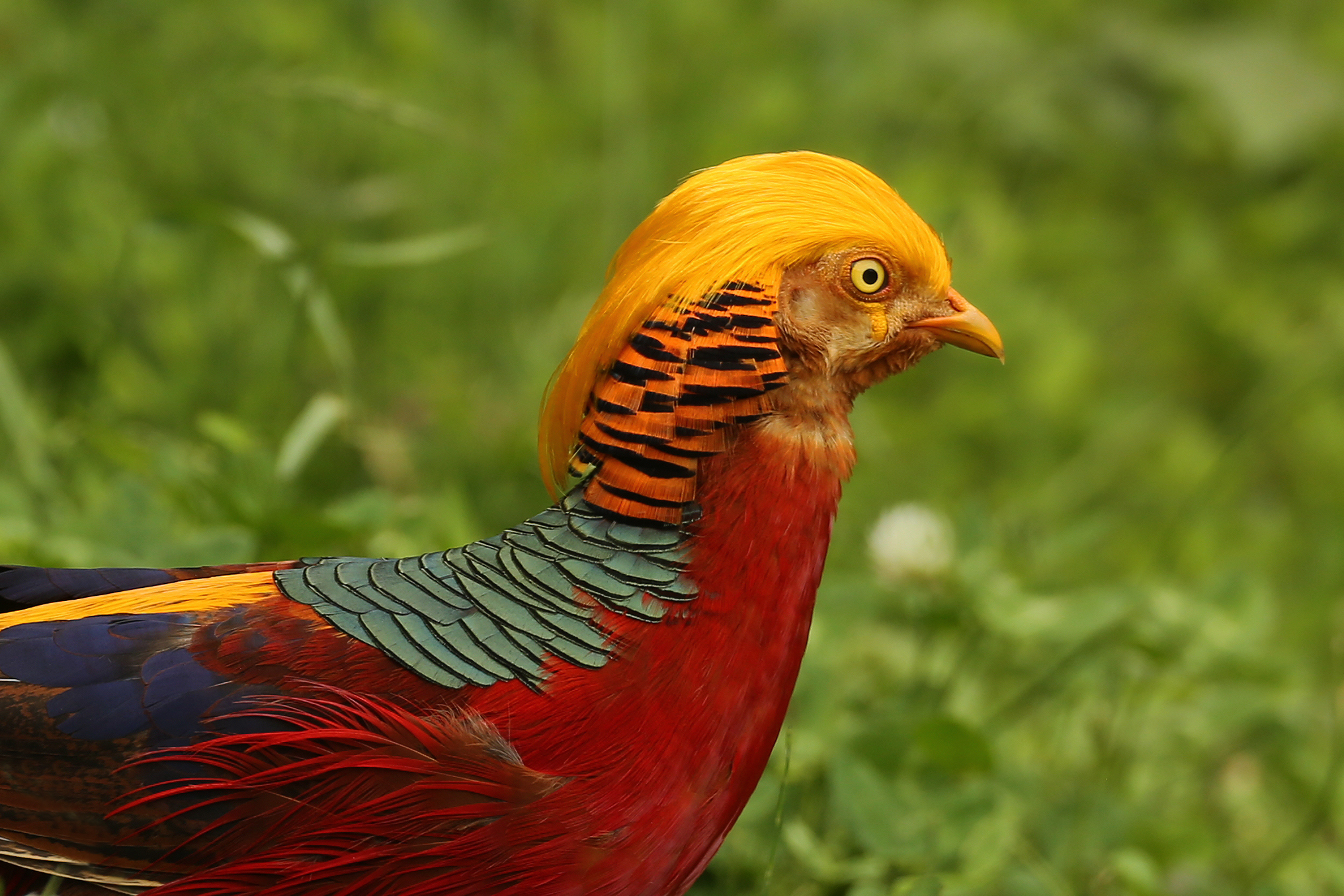 Golden pheasant (More photos of the same bird.)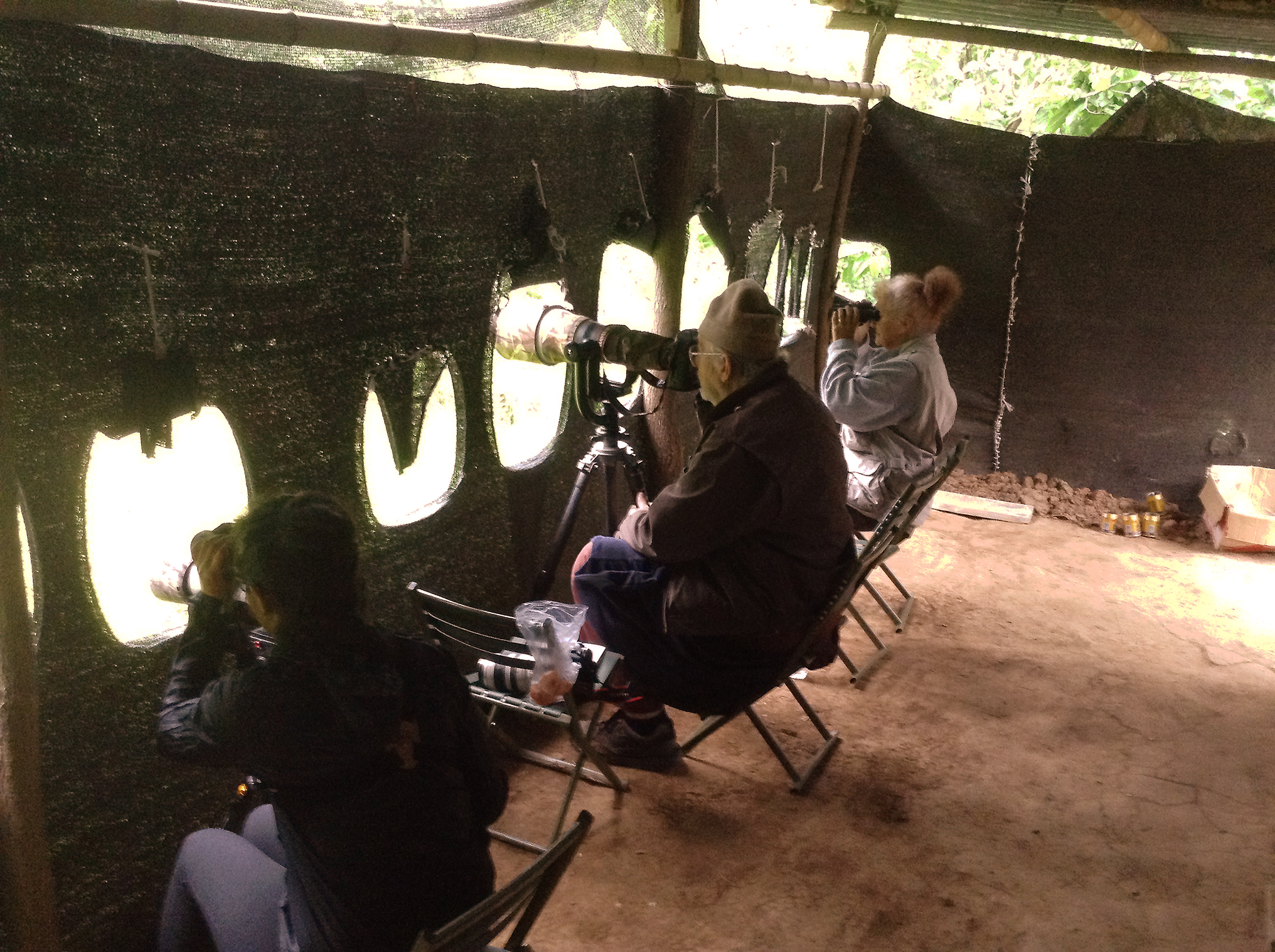 This is the hide from which the Golden pheasant and other birds below were photographed. Photo courtesy of our guide, Sissi Tang.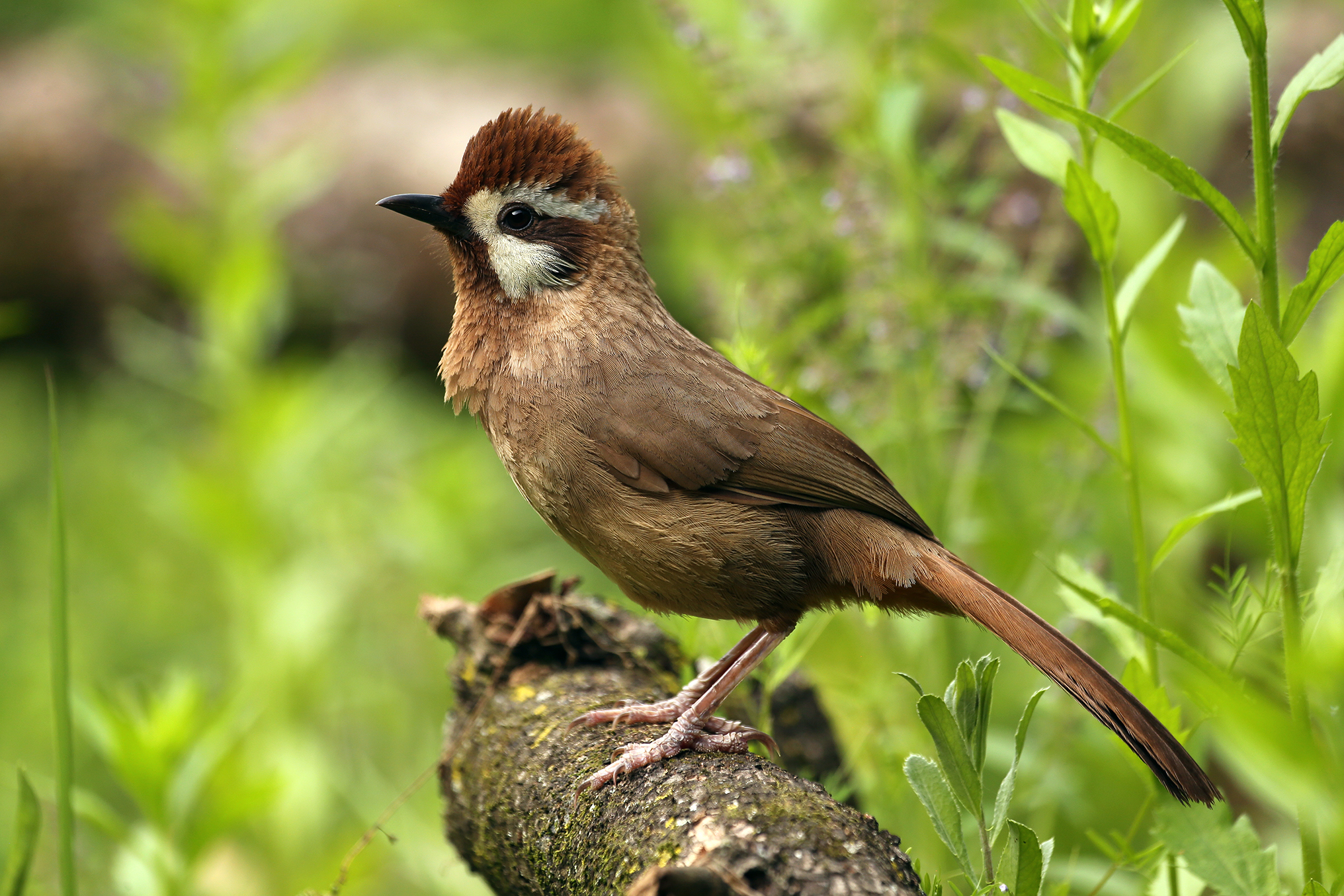 White-browed laughingthrush is the ubiquitous laughingthrush of this region.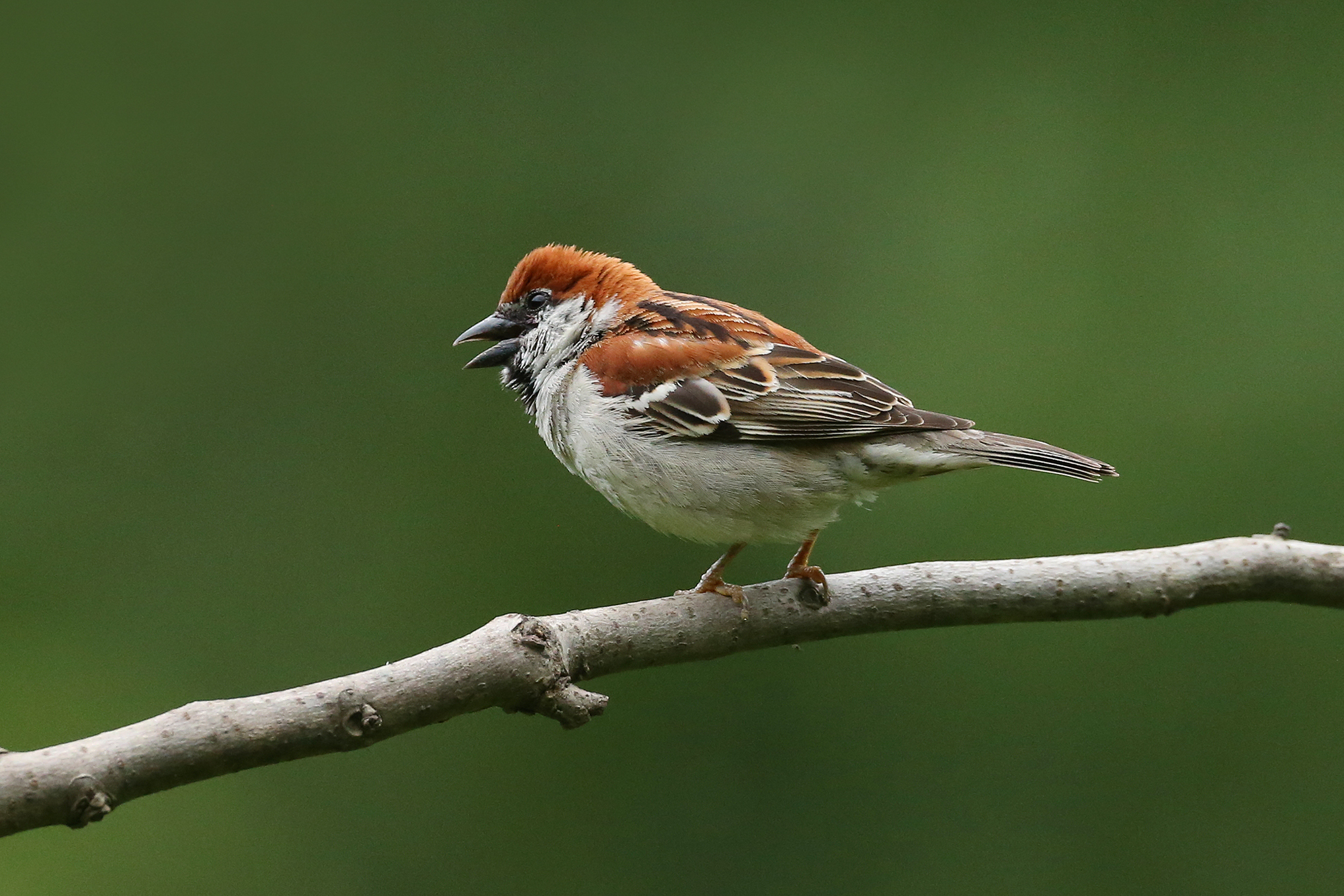 Russet sparrow (male)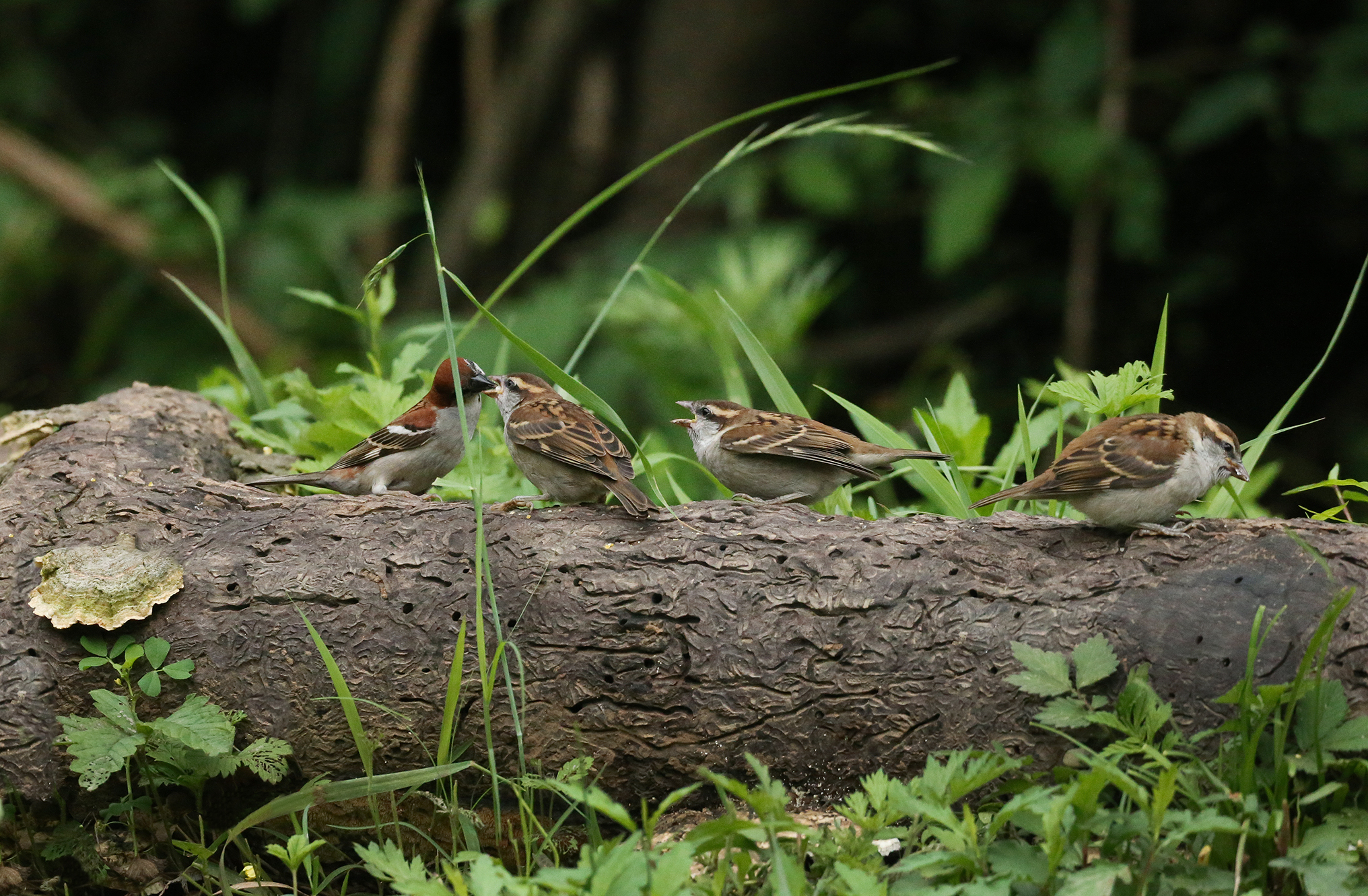 Russet sparrow (This hard-working bird was busy feeding four chicks. They must have just fledged, because, as we watched, they visibly learned to feed for themselves. The chick at right in this picture is well on its way. By the time we left for the day ... well: the chicks still begged for food, but increasingly, they found food for themselves.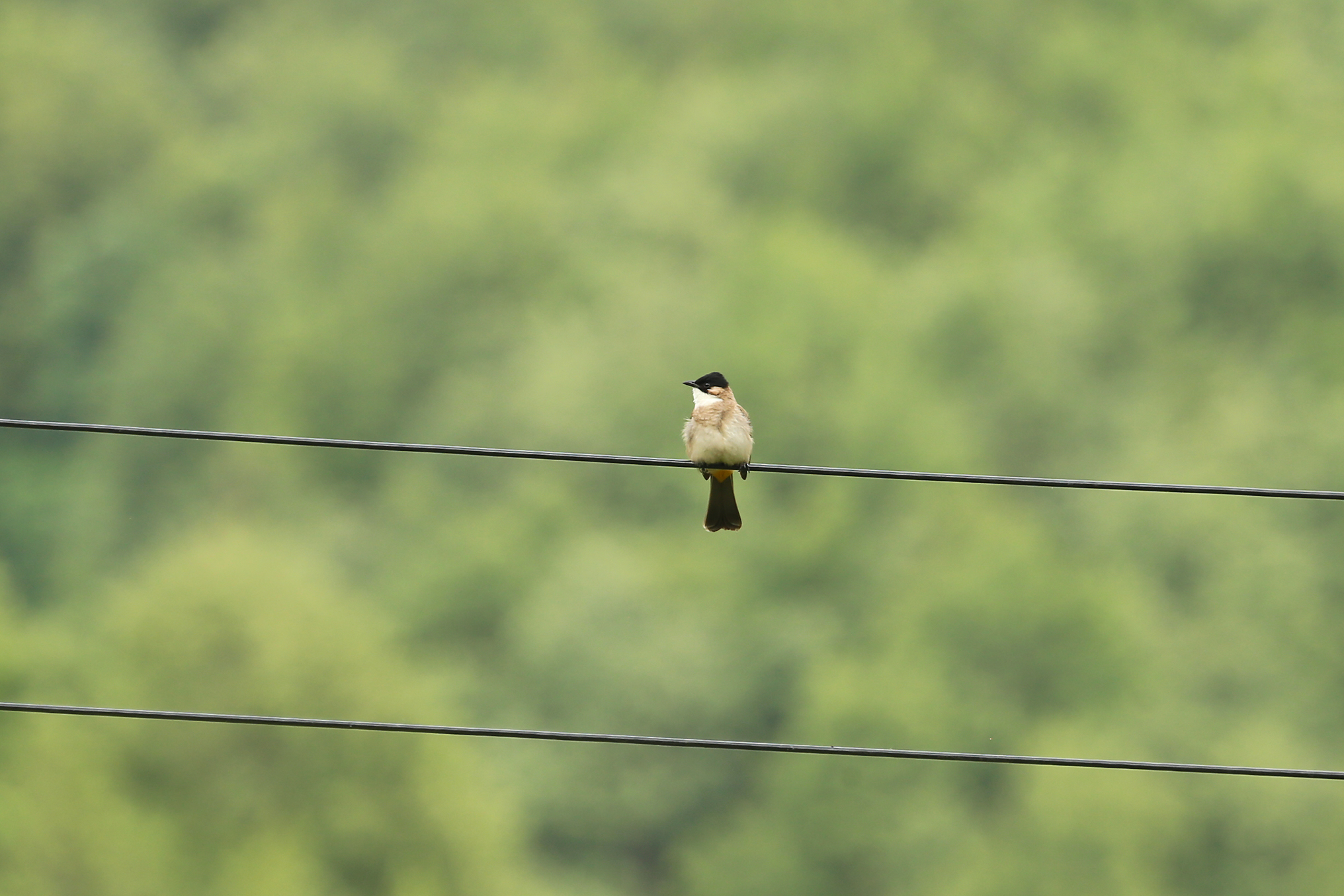 Brown-breasted bulbul (This is our life bird. We never got a much closer look.)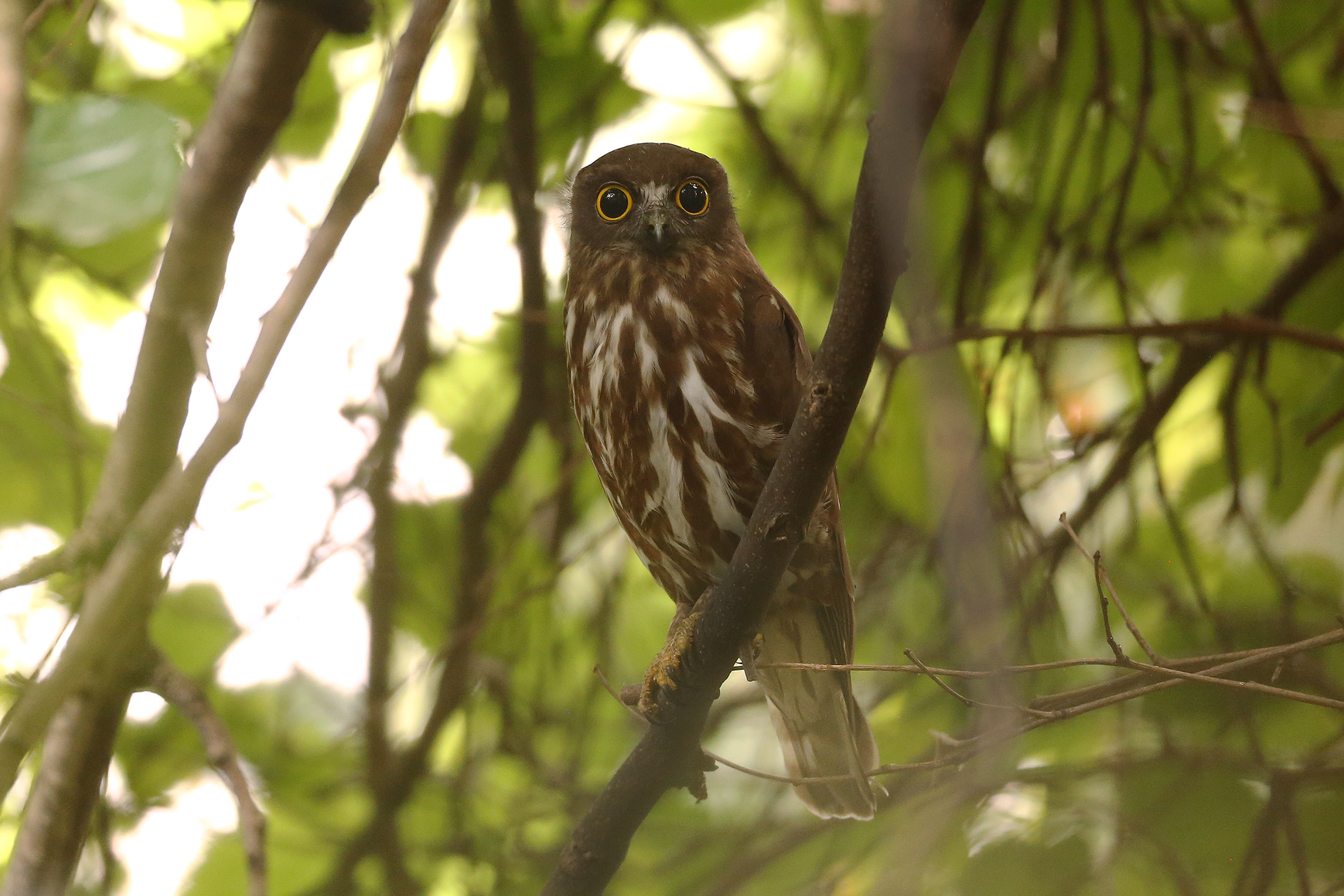 Brown boobook (This is our life bird.)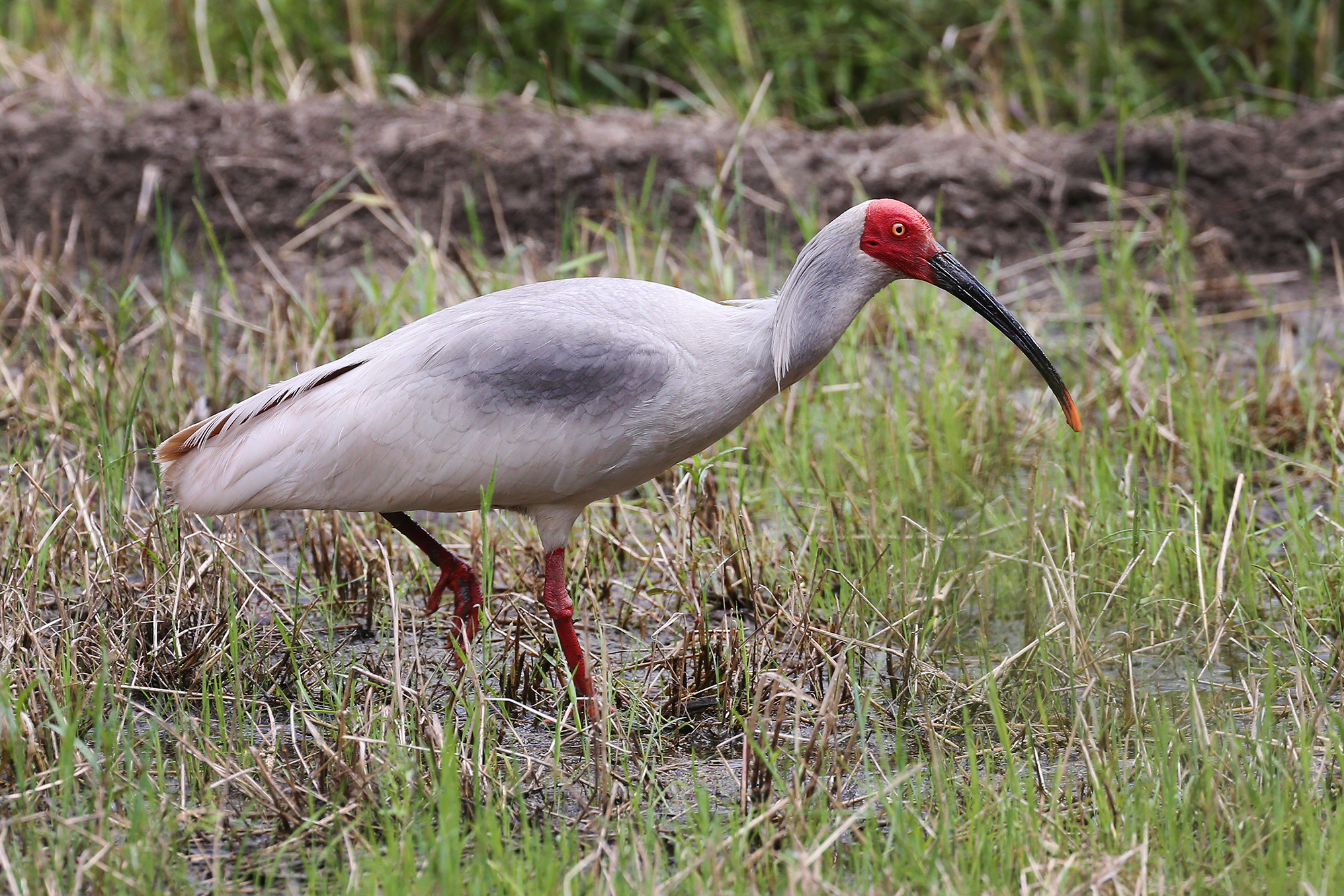 Crested ibis (This is Mary's life bird; John got a different bird a short while earlier. Crested ibis is a conservation success story in China: In 1981, only seven birds were known, all in Shaanxi province of China. They were extinct in Japan (the latin name of the bird is Nipponia nippon) and thought to be extinct everywhere until the above seven birds were found. Conservation measures were put into effect; the whole area where we saw them (near Yangxian) is a nature preserve for the ibis. The world population is now thought to be more than 3000 birds. We saw at least seven different birds along river banks and in farm fields around the region.)
It was important to get pictures of the Crested ibis quickly, lest it fly away. Picture courtesy Sissi Tang.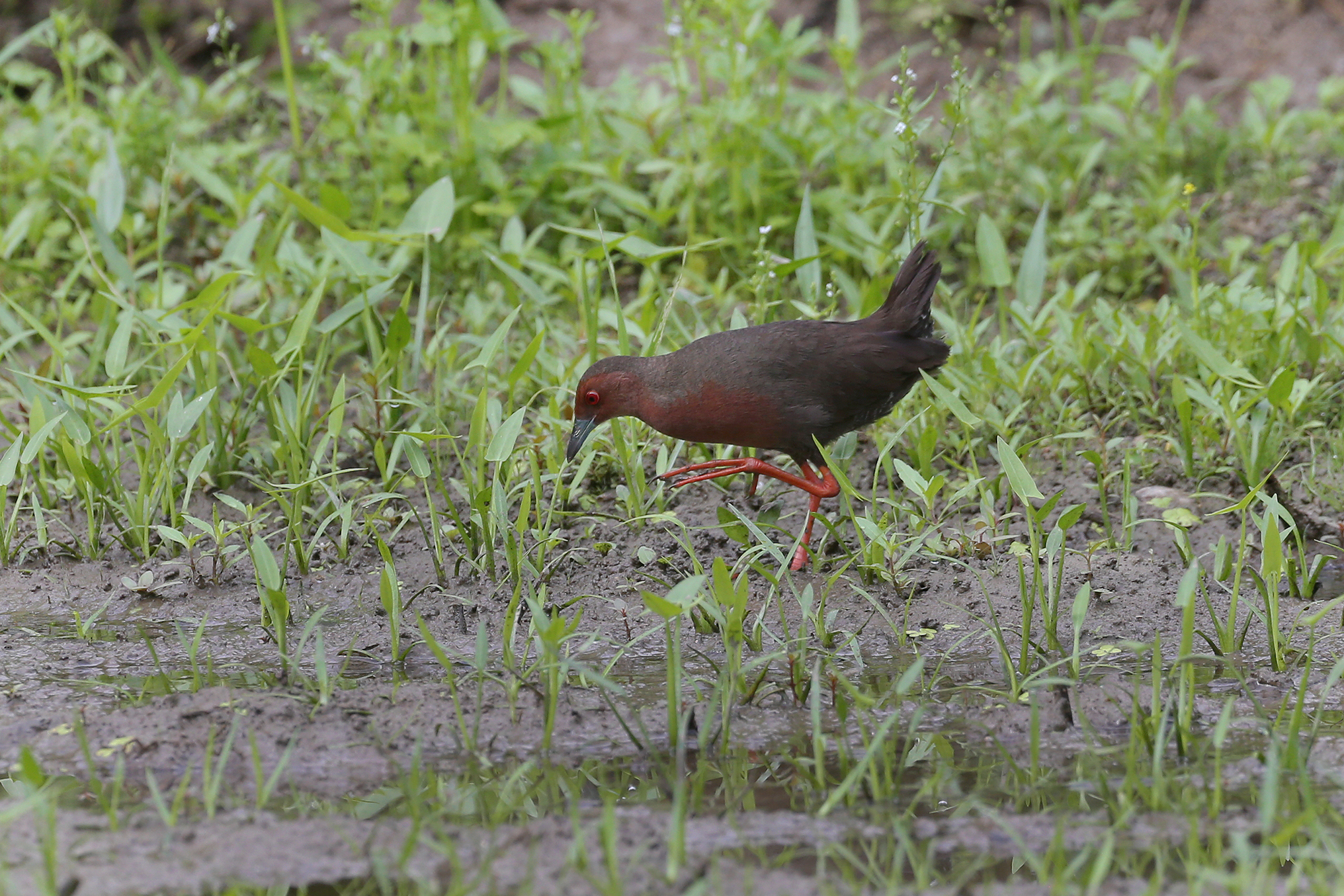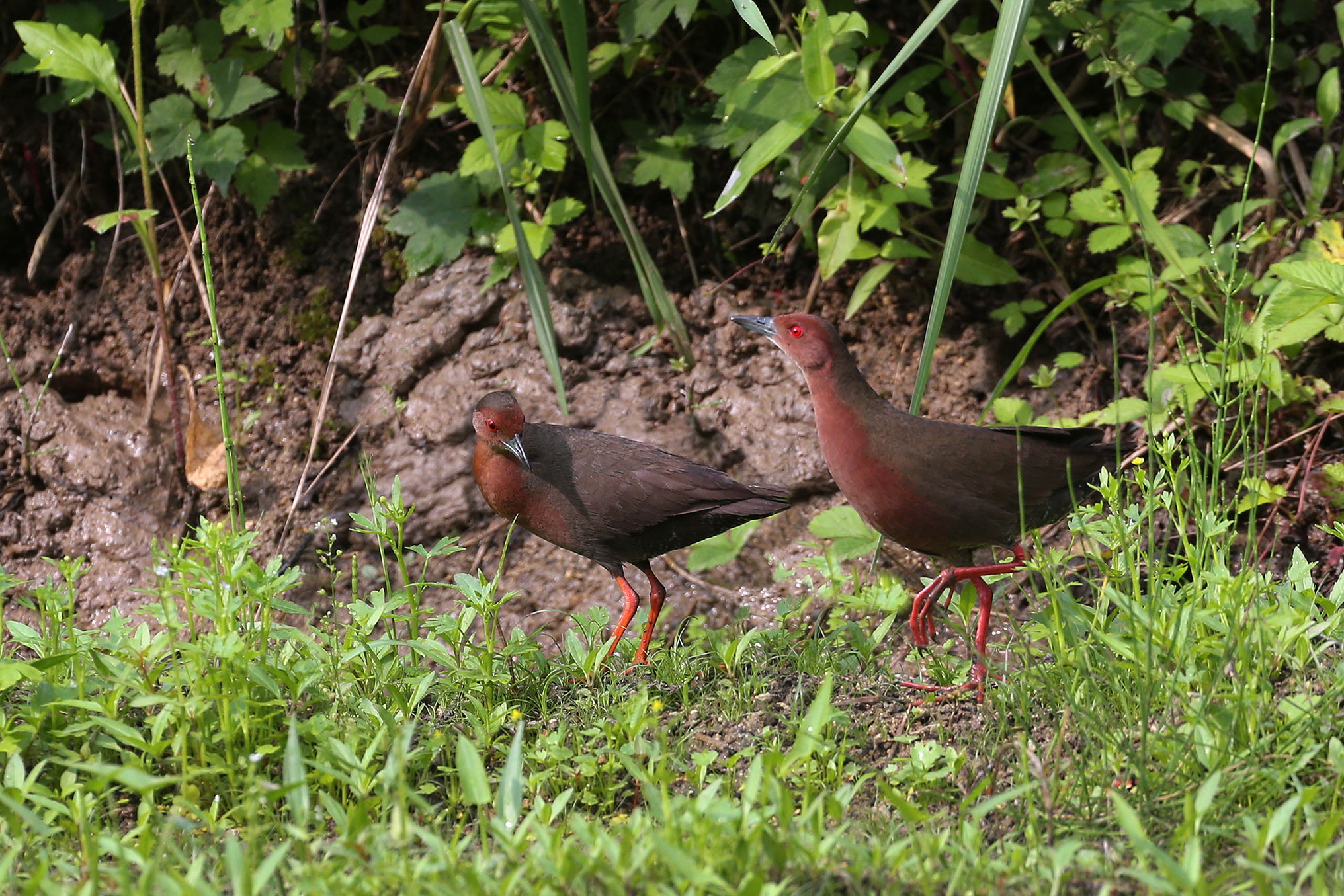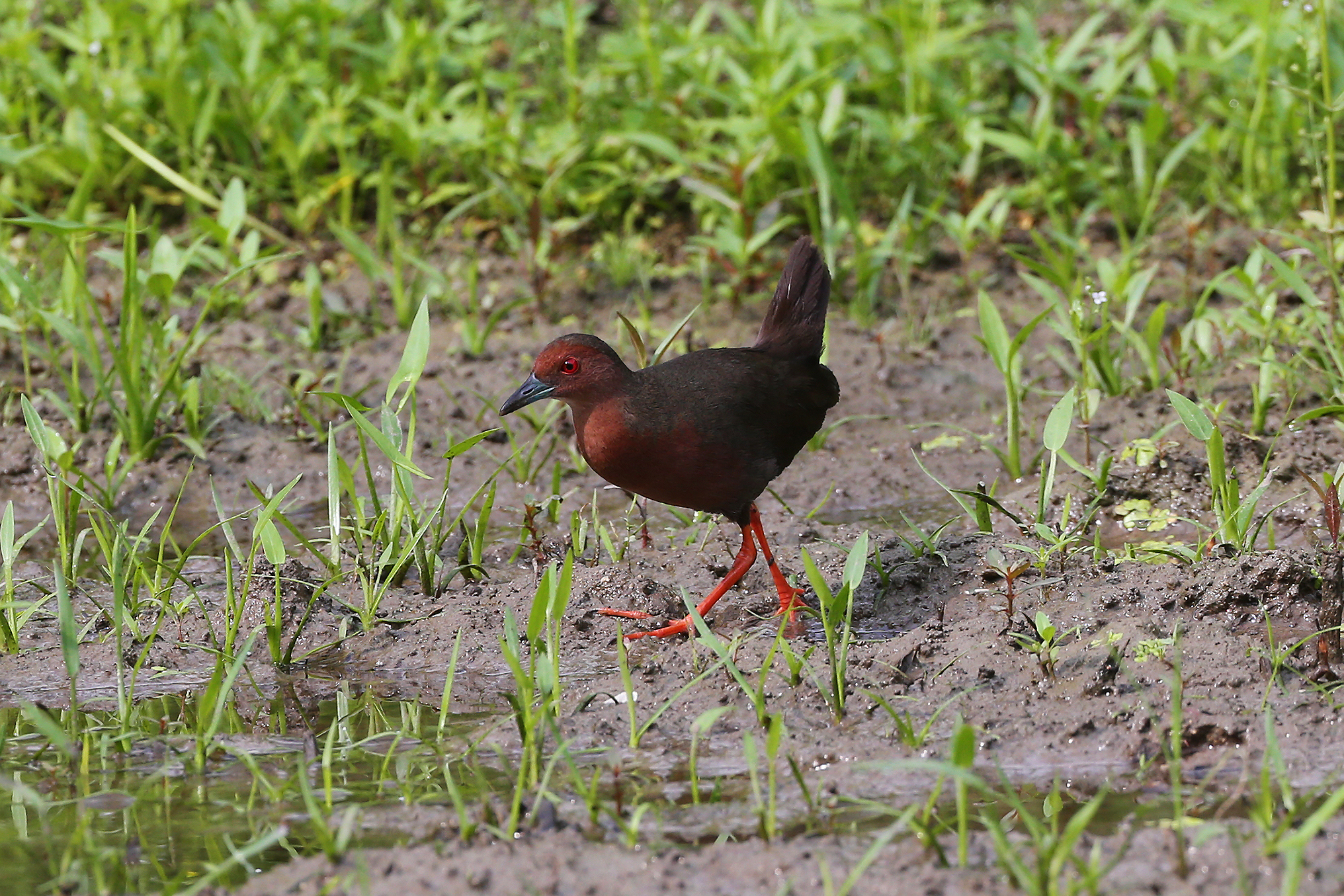 In one of the fields near where we saw Crested ibis, we found two Ruddy-breasted crakes. The pictures here are better than those that we got in Maguri Beel in India, where we got our life bird two months before we saw the present birds.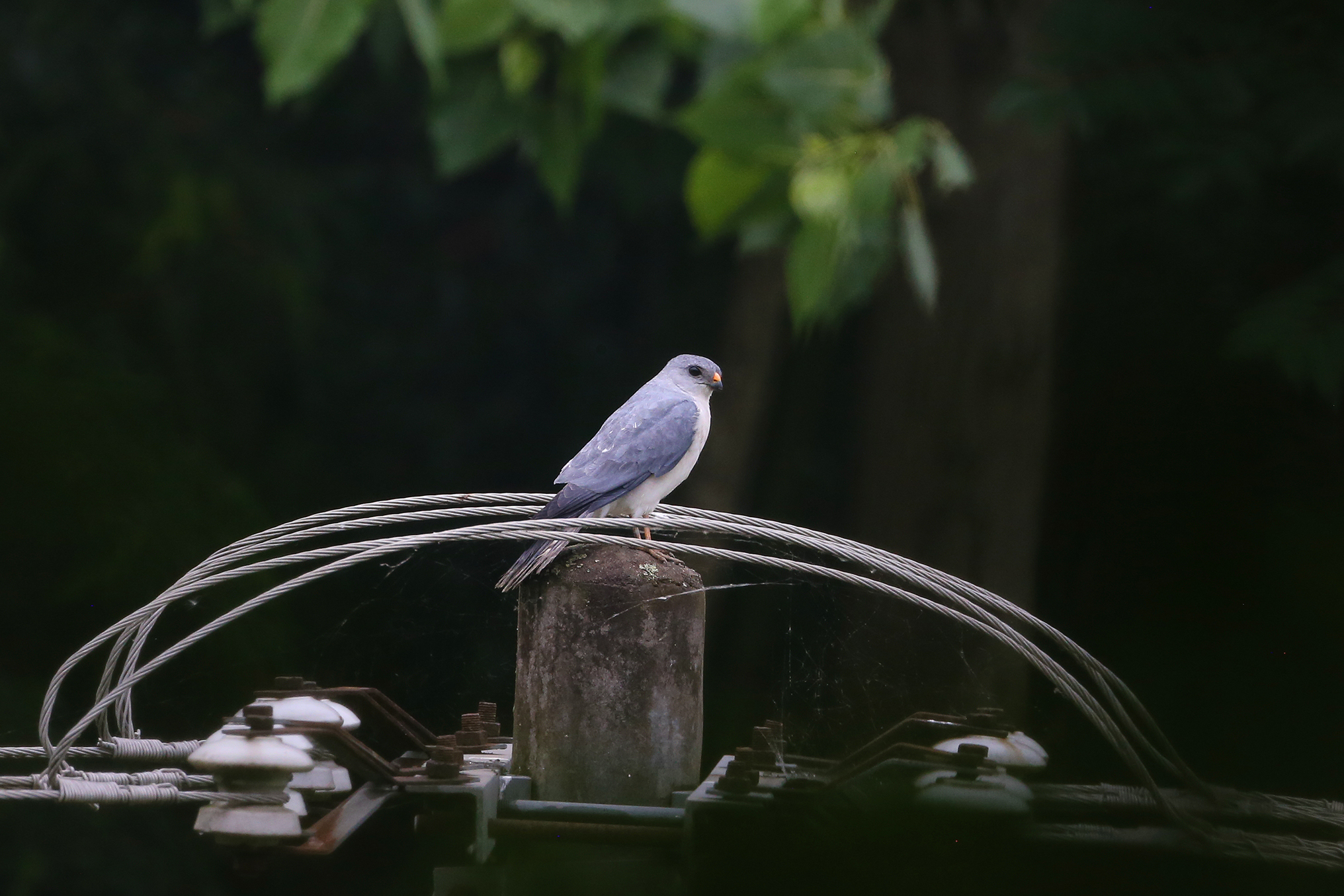 Chinese sparrowhawk (This is our life bird. Note the orange cere.)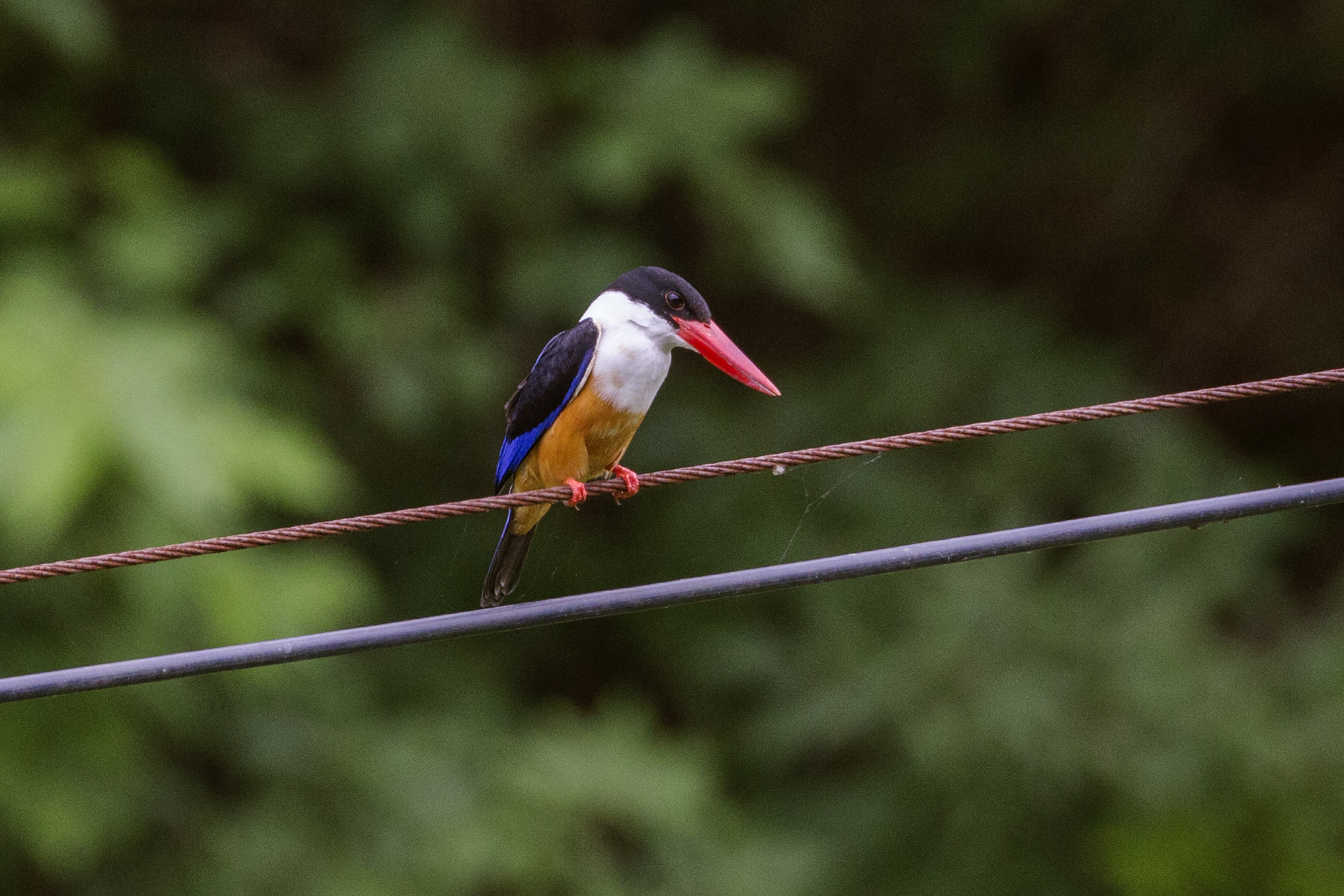 Black-capped kingfisher (This is John's life bird; Mary got hers several days earlier.)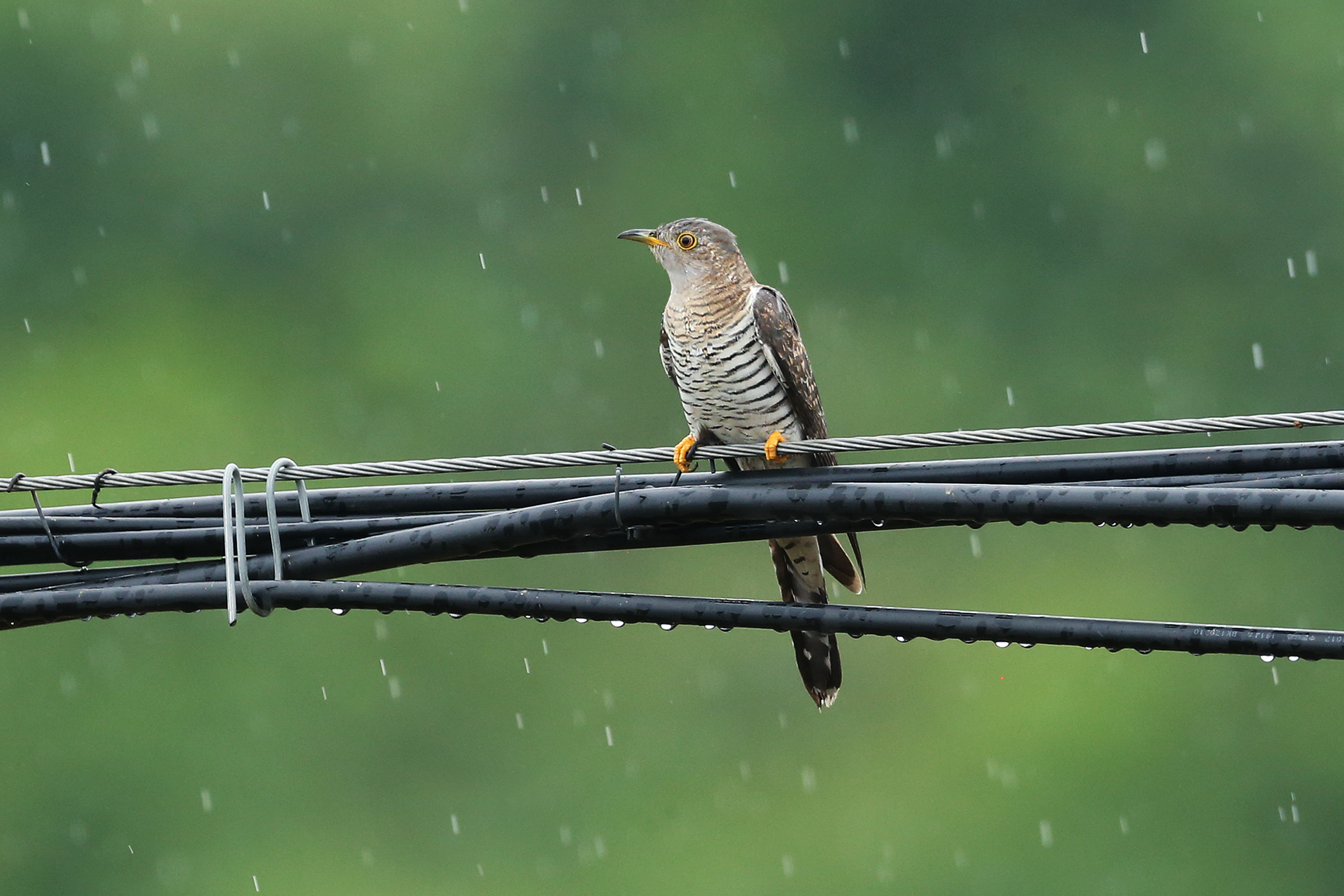 Common cuckoo in the rain.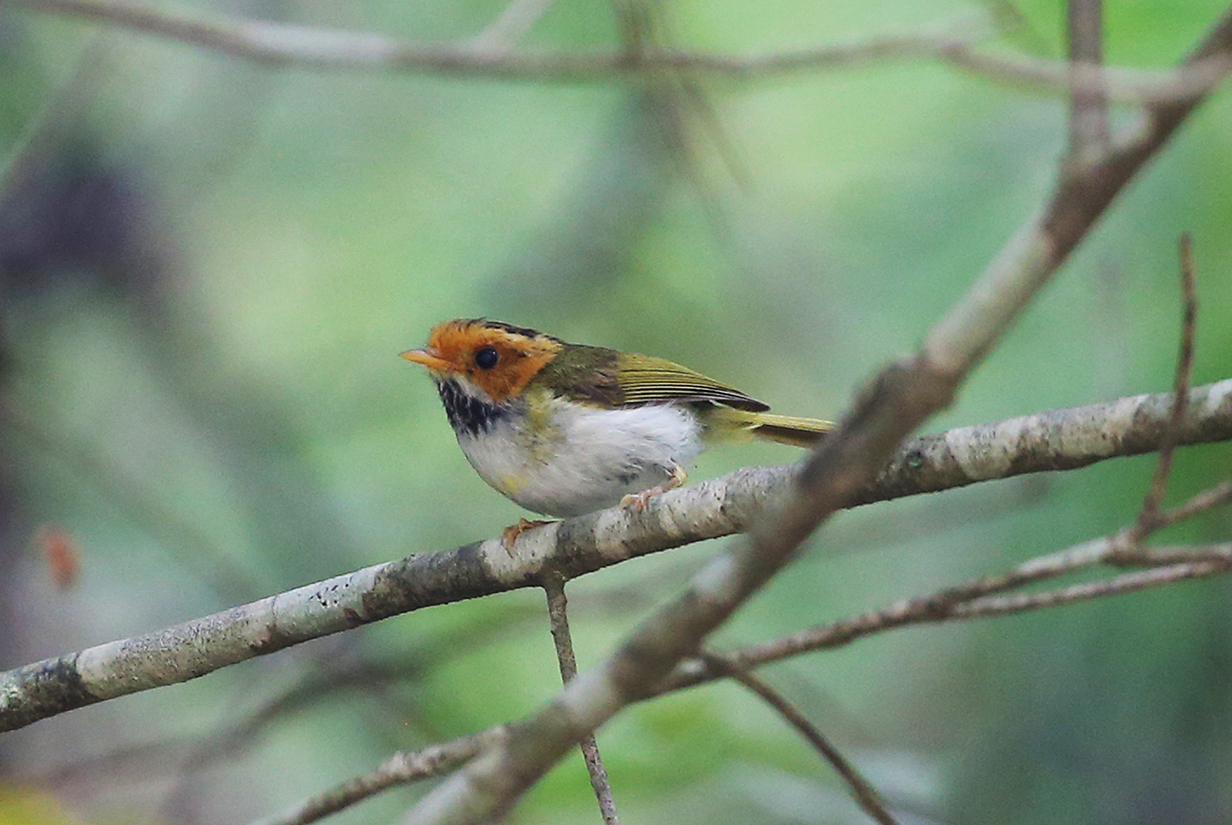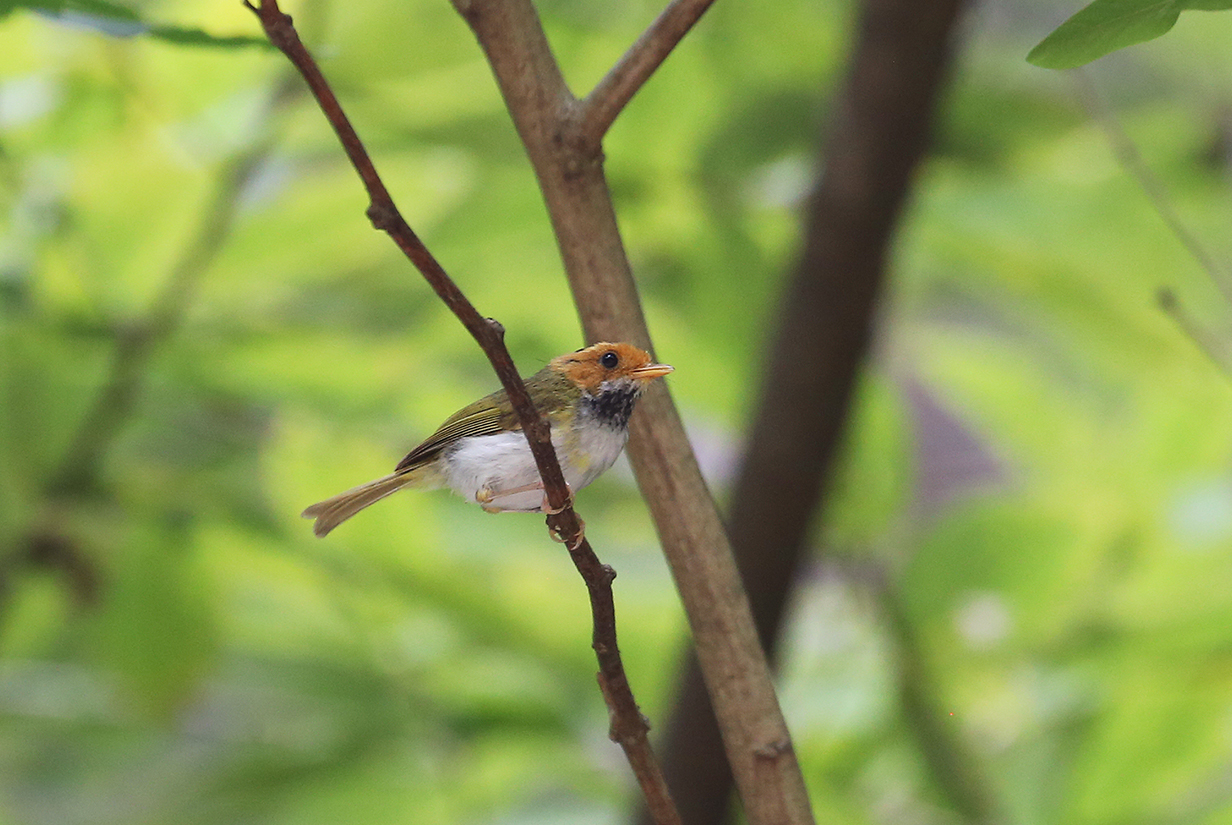 Rufous-faced warbler (This is our life bird.)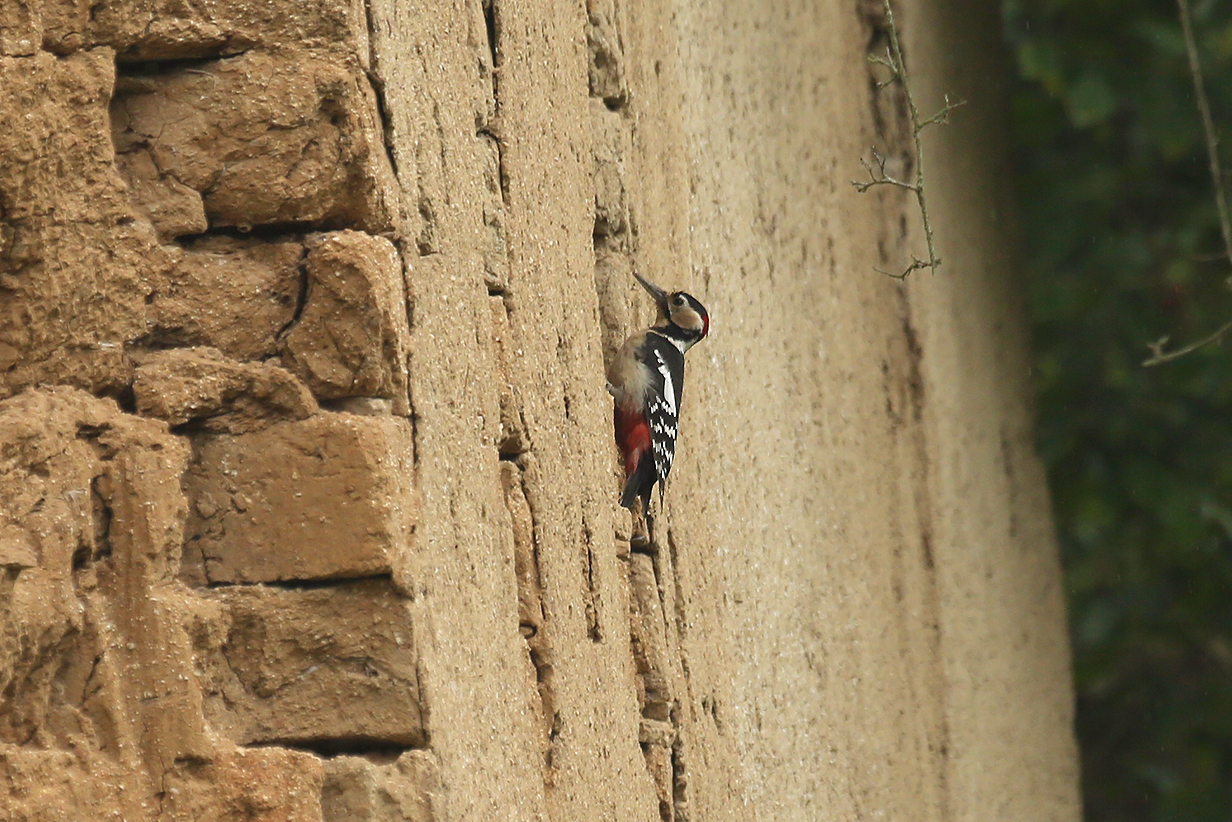 Great spotted woodpecker (This is the most common woody that we see around Munich, including at several houses where we have lived: interesting to see it also in China.)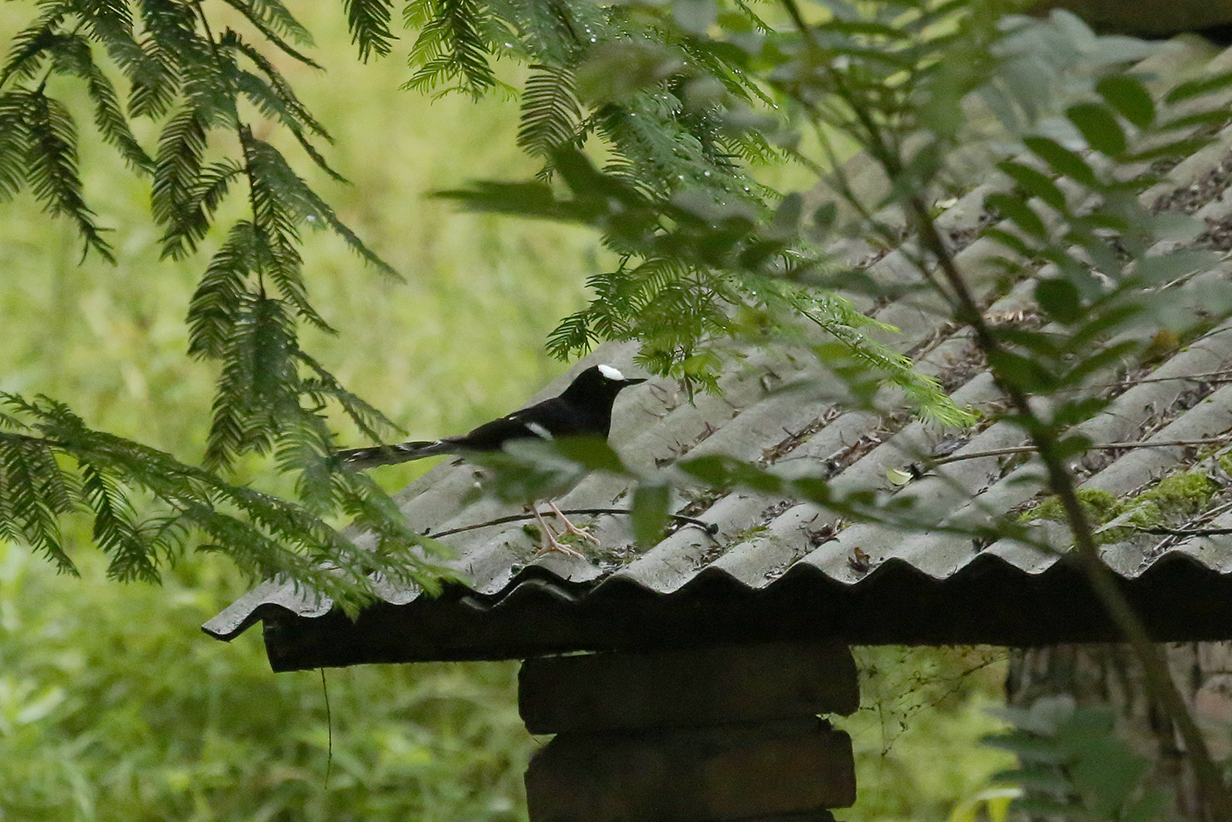 White-crowned forktail (This is John's life bird - the last forktail species that he had not seen. Not a good picture, but nevertheless an important bird to get.)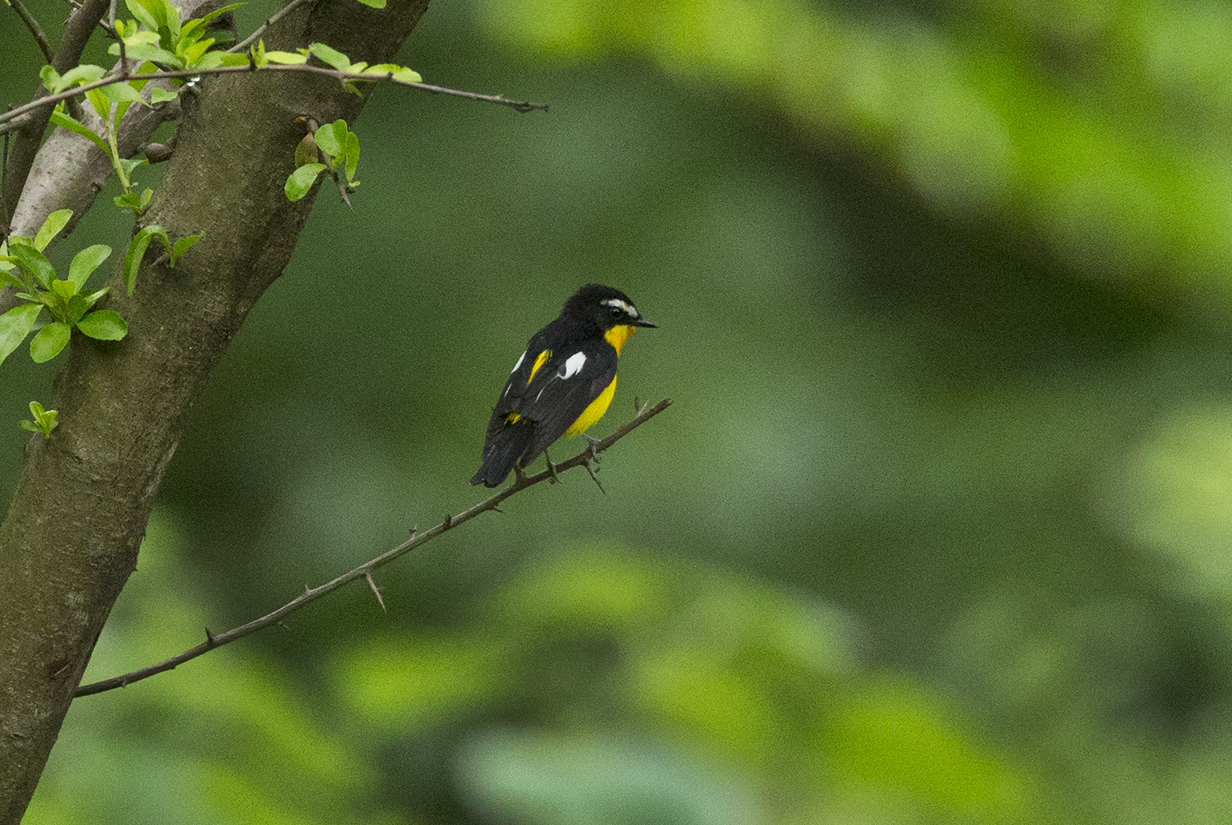 Korean (formerly Yellow-rumped) flycatcher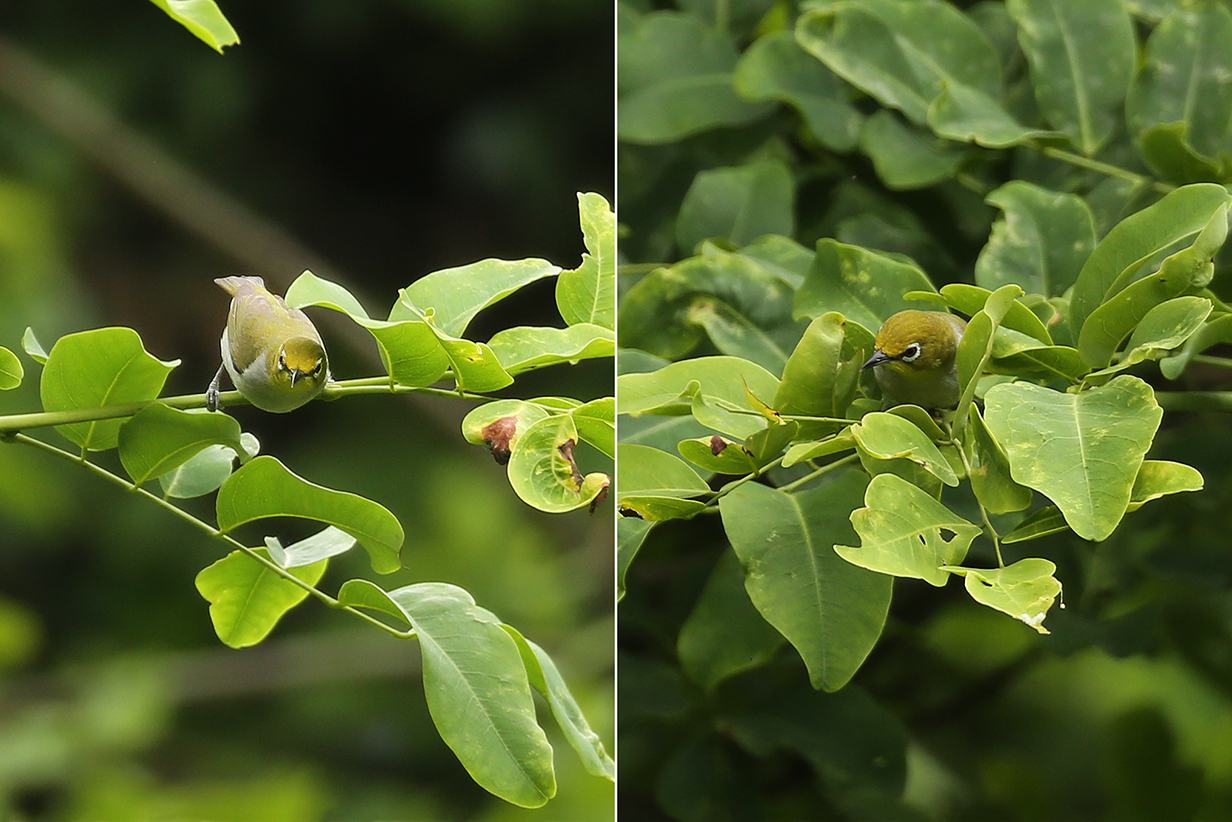 Oriental white-eye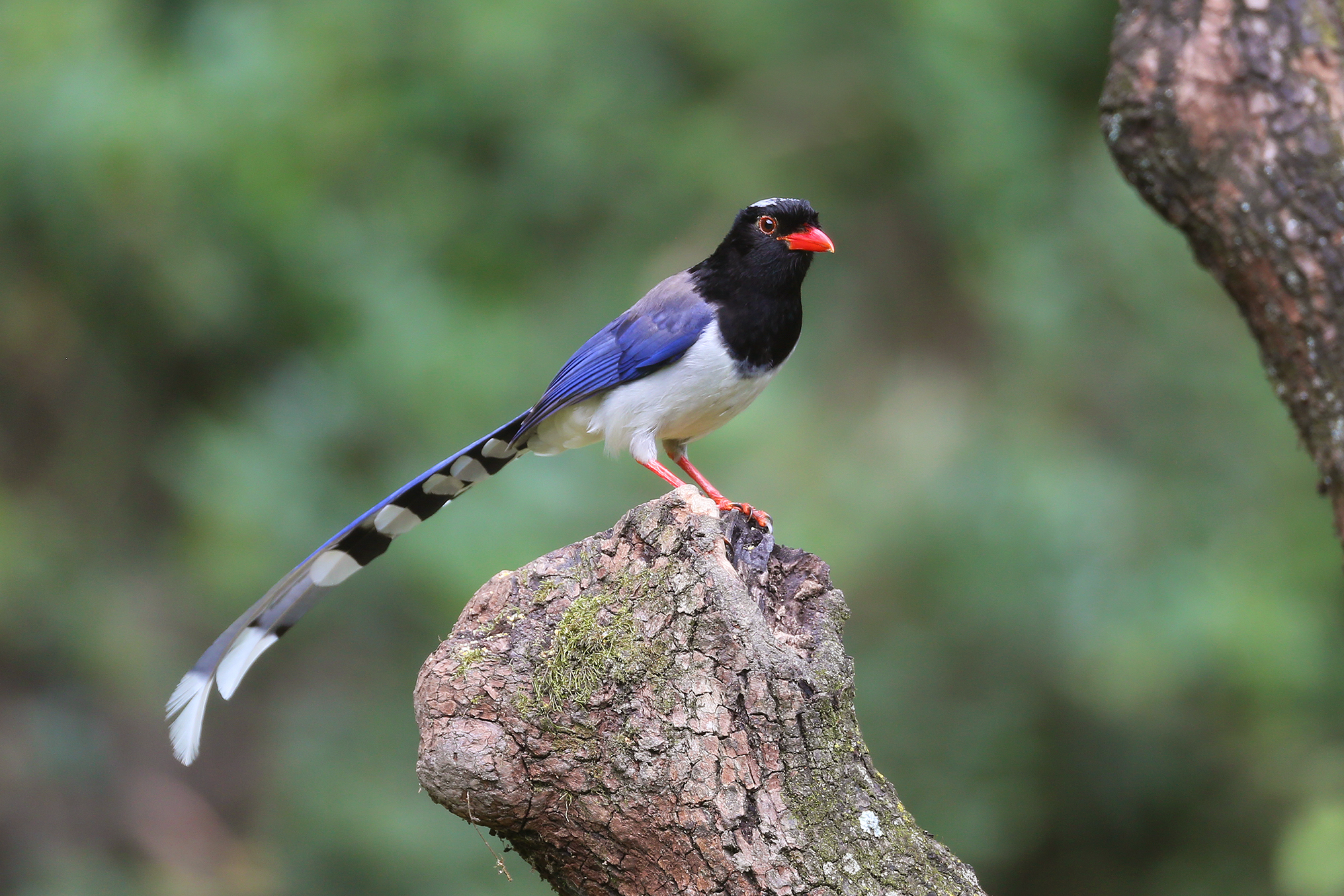 Red-billed blue magpie (seen often on this trip)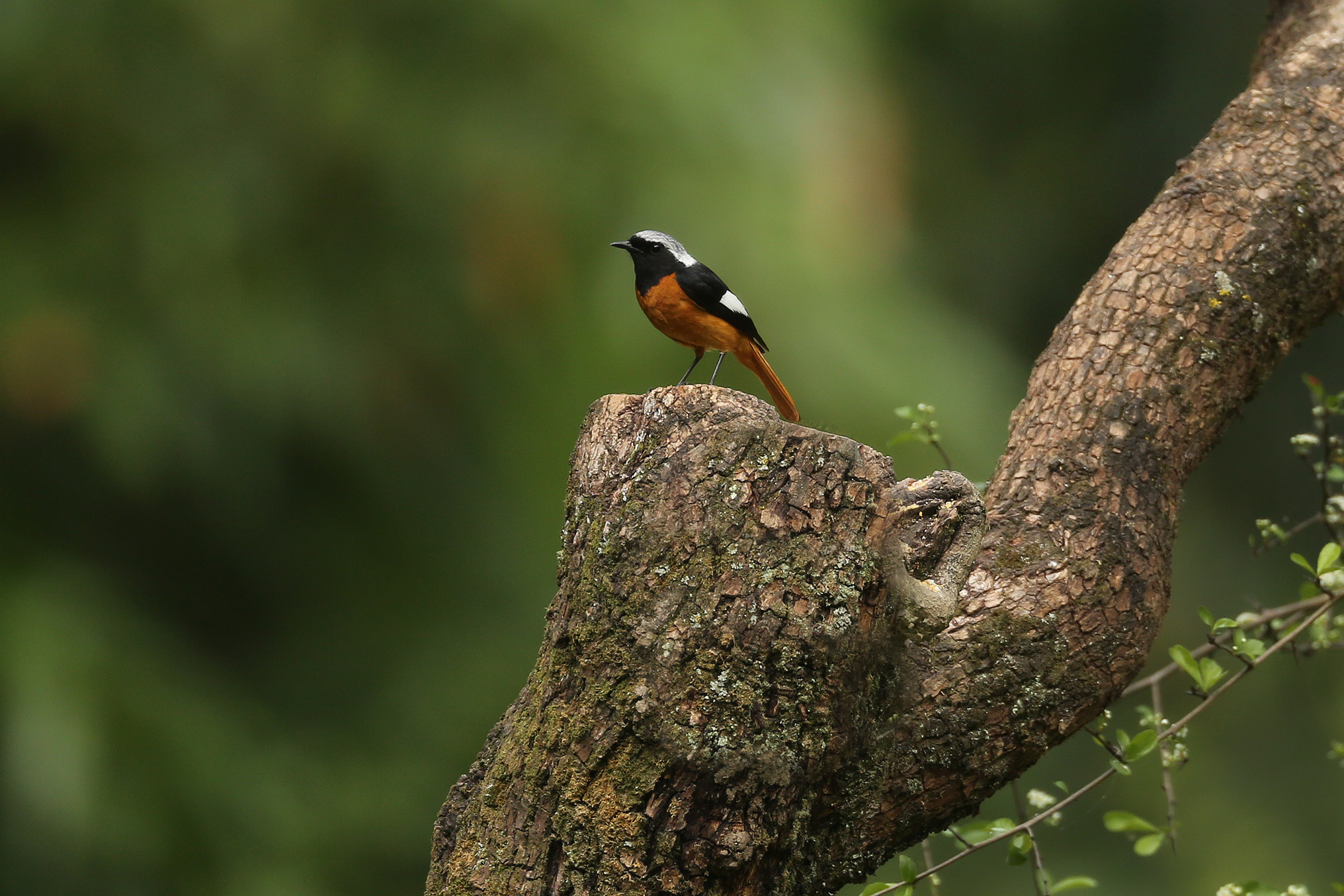 Daurian redstart (male)
Daurian redstart (female)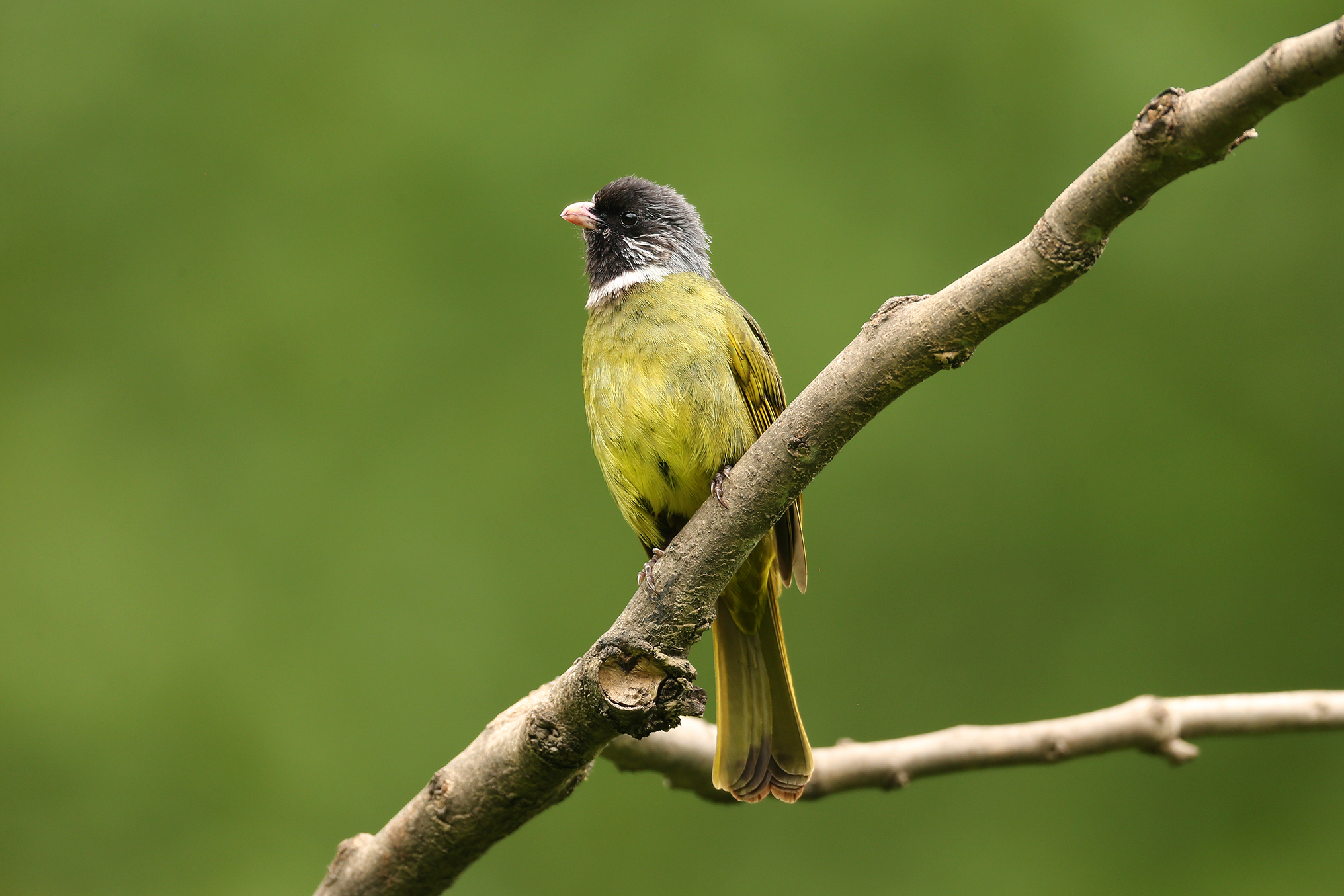 Collared finchbill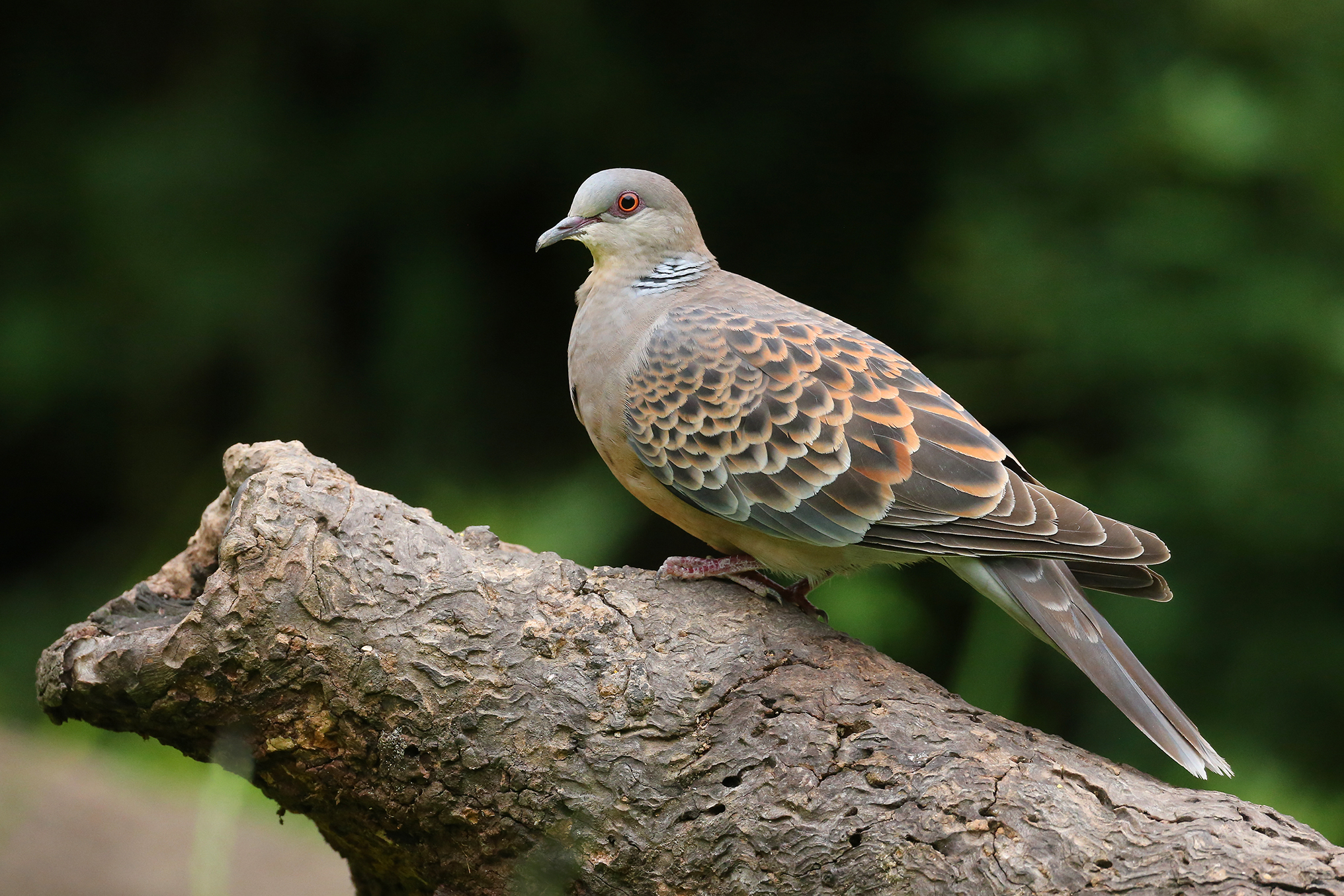 Oriental turtle-dove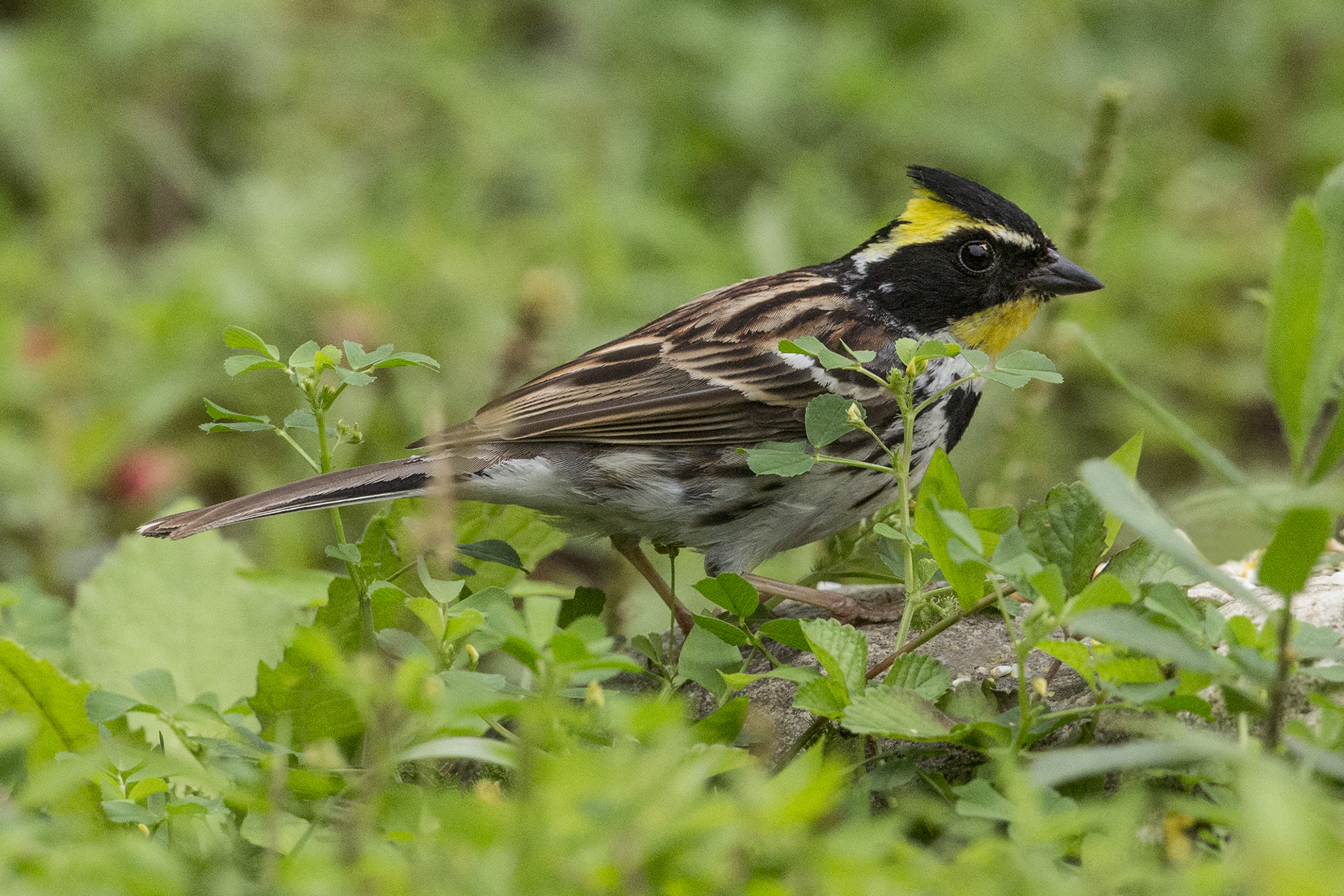 Yellow-throated bunting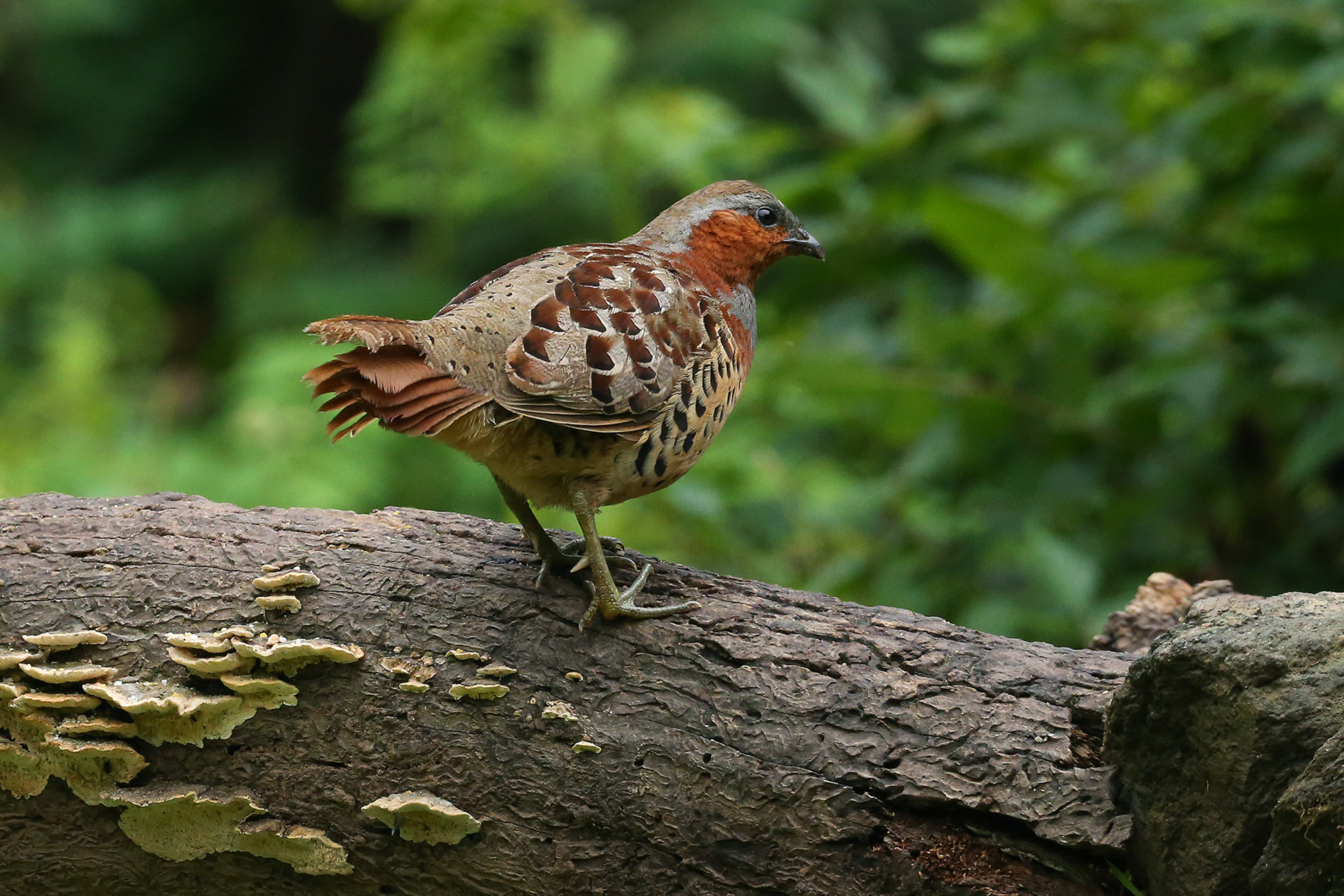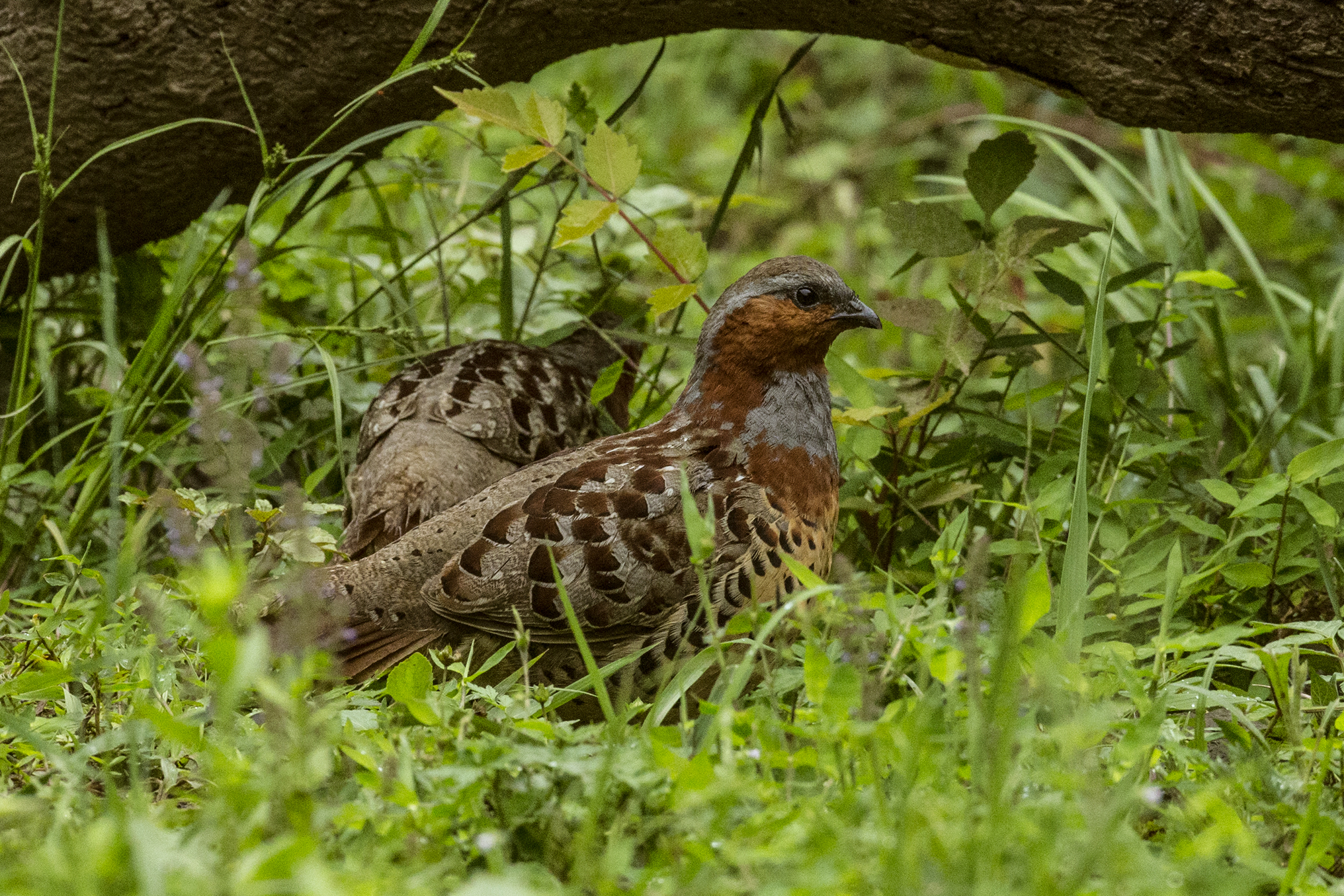 Chinese bamboo-partridge was our last new species of the trip. This is our life bird.
---
Our bird pictures from around the world follow standard ecozones approximately but not exactly:

Birds from the USA and Canada:   our house,   Texas,   California,   Hawaii,   Canada,

Neotropic birds from Central America and the Caribbean:   Honduras,   Costa Rica,   Panama,   Trinidad and Tobago

Neotropic birds from South America:   Ecuador 2004,   Ecuador 2017,   Brazil.

Western palearctic birds:   Europe: Germany, Finland, Norway,   Europe: United Kingdom,   Europe: Spain,   the Canary Islands,   Europe: Lesbos, Greece,   Israel

Eastern palearctic birds:   China

Birds from Africa:   The Gambia,   South Africa

Indo-Malayan birds from   India: North-west (Delhi, Uttar Pradesh, Uttarakhand)   India: North-east (Assam, Arunachal Pradesh, Meghalaya)   India: Central (Maharashtra, Madhya Pradesh)

Birds from   Australia,   New Zealand.
---
University of Texas Astronomy Home Page
---
Updates are frequent in Summer of 2018. Total visits since May 28, 2018 =
John Kormendy (kormendy@astro.as.utexas.edu)